Texas A&M's brand building starts Saturday
September, 4, 2012
9/04/12
8:00
AM ET
COLLEGE STATION, Texas -- The moment many Texas A&M fans have awaited since the Aggies turned their eyes toward the Southeastern Conference arrives Saturday. And it will come with all the pomp and circumstance befitting a program that has a fan base like the 12th Man and home game atmospheres that rival any in the country.
ESPN's College GameDay will be in town. A national television audience will be watching. A signature SEC program that has national championships on its mantel, Florida, is the opponent. And it's the opener after a schedule change that followed a long offseason with immense anticipation.
[+] Enlarge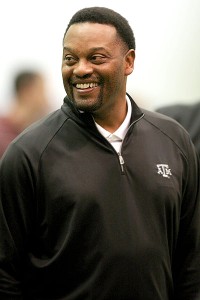 Brett Davis/US PresswireKevin Sumlin, who was 35-17 in four seasons as coach at Houston, will begin his tenure at Texas A&M on Saturday against Florida.
Texas A&M's first SEC game is finally upon us.
"It'll be a big game," Texas A&M coach Kevin Sumlin said. "It's our first SEC game, so it comes in a different way. Either way, it was going to happen. And it's why you play college football. It's why you coach, it's why I came here, it's why hopefully [the players are] here. You're here to play at the highest level, and the atmosphere surrounding this game for a first football game of the year will be an atmosphere that guys will remember for a long time."
There is plenty at stake for the Aggies. For starters, it's a conference game, so it has meaning in the SEC standings. But Texas A&M hasn't looked at its move to the SEC as simply a football move. To many, it is more than that.
"It's interesting that part of our deliberations in the conference move, we never did talk about what our football record was going to be in 2012," Jason Cook, Texas A&M vice president for marketing and communications, said in August. "This was truly a brand move for Texas A&M. Just like the University of Texas wants the Longhorn Network to expand their brand, we believe that the move to the SEC provides the opportunity to expand the Texas A&M brand on a national level."
The Aggies hope to use the national platform that the SEC provides to educate the nation on their university. From its academics, to research, to athletics and its fan base, Texas A&M is looking to show the country what it is all about.
"A lot of people are interested in Texas A&M; they're wanting to learn about Texas A&M," Cook said. "They're wanting to find out more about us and sometimes they don't have the context of our traditions and our spirit and our sense of family that we have, but that's where we see the SEC move as a great opportunity to really wipe the slate clean and introduce people to the true Texas A&M brand without it being filtered by some of the other institutions here in the state of Texas."
From a football standpoint, the Aggies are aware that they have something to prove to those who think they will struggle. The SEC is widely considered the premier football conference in the country and the fact that the Aggies enter after a 7-6 campaign in their last Big 12 season hasn't given onlookers nationally reason to buy in to the Aggies succeeding quickly, especially in the tough SEC West.
While it's not their sole focus, the players are cognizant of the perception. This weekend will be their first chance to shape the national opinion.
"I feel like people are kind of counting us out a little bit in the SEC and they think we can't play with those guys because they haven't seen us in that league yet," senior linebacker
Sean Porter
said. "But just because we're new doesn't mean they're going to pick on us. We're not going to back down from anybody."
Sumlin pointed out last week that nobody really has an idea of what the Aggies have gotten themselves into. Viewers will begin to find out Saturday.
"Everybody's got their opinion," Sumlin said. "Nobody really knows what we're getting into. Everybody thinks they do."
With all the buzz surrounding the game, emotions will certainly be high at kickoff. Sumlin is aiming for a balance in that dynamic in order to keep his team from being overcome by them.
"What's going to be important for us is to use the emotion of the weekend but not get caught up in it," Sumlin said. "And use that emotion to our advantage but not as a disadvantage by being too caught up in it that we don't remember what we're supposed to do. We've got a bunch of young guys playing, too, so it'll be interesting."
Weekend Recruiting Wrap: SEC - Dec. 2