August, 27, 2014
Aug 27
9:00
AM ET
Are you ready for some numbers? It's time once again for our weekly stat digs, in which we team with ESPN Stats and Info to find the numbers that matter most for the Longhorns and their next opponent. Here are the stats to remember going into Texas' season opener against North Texas (7 p.m. CT, Longhorn Network).
No. 1: 101.6
Charlie Strong admitted on the Big 12 coaches' teleconference Monday there's one number he cares about (after the final score) when he's handed the postgame stat sheet: Rushing yards allowed.
His defense at Louisville led FBS in run defense last season, allowing just 81.5 yards per game. Texas gave up an average of 183.1 rushing yards per game a year ago. You better believe Strong and defensive coordinator Vance Bedford intend to close that 101.6-yard gap as much as possible in 2014.
In the past four years, only one Big 12 defense has given up fewer than 100 rushing yards per game: The 2011 Longhorns, who held teams to 96.2 yards per game on the ground.
For what it's worth, and maybe not much, Georgia's defense did hold North Texas to 7 total rushing yards on 25 attempts last year.
No. 2: 123
We know very little about North Texas starting quarterback
Josh Greer
, a juco transfer who spent 2012 at UAB and 2013 at Navarro College. He's seen as a guy who has some similar traits to the successful guy he replaces, Derek Thompson, and he was a 63.5-percent passer at Navarro. He's a bit of an unknown otherwise.
But we do know he'll be protected by an offensive line that, on paper, looks impressive with 123 career starts among the five starters.
Cyril Lemon
, a first-team All-CUSA guard last year, moves from right tackle and has 37 career starts. He's one of four senior starters along with
Mason Y'Barbo
(37 starts),
Antonio Johnson
(34) and
Shawn McKinney
(2).
Texas players think they have the best defensive line in the Big 12, if not the nation. Those boasts will be put to the test Saturday as they try to rattle a QB making his first college start.
No. 3: 434
When you talk about
David Ash
's best games as Texas' starting quarterback, his 2013 season opener against New Mexico State doesn't usually get brought up. But in his only compete game of that injury-wrecked season, Ash accounted for 434 total yards (343 passing, 91 rushing) and offered an appealing glimpse of what he might've been able to do had he stayed healthy.
Texas struggled to get rolling until late in the second quarter, but Ash got the offense to open up from there. He threw for four touchdowns, busted off a 55-yard touchdown scramble and showed poise in the second half to guide an offense that put up a school-record 715 total yards.
North Texas should be a better foe than NMSU, which went on to finish 2-10 with the fourth-worst scoring defense in the country. But will we see a version of Ash that's as good or better than the one that showed up in last year's opener?
Three more to remember
Eight:
The number of kicks North Texas blocked last season, most in FBS. Four were blocked punts. Against Georgia last year, UNT blocked a punt for TD and also returned a kickoff for a TD.
Two:
North Texas coach Dan McCarney coached the defensive line on Strong's Florida defenses for two seasons, in 2008 and 2009.
35-21:
The score of North Texas' last game against a Big 12 program, a loss at Kansas State in 2012. UNT is 7-57 all-time against the Big 12 but 0-9 in the past decade.
August, 26, 2014
Aug 26
4:00
PM ET
Thanks for submitting questions for this week's mailbag. In today's mailbag we talk about Kansas State's running back situation, the big games of the week -- Oklahoma State-Florida State and Alabama-West Virginia -- as well as a potential new look for Texas. By the way, you can submit questions for next week's mailbag
here.
On to the 'bag:
Doug T. from Philly writes:
Am I the only one who think the perfect storm for an upset may be brewing in Atlanta this Saturday?
Chatmon:
I would be surprised, not shocked, if the Mountaineers find a way against the Crimson Tide. I have reservations about WVU's ability to win in the trenches and I need to see
Clint Trickett
take his game to another level and play consistently for Dana Holgorsen's offense. But I like what WVU has at the skill positions and don't see any scenario where Holgorsen's crew will back down against the Crimson Tide.
---
Brenna from Stillwater writes:
Maybe I'm just looking at it from a true "black and white" perspective, but isn't Baylor returning nine starters, as is Oklahoma State? According to Phil Steele, that's the case. Does
Bryce Petty
's return compensate for Baylor's loss on defense? Does the quality of Baylor's limited returning starters truly peg them as the team (alongside Oklahoma) to beat in the Big 12 and to make a legitimate run at the four team playoff?
Chatmon:
Petty goes a long way in changing the expectations for the Bears. He's a Heisman Trophy candidate and returning Big 12 offensive player of the year. Oklahoma State's issue is youthful players all over its defense and uncertainty at quarterback and offensive line. Baylor's question marks aren't as widespread as the Cowboys. To cap it all off, the Bears young players will get a chance to ease into the season while OSU faces the defending national champion. That's what separates the two teams before Week 1 in my eyes.
---
Sean from Stillwater writes:
Give us [OSU] hope for an upset this weekend.
Chatmon:
There are plenty of reasons for hope. OSU's receivers and defensive line should be among the Big 12's best and
Tyreek Hill
looks like a playmaker. And, talent-wise, the Cowboys have upgraded from a year ago, but hearing Mike Gundy say his team could play 20 newcomers against FSU is a scary thought.
---
Theylo from Snyderville writes:
Who is going to be the K-State running back?
Chatmon:
It looks like
Charles Jones
has won the job as he sits atop the Kansas State depth chart heading into the season opener. But this will be decided between the lines on several Saturdays this fall. Jones may get the initial nod but if
DeMarcus Robinson
outperforms him on game day then he could end up being the guy. I think we may not know who John Hubert's replacement is today, despite the Wildcats' releasing their depth chart, but we will know by the time October rolls around.
---
Jon in Tulsa writes:
If OSU beats FSU, OSU doesn't become favorite for national championship, then why does OU become contender just because last year's team beat Bama? How do you know that UCF wasn't better than Bama and that mostly returning Baylor shouldn't be favorite in Big 12?
Chatmon:
Why are you assuming OSU does not become a national championship favorite if they beat Florida State? I find that odd because the Cowboys will be in the College Football Playoff if they go undefeated. Regardless, Oklahoma is a national title contender because they have a good young defense that carried them to 11 wins a year ago. And the Sooners are the Big 12 favorite, for me at least, because they host Baylor in Norman. It's not all about the Sooners' Allstate Sugar Bowl win over Alabama.
---
Jacob Jones from Lubbock writes:
Iowa State and Texas Tech will both do better then what experts picked. Watch out for Texas Tech going 9-3 and Iowa State 6-6. West Virginia could be a sleeper as well. I still think Oklahoma holds off the competition and reclaims the Big 12 championship. Bold prediction: Texas Tech upsets OU in Lubbock.
Chatmon:
I could see it happen with Tech, but I'm worried about ISU's defensive line. I need to see them first before I can get on that train. I agree with West Virginia as well but where are those wins coming from? TCU, OSU? I think the Big 12 has a chance to be as competitive as ever this fall, particularly after OU and Baylor at the top. Also, I wouldn't be surprised to see the Sooners fall at Tech; Lubbock has been unkind to the Sooners in the past.
---
Shaun Rucker from Shawnee, Kansas writes:
Why does the media insist on bringing up the fact that the Big 12 doesn't have a championship game every chance they get? Our teams have only ever been hurt by the title game, with the exception of Nebraska not playing in it and getting a title shot in 2001. What's your take?
Brandon Chatmon:
I don't think the Big 12 needs a championship game. I don't see a scenario where a Big 12 team goes undefeated and finds itself on the outside looking in at the College Football Playoff bracket. Thus, the destiny of every Big 12 team is within its control. That's good enough for me.
---
Andy from Austin writes:
This past mailbag someone asked, "Why doesn't Texas have alternate unis?'' I love that Texas usually just has subtle tweaks instead of major overhauls. But how awesome would it be to have a solid burnt orange uni for home, like the road ones, but reversed, including the helmets? Any chance of getting that look planted in the minds of those who could make it happen?
Chatmon:
I love the idea, Andy. But I don't see it happening anytime soon. Texas has a good look, and the Longhorns have tried to meet recruits/players halfway with their practice uniforms. I wish I was wrong though.
August, 26, 2014
Aug 26
1:00
PM ET
Game week has finally arrived. We break down some of the storylines in Week 1 in our weekly Big 12 roundtable:
Who between West Virginia and Oklahoma State has the better chance to pull off the upset this weekend?
Olson:
West Virginia, simply because I think Florida State has a little more talent than Alabama. Last year, Virginia Tech gave up two punt return TDs and a pick-six in the first half of their opener vs. Alabama. The Hokies shot themselves in the foot from the start. West Virginia has absolutely no margin of error for that. What the Mountaineers do have is a potentially explosive offense and a full game film of OU thrashing the Tide to use as the blueprint. They must strike early and often and give Bama's new starting QB hell.
Chatmon:
The Mountaineers are hoping a year in the offense will pay off for quarterback
Clint Trickett
and the rest of the unit. At this time a year ago, none of WVU's playmakers on offense had much experience. Twelve months later, it should be a different offense. Oklahoma State is talented but it is largely untested, and its defense could be a deer in headlights early against the Seminoles, which would be too much to overcome. Thus, WVU gets the nod, but I wouldn't bet on either squad to triumph.
Trotter:
West Virginia. Florida State returns several key parts off a team that steamrolled most everyone on the way to a national championship. Oklahoma State has the fewest returning starters among any Power 5 conference team. That's not a recipe for an upset. Alabama is a powerhouse, too, but at least West Virginia will be taking a veteran team to Atlanta. If the Mountaineers can pull off some big plays early -- and they have the players to pull off big plays -- then they can hang around into the second half.
Which Big 12 team should be on upset alert in Week 1?
Olson:
No need to overthink this one. It's Iowa State, because they play North Dakota State. And I don't say that out of disrespect for the Cyclones, who could be better in a lot of ways in 2014. Just have to respect how NDSU screwed up another Big 12 team's opener a year ago. Even with coach Craig Bohl gone to Wyoming, NDSU might still be the best team in FCS.
Chatmon:
I don't expect any Big 12 team to be upset this weekend, but TCU is the team that immediately comes to mind. The Horned Frogs won't lose to Samford -- their defense is too good for that upset to happen -- but they could run into some ups and downs as they try to get their offense humming in the first game with new coordinators Sonny Cumbie and Doug Meacham at the helm. Another team that will have to be on its toes is Baylor, as the Bears try to ignore the distraction of opening McLane Stadium against SMU and focus on the actual game at hand.
Trotter:
This one is obvious. Iowa State lost last year's opener to FCS opponent Northern Iowa. Iowa State's Week 1 opponent this season, North Dakota State, beat Kansas State on the road in Week 1 last year. If the Cyclones play their game, they'll be fine. But if they don't, the three-time defending FCS national champs are more than capable of delivering the upset.
Who is the one player to watch this weekend?
Olson:
Oklahoma RB
Keith Ford
. There were times last season, even when the freshman was getting limited reps, that I sensed Ford might be OU's most talented running back. He didn't get talked up too much this offseason, but I think Ford could run wild on Louisiana Tech and alleviate some concerns about an OU run game that lost its top three backs this offseason.
Chatmon:
I'm looking forward to seeing what
Tyreek Hill
can do against the athletes on Florida State's defense. If Hill is going to live up to the hype as Big 12 preseason newcomer of the year, he will have an immediate impact against the Seminoles and the Cowboys are sure to make getting him the ball a priority. I'm also looking forward to hopefully getting a look at Baylor receiver
KD Cannon
and Texas Tech quarterback Pat Mahomes in action during week 1.
Trotter:
Remember
David Ash
? It's difficult to remember, considering he has played in only a couple of games since 2012. Ash will be back behind center for the Longhorns this weekend and is the single biggest key to Texas' 2014 outlook. If Ash stays healthy and plays well consistently, the Longhorns have the pieces elsewhere to make a run at the Big 12 title. If Ash struggles or gets injured again, the Longhorns will be cooked. The North Texas game will give us a glimpse of which player Texas will be getting.
August, 26, 2014
Aug 26
11:00
AM ET
AUSTIN, Texas -- We're all a bunch of suckers.
We fell for a powerful form of distraction during the first eight months of Charlie Strong's debut year at Texas: The misdirection.
We got fixated on changes, some real and many inconsequential: Strong's media savvy, his muscles, the throwing of horns, the bus ban, the deposed smoothie bar, the gadgets, the breakfast club, the Moncrief four, the helmet decals, the roped-off logo, the dorms. You know, the low-hanging fruit.
Reporters, fans, critics, everybody. We fell for it because it was easy, and because Texas hadn't seen this kind of different in 16 years. And in the process, during this excruciatingly long offseason, it seems we overlooked a question that matters now: How will this Longhorn team line up and play? What's the mission and identity on offense and defense?
[+] Enlarge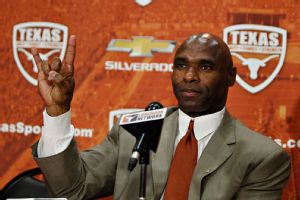 Erich Schlegel/Getty ImagesCharlie Strong wants to build Texas into a winner based on on old-school beliefs about running the ball, defense and power.
Basically, we took our eye off the ball.
What seems clear, upon some deeper digging, is Strong intends to bring his own style of ball to the Big 12, one with a complementary vision for both sides of the ball. And no, this has nothing to do with the offseason buzzwords like "toughness."
This is about the chess match that's about to begin, the one where we find out if what Strong has planned can change the Big 12, or if the Big 12 will force him to change.
Strong has played coy on this topic. The idea that he might have the element of surprise on his side seems, at least to him, dubious.
"Football is football. It's still about fundamentals and technique and that's what it comes down to," Strong said. "Everyone thinks it's about scheme. When you have players, scheme looks really good. It doesn't matter. If our kids go out and do what we ask them to do, you always have a chance."
What Texas players will be asked to do could resemble what Stanford, Alabama, Michigan State, LSU and even Big 12 foe Kansas State have come to master. Those programs are winning on old-school beliefs about running the ball, defense and power.
Texas players say the offensive philosophy is build on a downhill run game. The tag team of a potentially elite inside runner (
Malcolm Brown
) and a true all-purpose back (
Johnathan Gray
) must win the day. Run the ball, run the clock, run the pace. And then quarterback
David Ash
must capitalize when he sees a stacked box.
"It's very multiple. You probably hear that about our offense a lot, but it's multiple," Ash said. "We're going to do every tempo you can out of a huddle and every tempo you can out of a no-huddle. We're going to try to keep teams off-balance."
Joe Wickline coordinates the run game. Shawn Watson oversees the passing. They'll share the playcalling duties in some fashion, with Watson having final say. And recent history says this offense, for all of its fast-paced ideals, should fall in lockstep with Strong's defensive vision.
Louisville's offense wasn't just No. 2 in time of possession nationally last year. The Cards had 17 scoring drives extend 5-plus minutes (second-most in FBS only to K-State) and 21 exceed 10-plus plays. This was, on average, a two-plays-per-minute offense, one of the comparatively slowest in the country, and it won 12 games.
Watson's offense kept Strong's defense off the field. The Louisville D played 779 snaps in 2013. Texas' defense played the same number of games and finished at 966. The rest of the Big 12 averaged 937.
When you're playing 200 fewer snaps on defense, you get fresh and physical players. You get to attack. And Strong has never been afraid to do that. Defensive coordinator Vance Bedford recalls one game at Florida when Strong called six straight zero blitzes, rushing everyone who wasn't locked in one-on-one coverage.
"It worked six straight times," Bedford said proudly.
Bedford has been studying Big 12 film since the day he took the job. He knows the rest of the conference has been watching Louisville and Florida film.
"People are gonna know what we're gonna do," Bedford said. "Coach Strong came back from a Big 12 Conference thing (this summer) and they said, 'What you guys did at Louisville, you can't do that here.' They're exactly right. I totally agree with what they're saying."
And then Bedford grinned and kept going, each line more facetious than the last.
"So what we're going to do: We're going to rush three, drop eight. Rush two, drop nine. Sit back, keep the inside in front and we'll have a chance. We're not going to pressure anybody, anytime, anywhere. We're just going to slow 'em down.
"I'm not full of it. I'm telling the truth. Listen to me, all of you out there," he said, turning his gaze to a bank of TV cameras. "We're going to play it safe. No pressure. We don't want any quarterbacks hurt."
And while that last sentiment rings especially true of Texas, Bedford is merely offering a friendly warning. He knows that in
Malcom Brown
,
Cedric Reed
,
Quandre Diggs
,
Jordan Hicks
and several others, he and Strong have the weapons they need to pair with an offense that understands its duty.
While we were obsessed with everything else this offseason, Strong and his staff were quietly busy preparing a plan and a roster for what promises to be a fascinating four-month battle. Against North Texas on Saturday, finally, Texas gets to line up and play.
August, 26, 2014
Aug 26
10:00
AM ET
Today, Ivan Maisel offered up his bold predictions for the college football season. We figured we'd get in on the fun, too. Here's what we're comfortable forecasting in what should be a crazy Big 12 season.
Jake Trotter's bold predictions
Davis Webb will throw for more yards than Bryce Petty.
This is no slight against Petty, who himself should be in for another monster season. But Petty will also be handing off plenty to
Shock Linwood
,
Devin Chafin
and
Johnny Jefferson
. Webb, meanwhile, will be airing it out virtually every down to his big-play trio of
Jakeem Grant
,
Bradley Marquez
and
Reginald Davis
. As long as Webb stays healthy, 4,500-plus passing yards isn't out of reach.
[+] Enlarge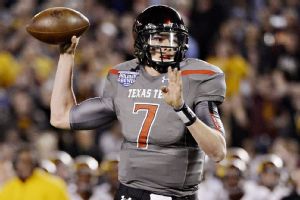 Donald Miralle/Getty ImagesDavis Webb passed for 2,718 yards as a freshman and could compete with Baylor's Bryce Petty for most passing yards in the Big 12 this season.
Kansas State will beat either Baylor or Oklahoma on the road.
Two years ago when the Wildcats traveled to Norman, they toppled Oklahoma, 24-19. Last year, nobody played Baylor tougher -- at least when the Bears were still at full strength -- than K-State (which at the time was missing
Tyler Lockett
). Bill Snyder teams usually come to play in big games. This season, that will come at the expense of one of the league's two co-favorites.
Tyreek Hill will lead the league in rushing.
The Longhorns have the Big 12's best one-two punch at running back in
Johnathan Gray
and
Malcolm Brown
. And West Virginia has the league's deepest backfield. But Hill has the tools to be the best big-play back in the conference. He also figures to be the focal point of the Oklahoma State attack. Up until last season, the Cowboys had enjoyed a 1,000-yard rusher in six consecutive seasons. Hill will start another 1,000-yard rushing streak for the Pokes in a big way in 2014.
Brandon Chatmon's bold predictions
Iowa State's offense will be much improved.
After finishing in the bottom two in most offensive categories a year ago, Iowa State will finish no lower than sixth in most of those categories, with a clear jump forward in points, yards per play, total yards and third-down conversion rate during its first season with Mark Mangino as offensive coordinator. The Cyclones have plenty of skill-position talent, led by receiver
Quenton Bundrage
and tight end
E.J. Bibbs
, and may have a healthy offensive line after a 2013 season full of injuries up front.
Oklahoma safety Ahmad Thomas will emerge as an All-Big 12 candidate.
The sophomore safety has continued to develop and improve for the Sooners and looks like a future star in the defensive backfield. He's versatile and gives the Sooners plenty of options with his ability to line up all over the field. Coaches and teammates have raved about his ability, so he could emerge as an All-Big 12 performer, particularly if the Sooners defense becomes a dominating force this fall. Thomas is not a household name right now but he could be by the time December rolls around.
Texas will lead the conference in rushing and finish top 10 nationally.
Charlie Strong plans to run the football and the Longhorns have the horses to get it done in the backfield.
Johnathan Gray
and
Malcolm Brown
are a terrific foundation to build UT's offense around, and the offensive line should be solid. Add Strong's insistence that the Longhorns' "soft" label is a thing of the past, and it's a recipe for UT to grab a spot among the nation's top ground games this fall.
Max Olson's bold predictions
Texas Tech will start 7-0 again.
The only major hurdles in a pretty favorable early-season schedule are back-to-back road games at Oklahoma State and Kansas State. I like Tech's chances of surviving both games so long as Webb is healthy. If the defense has come together by then and shows up in the big games, look out. From there, Kliff Kingsbury's squad will have a tough slate but a huge opportunity.
Kansas State beats Auburn.
Go ahead, call me crazy. This just feels like it's going to be a weird ballgame, almost akin to KSU's 24-19 win over No. 6 Oklahoma in 2012. Kansas State's coaches have the brainpower to come up with answers to Auburn's dangerous option attack. They recruited
Nick Marshall
hard out of junior college and know his weaknesses. And Tyler Lockett can score on anybody. In a crazy Thursday night home game atmosphere, I think KSU can get it done.
David Ash earns All-Big 12 honors.
I didn't say first team! I'm not necessarily saying second-team honors, either. But Texas' fourth-year quarterback remains one of the league's most underrated players and someone who's going to make a breakthrough if he can play all 12 games. Ash was a top-25 passer in 2012, and with quarterbacks coach Shawn Watson's tutelage and the aid of Texas' impressive run game, he can do it again.
Our boldest prediction
A Big 12 team will make the College Football Playoff.
Oklahoma and Baylor will meet on Nov. 8 in Norman, Oklahoma. The winner will go on to represent the conference in the inaugural playoff. You'll see.
August, 26, 2014
Aug 26
9:00
AM ET
Listen up Big 12 fans, this could be a critical three weeks or so for your team.
The destiny of the Big 12 champion could be changed on a warm Saturday in September as the conference faces critical, and not so critical, nonconference games.
Oklahoma fans should be rooting for Texas, Baylor fans should be rooting for TCU, Kansas State fans should be rooting for Kansas and vice versa. Because in this new era of a College Football Playoff, where a committee decides the playoff berths and strength of schedule can take on an even higher meaning, it's never too early to start planning for success when those initial College Football Playoff berth debates blossom in November.
Oklahoma State and West Virginia have a chance to make their individual mark on the season and strike a blow for the conference as a whole with upset wins over ACC juggernaut Florida State and SEC power Alabama in neutral site battles on Saturday.
And other big nonconference games could impact the Big 12's national title hopes against fellow Power Five foes in the next few weeks: Auburn at Kansas State, Tennessee at Oklahoma, Kansas at Duke, Iowa State at Iowa, Minnesota at TCU, Texas against UCLA, Arkansas at Texas Tech and West Virginia at Maryland.
"When all things are equal with records and whatnot, if someone has played a tougher nonconference schedule, it would usually benefit you," Oklahoma coach Bob Stoops said, while noting he believes tough nonconference games would have helped in the BCS era as well. "Otherwise, why play? Otherwise, you might as well just schedule three yawners that no one will pay attention to and not put yourself at risk of losing that game."
But overlooked nonconference tilts such as Kansas State's contest against Stephen F. Austin, Texas' in-state clash with North Texas or Texas Tech's opener against Central Arkansas this weekend could end up being just as important in the long term.
Any nonconference slip up from a Big 12 favorite could come back to haunt the conference as a whole, particularly since the last conference champion to finish the regular season undefeated was Texas in 2009. A one-loss Big 12 champion opens itself up for debates over its worthiness for a College Football Playoff Berth and a softer résumé won't help its cause with the SEC, Pac-12, ACC and Big Ten likely to have teams in similar situations.
"We'll see how the committee thinks because we can't think for them," Baylor coach Art Briles said. "All we can do is do our best on the field."
And it starts this Saturday.
August, 26, 2014
Aug 26
8:00
AM ET
Congrats to "Breaking Bad" on all of its well-deserved Emmys. So happy to see
Landry Clarke
finally win the big one. On to the links:
August, 25, 2014
Aug 25
7:15
PM ET
AUSTIN, Texas -- Charlie Strong and his coaches won't be the only new guy running out the tunnel for the
Texas Longhorns
on Saturday night. There are many more fresh faces Longhorn fans will soon get to know. Get ready for some surprises.
Strong did not release a depth chart Monday -- he'll do so later this week -- but based on what he and his players have said throughout fall camp, it's clear Texas will be relying on some players that even the recruiting junkies don't know much about. A primer on 10 players to watch as Texas opens the Strong era on Saturday against North Texas:
Safety Jason Hall
: The freshman safety from South Grand Prairie High in Dallas was a three-star recruit who's exceeded all expectations for both his talent and age. He has ideal size at 6-foot-2 and 207 pounds and has earned rave reviews from Strong and his fellow DBs in recent weeks. "Jason understands the game," linebacker
Jordan Hicks
said Monday. "You can see his confidence. He's one of those young guys who you can expect to play well in games. He's going to be a great player." Hall is still battling for a starting safety job and Strong wants a decision mid-week on who will start.
Receiver Ty Templin:
Not your typical walk-on. "He's always kind of stood out in everybody's mind for a while," quarterback
David Ash
said. "Every conversation I remember, going back for years, was, 'You know, that Ty Templin kid, he's
good
somehow.'" Ash says the 6-foot, 180-pound sophomore is a reliable pass-catcher who isn't afraid to go over the middle. With
Jaxon Shipley
(hamstring) day-to-day and
Daje Johnson
suspended, Templin has a real chance to break into the starting lineup for the opener.
Safety Dylan Haines:
We
profiled Haines during fall camp
, and the walk-on hasn't lost any momentum after wowing his coaches and teammates with a spring-game interception and a strong showing in summer workouts. "Dylan was probably the biggest shock of the spring," Hicks said. "He came on and he came on strong." While he and Hall will continue to battle, the safe bet is that both will see plenty of action in the opener and beyond.
Receiver Jacorey Warrick:
After playing mop-up minutes last season as a true freshman, "Petey" Warrick has consistently been talked up as a receiver on the rise. "He's a little guy, but he's really quick, really fast, nice hands, got stronger," cornerback
Quandre Diggs
said. "He's made some strides." He's a 5-foot-11 speedster in the slot who should see the field a lot, especially if Shipley is unavailable.
Defensive tackle Hassan Ridgeway:
The sophomore who Strong calls "The Green Mile" will be Texas' top defensive tackle off the bench and is finally buying in. Defensive end
Cedric Reed
says the big man put on 50 pounds last year and "all he could do was sleep." Not true this fall. "He looks good, physically. He looks like a monster," Reed said. "He's really taking the game serious, eating right, in the playbook, really dedicated himself to this defense. I think he'll be a breakout player this year."
Offensive tackle Marcus Hutchins:
The fourth-year player has yet to achieve much at Texas and has moved around between the offensive and defensive line. But he seems to be getting offensive line coach Joe Wickline's attention as a potential left tackle. The 6-foot-5, 278-pound lineman might get the call Saturday to fill in for
Desmond Harrison
, who's suspended for at least one game. You could also see redshirt freshman
Darius James
in this role, too.
Receivers Armanti Foreman, Lorenzo Joe:
Of the five members of Texas' true freshman receiver class, these two put themselves in the best position to play immediately. Foreman has the explosiveness and quickness to turn a short pass into a big play. He's a game-breaker if Texas can get him in space. Joe is more of a possession receiver at 6-foot-2, but he provides sneaky athleticism and is surprisingly polished for a guy who played QB in high school last year. They'll get thrown in the mix on Saturday at some point.
Punter William Russ:
The big question mark that not enough people talk about. Strong praised the fifth-year senior for having done "an unbelievable job" in fall practice. "He's one of those guys, he has a strong leg now. He may boom one 60 and the next one may go 20," Strong said. "He's got to get a little more consistency." There will be just as much scrutiny on
Nick Rose
, who gets his first shot at place-kicking duties after being the kickoff specialist for two years.
August, 25, 2014
Aug 25
8:00
AM ET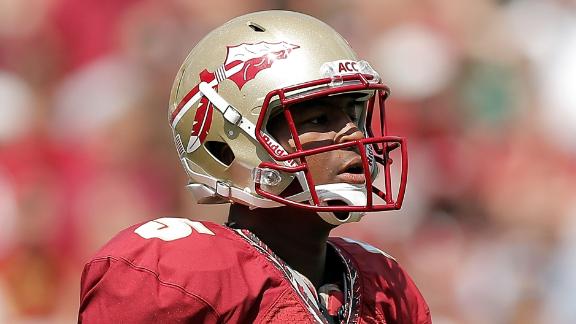 August, 22, 2014
Aug 22
10:00
AM ET
Currently, 119 athletes in the 2015 class have announced their verbal commitments to play college football in the Big 12. Of those players, 23 are ESPN 300 athletes -- and there's still plenty of time for the conference to land more of the nation's best.
Look for an uptick in conference recruiting as the fall approaches, but here's an analysis on how Big 12 teams are looking as of now for the Class of 2015.
August, 21, 2014
Aug 21
3:00
PM ET
Pick a word, any word.
That's what I asked the 65 coaches from the Power Five conferences and Notre Dame to do. Describe their team in one word.
Some coaches were one-word wonders, but a few insisted they needed two words. That's fine because the descriptions shed some insight into how coaches view their team and/or what they want the public perception of their team to be.
[+] Enlarge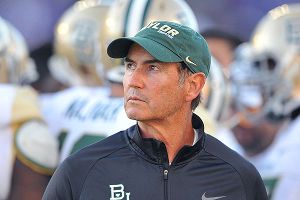 Peter G. Aiken/Getty ImagesBaylor coach Art Briles describes his team as 'mad.'
Of the 65 coaches, "hungry" was the most common description. Nine coaches went with it, making a "hungry" team the modern-day equivalent of the "taking it one game at a time" cliché. Four coaches used "unproven," another four "experienced" and three said "young." Two coaches each used "redemption," "committed," "improved" or "youthful."
In all, the 65 coaches used 44 different descriptions.
Well, here's to taking it one "word" at a time. My word: Enjoy.
Big 12
Baylor's Art Briles: Mad
Iowa State's Paul Rhoads: Hungry
Kansas' Charlie Weis: Quiet confidence
Kansas State's Bill Snyder: Valued
Oklahoma's Bob Stoops: Hard working
Oklahoma State's Mike Gundy: Youthful
TCU's Gary Patterson: Unknown
Texas' Charlie Strong: Hard work
Texas Tech's Kliff Kingsbury: Improved
West Virginia's Dana Holgorsen: Experienced
Inside Look: Women's Football Clinic
BIG 12 SCOREBOARD
Saturday, 8/30
Sunday, 8/31