September, 18, 2014
Sep 18
8:30
AM ET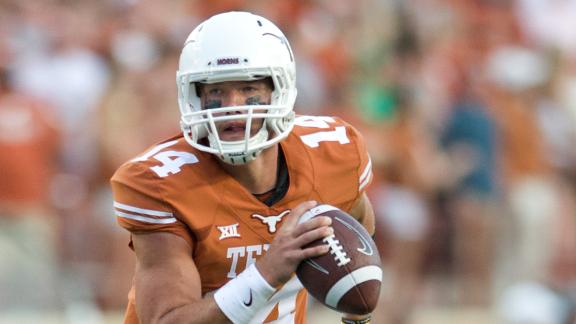 AUSTIN, Texas -- A complicated career ended with an easy decision.
David Ash
is
giving up football
, a choice far wiser than he probably appreciates, but one that is no doubt gut wrenching. Texas' quarterback was right to hang it up after his bout with concussions over the past year. There should be no debate about that.
To let Ash, a 22-year-old with a long life ahead of him, continue to play would've been irresponsible. Texas has known that since Aug. 31, when he revealed to team doctors he was once again dealing with headaches and dizziness.
"There was no way we'd let him back out on the field," Texas coach Charlie Strong said, "because we were going to be concerned about his health."
They knew he was done, so Wednesday's announcement was not unexpected. What we don't know, unfortunately, is something Texas fans have pondered for years.
We'll never know how good Ash could've been. His career seemed forever on the cusp, a few great games away from something bigger. But he gave as much as he could.
When concussions derailed his junior season last year, he wasn't ready to walk away. Last month, Ash was asked about the people who told him to stop playing. He understood why they asked their questions.
[+] Enlarge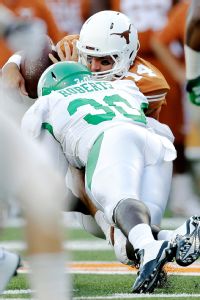 AP Photo/Eric GayDavid Ash suffered several hard hits on against North Texas in the Longhorns' first game. He revealed to team doctors he was once again dealing with headaches and dizziness the next day.
"'Why are you coming back to play? Why are you doing this? You can quit now. You did the best you could,'" Ash said. "I just can't do that."
No, he needed another chance. One more game, one more season. He'd fought hard for 12 months to get back, and even harder to become the quarterback he knew he could be.
Ash fit the prototype at 6-foot-3 and 220 pounds, with a strong arm and quick feet. He threw as pretty a ball as any Texas QB since Chris Simms, especially when you watched him practice. He was a deceptive runner, with dashes of 55, 49 and 47 yards on his résumé.
There were a few nights when he put it all together. He did it in Stillwater in 2012, leading Texas on a 75-yard game-winning drive for a 41-36 win over Oklahoma State. Looking back, that was probably the finest game of his career.
He was exceptional against Texas Tech later that season, one week after being benched at Kansas, and his second-half performance in the Alamo Bowl to beat Oregon State inspired real hope about 2013. He threw, he scrambled, he yelled, he led. He was getting closer.
But there were struggles he couldn't overcome along the way. He never beat Oklahoma in two tries, both embarrassing losses. He was pulled in that near-loss at KU in 2012. He shouldn't have tried to play with broken ribs in a Thanksgiving loss to TCU.
But if the sum total of your evaluation of Ash is "he stunk against OU," you missed out on a lot. He went 15-7 as Texas' starter. For some reason, he was judged far more by the seven than by the 15.
But Mack Brown believed in Ash. He believed Texas could be great in 2013 if Ash was great. He thought Texas could win any game on its schedule if his quarterback played at the level he expected.
Ash's rocky career will, in some ways, be forever tied to the end of Brown's. While
Robert Griffin
,
Johnny Manziel
and so many other fine quarterbacks from Texas thrived elsewhere, Ash was the guy Brown hitched his wagon to after the implosion of the Garrett Gilbert era. Had Ash not been lost for the season last year, perhaps Texas might not have a new head coach.
The public expectations, for that reason, were never going to be fair for Ash. Brown and Strong repeatedly asked him just to be a good quarterback, a distributor and manager, and not fret about being great.
His week-to-week demeanor as the leader of the Longhorn offense, the focal point of this great fishbowl, rarely changed. He was quiet, unassuming country boy from Belton, Texas, early on, but always came off as calm and rather determined. He speaks frequently about his life being grounded in his faith.
"In my mind, I always knew I was going to play again," Ash said in August. "I feel like this is where God has placed me, this is the talent he has given me and whenever I work hard and I play hard, it pleases Him and gives Him glory."
The year off from football humbled him in new ways. He came back from his concussion and foot injury with conviction. He'd never considered quitting, he said, and he wasn't going to look back.
Strong lauded his fall practices as "outstanding." Ash knew he was still getting closer. When asked about being so close to that breakthrough in 2013 and then having it taken away, having to wait patiently for another season, he offered genuine perspective.
"I think you just be thankful for what you get," Ash said, "and this goes for any person in any situation. You look at situations and say, 'I'm a victim. Why me?' Or you can look at situations and say, wow, I'm so thankful that I even got to do this much. So attitude is everything in those kinds of situations.
"So right now, wow, I get another opportunity. That's amazing. That's awesome. Thank God for that. I didn't necessarily deserve that, to get another opportunity. Just got to make the most of it."
Ash got another shot against North Texas on Aug. 30. He played as long as he could. When it was over, when the symptoms came back, he knew he could walk away without regret.
When he sat down with Strong on Wednesday to make his retirement official, he did so voluntarily. Ash is ready to move on, unburdened by expectation, off to find a new way to give glory. Soon enough, he'll realize playing quarterback has nothing to do with how good he can be.
Texas QB Ash To End Football Career
BIG 12 SCOREBOARD
Thursday, 9/18
Saturday, 9/20