July, 22, 2014
Jul 22
7:04
PM ET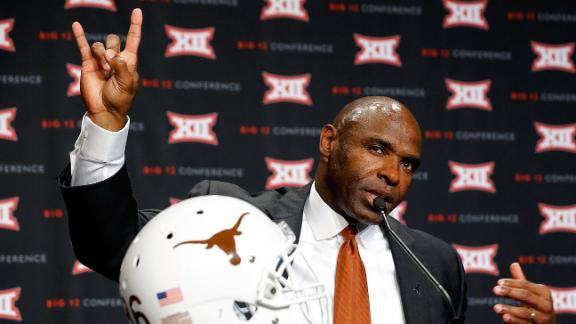 DALLAS -- Early on in his relationship with his new head coach, Quandre Diggs told Charlie Strong the unvarnished truth about what ailed Texas: Some Texas players were in it for the wrong reasons.
The senior cornerback and three-year starter told reporters the same thing Tuesday at Big 12 media days. Diggs is convinced the reason for the Longhorns' recent woes has everything to do with the buy-in from its players.
"I told Coach Strong that I just feel like we had guys on the team that just didn't love football the way they should. That's something that I've always sensed since I've been here: We had guys that just didn't love football," Diggs said. "If you don't love football, you don't need to be a part of this university or a part of this team. That's just something I feel greatly and strong about.
"I'm one of those guys where, you don't need to give me a pep talk to go out and play the game I love. I want to go out there, I want to be tough, I want to be physical with guys. I think when I'm healthy I'm one of the best players in the country, no doubt about it. I have a voice on this team and it means a lot and I say what I want to say around these guys. Those guys look up to me. Guys that don't respect it, I really don't care."
What happened to the guys who didn't love football? Have they all been removed from the picture? Diggs isn't looking to name names, but said simply: "If you don't love football, you're not going to play here."
Diggs has little sympathy for the players who will get singled out by Strong's staff for not buying in and getting their jobs done.
July, 22, 2014
Jul 22
2:55
PM ET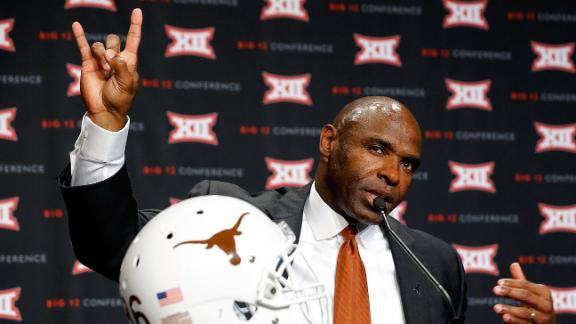 DALLAS -- Charlie Strong didn't arrive at Texas as a bright-eyed coach with limited experience. His success at Louisville and other stops during his 32 years in the profession speaks for itself.
Nonetheless, it's never a bad idea to take advice from Kansas State's Bill Snyder, a veteran coach who has won 102 games in the Big 12. Asked whether he had advice for Strong, Snyder passed along some sage words.
"I visited with Charlie just a little bit ago," Snyder said. "I think the important thing is just be who you are. And if you indeed do that, be who you are, care about people, I think things can work out fine for him."
Strong held his first Big 12 media days news conference Tuesday, addressing several questions about his program, including what he has learned since arriving in Austin.
"Well, the main thing, what's really key -- you can't look at any job any different than anywhere else you've been," he said.
That sounds good, but make no mistake: Being the head coach at Texas is unlike any other job he's held during his coaching career. Expectations are high, demands are even higher, and the pressure to win began roughly around the time Strong took a seat in front of the masses after being introduced as the Longhorns' head man in early January.
The desire to "put the 'T' back in Texas" and commitment to academics are among the messages that have become commonplace during his time in Austin, and Strong reiterated those goals during his first Big 12 media days appearance. He also addressed Texas' national title hopes after saying earlier this year that the Longhorns would not win it all in 2014.
July, 22, 2014
Jul 22
9:15
AM ET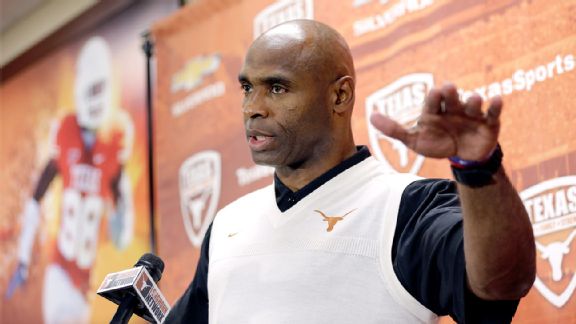 AP Photo/Eric GayCan Charlie Strong put the Longhorns back in the mix of contenders in his first season?
As we count down 50 days until the start of the 2014 college football season, ESPN Insider Travis Haney is answering at least one big question a day until South Carolina and Texas A&M's kickoff Aug. 28.

Heisman contenders, breakout freshmen, conference winners -- it will all be covered as part of Insider's Ultimate Season Preview.
Today's question:
Could the
Texas Longhorns
be a surprise contender in the Big 12?
It feels a little early to project the Longhorns as a viable threat in Charlie Strong's first season. But when you start looking around the league, it doesn't feel all that far-fetched.
Assuming the
Oklahoma Sooners
and
Baylor Bears
are the favorites, that next tier is rather open.
July, 22, 2014
Jul 22
9:00
AM ET
Our series of preseason picks for every single Big 12 game of 2014 continues today with Week 12. Not a good week to be the home team, evidently.
More Big 12 predictions for 2014.
Texas 28, at Oklahoma State 27:
Even with the Pokes in the bottom half of the Big 12 standings, you knew this game was going to be a tricky one for Texas. The Longhorns find the end zone with 2 minutes left -- no controversial fumble this time, either -- and Charlie Strong's defense clamps down once
J.W. Walsh
crosses the 50, securing victory with a fourth-down sack off the edge on a risky blitz from
Quandre Diggs
.
TCU 35, at Kansas 15:
TCU lets the Jayhawks into the red zone too many times early on, but keeps forcing field goals and rallies in the third on some big-time playmaking from
Trevone Boykin
, who notches a touchdown reception and a long touchdown run as a Wildcat quarterback. The missed opportunities in the first half cost KU a chance to capitalize off its win over ISU the week before.
Oklahoma 38, at Texas Tech 34:
The
Trevor Knight
vs.
Davis Webb
duel, with the crown for the Big 12's second-best QB on the line, does not disappoint. Tech takes a double-digit lead into the start of the fourth quarter, but Knight flips the switch with heroics that can only be described as Sugar Bowl-caliber and connects with
Taylor McNamara
on third-and-goal for the go-ahead score in the final minute to clinch victory in a downright brawl.
Current Big 12 standings
1. Oklahoma
-- 9-1, 6-1
2. Kansas State
-- 7-2, 5-1
3. Baylor
-- 7-2, 4-2
4. Texas
-- 7-4, 5-3
5. TCU
-- 7-3, 4-3
6. Texas Tech
-- 6-4, 3-4
7. Oklahoma State
-- 5-5, 3-4
8. West Virginia
-- 4-6, 3-3
9. Kansas
-- 3-7, 1-6
10. Iowa State
-- 2-7, 0-6
Malcolm Brown on Expectations for Offense
BIG 12 SCOREBOARD
Saturday, 8/30
Sunday, 8/31