March, 14, 2014
Mar 14
11:12
PM ET
March, 14, 2014
Mar 14
4:00
PM ET
In today's mailbag, we discuss Texas Tech's big recruiting prize, veteran quarterbacks at West Virginia and Texas and a cool idea for a Big 12-related "30 for 30."
To the 'bag:

Matt in Dallas writes:
With news that Tech RB
Kenny Williams
is looking to move to OLB, will we be seeing
Justin Stockton
get carries as a true freshman in 2014?
Trotter:
I have a hard time believing this move will stick. I suppose it's possible Williams could help the Red Raiders in spots at outside linebacker next season. But I don't believe it will come at the expense of his standing at running back. After Williams and
DeAndre Washington
, the Red Raiders aren't exactly experienced at running back, either. Spring is the time for college football teams to experiment. For now, I don't see this as anything more.
---

John in Boone, N.C., writes:
Do you really think
Paul Millard
has any chance at winning back the QB job? Dana Holgorsen couldn't possibly make us sit through that again, could he?
Trotter:
The way I see it, the only player who can beat out
Clint Trickett
to start the season opener is juco transfer
Skyler Howard
. It's pretty clear the offense responds better to Trickett than to Millard. But it's not clear yet how the offense might respond to Howard. With a banner spring followed up with a banner preseason, Howard could warrant a hard look.
---

Andy in Austin, Texas, writes:
What are the chances
David Ash
hangs up his pads? With his NFL playing chances slim-to-none, wouldn't it be better for his health long term to retire and let Shawn Watson have more time to work with
Tyrone Swoopes
or
Jerrod Heard
?
Trotter:
We're not to this point with Ash. Sure, the concussion issues might resurface. That's certainly a possibility. But those issues might be behind him, too. This is something that will be resolved here over the next few months. Either way, Texas is a better team with a healthy Ash.
Jerrod Heard
and Swoopes have potential, but Ash is the only QB on the roster who has proven he can quarterback Texas to wins in hostile environments.
---

Matty in Lubbock, Texas, writes:
As a Red Raider fan looking forward to the future of the program, should I be more excited for
Patrick Mahomes
or
Jarrett Stidham
?
Trotter:
There's plenty to be excited about in Mahomes, who is a raw prospect for a quarterback that figures only to blossom in Kliff Kingsbury's system. But Stidham is the No. 1 dual-threat QB recruit in the country for 2015 for a reason. Tech landed Stidham over Alabama, Auburn, Baylor, Florida, Ohio State, Oklahoma, Oklahoma State, Oregon and Texas, among a host of many other suitors. In other words, snagging Stidham is the most significant recruiting victory for Texas Tech in a long, long time. Armed with
Davis Webb
, Mahomes and now Stidham, the Red Raiders are going to be very good at quarterback for the next several seasons.
---

Jake Jones in Oklahoma City writes:
Hey Jake, instead of the 10-second rule I think the coaches should propose a rule on size/speed limits. Since force equals mass times acceleration, a better rule for player safety would be no players over a certain weight that can run a certain speed would be eligible to play. Thereby, slower players with less mass would result in less force and thus make the game safer. Tell Nick Saban at least that idea has physics behind it.
Trotter:
Poor Nick Saban. This is the
second time this week
he has gotten burned by someone from the metro Oklahoma City area.
---

Neo in Olathe, Kan., writes:
With the improved OL and a strong running game, do you think the Jayhawks have the receivers to win a conference game or two? The defense is the mighty mouse of the Big 12, but can the offense put up numbers to actually win?
Trotter:
I agree. I actually think the defense is good enough for Kansas to win two or three games in the league. The Jayhawks are actually pretty solid and experienced at linebacker and in the secondary. But the Achilles' heel has been receiver, which has been an utter disaster since Dezmon Briscoe and Kerry Meier left. There is reason for hope, however, things could be better in 2014.
Nick Harwell
was an all-conference player at Miami (Ohio) before transferring in. If he can become a viable No. 1 option at Kansas, too, that will go a long way in the Jayhawks scoring more points, and thus, being more competitive.
---

Bill in Manhattan, Kan., writes:
How long until there is a 30 for 30 film about my "Miracle in Manhattan", the greatest turnaround in college football history?
Trotter:
I don't think this is a bad idea at all. I would definitely watch.
March, 14, 2014
Mar 14
1:00
PM ET
The facilities race continues.
Earlier this week,
Texas announced its plan
to explore the possibility of expanding
Darrell K Royal Stadium
with renovations of the south end zone. The school will study the feasibility of completing the south end zone with a focus on "revenue generation," according to a UT release.
[+] Enlarge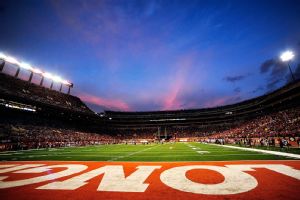 Stacy Revere/Getty ImagesTexas will study a possible expansion of Darrell K Royal Stadium that would make it the largest stadium by capacity in college football.
The school's release comes at the same time as Texas A&M's renovation of Kyle Field this spring, taking the rival Aggies' stadium to a capacity of 102,000, surpassing DKR's capacity of 100,119. The Aggies' move to the SEC and on-field success with Heisman Trophy winner
Johnny Manziel
has already made major waves in the state of Texas and across the college football landscape, and has given coach Kevin Sumlin plenty of weapons in his arsenal on the recruiting trail as the Aggies battle for the state's elite talents. The Kyle Field expansion adds another weapon to that arsenal.
Any planned expansion of DKR is in preliminary stages, with funds needing to be raised, a budget finalized and a construction timeline cemented it can become reality. But if the south end zone renovation eventually comes to fruition, it could push the overall capacity of DKR above 115,000, surpassing Michigan Stadium to make it the largest college football stadium in the nation.
Surely you didn't expect UT to sit back and watch Texas A&M grab the bragging rights of having the largest football stadium in Texas without a response?
At an initial glance, it might look like pride is dictating the school's decision-making. But a stadium upgrade would help ensure new coach Charlie Strong isn't left behind when he hits the recruiting trail. And quality recruiting builds the foundation of success in college football.
Strong and Texas already have recruiting advantages galore as college football's most profitable and richest program, but UT's desire to pursue as many advantages as possible and expand its home stadium should pay off, both in the program's bottom line and on the recruiting trail.
March, 14, 2014
Mar 14
10:00
AM ET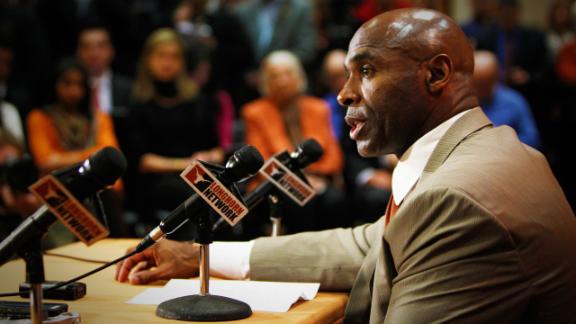 AUSTIN, Texas -- Five miles on Monday. Six miles on Tuesday. Then five, six and five to finish out the week.
This is the routine, the ritual, by which Charlie Strong abides: The daily morning jog. He wakes up around 4:30 a.m., laces up his sneakers and hits the pavement.
"I've got my route here," he said. "There's some really good routes around here."
[+] Enlarge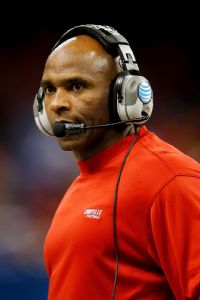 Chris Graythen/Getty ImagesCharlie Strong is getting a fresh start at Texas, but his routine hasn't changed.
Strong likes starting his day with some sweat, and a tradition that holds more importance than simple exercise. This is his little way of managing the hectic demands of being the head coach. This is his escape.
"That's just a way to get my time for myself. I think you need to have time for yourself," Strong said. "I don't like to run with anyone. I'm not gonna run with anyone. I don't want to talk. I just want to run and just let your mind kind of wander, let it go."
On the chaotic mornings and the calm ones, the new leader of the Longhorns gets away from it all. He'd been doing this for years, embracing the calm before the new day's storm.
"It's just a sense of relief, you know, because you're able to do your thinking and put your day together as you go on," he said. "And not only do you think about that, you think about everything else, too."
And that's how he'll continue to start his day as Strong continues to work toward giving Texas football the fresh start it desperately needed.
To appreciate the challenges Strong will face in his first year in burnt orange, understand that the first few honeymoon months haven't exactly been a cakewalk.
Strong had 10 days to assemble his coaching staff. One day after his assistants were all on board, they hit the road to save and salvage the 2014 recruiting class they'd inherited.
"We just tried to keep the class together," he said. "I know a couple might've slipped away from us, but just getting around to the different high schools for two weeks, I went non-stop."
Strong hit Dallas, Abilene, East Texas, Houston, Beaumont, New Orleans and everything in between, racing to meet as many commits as possible and sway a few more to join him in Austin. There was no break after that class signed. Texas had to piece together its plans for the next batch of recruits and host two junior-day events in the weeks that followed.
One month after agreeing to leave Louisville for the bright lights and big opportunities of Texas, Strong was still living out of an on-campus hotel room and spending many of his days in rental cars and planes.
When he was in town, he joked that he'd spend most of his time in a staff conference room. No time to decorate the new office.
This week provided one of his few chances to exhale. Texas begins spring practices on March 18, and the grind to get there hasn't let up. This is a day-by-day process, so you can see why he cares about starting those days off right.
Texas defensive coordinator Vance Bedford witnessed another daily routine during his years of coaching with Strong at Louisville.
"Charlie, every morning at 7 a.m., would call his two daughters and make sure they were up and ready to go to school," Bedford said. "To me, that's saying a whole lot about who he was as a man. He treats the players the same way. I can't say that about a lot of guys I've worked for. He has that same attitude on the football field -- he's going to coach them hard, but he cares about them as young men first."
Getting Longhorns players prepared for their fresh start is just the first of Strong's many challenges in 2014. The transformation is already underway, led by new strength coach Pat Moorer -- another Louisville import -- whose offseason training program is said to be infamously painful.
Meanwhile, Strong's staff has spent weeks putting together their playbook. Plenty still needs to be sorted out in spring ball, most notably the decision on whether a 3-4 or a 4-3 base defense best suits the Texas talent they've inherited.
And there are holes to fill in the lineup, of course, with three longtime starters on the offensive line, a Big 12 Defensive Player of the Year and a consensus All-America kicker/punter all gone.
At quarterback,
David Ash
missed 10 games with concussion issues and won't take any hits in spring practice. He'll need to learn the new scheme and get back to playing his best football quickly, or else landing USC transfer
Max Wittek
this spring is a must.
But that's the easy stuff, the in-house issues that Strong has 15 spring practices and a long summer to address. What should consume just as much of his time is figuring out how to slow down Texas A&M in recruiting and Baylor, Oklahoma and the rest of the Big 12 on the field.
Again, this is just half the job. Strong has to find his comfort zone when it comes to the public demands of his new gig. Mack Brown played the politician better than anyone. That's not exactly the game Strong wants to play.
He says a misconception exists that he doesn't like dealing with media. Truth is, he doesn't mind it. Strong's first few news conferences have exceeded expectations. Still, managing expectations in Year 1 -- with fans, boosters and anyone else bleeding orange -- will get challenging as the year goes on. He's well aware of that.
"I always say this: We're like a political office," Strong said. "You're open to public scrutiny. Everybody's got an answer about your job. Everybody can coach. I'm good with it. I'll give 'em a lesson if they need it, come on over here."
Stack up all those demands, and it's easy to see the pressure, though Strong said last month he isn't sensing it yet. After all, he did sign up for all of this.
"I don't think about it. If you prepare the right way, and preparation is the key, then it relieves all pressure," he said. "That's the key. You have to be prepared. You can't just bounce out there with no agenda, no vision, not knowing what you want to go do.
"Why change? Keep doing what you're doing. Just be yourself and keep doing what you were doing."
Times like these require staying grounded. That's where the daily routines help most. The job isn't easy, but Strong is ready to build Texas back up one day -- and one run -- at a time.
March, 14, 2014
Mar 14
9:00
AM ET
This week, we're taking a closer look at the members of the new Texas coaching staff under Charlie Strong. The fifth and final part of our two-a-days series focuses on two critical coaches who should not go underappreciated, as well as how they complete the staff.
Bruce Chambers
Tight ends
There is real value in continuity amid a flurry of change. That idea can get easily lost as fans fantasize about their program assembling the best all-star staff money can buy.
[+] Enlarge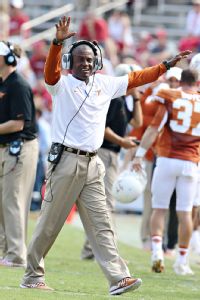 Matthew Emmons/USA TODAY SportsBruce Chambers is a holdover from Mack Brown's staff.
For Strong, bringing back the veteran Chambers for his 17th season with the program was his way of bridging the gap between coaching staffs and maintaining some consistency.
That move proved especially important in January, when Chambers escorted Strong on his first recruiting tour of the critical Dallas-Fort Worth area high schools.
"I love going with Bruce Chambers," Strong said, "because I meet so many people, I can't remember them all. He has me all over that city."
Chambers joined Mack Brown's first staff in 1998 and has been a Longhorn ever since, spending the past 12 years as the tight ends coach. The transition to the Strong regime hasn't been stressful, he said, because he already knew several of the new assistants from his time in the business.
"It's been smooth, it really has been," Chambers said. "It hasn't been hard at all. You just go back to work."
During Chambers' time on the road recruiting with Strong, the two quickly figured out they'd met before on the trail.
"One of the things I learned about him, and was reminded by him, is that when I was a high school coach he actually recruited three of my players," Chambers said. "He actually came into the high school and I met him then. But we hit it off really well, had a good time in Dallas."
As much as Chambers can help the next staff get familiar with last year's game tape and this year's roster, he's doing some learning this spring, too. He's offering his input on the creation of Texas' new offensive scheme and likes where the playbook is heading.
"It reminds me a lot of when I first got to Texas with Greg Davis," Chambers said. "It reminds me a lot of that feel. I think it's an offense that's big-play yet it can grind it out. I think it's a very, very balanced offense and a fun offense. I think the guys will enjoy playing in it and the fans will enjoy watching it."
The start of Brown's regime was exciting times for Chambers. These past few months have brought back similar feelings. He's doing the same job he's had for a long time, but the task of starting over is off to a good start.
Pat Moorer
Head strength and conditioning coach
The new leader of Texas' strength program comes from Louisville and was one of the first coaches Strong brought with him to the 40 Acres. He's revered for the transformative effect he had on the Cardinals' program, overseeing gains in strength, speed and a major overhaul in accountability.
"We have the best strength coach in the country in Pat Moorer," defensive coordinator Vance Bedford said. "You're going to see these guys, the bodies are going to change, they're going to look totally different. Their attitude is going to be totally different."
Moorer has run Texas' offseason program this winter and probably knows the Longhorn players far better than Strong and his assistants at this point. He'll be an omnipresent part of the program, and if you want to play you better exceed his standards.
He's also the bad cop of this operation, the no-nonsense disciplinarian. The last person a Texas player in trouble wants to see is Moorer.
"If you've made it to Coach Moorer," linebackers coach Brian Jean-Mary said, "that probably means you've had a bad experience. And it's probably going to be worse. After Pat's done with you, you're going to feel like that wasn't the best of decisions."
The former Florida linebacker earned SEC Freshman of the Year in 1986 and used to serve as Emmitt Smith's personal trainer. Moorer spent 11 years at South Carolina before joining Strong's staff at Louisville and achieved his master strength and conditioning coach certification, the highest honor of his profession, in 2006.
Jean-Mary knows from their time together at Louisville that Moorer is an invaluable extension of the staff, and the coach who spends more time with players than anyone else.
And what makes Moorer so effective, he says, is the fact he cares about a lot more than just how much the players are benching and squatting. This is truly a holistic process.
"I think Pat and Charlie are cut from the same cloth," Jean-Mary said. "They want to work on the total person, not just the bigger, faster, strong and looking the part on the field. He works so much more on the leadership aspect, the communication aspect with other students and faculty members outside of the football program. The community work.
"He really wants them to be the total person. He really tries to bring out the maturity level."
Getting the full buy-in from Longhorn players is critical this offseason, and those who can't keep up with Moorer's style might not last long. The ones who go all-in should look a lot different by August.
March, 13, 2014
Mar 13
3:00
PM ET
Texas takes the field for its first spring practice next week, and it has plenty it needs to accomplish under new head coach Charlie Strong. Here are a few of the many, many items on the Longhorns' to-do list for spring ball:
Offensive returner ready to take next step:
Hate to state the obvious here, but
David Ash
needs to take one big step in the right direction this spring. After playing in only three games last season because of concussion issues, Ash will be cleared for full practice participation and wear a green no-contact jersey. His return to the weight room this winter was encouraging, but he has a brand-new offense to master and has a new quarterbacks coach for the third straight season. He needs to get comfortable and confident once again this spring.
[+] Enlarge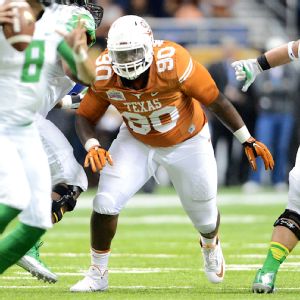 John Albright/Icon SMIMalcom Brown is ready to become a star on Texas' defensive line.
Defensive returner ready to take the next step:
Watch out for defensive tackle
Malcom Brown
, because the junior's next step is to be an All-Big 12 and All-America-caliber player. He was clearly Texas' most talented defensive tackle as a true sophomore and will be a focal point of the defensive line no matter if Texas is in a 3-4 or 4-3 defense. New defensive line coach Chris Rumph is ready to maximize Brown's potential.
Redshirt freshman to watch:
Plenty to choose from, but cornerback
Antwuan Davis
stands out. Former coach Mack Brown was very tempted to throw the freshman from Bastrop, Texas, on the field in 2013 but held off. Great measurables, track speed and a fiery competitiveness make Davis a second-year guy capable of fighting his way into a role in this secondary.
Most significant position battle:
We outlined that
in this post
, but it's worth repeating: kicker and punter. With consensus All-American and Lou Groza Award finalist
Anthony Fera
gone, Texas faces some big question marks at both spots. New special teams coach Chris Vaughn wants to see all his options in action and put each kicker and punter through pressure situations to see who comes out on top.
Key midterm enrollee:
This is a shorter list than usual this year, as only three signees joined the program in January. But tight end
Blake Whiteley
will be the most interesting to watch. The Arizona Western Community College transfer has everything you'd want in the size department -- 6-foot-5, 245 pounds -- and was a 1,000-yard receiver during his high school days. Texas hasn't had a feared pass-catcher at that spot in a long time.
Question that could be answered:
Which players can hang with the new brand of Texas football? That's been the critical question throughout offseason workouts, and Strong and his staff will get much more definitive answers in the next month. Those who can keep up will stand out. Those who can't might not be on the roster much longer. Expect some attrition after spring ball ends, as is often the case with new regimes.
Question that won't be answered until fall:
The quarterback job. It's possible USC transfer
Max Wittek
does not reach a final decision on his destination until April or May, and freshman
Jerrod Heard
arrives not long after that. Both will make a run at the job (if Wittek chooses UT), and we won't know where things stand with Ash's long-term health until he starts taking hits again. He won't see any in spring ball, that's for sure. Texas coaches are excited about having Ash for two more seasons, but they'll also put a high value on competition.
March, 13, 2014
Mar 13
12:30
PM ET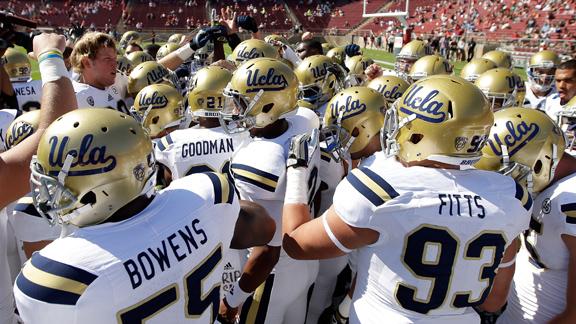 The new College Football Playoff is supposed to encourage schools to schedule better nonconference games, as teams try to beef up their schedule strength to earn one of the playoff's coveted four spots at season's end.
On Thursday, Texas A&M and UCLA
announced that they'll play each other
during the 2016 and 2017 seasons.
Other schools have announced future marquee nonconference opponents, including Texas A&M vs. USC, Notre Dame vs. Texas, Alabama vs. Michigan State and LSU vs. Oklahoma.
Here are five other nonconference games I'd like to see in the future:
[+] Enlarge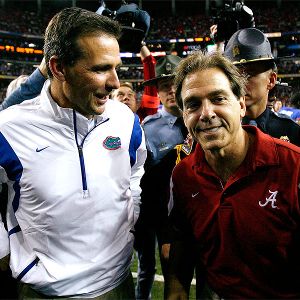 Kevin C. Cox/Getty ImagesUrban Meyer and Nick Saban have faced off for SEC titles, but their current teams, Ohio State and Alabama, have played only three times in history.
1. Alabama vs. Ohio State
: Alabama's Nick Saban and OSU's Urban Meyer dominated the SEC when Meyer was coaching at Florida, combining to win five BCS national championships from 2006 to 2012.
When Meyer was still coaching at Florida, the Crimson Tide and Gators played in two of the most anticipated SEC championship games. The No. 2 Gators beat the No. 1 Tide 31-20 in 2008, and then the Tide turned the tables on No. 1 UF with a 32-13 win in 2009.
Alabama and Ohio State have played only three times in history, with the Tide winning each time, most recently in a 24-17 victory in the 1995 Citrus Bowl.
2. Texas vs. Texas A&M
: Perhaps the biggest casualty in conference realignment, Texas and Texas A&M haven't played each other since the Aggies bolted the Big 12 for the SEC after the 2011 season. Sadly, there are no plans for the in-state rivals to play again in future regular seasons.
The Aggies and Longhorns played each other 118 times from 1894 to 2011, with their annual meeting traditionally being played on Thanksgiving Day. UT won nearly twice as many games as the Aggies (76-37-5), including nine of the last 12 meetings.
With former Louisville coach Charlie Strong taking over at Texas, and Kevin Sumlin building the Aggies into an SEC powerhouse, the game would also pit two of the sport's best African-American coaches against each other.
3. Oregon vs. Baylor
: Two of the game's most explosive offenses -- and two of its best-dressed teams -- would undoubtedly light up the scoreboard if they ever played. In fact, the contest would probably look more like a track meet.
Under coach Art Briles, the Bears have become the Ducks of the Southwest, with their hurry-up, spread offense and myriad flashy uniforms closely resembling what Chip Kelly and then Mark Helfrich built at Oregon. The Bears and Ducks follow the same blueprint on offense: play fast and score fast.
We hoped to see this matchup in the Tostitos Fiesta Bowl last season, but alas, it didn't happen. Oregon and Baylor have never met on the gridiron.
4. Michigan vs. USC
: Two of the sport's traditional heavyweights have faced each other eight times in the Rose Bowl Game Presented by Vizio, but only twice during the regular season -- in 1957 and 1958.
The Trojans won the last three meetings in the Rose Bowl, 32-18 in 2007, 28-14 in 2004 and 17-10 in 1990. USC has won six of the past seven meetings overall and holds a 6-4 advantage all-time.
We might have seen this matchup during the regular season if a Big Ten/Pac-12 scheduling partnership hadn't fallen apart in 2012.
5. Georgia vs. Florida State
: UGA coach Mark Richt was a longtime assistant under legendary FSU coach Bobby Bowden before taking over the Bulldogs, and he recently poached defensive coordinator Jeremy Pruitt off the Seminoles' staff.
The Bulldogs and Seminoles go head-to-head for a lot of recruits every year, and Florida State coach Jimbo Fisher upgraded his roster by effectively recruiting South Georgia and Atlanta.
The Bulldogs and Seminoles have played 11 times and only once since 1984 -- UGA defeated FSU 26-13 in the 2003 Sugar Bowl. Georgia leads the all-time series, 6-4-1.
March, 13, 2014
Mar 13
12:00
PM ET
Get ready for the best quarterfinal round in the history of the Big 12 men's basketball tournament today.
March, 13, 2014
Mar 13
10:00
AM ET
This week, we're taking a closer look at the members of the new Texas coaching staff under Charlie Strong. The fourth part of our two-a-days series focuses on two experienced defensive coaches Strong brought in from other schools, and what they'll bring to their respective position groups.
Chris Rumph
Assistant head coach/defensive line
Rumph must get this question a lot: What's it like at Alabama?
Actually, the inquiry probably sounds more like this: No, what's it
really
like at Alabama?
[+] Enlarge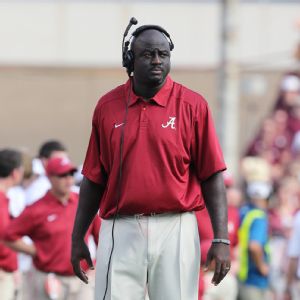 Matthew Emmons/USA TODAY SportsChris Rumph wants to bring the success and work ethic that has defined Alabama under Nick Saban to Texas.
Texas' new defensive line coach arrives fresh off a three-year stint with the great dynasty of college football. Rumph got two national title rings, coached NFL-caliber players and recruited five-stars. He knows The Process like the back of his hand.
And it's probably safe to say he gets lots of questions about Nick Saban, too.
"He has a method to his madness and you can't knock it," Rumph said. "Whatever you want to say about it, you can't knock it. Because it works."
What's the secret to Bama's success? This will sound cliché, of course, but Rumph believes much of what makes the difference comes down to two big things: Accountability and attention to detail.
At Alabama, those are the core standards. At Texas, it's a must if you want to play for Rumph.
"If I tell you that you need to walk one mile," Rumph said, "and you walk a half mile, I've got issues with that. I think that's the difference for some programs.
"We say get behind the line. Everybody better be behind the line. We say run 10 yards. You better run 10 yards. Not eight, not nine. A lot of places that aren't successful are that nine yards, that 'He ran hard but he only ran nine yards, he didn't run 10 yards.' I see the same thing here. We tell those guys it's attention to detail. It's about the little things, about doing your job."
It's like a dam, he says. All it takes is one little crack that goes overlooked and, over time, the dam busts.
Crimson Tide players had to be dedicated to doing things the right way every single time. When you do a squat in the weight room, Rumph said, it better be the best squat ever. You better dominate that squat, and then do it again. That's how you build toward big things.
"Stop being so result-oriented," Rumph said. "I tell my guys, don't worry about making 10 sacks. Don't worry about 20 sacks. Just the process to get there."
Even with Alabama's gigantic turnaround under Saban, Rumph proudly says Texas is the "best university in the universe." How quickly the Longhorns regain their national prestige will depend on how quickly the players buy into what Rumph and the coaches are demanding.
As he put it: "We want to make the most feared statement in college football: 'We play Texas next.'"
Chris Vaughn
Defensive backs/special teams
When you dedicate eight years of your career to being a recruiting coordinator in the SEC, you learn a few things along the way.
Four years of those duties at Arkansas and four more at Ole Miss gave Vaughn a wealth of knowledge about how to win a kid over. The key, he says, is knowing that convincing the recruit is a small piece of the pie.
Recruiting is a game of relationships, a lesson that Vaughn learned over and over and was reinforced by his 13 years of working with former head coach Houston Nutt.
"We all sound like car salesmen, of course, because we want to sell our university and what we believe in," Vaughn said. "But it's the mom and dad, the grandmother, the uncle, that when all the schools come in, they see through what's on the side of the helmet or what type of shoes you're wearing or the people sitting in the stadium.
"They just want to know somebody is going to take care of their baby. I think that's one thing I really learned from Houston: You've got to build relationships with the family. At the end of the day, that young man is going to ask a family member close to them, 'What do you think?'"
Vaughn, who will recruit southeast Texas and Louisiana for Texas, has ties all over the South from his past gigs. Those should pay dividends in the instances when the Longhorns staff looks outside the state for talent.
One talent Vaughn always likes to see when he's out evaluating recruits: Wrestlers.
Back in his days at Godby High in Tallahassee, Fla., Vaughn was runner-up in the state wrestling championship. He was an undersized 195-pounder in the 220-pound class, and he didn't lose often.
"If a guy is a good wrestler, as a football player, that carries a little weight with me," he said. "If he's good, I know he's dedicated, know he's a hard worker, know he loves to compete and doing the little things are important to him."
And when it comes to recruiting, those little things can make all the difference.
March, 13, 2014
Mar 13
10:00
AM ET
In 2013, Baylor quarterback
Bryce Petty
was the overwhelming pick as Big 12 Offensive Player of the Year after leading the conference in passing while guiding the Bears to their first Big 12 championship.
As a result, Petty will go into his senior season as the clear-cut favorite to repeat.
But is there anyone else in the league capable of threatening his reign?

There might be, including a couple of budding young quarterbacks, a tough veteran runner and one of the best playmaking wide receivers in the country.
That receiver -- Kansas State's
Tyler Lockett
-- could become Petty's biggest challenger, especially if the Wildcats emerge as contenders for the Big 12 title. Despite missing two games because of injury, Lockett finished third in the conference in receiving yards (1,262) and receptions (81) last season. He led the league in receiving yards per game and became virtually uncoverable late in the season, when quarterback
Jake Waters
also found his passing stride. Lockett torched Oklahoma for 278 receiving yards and three touchdowns, then hauled in another three touchdowns two games later in the Buffalo Wild Wings Bowl against Michigan.
Lockett, however, isn't the only player who could push for the award, especially if quarterbacks
Trevor Knight
and
Davis Webb
build on the way they played at the end of their freshman seasons.
In the Allstate Sugar Bowl, Knight shredded two-time defending national champ Alabama while leading Oklahoma to a stunning 45-31 victory. Knight threw for 348 yards and four touchdowns and finally performed the way the Sooners thought he would when he beat out favorite
Blake Bell
for the starting job before the season.
Webb was just as impressive in Texas Tech's victory over double-digit favorite Arizona State in the National University Holiday Bowl. Webb completed 28 of 41 passes and threw for four touchdowns, tying a Holiday Bowl record. He finished with the league's third-best
Adjusted QBR
behind Petty and second-team All-Big 12 performer
Clint Chelf
.
The league's top five rushers from last season are out of eligibility. But after taking over for injured starter
Johnathan Gray
, Texas'
Malcolm Brown
showed he could be a reliable workhorse running back able to move the chains. In his final three games last season, Brown rushed for 128, 131 and 130 yards. With Gray's health in question as he attempts to return from a ruptured Achilles' tendon, Brown could open the 2014 season as the primary back again.
In addition to Petty, Baylor has two other big-time playmakers coming back in receiver
Antwan Goodley
, who led the Big 12 in receiving touchdowns last season with 13, and running back
Shock Linwood
, who was sixth in the Big 12 in rushing in 2013 with 881 yards despite being Baylor's third-team running back.
There are several dark horses to watch as well, including Gray, Oklahoma running back
Keith Ford
and West Virginia running back
Rushel Shell
.
But we put the question to you via a poll: Who is the biggest threat to Petty repeating as Big 12 Offensive Player of the Year?
March, 13, 2014
Mar 13
9:00
AM ET
There was a time when the notion of not holding a spring game was uncommon.
Fans and recruits could circle the date on their calendars, young players and new coaches saw it as the first opportunity to make a lasting impression.
[+] Enlarge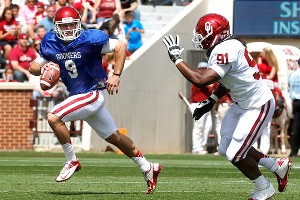 AP Photo/Sue OgrockiOklahoma is one of fewer and fewer Big 12 teams that will hold a full-fledged spring game.
More recently, however, the value of the spring game has been challenged with various coaches pondering if a traditional spring game is the most efficient use of time as they aim to prepare their rosters.
This spring, Oklahoma State coach Mike Gundy raised eyebrows when the Cowboys announced their "Orange Blitz" open practice session would replace their traditional Orange-White spring game. TCU has rarely held a traditional spring game under Gary Patterson, with the Horned Frogs preferring intra-squad scrimmages.
Patterson values the opportunity to watch other team's spring games on television but refuses to give other coaches that advantage over his team and doesn't view the event as essential for the Horned Frogs program. TCU has not finalized its plan for this spring, but a traditional spring game seems unlikely.
Although his program normally holds an event, OSU opened the spring with a young, battered roster, which was the main reason for Gundy's decision to shun a spring game this year. For Gundy, engaging fans with a spring game had to take a backseat to the overall development of the young players in the program during the 15 practices the Cowboys will hold in March and April.
"At some point I have to make a decision based on what's best for our team first and then our fans and people that follow us second," Gundy said earlier this week.
Other Big 12 coaches point to health concerns as obstacles to holding a traditional spring game featuring two separate squads.
"Spring games are always a trying time due to depth at certain positions," said Kansas coach Charlie Weis, who will hold KU's spring game on April 12. "Concern for injuries is always an issue, not being able to field two entire competitive teams is a problem."
Postponing the spring game can become a real option, particularly after losing a large class of seniors off the roster thus crippling the overall depth of the program until February signees arrive in the summer. Quarterbacks end up switching teams in the middle of the game, a lack of available linemen waters down the quality of the action and fears of a season-changing injury can cloud these spring finales.
"Everyone says, 'Well I would love to have a draft and have my guys go on each side of the ball,'" Oklahoma coach Bob Stoops said. "You can't, you don't have the personnel. Sometimes you have so many injuries or you may be thin that you can't afford to have a spring game and get somebody hurt. Some other years, when we are a little bit down, I don't want to take a chance on it. It is all great until someone gets hurt and blows a knee out, and then it is, 'Why did I do that?'"
The Sooners are one of the Big 12 programs that are all-in on the spring game, selling tickets to the event, televising the action and creating a game-like atmosphere at Oklahoma Memorial Stadium. But even OU dumbs down the efficiency of the actual football in the game, sitting starters and simplifying schemesto avoid lurkers, such as Patterson, who are aiming to gain useful tidbits on the Sooners that they can use in the fall.
Even with all those drawbacks, the spring game remains valuable for the majority of the conference, with several Big 12 coaches pointing toward the game-like atmosphere, not to mention the recruiting value, of the traditional spring game as assets too useful to ignore.
"I think it's great for the fans," Texas Tech coach Kliff Kingsbury said. "You only get six home games in the regular season, sometimes we only get five some years. So to have another game at Jones Stadium so that everyone can come back and tailgate, have some festivities, I think it's great for the university and great for the fan base. And I like to see our players when the lights come on. Anybody can do it in practice, but when the lights come on and there's some pressure and people are watching, let's see how you perform."
Kansas State won't kick off its spring drills until April 2 but will hold its spring game on April 26. Head coach Bill Snyder believes the tradition of the spring game outweighs any cons.
"The positive attributes of having a spring game for us include tradition, for our young people and our fan base, the benefits it provides our local community and the experience our players get by playing in front of a large crowd," he said.
Charlie Strong is convinced his team can still get quality work done with a traditional spring game. The Longhorns will hold their version on April 19, with UT's new head coach convinced it will be just another day for his players to get better.
"The most important thing is that the spring game is another opportunity to get out on the field and coach your team," Strong said. "It's another practice, more reps and more video to look at as you get ready for the season. It is the final spring practice and having a chance to go in the stadium with a great crowd gives you an opportunity to see how the team responds to that as well."
Realistically, while opinions about the spring game vary when it comes to its value in terms of developing the current roster for the upcoming season, its recruiting value cannot be understated. There is no better spring event to put all the positives of the program on full display and intrigue potential recruits to make a special trip to campus.
"When you can bring players in and see people in the stands cheering and excited, it really helps," Kingsbury said.
March, 12, 2014
Mar 12
12:00
PM ET
RB Coach Tommie Robinson Talks Tradition
BIG 12 SCOREBOARD
Saturday, 12/21
Monday, 12/23
Tuesday, 12/24
Thursday, 12/26
Friday, 12/27
Saturday, 12/28
Monday, 12/30
Tuesday, 12/31
Wednesday, 1/1
Thursday, 1/2
Friday, 1/3
Saturday, 1/4
Sunday, 1/5
Monday, 1/6