July, 22, 2014
Jul 22
8:40
PM ET
Big 12 media days came to a close Tuesday in Dallas, yet the biggest news of the day came from nearby Fort Worth, where the future of TCU defensive end Devonte Fields, the preseason Big 12 defensive player of the year,
is in doubt after he has "separated" from the Horned Frogs program.
Meanwhile, on site, Texas coach Charlie Strong made his debut and Oklahoma arrived with plenty of confidence.
ESPN.com's Big 12 reporters Jake Trotter, Max Olson and Brandon Chatmon answered four questions in our roundtable to wrap up the final session, which included Iowa State, Kansas State, Oklahoma, Texas and West Virginia.
What stuck out to you most?
Trotter:
The biggest Big 12 story of the day actually didn't come from one of the five teams at media days Tuesday. Quickly, the buzz about the serious allegations levied against TCU defense end Devonte Fields made its way around the hotel with reporters and coaches alike. Later in the day, the Horned Frogs "separated" with the Big 12 preseason Defensive Player of the Year, placing Fields' collegiate-football future gravely in doubt. That could have a major impact on the Big 12 landscape.
Chatmon:
The way Kansas State players seemingly take on the personality of Wildcats coach Bill Snyder is a sight to see. Quarterback Jake Waters, receiver Tyler Lockett, center B.J. Finney, linebacker Jonathan Truman and defensive end Ryan Mueller were personable, thoughtful and engaged during their answers yet still navigated their way through the landmines some college football players seem to step on during similar settings. The overriding message: K-State is confident yet hungry heading into 2014.
[+] Enlarge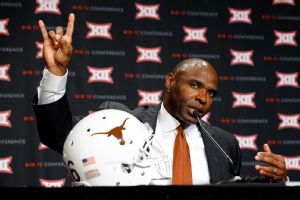 AP ImagesNew Texas coach Charlie Strong said all the right things at his Big 12 media days debut.
Olson:
Everyone came hoping for Charlie Strong to do or say something memorable at his Big 12 media days debut. Easily a dozen TV cameras surrounded his table Tuesday afternoon before he even showed up. Strong carried himself well and said all the right things, and the talking points -- such as "putting the 'T' back in Texas" -- he's been repeating since the spring went over well. He also threw Texas fans a bone by confirming David Ash is his starting QB. All in all, a pretty solid day for the first-year coach.
What's something new you learned?
Trotter:
Even though Charlie Strong arrived at Texas via Louisville, he and Oklahoma coach Bob Stoops know each other well due to their connection as former Florida defensive coordinators. "I think Charlie's a great coach," Stoops said. "He's an excellent person. We've really enjoyed the times I have been around him. So I gotta be careful. I can't wish him too much luck, but I know he'll do a great job."
Chatmon:
Short conversations with Texas defensive end Cedric Reed and center Dominic Espinosa left me with the impression that Charlie Strong's vision for the Longhorn program is starting to take hold. Reed said he could see signs the Longhorns could be tougher mentally this fall with guys showing up to meetings on time (or even early), and Espinosa said the mental focus of the squad has been upgraded with players willing to do the extra things to get to the another level. UT might not have a 100 percent buy-in to Strong's ways, but it sounds like things are heading in the right direction.
Olson:
I'm sorry, I just have to address one of my favorite quotes of the day here. When Bill Snyder was asked to assess how optimistic he is about his team in 2014, he paused and said warmly, "My degree of optimism is negotiated daily." Then he continued a winding answer about one-day-at-a-time expectation that concluded with a laugh and Snyder proudly saying, "Didn't tell you anything, did I?" He later acknowledged he is "as old as time and that's not going to change." Basically, Bill Snyder is the best.
Your favorite exchange of the day?
Trotter:
I don't know if counts as an "exchange," but Stoops purposefully photobombed his wife's TV interview. He actually did it twice. Carol Stoops, a national director with Mary Kay, was at the same hotel for a Mary Kay convention. Stoops was laid-back all day, which is usually a sign he thinks he has a good team.
Chatmon:
I walked up on Tyler Lockett doing a Q&A with another reporter who asked which three people he would like to have dinner with if he could choose anyone in the world. Lockett looked at me with a sideways glance and responded: "This guy." Once our laughter subsided, Lockett answered the question. I now have a new favorite player.
Olson:
I pressed Quandre Diggs on the state of his relationship with
Kevin Durant
. This is a sore subject for the Texas cornerback, who's a vocal member of Team LeBron. He said Durant unfollowed him on Twitter due to Diggs' preference for LeBron. Diggs is hoping to repair that relationship with his fellow Longhorn soon, and he has plenty of respect for the MVP. But Diggs was adamant he will not be able to bury the hatchet until Durant gives him a follow again.
The most impressive person?
Trotter:
Texas cornerback Quandre Diggs, Iowa State center Tom Farniok, West Virginia cornerback Daryl Worley and Kansas State quarterback Jake Waters were all very impressive. Diggs would make a great sports columnist someday. He has an opinion on everything. Worley, just a true sophomore, comes off like he's 10 years older than he actually is. Waters pulled off donning a bow tie, and he and Farniok were plenty sharp to extemporize on any player or team in the conference -- something many players in the conference struggle with.
Chatmon:
West Virginia cornerback Daryl Worley may be more impressive off the field than he was on it in 2013. The sophomore appears to be on the road to becoming one of the Big 12's best cornerbacks, but the way he handled our one-on-one session left me holding him in a high regard. He's just a sophomore, but he handled himself like a fifth-year senior. It's easy to see why Dana Holgorsen had the trust to bring a true sophomore into this setting. "Last season enhanced my work ethic, just knowing I didn't reach my goals. I told myself I wouldn't let that happen again," he said. This from a guy who started five games at cornerback as a true freshman in the Big 12.
Olson:
Besides Diggs, who is absolutely money when it comes to spitting the truth in interviews, I had to say I enjoyed chatting with famed West Virginia punter Nick O'Toole -- better known as Boomstache by the Mountaineer faithful -- about his dedication to mustache maintenance.
He went for the Rollie Fingers curled look Tuesday
, with the help of a little wax, and was also sporting red USA socks. He is indeed a great American.
July, 22, 2014
Jul 22
7:05
PM ET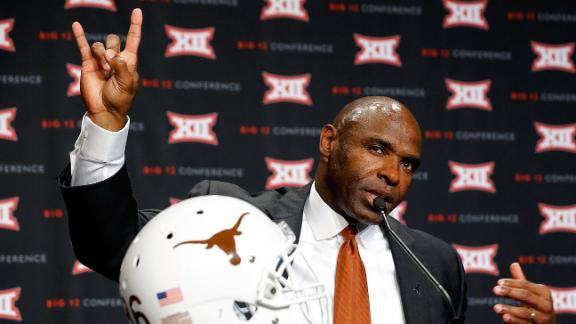 DALLAS -- Early on in his relationship with his new head coach, Quandre Diggs told Charlie Strong the unvarnished truth about what ailed Texas: Some Texas players were in it for the wrong reasons.
The senior cornerback and three-year starter told reporters the same thing Tuesday at Big 12 media days. Diggs is convinced the reason for the Longhorns' recent woes has everything to do with the buy-in from its players.
"I told Coach Strong that I just feel like we had guys on the team that just didn't love football the way they should. That's something that I've always sensed since I've been here: We had guys that just didn't love football," Diggs said. "If you don't love football, you don't need to be a part of this university or a part of this team. That's just something I feel greatly and strong about.
"I'm one of those guys where, you don't need to give me a pep talk to go out and play the game I love. I want to go out there, I want to be tough, I want to be physical with guys. I think when I'm healthy I'm one of the best players in the country, no doubt about it. I have a voice on this team and it means a lot and I say what I want to say around these guys. Those guys look up to me. Guys that don't respect it, I really don't care."
What happened to the guys who didn't love football? Have they all been removed from the picture? Diggs isn't looking to name names, but said simply: "If you don't love football, you're not going to play here."
Diggs has little sympathy for the players who will get singled out by Strong's staff for not buying in and getting their jobs done.
July, 22, 2014
Jul 22
2:55
PM ET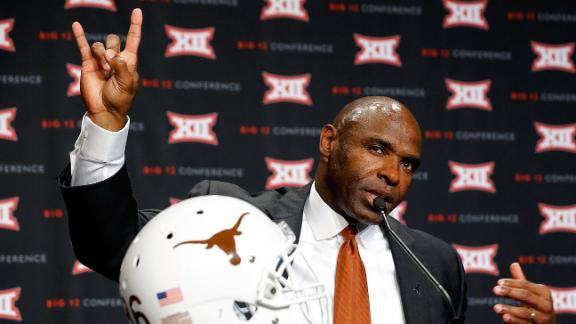 DALLAS -- Charlie Strong didn't arrive at Texas as a bright-eyed coach with limited experience. His success at Louisville and other stops during his 32 years in the profession speaks for itself.
Nonetheless, it's never a bad idea to take advice from Kansas State's Bill Snyder, a veteran coach who has won 102 games in the Big 12. Asked whether he had advice for Strong, Snyder passed along some sage words.
"I visited with Charlie just a little bit ago," Snyder said. "I think the important thing is just be who you are. And if you indeed do that, be who you are, care about people, I think things can work out fine for him."
Strong held his first Big 12 media days news conference Tuesday, addressing several questions about his program, including what he has learned since arriving in Austin.
"Well, the main thing, what's really key -- you can't look at any job any different than anywhere else you've been," he said.
That sounds good, but make no mistake: Being the head coach at Texas is unlike any other job he's held during his coaching career. Expectations are high, demands are even higher, and the pressure to win began roughly around the time Strong took a seat in front of the masses after being introduced as the Longhorns' head man in early January.
The desire to "put the 'T' back in Texas" and commitment to academics are among the messages that have become commonplace during his time in Austin, and Strong reiterated those goals during his first Big 12 media days appearance. He also addressed Texas' national title hopes after saying earlier this year that the Longhorns would not win it all in 2014.
July, 22, 2014
Jul 22
9:15
AM ET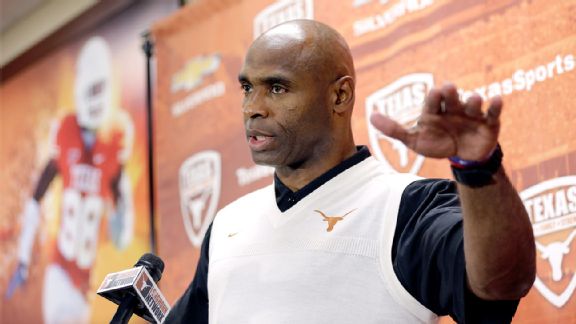 AP Photo/Eric GayCan Charlie Strong put the Longhorns back in the mix of contenders in his first season?
As we count down 50 days until the start of the 2014 college football season, ESPN Insider Travis Haney is answering at least one big question a day until South Carolina and Texas A&M's kickoff Aug. 28.

Heisman contenders, breakout freshmen, conference winners -- it will all be covered as part of Insider's Ultimate Season Preview.
Today's question:
Could the
Texas Longhorns
be a surprise contender in the Big 12?
It feels a little early to project the Longhorns as a viable threat in Charlie Strong's first season. But when you start looking around the league, it doesn't feel all that far-fetched.
Assuming the
Oklahoma Sooners
and
Baylor Bears
are the favorites, that next tier is rather open.
Malcolm Brown on Expectations for Offense
BIG 12 SCOREBOARD
Saturday, 8/30
Sunday, 8/31