September, 2, 2014
Sep 2
10:00
AM ET
The opening week of college football is in the books, and recruits definitely were paying attention to how teams in the Big 12 played. While Baylor, Texas, Oklahoma, TCU and Kansas State all dominated, Oklahoma State nearly pulled off an upset against reigning national champion Florida State, and West Virginia gave Alabama all it could handle before taking a loss.

The week wasn't one featuring multiple athletes taking official visits, but from a recruiting spin, it did have its moments. Here is a quick recap of what happened.


September, 2, 2014
Sep 2
8:30
AM ET
AUSTIN, Texas -- Texas quarterback
David Ash
will
not play against BYU
on Saturday after again experiencing concussion-related symptoms, the latest setback in a 360-day saga that could put both his season and his playing career in jeopardy. The following is a timeline of how we got here.
Sept. 7, 2013:
Ash exits a 40-21 loss to BYU late in the fourth quarter after suffering a concussion. He does not play against Ole Miss the following week.
Sept. 20:
Texas announces Ash has been cleared by UT medical staff to start against Kansas State. He'd participated in his first practice since the concussion two days earlier after being symptom-free for at least 48 hours.
Sept. 21:
Ash passes for 166 yards and guides Texas to a 17-7 halftime lead over K-State, then is held out for the second half. Team trainers evaluate him for concussion symptoms.
[+] Enlarge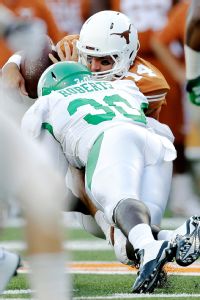 AP Photo/Eric GayDavid Ash suffered several hard hits on Saturday against North Texas.
Nov. 16:
Ash attends his first Texas football game since Kansas State, a home loss to Oklahoma State.
Nov. 25:
Texas officially announces Ash is
out for the season
and will seek a medical redshirt. "Though he's made a lot of progress, we have not been able to clear him to return to competition," Texas trainer Kenny Boyd says in a statement. "Due to the duration of symptoms, we are now at a point that we all believe the best approach for him is to not return this season."
Jan. 18, 2014:
Ash is cleared for offseason workouts and is expected to be a full participant in spring practice.
March 18:
First day of spring practice. Ash returns to the practice field for the first time since September.
April 11:
Ash is shut down for the final week of spring practice after
suffering a Jones fracture
in his left foot which requires surgery. Texas also announces Ash officially received a medical redshirt for missing 2013, giving him two remaining seasons of eligibility.
July 21:
Texas announces Ash is fully cleared to participate in fall practice. A day later, Strong says at Big 12 media days Ash is his starting quarterback.
Aug. 4:
First day of fall practice.
Ash speaks to media
for the first time since BYU. "A lot of people told me, 'You need to give it up, you need to quit.' Honestly, I never really thought about it," he says. "In my mind, I always knew I was going to play." He declines to discuss specifics about his concussion. When asked if he's ready to take his first hit, he declares: "Oh yeah, bring it on."
Aug. 25:
During his Monday press conference, Strong refers to Ash as an "unbelievable quarterback who's had an unbelievable preseason camp." When asked again about taking his first hit in the season opener, Ash says, "I'm going to be OK. If I get hit, I'll be fine. I will be sliding a lot more this season, so you can count on that, and I'll be trying to protect myself and doing what's best for the team and taking care of my health during games so that I can last the whole season."
Saturday:
Ash's first hit comes on the first play of Texas' second offensive drive. As he bends down to scoop up a fumbled snap, North Texas defensive end
Jarrian Roberts
hits Ash and his shoulder collides with the crown of Ash's helmet. Ash is slow to get up but does not report an injury to UT trainers. He also takes the following hits during the 38-7 win:
A hard shot from UNT linebacker Anthony Wallace on the same drive, while throwing a pass away along the sideline.

A big hit on a 9-yard sack by Roberts in the second quarter.

A sack by UNT's Dutton Watson before halftime during which Watson's left arm hits Ash's neck.

A forearm to the neck from Wallace while sliding at the end of a third-quarter scramble.

During an end zone fumble that UNT recovers for a fourth-quarter touchdown, Ash is knocked into a pile and it appears defensive end Chad Polk's knee slams into Ash's facemask or neck. He plays one more offensive series.
Ash does not report any injuries or symptoms to team trainers during the game. A UT spokesperson says Ash spoke with trainers immediately after he came off the field from each drive.
After the game, Ash does not speak to reporters. OC Shawn Watson describes his performance as "sporadic" with some good moments. Strong is asked about the hits Ash took. "It's all within the flow of the game," he says. "I think the officials did a great job and the thing we have to do is just do a better job protecting. ... Sometimes we see it coming and you have to remember, you're going to get hit in this game."
Late Saturday night, after leaving the stadium, Ash informs the Texas staff he's experiencing headaches and dizziness and is brought in for further evaluation. He tells Strong he thinks the first hit, by Roberts, caused his symptoms.
Monday:
Strong announces Ash is out for BYU and offers no timetable for his return. He's concerned about Ash's concussion history but insists the coaching staff was unaware of any in-game symptoms. "I'm not ever going to jeopardize injury," he says. "You can never, ever in this program jeopardize a young man's health to compete in a football game."
September, 2, 2014
Sep 2
8:00
AM ET
Happy Tuesday and a belated congratulations to
Kevin Durant
for becoming one of the
richest
dudes in Big 12 history.
September, 1, 2014
Sep 1
9:00
PM ET
AUSTIN, Texas -- Thirteen months ago,
David Ash
had a vision for how this would someday play out.
At Big 12 media days in July 2013, Ash was asked about his relationship with
Tyrone Swoopes
, the freshman who'd enrolled early and was battling to become his backup. He talked about Texas' proud history at the quarterback position -- Vince Young, Colt McCoy, even mentioned Major Applewhite. Then he reflected on what he wanted to leave behind when his playing days at Texas were over.
"Coming in, Texas kind of took a nosedive for a year, and we've been trying to get back up," he said. "With Tyrone, my goal is that whenever he steps in, I've got the program where he can just keep it rolling and Texas can be good for a long time."
[+] Enlarge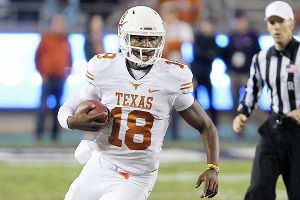 Matthew Visinsky/Icon SMIWhile Tyrone Swoopes' ability to run gives the Longhorns another dimension, their success will depend on his ability to make key throws and good decisions.
The passing of the torch wasn't supposed to go down like this. Ash has played in just four games since then. Concussion-related symptoms
have once again benched him
and put his football future in doubt.
The time for Swoopes to step in is right now and when he least expected it. The sophomore played two snaps against North Texas -- the final two kneel-downs of the ballgame -- but must start his first career game Saturday against BYU.
Swoopes' resume is fairly blank to this point. He's completed nearly four times more passes in spring games (19) than in real ones (five). But he showed enough in fall camp to make this a clear-cut decision for Charlie Strong and quarterbacks coach Shawn Watson once Ash was ruled out.
"I'm very confident in Tyrone. I am," Strong said. "I'm confident with any player on this football team."
The 6-foot-4 sophomore isn't easy to bring down at 245 pounds, and Watson will surely implement more run options into the game plan this week to accentuate what Swoopes does best. Strong went so far as to compare Swoopes's ability on the perimeter to BYU's prolific quarterback
Taysom Hill
.
He is not the fleet-footed Young clone that fans expected during Swoopes' recruitment out of Whitewright (Texas) High School, but his legs do give the Texas offense an asset and a chance for some new wrinkles.
What Texas needs from Swoopes, above all else, is a competent passer capable of making key throws and sound decisions. He throws a nice deep ball, but how will he handle the intermediate throws? What about third downs and passing downs? Watson has seen improvements both in Swoopes' knowledge and fundamentals during their time together. A long offseason of training will soon be put to the test.
"Once Tyrone gets a couple completions in, he'll start getting a little rhythm and he'll be fine," running back
Malcolm Brown
said. "He's a guy that I've seen work since he's been here. I know as a backup, you always feel like you have to go above and beyond, but that's not the case at all. Just have to be consistent."
The presence of Brown and
Johnathan Gray
, two of the Big 12's best backs, certainly helps. Strong insists he does not demand greatness of Texas' quarterbacks. He just needs a game manager.
"What you have to look at, it's not all about one position," Strong said. "If you have the defense play well like we played the other night, you have two good running backs, your offense line protects well, you can function."
Strong said Swoopes executed the Texas offense effectively during practice Sunday, but he must also prepare a contingency plan. Swoopes' backup will be freshman
Jerrod Heard
, the former ESPN 150 recruit and two-time state champion from Denton (Texas) Guyer. Walk-on
Trey Holtz
figures to be the No. 3 option, and there are no other scholarship quarterbacks available.
Had Heard been able to enroll early at Texas this spring, he might've had a better chance to beat out Swoopes. After Watson told reporters this month that Heard was "in China" when it came to his understanding of the offense, a redshirt seemed likely. That might not be possible now.
"It's got to move very quickly for him," Strong said. "You're always a play away."
The opponent for Swoopes' first start, while familiar, is no less scary. BYU forced an Ash-led Texas offense to punt eight times in the 40-21 beatdown in Provo last season. He might struggle early, Strong admitted, but Swoopes needs to maintain his composure. He needs to find confidence.
And Texas will need everybody else to chip in if they're going to pull this off and, as Ash hoped, keep rolling.
"Other players have to step up, other players have to go play," Strong said. "You look across the country and it can happen to any team at any second. Now it's happened to us."
September, 1, 2014
Sep 1
1:30
PM ET
Taking stock of Week 1 in the Big 12:
Teams of the week:
Yes, West Virginia and Oklahoma State might have ultimately lost. But as heavy underdogs, they also took the top two ranked teams in the country to the wire on neutral sites. Both squads should gain a ton of confidence from their performances. And assuming they both play the way they did in their openers, their 2014 outlooks will look much different than they did in the preseason.
Disappointment of the week:
Iowa State lost its season opener to an FCS opponent for the second straight year. The Cyclones jumped to a 14-0 lead, then got dominated by North Dakota State the rest of the way. Iowa State could be without leading receiver
Quenton Bundrage
for awhile. And the schedule doesn't get any easier, with the next four opponents all coming off bowl appearances.
Big (offensive) man on campus:
West Virginia quarterback
Clint Trickett
was terrific in the loss, throwing for 365 yards -- the second-most a Nick Saban Alabama team had ever allowed behind Johnny Manziel in 2013. Trickett also completed 29 of 45 passes, and would have had more completions had it not been for several drops.
Big (defensive) man on campus:
Baylor defensive end
Shawn Oakman
was unblockable against SMU Sunday night. He had two of Baylor's eight sacks, as the Bears held SMU to just 64 yards of a total offense in a 45-0 shutout -- the first time the Mustangs had been shutout since 2004.
Special teams player of the week:
Tyreek Hill
set an Oklahoma State record for all-purpose yards in a debut with 278. And he did it against the No. 1 ranked team in the country. Florida State has one of the nation's fastest teams around, and yet they couldn't catch Hill, whether it was on offense, on punt returns or kickoff returns. The Cowboys have one dynamic playmaker in their backfield, and on special teams.
Play of the week:
Oklahoma State had the ball at midfield with five minutes left and a chance to take the lead over the Seminoles. But as quarterback
J.W. Walsh
dove for a first down, he was upended and lost control of the ball. The Seminoles recovered and scored two plays later to extend its lead to 37-24. Oklahoma State came right back and scored a touchdown, but couldn't come up with the onside kick. The fumble was the difference maker.
Stat of the week:
Baylor finished with more sacks (eight) than SMU did first downs (seven).
Quote of the week:
"We can function. It's not like it's the end of the world." – Texas coach Charlie Strong, after revealing Monday morning that quarterback
David Ash
would miss Saturday's game with BYU due to concussion-like symptoms suffered in the opener.
September, 1, 2014
Sep 1
1:00
PM ET
ESPN's Football Power Index (FPI) is a measure of team strength that is meant to be the best predictor of a team's performance going forward for the rest of the season. Every week, ESPN will be updating
its FPI
to compile a ranking based on 10,000 simulations of the rest of the season using FPI, results to date and the remaining schedule.
Here is how the Big 12 stacks up after Week 1 of the season:
.
September, 1, 2014
Sep 1
12:30
PM ET
Over the weekend, colleeague Max Olson released his
helmet stickers
for the top performers of the weekend. But I also wanted to highlight some other players who really impressed me in Week 1:
Emmanuel Ogbah, DE, Oklahoma State:
Running back
Tyreek Hill
drew the "oohs" and "aahs" with his speed, but Ogbah had just as big an impact for the Cowboys defensively. Facing off against an offensive line starting five seniors, Ogbah was dominant in his first career start, finishing with six tackles, two sacks and two pass breakups. The Big 12 is loaded at defensive end with
Cedric Reed
,
Ryan Mueller
,
Charles Tapper
and
Shawn Oakman
. Ogbah, just a sophomore, showed Saturday night that he might be in that class, too.
[+] Enlarge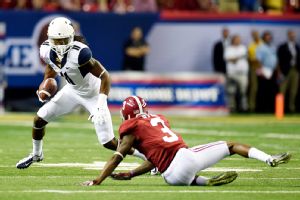 John David Mercer/USA TODAY SportsKevin White's 100-yard game against Alabama could mean he's the go-to receiver West Virginia needs.
Jay Lee, WR, Baylor:
With Baylor ailing at wide receiver, Lee displayed that he's also capable of taking on a primary role. With
Corey Coleman
and
Antwan Goodley
dealing with nagging injuries and
Clay Fuller
out with a broken collarbone, Lee hauled in eight passes for 83 yards and a touchdown. The Bears are overflowing with talent at receiver, especially with the additions of freshmen K.D. Cannon and
Davion Hall
. But Lee is another reason why.
Kolby Listenbee, WR, TCU:
The Horned Frogs have desperately been in need of playmaking at the wide receiver spot. They might have uncovered the answer in Listenbee. The burner hauled in 38- and 36-yard bombs from
Trevone Boykin
, and added a touchdown grab on a fade late in the game from
Matt Joeckel
. Listenbee was beating his man all game. The Horned Frogs might finally have a weapon at receiver who can cause concern for the opponent.
Demarco Cobbs, LB, Texas:
Cobbs missed the entire 2013 season and was such a non-factor before that anyway that some speculated his college career might be over. But Cobbs appears to have something left in the tank and displayed that with a pick-six in the opener. If the Longhorns suffer any injuries at linebacker, Cobbs could prove to be a key backup.
Kevin White, WR, West Virginia:
Other than quarterback
Clint Trickett
, there wasn't a more impressive performer against Alabama than White. The senior wideout had nine grabs for 143 yards and a touchdown. The Mountaineers had a solid wide receiving corps last year, but they never had a go-to target emerge. White clearly established himself as the target for Trickett and could be in for a monster season.
Justin Stockton, RB, Texas Tech:
In an otherwise dismal performance, Texas Tech's running back trio of
DeAndre Washington
,
Quinton White
and Stockton looked solid against Central Arkansas. And with Stockton, a true freshman, contributing, the Red Raiders should be fine at the position even with
Kenny Williams
at linebacker. Stockton had a couple of nice runs while finishing with 38 yards rushing and a nifty 6-yard touchdown.
Tyler Evans, OG, Oklahoma:
Evans is in his sixth year with the Sooners, but he hadn't played since the 2011 season Insight Bowl due to knee injuries. Saturday, Evans got the start at right guard in place of an injured
Nila Kasitati
, and the offensive line didn't miss a beat as the Sooners racked up 436 yards of offense. Evans at one point quit football because of the injuries. Instead, he'll be a valuable cog for the Sooners up front.
September, 1, 2014
Sep 1
12:14
PM ET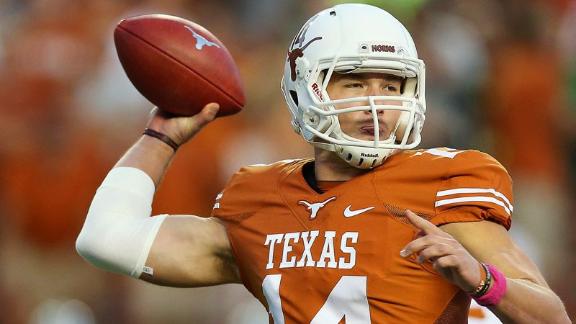 AUSTIN, Texas -- Longhorns QB David Ash will not play against BYU this weekend after experiencing more concussion-related symptoms, and coach Charlie Strong said he is worried about the quarterback's future.
Ash told Strong and team doctors that he believes the first hit he took against North Texas triggered a recurrence of symptoms after the game. He missed 10 games and received a medical redshirt after suffering a concussion at BYU last season.
Strong said he is worried, but no official determination has been made about how long Ash will be sidelined or if he will play again this season.
"Anytime you have that number of concussions, you have to be concerned," Strong said. "You're always concerned about a young man's health, and we would never jeopardize a young man's health just for this football team. Players' health is always first."
Texas sophomore Tyrone Swoopes will make his first career start at quarterback in Ash's place. He passed for 26 yards and rushed for 79 and a touchdown in six games last year. True freshman Jerrod Heard will be his backup.
"Tyrone can handle it," Strong said. "I'm not concerned about that. The team will rally around him."
Ash was hit on the first play of Texas' second offensive drive when he mishandled a snap from center Dominic Espinosa
August, 31, 2014
Aug 31
8:00
AM ET
Well, that was a pretty great day of football in the Big 12, all in all (sorry, Cyclones). We were on the lookout for guys who surprised in this first week of college football, and we had no trouble finding enough guys worthy of the coveted helmet sticker. Yes, Baylor still has to play, but here's who we're handing stickers out to for big games on Saturday:

ATH Tyreek Hill, Oklahoma State:
The best compliment you can offer Tyreek Hill might be that, without a doubt, Florida State wishes that guy was on their team. The heavily-hyped junior college transfer might've actually exceeded his electric expectations with 106 yards of offense on 14 touches and, including returns, 278 all-purpose yards in the
37-31 loss
to Florida State. We tried to warn you all about him. Hill is going to be special and he's going to give Big 12 defenses fits.
QB Clint Trickett and WR Kevin White, West Virginia:
What a gutsy performance from the Mountaineers and especially this duo during the
33-23 loss
to Alabama. Trickett came out firing and finished with 365 passing yards and no turnovers. White might've been even better. He took it to the Alabama secondary with 143 yards on nine receptions, including a 19-yard score, and evoked a lot of talk about his NFL future. Trickett and White were put on a big stage and they stepped up.
WR John Harris, Texas:
Welcome back to the big show. Harris, a senior who was seldom used last season, had an eye-opening, career-best performance as
David Ash
's go-to guys during a
38-7 win
over North Texas. He hauled in seven receptions for 110 yards, including an 8-yard touchdown in which he trucked through a defender near the goal line. Harris caught five passes in all of 2013 but could be poised to do big things if he and Ash keep up this rapport.
QB Jake Waters, Kansas State:
Waters kicked off his senior-year campaign with another typically steady showing, leading K-State on a
55-16 rout
of SF Austin while putting up some nice numbers: 223 yards on 19-of-28 passing, two passing TDs, 55 rushing yards, two rushing TDs. He's becoming an excellent distributor. KSU's offense won't ask him to put up crazy Air Raid stats, but this was a nice performance.
RB Keith Ford, Oklahoma:
Freshman
Samaje Perine
finished with more yards and
Alex Ross
chipped in two scores, but Ford did some really nice things with his touches. He finished with 116 total yards (65 receiving, 51 rushing) and punched in two first-quarter touchdown runs to get the Sooners rolling to a
48-16 win
over Louisiana Tech. OU's inexperience stable of backs got the job done.
DE Mike Tuaua, TCU:
The Horned Frogs' defensive line fared just fine without Devonte Fields thanks to a breakout performance from Tuaua. The former juco transfer went wild on Samford with 3.5 tackles for loss, two sacks and two forced fumbles during TCU's
48-14 win
. A three-game starter last season, Tuaua almost matched his entire TFL output from last season in one night. He won't get to catch folks by surprise anymore, that's for sure.
College Football Minute