January, 23, 2015
Jan 23
1:00
PM ET
Art Briles' brash statements can ruffle some feathers, but tend to come with a dose of truth. The Baylor coach's declaration that the Bears are one of the best programs in college football is backed by his program's back-to-back Big 12 titles.
"We feel like we've established ourselves as somebody," Briles said shortly before the Cotton Bowl. "When you're looking at one of the better teams in the southwest part of the United States of America, Baylor is one of them."
[+] Enlarge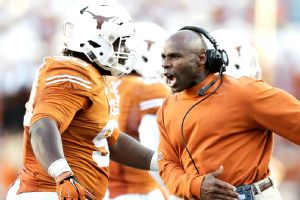 AP Photo/Eric GayCoach Charlie Strong says finding players with strong character is the key to getting Texas back among the Big 12's elite teams.
That's right, parity has hit the Big 12. And it's been around for a while.
Although it earned a Big 12 co-championship in 2012, Oklahoma hasn't won an outright Big 12 title since 2010. Texas hasn't won a conference title outright since 2009. Those two programs combined to win every Big 12 title from 2004 through 2010.
A conference that could point to Oklahoma and Texas as its standard bearers for the majority of the 2000s has seen five different teams win a share of the Big 12 title since 2010.
The immediate assumption is the problem can be found on the recruiting trail. As the Big 12's most dominant performers slid down the standings, surely they slid down the recruiting rankings. After all, talent wins games.
The reality is different.
Oklahoma and Texas have finished 1-2 in the Big 12 in recruiting rankings every season since 2010. And each program finished among the top 20 nationally each season, including three top-five finishes by the Longhorns. According to ESPN recruiting analysts, here is a closer look at the top recruiting classes in the conference each year since 2010:
Class of 2014
Oklahoma No. 13 in nation, 1st in Big 12

Texas No. 16 in nation, 2nd in Big 12

Baylor No. 22 in nation, 3rd in Big 12

Oklahoma State No. 28 in nation, 4th in Big 12
Class of 2013
Texas No. 16 in nation, 1st in Big 12

Oklahoma No. 17 in nation, 2nd in Big 12

Oklahoma State No. 27 in nation, 3rd in Big 12

Baylor No. 28 in nation, 4th in Big 12
Class of 2012
Texas No. 3 in nation, 1st in Big 12

Oklahoma No. 11 in nation, 2nd in Big 12

Texas Tech No. 20 in nation, 3rd in Big 12
Class of 2011
Texas No. 5 in nation, 1st in Big 12

Oklahoma No. 11 in nation, 2nd in Big 12

Oklahoma State No. 23 in nation, 3rd in Big 12
Class of 2010
Texas No. 2 in nation, 1st in Big 12

Oklahoma No. 5 in nation, 2nd in Big 12

No other Big 12 team in top 25
Those recruiting rankings haven't transferred to the field. Oklahoma has the best winning percentage during that span, with Oklahoma State and Baylor -- two programs lauded for their ability to develop and evaluate -- joining the Sooners in the top three. Texas is just eight games above .500 and in the bottom half of the conference.
Winning percentage since 2010
Oklahoma 77.3 percent (51-15 overall)

Oklahoma State 73.8 percent (48-17)

Baylor 72.3 percent (47-18)

Kansas State 69.2 percent (45-20)

TCU 60.5 percent (23-15 in 38 games as Big 12 member)

Texas 56.3 percent (36-28)

Texas Tech 52.4 percent (33-30)

West Virginia 47.4 percent (18-20 in 38 games)

Iowa State 35.5 percent (22-40)

Kansas 20 percent (12-40)
Development has been key as Oklahoma has been the Big 12's best at developing its recruits into NFL draftees, followed by Baylor and Texas. The Sooners have the ability to attract elite talent and turn them into NFL players, and the Bears have excelled at evaluation and development, gradually rising up the recruiting rankings. Texas' individual talent has been evident on the field, but it hasn't turned into great teams on the field.
NFL Draftees since 2010
Oklahoma 28

Baylor 17

Texas 16

TCU 13

West Virginia 13

Oklahoma State 10

Kansas State 7

Iowa State 5

Kansas 4

Texas Tech 4
What does it all mean?
Texas, under Mack Brown, was struggling to transform its talented signees into wins as a combination of poor evaluation and development hampered the Longhorns. First-year coach Charlie Strong has an eye on changing that trend.
"It's all about character, young men who want to change their lives," Strong said during his debut season. "The thing about it, I'm not looking for players who want to be mediocre. We don't need to be mediocre. That's not who we are. We need to recruit players who love football and want to do something special."
The Longhorns have made terrific inroads with their first full class under Strong, sitting atop the Big 12 and ranking No. 9 nationally in the Class of 2015.
The Sooners' recruiting problems and lack of talent are grossly overstated. Bob Stoops' program is looking down at everyone in the Big 12 with the highest number of NFL draftees and best winning percentage since 2010, with only Texas consistently landing higher-ranked recruiting classes. Oklahoma isn't as dominant as it was during the 2000s, but that has everything to do with the improved overall depth of the Big 12 more than the Sooners' struggles. And Oklahoma looks poised to land another quality class, ranking second in the Big 12 and 17th nationally.
The foundation of Baylor's rise is found in that program's ability to turn overlooked recruits into stars. Turning two-star receiver Tevin Reese into an NFL draft pick is just one example of how Briles' program has risen to national prominence.
"You want to find the lifeline of our business, it's all about recruiting and getting the players that you need on campus and giving you a chance to sustain," Briles said. "We've proved we have substance as a football program. We have other things we need to prove at a very high level, and that to me is what it's all about. You know, that night will pass, there will be another night. We're not a one-night wonder."
Texas HC Strong Gives Us His State Of The Football Program