October, 20, 2014
Oct 20
5:00
PM ET
AUSTIN, Texas -- Charlie Strong went back to his coaching playbook after Texas' 48-45 win over Iowa State and dug up a familiar tactic. He wanted to make sure his defenders hadn't deceived him.
When his defense met Sunday, they went to the tape. Strong pulled up five plays that bothered him. He'd caught a few players letting up, not running to the ball, jogging. So he brought back the lowlight reel.
"I said, 'This is not us, but I want you to see these five plays,'" Strong said Monday. "'If this is us, I need to know that. If it's an imposter wearing your jersey, I need to know that. I want you guys to watch this tape.'"
[+] Enlarge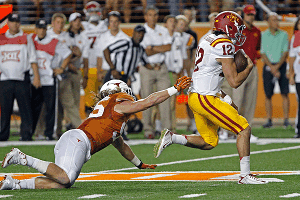 AP Photo/Michael ThomasSam Richardson and Iowa State humbled Texas' defense this past Saturday.
Strong used the same tactic this offseason, meeting individually with each Longhorn and showing them their worst plays of 2013. It's a measure meant to hammer home how good those players can be with better effort.
He brought it back this week because, seven games into this season, Strong has seen how good this Texas defense can be. He's OK with winning by three points. He's OK with a last-second victory, Texas' first win in a close game all season.
He's not OK with Iowa State putting 45 points on the scoreboard, 38 of them permitted by his defense.
"Our defense did not play to the standard we're used to seeing them at," Strong said.
Iowa State gained 10-plus yards on 22 different plays, the second most a Strong defense has allowed in his five years as a head coach. ISU quarterback
Sam B. Richardson
, responsible for 18 of those big gains, threw for 345 yards and three scores against the nation's No. 3-ranked pass defense.
Stats aside, Iowa State came into Texas' house, kept scoring in crunch time -- a TD with five seconds left in the first half, another with 28 seconds left in the ballgame -- and had a lot of right answers offensively.
"He was mad," Diggs said of Strong. "We're all mad. We know we didn't play well."
Credit masterful play calling from offensive coordinator Mark Mangino and consistently stout play from Iowa State's offensive line. With the exception of his two interceptions, Richardson played keep-away from Texas. He found holes in Texas' zone coverage with quick intermediate passes that beget good tempo.
Safety
Dylan Haines
picked off Richardson for a 74-yard touchdown, but conceded this unit backed off a little too much after Texas' offense provided a fast 14-0 start.
"We started missing keys, missing our drops in our zone coverages," Haines said. "I think when they started to make those throws, they were able to get momentum and move with tempo. I don't think we were ever able to slow them down after that."
Just two of Richardson's 55 attempts went longer than 20 yards. He got into a rhythm with tight end
E.J. Bibbs
, and missed tackles created opportunities for running back
Aaron Wimberly
. ISU's 38 points were all hard-earned.
"Those guys attacked all their keys and did everything they were supposed to do," cornerback
Quandre Diggs
said. "They didn't make many mistakes. They were throwing the ball quick, getting it out in a hurry. Those guys played a good game. We still won."
The good news, Strong says, is the particular mistakes and missteps Texas defenders made this past Saturday are teachable and correctable.
"It's all about fundamentals, technique, alignment, gap integrity, them making throws that never should've been made," Strong said.
He'll praise the growth of quarterback
Tyrone Swoopes
and Texas' offense and acceptable play on the special-teams front this week, no doubt. A four-loss team takes its wins by any means necessary.
But with a trip to No. 11 Kansas State up next, Strong will not take it easy on his defense this week. The shaming phase is probably complete. A little humbling never hurts. The next step? Address the formula the Cyclones offered and find a better way to stop it.
"If that formula's there," Strong said, "it's there every week in this conference."
College Football Top Plays: Week 8