February, 27, 2015
Feb 27
4:30
PM ET
In today's Big 12 mailbag, we discuss coaching hires, QB battles, why I hate everyone and what Big 12 apparel I have in my closet.
On to the 'bag:
@Jake_Trotter Do you see K-State being in contention in the Big 12 after losing Waters/Lockett?

— Benjamin Graves (@BenjaminGraves4) February 26, 2015
Trotter:
Never underestimate the power of Bill Snyder's magic wand. That said, I don't see how K-State doesn't take a step back this year without
Jake Waters
,
Tyler Lockett
,
Curry Sexton
, B.J. Finney,
Ryan Mueller
and
Jonathan Truman
.
@jake_trotter Question 1 MR TROTTER. Why are you always criticizing everybody about everything? - Big 12 Twitter fan.

— Jeff Castro (@TermiRaider) February 26, 2015
Trotter:
It's funny to me when a particular fan base thinks I only pick on their team. I pick on everyone, when the occasion calls for it. All 10 Big 12 fan bases have gotten mad at me at one time or another. Just check my Twitter mentions sometime.
@Jake_Trotter @ESPN_Big12 where do you see Oklahoma State finishing in the conference race next year? #GoPokes

— tim johnson (@timmyrayj) February 26, 2015
Trotter:
Right now, I have them third in the league behind TCU and Baylor. The Cowboys really don't have any weaknesses on paper, and they boast an up-and-coming quarterback in
Mason Rudolph
, who was fabulous in three starts last year. The schedule also lines up for the Cowboys, who get TCU, Baylor and Oklahoma in Stillwater.
@Jake_Trotter Is Greg Atkins a good hire for the Oklahoma State ? How do you think him coaching in the NFL will help O-line recruiting ?

— Zack Hall (@zack_hall53) February 26, 2015
Trotter:
Very solid hire. Adkins has been around the block, with stints coaching offensive line at Tennessee and Georgia. Our SEC guru Chris Low
really liked the hire
. Doug Marrone obviously thought a lot of Adkins to bring him along from Syracuse to the Bills. Mike Gundy could have done a lot worse.
@Jake_Trotter What's your take on the WVU QB battle? Do either of the True Freshman QB's have a chance to start this fall?

— UMeer (@UMeer17) February 26, 2015
Trotter:
To me, it's a two-man race between William Crest and
Skyler Howard
.
Paul Millard
is a nice veteran to have around. David Sills is a solid prospect, and we'll see what Chris Chugunov can do. But Crest's year in the system gives him an edge over the freshmen. And Howard's game experience gives him an edge over everyone.
@Jake_Trotter what happens first, court storming being banned or KU contending in football?

— David K (@DavidK100490) February 26, 2015
Trotter:
Considering court-storming is probably going to get banned this year, I'd go with the former.
@Jake_Trotter what am I looking forward too at the OU spring football game?

— Cameron (@SolomeOU) February 26, 2015
Trotter:
For one, what the Lincoln Riley offense will look like. For two, who will emerge in the QB derby. There's plenty of intrigue in Norman this spring.
@Jake_Trotter what is Justice Hansen's odds of getting the nod a QB for OU? Seems like everyone is writing him off already.

— Jonathan Taylor (@wolvesofamerica) February 26, 2015
Trotter:
Given that
Trevor Knight
,
Baker Mayfield
and
Cody Thomas
all have a bunch of experience, Hansen is a long shot. Not that those three can't be beaten out. But it's going to be hard for Hansen to shine when he's going to be getting fourth-team reps.
@Jake_Trotter What do you think of Gary Patterson's new co-defensive coordinators? Big change? Small change? Business as usual?

— Jarod Daily (@jadaily) February 26, 2015
Trotter:
Pretty business-as-usual hire. Patterson oversees the defense to a large degree, anyway. By promoting in-house, he keeps that continuity, which is an obvious positive. Patterson might be more involved than when Dick Bumpas was around. But the defense is going to be similar to what we've seen in Fort Worth.
@Jake_Trotter What if any Big XII gear do you own and wear?

— Doug Serven (@Servenator) February 26, 2015
Trotter:
I actually have one article of Big 12 apparel in my closet -- a pair of West Virginia sweatpants my wife's family (who are rabid Mountaineers fans) got me at the most recent family reunion (which, by the way, was in West Virginia). They're too comfortable for me to get rid of. So everyone is just going to have to deal with that.
February, 27, 2015
Feb 27
2:32
PM ET
February, 27, 2015
Feb 27
11:00
AM ET
Fully capitalizing on red-zone chances is a trait of championship teams.
Settling for field goals can cost a team a game. Worst yet, turning the ball over in the opponent's red zone can completely change momentum.
Here's a look at the Big 12's rankings in red-zone efficiency in conference games only during the past three years since TCU and West Virginia joined in 2012.
Red-zone points per drive
1. Kansas State, 5.14:
The Wildcats' 64.3 red-zone touchdown percentage is the best in the Big 12. Five Wildcats (John Hubert, Collin Klein, Charles Jones, Jake Waters, Daniel Sams) rushed for at least seven red-zone touchdowns.
2. Oklahoma, 5.02:
The Sooners average 3.1 yards per carry in the red zone, ranking second in the Big 12. Samaje Perine rushed for 240 yards and 14 touchdowns on 56 red-zone carries in 2014 as he erased any need for a special short yardage package for the Sooners.
3. Baylor, 4.94:
The Bears have the unique ability to run defenses ragged with their speed and explosiveness yet buckle down with physical offense when needed. Baylor's 75 red-zone rushing touchdowns are the Big 12's best during this span.
4 (tied). Texas, 4.92:
The Longhorns convert 50.7 percent of third-down conversions in the red zone, second in the conference but Texas' 282 total plays and 106 total drives rank eighth in the Big 12 -- a sign UT doesn't sustain long scoring drives on a consistent basis.
4 (tied). Oklahoma State, 4.92:
The Cowboys scored on 85.3 percent of their red-zone drives, but a 34.8 third-down conversion rate ranked last in the Big 12. Some of OSU's offensive struggles in recent years followed them into the red zone at times.
6. Iowa State, 4.90:
The Cyclones' 3.79 yards per play in the red zone sits atop the Big 12 but their 236 total red-zone plays is ninth in the conference. Paul Rhoads' team was decent when it got inside the 20-yard line but a combination of turnovers and inefficiency slowed ISU down.
7. Texas Tech, 4.79:
The Red Raiders' eight red-zone turnovers helped push them down the rankings despite Tech recording a conference-best 61.9 completion percentage inside the red zone.
8. West Virginia, 4.76:
The Mountaineers had a 29 touchdown-to-interception ratio in the red zone with one interception in 115 red zone attempts but their 34.9 third-down conversion percentage resulted a poor red-zone touchdown percentage (58.9 percent, eighth in Big 12).
9. TCU, 4.59:
The Horned Frogs nine red-zone turnovers were the worst in the Big 12, offsetting TCU's 55.9 completion percentage and 4.88 yards per pass attempt in the red zone, which ranked second in the Big 12 in both categories.
10. Kansas, 3.72:
The Jayhawks rank last in pretty much every category including yards per play (2.6), total plays (202) and yards per carry (2.14). Kansas' bad offense followed them any time they ventured within the red zone.
Red-zone points per drive allowed
1. TCU, 4.25:
Gary Patterson's program sits atop the Big 12 in total plays (229), yards per play (2.85) and yards per carry (2.39) in the red zone.
2. Oklahoma State, 4.43:
The Cowboys allowed 1.98 yards per carry in the red zone and nine red-zone sacks, ranking first in the Big 12, and tied TCU for first at 2.85 yards per play.
3 (tied). Kansas State, 4.64:
The Wildcats were terrific on third down, allowing 35.8 percent of conversion attempts to be converted.
3 (tied). Kansas, 4.64:
Kansas saw the most total plays (369) yet ranked third behind OSU and TCU in yards per play (3.08). The Jayhawks' defense also added nine red-zone turnovers forced, which is second in the conference.
5. Texas, 4.66:
The Longhorns' 8.1 sack percentage in the red zone led the conference, but 33.2 percent of opponents' plays resulted in five yards or more, the worst percentage in the Big 12. It gave the defense a boom-or-bust type of feel.
6. West Virginia, 4.75:
The Mountaineers faced the second-highest number of red-zone plays (364) and ranked fourth in yards per play allowed (3.17) yet allowed opponents to convert 50.6 of third-down attempts.
7. Iowa State, 4.82:
The Cyclones have forced the most red-zone turnovers in the Big 12 (11) yet have allowed 80 red-zone touchdowns, tied with Kansas for eighth.
8. Oklahoma, 5.06:
The Sooners' inability to force turnovers in the red zone is part of the problem as OU forced one red-zone mistake in three seasons.
9. Baylor, 5.39:
Baylor's 3.58 yards per play ranked ninth in the conference and didn't record a red-zone sack in three seasons.
10. Texas Tech, 5.42:
The Red Raiders allowed a 57.1 third-down conversion rate, worst in the Big 12. By comparison, TCU's 20 third-down conversion rate was the Big 12's best.
February, 27, 2015
Feb 27
9:00
AM ET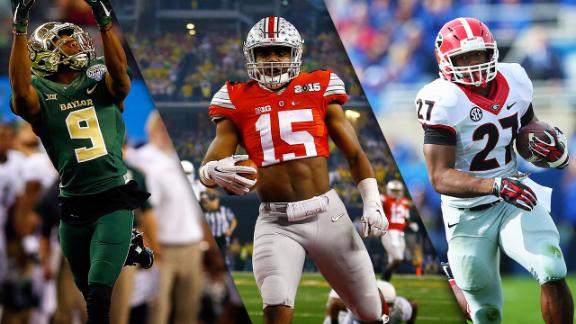 If you asked Mike Leach, odds are he'd probably tell you his job at Washington State is a wee bit more difficult than he might have expected when he was first hired. And it won't be long before Wake Forest fans start to realize just how remarkable Jim Grobe's tenure was in Winston-Salem.
For a variety of reasons -- namely money, scheduling, academics, facilities and recruiting -- the path to the College Football Playoff is simply easier for some Power 5 coaches and nearly impossible for others. Here's a look at the top-10 easiest coaching paths to the playoff, starting with the easiest, and the 10 most difficult coaching jobs:
EASIEST COACHING PATHS TO THE PLAYOFF
1. Texas
One of the wealthiest, most visible brand-name programs in the country wants for nothing -- and unlike Florida State, it doesn't have to navigate through a conference title game. Right now it's in a catch-22 situation. Texas has to win to own the state in recruiting again, but it has to get the recruits to win.
2. Florida State
The Noles can own and have owned the ACC, with Clemson being their most difficult hurdle. The combination of first-class facilities, in-state recruiting and available salary money makes this one of the most desirable jobs for a coach aspiring to reach the playoff.
3. Ohio State
The East Division isn't easy, but it's manageable, and the Big 33 recruiting turf and financial security -- along with the incredible support and facilities -- puts this brand-name program on the fast track to the playoff. It's easy to sell the program that has been the flagship of the conference for more than a decade.
4. Oklahoma
With no conference title game to trip over, the Sooners have one of the easiest paths to the playoff, not to mention the facilities and financial resources to recruit players and pay coaches.
5. Clemson
It's on par with the SEC as far as recruiting and facilities, but has an easier league to navigate. The program has the resources and salaries needed to recruit and coach a top-four team.
6. USC
When this storied program is at full strength -- without scholarship limitations and postseason penalties -- there's nothing in the way of a top-four ranking. Its pipeline of players to the NFL is proof.
7. Notre Dame
The Irish control their strength of schedule and can now sell an ACC bowl lineup to recruits.
8. Georgia
The Bulldogs have owned the state, and while Florida has to contend with FSU (and dreadful facilities), Georgia has had the upper hand in the series against Georgia Tech. Everything is in place for a title run.
9. Alabama
The program oozes money and tradition, luring the best players in the country. It's ranked low because of a grueling SEC West schedule and conference title game to navigate through.

10. LSU
Much like Alabama, the Tigers are the epitome of SEC success, able to cherry-pick recruits and pay for the best coaches in the country. The biggest obstacle is LSU's own conference schedule.
MOST DIFFICULT COACHING PATHS TO THE PLAYOFF
1. Vanderbilt
There's no school in the country with more of an uphill battle to the playoff than Vandy. The stringent academic requirements are a big reason the program can't recruit the elite athletes necessary to compete with the top teams in the league -- which is why it never will.
2. Wake Forest
The smallest school in the BCS had one historic Orange Bowl run, but that was an anomaly, not the trend. It's not the best program in the state, let alone the Atlantic Division.

3. Washington State
The Cougs are the Pac-12's most isolated, rural program, making recruiting difficult -- the heart of Wazzu's troubles over the past 11 straight losing seasons. It also doesn't help to be looking up at Oregon in the North Division.
4. Colorado
After nine straight losing seasons, the Buffs have faded into irrelevance, and they're competing in a South Division that's on the upswing, led by USC and Arizona. The coaching turnover, subpar recruiting and lack of investment in facilities have made the past decade a disaster.
5. Indiana
The Hoosiers have been stuck in a rut of mediocrity and are outpaced when it comes to facilities and coaching hires. Equally as problematic is IU's place in the East Division, alongside heavyweights Ohio State and Michigan State.
6. Kansas
The program has always been overshadowed by its hoops counterpart and hasn't been relevant in football since its 2007 Orange Bowl appearance.
7. Purdue
The fans have lost interest -- and apparently so have the recruits -- but the program also hasn't had the financial backing it needs to stay on pace with the rest of the conference.
8. Iowa State
Not only is there not much in-state talent, but the Cyclones have to share it with rival Iowa.
9. Kentucky
The program has made a renewed financial commitment recently and has demonstrated that bowl eligibility is a reality, but Kentucky has to win the SEC East before it can be taken seriously as a playoff contender.
10. Syracuse
There's a sense of apathy surrounding the program, which is stuck in the ACC's stronger Atlantic Division with FSU, Clemson and Louisville. There's not enough depth on Syracuse's roster to overcome injuries -- or the schedule.
February, 26, 2015
Feb 26
11:00
AM ET
Success on third downs can decide games.
Coaches focus on it, quarterbacks can become stars and defenders can become feared by stepping up to another level on those key moments. Here's a look at the Big 12's third-down conversion rate rankings, offensively and defensively, in Big 12 games during the three seasons since TCU and West Virginia joined the conference in 2012.
Third-down conversion rate
Kansas State, 47.1 percent
Baylor, 45.5 percent
Oklahoma, 44.4 percent
Texas, 42 percent
Texas Tech, 41.7 percent
West Virginia, 39.6 percent
Iowa State, 36.9 percent
TCU, 35.5 percent
Oklahoma State, 35.3 percent
Kansas, 30.8 percent
Third-down conversion rate allowed
TCU, 31.2 percent
Texas, 36.6 percent
Oklahoma State, 38.5 percent
West Virginia, 39.6 percent
Oklahoma, 40 percent
Kansas State, 41.2 percent
Texas Tech, 42.5 percent
Iowa State, 42.5 percent
Kansas, 42.7 percent
Baylor, 42.9 percent
Here are some team-by-team thoughts:
Baylor:
Clearly the Bears offense overcomes the Bears defensive struggles on third down. The Bears offense had 68 drives without a first down out of 291 drives in the past three seasons. Good quarterback play from
Bryce Petty
and Nick Florence have played a key role as well as a solid running game that has picked up 90 first downs on the ground, best in the Big 12.
Iowa State:
Ranking in the bottom half in both categories is not a good look for Paul Rhoads program. Limited production at the quarterback position and 14 third-down sacks from the defense have played a major role as well as injuries to key players like
Quenton Bundrage
in 2014 and
Tom Farniok
in 2013 have made life a lot harder on the Cyclones.
Kansas:
The only team to rank in the bottom two in both categories, it's easy to see why David Beaty is taking charge in Lawrence, Kansas. It's somewhat surprising to see the Jayhawk defense so far down the list but KU had 13 third-down sacks during this span. And the quarterback position has been a major problem at KU since Todd Reesing left in 2009.
Kansas State:
Yet again the Wildcats efficient offense leads the Big 12 in a key category. Strong quarterback play from Collin Klein and
Jake Waters
along with receiver
Tyler Lockett
made KSU very difficult to stop. To see Bill Snyder's team in the bottom half of the conference in conversion allowed rate is a surprise but the Wildcats have a hard time getting three-and-outs. KSU's 17.8 three-and-out percentage on defense is only better than KU's 17.7.
Oklahoma:
The Sooners offense has been good on third down despite some of its recent struggles while the defense has been very average. Offensively, OU has done a good job of getting its playmakers, namely
Jalen Saunders
and
Sterling Shepard
, involved on third-down plays. Defensively, the Sooners have talented players, like
Eric Striker
, yet sit middle of the road in third down defense.
Oklahoma State:
Seeing the Cowboys near the bottom on the list in offensive conversion rate will make Cowboy fans long for the days of
Brandon Weeden
and
Justin Blackmon
. OSU's defense has been consistently good on third down and its third-down production was one of the reasons for the Cowboys recent Big 12 title contention. OSU's offense will need to be a lot better if the Pokes hope to surprise in 2015.
Texas:
UT's 37 sacks is one key reason the Longhorns are among the Big 12's top third-down defenses. The surprise is the Longhorns offense sitting in the top half of the conference, ahead of Texas Tech, West Virginia and Oklahoma State, who have generally put together more productive offenses. It's a sign UT's offense has had its moments of offensive precision even if the bad moments are the most memorable.
Texas Tech:
The Red Raiders haven't been great on third down but they haven't been horrible either. Improving the turnover margin is priority No. 1 for Kliff Kingsbury as the offense turns the ball over and the defense doesn't take the ball away. Once that is handled, then Tech can work on improving third down conversion rates.
TCU:
The Horned Frogs defense is stellar in nearly every category, ranking first in the Big 12 in yards per play allowed (4.62) and yards per carry allowed (2.13) on third down. Its offense was terrible on third down before the 2014 season, when it converted 42.9 percent on its third down attempts. TCU could end up in the top third of the conference in both categories in 2015 unless Gary Patterson's program takes a step backward this fall.
West Virginia:
The Mountaineers haven't been particularly good on either side of the ball. WVU's struggles to stop the pass on defense -- 13.63 yards per completion on third down -- have hampered WVU's ability to get off the field. On offense, uneven quarterback play after
Geno Smith
's departure doomed the Mountaineers to finish in the middle of the pack.
February, 25, 2015
Feb 25
4:00
PM ET
It is an important spring for several players in the Big 12.
Some are fighting to keep their jobs, others are trying not to be forgotten and others have to fight off lauded Class of 2015 recruits. Here's a look at several Big 12 players who have plenty to gain during spring football.
Chris Johnson, QB, Baylor:
With
Seth Russell
as the clear favorite to replace
Bryce Petty
as the starting quarterback, Johnson needs a strong spring to ensure the competition continues into the fall. He'll also need to hold off highly regarded true freshman
Jarrett Stidham
.
Vernell Trent, DT, Iowa State:
Trent had a decent redshirt freshman season, starting three games and finishing with 10 tackles in 2014. But ISU signed a pair of defensive tackles in the Class of 2015 with an eye on
Demond Tucker
and
Bobby Leath
becoming immediate impact performers. A good spring would help Trent secure a spot in the Cyclones' defense.
[+] Enlarge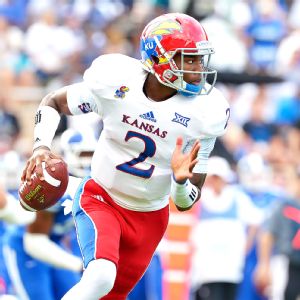 Grant Halverson/Getty ImagesMontell Cozart must impress the new Kansas coaching staff this spring.
Montell Cozart, QB, Kansas:
The junior went from unquestioned starting quarterback to afterthought in a span of a few months. Former coach Charlie Weis anointed Cozart to be the Jayhawks quarterback of the future, but he faltered and eventually was replaced by
Michael Cummings
in 2014. If Cozart has any hope making a major impact during his Jayhawks career, he needs to impress the new coaching staff this spring.
Judah Jones, WR, Kansas State:
The Wildcats are hoping to replace the playmaking skills of
Tyler Lockett
. One player isn't going to do it, but Jones has the upside to become a key player in KSU's offense while also making an impact on special teams. KSU has several other options at receiver, so Jones needs to rise above the competition if he hopes to separate himself this spring.
Trevor Knight, QB, Oklahoma:
The junior has started 15 games during the past two seasons but faces stern competition to keep his starting spot with Texas Tech transfer
Baker Mayfield
becoming eligible in the fall. As Lincoln Riley brings his version of the Air Raid to OU, many assume Mayfield is the best bet to trigger the attack. Knight can use the spring to remind everyone of his unique physical gifts.
Marcell Ateman, WR, Oklahoma State:
It's time for Ateman to step up and separate himself at the receiver spot. At 6-foot-4 and 210 pounds, he brings size, speed and ball skills that are tough to duplicate, but he doesn't dominate the way he should. With plenty of competition at the position, he needs to show he is ready to match his All-Big 12 talent with All-Big 12 production.
Daje Johnson, WR, Texas:
When he touches the ball, Johnson looks like the dynamic playmaker the Longhorns have longed for during the past few seasons, but he constantly takes himself out of the equation by making bad decisions off the field. This spring is the opportunity for him to show he has the focus needed to make his final season on the 40 acres a breakout year.
Foster Sawyer and Grayson Muehlstein, QBs, TCU:
The battle to backup
Trevone Boykin
should be interesting, so the spring gives Sawyer and Muehlstein the chance to lay claim to the No. 2 spot. Both quarterbacks should get plenty of chances to impress and the winner of the backup quarterback derby could set themselves up to take over in 2016.
Davis Webb, QB, Texas Tech:
A strong finish to the 2014 season by
Patrick Mahomes
has resulted in Webb being overlooked in many ways, but a healthy Webb was productive during his first two seasons in Kliff Kingsbury's program. The job is open heading into spring and Webb can make sure the quarterback battle in Lubbock is one of the most interesting aspects of Big 12 football in the spring.
Daikiel Shorts, WR, West Virginia:
The Mountaineers need to fill the void left by
Kevin White
and
Mario Alford
. Shorts has been a contributor to the WVU offense since his true freshman season but hasn't really developed into a game-changing target. This spring will give him the chance to show he can be a primary target for Dana Holgorsen's team.
February, 25, 2015
Feb 25
11:25
AM ET
This week, ESPN.com ranked the
best Power 5 coaching jobs
in college football, No. 1 through 65. Below is how we rank the jobs in the Big 12:
1. Texas
The Longhorns have unlimited financial resources with a massive donor base. They are located in the middle of one of the country's pre-eminent recruiting hotbeds, too.
2. Oklahoma
The Sooners have one of the great traditions in college football, a recruiting pipeline into Texas and a supportive administration.
3. Oklahoma State
Thanks to Boone Pickens, Oklahoma State boasts facilities that take a backseat to no one. Over the past 10 years, few teams have won more than the Cowboys, either.
4. Baylor
This job would have ranked near the bottom not long ago. But Art Briles has whipped Baylor into a powerhouse. The Bears have a new stadium, a budding fan base and a brand that seems to be resonating with young recruits.
5. TCU
Facilities and conference used to be impediments for the Horned Frogs. Not anymore. TCU has a newly renovated stadium and state-of-the-art facilities, including an air-conditioned practice facility. TCU's proximity to the Metroplex makes it an attractive recruiting destination, too.
6. Texas Tech
Unlike West Virginia, Kansas State, Iowa State and Kansas, the Red Raiders are located in the Lone Star State, which gives them a proximity advantage in recruiting. Texas Tech also has rabid fans and a strong donor base in the Midland/Odessa area, which is pumping money into the stadium renovation.
7. West Virginia
The Mountaineers have severe recruiting challenges, with the lack of in-state talent. Still, this is the equivalent of a pro team in the state, and it has the backing necessary to win.
8. Kansas State
Nobody does more with less than Bill Snyder. Manhattan has never been a recruiting destination. But the Wildcats have passionate fans (as the court rushing in basketball the other night demonstrated) who make Bill Snyder Family Stadium a tough place to play. The Wildcats also have been making impressive facility upgrades, most recently to the Vanier Football Complex.
9. Iowa State
The Cyclones have obstacles with a small in-state recruiting pool they also have to share with Iowa. The elimination of the Big 12 North hurt Iowa State as well. But the Cyclones have something Kansas does not -- and that's a fan base committed to football.
10. Kansas
Only eight years ago, Mark Mangino took Kansas to the Orange Bowl. It seems even more amazing now. The Jayhawks are behind the rest of the league in every area, from attendance to facilities.
February, 25, 2015
Feb 25
9:00
AM ET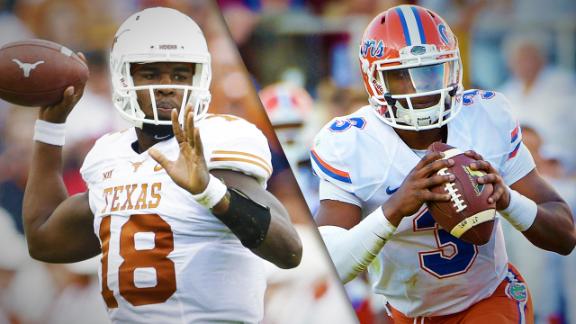 Quarterbacks are committing earlier and earlier in the recruiting process. With 16 of the 27 signal-callers in the ESPN Junior 300 already having given verbal pledges, there is increased pressure to get a top quarterback in the fold early. While some programs are set in 2016 or for the future at the vital position, several programs face the task of having to sign a potential difference maker at the position in the 2016 class.
Here are five programs that must sign a difference maker in 2016, and some of those are well on the way.
February, 24, 2015
Feb 24
2:13
PM ET
We've reached the final day of our project ranking each of the 65 college football jobs at the Power 5 level.
The central question to file away: If every Power 5 job came open tomorrow, which would be the most desirable? On the other side, which would be least appealing? (And everything in between.)
So who's it going to be? Which program will be deemed our No. 1 gig? Alabama? Texas? USC? Another school?
Though every coach weighs things differently -- that's why it's such a subjective, hot-button topic for debate -- the criteria are roughly the same.
The list includes factors such as location, administrative stability, support from those bosses, facilities, recruiting base, path to conference titles/playoff, sense of tradition, fervor of fan base, too much fervor from a fan base, etc.
We hope and believe we have provided an intelligent and accurate overview of the jobs in college football, from worst to best. We've also received feedback from various coaches and industry sources to help shape these rankings.
Previous rankings: The bottom of the barrel | The middle of the road
Tier 4: The Not-quites
Established brands in their respective leagues -- but is there a certain ceiling that will stop these programs from reaching the top shelf?
24. Wisconsin
Just a couple of months ago, this job might have been a tick or two higher. But Gary Andersen bolting for Oregon State -- the No. 50 program on this list -- shined a light on potential administrative woes in Madison. Andersen complained that assistants were not being paid market value and that an unnecessary admission standard was hampering his ability to get in even marginal academic risks. "We have no speed," Andersen told me in late November. "Our fastest players are walk-ons -- and Melvin Gordon. Thank God for Melvin Gordon." His successor, Paul Chryst, was at Wisconsin previously as an assistant, so he surely understands the pluses and minuses of being the Badgers' head man. He's not entering as blindly as Andersen, coming from Utah State, had. Could the situation be better? Probably. Is it as dire as Andersen made it seem? No, probably not. Look at the teams Wisconsin is being asked to compete against in the Big Ten West. Do Iowa or Nebraska have an inherent competitive advantage, really? Even last season, despite all the "adversity," Wisconsin still won the division. (Thank God for Melvin Gordon?)
The program has a solid reputation nationally, built up for years thanks in large part to the work of former coach and current athletic director Barry Alvarez. There were some questions about whether Alvarez's larger-than-life presence was part of the reason for Andersen's departure, but Andersen told me point-blank in November that Alvarez had been a good boss. Camp Randall Stadium is one of the better home environments in the Big Ten. Now nearly 100 years old, it has held up well; a $100 million project completed in 2005 has helped keep it modern. The coaches' and players' facilities have seen some upgrades in recent years. Last but not least: Madison is one of the better college towns in the country, so long as it's warm. If the administration proves to be a bit more flexible, understanding that it needs to keep with the times in college football, this could easily move back toward being a top-15 job.
To continue reading this article you must be an Insider
February, 24, 2015
Feb 24
9:00
AM ET
When listing the programs that needed a top-notch quarterback in the 2016 class, one would start with Texas. The Longhorns took a big step toward addressing the vital need on Feb. 23, securing a verbal commitment from ESPN Jr 300
Shane Buechele
. He is the third ESPN Jr 300 commitment for Texas head coach Charlie Strong, joining wide receivers
Collin Johnson
(No. 130) and
Reggie Hemphill-Mapps
(No. 161).
To continue reading this article you must be an Insider
February, 24, 2015
Feb 24
9:00
AM ET
It was good to see
Kevin White
,
Tyler Lockett
and
Bryce Petty
among the Big 12 players who helped themselves during the combine. And here's hoping the TCU trio can redeem themselves at pro day.
February, 23, 2015
Feb 23
2:30
PM ET
Junior day season is still underway, and that means a lot more offers and new names on the radar. Here's the latest on the 2016 recruiting trail in the Big 12:
BAYLOR
Total commits:
5
ESPN Junior 300 commits:
3
The latest:
Baylor running back commit
Kameron Martin
received an offer from Texas last week, but so far that move hasn't been enough to flip him. The ESPN Junior 300 back is a cousin of former Texas great
Jamaal Charles
and has called UT his "dream school," but Baylor was the first to offer and he's been a loyal pledge to the Bears since July 2014.
IOWA STATE
Total commits:
0
ESPN Junior 300 commits:
0
The latest:
The Cyclones were the first to offer 6-foot-5 tight end T.J. Hockenson of Chariton, Iowa. He landed his offer during a junior day visit and put up serious numbers as a junior: 73 catches, 1,116 yards and 18 touchdowns. Hockenson is expected to take a junior day trip to Kansas State as well.
KANSAS
Total commits:
2
ESPN Junior 300 commits:
0
The latest:
The Jayhawks locked up their second commitment of 2016 from
Antoine Frazier
, a 6-foot-5, 250-pound offensive tackle from Huffman, Texas, who pledged one day after receiving an offer. Frazier was a high school teammate of KU early enrollee receiver
Chase Harrell
at Huffman.
KANSAS STATE
Total commits:
2
ESPN Junior 300 commits:
0
The latest:
One of the many recruits hoping for an offer at Kansas State's junior day Feb. 28 will be Ian Rudzik, a linebacker/running back from Ulysses, Kansas, who visited KU earlier this month. The 6-foot-1, 215-pound junior is drawing interest from Arizona State and Minnesota, but a KSU offer might end his recruitment quickly.
OKLAHOMA
Total commits:
3
ESPN Junior 300 commits:
1
The latest:
Though Oklahoma only picked up one commitment from its junior day last weekend, the Sooners did make progress with a number of key targets in the state of Texas. ESPN Junior 300 defensive end
Marvin Terry
, defensive tackle
Chris Daniels
and lineman
Kellen Diesch
all emerged with positive reviews and will be intriguing targets moving forward.
OKLAHOMA STATE
Total commits:
2
ESPN Junior 300 commits:
0
The latest:
Oklahoma State went to the juco ranks for its second pledge of 2016. Fort Scott (Kansas) Community College cornerback
Malik Kearse
picked the Cowboys on Thursday. He originally hails from Miami, but an elbow injury in his senior year of high school meant no offers. Kearse logged two interceptions and 10 pass breakups in his first year at Fort Scott.
TCU
Total commits:
8
ESPN Junior 300 commits:
3
The latest:
TCU hosted another big junior day on Saturday and received a commitment from offensive lineman
Austin Myers
of Manvel, Texas. The Horned Frogs also made offers to ATH
Tyrell Alexander
, TE
Donte Coleman
and 2017 ATH Roshauud Paul and were able to get ESPN Junior 300 running back
Trayveon Williams
and corner
Jared Mayden
on campus.
TEXAS
Total commits:
3
ESPN Junior 300 commits:
2
The latest:
Texas made a ton of offers this week, and most of them went to quarterbacks. LSU commit
Feleipe' Franks
, Oregon commit
Seth Green
, Texas Tech commit
Tristen Wallace
and Baylor commit
Zach Smith
all picked up Texas offers, as did uncommitted passers
Xavier Gaines
,
Woody Barrett
and
Bowman Sells
. Considering the Horns' depth issues at QB, taking two in this class might make sense.
TEXAS TECH
Total commits:
3
ESPN Junior 300 commits:
0
The latest:
The Red Raiders landed their third commitment of the 2016 class from running back
Da'Leon Ward
of powerhouse Dallas Skyline. The all-purpose back picked Tech over TCU and rushed for 1,779 yards and 20 touchdowns as a junior, but he is still expected to take more visits despite his pledge.
WEST VIRGINIA
Total commits:
4
ESPN Junior 300 commits:
0
The latest:
West Virginia is reportedly expected to get an unofficial visit from defensive end
Shavar Manuel
this spring. The nation's No. 2 overall 2016 recruit has Florida State in the lead following his FSU junior day trip, but WVU is on Manuel's list of upcoming trips along with Clemson, Florida, LSU and Virginia Tech.
February, 23, 2015
Feb 23
10:00
AM ET
Spring ball kicks off in Big 12 country today with Baylor slated to hold its first practice. Later this week, TCU and Texas Tech will get started, too.
Plenty of questions surround the league. Many won't be answered until the the fall. But a few could gain clarity over the next two months.
Here are some of the biggest Big 12 questions to follow this spring:
Can freshmen factor into Baylor, Kansas State quarterback derbies?
[+] Enlarge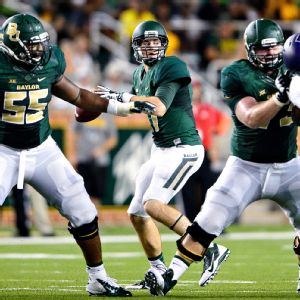 Jerome Miron/USA TODAY SportsAfter being the backup at Baylor, Seth Russell is now the favorite to lead the Bears.
With all-conference performers
Bryce Petty
and
Jake Waters
gone, the Bears and Wildcats will have new quarterbacks behind center. After backing up Petty the last two years,
Seth Russell
is the favorite to take over as the starter. In Manhattan, former walk-on
Joe Hubener
will be entering his fourth year on campus and holds the edge to succeed Waters. Both, however, will have to hold off a pair of talented freshmen in Jarrett Stidham and Alex Delton, who have enrolled early with sights on winning starting jobs. Stidham was the No. 3 quarterback signee in the country; Delton's skill set fits the mold of quarterbacks who have thrived for Bill Snyder in the past. The learning curve for first-year quarterbacks is always steep. But both Snyder and Art Briles have indicated Delton and Stidham will have the chance to prove they deserve to start.
What will the new Oklahoma offense look like?
After a recent trend in the wrong direction, Bob Stoops brought in play-calling prodigy Lincoln Riley to inject life in the Sooner program. Riley is a product of the Mike Leach air raid. So how will he balance that background while also utilizing Oklahoma's dynamic backfield trio of
Samaje Perine
,
Alex Ross
and Joe Mixon? And who will Riley turn to at quarterback among
Trevor Knight
,
Baker Mayfield
and
Cody Thomas
to lead the offense? Those reasons alone makes this the most fascinating spring of the Stoops era.
Who will play linebacker for TCU?
The Horned Frogs return 10 offensive starters, experience along the defensive line and a couple of key cogs in the secondary. But with All-American
Paul Dawson
,
Marcus Mallet
and
Jonathan Anderson
gone, the slate has been wiped clean at linebacker.
Sammy Douglas
and
Paul Whitmill
will get the first cracks to show they can fill the void. But early enrollees Alec Dunham and Mike Freeze could push them.
Can Mason Rudolph, Patrick Mahomes take next step?
Rudolph and Mahomes were fabulous after taking over starting quarterback jobs as true freshmen late last season. Rudolph ignited Oklahoma State to wins over Oklahoma and Washington, elevating expectations in Stillwater for 2015. Mahomes threw 14 touchdowns with just two interceptions in Texas Tech's final three games, and passed for 598 yards in the season finale against Baylor. The fortunes of both the Cowboys and Red Raiders will hinge on whether their young quarterbacks can build on such promising performances.
Is Jerrod Heard ready?
Though he had moments, the prospects of
Tyrone Swoopes
becoming Texas' long-lost, long-term answer at quarterback diminished toward the end of last season as the Longhorns flat-lined offensively. That has opened the door for Heard to make a run at the job this spring. Heard has the pedigree. He won two state championships in high school and was an ESPN 300 recruit. But by all accounts, he wasn't ready to step in last season. Will that change this spring?
Who will catch passes at Kansas State and West Virginia?
The Wildcats and the Mountaineers between them graduated 359 receptions and 4,966 receiving yards after
Tyler Lockett
,
Curry Sexton
,
Kevin White
and
Mario Alford
left. That is an unenviable -- and unbelievable -- amount of production to replace. This spring, both schools will begin to sift through who they can lean on at receiver in 2015.
Can Skyler Howard hold off William Crest?
After taking over for injured quarterback
Clint Trickett
late last season, Howard brought another dimension to the West Virginia offense with his wheels. At the same time, he struggled with his accuracy. As a result, Howard didn't quite lock up the job for 2015. Now, he'll have to fend off Crest, who actually beat Howard out for the No. 2 job coming out of August before a shoulder injury forced a redshirt. Crest, a four-star signee last year, is a talented prospect. Howard will have to be more precise with his arm to remain behind center.
Can David Gibbs turn around the Tech defense?
Last season the Red Raiders fielded one of the most futile defenses in Big 12 history. Tech will now hope its new coordinator can cure those ills on that side of the ball. Getting the Red Raiders to play more opportunistic will be one key. Under Gibbs, Houston forced 73 turnovers the last two seasons. Over the same span, the Red Raiders forced just 34.
Can a new staff give Kansas hope?
In five years under Turner Gill and Charlie Weis, the Jayhawks failed to total more than three victories in a season. Kansas brought in David Beaty to set the Jayhawks back on a course to respectability. How will he begin to set that plan into motion? This spring will give us a glimpse.
How will Iowa State replace its dismissed players?
Since the end of the season, Iowa State lost running back
DeVondrick Nealy
, safety T.J. Mutcherson and wide receivers
P.J. Harris
and
Tad Ecby
. All four were supposed to play big roles for the Cyclones in 2015. With
Quenton Bundrage
's from a knee injury, Iowa State should be fine at receiver. But finding a starting running back to replace Nealy and safety to step in for Mutcherson will be paramount this spring.
Celebrating Black History Month With Texas HC Charlie Strong
BIG 12 SCOREBOARD
Thursday, 9/3
Friday, 9/4
Saturday, 9/5