December, 28, 2014
Dec 28
12:38
AM ET
By now everyone has seen the tweeted picture of Arkansas coach Bret Bielema flashing what appears to be the infamous "Horns down" sign with his left hand while shaking Texas coach Charlie Strong's hand with the other during a press conference for the Advocare V100 Texas Bowl.
LOOK AT COACH B's left hand in this pic!!! #HornsDown @RazNation @KARK4News @KNWAnews pic.twitter.com/TAvbOB3Uik

— Aaron Peters (@AaronPetersRN) December 27, 2014
Well, after that photo went viral, people started calling it awesome, and then fake. Posts about it being photoshopped littered the Internet, and then Arkansas radio host Bo Mattingly tweeted that he talked to Bielema after practice about the "Horns down" move. Bielema denied doing it.
Ran into Bret Bielema at practice and he says he did not do the "horns down" in photo with Charlie Strong. Appears to have been photoshopped

— Bo Mattingly (@SportsTalkwBo) December 27, 2014
OK, case closed ... right?
Wrong!
Here we have more evidence about the hand gesture through this Vine:
Right at the end you can clearly see Bielema move his fingers into the shape of the "Horns down" sign. Now, whether this was intentional or not, we don't know. Maybe, he had no clue what he was doing. Maybe, it was a brilliant troll move by a coach who isn't new to having fun or throwing a little shade toward his opponents.
Regardless, it's fun water-cooler talk before the Razorbacks take on the Longhorns in the Texas Bowl on ESPN at 9 p.m. ET.
December, 26, 2014
Dec 26
3:00
PM ET
AUSTIN, Texas –
You have to make it happen.
That, Charlie Strong says, was the cleaned-up gist of his animated speech to
Tyrone Swoopes
before the second quarter against TCU began.
Toward the end of his quick 12-second lecture, Strong pointed a finger right at the Texas quarterback's chest just to ensure the message was delivered.
"I just told him he has to play," Strong said after the 48-10 loss. "You can't turn the football over. You can't get down on yourself. It's all about his demeanor."
[+] Enlarge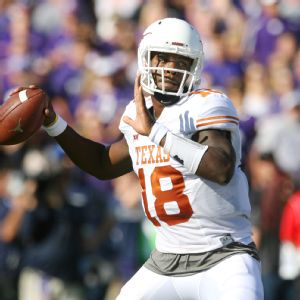 Scott Sewell-/USA TODAY SportsTexas is 4-2 this season when Tyrone Swoopes passes for at least 200 yards.
Swoopes, flustered after turning the ball over twice and goofing up the last play of the first quarter, couldn't manage to shake whatever ailed him against the Frogs. Strong's message got through, but didn't sway the outcome: four interceptions including a pick-6, four sacks, a fumble returned for a TD, a Thanksgiving-night meltdown.
A month later, Swoopes' rocky first year as the Longhorns' starter reaches a finale that will further define how his 2014 is remembered and perhaps how 2015 is resolved. Like the rest of his 11 starts, Swoopes' showing against Arkansas on Monday night in the Advocare V100 Texas Bowl is sure to get overanalyzed for months to come.
The sophomore, thrown into an unexpected starting role with unfair expectations when
David Ash
went down, calls what he has endured an "up-and-down experience." The peaks required patience. The valleys required thick skin.
"You definitely have to have that, playing quarterback at a big school like this," Swoopes said this month.
Strong and co-offensive coordinator Shawn Watson never publicly wavered this fall when it came to their faith in Swoopes. They had no other option, of course, but Swoopes never burned them either. He had tough days in losses to Baylor and Kansas State, but never so tough that a benching was considered. Not until the TCU game.
"I know that game wasn't me," Swoopes said.
His performance against the Horned Frogs left frustrated fans wondering whether Swoopes is the long-term answer and offered confirmation to table-pounding critics that he's not the one meant to lead Texas back to championship-level football.
Granted, we're talking about a second-year player taking on a top-six team, but the setback did seem significant. How is Swoopes going to respond? He knows all the right things to say about what comes next.
"Keep my head up, learn from it, put it behind me, don't let it get to me too much, use it as motivation," he said.
Senior receiver
John Harris
senses Swoopes gets too down on himself when things aren't going his way, which was evident against TCU. But the go-to receiver also has witnessed growth at every step of the season and expects even more now.
"I think it's good for him to learn this way," Harris said.
So much of Swoopes' play hinges on his confidence. On his best days – road showings against Oklahoma and Oklahoma State stand out – he went out and proved as much to himself as anyone else. Watson treats Swoopes like a freshman because he had so little meaningful experience and so much to learn.
Against Arkansas and its top-25 defense, we might learn just how resilient Swoopes can be. But win or lose, he will have to fight for his job next year.
Strong and Watson have repeatedly said they crave competition at the QB spot. The situation they have right now – a sophomore starting, true freshman
Jerrod Heard
learning slowly and redshirting, walk-ons
Logan Vinklarek
and
Trey Holtz
the only real backup options – won't cut it.
Competition, they hope, is the best path to pushing Swoopes this offseason. The incumbent must be made uncomfortable by peers capable of challenging him. Whether that's coming from Heard, ESPN 300 commit
Zach Gentry
or some other arm remains unclear.
For now, all that's certain is Monday's bowl game is another test that can propel Swoopes into the offseason and beyond in ways nobody can foresee.
"He'll be fine," Strong said. "The thing about it, he just needs to play well this next one. He's just got to move on and just get better, and he'll get better, and it will happen for him."
But only Swoopes can make it happen.
December, 26, 2014
Dec 26
9:00
AM ET
Total defense and scoring defense have forever been the statistics widely used to evaluate defenses.
But any more in college football, they only tell a small portion of the story.
With the rise of the hurry-up offense, some defenses have to face more plays or defend more possessions than others. By default, a defense that has to defend 100 plays is usually going to give up more yards and points than the defense that has to defend 70 plays.
With that in mind, ESPN Stats & Information keeps track of a pair of metrics that better define how a defense performs: The yards a defense allows per play; and the points a defense gives up per drive. Factor in a third category -- turnovers gained -- and you have a better account of who is actually playing good defense. And who is not.
Below, we will examine those three statistics and average them out to provide a more accurate representation of Big 12 defense rankings for 2014 (also, in the interest of keeping a level playing field, only conference games were evaluated):
Yards per play
1. Texas: 4.83
2. West Virginia: 5.28
3. TCU: 5.41
4. Kansas State: 5.51
5. Oklahoma: 5.58
6. Baylor: 5.70
7. Oklahoma State: 5.94
8. Kansas: 6.31
9. Texas Tech: 6.63
10. Iowa State: 6.81
Points per drive
1. Texas: 1.30
2. TCU: 1.50
3. West Virginia: 1.65
4. Kansas State: 1.73
5. Oklahoma: 1.92
6. Baylor: 1.99
7. Oklahoma State: 2.40
8. Kansas: 2.47
9. Iowa State: 2.82
10. Texas Tech: 2.98
Turnovers gained
1. TCU: 26
2. Baylor: 19
3. Kansas State: 18
4 (tie). Kansas: 15
4 (tie). Texas : 15
6. Iowa State: 14
7. Texas Tech: 13
8 (tie). Oklahoma: 11
8 (tie). West Virginia: 11
10. Oklahoma State: 9
Taking average placement for the three above categories, this is how the overall defensive rankings shake out:
1. TCU: 2.0 (average rank)
2. Texas: 2.2 (average rank)
3. Kansas State: 3.7
4. West Virginia: 4.5
5. Baylor: 4.7
6. Oklahoma: 6.2
7. Kansas: 6.8
8. Oklahoma State : 8.0
9. Iowa State: 8.3
10. Texas Tech: 8.7
December, 24, 2014
Dec 24
2:00
PM ET
In today's holiday edition of the Big 12 Twitter mailbag, we talk recruiting, potential expansion (again), who could be 2015's version of TCU, and the end of a Twitter era, as @FauxHolgorsen.
Here's to everyone having a Merry Christmas.
Now, on to the 'bag;
@Jake_Trotter With BU and MSU losing coordinators on opposite sides of the ball, who has the better chance in the Cotton @CottonBowlGame?

— BearsCanClimb (@TideNormand) December 23, 2014
@Jake_Trotter: It's probably a wash. Considering the Bears still have coach Art Briles and a veteran quarterback in Bryce Petty, I don't think not having Phillip Montgomery will have a major effect on the offense. Briles has established a culture of scoring that goes beyond any one assistant or player. Likewise, Michigan State has implemented a culture of defense under Mark Dantonio. Pat Narduzzi has been a fabulous coordinator. But just because he won't be in Arlington doesn't mean the Spartans will forget how to play defense. I still expect this to be an epic clash of irresistible offense vs. immovable defense.
@Jake_Trotter @ESPN_Big12 What team next year from the bottom half of conference, could make a run for the title?

— Steven Torpy (@Torpyedo) December 23, 2014
Trotter: From a list of West Virginia, Oklahoma State, Texas Tech, Kansas and Iowa State, I would have to go with the Cowboys. Oklahoma State appears to have uncovered its long-term answer at quarterback in Mason Rudolph, who was terrific in his two starts to cap the regular season. Oklahoma State will also return its entire receiving corps, as well as eight starters defensively. With TCU, Baylor, Oklahoma and Kansas State all headed to Stillwater next season, the schedule lines up for the Cowboys to make a bounce-back run at the conference crown.
@Jake_Trotter How much do you think the @Big12Conference will fine its newest members for their bowl brawl?

— Will Estel (@willestel) December 23, 2014
Trotter: Clever.
@Jake_Trotter do you see expansion on our horizon?

— Jake Perry© (@JakePerry56) December 23, 2014
Trotter: For the first time this football season, I went to the movies over the weekend and saw "Interstellar." So if by "horizon" you mean the wormhole next to the rings of Saturn, then yes, expansion is on the horizon.
@Jake_Trotter what is the percent of probability, in your opinion, that UCF joins the Big 12 in the next 3 years?

— Eli Fried (@elisfkc) December 23, 2014
Trotter: Highly unlikely, considering any expansion is highly unlikely. That said, commissioner Bob Bowlsby has indicated in recent days that if the Big 12 ever expanded, it would look east instead of west. That would seemingly put UCF in play, as one of the top available schools to the east. I'm not sure how a Big 12 school in Florida would work. Then again, the Big 12 really has no convenient options left when it comes to expansion.
@Jake_Trotter what are the chances that Mr. President makes @TTU_WreckEm the new White House?

— Raider_Red (@RAIDER_R3D) December 23, 2014
@Jake_Trotter tech DC thoughts? Who might it b? Ideas on where President is leaning?

— Brian Martin (@gunsupbm) December 23, 2014
Trotter: It's possible Chad President ends up in Lubbock. After losing Jarrett Stidham to Baylor, Texas Tech needs a quarterback for this class, and President needs a new team after de-committing from Baylor. But Tech won't be the only Big 12 school that goes after him. Highly ranked quarterbacks (even quarterbacks that could end up as college receivers) usually aren't available this late in the recruiting game. So President will be in demand. As for the Tech defensive coordinator search, Houston's David Gibbs is at the top of the list. Even though Houston finished just fifth in the American, the Cougars have improved defensively under Gibbs, ranking 11th in scoring defense this season. A former defensive coordinator at Minnesota and Auburn, Gibbs is the kind of veteran coordinator Kliff Kingsbury needs to add to his staff.
@Jake_Trotter if you could put a percentage on it, what are the odds Daylon Mack ends up in a TCU uniform?

— Chris Conaty (@Con_Man95) December 23, 2014
Trotter: After de-committing from Texas A&M, Daylon Mack tweeted that TCU and LSU were his top two schools. He is apparently scheduled to take an official visit Texas on Jan. 23, which could change things. But I would think TCU's odds of landing Mack at this point are at least 33 percent.
@Jake_Trotter How sad are you that the @FauxHolgorsen account is ending?

— Jake Lantz (@NiteStare) December 23, 2014
Trotter: Huge bummer. This, by the way, was his farewell letter. In memoriam, below was a great moment in @FauxHolgorsen history...
@Jake_Trotter @ESPN_Big12 Guess what arrived today? Thanks for my Midseason Coach of the Year trophy. pic.twitter.com/eu3n9VvGnt

— Not Dana Holgorsen (@FauxHolgorsen) October 21, 2014
@Jake_Trotter @ESPN_Big12 what coach is the most festive?

— Garrett Smith (@Gsmitty_titty) December 23, 2014
Trotter: This one is easy ...
#WVU Coach Dana Holgorsen tells us what he wants for Christmas this year. pic.twitter.com/MAoU0goxZa

— Geoff Coyle (@GFCoyle) December 18, 2014
.
December, 24, 2014
Dec 24
1:00
PM ET
Arkansas needed to upset LSU and Ole Miss. Texas had to knock off Texas Tech, West Virginia and Oklahoma State. Both did just that --and just enough to go bowling.
There is plenty at stake when these 6-6 teams square off at Houston's NRG Stadium on Monday night. Pretty simple, really: One team goes home with a winning record, the other doesn't. Which team will embrace the momentum-building moment?
ESPN.com's Greg Ostendorf and Max Olson break down the matchup.
How Arkansas can control the game:
Run the ball and control the clock. This has been Arkansas' strength all season. The Razorbacks have 14 touchdown drives of five minutes or longer, second most in the FBS behind only Georgia Tech. Running backs
Jonathan Williams
and
Alex Collins
each have more than 1,000 yards rushing. No other FBS team can say that. When the Razorbacks are gashing the opponent on the ground, they are hard to stop.
-- Ostendorf
How Texas can control the game:
Charlie Strong wins games with his stout defense, and when this group forces turnovers it can be awfully tough to beat. Texas had the Big 12's No. 1 total defense and pass defense, and the pressure that
Malcom Brown
,
Hassan Ridgeway
and
Cedric Reed
get up front ought to make running the ball a challenge at times. It's a bend-don't-break defense that will keep this game relatively low-scoring.
-- Olson
Arkansas' X-factor:
Trey Flowers
has been a quarterback's nightmare this season. The senior defensive end has 13.5 tackles for loss, five sacks and nine quarterback hurries. When he's not chasing him down, he's batting the ball down at the line of scrimmage. He has been the heart and soul of an Arkansas defense that allowed only 9.5 points per game in the month of November, and this will be his final game in a Razorbacks' uniform.
-- Ostendorf
Texas' X-factor:
The play of
Tyrone Swoopes
, obviously. His five-turnover showing against TCU gave the Longhorns no shot and raised doubts among the fan base about whether he's "the guy" for the future. Swoopes can kill those questions with a bounce-back showing. He had one of the finest performances of his career (305 yards, two TDs, 72 percent passing) against Oklahoma State right before facing the Frogs. Can he bring his best against the Hogs?
-- Olson
What a win would mean for the Razorbacks:
The rebuilding process at Arkansas took a big step this season under second-year coach Bret Bielema. The Hogs won an SEC game, nearly knocked off the eventual conference champion, and now they are playing in a bowl game. A win could propel them into next season and validate them as a contender in 2015.
-- Ostendorf
What a win would mean for Texas:
The Longhorns got their recruiting momentum rolling last week with a commitment from elite linebacker
Malik Jefferson
. This 'W' can get the rest of the program rolling. An important win would aid an important offseason for growth, and the Horns badly need to move past the buzzkill of getting beat up by TCU.
-- Olson
December, 23, 2014
Dec 23
4:00
PM ET
Kansas State's preseason destiny, Texas' offensive style, and the decisions of the committee highlight Tuesday's mailbag. As always, thanks for your questions. To submit questions for next week's mailbag,
click here
.
Nick in Las Vegas, Nevada writes:
In online chatter people suggest that schools such as TCU & Baylor will never be allowed to play for a National Championship due to being small private schools. Do you think there is any merit to this "anti-small school" theory?
Brandon Chatmon:
Not really. Say Florida State and Ohio State lost in their title games, what would have happened then? The committee just jumps Michigan State or Ole Miss or whoever into the top four? Now, I do think the committee needs to re-evaluate how it does things, because Baylor should have been in the top four, but I don't think the Bears were left out because the committee is "anti-small school." The Bears were left out because the committee decided Ohio State was the better team. We'll see if the committee was right and I was wrong.
---
Connor in Beaumont, Texas writes:
A big issue with Texas' offense is that the quarterbacks that have been recruited over the last couple of years (Swoopes, Heard) have little to no experience in a "pro-style offense." Meanwhile the rest of the country is running spread and it's working. What are the implications of changing offensive philosophy? Can it be done for just one season or a couple?
BC:
It doesn't matter the type of offense
Tyrone Swoopes
or
Jerrod Heard
ran in high school. Either they are playmakers or they aren't. Now, changing the philosophy does have an impact as it can limit your options on the recruiting trail with limited options at tight end, fullback, etc... But that shouldn't matter much at Texas. I think coach Charlie Strong's focus is more on being a physical running team more than a "pro-style offense" and it's important to note that running a spread-style passing offense doesn't mean you can't have a physical, tough running game. In fact, Baylor and TCU averaged more than 200 rushing yards per game in 2014. If I was a Longhorns fan, it would be more important to me that our offense changes organically each year to adapt to the best players on the offense, including the best playmaking option at quarterback.
---
Catalokie in Tulsa, Oklahoma writes:
I know there's a lot of relief about
Trevor Knight
under center for the Sooners' bowl game, I'm thrilled he's healthy, but what about next season? Knight hasn't always shown the consistency he was applauded for after the Alabama game. Might
Baker Mayfield
top Knight for the starting job?
BC:
I wouldn't be surprised if Baker Mayfield becomes a starter at Oklahoma, and I expect a pretty good battle to start during the offseason. Knight's status as the future at quarterback in Norman has changed from unquestioned to unclear, that's the only thing I'm certain about.
---
Omar in Flower Mound, Texas writes:
Can you explain to me why
Trevone Boykin
didn't even get invited to the New York, I feel like every other year they always bring in at least 4 people if not more. I don't think he should or would have beaten out
Marcus Mariota
for it, but I definitely would have picked him over
Amari Cooper
or
Melvin Gordon
. Your thoughts?
BC:
Inviting four finalists to New York is not the norm, Omar. I thought Trevone Boykin had a great year as the catalyst to TCU's turnaround, he was exceptional in every way. But I didn't pick him to win the Heisman. I voted Mariota, Cooper then Boykin, and that was harder than I expected to pick between Mariota and Cooper, but Boykin was below that pair in my eyes. I agree he probably should have been in New York though.
---
Tyler in Waco, Texas writes:
Reading your most recent mailbag, one thing that stuck out to me was this idea that if FSU and OSU both lost in championship week, but the Big 12 had chosen their "One True Champion" in Baylor, that TCU would have been left out of the Playoff at 11-1 for some other team. I just don't see that happening at all. Even without their "co-champs" label, would a two-loss Wisconsin, Georgia Tech, or Mississippi State really have made it ahead of TCU? I just don't see that happening. I may just irrationally hate Bowlsby, and maybe what he did was the right call in some scenarios, but I just can't see how an 11-1 TCU doesn't make the playoff, even without the "Co-Champ" title.
BC:
I pretty much agree with what you're saying Tyler, that's why I've said I would have handled it differently and named Baylor as the Big 12's champion. Yet we have to remember, in the weeks leading up to the selection, the committee was steadily dropping undefeated Florida State in favor of one-loss teams. Why wouldn't it consider jumping any two-loss team it wanted ahead of TCU? I doubt it would have happened, but I doubted TCU would be ranked No. 3, win by 50 points and drop to No. 6, so ...
---
Daniel Drummond in Houston writes:
Brandon, what can the Big 12 do to get better representation on the CFP committee? The Big Ten and Pac 12 had a lot of ties to the committee, but the Big XII was notably excluded, and more than a few people think that played into the decision to keep Baylor and TCU out.
BC:
Obviously with Oliver Luck's departure to the NCAA that leaves an opening in the committee, and I'd agree with fellow Big 12 reporter Jake Trotter that Texas Tech's Kirby Hocutt would be a great fit with his experience at various Big 12 schools and overall understandings of the dynamics of the Big 12 region. He would be a terrific first step. But I must say issues like this are the reason I'm hoping for a expanded playoffs in the near future. I mean, could you imagine if a committee decided who makes the NFL playoffs?
December, 23, 2014
Dec 23
1:36
PM ET
December, 23, 2014
Dec 23
1:11
PM ET
December, 23, 2014
Dec 23
1:00
PM ET
The Big 12 bowl season kicks off Monday with a tripleheader featuring West Virginia-Texas A&M in the AutoZone Liberty Bowl, Oklahoma-Clemson in the Russell Athletic Bowl and Texas-Arkansas in the nightcap in the Advocare V100 Texas Bowl. In this week's Big 12 roundtable, we examine the keys for the three Big 12 teams playing in the Monday bowls:
What is the biggest key for West Virginia?
Chatmon:
Kevin White
's return to the dominating force that caused all sorts of problems for West Virginia's early season opponents would help, particularly if he can do it against double teams. But it will be the Mountaineers' pass defense, led by cornerback
Daryl Worley
, that could decide the game. Facing the SEC's top passing offense, WVU's secondary has talent but faces a tall task against a Texas A&M offense that featured five different receivers that passed 400 receiving yards in the regular season. Thus, it will take a solid pass rush and strong performances from the WVU secondary to slow down the Aggies.
Olson:
Don't overlook the reason why Texas A&M is searching for a new defensive coordinator. The Aggies allowed 298, 363, 335 and 384 rushing yards in their final four SEC games. The formula for beating them up late in the season was pretty obvious. With West Virginia's line healthy again, the Mountaineers should ride
Rushel Shell
,
Wendell Smallwood
and
Dreamius Smith
and take advantage of the passing looks the run game sets up.
Trotter:
Get Kevin White going early and often. The Aggies had one of the worst pass defenses in the SEC this year, and they have no one (who does?) who can physically match up with White. If the Mountaineers can devise ways to get White -- and wingman
Mario Alford
-- opportunities for big plays early, they can put A&M on its heels for the rest of the game.
What is the biggest key for Oklahoma?
Chatmon:
Quite simply the Sooners' offensive line must win in the trenches. OU's offensive front is among the nation's top units but will face a fast, physical and athletic Clemson defense with all the traits to slow down OU's offense. Offensive balance will be key, as well as winning on first down. The Sooners averaged 7.94 yards per first-down play in their eight wins. That number dropped to 6.13 yards per first-down play in their four losses. If OU faces a game full of third down-and-long plays, it could be a long 60 minutes.
Olson:
It's not just about winning the trenches for Oklahoma. The protection of
Trevor Knight
is of the upmost importance against Clemson. I'm no expert on transient quadriplegia -- nor had I ever heard of it prior to Knight's injury against Baylor -- and I trust that OU was extremely careful with its testing to deem Knight cleared to play. But you know he will take tough hits in his first game back, and after such a jarring injury, you'd hope his line can keep him clean and playing without fear of getting hurt again.
Trotter:
Clemson owns one of the best statistical defense in the country, which could put points at a premium for the Oklahoma offense. That's why it's imperative that the Sooners' defense shows up in this game. The Tigers aren't great offensively, so the Sooners ought to be able to impose their will. Then again, this is an Oklahoma defense that massively underachieved during the last two months of the season.
What is the biggest key for Texas?
Chatmon:
The formula has been pretty simple for the Longhorns. When Charlie Strong's team wins the turnover battle, it wins the game. When it loses the turnover battle it heads into the locker room full of disappointment. Arkansas did a decent job protecting the ball, with 17 turnovers in 12 games, but the Razorbacks' 11 fumbles provides some hope for the Longhorns to get one or two turnovers. More importantly, UT and quarterback
Tyrone Swoopes
must protect the ball much better than they did against TCU and give themselves a chance.
Olson:
This might sound like a strange request, but I want to see Texas finally show up in the third quarter and score some points. The Horns put up a total of nine points in the third period in Big 12 play. Nine. After nine games that's not some anomaly; it's a weakness and a strange one. Arkansas is going to play UT close and has had real trouble scoring in the second half (7.5 ppg in SEC play). Any points Texas can muster after halftime could make all the difference.
Trotter:
Whoever wins the battle in the trenches between the Arkansas offensive line and the Texas defensive front probably is going to win this game. When the Hogs struggled to run the ball this year they struggled to score. But when they got the run game going they were difficult to beat. Texas has the horses with
Malcom Brown
and Co. to win the battle with the Razorbacks up front. If the Longhorns do, odds are they'll also end their season with a win.
December, 23, 2014
Dec 23
9:00
AM ET
When Texas coach Charlie Strong looks across the field to see a pair of 1,000-yard rushers on Bret Bielema's team during the Advocare V100 Texas Bowl, it will be hard for him not to be envious.
"If you can get that, you can win," Strong said. "When you get the two 1,000-yard rushers, you know you're a physical football team and you're running the ball. It is all about ball control."
Arkansas is in Year 2 of the Bret Bielema project, with the former Wisconsin head coach's blueprint starting to see dividends with a bowl appearance, a pair of shutouts in Arkansas' final three games, and one of the SEC's best running games serving as the foundation.
Johnathan Williams
(1,085 rushing yards) and
Alex Collins
(1,024 rushing yards) have paced the SEC's No.4-ranked running game heading into the meeting with its former Southwest Conference foe.
[+] Enlarge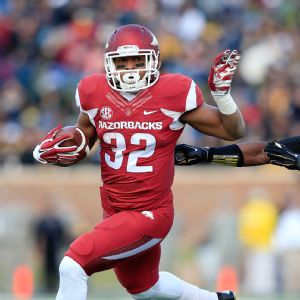 Jamie Squire/Getty ImagesArkansas running backs Johnathan Williams (pictured) and Alex Collins are the envy of a Texas team that wants to have similar success in the power-running game.
As envious as he might be, Strong has a blueprint of his own. From his highly publicized rules to his straight-laced honesty, the Longhorns CEO has shown he's going to do it his way, with little regard to others' thoughts on the matter.
While Strong's plan is different than Bielema's blueprint, the similarities are stark. In an era of high-scoring offenses, big plays and offensive fireworks, Strong and Bielema aim to build around physical, running offenses that can control the game along with tough, versatile defenses than can adapt to the flurry of different styles present on any given Saturday.
UT wants to be known for its toughness, with a physical running gameone of the clearest signs of a team's physicality. The Longhorns have a long way to go, averaging 146.67 rushing yards per game in 2014. UT averaged 176.33 rushing yards per game in its six wins and 121 rushing yards per game in six losses, including three games of less than 100 rushing yards.
"[We] could have played a lot better than what we played," Strong said. "We lose six games, [that] would never be a standard here. We could have played a lot better at times than what we did. I think about those close games we were in."
It's a similarity Strong's team shares with Arkansas, another sign both blueprints are starting to work despite being in the infant stages of their instillation. Both teams lost six games but can look back at the regular season and see an eight- or nine-win season just outside their grasp. The Longhorns can look back at games against UCLA, Baylor, Kansas State and Oklahoma as opportunities left on the table. The Razorbacks can look back at losses to Alabama, Mississippi State and Missouri and say the same.
"I think it's a really good football team," Strong said. "But, at the right time, they didn't win those close games."
Strong was talking about his opponent but might as well have been talking about his own squad. Many people point to the dismissals and departures that followed Strong's installation of his rules as the culprit in the .500 season.
"It had nothing to do with the guys who we didn't have," Strong said. "You're going to win with the ones you have and not with the ones you don't have. So with a lot of those players not being with us, playing with what we had, we were good enough. We just didn't play well. We didn't play well at the right time."
Change didn't come, but it was needed. UT took some lumps early this season with the hopes of a later payoff. That came in the form of three wins in the Longhorns' final four games to secure bowl eligibility.
"I think that we needed him," offensive lineman
Sedrick Flowers
said of his coach. "He came in here, and he's made us all humble ourselves. I know when I first got here, I wouldn't say I was an arrogant person, but in the program there was some arrogance. There were some players that were entitled, and he came in here and just took that all away. Everybody is on the same level. We all just want to work and get a championship."
The foundation has been set, but the concrete is still drying. The will to have a physical running game is apparent, but UT's 3.91 yards per carry, ranking No. 85 among FBS teams, is not the standard that will lead to championships or make anyone envious.
"Physicality is what we pride ourselves on," tight end
Geoff Swaim
said. "Anytime you can impose your will on another team, it makes your job easier, makes the defense's job easier. I don't really get into the whole run/pass, all that kind of stuff. It's more about who can be more physical, who can do their job the best and which team is tougher.
"That's what we want to be and that's who we strive to be. It's a growing process. It's never something you just say this is who you are and it just becomes that. That develops and that develops; not only this year, but it'll develop next year and it'll just keep growing."
December, 22, 2014
Dec 22
11:00
PM ET
We asked college football fans what recruits they want under the Christmas tree for their favorite school. Here are the best answers in this special Christmas edition of the Early Offer. The Early Offer will return next week from the Under Armour Game practices in Orlando, Florida.
@jeremycrabtree Ole Miss CeCe Jefferson to add to an already great defense. And DeMarcus Lodge to go along with our other talented WR.

— Joe Turnage (@Joe_T25) December 21, 2014
@jeremycrabtree Florida- Bryon Cowart, CeCe, Ivey, Holland, Jordan Scarlett

— Trenton Stowell (@tstowell24) December 21, 2014
@jeremycrabtree b cowart Cece and dpayne come to auburn to make impact on defense

— Tad tisdale (@TadTisdale) December 21, 2014
@jeremycrabtree Ryan Davis at Kstate

— darren mueller (@milkman2993) December 21, 2014
@jeremycrabtree @ESPNRNFball Daylon Mack to #LSU. He would play from day 1.

— Dustin L. Davis (@DustinLDavis) December 21, 2014
A quarterback. #VirginiaTech MT "@jeremycrabtree: What recruits do you want your school to land for Christmas?"

— Joe Kriz (@joe_kriz) December 21, 2014
@jeremycrabtree @ESPNRNFball Van Jefferson, Roquan Smith, and Keep Bobo #UGA football

— Dx2 (@theReal_DrDave) December 21, 2014
@jeremycrabtree @ESPNRNFball OU-Demarcus Lodge

— RNS (@LTBCEO) December 21, 2014
@jeremycrabtree @ESPNRNFball @tezivey @ByronHawkStar99 @cecejeferson7 @Famousscarlett @thaRD5 @Jalen_Merrick @K72_Phillips @Deondre_3

— Gator_Fan_4Life (@gatorsfan1977) December 21, 2014
@jeremycrabtree @ESPNRNFball a&m get daylon Mack

— Trey Burnett (@rednationrocks2) December 22, 2014
@jeremycrabtree @ESPNRNFball Martez Ivey and Daron Payne would be huge for Auburn. Need depth at those positions and they are both studs.

— jakewright (@jakewright1996) December 22, 2014
@jeremycrabtree @kris23db -DBU.

— Zane Ellis (@ZaneMoneyEllis) December 22, 2014
@jeremycrabtree @ESPNRNFball #EarlyOffer Daylon Mack, Kris Boyd, and Warren for #Texas

— Evan Yarbrough (@evan_yarbrough) December 22, 2014
@jeremycrabtree Kyle Phillips and Ugo Amadi! #Vols

— Jarret Henry (@JarretHenry) December 22, 2014
@jeremycrabtree DL-N Gallimore,G Campbell,D Daniels LB-McGinnis,Wheeler, Josh Smith OL-Wariboko, Teauma WR - Newsome DB-Orr, Dalton #Sooners

— nk boomer (@nk_boomer) December 22, 2014
@jeremycrabtree KSU - Kylan Johnson@shotime_kc

— Wildcat_Jeff (@Snyder_cat) December 22, 2014
December, 22, 2014
Dec 22
4:00
PM ET
Baylor receiver
Corey Coleman
and Oklahoma receiver
Sterling Shepard
showed signs of their All-Big 12 futures with strong bowl showings during the holiday season a year ago. Both players led their team in receptions in the 2013 postseason before earning All-Big 12 honors in 2014.
This season's bowl games provide another opportunity for young players on Big 12 teams to show they're ready for a bigger roles in the future. Here are some Big 12 names to keep an eye on this bowl season:
Baylor DE K.J. Smith:
The redshirt freshman stepped in and stepped up after
Jamal Palmer
was lost for the season with his ACL injury midway through the year. Smith finished with 39 tackles including 9.5 tackles for loss and five sacks. His 3.5 tackles per game are a sign he can impact the running game as well as the passing game in the Bears GoodYear Cotton Bowl matchup with Michigan State. And he could see his role in Baylor's defense expand even further in 2015 if
Shawn Oakman
elects to head to the NFL.
Kansas State LB Elijah Lee:
The true freshman forced himself into the Wildcats plans early during his freshman season and saw his role continue to expand as the season progressed. Lee finished the regular season with 16 tackles and 4.5 sacks while playing various roles on Bill Snyder's defense. His athleticism could be an asset against
Brett Hundley
and UCLA with a big game setting him up as one of the Big 12's potential breakout players in 2015.
Oklahoma WR Michiah Quick:
The true freshman showed flashes of playmaking ability after he became a bigger part of the offense following Shepard's injury in early November. His 16 receptions for 164 yards and one touchdown during Shepard's absence led the Sooners. Quick's speed and open field ability could make him a threat for Clemson's defense particularly with Trevor Knight's return. A big Russell Athletic Bowl performance could cement Quick's role in OU's offense in 2015, even with the
Dorial Green-Beckham
, if he returns to school, and highly touted junior college signee DeDe Westbrook amping up the competition at receiver.
Oklahoma State LB Justin Phillips:
The Cowboys' crazy overtime win in Bedlam overshadowed a stellar performance from Phillips. The true freshman played the majority of the game, finishing with 10 tackles including seven solo stops in the most significant action of his debut season. Phillips saw spot duty through much of the season but if he builds on his Bedlam performance with solid Ticket City Cactus Bowl, he could be a name to keep an eye on in 2015.
Texas WR Armanti Foreman:
The Longhorns will be searching for playmakers in the passing game next season with
John Harris
and
Jaxon Shipley
moving on. The freshman scored touchdowns in each of UT's final two games including a 73-yard catch-and-run against TCU on Thanksgiving. Foreman's quickness and speed makes him an asset to the Longhorns' offense and a solid AdvoCare V100 Texas Bowl showing would re-affirm his long term potential and place him high on the list of Longhorns to get the ball in 2015.
TCU CB Ranthony Texada:
The redshirt freshman locked down the starting cornerback spot opposite
Kevin White
as Jason Verrett's replacement, making him a guy to keep on eye on during the Chick-Fil-A Peach Bowl. Texada started every game of his freshman season and will be the most experienced member of TCU's cornerback group in 2015. Texada has been solid all season long but will need to take his game to another level to be the No. 1 cover man in Gary Patterson's defense.
West Virginia WR Daikiel Shorts:
Dana Holgorsen will be looking for someone to fill the playmaking void left by White and
Mario Alford
after the AutoZone Liberty Bowl. Shorts seems a prime candidate and could use the bowl game to send the message that he plans to make a jump from complementary receiver to go-to target as a junior. With eight of his 24 receptions in WVU's final two games of the regular season, Shorts could be starting to come into his own.
December, 21, 2014
Dec 21
11:00
PM ET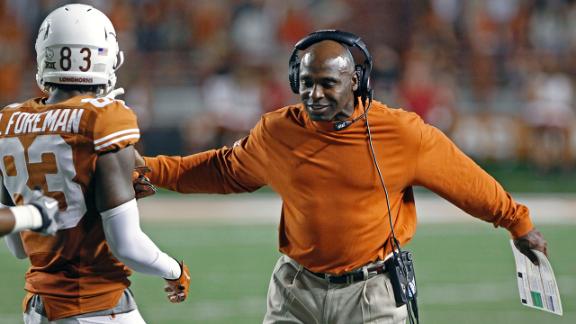 Malik Jefferson
's commitment could alter recruiting landscape in Texas, says one Big 12 coach. Plus, where do the Power 5 conferences stack up when it comes to ESPN 300 commitments.
December, 21, 2014
Dec 21
2:00
PM ET
Dec. 19, 2014. Consider it one of the biggest days for Big 12 recruiting in a long time.
On a day already anticipated as one to watch with the morning announcements of ESPN 300 linebacker
Malik Jefferson
and four-star athlete
DeAndre McNeal
, the Big 12 got its own version of a Christmas bonus with five major commitments by the end of the afternoon.
Jefferson and McNeal committed to Texas. ESPN 300 quarterback
Jarrett Stidham
committed to Baylor after recently decommitting from Texas Tech. ESPN 300 defensive end
Ricky DeBerry
and four-star safety
Kahlil Haughton
chose Oklahoma.
And better believe, it's not over for the conference.
There are several players who could be additions to the growing number of Big 12 commitments. Here are five names to watch from now until national signing day in early February.
To continue reading this article you must be an Insider
ESPN Films Presents: Nixon's National Champs - Nixon vs. Paterno
BIG 12 SCOREBOARD
Saturday, 12/20
Monday, 12/22
Tuesday, 12/23
Wednesday, 12/24
Friday, 12/26
Saturday, 12/27
Monday, 12/29
Tuesday, 12/30
Wednesday, 12/31
Thursday, 1/1
Friday, 1/2
Saturday, 1/3
Sunday, 1/4
Monday, 1/12