November, 21, 2014
Nov 21
4:30
PM ET
What we're reading while Dayton goes after UConn. Submit links
via Twitter
.
November, 21, 2014
Nov 21
4:00
PM ET
In today's Twitter mailbag, we examine TCU and Baylor's playoff possibilities, the future of Texas and the chances of Bob Stoops and Mike Gundy going to Florida.
Max will be in Waco this weekend covering Oklahoma State-Baylor. I will be in Norman to see if Kansas can give another ranked team a scare.
Now, on to the 'bag:
@Jake_Trotter if the top 8 win on Saturday, is there any movement in the standings?

— Mike G (@mikefrogit) November 21, 2014
Trotter
: I don't think so. Nobody in the top eight plays a noteworthy opponent.
@Jake_Trotter the Big10 got beat up in non-con play this year, but still in a better position to make the playoff. What can the Big12 do?

— Nathan Quinn (@NateQuinn11) November 21, 2014
Trotter
: The one thing to keep in mind is the playoff committee has said that it's viewing teams individually and not through the prism of what conference they play in. In other words, the committee is examining Ohio State when it does these rankings. Not the Big Ten. So in the eyes of the committee this is about TCU and Baylor vs. Ohio State. Not the Big 12 vs. the Big Ten. What can TCU and Baylor do? Annihilate their upcoming opponents and hope for the best.
@Jake_Trotter Bowl projection and possible opponent for OU?

— Casey (@CaptainRiceCake) November 21, 2014
Trotter: Russell Athletic Bowl against Notre Dame?
@Jake_Trotter what are the chances Stoops moves on after this season. Florida? Michigan? NFL? Rumors have been around awhile now.

— Nick Heimann (@nick_heimann) November 21, 2014
Trotter: I put it at less than 10 percent. But the only place Stoops would ever leave for would be Florida. And if he was ever going to do it, it would be now. He loves the weather there, he always talks fondly of his time as a defensive coordinator at Florida and he has a great relationship with Florida AD Jeremy Foley. That said, my money is on him staying at Oklahoma. He has the full support of the president and athletic director. He has 100 percent job security. He has his brother Mike coaching with him. He just built a multimillion dollar home. His kids are coming up on high school age. And I'm not sure he wants to coach all that much longer. Going to Florida would prolong that. I'm not sure that's something he wants at this point.
@Jake_Trotter @ESPN_Big12 do you think Texas can upset TCU? #biggame #upset #HookEm

— Mario Morales Jr (@mariomoralesjr) November 21, 2014
Trotter: Without a doubt. Texas has played excellent football the last three weeks. The defense has been dominant. The offensive line continues to get better. This will be a very tough test for TCU, whether the playoff selection committee realizes it or not.
@Jake_Trotter what year will Texas be the big 12 favorite in the preseason?

— Bears and Brews (@BaylorObserver) November 21, 2014
Trotter: This is an interesting thought. It won't be next year. TCU, with QB Trevone Boykin back, will probably be next year's preseason favorite. But by 2016? Yeah, Texas would have a chance to be the preseason favorite, if it continues on the current trajectory we've seen from Charlie Strong's bunch this season.
@Jake_Trotter will the conference look at adding more teams? Will the big 12 still be a conference 5 years from now?

— Chris Cruz (@realchriscruz17) November 21, 2014
Trotter: I've been told that the only way the league would look at expansion is if it got left out of the playoff year after year. That could happen this year. If it happened a couple more times, the league would be forced to rethink its current format.
@Jake_Trotter say Gundy does leave, can't you see some Bad-A like Derek Dooley coming in and taking OSU to the top?

— Travis Guidry (@TGuidry25) November 21, 2014
Trotter: I sense you're being sarcastic. But if Mike Gundy did bolt after this season, Oklahoma State would be in a position to court several viable candidates. Clemson offensive coordinator Chad Morris would make a bunch of sense. Memphis coach Justin Fuente is an up-and-comer with ties to the state. Gundy's coaching tree includes Southern Miss head coach Todd Monken (who is very popular in Stillwater), North Carolina head coach Larry Fedora and TCU offensive coordinator Doug Meacham. The Cowboys would also have an in-house candidate in Glenn Spencer, who has flourished as Oklahoma State's defensive coordinator. The Cowboys would have intriguing options.
November, 21, 2014
Nov 21
10:10
AM ET
Here are five things I learned in college football this week:
1. Might Georgia Tech end up being the fly in the ointment in the race to the inaugural College Football Playoff?
The No. 18 Yellow Jackets (9-2, 6-2 ACC) have won four games in a row, and they captured the ACC's Coastal Division after Duke lost to North Carolina 45-20 on Thursday night. Georgia Tech will play No. 3 Florida State in the ACC championship game in Charlotte, North Carolina, on Dec. 6, and might end up being the last big obstacle for the Seminoles in their quest to reach the playoff.
[+] Enlarge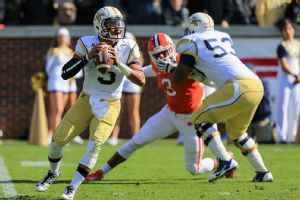 Daniel Shirey/Getty ImagesWith Duke's loss Thursday night, Justin Thomas and the Yellow Jackets won the Coastal and are slated to play FSU in the ACC championship game.
After Duke lost, Georgia Tech coach Paul Johnson wrote on Twitter: "Proud to see hard work our team has put in all year pay off with Coastal title!! Lots of work to do next 2 weeks!!"
Before playing the Seminoles for the ACC title, the Yellow Jackets will play at No. 10 Georgia on Nov. 29. The Bulldogs are still trying to reach the SEC championship game, but need No. 20 Missouri to drop one of its two remaining SEC games (at Tennessee on Saturday or home against Arkansas on Nov. 28) to win the SEC East.
Florida State coach Jimbo Fisher might be happier if his team was playing the Blue Devils instead for the ACC championship. The Seminoles beat Duke 45-7 in the 2013 ACC title game, and Tech's triple-option spread offense isn't much fun to prepare for on short notice. FSU already has won the ACC's Atlantic Division title and hosts Boston College on Saturday and intrastate rival Florida next week.
Tech's triple-option spread offense also can take a toll on an opponent's defensive line because of its use of cut blocks. The Seminoles lost three defensive linemen --
Eddie Goldman
,
Nile Lawrence-Stample
and reserve
Justin Shanks
-- after they suffered lower-leg injuries in the first half of a 37-12 win over The Citadel on Sept. 6. The Citadel also runs the triple-option and uses cut blocks, which are designed to knock down defensive linemen by hitting them at the knees.
"Those guys that cut and chop like this, it's crazy," Fisher said after that game. "I'd rather play more conventional teams. Just because of the chance of injuries that occurred."
Of course, Florida State, assuming it reaches the College Football Playoff, would have about a month to recover from playing Georgia Tech before its semifinal game.
2. FSU quarterback Jameis Winston's student conduct-code hearing is still scheduled for Dec. 2, and his attorney, David Cornwell, continues to plead his case on Twitter.
On Friday morning, Cornwell tweeted four times, apparently in response to the accuser's attorney, John Clune, filing a legal brief to FSU officials. Under the school's student conduct code rules and procedures, Clune and Cornwell will be able to attend the hearing and counsel their clients, but won't be allowed to speak on their clients' behalf.
Winston and the woman who accused him of sexually assaulting her in December 2012 will be required to present evidence, question witnesses, and answer questions posed by retired Florida State Supreme Court Chief Justice Major Harding, who will hear the case.
Under the rules and regulations in place, Winston isn't required to answer any or all of Harding's questions. Winston faces four potential student conduct code violations, including two related to sexual misconduct.
On Friday morning, Cornwell tweeted:
Clune cries 4 a hearing where the students represent themselves, then submits HIS firm's legal brief 2 spin the story because .....

— David Cornwell (@wmdavidcornwell) November 21, 2014
...the first 3 times SHE told her lie, it was rejected by TPD, state attorney and in #fsu CofC hearing. #huckster

— David Cornwell (@wmdavidcornwell) November 21, 2014
Repeats lie that Patricia Carroll did not initiate settlement discussions n demand $7million. He wasn't atty then n Carroll still in hiding

— David Cornwell (@wmdavidcornwell) November 21, 2014
This lie exposes a desparate atty chasing a 33% fee. Can't sue on the present record. Lie rejected 3 times. #4thbiteattheapple

— David Cornwell (@wmdavidcornwell) November 21, 2014
3. There seems to be a possibility that Texas and Texas A&M could meet in a postseason bowl game because of where they currently sit in their respective conference standings.
The rivalry was one of the biggest casualties in college football's realignment, and the best chance for a meeting would be at the Dec. 29 AdvoCare V100 Texas Bowl in Houston.
Earlier this week, Chip Brown of HornsDigest.com reported that the Aggies and the SEC would block a postseason matchup against the Longhorns.
But Texas A&M athletic director Eric Hyman said the SEC will determine the bowl lineup, and he insists the Aggies won't try to duck the Longhorns. Under the SEC's new bowl selection process, schools rank the available bowls, and bowls rank the available teams, in order of preference, and then the league slots its teams.
"Quite frankly, that's a decision made by the conference," Hyman told the Houston Chronicle. "The configuration is so different than it's been in the past.
"It doesn't matter if I speculate about playing this team or that team in a bowl. It's out of our control . . . Wherever they tee us up, we'll play."
4. A Georgia lawmaker has introduced a bill that would make it an aggravated misdemeanor to jeopardize the eligibility of a college student-athlete by providing him or her with illegal benefits.
Under the terms of House Bill 3, anyone who causes a student-athlete to lose his or her eligibility would face a potential $5,000 fine.
State Rep. Barry Fleming told the Athens Banner-Herald that he introduced the bill for consideration next year at the request of House Speaker David Ralston. In October, University of Georgia running back
Todd Gurley
was suspended four games for improperly accepting $3,000 to sign autographs.
"A 20-year-old in college is not a child, but that 20-year-old is [vulnerable], particularly if they are from a humble background, if someone waves hundred-dollar bills in front of his face," Fleming told the Athens Banner-Herald.
The bill, if it passes, wouldn't take effect until next year, so the memorabilia dealers who paid Gurley couldn't be punished.
5. UCLA had to cancel Thursday night's bonfire at a pep rally.
The Bruins play USC on Saturday, but the annual rally was shut down by students protesting a proposed tuition hike at the school.
That didn't stop UCLA coach Jim Mora from, uh,
fanning the flames
. (Warning: His language might not be suitable for all ages.)
November, 20, 2014
Nov 20
11:00
PM ET
Soso Jamabo
loved visits to UCLA and Notre Dame, but is it too early to count out the Texas schools? Plus, NC State added a key pledge on Wednesday that should give the Wolfpack much-needed help on the offensive line.
November, 20, 2014
Nov 20
8:14
PM ET
ESPN 300 offensive tackle
Toby Weathersby
remembers first receiving his varsity jersey. He didn't have a favorite number, and he didn't request a number.
He just wanted a jersey. It happened to be No. 66.
"Once I got it, it was just a jersey to me. I never knew why I had it," Weathersby said. "Then I found out the reason why. My coach said I reminded him of Tony."
"Tony" is Tony Ugoh, a Westfield High School graduate who played at Arkansas. Ugoh wore No. 66 before getting drafted in the second round of the 2007
NFL Draft
, ultimately playing for the
Indianapolis Colts
,
Detroit Lions
and
New York Giants
.
Foreshadowing? Perhaps. Ugoh achieved greatness on the offensive line, and Weathersby, a Texas commit, is expected to follow suit. Weathersby was named an Under Armour All-American and participated in his American Family Insurance-sponsored Under Armour All-America Game jersey ceremony Thursday afternoon.
"It made me feel amazing. All the hard work has paid off," Weathersby said. "I get to compete against the top guys in the country. I'm ready to put on for my city."
A Houston native, Weathersby is the nation's 11
th
-ranked offensive tackle, and he is No. 143 in the latest ESPN 300. Weathersby has been committed to Texas since March.
At 6-foot-5 and 292 pounds, Weathersby is a streamlined offensive lineman. It's his physical nature and strength that makes him a player to watch. Weathersby said the UA Game, set for Jan. 2 in St. Petersburg, Florida, is the perfect setting to show what he's capable of playing for Charlie Strong.
Don't expect Weathersby to be a self-promoter. Off the field, he's a quiet guy who understands that humility can get him far.
"Growing up, we didn't have much," Weathersby said. "Now that everything's starting to happen, I'm just giving the glory to God. I just keep a smile on my face and keep pushing.
"A lot of people don't know that I'm a real quiet dude. I speak when I'm spoken to. On the field, it's different. I like to put people on their backs."
#HookEm OT commit @toby_weathersby putting on his #UAALLAMERICA jersey. #Horns https://t.co/qHJiuhDxxK

— Damon Sayles (@DamonSayles) November 20, 2014
Quick hits on Toby Weathersby
What's your motivation?
"My mom. It's just me and her. We didn't have much, and that pushed me to grind harder and get to where I need to be. I want to do it for her."
Best UA Game player ever
: "
Jadeveon Clowney
. That dude has a motor. I don't know what happened to him when he was younger, but whatever he did, it shows on the field. He's like a shark in the water. He'll hit you, and he'll make the play."
Who do you want to line up against?
"Whoever they put in front of me. I'll use what I have to dominate."
Thoughts of Charlie Strong
: "He's real down to earth. He doesn't put on a show. He doesn't pretend. He's just him."
November, 20, 2014
Nov 20
9:10
AM ET
November, 20, 2014
Nov 20
8:30
AM ET
The first four teams to ever make the College Football Playoff have yet to be determined. But the backlash against the committee has been so intense, people already are suggesting ways to fix the system.
ACC commissioner John Swofford spoke Wednesday at a weekly Durham (N.C.) Sports Club meeting and said eight teams would be "ideal"
in a playoff format
.
To continue reading this article you must be an Insider
November, 19, 2014
Nov 19
11:00
PM ET
A few weeks ago,
Adam McLean
was asked what it would take to back away from his Penn State pledge, and he said "nothing can change my mind." Well, something happened and the ESPN 300 prospect is back on the market. Plus,
Zach Gentry
has been committed to Texas since May, but rumors sprouted Tuesday he was considering taking other official visits.
To continue reading this article you must be an Insider
November, 19, 2014
Nov 19
4:00
PM ET
A closer look at one statistic worth keeping an eye on for each Big 12 team entering Week 12:
Baylor:
The Bears' defense was supposed to take a step backward after losing several starters from its 2013 unit. Instead BU ranks among the conference leaders in several categories and leads the Big 12 by forcing a punt on
50.8
percent of opponents possessions and could see that number increase this weekend with a hapless Oklahoma State offense visiting McLane Stadium on Saturday.
Iowa State:
The Cyclones will need to improve their sack percentage if they hope to slow down Texas Tech's passing attack. ISU's
3.5
sack percentage ranks last in the Big 12 as the Cyclones have struggled to get pressure on opposing quarterbacks outside of defensive end
Cory Morrissey
's five sacks.
Kansas:
Beware of the Jayhawks coming out of the halftime locker room. KU has a
plus-8
turnover margin in the third quarter, which leads the Big 12. Clint Bowen's squad could need some turnovers to upset Oklahoma in Norman, so an opportunistic defense could be the Jayhawks' key against OU.
Kansas State:
The Wildcats are tough to stop once they get rolling. K-State scores on
66.2
percent of its drives that begin with an initial first down. In other words, a three-and-out is the best bet to slow the Wildcats' offense, so West Virginia should take heed.
Oklahoma:
The Sooners' running game has been impressive but their ball protection has been even more impressive. OU is averaging 240.9 rushing yards per game yet has lost a fumble once in 408 rushes. That's a
0.7
fumble percentage, best in the Big 12.
Oklahoma State:
The Cowboys' offense is trending downward and the offensive line is a big reason why. Negative plays have become the norm for Mike Gundy's team with
36.2
percent of their plays resulting in negative yardage. Only Iowa State (37.9) has a worse percentage in the Big 12.
Texas:
With a date with TCU quarterback
Trevone Boykin
on the horizon, the Longhorns might be the best equipped to handle the conference's top dual-threat signal-caller. UT's
9.3
sack percentage is the best in the Big 12 with Baylor (8.4) as the only other Big 12 team with a sack percentage higher than 8 percent.
TCU:
The Horned Frogs do a good job of adjusting their approach at halftime. Their average of
8.39
yards per play in the third quarter is first in the Big 12 and nearly two yards better than second-ranked K-State (6.68 ypp).
Texas Tech:
Even with Tech's uncertainty at the quarterback position, the Red Raiders' defense is at the heart of the struggles for Kliff Kingsbury's team. Tech is allowing
3.04
points per drive, last in the Big 12 and No. 123 among FBS teams. The Red Raiders' offense hasn't helped the cause with 22 turnovers but the defense has been unable to overcome those mistakes.
WVU:
The Mountaineers' defense has played a huge role in the improvement of Dana Holgorsen's team. WVU's pass defense has been much improved with the Mountaineers allowing
6.06
yards per pass attempt, ranking second in the Big 12. Last season, WVU ranked last in the conference at 7.88 yards allowed per pass attempt.
November, 19, 2014
Nov 19
3:30
PM ET
The Big 12 released its conference schedule Wednesday for the 2015 season. Here's the schedule, along with a few of my thoughts below:
Sept. 26
Oklahoma State at Texas
TCU at Texas Tech
Oct. 3
Texas Tech vs. Baylor (Arlington)
Kansas at Iowa State
Kansas State at Oklahoma State
West Virginia at Oklahoma
Texas at TCU
Oct. 10

Baylor at Kansas
Iowa State at Texas Tech
Oklahoma vs. Texas (Dallas)
Oklahoma State at West Virginia
TCU at Kansas State
Oct. 17
West Virginia at Baylor
Oklahoma at Kansas State
Texas Tech at Kansas
TCU at Iowa State
Oct. 24
Iowa State at Baylor
Kansas at Oklahoma State
Kansas State at Texas
Texas Tech at Oklahoma
Oct. 29 (Thursday)
West Virginia at TCU
Oct. 31
Oklahoma at Kansas
Oklahoma State at Texas Tech
Texas at Iowa State
Nov. 5 (Thursday)
Baylor at Kansas State
Nov. 7
Iowa State at Oklahoma
Kansas at Texas
Texas Tech at West Virginia
TCU at Oklahoma State
Nov. 14
Kansas at TCU
Kansas State at Texas Tech
Oklahoma at Baylor
Oklahoma State at Iowa State
Texas at West Virginia
Nov. 21
Baylor at Oklahoma State
Iowa State at Kansas State
West Virginia at Kansas
TCU at Oklahoma
Nov. 26 (Thursday)
Texas Tech at Texas
Nov. 27 (Friday)
Baylor at TCU
Nov. 28
Iowa State at West Virginia
Kansas State at Kansas
Oklahoma at Oklahoma State
Dec. 5
West Virginia at Kansas State
Texas at Baylor
Thoughts:
The biggest thing that jumps out is the Baylor-TCU game on Black Friday. I saw some dissension about this on Twitter, but I actually kind of like it. The Big 12 needs rivalries after the Red River Showdown and Bedlam, and TCU-Baylor seems to be the league's best chance at developing a third major rivalry. Putting the game on a special day like Black Friday places an added emphasis on the game. Especially if it again holds Big 12 title and playoff implications.
Baylor has a killer November slate, with road trips to K-State, Oklahoma State and TCU, and a home bout with Oklahoma. The Bears will also play their first two conference games away from home. I doubt Art Briles will be fired up about this schedule.
TCU has a brutal stretch late in November, playing Oklahoma and Baylor in a six-day span. That two-game swing could define the Horned Frogs' season.
Dec. 5 potentially could be a big weekend for the league. West Virginia, K-State, Texas and Baylor could all be in the Big 12 title mix. The league should have a national presence while other conferences are playing their championship games.
The Big 12 has three Thursday night conference games, and all three have a chance to be good ones.
November, 19, 2014
Nov 19
3:16
PM ET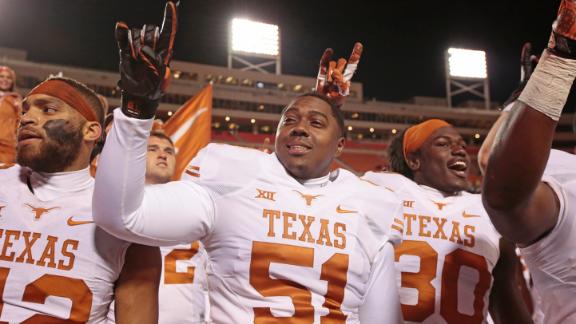 "They are like a cockroach. It isn't what he eats or totes off, but what he falls into and messes up."
Those were the words of Darrell Royal on Nov. 18, 1961. The legendary head coach was speaking of the TCU squad that had just knocked off his top-ranked Texas team, a 24-point favorite, by a score of 6-0 -- and on a trick play, no less. The upset ended the Longhorns' national title hopes and also dashed UT running back James Saxton's chances of winning the Heisman Trophy.
The '61 Horned Frogs posted a paltry 3-5-2 record, but two of those three wins were over top-ranked Texas and eighth-ranked Kansas, and one of those ties was against third-ranked Ohio State. Those tussles with TCU kept each from competing for a national title and damaged the Heisman hopes for players hailing from all three: Saxton, Buckeyes fullback Bob Ferguson and Jayhawks QB John Hadl.
That's some serious cockroaching.
These days feel an awful lot like those days. The era of the College Football Playoff, with an ever-increasing roster of one-loss beauty contestants and a selection committee that has thus far leaned toward "best/worst losses" as one of its most influential criteria, is an environment prime for growing some mighty big cockroaches -- insects much more troublesome than any mere fly in the ointment.
Who among this year's can't-be-in-the-playoff teams is in the best position to force a would-be playoff team to join it on the sideline this January? Forget Ole Miss, Auburn and even Kansas State. Their potential spoiler roles are obvious. Everyone knows the biggest, nastiest roaches are the ones that live in the places where they can't easily be seen.
Read ahead ... but you might want to grab a can of Raid first.
November, 19, 2014
Nov 19
10:39
AM ET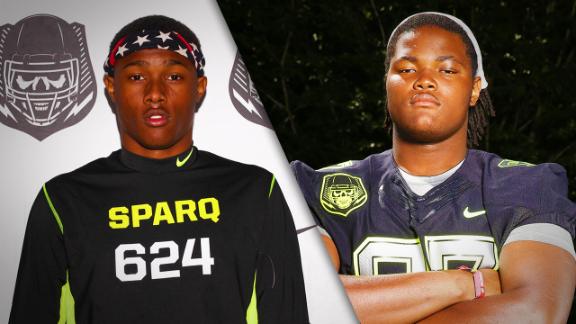 With the latest
ESPN Junior 300
rankings now live, one thing is for sure: The state of Texas has its share of players in the 2016 class.
Of the top 300 players, 39 are from Texas. Seven players in the top 30 are from the Lone Star State, including the nation's top-ranked player, Texas A&M OT recruit
Greg Little
.
From a Big 12 perspective, OT
Patrick Hudson
is the highest ranked recruit. The 6-foot-5, 330-pound lineman, a Baylor pledge, jumped from No. 20 to No. 11, and he's the nation's second ranked offensive tackle.
Here are five things to watch involving players in the revised rankings:
To continue reading this article you must be an Insider
November, 19, 2014
Nov 19
8:30
AM ET
The last few days haven't exactly been the best for college football's image.
On Saturday, arguably the country's best player basically ended his career with a devastating ACL injury in his first game back from a four-game NCAA suspension. Sunday brought us the firing of a coach who did everything right,
but
win. The work week brought more attention to autograph issues with Florida State's star, and two schools are dealing with horrific allegations away from the field.
To continue reading this article you must be an Insider
November, 18, 2014
Nov 18
8:00
PM ET
The fourth College Football Playoff rankings were revealed Tuesday night, and the Big 12 was left on the outside of the top four.
TCU dropped one spot to No. 5 after struggling to a 34-30 win at Kansas. Baylor remained at No. 7 after having the week off. Both teams remain very alive in the playoff hunt. But for now, we project them to miss the cut.
The outcome of Thursday night's game between Kansas State and West Virginia, meanwhile, could a long way in determining their bowl destination fates.
And with its 28-7 win at Oklahoma State, Texas produced its sixth win to lock up a bowl spot somewhere.
Oklahoma State is the only other team not bowl eligible at the moment that could still get there. But the Cowboys will be major underdogs at Baylor and Oklahoma. So we're still projecting the Cowboys to miss out on a bowl.
Goodyear Cotton Bowl:
TCU
VIZIO Fiesta Bowl:
Baylor
Valero Alamo Bowl:
Kansas State
Russell Athletic Bowl:
Oklahoma
AdvoCare V100 Texas Bowl:
Texas
AutoZone Liberty Bowl:
West Virginia
Cactus Bowl:
None eligible
College Football Playoff Spoilers
BIG 12 SCOREBOARD
Thursday, 11/20
Saturday, 11/22