October, 31, 2014
Oct 31
11:00
AM ET
Happy Halloween, everybody. We've got a fun-sized treat for you. Last year, we compared Big 12 coaches and players to
horror movie villains
. This time around, we've come up with the Halloween candy that we think best represents each Big 12 team.
[+] Enlarge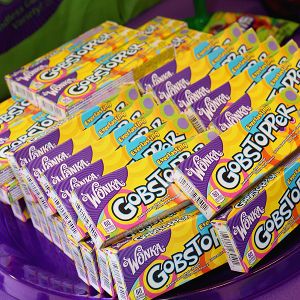 Casey Rodgers/AP ImagesEverlasting Gobstoppers are an unconventional candy, and Art Briles has built an unconventional power at Baylor.
Baylor: Gobstoppers.
Just hear me out. Art Briles, with his affinity for inventive offense and giving players silly nicknames, is the Willy Wonka of the Big 12. He's turning Baylor into a factory. One of Wonka's better inventions has been the Gobstopper: Brightly colored, tart, and sweet with a tough core. It's a candy that lasts far longer than you expected.
Iowa State: Candy corn.
Who doesn't love candy corn? Who doesn't love Paul Rhoads? Not totally sure what they're made of besides sugar, but still tasty. Might pull an upset or two but won't win a lot of head-to-head matchups in a kid's basket. It's still perfectly acceptable from year to year, though.
Kansas: 3 Musketeers.
One of those candies that's always in your bucket, but not one that many people covet. Same shape and chocolate shell as its competitors, but with a fluffy, whipped interior. Like Kansas football, I"m sure that the 3 Musketeers has a small but fiercely loyal fanbase that believes this bar gets wrongly overlooked.
Kansas State: Apple.
A treat so good they nicknamed their city after it. Healthy, affordable alternative that always gets more out of its natural sugars than most candies do from artificial sweeteners. Even better when paired with the warmth of caramel like Bill Snyder, the Werther's Original of coaches.
Oklahoma: Snickers.
As they say, there's only one. This is high praise. Like OU, Snickers are a winner year after year, a traditional powerhouse. People keep assuming Bob Stoops will eventually get tired of Snickers and covet a candy bar with shinier wrapping. But you just don't walk away from something so reliable, well-built and tough to beat.
Oklahoma State: Black Forest Gummy Bears.
Starting to become more recognized and readily available, and they're definitely solid. Still a way to go before they become a household name, but a certain segment of the population recognizes them as something special and different from any other gummy bear.
TCU: Take 5.
The most complete candy bar, yet few people are properly aware or appreciative of it. A creation of adaptation, really. Lots of other candy bars have some of its ingredients, but adding an innovative pretzel crunch (the Frogs' new Air Raid offense) to its traditional combination of salty nuts with a smooth caramel/peanut buttery defense makes for one great flavor profile.
Texas: Protein bar.
Sorry, Charlie Strong took away all the Longhorns' candy when he took over, as candy can make you soft. "No candy" is secretly the sixth core value. Texas is trying to get back to the days of being Reese's or some other nationally respected candy, but for now, eat those protein bars and get stronger. They might not taste that good (like this 2014 season), but they're good for you.
Texas Tech: Payday.
Kliff Kingsbury got a nice one before the season, and now everyone thinks they're nuts. Get it? We're just teasing you, Red Raiders. A more fitting choice might've been Butterfingers. A lot of people love them, but they're a bit messier than you think -- kinda like Texas Tech's turnover and penalty problems.
West Virginia: Hershey's Special Dark.
Just the right combination of sweet and bitter, an underrated candy that's fueled by caffeine. A lot of caffeine: 31 milligrams, about as much as a can of Coca-Cola. Just so you know, Dana: Consuming five of these bars would be nearly the equivalent of two Red Bulls. Let's be honest, though: Pixy Stix are the real Red Bull of kids' candy.
October, 31, 2014
Oct 31
9:00
AM ET
With five big games on tap Saturday, it could mean a memorable weekend for recruiting in the Big 12. Iowa State will host Oklahoma and Kansas will host Baylor, but there are three other games to watch where a player or two may decide their college destinations.
TCU at West Virginia
[+] Enlarge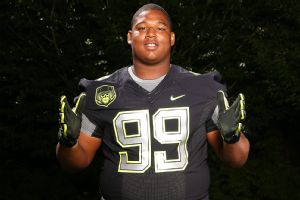 Tom Hauck/Student SportsTim Settle will be on his official visit to West Virginia as the Mountaineers play TCU.
The game could be considered a clash between the conference's hottest two teams, but West Virginia could come out a double winner if everything works as planned. With "College GameDay" set to air in Morgantown this weekend, the Mountaineers will host several big-name players, including ESPN 300 defensive tackle
Tim Settle
, ESPN 300 athlete
Jordan Cronkrite
and four-star athlete
Tim Irvin
. Guard
Jah'Shaun Seider
and cornerback
Antonio Howard
, two three-star West Virginia commits, also will be in attendance -- most likely playing the role of player-recruiters during what is shaping out to be an important weekend.
October, 30, 2014
Oct 30
2:00
PM ET
Ready for some numbers? It's time for our weekly stat digs, in which we team with ESPN Stats & Information to find the numbers that matter most for the
Texas Longhorns
and their next opponent. Because of some technical difficulties, we missed out on this post last week and Texas lost 23-0. So maybe these really do matter. Here are the stats to remember going into Texas' trip to Texas Tech.
1. 246
This is kind of a complicated statistic, so we will try to explain it as clearly as possible, because it illustrates a peculiar problem.
Texas was shut out for the first time this season a week ago. But these Longhorns had already played a lot of snaps with zero on the scoreboard. They didn't score on their first 50 offensive snaps against BYU. They were scoreless for their first 72 against Baylor, all 52 against Kansas State, and the first 24 against Kansas.
Add every game up and you get a total of 246 snaps this season in which Texas' offense has been playing in a shutout. The Longhorns rank second-worst nationally in that stat behind SMU. They have logged a total of 559 plays this season. So you could technically say there has been a zero on the scoreboard for 44 percent of Texas' offensive snaps.
You can point to several factors for this -- play-calling, execution, finishing drives, line play, a young quarterback, etc. -- but this week, against a Texas Tech team that just gave up the Big 12 single-game scoring record, would be a good time to start reversing that trend.
2. 18.6 percent
So Texas has about a 60 percent chance of beating Texas Tech this weekend, according to ESPN FPI projection. A victory this week would put the Longhorns at 4-5 with three games left. But what are their odds of reaching six wins?
According to 10,000 FPI simulations, there is an 18.6 percent chance that Texas finishes 6-6 or better.
Texas will have to pull off one of two difficult feats to get to that six-win goal: either win three in a row, or two of the next three and then an upset of TCU. FPI currently tabs the Horned Frogs' odds of beating Texas in the season finale at about 77 percent.
3. 75 percent
Texas Tech's defensive statistics are about as ugly as you would expect. Run defense and penalties have been two of this team's greatest weaknesses, but there is another flaw just as damaging.
Opposing teams are scoring touchdowns on 75 percent of their trips to the red zone. That rate of 27 touchdowns in 36 red-zone drives ranks second-worst in FBS behind UTEP.
Can Texas take advantage there? The Longhorns rank below-average nationally in red zone efficiency, scoring touchdowns on nearly 59 percent (17/29). And they were abysmal in K-State territory last week. A team that has had so many missed opportunities in 2014 should know by now it must play smart once it reaches the 20.
Three more to remember
Seven:
Sacks Texas Tech has allowed in eight games, a rate of less than 2 percent of their snaps. After not getting much push last week, Texas' defensive line needs to challenge this group.
No. 8:
Texas still ranks No. 8 nationally in pass defense at 171.4 yards per game and is top-15 in yards per attempt and completion.
23:
Total passes Texas Tech freshman quarterback
Patrick Mahomes
has attempted. Hard to know what to expect from him if he does get the start Saturday.
October, 30, 2014
Oct 30
1:30
PM ET
A closer look at eight players who have a chance to shine this week:
TCU WR Emanuel Porter:
If
Josh Doctson
isn't able to play, Porter is in line to start. Even if Doctson, Boykin's go-to receiver, plays but is limited, you'll see a lot more from the true freshman, whose route-running and blocking earned praise this week. He scored his first career TD last week. He'll get another this week at West Virginia.
Kansas CB JaCorey Shepherd:
His biggest supporters say Shepherd is quietly having an All-Big 12 caliber season. Time to prove it against Baylor and the best group of receivers in the conference. They will test his speed and smarts. Here's a great chance for Shepherd to make a statement.
[+] Enlarge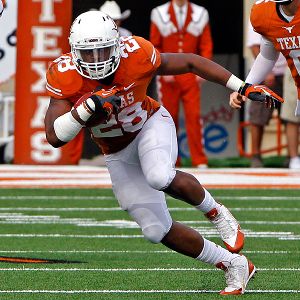 AP Photo/Michael ThomasMalcolm Brown is due for his first 100-yard game of the season.
Baylor QB Bryce Petty:
In his three October games, Petty had an average QBR of 51.5. He had some real ups and downs, and then a bye week to correct and move forward. We'll see the sharp, poised, all-conference caliber quarterback return to form this week against the Jayhawks.
Texas RB Malcolm Brown:
Texas was supposed to have one of the best running games in the Big 12, but still hasn't had a 100-yard rusher this season. Texas Tech has the second-worst run defense among Power 5 conference teams. So now would be a pretty good week for Brown and
Johnathan Gray
to change that trend.
West Virginia WR Kevin White:
We have no reason to ever list him here, really, as he's constantly breaking out. But how will White respond after the first quiet game of his stellar season? You know Gary Patterson will have a good plan for slowing down the league's top receiver.
Oklahoma State RB Desmond Roland:
After a nice five-game stretch in which he put up 447 rushing yards and six TDs, Roland was limited to 37 yards on 12 carries in the loss to West Virginia.
Daxx Garman
is going to need major help from Roland and
Tyreek Hill
to keep the Kansas State defense honest.
Iowa State WR D'Vario Montgomery:
He's hauled in nine catches in each of his last two games after a slow start to the season. You can't really send bracket coverage his way, either, with how
Allen Lazard
and
E.J. Bibbs
are playing. But can Montgomery burn the Sooners secondary?
Kansas State DB Randall Evans:
Dante Barnett
earned player-of-the-week honors, but Evans was just as good against Texas. The Wildcats' secondary doesn't get a lot of hype, but they have some playmakers who will give Oklahoma State's Garman fits.
October, 30, 2014
Oct 30
9:00
AM ET
By
ESPN.com Staff
| ESPN.com
Why TCU will win:
The Horned Frogs, playing like one of the nation's best teams, can get better.
Trevone Boykin
has been lethal, this offense has too much explosive diversity and TCU's defense will get the crucial second-half stops. This will be a fun chess match, a really physical game and another statement win for the Frogs.
TCU 48, West Virginia 38.
--
Max Olson
Why West Virginia will take it down to the wire:
Clint Trickett
and
Kevin White
are a great place to start. Add the Big 12's most improved defense, and WVU is in business. WVU has the playmakers to keep up with Boykin and the Horned Frogs' offense, while an electric atmosphere in Morgantown will make things even more difficult on TCU. Expect a close, high-scoring affair.
TCU 49, West Virginia 46
--
Brandon Chatmon
Why Kansas State will win:
Oklahoma State's offense is a dumpster fire right now, while K-State is coming off a shutout victory over Texas. The Cowboys again won't be able to move the ball against K-State's defense, which is stout at every level. And
Jake Waters
& Co. will be able to generate enough offensively to put this game away in the second half.
Kansas State 31, Oklahoma State 13
--
Jake Trotter
Why Oklahoma will win:
Don't sleep on these Cyclones. They proved against K-State and Texas that they're no easy out. But the Sooners are coming off a bye week, get top back
Keith Ford
back and know this Big 12 race isn't over for them just yet. OU steps up and gets a much-needed, bounce-back win.
Oklahoma 45, Iowa State 20.
--
Olson
Why Iowa State will keep it close:
The Cyclones have historically played Oklahoma tough in Ames. The Iowa State offense is beginning to find its stride under coordinator Mark Mangino, while the Sooners have been suspect defensively the past month. The Cyclones probably won't be able to make enough stops to win. But they have the offense to make this one interesting.
Oklahoma 35, Iowa State 31
--
Trotter
Why Baylor will win:
Big plays, big plays and big plays. Injuries have dealt the Bears a blow along the offensive line, but
Bryce Petty
& Co. should come up with enough big plays to win comfortably against the Jayhawks.
Baylor 45, Kansas 14
--
Chatmon
Why Texas will win:
Anytime a game seems like a toss-up, I lean toward the team with the best defense. The Longhorns' defense ranks in the top third of the Big 12 in several categories including yards per play and sacks, which should help UT slow the Red Raiders' offense.
Texas 24, Texas Tech 13
--
Chatmon
Season records:
Trotter: 48-4
Chatmon: 46-6
Olson: 46-6
October, 29, 2014
Oct 29
4:30
PM ET
A closer look at one statistic worth keeping an eye on for each Big 12 team entering Week 10:
Baylor:
The Bears had a bye week to address their penalty problems. One stat to put that issue in perspective: The Bears have more 10-plus penalty games this season (
five
) than the entire Big Ten conference combined (three). Then again, Big 12 teams have combined for 16 such games. That suggests style of play and the league's refs are probably important factors in the Bears' penalty woes.
Iowa State:
The breakthrough is coming for
Allen Lazard
and
D'Vario Montgomery
. Both were impressive against Texas and have been targeted a combined
51
times by
Sam B. Richardson
in the Cyclones' past three games. In fact, Lazard was targeted a season-high 15 times against the Longhorns, one more than team receptions leader
E.J. Bibbs
.
Kansas:
When interim head coach Clint Bowen says running back
Corey Avery
isn't being properly appreciated, he might be right. Avery's 417 rushing yards rank
No. 11
in FBS among true freshmen on Power 5 conference teams and second most in the Big 12 behind Oklahoma's
Samaje Perine
, and he's already surpassed 500 total yards in his debut season.
Kansas State:
ESPN Football Power Index data ranks the strength of Kansas State's record so far as
No. 10
in the country and best in the Big 12. That's a good snapshot of both KSU's tough schedule and its impressive showings against ranked foes. But FPI still projects K-State will lose to TCU and Baylor, and that its road test at West Virginia is almost a 50-50 game (KSU's odds of winning are currently pegged at 46.8 percent).
Oklahoma:
Getting running back
Keith Ford
back is good news for this Oklahoma offense, but tip your cap to his young understudies. In the four games Ford missed, Perine and
Alex Ross
combined to average
4.99
yards per carry and 156 rushing yards a game. All three offer different skill sets, giving the Sooners one dangerous trio if they can stay healthy the rest of the way.
Oklahoma State:
After impressing in his first two starts, quarterback
Daxx Garman
has shown regression in his past four. His adjusted QBR of
40.2
in the month of October ranks No. 99 nationally and ninth in the Big 12. His QBR for those first starts against UTSA and Texas Tech was a combined 74.1, but he finished this month with a TD-to-INT ratio of 3-7.
TCU:
The aerial attack stole most of the attention, but here's a big reason why TCU was capable of scoring 82 against Texas Tech: The Horned Frogs rushed for 224
yards on first downs against Tech. When you're getting
8.3
yards per carry on first down, you have the opportunity to do pretty much anything on offense.
Texas:
Here's something you couldn't have expected entering the season: Texas is eight games in and hasn't had a running back surpass 100 rushing yards in any games. In fact, since losing
David Ash
in the opener, Texas has not had a back surpass
80
rushing yards in a single game. Quarterback
Tyrone Swoopes
' 95 rushing yards against Iowa State remains the team high.
Texas Tech:
Following last week's record-setting debacle, Texas Tech's defense ranks No. 123 nationally and
last
among Power 5 conference teams in defensive efficiency, according to
ESPN Stats & Info
. But really, after a game like that, there's nowhere to go but up from here.
West Virginia:
Clint Trickett
continues to rank
No. 1
in the Big 12 in passing, completion percentage, yards per attempt, completions of 20-plus yards, passer efficiency and QBR. He has more passing yards (2,763) and a better completion percentage (68.3 percent) than
Bryce Petty
had through the first eight games of his prolific Big 12 Offensive Player of the Year season last year.
October, 29, 2014
Oct 29
11:00
AM ET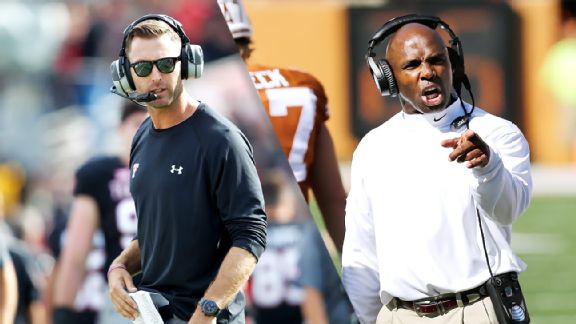 Icon Sportswire, AP PhotoKliff Kingsbury and Charlie Strong both lead 3-5 teams in the midst of a rebuilding process.
AUSTIN, Texas -- Vance Bedford was describing with admiration what Bob Stoops built at Oklahoma when, as the loquacious Texas defensive coordinator is prone to do, he swerved off course. A children's fable had come to mind.
"We are not where we need to be, but it's going in the right direction. It's just one brick at a time. One step at a time," Bedford said earlier this month. "I know people now say Texas is this and Texas is that. Stay right here. Just like the three little pigs.
"We aren't building a straw house here, guys. We're building a brick house that is going to withstand a whole lot of things in time. A straw house is built real fast. When a strong wind comes by, it's gone real fast. A brick house will withstand a hurricane, a tornado. It's going to stand tall. It's going to stand a long time."
There's no one wolf to blame for the mighty winds that have blown through Austin and Lubbock this fall. For Texas and Texas Tech, both 3-5 and clinging to the faint hope of a bowl game, a frustrating season has offered humbling reminders about the reality of a true rebuild. They'll meet on Saturday night amid different phases of the same difficult construction.
What Tech built up last season under Kliff Kingsbury was a house with more sticks than bricks. A 7-0 start beget irrational expectations. You can't reasonably expect Big 12 titles right away from a first-time head coach, or at least you shouldn't. The bar of public perception was raised too high, too fast.
And then the Red Raiders lost five in a row. They saved face in their bowl game, but the damage was done. They've spent 2014 in a frustratingly fruitless chase to get back what they briefly had a year ago.
"It's in there," Kingsbury said earlier this season. "We've just got to get it out and find a way to get that type of composure, that confidence back."
The road back has offered disaster at nearly every turn: the beatdown from Arkansas, defensive coordinator Matt Wallerstedt's dismissal, a four-game slide, innumerable injuries and penalties and now the 82-27 loss to TCU. Tech, losers of nine of its last 10 conference games, is just trying to get through this now.
"Where we're at, any win would be good," Kingsbury said. "It's just -- it's been one of those years where any win is good. We're not a good enough team to look past anybody or not play well against anybody to get a win at this point."
Through it all, the brick-by-brick building doesn't stop. Tech players haven't given up. Running back
DeAndre Washington
remembers what happened after the 5-7 season of 2011. He calls it the longest offseason in all his years playing football.
"I definitely don't want to have to endure that feeling again," Washington said. "We're trying to do everything we can to make sure that doesn't happen again."
At Texas, the bricklaying is off to a slower start. Charlie Strong promised a culture change for the program, and that foundation has shown progress. He never promised a Big 12 title in Year 1. But unexpected roster upheaval has created real obstacles to reaching six wins.
It's not just the nine Longhorns dismissed from the program and the one still suspended. Losing senior starters
Dominic Espinosa
and
Desmond Jackson
for the season and junior quarterback
David Ash
for his career, all before Big 12 play began, required a shift in both plans and expectations.
"Nobody could've predicted this," receiver
John Harris
said. "We figured we'd be a way better team than we were. If you go back and don't lose any of those people, maybe it's a different story. But this is the hand we've been dealt."
The Texas team that's left might best be described as unpredictable. Close calls against ranked UCLA, Baylor and Oklahoma teams are defensible. A couple fewer mistakes here and there and the narrative changes. But losses are losses.
"That's not the standard," Strong said. "I still believe this. I always will believe this. I told our team this: We are a better football team than a 3-5 record. The record doesn't show it, but we're a better team."
Strong and Kingsbury are in this for the long haul -- Strong has a five-year deal, Kingsbury's was extended to 2020 -- and have time to assemble something that will endure. It's about the next four years, not just these next four games. But both could use something good on Saturday night.
Their fans are disappointed. Their players are hurting. Their coaches are digging deep. Their reputations are taking hits. This is the rough battle of rebuilding. But neither coach should lose sight of the little pigs' lesson: How you build your house matters far more than how quickly.
October, 28, 2014
Oct 28
1:00
PM ET
In our weekly Big 12 roundtable, we examine the league's most surprising and disappointing offensive and defensive units so far this season:
Which offense has been the most surprisingly effective so far this season?
Brandon Chatmon:
TCU is the most surprising offense in the nation, not just the Big 12. The Horned Frogs' new attack leads the Big 12 at 6.86 yards per play and undoubtedly has made Gary Patterson wonder why he didn't turn to this high-tempo, pass-happy attack sooner.
Max Olson:
We knew West Virginia probably had the firepower to score points. We didn't really know if TCU did. It's not just the play calling, which has been superb. It's the instant adaption by
Trevone Boykin
and all of his backs and receivers that has made this unit killer.
Jake Trotter:
To me, it's TCU, and it's not close. The Horned Frogs have gone from having the nation's 88
th-
best scoring offense to its No. 1. Even in Gary Patterson's wildest dreams, I don't think he envisioned such a turnaround when he hired coordinators Doug Meacham and Sonny Cumbie.
Which offense has been the most disappointing?
Chatmon:
I expected more from Texas' offense with its bevy of talented running backs. True enough the offensive line has been playing musical chairs, sparked by departures, but 137.6 rushing yards per game is a surprising number from Charlie Strong's team.
Olson:
Has to be Texas. Neither
Malcolm Brown
nor
Johnathan Gray
has had a 100-yard game and Texas' offensive line is playing like one of the nation's worst.
Tyrone Swoopes
is doing the best he can with what he's got.
Trotter:
You knew Oklahoma State would endure growing pains with so many new starters. But I never thought the offense would fall off a table the way it has. The Cowboys still have explosive playmakers. But the offensive line has been dreadful and the quarterbacking has been inconsistent. As a result, this is the worst Oklahoma State offense since Mike Gundy's first season in 2005.
Which defense has been the most surprisingly effective?
Chatmon:
Baylor had to replace several starters on its 2013 title-winning defense, yet there the Bears are, atop the Big 12 rankings in yards per play for a second straight season (4.4). And their 5.03 yards per play in conference games ranks second in the Big 12. BU's offense gets the headlines but its defense continues to be the main reason for its title hopes.
Olson:
Baylor deserves a ton of credit for not taking a noticeable step back despite losing so many veteran studs. They've had a tough loss and one awfully close call, but you do get the sense they're poised to elevate their play for this stretch run.
Trotter:
I thought the Mountaineers had a chance to be better defensively. But I never thought they would be this much better. Tony Gibson and Tom Bradley have done a tremendous job turning around a unit that had been among the Big 12's worst the previous two years.
Which defense has been the most disappointing?
Chatmon:
Oklahoma's defense looked like it could be one of the nation's best early this season but has struggled in conference play, allowing 6.2 yards per play, ninth in the Big 12. The Sooners have talent all over the field but haven't been as dominant as expected in Big 12 stadiums.
Olson:
I'll agree with BC that it's the Sooners, but you do have to mention Texas Tech. This was already the Big 12's worst scoring D before giving up 82. Coaching, scheme, execution, talent -- Tech is not in good shape in any area.
Trotter:
Oklahoma has a good defense, but it's not the dominant one we all expected with nine starters back. The Sooners have been exposed these last three weeks. Honorable mention honors here go to Tech, whose defense has gone from bad last year to worse this season.
October, 28, 2014
Oct 28
12:27
PM ET
HEATH, Texas --
DeShon Elliott
has heard the rumors.
Will he stay committed to Texas? Is he going to stay in state but go to a rival school?
Tuesday morning was more than just the day of Elliott's Under Armour jersey presentation. It was his opportunity to kill all rumors regarding his commitment to the Longhorns. And, while wearing a burnt orange shirt with "UT Longhorns" stitched near the left chest, the ESPN 300 safety put on his Under Armour jersey, flashed the "Hook 'Em Horns" sign and gave a big smile to family, friends and teammates at the Rockwall-Heath High School library.
"Hook 'Em," Elliott said. "That's it."
Some of @DeShonElliott_4's teammates showing #UnderArmour & #HookEm support. @HeathHawksFb pic.twitter.com/KaiEM7iSAg

— Damon Sayles (@DamonSayles) October 28, 2014
The nation's No. 5 safety, Elliott is the Longhorns' top-ranked defensive pledge. And while he's heard about possibly flipping to different schools, Elliott said he was ready for everything coach Charlie Strong brings to his table at the college level. Playing in the UA Game in January will help him to prepare for the talent he'll see each weekend as a Longhorn.
"It's a blessing. As much time as I put in, my coaches put in and my teammates put in, it's a blessing," Elliott said of being an All-American. "We've all put in a lot of work for all this. I love it.
"I'm sure coach Strong's going to want me to work as hard as possible to earn a starting spot. I know it won't be given to me. I expect a lot from myself. It's all about making some moves. I'm ready for it."
Elliott, a 6-foot-2, 205-pound safety, is ranked No. 96 in the ESPN 300. He is one of nine ESPN 300 commitments and one of 18 pledges overall for Texas.
DeShon Elliott. #UnderArmour All-American. One of several looking to "put the T back in Texas." #HookEm https://t.co/lwQtD1K6uX

— Damon Sayles (@DamonSayles) October 28, 2014
Quick hits with DeShon Elliott
Best player in the UA game
: "
Leonard Fournette
. I mean, have you seen that man? That's a specimen."
Who are you looking forward to seeing?
"
DaMarkus Lodge
. Definitely."
Favorite football memory
: "My sophomore year, my first varsity game, it was a playoff game. I made a big tackle, and I did the Superman. I got a flag for it, but I did the Superman."
Why do you wear your number?
"I've been wearing No. 4 for a minute. It's just my number."
In any sport on any level, who would you challenge?
"
LeBron James
. I'd smash LeBron in basketball. My crossover game is serious."
DeShon Elliott "did you know"
: "I'm scared of the dark."
DeShon Elliott putting on the #UnderArmour jersey. #HookEm https://t.co/BFg2cuMIE6

— Damon Sayles (@DamonSayles) October 28, 2014
October, 28, 2014
Oct 28
10:00
AM ET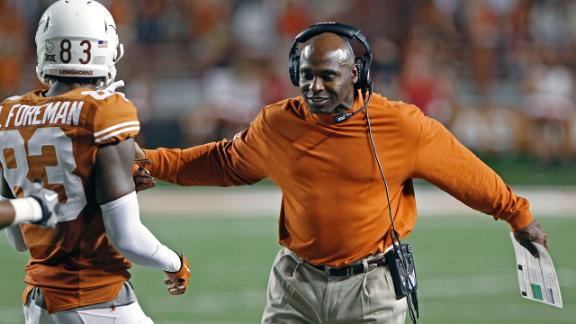 Even while Texas is losing ball games, it's managing to find the silver lining in the dark clouds. The Longhorns lost to Kansas State and were shut out for the first time in 10 years, but they won on the recruiting trail, as another ESPN 300 athlete committed Sunday.
Baylor also added to its 2015 class over the weekend. The Bears have some outstanding skill-position players on their current roster, and they have studs within its 2015 class. They added another top skill-position player on Sunday.
Here's an in-depth look at how the weekend finished in Big 12 recruiting.
To continue reading this article you must be an Insider
October, 28, 2014
Oct 28
9:00
AM ET
In the 100 days leading up to signing day 2015, RecruitingNation will be looking back at our ESPN recruiting rankings from 2006 to the present and counting down the best player of the past 10 years at each ranking position, No. 100 to No. 1.
Brandon Spikes, No. 100 in 2006 class
Spikes was a fierce recruiting battle between Florida and Alabama out of Shelby Crest High in North Carolina with Virginia Tech as a third school that received an official visit. While Alabama and Virginia Tech made runs, it was the work of then-Florida assistant and current Marshall head coach Doc Holliday that won Spikes over. Holiday had a long-standing relationship with Spikes dating back to when Holliday was an assistant at NC State before being hired at Florida in 2005. Spikes was part of ESPN's No. 1 ranked
Florida Gators
recruiting class that included Tim Tebow,
Percy Harvin
,
Marcus Gilbert
and
Riley Cooper
. Tebow and Harvins were first-round NFL draft selections, Spikes and Gilbert second round and Cooper fifth round.
Spikes was a member of the Florida Gators from 2006-2009, playing on the 2007 and 2009 BCS national title teams under Urban Meyer. He played in 47 games for the Gators, including 39 starts posting 307 career tackles, 31.5 tackles for loss, 6.5 sacks and six interceptions. He returned four interceptions for scores. Tallied 131 tackles as a sophomore earning All-SEC and All-American postseason honors. He was a second-round selection in the 2010 NFL draft, and is currently playing in his fifth season in the NFL.
Honorable mention:
Emmanuel Acho. Acho was a member of the
Texas Longhorns
class of 2008 that included Pro-Bowl kicker
Justin Tucker
and Bills safety
Aaron Williams
. Acho is the younger brother of Cardinals outside linebacker
Sam Acho
. Acho, currently on the Eagles active squad, started 26 games for the Longhorns under Mack Brown. He played in the 2010 BCS national title loss to Alabama and the 2009 Fiesta Bowl win over Ohio State.
October, 28, 2014
Oct 28
8:00
AM ET
Worried about your injured star and/or sued coordinator? We've got you covered today.
Swoopes And Harris Talk Football