December, 10, 2013
Dec 10
7:37
PM ET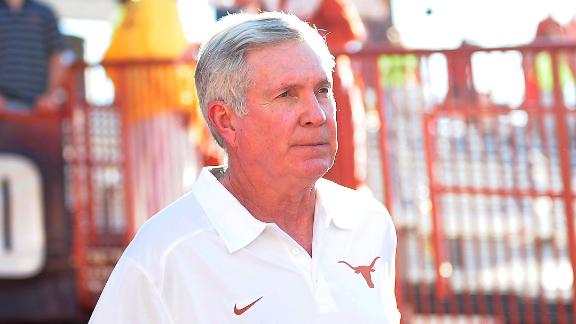 Texas coach Mack Brown is expected to resign by the end of the week, according to a source.
"I know Mack, he's a friend, this is his decision, but he wants to tell his players and staff and not read it on the Internet," the source told ESPN. "That's why he reacted strongly to the [Orangebloods.com] report.
"I'd be real surprised if it hasn't happened by Friday night with the [Texas] football banquet. I think it will be taken care of. It wouldn't drag on much longer."
Orangebloods.com first reported Tuesday afternoon Brown would step down after 16 years as the Longhorns' coach.



Later Tuesday, Brown texted the website Horns247: "I haven't seen [the] article. I'm in Florida recruiting. If I had decided to step down, I sure wouldn't be killing myself down here. I have not decided to step down."
A source said, though, discussions have been ongoing with Brown, Texas president Bill Powers and Brown's agent, Joe Jamail.
"The talks were very friendly and the conclusion was Mack would step down in the next couple of days," the source told ESPN.
However, the source said Jamail is participating in a trial in Beaumont, Texas, which has slowed the process, and there are a "lot of logistics" to work out. "Such as when he leaves, what his role will be," the source said. "A myriad of things that have to be worked out."
The source reiterated Brown would not be coaching at Texas in 2014.
"By the end of the week, that will be the outcome," the source told ESPN. "That will happen. It's a shame after 16 years he's not able to do it on his own with dignity and grace."
Another source told ESPN's Joe Schad that Brown has had active discussions with Texas officials about his intention to resign and there is a good chance it will become official later this week.
December, 10, 2013
Dec 10
3:10
PM ET
ESPN.com news services
[+] Enlarge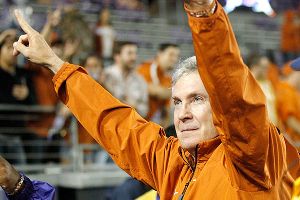 Tim Heitman/USA TODAY SportsAccording to sources, Mack Brown's future at Texas may be tied to a board of regents meeting Thursday concerning the future of UT president Bill Powers.
Mack Brown has denied a report that he will step down as coach at Texas.
Brown, who was recruiting on Tuesday, refuted a report by Orangebloods.com that cited high-level sources stating he would step down after 16 years as the Longhorns' coach.
"I haven't seen [the] article," Brown wrote in a text message to the website Horns247. "I'm in Florida recruiting. If I had decided to step down, I sure wouldn't be killing myself down here. I have not decided to step down."
Brown also has not notified the school that he is stepping down, a Texas source told ESPN's Joe Schad.
The university's board of regents will hold a meeting Thursday at which the future of president Bill Powers is to be discussed -- and that could affect Brown's fate, sources told Schad.
"We continue to discuss the future of Texas football," men's athletic director Steve Patterson said in a statement. "Mack Brown has not resigned. And, no decisions have been made."
Brown has made it clear he wants to return if the situation with the president is stable.
Although the situation could be clarified as early as Thursday, sources told ESPN it's possible an announcement will not come until next week.
December, 10, 2013
Dec 10
2:30
PM ET
Thanks for all your questions in today's chat. Here's where you can
find the full transcript
. Got more to say? Send it to the
mailbag
and you could see it on the Big 12 blog Friday:
Taylor (Kansas):
OK, so I know I was a little down on my Sooners heading into Stillwater. And you offered some kind words of encouragement that eased my thoughts and lo and behold they pulled it off. Now, can you offer me some more support for the Sugar Bowl? I'm not sure they will score! Bama has a chip on their shoulder and I feel like they are going to take it out on anyone and everyone in their way.
Jake Trotter:
The one thing OU might have going its way in this game is... does Bama care? The last time Bama just missed out on the title game, it lost to Utah in the Sugar Bowl. If Bama comes out flat, OU might have a chance. If Bama comes out ready to play with a chip on its shoulder…
---
Mike (Jacksonville):
What are the chances Mack Brown steps down before the bowl game?
Jake Trotter:
I would say better than 50 percent. But one thing the Texas brass needs to consider if they push for Mack's resignation is, who will they replace him with? If you're going to push a coach like Mack out, who's done a lot for the university and pulled it out of the doldrums in the '90s, then you'd better have somebody lined up.
---
Nick (Texas):
The Big 12 will have a losing bowl record: Agree or disagree?
Jake Trotter:
Agree. Gonna be very difficult for OU, Texas and Tech to win. One will need to to give the league a chance at a winning record.
---
Dave (Orange County):
Who do you think has a better all-time program? OU or Alabama?
Jake Trotter:
When ranking all-time programs, I go, 1. Notre Dame, 2. Alabama, 3. OU, 4. Ohio State, 5. Michigan.
---
Levi Farmer (Tulsa, OK):
OU loses a lot of RB depth with the senior class. Who is in line to step up and start next year?
Jake Trotter:
It will be the
Keith Ford
show.
---
JFB (DFW):
How does [Bryce] Petty not get an invite when you compare his numbers and "character" to other invitees?
Jake Trotter:
Petty's campaign was very similar to Brandon Weeden's back in 2011. Just when Weeden's candidacy was rolling, OSU lost to Iowa State. Just when Petty was getting into the top 3, Baylor was smoked by OSU. Petty has another year, and he will be on everyone's radar this time going into the season.
---
Dave (Atlanta):
Any update on how
Trevor Knight
's doing?
Jake Trotter:
He is fine. Dislocated shoulder on his non-throwing side. Will be back for the bowl.
---
Jason (Cincinnati):
The last time we spoke, I mentioned how I was worried about the ISU visit to Morgantown and you mentioned WVU was a different team at home. Yet WVU suffered another meltdown after a 31-7 lead. We are making the Big 12 look really bad and this is not WVU football. Mountaineer nation is losing faith in the staff. What is really wrong in Morgantown?
Jake Trotter:
Talent, coaching, mentality... it's a lot of things.
---
Ryan (Bear Country):
Not that it matters anymore, but still don't understand how a two-loss Stanford team is ranked higher than a one-loss Baylor squad (granted, we did get blown out by OSU). Is it just the brand?
Jake Trotter:
Stanford has seven Top 25 wins. Baylor has two.
---
Andrew (Houston):
Do you think
Lache Seastrunk
is coming back? Early in the year it looked like there wasn't a chance... but late in the year he hurt his draft stock. I think he is back and BU is a top-5 team in the country again.
Jake Trotter:
I think Lache comes back. That would be the best backfield in the Big 12 again, with Petty.
---
Tom (Dallas):
Jake, would you please be so kind and remind Texas Tech and TCU that Baylor has a Big 12 championship and they don't.
Jake Trotter:
Ouch.
---
Fred (Lubbock):
Trotter, what's more impressive, our two-decades-plus of consistently winning or Baylor's miserable little Big 12 championship during a horribly down year in the conference?
Jake Trotter:
Here we go again...
December, 10, 2013
Dec 10
12:00
PM ET
December, 10, 2013
Dec 10
11:00
AM ET
AUSTIN, Texas -- Immediately after returning from Waco, Texas' coaching staff hit the road on Sunday to begin visiting its committed recruits and targets. Mack Brown is expected to join them today for in-home visits.
The Longhorns picked up commit No. 23 on Monday but still have plenty of work to do. Here's a look at the positions where Texas needs the most help going into 2014. It's a safe bet Texas' final pledges will come from these five spots:

1. Quarterback
After putting this move off for two consecutive offseasons, Texas needs to bring in a transfer quarterback. The Longhorns briefly pursued
Bo Wallace
,
Nick Marshall
and other juco options in recent years, but opted to stick with
Case McCoy
as the backup.
Now McCoy is graduating,
David Ash
is recovering,
Tyrone Swoopes
is still inexperienced and touted commit
Jerrod Heard
(Denton, Texas/Guyer) won't arrive until the summer.
There are no five-star, big-time options at the junior college level this year. So Texas' best bet is pursuing a graduate transfer. One QB that Texas and several others major programs are keeping an eye on is Florida State's
Jacob Coker
, who would have two seasons of eligibility if he leaves.
2. Defensive end
Jackson Jeffcoat is off to the pros.
Cedric Reed
could opt to leave early and join him. If he does, Texas will need an end or two who is ready to play right away in 2014. Hence its recent interest in junior college prospects.
New Mexico Military Institute teammates
Edmond Boateng
and
Terry Ayeni
will both visit Texas this week. Boateng, ESPN's No. 3 ranked juco defensive end prospect, arrives Wednesday and will also visit Arizona State this weekend. Ayeni will be in town Friday for the banquet. They want to play together at the next level if possible.
ESPN 300 commit
Derick Roberson
, out of San Antonio Brennan, has the potential to play right away, and Texas will keep pushing for
Solomon Thomas
. But guys who can enroll in January are a must now.
3. Running back
Next season, Texas will enter fall camp with two senior running backs and a junior,
Johnathan Gray
, who might not be healthy until August following a torn Achilles. That has made taking three running backs in this class a priority. Three are currently committed, but it's an interesting group.
D'Onta Foreman
, (Texas City, Texas/Texas City) had a huge senior year, but could be a close call in terms of qualifying.
Kevin Shorter
(Newton, Texas/Newton) suffered a spinal injury this fall that could end his playing career. Longtime pledge
Donald Catalon
(Houston/Eisenhower) is solid, but has shown potential as a DB as well.
So Texas is looking. Two names to keep an eye on are
Corey Avery
, the Dallas Carter teammate of pledge
Cameron Hampton
, and recent Arizona State decommitment
Darrel Williams
(Marrero, La./Ehret).
4. Defensive back
Of the many ESPN 300 targets still uncommitted, you'd have to say
Jamal Adams
is at the top of Texas' board.
Tony Brown
is a high priority, too, but Adams is a must-get. He'd play right away and possible even start for the Longhorns in 2014.
Adams keeps to himself when it comes to this process, but at the moment this seems to be a battle between Florida, LSU and Texas. Texas already has two safety pledges in
Jason Hall
(Grand Prairie, Texas/South Grand Prairie) and
John Bonney
(Houston/Lamar), but
Adrian Phillips
is set to graduate and the Longhorns haven't exactly received consistent play from their other safeties this season.
5. Defensive tackle
This priority gets bumped down the list after four-star defensive tackle
Zaycoven Henderson
(Longview, Texas/Longview) announced his commitment to Texas on Monday, but Texas isn't done shopping at this spot.
Longtime four-star commit
Trey Lealaimatafao
(San Antonio/Warren) has taken official visits to UCLA, Arizona State and Ole Miss this fall. Since Lealaimatafao is looking around, so will Texas. The Longhorn staff must operate under the assumption he's no longer committed. If Lealaimatafao doesn't reaffirm his pledge this weekend at the banquet, don't be surprised if Texas pursues other options, including at the junior college level.
Henderson,
Jake McMillon
(Abilene, Texas/Abilene) and
Courtney Garnett
(New Orleans/St. Augustine) are solid, but losing Chris Whaley and the transfer of Ashton Dorsey made this spot a need, and 2012 signees
Paul Boyette
Jr. and
Alex Norman
haven't panned out.
December, 10, 2013
Dec 10
8:00
AM ET
Most of the Big 12 programs have all but filled their 2014 recruiting classes, sans one or two spots, and national signing day in February is expected to be a great day. There's still plenty of room to add players for TCU, Kansas, Iowa State, Kansas State and Oklahoma, but all 10 teams in the conference can improve their stock with one or two ESPN 300 commits from now until Feb. 5.
Each school can truly benefit from specific targets. Here is a look at some of the most important targets who could end up signing Big 12 national letters of intent.
To continue reading this article you must be an Insider
December, 9, 2013
Dec 9
2:30
PM ET
It's been an interesting recruiting ride for four-star defensive tackle
Zaycoven Henderson
(Longview, Texas/Longview). It came to an end on Monday afternoon.
And once the ride stopped, Longhorns fans rejoiced.
To continue reading this article you must be an Insider
December, 9, 2013
Dec 9
1:47
PM ET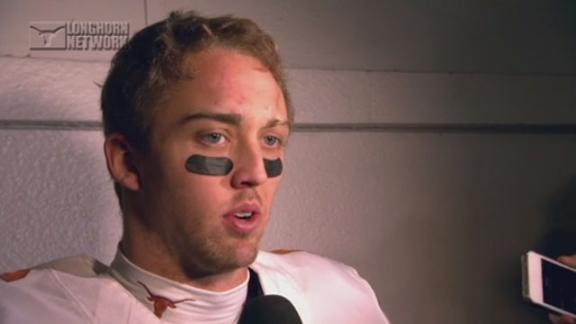 If Texas decides to part ways with Mack Brown in the next year, the university's financial hit would be relatively small compared with other recent buyouts in the college coaching world.
Brown, the third-longest tenured coach in FBS, has a buyout of only $2.75 million if he is let go before Dec. 31, 2014. He agreed to the buyout when his contract was extended through the 2020 season last January.
His job status has been the subject of much speculation during the Longhorns' roller-coaster 8-4 season, which will end with a trip to the Valero Alamo Bowl after missing out on the Big 12 title -- and a BCS bowl berth -- with a 30-10 loss at Baylor on Saturday.
Brown has not commented on whether he'll leave, and Texas has not commented on whether it would make a coaching change.
While $2.75 million might not seem like a small severance, it's paltry considering the fact Brown is owed about $40 million after this season. That means the payoff would represent less than 7 percent of the total value of his contract.
Under the terms of the buyout, Brown would receive four payments of $687,500 if he was fired by Texas in 2013 or 2014, with payments reduced until 2020, when the school would have to pay him nothing if it let him go.
Compared to other coaches who have been let go recently, it's a small price to pay -- especially for a coach who has led his team to a national championship.
December, 9, 2013
Dec 9
12:00
PM ET
December, 9, 2013
Dec 9
11:00
AM ET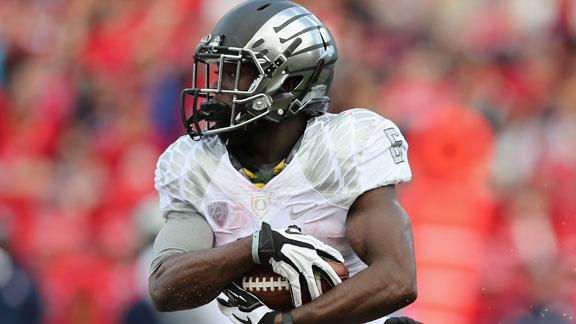 AUSTIN, Texas -- The great unknown of Texas' future remains unsolved two days after Texas' loss to Baylor. But the imminent future was at least settled Sunday: Texas is returning to the Valero Alamo Bowl, this time to take on No. 10 Oregon.
And that proposition looks about as scary as anything
Mack Brown
and his loyalists might see in the next few weeks.
We don't know what's next for Brown. He traveled to New York on Sunday with UT president Bill Powers and athletic director Steve Patterson for the College Football Hall of Fame induction ceremonies. He's supposed to hit the road this week for in-home visits with recruits.
[+] Enlarge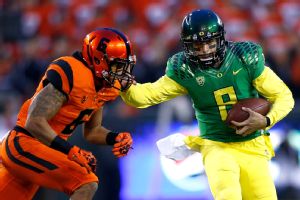 Jonathan Ferrey/Getty ImagesTexas has troubles defending the option. Marcus Mariota and Oregon run it perhaps better than anybody.
Whatever is in the works in the meantime remains unknown. Texas' grand plan is far from clear. But this much is certain: When the dust settles, the Longhorns have plenty of work to do and 15 practices to do so. At some point, preparations to face Oregon will begin.
The response from fans and pundits on Sunday night was relatively consistent: Texas (8-4) is going to get smoked by Oregon (10-2). It won't be pretty.
Oddsmakers have made the Ducks a two-touchdown favorite, which is familiar territory for the Longhorns by now. This team liked playing the underdog role in 2013, so perhaps there's no better way to end the year than with Texas' most difficult matchup yet.
Oregon has a two-time All-Pac-12 quarterback in
Marcus Mariota
. He ranked
No. 2 in the nation in QBR
this season behind Florida State's
Jameis Winston
. If not for an MCL sprain that limited his game late in the season, Mariota would likely be New York-bound as well this week. The way this Heisman field fell apart, he still might.
The Ducks' famously fast tempo won't be what causes this Texas defense trouble. The Longhorns have seen faster this season, and Oregon's plays-per-game-average of 75 is down from a year ago.
The problem will be the option. Among spread offenses, nobody does that better in college football than the Ducks. It's a big reason they're 56-9 since 2009, the year former coach Chip Kelly took over.
Mariota rushed for 695 yards excluding sacks this season, his second as the starter. He says the knee injury that prevented him from running effectively should be 100 percent healed by the Dec. 30 bowl game.
And he's surrounded by options: Three running backs surpassed 500 yards this season, led by second-year back Byron Marshall's 995 yards. He has an ankle injury, but also plenty of time to recover.
And don't forget
De'Anthony Thomas
, as explosive a player as there is in college football. He's healthy again after missing four games with an ankle injury. Miss him once in space and he'll hit the home run. And when you sell out to stop the run,
Josh Huff
(1,036 receiving yards, 11 TDs) can sneak behind the defense and make you pay.
"These guys are like Baylor," Brown said. "They can score fast and they do a tremendous job."
Read option, speed option, triple option, veer, packaged plays – the Ducks do it all. No other bowl team has more 20-yard runs this season than Oregon.
And few bowl teams struggled more to stop the option and the quarterback run than Texas. For all the progress Greg Robinson and the defensive staff made in the past 10 games, this remains the team's Achilles' heel.
The Longhorns gave up the ninth-most rushing yards to quarterbacks in the bowl subdivision. As Brown joked midway through the season: If Texas' opponents don't run the option, they'll put it in the playbook.
It was just too easy, even against a defense with a pair of All-Big 12-caliber ends. Injuries have rendered this unit thin at linebacker and defensive tackle. Robinson, his coaches and his defenders will need these 15 bowl practices to find answers.
Oregon's defense is far from flawless, but it did hold foes to 19 points per game in its wins. It's a top-three scoring defense in the Pac-12 and No. 4 in total defense. At the moment, though, the attention of Texas' offense will be on fixing itself.
Case McCoy
is coming off the worst start of his career. The Longhorns gained 59 yards in the second half Saturday at Baylor. Their only touchdown drive began at Baylor's 11-yard line, and they still needed seven plays to score.
They'll need every practice and film session afforded to them this month. Stanford beat Oregon with pure power. Arizona blew out the Ducks with an elite running back. What's it going to take for Texas to pull this one off?
The Longhorns have their own problems to solve first, and plenty of preparation ahead. If you think the next three weeks will be rough and messy off the field, it can get a lot worse if Texas doesn't stay focused on its toughest test yet.
December, 9, 2013
Dec 9
10:57
AM ET
ESPN.com news services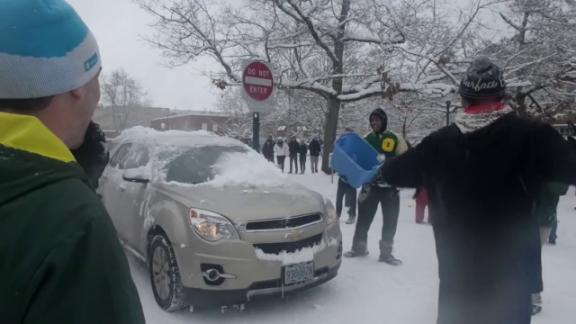 Oregon has suspended starting tight end Pharaoh Brown for the Valero Alamo Bowl for his role in a snowball fight.
Unidentified players reportedly organized the snowball fight and more than 100 students participated.
According to a video that went viral Monday, the group stopped several cars and pelted them with snowballs and dumped containers of snow on windshields. In one case, a driver who got out of his car -- identified by KATU-TV as former professor Sherwin Simmons -- was hit repeatedly and had a large container of snow thrown on him through the driver's side door.
"I was one of the many UO students involved in the snowball fight on Friday, and my actions escalated to an inappropriate level and, for that, I sincerely apologize," Brown said in a statement released by the university. "We never should have engaged innocent people, and I deeply regret my actions and will accept the consequences."
The suspension was announced Monday by coach Mark Helfrich, who has apologized to the targeted drivers. Helfrich had promised discipline during the weekend, saying the behavior shown in the video was "completely unacceptable and dangerous."
Other players involved in the fight received unspecified punishments but will be allowed to play in the bowl game. All students involved in the fight, including nonplayers, are subject to further discipline from the dean of students, the university said.
Sources: Mack Brown Set To Resign