December, 17, 2013
Dec 17
8:51
PM ET
AUSTIN, Texas -- Northwestern coach Pat Fitzgerald visited Texas on Tuesday, but not to interview for the head-coaching job.
Fitzgerald and five members of his coaching staff attended the Longhorns' bowl practice and watched film, but sources close to the situation said it was a typical visit for a coach whose team isn't preparing for a bowl game. Fitzgerald said in a text to ESPN.com that it was a "standard drop in."
Fitzgerald has scheduled similar visits to the Chicago Bears on Wednesday and Texas A&M Aggies next week, and said he is using this time to see how other staffs work.
A Texas spokesperson did not return a request for comment.
Fitzgerald is one of the more than a dozen names that have been mentioned for the Texas vacancy following Mack Brown's decision to resign Saturday after 16 seasons.
In eight seasons as the head coach at his alma mater, Fitzgerald is 55-46. Northwestern finished 5-7 and 1-7 in Big Ten play this season after going to five consecutive bowl games.
Texas athletic director Steve Patterson said Sunday he'll seek candidates with extensive college football coaching experience but that there is no timetable for making the hire.
ESPN.com's Adam Rittenberg contributed to this report.
December, 17, 2013
Dec 17
6:00
PM ET
The AP has released its All-America team, and the Big 12 is fairly well represented.
Here's a link to the full list
. And here are the Big 12 players that earned recognition:

FIRST TEAM
Tight end:
Jace Amaro
, Texas Tech
Offensive guard:
Cyril Richardson
, Baylor
Defensive end:
Jackson Jeffcoat
, Texas
SECOND TEAM
Center:
Gabe Ikard
, Oklahoma
Cornerback:
Justin Gilbert
, Oklahoma State
Cornerback:
Jason Verrett
, TCU
Safety:
Ahmad Dixon
, Baylor
Kicker:
Anthony Fera
, Texas
THIRD TEAM
Safety:
Ty Zimmerman
, Kansas State
December, 17, 2013
Dec 17
3:45
PM ET
Thanks for all your questions in today's chat. Here's where you can find the
full transcript
. If you've got more to say, send it in to the
mailbag
and you could see it on the Big 12 blog on Friday.
A sampling of today's chat:
Go Pokes! (Colorado):
With the retirement of Mack Brown, should Okie State fans be worried that Texas might want to hire Mike Gundy?
Jake Trotter:
It doesn't sound like Gundy will be at the top of the list. But he'll be on the list. That said, would Texas hire someone who is 1-8 lifetime against Oklahoma? One of the reasons Mack Brown had to retire was because he couldn't consistently defeat OU.
Randy (Pampa):
Hi, Jake. I know everyone is going to ask you who you think will be the next coach at Texas, so I won't bother to. … Oh, who am I trying to fool? I gotta know! Who do you think will be the next coach at Texas?
Jake Trotter:
Safest bet is James Franklin. He's a guy they can definitely get, and a guy they will definitely target.
Chase (Dallas):
What do you think of Sonny Cumbie heading over to TCU?
Jake Trotter:
I thought it was strange initially. But after hearing Cumbie's explanation, it makes sense. He basically wants to be where Kliff Kingsbury is someday. And it was going to be very difficult getting there where he was, coaching WRs with little input in the offensive game planning. Cumbie is a great recruiter, very energetic. I like what Gary Patterson has done so far this offseason.
Sooner in Texas (Texas):
How do you leave
Jordan Phillips
,
Keith Ford
off your underclassmen list? Those two will be incredible next year. Truly shocking and shows poor judgment on your part.
Jake Trotter:
As I mentioned in the post, the all-underclassman team was about 2013 performance, not 2014 potential. Both have bright futures. Neither played enough this year to warrant recognition for this team.
Austin (Austin, Texas):
Where do you see
Baker Mayfield
going?
Jake Trotter:
I've heard he has his sights set high. I think all the non-AQ schools in Texas are possibilities (SMU, Rice, North Texas). I know he wants to play somewhere in a major conference. But it will require one of those schools offering him a scholly, which is something most of them didn't do in the winter.
Bob (Waco):
Is there any chance some UT recruits change commitments with Mack leaving?
Jake Trotter:
I get the sense most players commit to Texas more than they commit to the coach, though I'm sure many of those commitments will be watching closely to see who the new coach is.
Kevin (Reno, Nev.):
The Big XII needs a big time coaching addition to the conference, not for Texas to poach one from a fellow school. Agree or disagree?
Jake Trotter:
It would be better for the conference if Texas poached outside the league, rather than inside it. I agree.
shrubsooner (Oklahoma):
Oklahoma State or Mizzou?
Jake Trotter:
I give Oklahoma State a slight edge. They have a CB in
Justin Gilbert
who can match up with DGB.
Big Sean (KCMO):
Yea, we will see if Okie State's corner can match up with DGB or any of Mizzou's wideouts. …
Way to be a Big 12 homer!!!
Jake Trotter:
Justin Gilbert was a Thorpe finalist. Try to keep up.
Leon (WV):
Are we dumping Dana Holgorsen after this disaster?
Jake Trotter
: Dana will be back in 2014, but he will be on the hot seat. The problem is, will West Virginia be able to bounce back far enough to save his job? West Virginia plays Alabama at Maryland, at Oklahoma State, at Texas, at Texas Tech, Baylor, OU -- they would have to win at least one of those games just to make a bowl. Gonna be tough.
Shrub (Oklahoma):
Do you think Charlie Weis ever turns it around? And have you heard of that program getting any top recruits?
Jake Trotter:
Weis actually has a decent class coming in. LB
Kyron Watson
, C
Jacob Bragg
and RB
Traevohn Wrench
are all four-star players. Next year is a big year. The key might be QB
Montell Cozart
. He needs to take the next step.
Jim (Colo.):
Do you think Colorado and Nebraska anticipated being this poor after leaving the Big 12? I think Bo Pelini is the problem in Lincoln but I have no idea why Colorado is a complete doormat.
Jake Trotter
: I agree. I don't think Pelini is the answer at all in Lincoln. Strange they're keeping him. And does Colorado still field a football team? I have no idea.
Kenny (WV):
How does the new juco transfer fit into the musical chairs if the WVU QB situation? Also will he qualify to be there in the spring?
Jake Trotter:
Skyler Howard
is another hat in the ring. I have no idea what direction Dana will go at QB. I think he wanted
Ford Childress
to be the guy before the injury. As bad as he was against Maryland, I might give Childress the slight edge in the spring. But he'll have to be better than he was in Baltimore.
December, 17, 2013
Dec 17
1:20
PM ET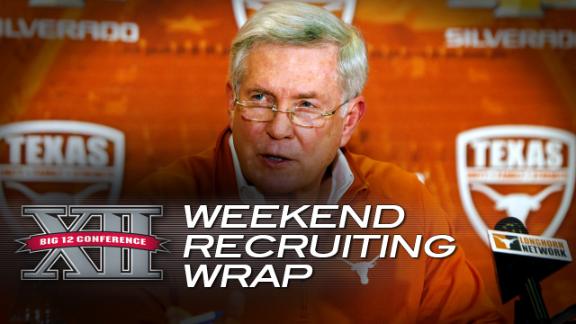 In the heat of the greatest moment of his career, Mack Brown did something remarkably savvy and typical of his dedication to recruiting.
Just moments after lifting the crystal BCS national championship trophy in the Rose Bowl, after beating USC for his first title, Brown was asked what this victory meant to the state of Texas. "What it means to us, been a long time," Brown barked. "There's a lot of passion and a lot of pride. I'm proud of these kids, I'm proud of our coaches -- high school football in the state of Texas. We love our fans and they love it."
High school football in the state of Texas. On the biggest stage of his life, Brown remembered to give a shout-out to the high school coaches who raised his players. The gesture was symbolic of Brown's recruiting philosophy: He was always thinking ahead. No matter how history judges his final years, Brown will go down as a recruiting icon and innovator during his time at Texas.
He cared about recruiting kids who truly wanted to be at Texas. And for most of Brown's tenure, what in-state kid wouldn't?
Step into Brown's office, decorated with leather couches, trophies, rings and endless memorabilia, and good luck saying no when the man made his pitch or extended an offer.
"You can't say no to Coach Brown," DeSoto (Texas) High School coach Claude Mathis said. "He does a great job once you get the kids on campus and in the office."
That's just the aura Brown carried as the king of Texas football, and the foundation it was built upon was unmistakable. His wife, Sally, was a frequent presence at recruiting events, and together they sold recruits, parents and siblings on joining the close-knit Longhorns family.
December, 17, 2013
Dec 17
1:00
PM ET
AUSTIN, Texas -- Your average resignation news conference involving a legendary coach is typically filled with thank-yous, fond recollections and excessive sentimentality. Mack Brown's had that.
Your average resignation news conference doesn't include a school president having to answer whether regents forced out the head coach. The average ones don't involve asking who's actually hiring the next coach and whether that coach can reunify the fan base.
[+] Enlarge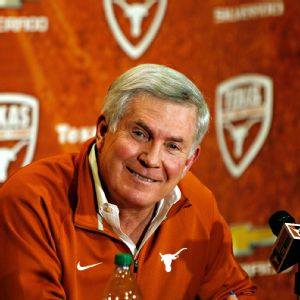 Erich Schlegel/Getty ImagesMack Brown spoke of the many great things about being the Texas coach, but also hinted at some of the problems the next coach will face.
Mack Brown's had that, too. Makes you wonder if that next coach was watching on TV. If so, he should have a better sense of the potential dysfunction that awaits whoever takes over Texas' football program.
Texas is arguably the No. 1 college football job in the country. National brand, unparalleled resources, talent-rich recruiting base, gorgeous campus and city, and oh, by the way, a generous paycheck. It's all there, a dream job in so many ways.
President Bill Powers and athletic director Steve Patterson won't need to accept applications and résumés for this opening. They'll go after the very best of the best in the coaching profession. They won't have a hard time getting someone to take the gig.
But whoever does should know what he's walking into. Brown hinted at this throughout the weekend.
When he put out a statement Saturday night declaring that his run was over, Brown alluded to the Texas program being "pulled in different directions" and that change was necessary.
A day later, he opened his news conference by referring back to a conversation he had with the late Darrell Royal when Brown took the job in the winter of 1997.
"There is such a diverse group that follows this football team that you have to pull them all together, and that is very difficult to do," Brown said. "He said when you get them all together, it's wonderful and it's a powerful place. But when it is not, it is very divided and it is a very difficult place to manage.
"So he said it's like a box of BBs and the BBs are dropped all over the room. What you got to do is get all the BBs back in the box. And we were able to do that. We were able to do that for a long time, until 2010. And then, as of late, the BBs have gotten back out of the box."
The BBs aren't just the fans and season ticket-holders. They're also the big-money donors and boosters, members of the UT System Board of Regents, the people who make up Texas' athletic department and anyone else supporting the cause of Longhorn football.
And they all have a say. They have immense influence. That's why Powers was asked whether the regents drove Brown out, which he denies. That's why he had to declare Patterson is in charge of this hire.
Think Nick Saban faces "special pressures" as the owner and operator of the Alabama dynasty? They're probably nothing like this. Did I mention that the regents could've voted Powers out last week, or that a current and former regent tried to make a run at landing Saban in January?
In Brown's final four years at Texas, he lost 20 games and the faith and support of a strong faction of the fan base. The swirling negativity and vitriol wore on him, his coaches and his players, and was exacerbated with each loss, especially in 2013.
The atmosphere of home games noticeably worsened, to the point that the Longhorns typically played better on the road in recent years.
That's why "energy" and "culture change" are two of the biggest buzzwords associated with what's setting up to be a monumental hire for Texas. The new guy needs serious savvy, enthusiasm and a willingness to play politician when necessary.
And let's not forget, that's on top of the inherent pressure of replacing a coach who won 158 games in 16 seasons, of living and playing up to the standard Brown set during his tenure.
Texas is one of just eight programs in the country with a winning percentage above .750 in the past decade. Its next coach must lead the Longhorns back into the hunt for playoff berths and national championships as soon as possible.
If Royal were still around today, he'd likely offer the new guy the same advice he once gave Brown, after a long spiel about all the folks he'd need to impress at UT: "Oh, yeah: You need to win all the games."
First, Brown's successor will have to mend some fences. He'll need to unify a fractured base. Winning is usually the most effective antidote, but it'll take more than that.
The BBs don't get back in the box all by themselves.
December, 17, 2013
Dec 17
12:43
PM ET
Associated Press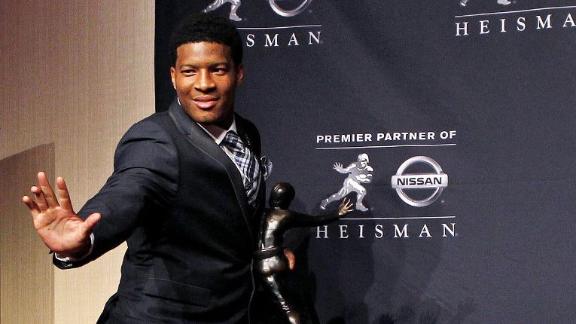 NEW YORK -- A tackle-machine linebacker, a tackle-busting running back and one of the most disruptive defensive tackles in the country made return appearances on The Associated Press All-America team.
Alabama linebacker C.J. Mosley, Arizona running back Ka'Deem Carey and Arizona State defensive tackle Will Sutton were selected to the first team for the second straight season.
The All-America teams were released Tuesday and selected by a panel of AP college football poll voters.
Heisman Trophy winner Jameis Winston from Florida State added All-American to his resume after a spectacular redshirt freshman season. Heisman finalists Andre Williams from Boston College and Northern Illinois' Jordan Lynch also made the first team. Williams joins Carey in the backfield and Lynch, the dual-threat quarterback, was chosen as an all-purpose player.
Carey, a junior, is second in the nation in rushing after leading last year, but said he thinks he's a better player now.
"I worked hard to improve my speed and strength in the offseason while keeping my speed," Carey said. "I put on 10 pounds of weight and I think that's helped my durability. I also wanted to be a better blocker away from the ball. Blocking for our quarterback and our receivers is key to our system and it's important that I do my part even when I'm not carrying the ball."
December, 17, 2013
Dec 17
12:00
PM ET
December, 17, 2013
Dec 17
9:00
AM ET
On our All-Big 12 team that came out Monday only two underclassmen made the cut. And one of those was West Virginia punter
Nick "Boomstache" O'Toole
(Texas Tech offensive tackle Le'Raven Clark was the other).
But that doesn't mean the Big 12 is bereft of young talent that impacted this season. And to underscore that, we put together our All-Big 12 underclassman team (freshmen and sophomores).
This team is based on 2013 performance, not future potential -- though many on this list also have bright futures.
So, without further ado, the ESPN.com 2013 All-Big 12 underclassman team:
Offense
QB:
Daniel Sams
, Kansas State
RB:
Johnathan Gray
, Texas
RB:
Shock Linwood
, Baylor
WR:
Sterling Shepard
, Oklahoma
WR:
Jakeem Grant
, Texas Tech
WR:
Quenton Bundrage
, Iowa State
OT: Le'Raven Clark, Texas Tech
OG:
Cody Whitehair
, Kansas State
C:
Joey Hunt
, TCU
OG:
Desmine Hilliard
, Baylor
OT:
Spencer Drango
, Baylor
AP:
Trevone Boykin
, TCU
Defense
DE:
Charles Tapper
, Oklahoma
DT:
Travis Britz
, Kansas State
DT:
Malcom Brown
, Texas
DE:
Shawn Oakman
, Baylor
LB:
Eric Striker
, Oklahoma
LB:
Dalton Santos
, Texas
LB:
Dominique Alexander
, Oklahoma
CB:
Kevin Peterson
, Oklahoma State
S:
Isaiah Johnson
, Kansas
S:
Chris Hackett
, TCU
CB:
Zack Sanchez
, Oklahoma
Special Teams
K: Jared Oberkrom, TCU
P: Nick O'Toole, West Virginia
PR/KR:
B.J. Catalon
, TCU
PR/KR:
Daje Johnson
, Texas
December, 17, 2013
Dec 17
8:00
AM ET
Consider the countdown a go.
With 50 days from national signing day, a lot of questions about star players have been answered. Some questions, however, are still left to be answered.
Here are 10 signing day storylines that could affect recruiting classes throughout the Big 12:
To continue reading this article you must be an Insider
December, 17, 2013
Dec 17
8:00
AM ET
With only the bowls left, the all-star games are beginning to fill out their rosters. Invitations for pre-draft games have gone out to seniors around the Big 12.
This is not a final list, just an early rundown of who we know that has decided where to showcase their skills in front of the NFL scouts.
REESE'S SENIOR BOWL (Jan. 25, Mobile, Ala.)
Mike Davis, WR, Texas
Ahmad Dixon, S, Baylor
Jalen Saunders, WR, Oklahoma
Jason Verrett, CB, TCU
Kirby Van Der Camp, P, Iowa State
Aaron Colvin, CB, Oklahoma
EAST-WEST SHRINE GAME (Jan. 18, St. Petersburg, Fla.)
Also, TCU quarterback
Casey Pachall
will take part in the inaugural Medal of Honor Bowl on Jan. 11 in Charleston, S.C.
December, 17, 2013
Dec 17
5:00
AM ET
1. If Texas wants a college coach who has won in the big time: Over the last five seasons, 12 men have taken teams to at least two BCS bowls. Nick Saban (1), Bob Stoops (2), Urban Meyer (3), Bret Bielema (4), Frank Beamer (5) and David Shaw (6) are unavailable/uninterested. Jim Tressel (7) is untouchable. Jimbo Fisher (8), Chip Kelly (9), Gary Patterson (10), the timing is wrong. That leaves Brian Kelly (11) and Dabo Swinney (12). Any takers?

2. The SuperBowlification of the College Football Playoff is here, now that the Metroplex and Tampa Bay, two non-BCS bowl sites, have secured two of the first three championship games. That's not a bad thing. It stands to reason that the commissioners will take the championship game to domes in the snow belt, like Indianapolis or Detroit, to name two in the Big Ten footprint. It's healthy for the game to move it around, and if it comes off looking like a mini-Super Bowl, so what?

3. In case you thought the end of Mack Brown's coaching career at Texas is a sign of how much pressure is placed on the modern-day football coach: When Oklahoma hired Bud Wilkinson in 1947, his father told him, "No matter how successful he may be, every coach eventually reaches a point where a lot of people want somebody else." It is a price that nearly every coach pays, and it can be a harsh one.

December, 16, 2013
Dec 16
8:48
PM ET
[+] Enlarge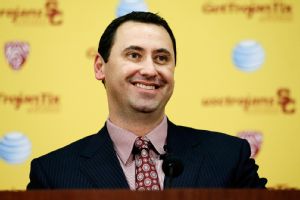 AP Photo/Jae C. HongNew USC coach Steve Sarkisian has a few five-star recruits on his wish list.
The Class of 2013 is in the stretch run. With just 50 days until national signing day, there are plenty of developments and questions in the lead-up to Feb. 5. From top uncommitted players to class rankings predictions, this is everything you'll need to know.
Questions to ponder
50. Who is next at Texas, and when? The choice as new Longhorns coach will be key for future classes, but the timing of the hire is also important as there are quite a few commitments targeted by other teams that are now hanging by a thread with each passing day -- dead period or not.
49. Will Maryland close with a bang? This one is simple: keep No. 15 Jalen Tabor (Washington, D.C./Friendship Collegiate Academy) and No. 26 Damian Prince (Forestville, Md./Bishop McNamara) home and it's a big bang.
December, 16, 2013
Dec 16
6:43
PM ET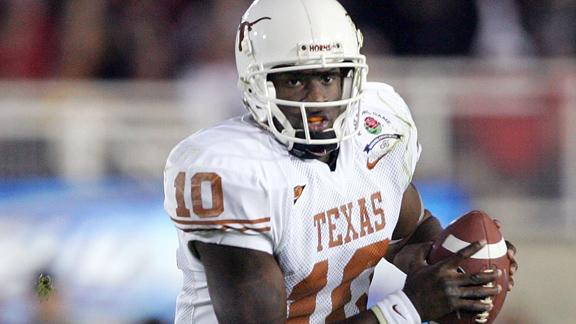 We've all experienced at least one crazy, tempestuous relationship, right? It was toxic yet also sometimes thrilling beyond measure. The highs were extraordinary, and the lows miserable. There were raving arguments full of frenzied recriminations, but somehow you stayed together for a surprisingly long time. Alas, eventually, sanity prevailed and you went your separate ways.
On Jan. 6 at midnight, college football will break up with the BCS after a tumultuous 16 seasons. The sport will move on to a new relationship in 2014 with the four-team College Football Playoff. This one promises to be more stable and mature.
So as we move toward this inevitable split, how do we feel? We know this is for the best, but certainly there will be some bittersweetness to the parting.
The BCS, after all, stopped us from ending seasons the way we ended 1997, when twin unbeatens Michigan and Nebraska eyeballed each other from across the country because the old bowl system didn't allow them to settle things on the field. Simply, the BCS tried to find the best way to put the Nos. 1 and 2 teams together for a winner-take-all game, which, at the time of its creation, seemed like a great idea. While it was unquestionably an imperfect system, it gave us Texas' 41-38 win over USC in 2006, which might well be the greatest college football game ever played. It also gave us Ohio State's shocking double-overtime win over a seemingly invincible Miami squad in 2003, which has a spot on the same list.
December, 16, 2013
Dec 16
5:30
PM ET
We continue
our look at each of the Pac-12's opponents
during the bowl season.
Valero Alamo Bowl
San Antonio, Dec. 30, 3:45 p.m. (PT), ESPN
Oregon (10-2) vs. Texas (8-4)

Texas Longhorns
Coach
: Mack Brown (16th season)
Record
: 8-4, 7-2 Big 12
Combined opponents' record
: 76-68 (.527)
Common opponents
: None.
Leading passer
:
Case McCoy
, 179-312-1,885 (57.4 percent) with 11 touchdowns and 11 interceptions.
Leading rusher
:
Johnathan Gray
(injured), 159-780 with four touchdowns.
Leading receiver
:
Mike Davis
, 49-715 with eight touchdowns.
Leading tackler
:
Jackson Jeffcoat
, 80 tackles, 21 tackles for a loss, 12 sacks.
What to know
: Texas has been in the news lately. Perhaps you've heard? After compiling a 158-47 record at Texas,
Brown is stepping down
after the Alamo Bowl. That heaps a healthy dose of emotion on to this game as his players will no doubt be looking to win one last one for Mack.
Even before Gray went down for the rest of the year with an Achilles injury in the OT win over West Virginia in early November,
Malcolm Brown
was already starting to get a good chunk of the running workload. He has rushed for 774 yards and nine touchdowns on 188 carries (4.1 average).
After starting the year 1-2, which included losses to BYU and Ole Miss, the Longhorns rallied to run off six straight -- including a seemingly-unlikely win (at least at the time) over No. 12 Oklahoma.
But they lost two of their last three to ranked Oklahoma State and Baylor, giving them a mark of 1-3 against ranked teams this season.
This is a question of motivation for the Ducks, who have to be lamenting missing out on a fifth-straight BCS bowl game after Oklahoma was selected ahead of them for the Allstate Sugar Bowl. On paper, the Ducks are the superior team. It's just a question of whether they can suppress that disappointment and not let Texas get too caught up in the emotion of Brown's departure.
Key matchup
: As is always the case when you play Oregon, how are you going to stop the run? That's something Texas hasn't been very good at this season. The Longhorns rank 80th in the country, yielding 180.3 yards per game on the ground. They've also given up 21 rushing touchdowns and allow 4.2 yards per carry. The Ducks average 278.3 yards per game on the ground, which ranks ninth nationally. And all eyes should be on Jeffcoat. Depth-wise, the Longhorns are hurting defensively and are down to about three linebackers and a couple of defensive tackles. Brown said at one point he feels like they lost eight to 10 of his best players to injury. But Oregon shouldn't get too cocky. Jeffcoat is legit. Lest we forget another defensive end from Texas who spoiled the bowl hopes of a team from Oregon last year.
Best Moments From The BCS
BIG 12 SCOREBOARD
Saturday, 12/21
Monday, 12/23
Tuesday, 12/24
Thursday, 12/26
Friday, 12/27
Saturday, 12/28
Monday, 12/30
Tuesday, 12/31
Wednesday, 1/1
Thursday, 1/2
Friday, 1/3
Saturday, 1/4
Sunday, 1/5
Monday, 1/6