October, 24, 2014
Oct 24
8:00
AM ET
Happy Friday, everybody. Be safe this weekend, and may your team's odds be ever in your favor. Or, you know, something like that.
October, 23, 2014
Oct 23
6:00
PM ET
Our weekly effort to predict which Big 12 players are primed for a breakout performance had a few good calls last week:
Ben Heeney
was a monster and
Jake Waters
led Kansas State to an upset of Oklahoma. But we can always do better, can't we? Here's a closer look at six players who have a chance to shine in Week 10.
TCU CB Kevin White:
Next week, we get the long-awaited rematch of Kevin White vs.
Kevin White
. This week, the TCU one gets another chance to prove he's one of the league's best corners. He snagged an interceptions last week against Oklahoma State and will have to bring his best against a Texas Tech receiving corps that's probably underrated at this point.
Kansas State FB Glenn Gronkowski:
Just when you forget about him, that's when he burns you. The youngest Gronk brother is averaging 31.8 yards per reception and is so deadly in the Wildcats' delayed pop passes. Texas will be on alert after Gronkowski's 67-yard touchdown last week, but he's still going to get chances if Texas' inexperienced safeties make mistakes.
[+] Enlarge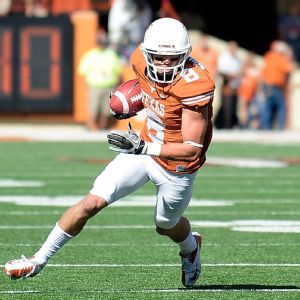 Stacy Revere/Getty ImagesJaxon Shipley has a chance to break his touchdown drought this week.
Texas WR Jaxon Shipley:
The secret is out on
John Harris
. Texas' senior go-to receiver is going to start drawing extra attention from opposing defenses. Shipley caught the huge 39-yarder against Iowa State last week to set up the win, but he's yet to catch a touchdown this season. He'll get a chance to snap that shutout this week.
West Virginia DE Shaquille Riddick:
After putting up the most sacks by a WVU defender in three years, what does Riddick have to offer for a follow-up? He was terrific as a pass-rusher against Baylor, and now he gets to take on an Oklahoma State offensive line that's playing like one of the conference's worst.
Texas Tech QB Davis Webb:
He doesn't have to outduel
Trevone Boykin
to pull off an upset against TCU. But Webb does have to avoid turnovers and he needs to capitalize every time the Red Raiders manage to cross midfield. It's probably going to take a lot of points to take down the top-10 ranked Frogs. Can Webb make this a back-and-forth, four-quarter fight?
Oklahoma State DT James Castleman:
If you missed his interception against TCU last week, it was a beauty. Right place, right time, impossible catch. The Cowboys need a lot more of that luck this weekend. Castleman and this OSU defensive line need to get after
Clint Trickett
and throw off the pace and timing of West Virginia's dangerous offense.
October, 23, 2014
Oct 23
1:30
PM ET
TALLAHASSEE, Fla. -- ESPN 300 wide receiver
John Burt
was presented with his Under Armour All-America Game jersey Thursday morning in a ceremony sponsored by American Family Insurance. The ceremony took place in front of family, friends and teammates at Lincoln High School's auditorium in Tallahassee, Florida.
Lincoln has been one of the top programs in Florida in recent years, but Burt will be the first player from the school to play in the Under Armour All-America game. Head coach Yusuf Shakir said his star athlete will be a great representative.
"Well No. 1, I think he's a great kid; he's phenomenal. He is so unselfish and wants everybody to be successful," Shakir said. "He really doesn't know how good he is and the type of level he's at. He has no clue about that; he's just so unselfish and wants everyone to be successful. He's a tall kid that can run and he can do a lot of things that small kids can do. He just has that true natural ability and he works so hard to develop that and he's willing to do anything and everything."
Burt has been committed to Texas since July, but it now appears he is torn between the Longhorns and Auburn.
"Really the only two programs I still have interest in are Auburn and Texas, and I'm trying to kind of decide if I want to stay committed to Texas or commit to Auburn," Burt said. "It's kind of hard to say which way I'm leaning. It kind of moves around a little bit. But really I'm just kind of flip-flopping and weighing out all of the options."
The four-star receiver has already visited both schools and more visits could be coming.
"I might visit both schools; it all really just depends if I flip to Auburn," Burt said. "Pretty much after I make this final decision, I'm pretty much going to be done after that. So it really all depends."
Jon Burt being presented with his Under Armour All-America jersey. https://t.co/JRDF8jdGp6

— Derek Tyson (@DerekTysonESPN) October 23, 2014
Seven questions with John Burt
Who is one player you are looking forward to competing against?
Burt:
There's not really one certain player. I just want a chance to go against any of those top defensive players playing in the game.
If you were to start a team with any other player in your class, who would it be?
JB:
I'd probably have to say like a receiver like
Christian Kirk
. If I'm playing in the game, I want someone else on the other side to kind of balance it out.
Who is the best player to ever play in the Under Armour game that you know of?
JB:
I'm a receiver, so I'd have to say someone like
A.J. Green
. He's one of the best receivers to ever play in college and obviously he's doing well in the NFL right now.
What is your earliest football memory?
JB:
My earliest memory was when I was like five or six playing flag football for the YMCA and city league. That's when it's all fun and games, but that's really when you're just out there playing and having fun.
Which football player did you idolize or be like when you were a kid?
JB:
When I was a kid, I didn't know what position I was going to play, so I really liked
Michael Vick
. He was the hot player back in the day. Now if I had to pick a player, I'd say
Calvin Johnson
, because he's a great receiver and that's how I want to play.
What number do you wear?
JB:
I wear No. 10. There's not really a reason why. I just got that number and I like it. I'd like to keep it in college or another low number, like 11.
What is the one thing people would be surprised to know about you?
JB:
I play Xbox a lot. Like a lot. Me and my friends will play Xbox all weekend long.
October, 23, 2014
Oct 23
9:00
AM ET
Why Kansas State will win:
In case you haven't noticed, the Wildcats have been playing good football all season. It took three missed field goals and a pair of untimely turnovers for Auburn to escape Manhattan last month. Behind QB
Tyrone Swoopes
, the Longhorns have been getting better. And they should be able to hang tough, as they did against Baylor and Oklahoma. But they ultimately won't be able to run the ball well enough or contain dual-threat QB
Jake Waters
enough to also escape with a win.
Kansas State 29, Texas 21
-- Jake Trotter
Why West Virginia will win:
The Mountaineers are playing great, physical defense that complements the fireworks of QB
Clint Trickett
, receiver
Kevin White
and all of their skill-position talent. Oklahoma State will get its chances -- WVU has a minus-six turnover margin during its three-game win streak -- but its offensive line is in brutal shape and the Pokes showed no resilience in the second half last week at TCU. This just isn't a good time to play the Mountaineers.
West Virginia 38, Oklahoma State 17
-- Max Olson
Why TCU will win:
The Horned Frogs will simply overwhelm the Red Raiders with an active defense and relentless offense. Tech will have its share of big plays but TCU and quarterback
Trevone Boykin
should have plenty of big plays of their own against a Red Raiders defense that ranks No. 114 among FBS teams with 36.9 points per game allowed.
TCU 49, Texas Tech 31
— Brandon Chatmon
Season records:
Trotter: 45-4
Chatmon: 43-6
Olson: 43-6
October, 23, 2014
Oct 23
1:16
AM ET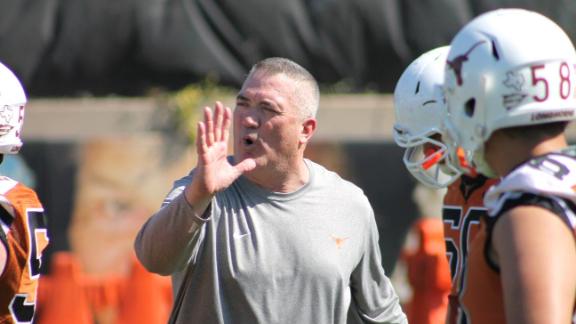 AUSTIN, Texas -- Oklahoma State has sued Texas co-offensive coordinator Joe Wickline for breach of contract, alleging he misled his former employer about his new position at Texas, and the school is seeking more than $593,000 in damages.
According to the suit filed in an Oklahoma district court Oct. 17, Oklahoma State's board of regents asserts that Wickline violated his contractual agreement to pay a buyout fee of $593,487 if he left OSU for a Football Bowl Subdivision offensive coordinator job that did not include play-calling duties.
Wickline filed a countersuit this week and says he is indeed calling plays for Texas' offense, according to an Austin American-Statesman report.
The lawsuits are the latest step in a dispute that began in January, when Wickline left OSU after nine seasons to join first-year coach Charlie Strong's staff.
On Jan. 15, Wickline was hired as Texas' offensive coordinator and offensive line coach. Strong said he would call plays.
Texas also hired Shawn Watson, Strong's former OC at Louisville, and gave him the title of assistant head coach to the offense and quarterbacks coach.
On March 18, Strong changed course publicly, clarifying that Watson and Wickline would share play-calling duties and that "the one final voice will be Shawn."
"Wickline is going to be involved in it," Strong said at the time. "He's going to make some calls. Shawn is going to make some calls. When we go down the stretch and we have to have a call made, I think Shawn, because he's been doing it for a long time and I'm comfortable with him."
Six days after Strong made those statements, on March 24, Oklahoma State says it sent a letter to Wickline demanding his payment. Around April 22, OSU again demanded a payment and informed Wickline of its intent to file a breach-of-contract suit.
October, 22, 2014
Oct 22
2:30
PM ET
A closer look at one statistic worth keeping an eye on for each Big 12 team entering Week 9:
Baylor:
The problem with penalties is no one-week fluke. Yes, Baylor's
215
penalty yards against West Virginia were the most by any FBS team in the past decade. But the reality is, since 2010, Baylor leads the nation in penalties (8.05 per game), penalty yards (74.6) and offensive penalties (4.12).
Iowa State:
E.J. Bibbs
is establishing himself as one of the nation's top tight ends this season. After catching two more touchdowns against Texas on Saturday, he now ranks
first
nationally in TDs (six) and second in receptions (32) among tight ends. He's not putting up Jace Amaro-level numbers, but this year there simply aren't many like Bibbs in the Big 12 or elsewhere.
Kansas:
The Jayhawks are showing signs they're going to win a Big 12 game this year. One factor that's helping their cause: stingy goal-line defense. Opponents are scoring touchdowns on just
54.5
percent of their goal-to-go situations. That rate ranks second-best in the Big 12 behind TCU. Kansas has allowed six TDs, forced teams to settle for 12 field goals and recorded one takeaway. For comparison's sake, that's a dozen fewer TDs than Iowa State has given up in those situations.
Kansas State:
This one paid off big last week and has continued during Bill Snyder's return to K-State: Since 2009, the Wildcats are
No. 1
in the Big 12 at blocking field goals (seven) and extra points (eight).
Travis Britz
got No. 8 last week on the point-after attempt that would've tied the game against Oklahoma.
Oklahoma:
Michael Hunnicutt
had a rough day Saturday, but he's still one of the most consistent kickers in Big 12 history. Hunnicutt's
84.5 percent
career success rate on field goals ranks No. 3 among kickers in the past decade with more than 70 attempts.
Oklahoma State:
Against TCU, the Cowboys had undeniably one of their worst offensive performances of the Mike Gundy era. For only the third time in his tenure, OSU produced
zero
touchdowns in any phase of the game. The minus-33 scoring margin was OSU's worst since a 56-20 loss to Texas Tech in 2008 and fourth-worst in Gundy's 10 seasons, and the Pokes' 4.03 yards per play ranked fifth-worst.
TCU:
The Horned Frogs are now
91-3
under Gary Patterson when they hold a team to 17 points or fewer. After last Saturday's 42-9 win over Oklahoma State, the Frogs have now won their last 10 games against Big 12 teams when achieving that 17-or-under feat defensively.
Texas:
Offensive coordinator Shawn Watson's efforts to script the first 15 to 25 plays of a game are paying dividends for quarterback
Tyrone Swoopes
. He's completing
77 percent
of his passes in the first quarter this season, connecting on 40 of 52 attempts for 426 yards and 10.6 yards per completion. That's certainly helping him get into an early rhythm.
Texas Tech:
DeAndre Washington
is quietly putting together one of the best seasons by a Tech running back in years. He's averaging 5.55 yards per carry (No. 2 in Big 12), 88.8 yards per game (No. 3) and is on pace to become Tech's first 1,000-yard rusher since
1998
. Texas Tech is still passing on nearly 63 percent of its snaps, but Washington is making this run game go when he gets his touches.
West Virginia:
There are a ton of numbers we can throw around for
Kevin White
, the nation's leading receiver, but here's an impressive one: If he surpasses 100 receiving yards against Oklahoma State, he'll become just the second FBS receiver in the last decade to start a season with
eight
straight 100-yard games. The other guy? Another Dana Holgorsen prodigy, Justin Blackmon. He put up 100-plus in every game of his 2010 season.
October, 22, 2014
Oct 22
1:00
PM ET
Both Texas and Kansas State are coming off dramatic wins that came down to the final possession. Will this game go down to the wire, too?
The Wildcats have won five out of the last six in the series. But Texas has begun to surge after a rocky start.
Max Olson and Jake Trotter break down this key Big 12 matchup between the Wildcats, who hope to keep their playoff dreams alive, and the Longhorns, who need a big win to improve their chances of becoming bowl eligible:
How Kansas State can control the game
: The Bill Snyder formula to winning is pretty simple. Stop the run. Avoid mistakes. And wait for the opposition to shoot itself in the foot. That formula worked wonders in the win over Oklahoma, and it should work here, too. The Longhorns can play defense, but a shifty
Jake Waters
ought to be able to exploit them the way dual-threat Iowa State QB
Sam B. Richardson
did last week. Defensively, K-State should be able to control the Texas running attack, which will put pressure on QB
Tyrone Swoopes
to make plays. Swoopes was able to do that against the Cyclones. But doing the same in Manhattan against these Wildcats will be a far different task.
-- Trotter
How Texas can pull off the upset
: After confidence-boosting games against Oklahoma and Iowa State, Swoopes needs to bring his A-game on Saturday. Texas will need consistently good line play and play calling on offense. Based on how Texas showed up against UCLA, Baylor and OU, you'd think Charlie Strong and Vance Bedford will have a comprehensive plan for slowing down Waters,
Tyler Lockett
and the things they do well. But that won't matter if players don't execute. Like Jake said, KSU isn't going to make many mistakes. Texas had some bad ones against Iowa State -- a Swoopes red zone INT, a fumbled sweep returned for a TD -- and can't afford those flubs this week.
-- Olson
Kansas State's X factor
: Defensive end
Ryan Mueller
has had a very quiet season so far with only 1.5 sacks. This could be the game the 2013 All-Big 12 performer could break out. The Texas offensive line has improved over the last month, but it's hardly a formidable unit. And K-State's run defense has been stout all year, meaning Texas will probably have to throw to move the chains. That could give Mueller plenty of opportunities to get to Swoopes while facing off against Texas' susceptible tackles. --
Trotter
Texas' X factor
: Two guys up front:
Steve Edmond
and
Cedric Reed
. Edmond played some of the best football of his life against Baylor and OU, but did not start last week for reasons that are unclear. He did eventually enter the ISU game, and Texas is going to need the senior linebacker this week for his blitzing and play in the box as well as reliable run D. We haven't heard much from Reed so far (four TFLs, 1.5 sacks), but he can capitalize off the double-teams
Malcom Brown
draws. Now is as good a time as any for Reed's breakout.
-- Olson
What a win would mean for Kansas State
: The Wildcats are coming off an emotional win in Norman, so it will be interesting to see how they respond. They obviously have to keep winning to stay in the hunt for a playoff spot and to keep pace in the Big 12 title race. But with the toughest remaining schedule of the Big 12 contenders, K-State also needs to keep the momentum rolling. A convincing win over Texas would do just that.
-- Trotter
What a win would mean for Texas
: That would be the Longhorns' second-ever win in Manhattan. They haven't pulled this off since 2002. After coming so close against UCLA and Oklahoma, beating a top-15 K-State team would provide the first signature win of the Strong era and help propel this team onto the path to six wins and bowl eligibility.
-- Olson
October, 22, 2014
Oct 22
12:43
PM ET
Associated Press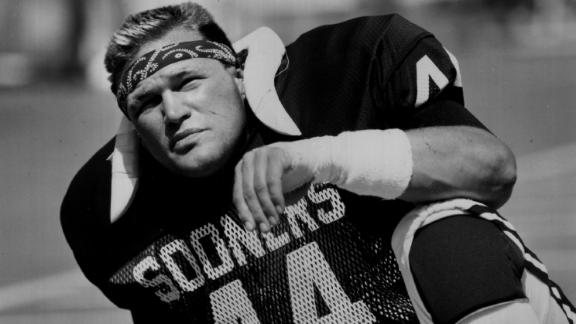 IRVING, Texas -- Kansas State coach Bill Snyder is among the 81 coaches and players up for election to the College Football Hall of Fame.
The National Football Foundation on Wednesday released the ballot for the class that will be announced Jan. 9. Former Heisman Trophy winners Rashaan Salaam of Colorado, Ricky Williams of Texas and Eric Crouch of Nebraska are among the 75 players from the Football Bowl Subdivision on the ballot.
Oklahoma linebacker Brian Bosworth and Southern California receiver Keyshawn Johnson are also up for election.
The NFF tweaked its rules for eligibility a few years ago to allow active coaches, such as Snyder, to be eligible for the election after they turn 75.
The 75-year-old Snyder is in his 23rd season at Kansas State. He has a record of 183-91-1.
October, 22, 2014
Oct 22
10:45
AM ET
The
updated ESPN 300 player rankings are now live
, and one of the primary Big 12 targets is the newly crowned top-ranked running back.
Soso Jamabo
said in September that he was gunning for the No. 1 spot at running back, and after several huge games, Jamabo has earned that spot, bypassing Kentucky running back
Damien Harris
. The hunter, however, is now the hunted, as Jamabo looks to maintain that spot. He'll have to fight off Harris, Oklahoma State commit
Ronald Jones II
, fast-rising
Chris Warren III
-- who jumped from 183 to 102 in the new rankings -- and several others.
Here are five things to know involving Big 12 recruiting:
October, 21, 2014
Oct 21
4:00
PM ET
In today's mailbag we discuss Baylor's future, the College Football Playoff and Charlie Strong for coach of the year? As always, thanks for your questions. To submit questions for next Tuesday's mailbag,
click here
.
Mike Singletary in Austin, Texas:
Brandon, is it time to engage a therapist to help me realize my
Baylor Bears
just aren't as good as I thought or hoped going into the season? Any chance they right the ship and win out? And lastly, could they secure a playoff spot in that scenario?
Brandon Chatmon:
A good therapist can't hurt but I wouldn't be ready to throw in all your cards quite yet. The Bears aren't playing at a national championship level right now but they still have some very good pieces led by
Bryce Petty
. BU just needs to find a rhythm and get some confidence back. I definitely think they can win out and if things fall right, they could find themselves in the College Football playoff conversation, especially if they win out impressively.
Zach in Morgantown, West Virginia:
The West Virginia defense looked really good against Baylor last Saturday despite both
Daryl Worley
and
Terrell Chestnut
going out in the first half. How does this squad compare to the rest of the Big 12 defenses?
Chatmon:
I think they are right with the rest of the Big 12. There is no defense that is going to dominate this conference and shut people down, thus the Mountaineers are right alongside the rest of the pack defensively. It's been a big step forward compared to last season, particularly the fact WVU now has the depth to lose two quality cornerbacks against Baylor and still win.
Brian Weidermab in Manhattan:
Baylor has the most in the FBS when it comes to penalty yards per game, Kansas State has the third fewest ... assuming that trend continues should Kansas State even be worried to play Baylor? Should Baylor be worried about this?
Chatmon:
Not really. Penalties don't rate high on my list of ways to consistently lose games. In fact, of the 10 teams that join Baylor in the bottom 10 among FBS teams in penalty yardage, seven have winning records. Penalties make things more difficult, but they rarely decide games. And if you plan on making a living by winning games based on penalties, well, that sounds like a hard life to live. So, yes, K-State should be worried about Baylor.
Doug T. in Philly:
Playoff scenario: TCU and Baylor both win out. I suspect TCU would be ranked higher. Does the committee pick TCU, even though they lost head-to-head with Baylor?
Chatmon:
I'd think so but we don't know what the committee will do, this is a new era. I'd hope it will all come down to who is playing best at the time because we all know Baylor and TCU will be different teams in December than they are now. Not to mention we've already seen enough surprises to make unbeaten runs from both teams seem unlikely. One thing I know for certain: Both teams lost the right to complain as soon as they lost a game. An undefeated Baylor or TCU is in there, no questions asked.
Matt in Hutchinson, Kansas,:
I believe that Clint Bowen should be named the official head coach at Kansas. You tell me who believes in KU football more than Bowen? I know they haven't won under him yet, but the passion and enthusiasm he has brought to the program is awesome. If KU is going to make strides in its program then I feel Bowen is the man to do it. Thoughts?
Chatmon:
I'd agree, Matt. Who has it better than him? Nobody! … If Jim Harbaugh has real interest that would be about the only way I'd change my mind. I think Clint should get a chance and he knows the program so well, I think he is a great fit and, most importantly, he has a strong passion for the program.
GD Will in Texas writes:
I wish winning the conference meant more than grappling for subjective ratings. What if the playoffs consisted of the winners of the Power 5 conferences, plus a "wildcard" - could be a Notre Dame, or winner of Mountain Conference, or even the runner-up of a power 5 (second SEC team)? Then seed those six teams based on rankings and give the top 2 seeds a bye for the first round.
Chatmon:
I'm right there with you. I'm all for champions being decided between the white lines. Let the players decide it. If
you
can't get out of your conference as the conference champion, well, that sounds like a
you
problem to me.
Hugh in Moss Landing, California writes:
I think a "Strong" case can be made for Charlie as Coach of the Year. When success at all costs represents our highest value, it diminishes the worth of other values. I have admired how willing Charlie Strong has been to ensure that the young men he coaches uphold a set of values, no player's value entitles him to dishonor those values. Even if it costs the coach games. In the lifelong scheme of things, he is building character, not trophies. Who do you see at this point of the season on their way to this award?
Chatmon:
Dana Holgorsen gets the nod for me, but I love what Charlie Strong has done. You only get one chance to lay the foundation, and I like that Charlie is doing it his way, regardless of what others think. Ultimately, we'll see if it pays off but if he goes down, he goes down his way, which is the way to go. I cannot, however, support any campaign to hand him Coach of the Year honors, four losses is still four losses, there's no asterisk in the standings explaining the rebuilding process.
October, 21, 2014
Oct 21
2:30
PM ET
It's amazing how things can change in a matter of 18 days. Earlier this month we took a look at the Big 12's
most efficient offenses based on the points per possession
of the top five teams in the conference.
Almost three weeks later, the list has transformed, much like the Big 12 standings. Here's a look at the overall efficiency of all 10 Big 12 offenses, with the help of ESPN Stats & Information, including each team's points per drive during the past three weeks.
T-1. Kansas State -- 3.11 points per possession overall
Key stat:
The Wildcats' success on third down has been a key to their efficiency. They convert 50 percent of their third-down conversion attempts.
Last three games:
KSU has been even better in recent weeks, averaging 3.53 points per possession in games against UTEP, Texas Tech and Oklahoma as
Jake Waters
has gotten comfortable in his dual-threat role.
Future outlook:
The Wildcats' running game has been solid but not spectacular, but KSU's efficient offensive numbers should continue with Waters' ability to provide a run-pass threat and
Curry Sexton
's emergence alongside
Tyler Lockett
.
T-1. Baylor -- 3.11
Key stat:
Baylor has gained 58 percent of the possible yards on its drives this season, best in the Big 12. The conference average is 46.7 percent.
Last three games:
As the competition has stepped up, Baylor's offense has slowed down. The Bears averaged 2.22 points per drive in games against Texas, TCU and West Virginia.
Future outlook:
In recent weeks, the Bears and
Bryce Petty
haven't displayed the consistency that made them the conference's most explosive offense. All the ingredients still remain for Baylor's elite production to return in the second half of the season.
3. TCU -- 2.79
Key stat:
The Horned Frogs are averaging 83.2 plays per game, ranking behind only Baylor and West Virginia in the Big 12. It's a clear sign TCU has made a smooth transition into its new up-tempo attack.
Last three games:
The Horned Frogs' offense has continued to be productive against Oklahoma, Baylor and Oklahoma State, averaging 2.54 points per drive in its last three games.
Trevone Boykin
has been at his best against increased competition.
Future outlook:
There's no reason to think TCU's offense will slow down any time soon with Boykin and a roster full of big-play running backs and receivers.
4. Oklahoma -- 2.51
Key stat:
The Sooners score touchdowns 73.3 percent of the time in the red zone, second in the Big 12.
Last three games:
OU averaged 1.95 points per drive against TCU, Texas and Kansas State as a lack of big plays has resulted in Sooners stumbles.
Future outlook:
More playmakers must emerge to join
Sterling Shepard
or the Sooners could tumble down this list.
5. West Virginia -- 2.43
Key stat:
Only 22 percent of WVU's drives have ended without a first down or touchdown. Only Baylor has a better percentage (21.3), and the conference average is 29.3.
Last three games:
The Mountaineers averaged 2.26 points per possession in games against Kansas, Texas Tech and Baylor.
Future outlook:
As long as
Clint Trickett
and
Kevin White
continue playing like the Big 12's best quarterback-receiver duo, the sky is the limit for WVU's offense.
6. Texas Tech -- 2.3
Key stat:
The Red Raiders have committed a turnover on 17 percent of their drives, worst in the Big 12.
Last three games:
Tech averaged 1.98 points per drive in games against Kansas, Kansas State and West Virginia.
Future outlook:
Kliff Kingsbury's offense would be just fine if it could cut down the turnovers and limit the penalties. Quarterback
Davis Webb
and a reborn running game make this offense one to keep an eye on.
7. Oklahoma State -- 2.12
Key stat
: The Cowboys have settled for field goals on 17 percent of their drives, worst in the Big 12.
Last three games:
OSU averaged 1.4 points per drive in games against Kansas, Iowa State and TCU.
Future outlook:
As the Cowboys look toward the second half of their season, the offensive line needs to steadily improve if the Pokes hope to rise up this list.
8. Iowa State -- 2.07
Key stat:
The Cyclones are averaging 4.96 yards per play, with only Kansas (4.6) averaging less yards per play.
Last three games:
ISU is getting better as the season progresses, averaging 2.5 points per drive in its last three games against Texas, Toledo and Oklahoma State.
Future outlook:
The Cyclones are starting to find a rhythm under new offensive coordinator Mark Mangino and could rise up this list in the second half of the season.
9. Texas -- 1.58
Key stat:
The Longhorns' average drive distance is 25.8 yards per drive, ranking ninth in the Big 12. The Big 12 average is 32.6, with West Virginia leading the conference at 39.5.
Last three games:
UT averaged 1.72 points per drive in games against Baylor, Oklahoma and Iowa State.
Future outlook:
Quarterback
Tyrone Swoopes
is coming along behind center after a poor start. If he continues to play like he did against Iowa State last Saturday, UT's offense could make some noise in the second half of the season.
10. Kansas -- 1.08
Key stat:
The Jayhawks have managed a touchdown on just 12.9 percent of their drives, worst in the Big 12. The conference average is 28.7 percent.
Last three games:
KU has averaged 1.09 points per drive in games against West Virginia, Oklahoma State and Texas Tech.
Future outlook:
The offense is on a upswing with
Michael Cummings
at quarterback under Clint Bowen. After struggles in Bowen's first game at WVU, KU averaged 1.33 points per drive against OSU and 1.5 points per drive against Tech in the past two weeks.
October, 21, 2014
Oct 21
1:00
PM ET
In our weekly Big 12 roundtable, we examine what the strongest position has been in the league so far, who has a better chance of going bowling between Texas and Texas Tech, and whether Oklahoma State should consider pulling the redshirt off quarterback
Mason Rudolph
:
What has been the strongest position in the league so far?
[+] Enlarge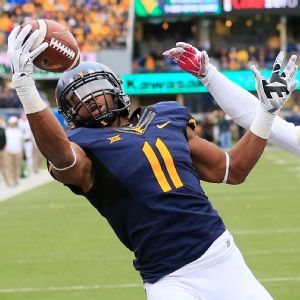 AP Photo/Chris JacksonThrough seven games this season, Mountaineers senior receiver Kevin White has 69 receptions for 1,020 yards and seven touchdowns.
Brandon Chatmon:
As we saw last week with our midseason All-Big 12 team, it's got to be the linebacker spot. The Big 12 is overflowing with all-conference worthy linebackers. Oklahoma's
Eric Striker
, Kansas'
Ben Heeney
, Baylor's
Bryce Hager
and Kansas State's
Jonathan Truman
entered the season among the Big 12's best at the position and haven't disappointed while other linebackers such as West Virginia's
Nick Kwiatkoski
, Texas'
Jordan Hicks
, Texas Tech's
Pete Robertson
, TCU's
Paul Dawson
and Iowa State's
Jevohn Miller
have emerged to join the fray. There are more teams with an all-conference worthy linebacker than without one.
Max Olson:
I agree it's linebacker right now, but I think we'll be talking about this group of wide receivers as being special by the end of the season. West Virginia's
Kevin White
is playing at Biletnikoff Award level.
Sterling Shepard
is a potential All-American. You can make a case that
KD Cannon
,
Tyler Lockett
,
Josh Doctson
,
Antwan Goodley
,
Jakeem Grant
and
John Harris
are playing at an all-conference level or should be soon. Throw in underrated guys such as
Mario Alford
,
Curry Sexton
,
Kolby Listenbee
and
Bradley Marquez
and this position group looks deep and impressive in 2014.
Jake Trotter:
Linebacker is a deep position in the Big 12. But I'm going with wide receiver. White has begun to generate Heisman buzz. Shepard has had an All-American season. And Lockett and Goodley are All-American-caliber players. It doesn't stop there. Doctson had 225 yards receiving over the weekend. Grant could break 100 receptions. Harris could pass 1,000 yards. And true freshmen
Allen Lazard
(Iowa State) and Cannon are budding stars. There's no better league for the position in the country.
At 3-4, both Texas Tech and Texas are holding out hope of qualifying for a bowl game. Of the two, who has the better shot?
Chatmon:
Texas Fight! Or least that's what Charlie Strong's team looks like it will do for the remainder of the 2014 season. The Longhorns' defense is superb and
Tyrone Swoopes
is looking better and better with each game, surpassing my expectations for the sophomore quarterback. Even with three of its final five games away from Austin, I think Texas will find a way to go bowling in Strong's debut season.
Olson:
That Texas Tech schedule just scares me too much. The Red Raiders go to TCU, host Texas, then a bye, home against Oklahoma, on the road at Iowa State and a meeting Baylor at AT&T Stadium to finish that run off. Are there two obvious wins on that slate? That's just a brutal ask. Texas doesn't have it much easier -- they'll probably have to beat Tech, West Virginia and Oklahoma State to win six -- but already having OU and Baylor out of the way at least gives them the upper hand here.
Trotter:
Given their remaining schedules, it's possible -- if not probable -- that neither qualifies for a bowl. But even though the Longhorns have to go to Lubbock, I give them the better chance. Texas has been playing better than Tech as of late. The Longhorns have the decidedly superior defense. And Swoopes seems to be gaining confidence with every start. The Red Raiders will have to beat either No. 10 TCU, No. 17 Oklahoma or No. 12 Baylor, just to have a chance at a bowl. And they'll be heavy underdogs in all three.
[+] Enlarge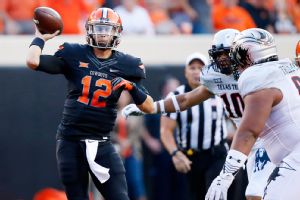 AP Photo/Sue OgrockiDaxx Garman has led OSU's offense since starter J.W. Walsh went out in Week 2 with an injury.
In light of the recent struggles offensively, should Oklahoma State give redshirting freshman Mason Rudolph a crack at QB?
Chatmon:
No. That just changes who will spend the game running for their life. Some Cowboys fans might point the finger at
Daxx Garman
, but the Cowboys' struggles are rooted in the problems up front with a inexperienced offensive line. OSU is averaging 3.69 yards per carry (96th among FBS teams) and has a 7.5 sack percentage (99th among FBS teams). It doesn't matter who is playing quarterback.
Olson:
I'm with Brandon on this. No point in crossing that bridge unless Rudolph begins to consistently and seriously outplay Garman in practice. Mike Gundy says he's getting maximum reps during the week. That's a good start. But you can't throw the rookie in there, behind that offensive line, out of sheer curiosity of whether he's a little better than Garman. I get the whole build-for-the-future viewpoint, but isn't
J.W. Walsh
still the imminent future? The potential downsides still seem like they outweigh the marginal benefits, at least for now.
Trotter:
Rudolph intrigues me. The
ESPN recruiting scouts loved his skill set

, and he was a winner in high school. But with only five games remaining, I don't see the point in pulling his redshirt. This Oklahoma State team is not contending for a Big 12 championship, regardless, due to other issues, namely along the offensive line. The staff clearly feels he's not ready, or else they would have given him a shot early in the season after Walsh's injury in Week 2. Rudolph might very well be the Cowboys' QB of the future. But it's way too late to squander his redshirt for the last five games of a rebuilding season.
October, 21, 2014
Oct 21
12:00
PM ET
AUSTIN, Texas -- The doubts about
Tyrone Swoopes
ever since his high school days at tiny Whitewright (Texas) High School weren't unreasonable.
[+] Enlarge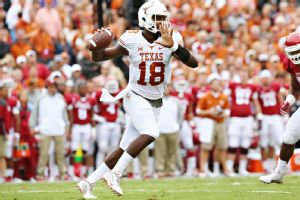 Ronald Martinez/Getty ImagesAfter his most recent performances, expectations are on the rise for Texas QB Tyrone Swoopes.
Swoopes was raw. Special tools. High ceiling. Reaching it would require extensive work and time.
What a difference six starts can make. The Texas quarterback's personal ascent in the past two months has occurred at a pace nobody could've predicted. In the process, the Longhorns discovered a quarterback who has defied all expectations.
"It's just so fun to watch the development of Tyrone and how he's getting better and better week by week," coach Charlie Strong said. "Our offense is going to go as our quarterback goes."
One year ago this week, Swoopes made his post-midnight debut in the final minutes of a blowout at TCU. That impromptu appearance serves as a reminder now that, once
David Ash
went down, Swoopes was never going to be afforded the luxury of time or patience. And the initial results warranted concern.
Last fall, Swoopes was barely trusted to pass the ball in his mop-up minutes. This year, after an erratic spring game performance, Strong wondered like everyone else whether Swoopes' future was at quarterback. On Aug. 30, the head coach wasn't sure his young quarterback would've been prepared to replace Ash against North Texas in the opener.
"You look at it, and good thing that [Ash] was able to complete that game," Strong said, "because if we had thrown Tyrone in there in like the third or fourth quarter, would he be playing with the confidence he's playing with right now? And, actually, would he have been ready to go play and go into the game?"
All of those steps in this process raised valid questions. They also created myths: Swoopes has a big arm but no confidence, can't read defenses, is only comfortable running, is too quiet and not leader-like and is generally years away from being a quality Big 12 starting quarterback.
He's dispelled most of those notions in the past few weeks while exceeding even the most reasonable expectations. In this process of accelerated in-season development, he's proven things not only to his doubters, but also to himself.
"Sometimes when you hear those kinds of things, you kind of second-guess yourself," Swoopes said last week. "I've gone out there and showed myself that I really can do what the coaches think I can do and believe I can do."
The turning point, his peers say, came against Oklahoma on Oct. 11 and the two touchdowns drives he led from down 31-13. His fourth-quarter heroics against Iowa State – a 39-yard bomb to
Jaxon Shipley
followed by a 29-yard dime to
John Harris
, all in the final 30 seconds, to set up the winning field goal -- showed off how far he'd come: The big arm, the newfound precision, the confidence to take deep shots with time ticking, the never-in-doubt mentality.
"In my eyes," Harris said, "there's no turning back for him."
As Swoopes continues to figure out how good he can be, coaches are unpacking new wrinkles for Texas' offense. Co-offensive coordinator Joe Wickline installed read-option principles from his Oklahoma State playbook, which Swoopes used to rush for 100 yards (excluding sacks) against ISU.
And yet, it's his passing proficiency that's more startling. He averaged 183.5 passing yards in his first four starts. Now he's put up back-to-back 300-yard performances.
"When people see us play, they want instant success," Swoopes said. "I knew that wasn't going to happen, that wasn't going to be the case. I knew it was going to take a little bit for us to get going as a unit. I feel like these last couple games, we've gotten a lot better. We're going to a good place."
The simplification process is over, and Texas has an offense unlike any it foresaw in preseason. The pass game now sets up the run. With a patchwork offensive line and inconsistent run game, Texas had no choice but to highlight its first-time starter. Everything now runs through Swoopes.
Shawn Watson has said he sees his pupil more as a freshman than a true sophomore, at least in this teaching process. But after weeks of molding and teaching and baby steps, he asked Swoopes to take the big step against Oklahoma.
"I said, 'Dude, here's the deal: I see it in practice,'" Watson said last week. "'Every day, I see it in practice. I see you doing this. Now stop thinking in a game -- play, react, see and react, see and react. Trust yourself.'"
He's earned the Longhorns' trust, too. Teammates aren't ready to call Swoopes fast or a dual-theat yet -- "I'm going to say 1 ½ threat,"
Malcolm Brown
joked Monday -- but they can see how fast Swoopes has grown up.
"Every week that he plays better, our expectations get higher," Harris said. "He can be that guy here. I don't understand why people doubt him."
That could be the most improbable development of Swoopes' rise, and the greatest compliment he can be paid: After four seasons of instability, Texas might've finally found its QB to build around for the next few years.
"There's never been any doubt in our minds," Watson said. "There's been nothing but conviction that he's our guy. That's our starting quarterback. He's the guy [who] we need to develop."
October, 20, 2014
Oct 20
5:00
PM ET
AUSTIN, Texas -- Charlie Strong went back to his coaching playbook after Texas' 48-45 win over Iowa State and dug up a familiar tactic. He wanted to make sure his defenders hadn't deceived him.
When his defense met Sunday, they went to the tape. Strong pulled up five plays that bothered him. He'd caught a few players letting up, not running to the ball, jogging. So he brought back the lowlight reel.
"I said, 'This is not us, but I want you to see these five plays,'" Strong said Monday. "'If this is us, I need to know that. If it's an imposter wearing your jersey, I need to know that. I want you guys to watch this tape.'"
[+] Enlarge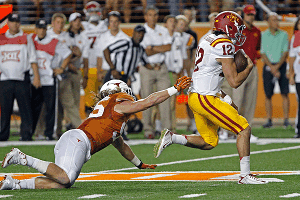 AP Photo/Michael ThomasSam Richardson and Iowa State humbled Texas' defense this past Saturday.
Strong used the same tactic this offseason, meeting individually with each Longhorn and showing them their worst plays of 2013. It's a measure meant to hammer home how good those players can be with better effort.
He brought it back this week because, seven games into this season, Strong has seen how good this Texas defense can be. He's OK with winning by three points. He's OK with a last-second victory, Texas' first win in a close game all season.
He's not OK with Iowa State putting 45 points on the scoreboard, 38 of them permitted by his defense.
"Our defense did not play to the standard we're used to seeing them at," Strong said.
Iowa State gained 10-plus yards on 22 different plays, the second most a Strong defense has allowed in his five years as a head coach. ISU quarterback
Sam B. Richardson
, responsible for 18 of those big gains, threw for 345 yards and three scores against the nation's No. 3-ranked pass defense.
Stats aside, Iowa State came into Texas' house, kept scoring in crunch time -- a TD with five seconds left in the first half, another with 28 seconds left in the ballgame -- and had a lot of right answers offensively.
"He was mad," Diggs said of Strong. "We're all mad. We know we didn't play well."
Credit masterful play calling from offensive coordinator Mark Mangino and consistently stout play from Iowa State's offensive line. With the exception of his two interceptions, Richardson played keep-away from Texas. He found holes in Texas' zone coverage with quick intermediate passes that beget good tempo.
Safety
Dylan Haines
picked off Richardson for a 74-yard touchdown, but conceded this unit backed off a little too much after Texas' offense provided a fast 14-0 start.
"We started missing keys, missing our drops in our zone coverages," Haines said. "I think when they started to make those throws, they were able to get momentum and move with tempo. I don't think we were ever able to slow them down after that."
Just two of Richardson's 55 attempts went longer than 20 yards. He got into a rhythm with tight end
E.J. Bibbs
, and missed tackles created opportunities for running back
Aaron Wimberly
. ISU's 38 points were all hard-earned.
"Those guys attacked all their keys and did everything they were supposed to do," cornerback
Quandre Diggs
said. "They didn't make many mistakes. They were throwing the ball quick, getting it out in a hurry. Those guys played a good game. We still won."
The good news, Strong says, is the particular mistakes and missteps Texas defenders made this past Saturday are teachable and correctable.
"It's all about fundamentals, technique, alignment, gap integrity, them making throws that never should've been made," Strong said.
He'll praise the growth of quarterback
Tyrone Swoopes
and Texas' offense and acceptable play on the special-teams front this week, no doubt. A four-loss team takes its wins by any means necessary.
But with a trip to No. 11 Kansas State up next, Strong will not take it easy on his defense this week. The shaming phase is probably complete. A little humbling never hurts. The next step? Address the formula the Cyclones offered and find a better way to stop it.
"If that formula's there," Strong said, "it's there every week in this conference."
Oklahoma State Suing Former Offensive Coordinator