Horns out to prove their start is no fluke
September, 24, 2012
9/24/12
8:00
AM CT
AUSTIN, Texas -- Coaching is a profession in which insecurities run deep, and game to game.
By its nature, happiness is not typically allowed, save for possibly the last few minutes of a convincing win. Instead there is a constant introspection into not only what the coach could do better, but what the team under him could do better as well.
Then again, Texas is 3-0. With 30 years and a title under his belt, a smile came easier for Mack Brown during the bye week.
[+] Enlarge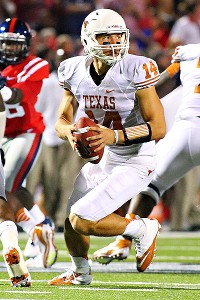 Spruce Derden/US PresswireDavid Ash has been more efficient in 2012 and the Texas offense has been stellar.
"If every time I felt good I pulled back, I'd be a miserable sucker in my life," Brown said.
And Texas and its fans have been miserable the past two seasons despite 3-0 starts. Texas finished 2010 with a 2-7 record. Last season there was improvement but still Texas was 5-5. Sure, in 2011, there were some good wins along the way; Texas A&M and Cal were the high points. But, by and large, losing to the likes of Oklahoma and Oklahoma State does not make for many happy moments on the 40 Acres.
Particularly when it has happened two straight years.
Ah, but it is a new year and the start of a new Big 12 Conference schedule is ahead. And hope, even in a jaded fan base, springs eternal. Submitted for evidence to just that fact:
Oklahoma did lose Saturday
.
As for Texas winning more than it loses this year ... "I don't know," Brown said. "That's why we all watch. There are going to be a lot of people watching."
Yeah, like recruits.
As for the others watching, what they have seen to date could serve as evidence that Texas is better suited to finish with double-digit wins.
The quarterback position has not appeared to be as big a liability as first suspected.
David Ash
is third in the conference in quarterback rating at 190.5 which is just 0.7 behind everybody's Heisman frontrunner, West Virginia's
Geno Smith
.
The running game, coupled with a tougher offensive line, has a new willingness to step over and through defenders. The Longhorns are second in the Big 12 in rushing offense at 258 yards per game. They trail only Oklahoma State, which has rushed for 395 yards against Savannah State and 330 yards against the other hyphen school in Louisiana, Louisiana-Lafayette.
And more importantly, or at least equally as important, is the fact that Texas has also refused to hand the ball to its opponent. Texas is sixth nationally in turnover margin one year after being 59th and two years after being 116th.
And then, of course, there is the ever-present resolve of the players.
"We are not satisfied," running back
Jeremy Hills
said.
That sentiment is not exclusive to Texas, but it does ring slightly hollow due to recent history.
Texas has to prove it before people are willing to believe it is back. And doing that this season could prove tougher than it was a year ago.
"I think we have a tougher schedule this year than we had last year, I believe," Brown said.
Brown has shoveled that dig in the face of Missouri and Texas A&M since realignment. He hasn't been wrong to say it either. West Virginia and TCU, at least to this point, appear to be significantly more formidable than those programs that exited stage left. Both are undefeated, and one, West Virginia, is headed to Austin in two weeks.
Right now, however, it is more about where Texas is headed. Not in the physical sense -- that is Oklahoma State for a Saturday night game -- but overall as a team emotionally and maybe even in the eyes of those who observe Texas.
"I know we're headed in the right direction," Brown said. "I'm not anointing us as a team that is going to win all the games. I do think last year we didn't have a chance to win all the games. The year before we were poor. Now, nobody's going to say absolutely that we don't have a chance."