Video: Looking at Texas' rush defense
October, 18, 2012
10/18/12
4:30
PM ET
By
HornsNation staff
| ESPN.com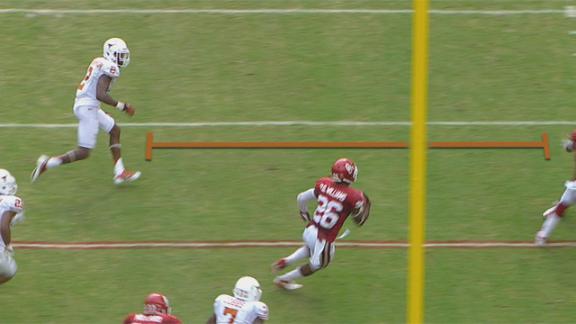 Oklahoma was able to successfully challenge the Horns rush defense and secondary.
ESPN Films Presents: Nixon's National Champs - Nixon vs. Paterno
In 1969, Joe Paterno thought a National Championship was on the horizon, but President Richard Nixon was standing in his way. Nixon's National Champs premieres Sunday December 28th at 10:30pm ET on ESPN.
ESPN Films Presents: Nixon's National Champs - Nixon vs. Paterno
VIDEO PLAYLIST
TEXAS FB RECRUITING SCORECARD
Longhorn_FB

Longhorn_FB


Photo Gallery: The #Longhorns participated in the #RodeoBowl in tonight's @TexasBowl event. Here's a look - http://t.co/xCduMrR0lP
about an hour ago

Longhorn_FB

Longhorn_FB


Photo Gallery: The #Longhorns held their 2nd practice in Houston on Friday afternoon. Here's a look - http://t.co/ssgb7i3gpS
about an hour ago

Longhorn_FB

Longhorn_FB


Video: Texas Bowl-Day 2. Longhorns hold their 2nd practice in Houston & spend the evening in a friendly competition. http://t.co/9Oq6AqYSeh
about 2 hours ago

thatsean

Sean Adams


I have to go with Dave Chapelle and Bernie Mack as my partners. Creativity and spontaneous! http://t.co/zRZ9O6FgsF
about 3 hours ago

Big12Conference

Big 12 Conference


Vote for @WVUfootball's game-winning FG by Lambert for the #Big12FB #TotPlays winner - http://t.co/TJWISiAgC5https://t.co/EbAK6qkU5b
about 3 hours ago

UT_Bianco

John Bianco


Charlie Strong heads into @TexasBowl Rodeo Bowl event earlier today. http://t.co/S3Te4cPvJc
about 5 hours ago

TreyHoltz

Trey Holtz


Congrats to @LATechFB on the huge win today! Always listened to my dad brag on all the players and coaches and it showed this year Congrats!
about 5 hours ago

Longhorn_FB

Longhorn_FB


It's a come-from-behind 4-3 #Longhorns victory in the #rodeobowl #HookEm http://t.co/diiV6YKXSq
about 6 hours ago

Longhorn_FB

Longhorn_FB


#Longhorns tie up competition at 2-all with win in the calf chalk branding. #rodeobowl
about 6 hours ago

Longhorn_FB

Longhorn_FB


Swoopes, Rose, Gray & Edmond win the Rope the Mascot event at #rodeobowl. #Longhorns http://t.co/wIfSmTAhYn
about 7 hours ago

Longhorn_FB

Longhorn_FB


We just had Touchdown dance off with the o-line. Orren, Cuney, Perkins, Doyle, Riser & Raulerson showing moves. http://t.co/T5qwIttoB3
about 7 hours ago

SBN_Wescott

Wescott Eberts


Good sign for Texas vs. Arkansas in #TexasBowl is performance vs. OU run game this season. OU No. 2 in rush S&P+, gained 103 yds vs. Texas.
about 7 hours ago

LonghornNetwork

Longhorn Network


#FBF to #ARKvsTEX, Sept 27, 2008. No.7 Horns beat Razorbacks 52-10. Watch it tonight 8CT LHN. http://t.co/Vqse8zhbMF http://t.co/HcNVcJ0nhd
about 7 hours ago

Longhorn_FB

Longhorn_FB


We are underway with the Rodeo Bowl. Looks like plenty of fun activities at tonight's @TexasBowl event. #Longhorns http://t.co/wLoA2HOh7h
about 7 hours ago

BON_SBNation

Burnt Orange Nation


Longtime BON reader @liches_ and buds are launching a Spanish Horns site, @CuarentaAcres. Y'all check it out.
about 8 hours ago

Longhorn_FB

Longhorn_FB


Today's practice complete. Now it's on to the Rodeo for some fun and dinner with @RazorbackFB #Longhorns http://t.co/Tr3wJGwIbu
about 9 hours ago

thatsean

Sean Adams


My goodness the @B1Gfootball is bad. Let's hope the league doesn't lose 9 more bowl games. The are underdogs in every single bowl game.
about 9 hours ago

max_olson

Max Olson


Easy choice. Congrats to KB. RT @CraigSmoak Art Briles says Kendal Briles is officially Baylor's OC moving forward
about 9 hours ago

thatsean

Sean Adams


I agree. I see him as a HC 10years from now. RT @ZaneMoneyEllis: @thatsean I think he needs to prove he can be DC at Big time place 1st.
about 10 hours ago

thatsean

Sean Adams


I'm happy for Manny Diaz. He is doing great stuff at Louisiana Tech. Was up for the Broyles Award this year. He'll end up being a HC. #Texas
about 10 hours ago

max_olson

Max Olson


Kids, do not lie to your doctors about concussions. The tough-it-out act in football is so foolish.
about 11 hours ago

Big12Conference

Big 12 Conference


The one-handed TD catch by @kstatesports' Sexton in week 6 is a #TotPlays finalist. Vote - http://t.co/TJWISiAgC5https://t.co/oeSojz5mn7
about 11 hours ago

AllanTaylorWVU

Allan Taylor


Trickett just told us he had 5 concussions in 14 months, hiding 2 from trainers. Will retire from football and begin coaching.
about 11 hours ago

Big12Conference

Big 12 Conference


#Big12FB bowl games begin in three days with three contests set for Monday, Dec. 29. Here's the full schedule: http://t.co/n4AFvOG7PP
about 12 hours ago

ADLT36

Alex De La Torre


Appreciate those who appreciate you.
about 12 hours ago

ESPN_CoachMack

Mack Brown


"The price tag you put on yourself decides your worth. Underestimating yourself will cost you dearly." A Dubey
about 14 hours ago

Big12Conference

Big 12 Conference


#Big12FB: @kstatesports' Lockett's week 5 58-yd punt return is a #TotPlays finalist. Vote - http://t.co/TJWISiAgC5https://t.co/oSNYeechfw
about 14 hours ago

LonghornNetwork

Longhorn Network


On the fourth day of Texas, the Longhorns gave to me...FOURty acres of pure glee.http://t.co/3xkG9jCF8V http://t.co/UZeIe9Jxrr
about 15 hours ago

Coach_MannyDiaz

Manny Diaz


Even the fancy lit up tower ball thingy knows what's up. Go Dogs. @HODBowl http://t.co/Ic6SpONF02
about 18 hours ago

ATXANT10

ANTHONY GERONIMO


My guy @TheGreatKambino says 50 days til longhorn baseball starts!!! The Horns are bacccckkk!!! Countdown to Omaha!!! http://t.co/J2DcyR78r5
1 day ago

TheSamAcho

Sam Acho


Merry Christmas everyone. So thankful 4 the birth of Jesus. He really is the reason for the season. He made everything new. #MerryChristmas
1 day ago

Longhorn_FB

Longhorn_FB


Video: Texas Bowl - Day 1. Longhorns held their first bowl practice on Thursday & enjoyed a family Christmas dinner. http://t.co/jAsWJTPqUL
1 day ago

LJonesy7

Lisa K J


@ESPN_CoachMack @ColtMcCoy @CaseMcCoy6 @tswoopes18 @Longhorn_FB @TexasSports some good looking Longhorns!! http://t.co/HKr2x0TgPZ
1 day ago

Longhorn_FB

Longhorn_FB


Video: Texas Bowl - Day 1. Longhorns held their first bowl practice on Thursday & enjoyed a family Christmas dinner. http://t.co/jAsWJTPqUL
1 day ago

ESPN_CoachMack

Mack Brown


Classy game between the Heat and Cav's tonight. The Fans and the players were great. A fantastic show of sportsmanship!
1 day ago

Longhorn_FB

Longhorn_FB


1st practice in Houston & Christmas team dinner in the books. Here's a message from All-American Malcom Brown http://t.co/nvkvJXFzfk
1 day ago

ESPN_CoachMack

Mack Brown


"@SSearels: Merry Christmas from the Searels family!#MilitaryBowl14 http://t.co/MNvqlXVB4O"What a great looking Family
1 day ago

DavidSmoak

David Smoak


And, @ChadPres10 said @CoachPMonty told him, "I'm about to do a back flip and just hope I don't pull a muscle, what a tremendous Christmas!"
1 day ago

OurDailyBears

OurDailyBears


And now Chad gets to go play for the same coach that recruited him for 2 years in the system he already loves. Very logical move.
1 day ago

SBN_Wescott

Wescott Eberts


QB Chad President's commitment to Tulsa a historic pledge for new HC Phillip Montgomery. http://t.co/Dr4GL1eIN4 http://t.co/JakGIb9Bgn
1 day ago

SBN_Wescott

Wescott Eberts


4* QB Chad President RT @ChadPres10: Let's ride!!! Tulsa it is!!!! Oklahoma here I come! http://t.co/8YIdexfa5C
1 day ago

max_olson

Max Olson


I'm in Nebraska City, so heck yes the 1998 Orange Bowl is in the VCR. http://t.co/TOWnkv9ghZ
1 day ago

chrisgb00

Chris Bennett


@ESPN_CoachMack #Hookem means #1 #TheSeason2005TexasLonghorns https://t.co/agxwNUQtCF
1 day ago

LonghornNetwork

Longhorn Network


On the fifth day of Texas, the Longhorns gave to me... a win over USC. \m/http://t.co/vBzTENI5JD http://t.co/BqNFh6LaPA
1 day ago

Coach_MannyDiaz

Manny Diaz


JYStaff. Family. http://t.co/37TCPt4mXS
1 day ago

Coach_MannyDiaz

Manny Diaz


The #JYD. These guys set the standard. Not done yet http://t.co/BDUYfKk86F
1 day ago

max_olson

Max Olson


What country do we live in? I think it's America! College football's quotes of the year http://t.co/TIXRkRUfT3 🇺🇸
1 day ago

HookEm

Hook 'Em


Happy Holidays Longhorn Nation! Tune in now to see @BEVO_XIV on @LonghornNetwork for BEVO: Home for the Holidays! http://t.co/2ZNGbZYy74
1 day ago

TexasSports

Texas Longhorns


RT @bevo_xiv: See you on Christmas morning! I'm gonna eat more than all of y'all. @LonghornNetwork 7am-noon CT http://t.co/ehfIs5baEA
1 day ago

LonghornDigest

Kevin Flaherty


Merry Christmas, everyone. Hope you have a wonderful holiday season!
1 day ago

ChristianC0rona

Christian Corona


Woke up early today, saw @ESPN_CoachMack and the Horns win the 05 nat'l title. Reminded me of best Xmas gift I ever got: ticket to that game
1 day ago

ESPN_CoachMack

Mack Brown


Here's wishing you and all your loved one's a very Happy and Merry Christmas! Have a fun day!
1 day ago

Coach_MannyDiaz

Manny Diaz


Merry Christmas!!! http://t.co/IBecJD48Vk
1 day ago

TexasSports

Texas Longhorns


Make it a BEVO Christmas. 5 hours of uninterrupted BEVO on his ranch TODAY from 7am-noon CT. (H/T @LonghornNetwork) http://t.co/z9X6RBsPUf
1 day ago

LonghornNetwork

Longhorn Network


Grab egg nog and join BEVO this morning!Watch BEVO Home for the Holidays 7am - Noon CT --> http://t.co/oLpEDwk1ci http://t.co/RT0lzM42fN
1 day ago

TXStampede

Doug Farrell


It's early but my guess about right now is thousands of father's waking muttering to themselves, "I FORGOT AA BATTERIES!" #MerryChristmas
1 day ago

TXStampede

Doug Farrell


Please pray for all Peshmerga fighters and Yazidi citizens today. @starsandstripes 1http://1.usa.gov/13Gk4xk
1 day ago

thatsean

Sean Adams


Merry Christmas! Enjoy the food the family and the hugs! H/T to Florida Evans! #AdamsTheory #GoodTimes… http://t.co/w4BmP5znqp
2 days ago

BubbaUNC

Bubba Cunningham


Merry Christmas from the Cunninghams in Detroit! @quicklanebowl 🎅🎄🎁⛄️ http://t.co/xQYmW72D9D
2 days ago

TommyBahammy

Thomas Anderson


Watching the Texas Longhorns 2005 Season!!! Such a damn good year! That whole team was so loaded! Thank you @ESPN_CoachMack
2 days ago

CUSAFB

C-USA Football


.@HerdZone's Cato, @WKUFootball's Doughty & @RiceFootball1's Jackson a combined 71-of-103 for 1,085 yds, 11 TD, 0 INT in bowls. #CUSAFB QBs
2 days ago

LonghornDigest

Kevin Flaherty


Highly successful Christmas at the in-laws. Going to be a great holiday!
2 days ago

Jordan_Shipley

Jordan Shipley


Best birthday ever!!! My wife @SunnyShipley and 83 yr. old grandmother Addie took two monster 8's for @TecomateWS. http://t.co/q9A3UxdTPg
2 days ago

SBN_Wescott

Wescott Eberts


In fact, if Chad President commits to Tulsa tomorrow, he would be the first 4* prospect to do so since QB Shavodrick Beaver in 2009.
2 days ago

SBN_Wescott

Wescott Eberts


Suffice it to say that landing a prospect of Chad President's quality would be a major coup for Tulsa/Montgomery.
2 days ago

SBN_Wescott

Wescott Eberts


Tulsa has been trending heavily for Temple QB Chad President since Baylor decommitment. Just hired former Baylor OC Phillip Montgomery as HC
2 days ago

ChadPres10

Mr.NVO


Tomorrow will be a special day. It'll be Christmas and I'll make a commitment! Thank you for everyone for the love and support. Love you all
2 days ago

ChipBrownOB

Chip Brown


Mucho, mucho thanks!! Merry Christmas!! ... RT @KamikazeUT_HORN: @HornsDigest @ChipBrownHD Best Texas pay site around.
2 days ago

thatsean

Sean Adams


Me either. Beautiful play but low completion rate. RT @Keith23Tx: @thatsean I don't understand the infatuation with the fade
2 days ago

LonghornNetwork

Longhorn Network


Make it a BEVO Christmas. 5 hours of uninterrupted BEVO on his ranch. That's right Longhorn fans. You're welcome. \m/ http://t.co/r61TfeLObU
2 days ago

TXStampede

Doug Farrell


...And God bless all those who are on duty tonight protecting us: Doctors, Nurses, EMT, Police officers, Fire fighters, and US Military.
2 days ago

TXStampede

Doug Farrell


Nursing a scotch whiskey thinking of all the poor souls nursing IV's in hospitals. God bless them and their families this Christmas eve.
2 days ago

SBN_Wescott

Wescott Eberts


Key Texas CB target Kris Boyd has pushed back his announcement date. #hookem http://t.co/FGFYoEOYs2 http://t.co/4CMOWNpK1i
2 days ago

SBN_Wescott

Wescott Eberts


Gilmer star Kris Boyd RT @kris23db: I apologize to everyone who's waiting but I've pushed my commitment to the end of January.
2 days ago

Big12Conference

Big 12 Conference


Happy Holidays to you and yours! Share the spirit with a customized greeting of your favorite #Big12 school - http://t.co/5ufglCk5cd
2 days ago

LonghornDigest

Kevin Flaherty


People who follow me know it's a pet peeve of mine. BUT NEVER, EVER THROW A FADE IN A ONE-OFF SITUATION. EVER.
2 days ago

thatsean

Sean Adams


That's awesome going for it but THAT play call. WKU played small the whole second half and almost lost.
2 days ago

LATechSports

LA Tech Sports


A little fun after @LATechFB practice today. The offensive vs defensive coaching staff! http://t.co/GYUGKQVDma
2 days ago

thatsean

Sean Adams


You have got to be kidding me! Central Michigan and Western Kentucky. #MacAction
2 days ago

LonghornDigest

Kevin Flaherty


lkasjdflk;ajsl;djfl;ajsdljfal;jsdfl;jalsjdfl;ajsl;djfls OMGOMGOMG
2 days ago

thatsean

Sean Adams


Should have never hit 'send' to start! RT @BSO: Brennan Clay Takes Wife Back After She Cheated With DeMarco Murray http://t.co/fBcSoFw03r
2 days ago

thatsean

Sean Adams


Wow, I thought there was no way Central Michigan could come back in this game. They are putting on a show for the 10's of fans that went!
2 days ago

LonghornDigest

Kevin Flaherty


Oh hai, Central Michigan.
2 days ago

BaylorVBall

Baylor Volleyball


Baylor Nation, please welcome @RyanMcGuyre as the 9th BU Volleyball Coach in School History #SicEm http://t.co/ilcCdncRkl
2 days ago

ChipBrownOB

Chip Brown


HD ONLY will be hung by your chimney w/ care TONIGHT! #Texas Bowl practice report & recruiting updates via @Jason_Higdon and @WVWilkerson!
2 days ago

HornsDigest

HornsDigest


Looking for the perfect #StockingStuffers? Get your loved one a @HornsDigest membership for only $4.17 per month! http://t.co/unVQT2yXyS
2 days ago

ChipBrownOB

Chip Brown


WIN a $50 gift card to http://t.co/dLOtvizkRV! Put a slogan on Charlie Strong's burnt orange mock turtleneck at HD!http://t.co/iAWRS5FTtI
2 days ago

UTexasEquipment

UTexas Equipment


Player bags are loaded. Headed to Houston @TexasBowl http://t.co/Fb0VBYIdeC
2 days ago

HornsDigest

HornsDigest


HD Roundtable: @HornsDigest crew discusses who the #Longhorns top uncommitted prospect is - http://t.co/tU3EWb0gOr http://t.co/p2JE9vp3oa
2 days ago

HornsDigest

HornsDigest


The #Scout70: Biggest Stories of the Year - http://t.co/Higk3KcvzJ http://t.co/OK7ThxwtE0
2 days ago

SlaterESPN

Jane Slater


"@jimi_jimijones: Next ESPN superstar @SlaterESPN http://t.co/TpJLBJOB5v" so sweet :) nice meeting u
2 days ago

Horns247

Horns247


Marcus Hutchins was a defensive afterthought. Now he's UT's starting LT. A 2nd chance tale... http://t.co/tjjouUObkr http://t.co/ifffghpNGk
2 days ago

LonghornDigest

Kevin Flaherty


Kansas beat Central Michigan by 14. With Weis. RT @LandThieves The MAC is godawful and pimp slapped multiple teams in the Big Ten
2 days ago

FansOfKU

Kansas Jayhawk Fans


Out of the 56 colleges of which players were selected from to play in this year's NFL Pro Bowl, only 6 had more players picked than KU
2 days ago

LonghornDigest

Kevin Flaherty


Interesting stuff. RT @TTech247 Chad President discusses his announcement date and what went wrong at Baylor (VIP): http://t.co/uaSlNVNW4Q
2 days ago
BIG 12 SCOREBOARD
Friday, 12/26
Saturday, 12/20
Monday, 12/22
Tuesday, 12/23
Wednesday, 12/24
Saturday, 12/27
Monday, 12/29
Tuesday, 12/30
Wednesday, 12/31
Thursday, 1/1
Friday, 1/2
Saturday, 1/3
Sunday, 1/4
Monday, 1/12
BLOG ARCHIVE:
CATEGORIES: