October, 2, 2014
Oct 2
10:30
AM PT
LOS ANGELES – It's been a little over a year since the Disaster in the Desert, a Pac-12 South Division game in which the
USC Trojans
not only lost badly against Arizona State 62-41 on a Saturday night in Tempe but was further compounded by the LAX tarmac firing of its head football coach, Lane Kiffin, after the late-night flight home.
It could be argued that the final score in Sun Devils Stadium last Sept. 28 not only was the low point of the 2013 season, but an additional unwanted chapter in the Trojans NCAA-sanctioned era. As they say, however, for every storm there is a rainbow.
Fast-forward to last week's 35-10 victory over previously undefeated Oregon State, and the Trojans are now 3-1 overall, and for the first time since 2007, the Men of Troy have started conference play 2-0.
October, 2, 2014
Oct 2
9:00
AM PT
By
ESPN.com staff
| ESPN.com
Why Oregon will win:
Two years ago,
Kevin Hogan
made his first road start at Autzen and won.
Anu Solomon
is making his seconds career road start. The difference was Stanford had a defense to back up Hogan. Arizona's defense isn't on that level yet. This has track meet written all over it. And maybe it will be. But eventually home-field advantage will make an impact. And the first time Arizona makes a mistake, the Ducks will pounce. -- Kevin Gemmell
Why Stanford will win:
I'm not sold on either team's offense but I think Stanford has faced tougher competition. Everything that has gone wrong with the Cardinal this year is fixable and coachable. If Stanford can clean up some of its procedural issues, it's going to put up points. The Cardinal have all the ingredients to be an effective red zone team. The defense needs no fixing. It's No. 1 in the country for a reason. I like the Cardinal here in a one-possession game. -- Kevin Gemmell
Why Notre Dame will win:
Both teams play great
defense
, but Notre Dame is getting more superior play at quarterback with
Everett Golson
than Stanford is getting from Kevin Hogan. I particularly like Golson's improved maturity as a passer, which makes his running ability even more dangerous. Further, home-field advantage can't be discounted. It was a factor for the Cardinal last week in Husky Stadium and it will be a factor again in front of Touchdown Jesus, only this time Stanford will come up short. -- Ted Miller
Why Oregon State will win:
Sean Mannion
and his receivers will have been itching to get back onto the field since their loss in Los Angeles and they're going to want to make a statement. Colorado, still fuming from their double-overtime loss, is going to press a bit early, giving the Beavers a chance to get out to a quick start and, even if receiver
Victor Bolden
isn't in the game, allow Mannion a chance to gain some confidence with his other receivers. Colorado is also giving up 5.0 yards per rush. Look for
Storm Woods
to have a breakout game on the road and Mannion to button up this offense and make this a true business trip for the Beavers.-- Chantel Jennings
Why Colorado will win:
The Buffs are back at home. Their offense is brimming with confidence after putting up 56 points in last week's double-overtime loss at Cal. Meanwhile, Oregon State is reeling after Sean Mannion struggled while USC racked up 461 yards of total offense on them. Colorado enters a truly brutal stretch to close the season after this -- at USC, vs. UCLA, vs. Washington, at Arizona, at Oregon, vs. Utah -- so I expect Mike MacIntyre's squad to come into this one with an unmatched sense of urgency. Because of that, expect more big things from
Nelson Spruce
, who has broken Colorado's single-game reception record two weeks in a row (19 catches last week). -- David Lombardi
Why USC will win:
In the what-have-you-done-for-me-lately world of college football, USC made it easy to forget about its trip to Boston College with a sound defeat of Oregon State, while Arizona State's defense showed an inability to tackle against UCLA. Hard to go against the Trojans at home with those two games fresh on the mind. -- Kyle Bonagura
Why UCLA will win:
Now that the Bruins have proven they are who we ... well, at least can be who we thought they were, there's far less reason for concern. Utah, however, has some major offensive worries following a home loss to Washington State in which the Utes simply couldn't move the ball. It was hard to look at them like a bowl team, let alone one that would go to UCLA and win. -- Kyle Bonagura
Why Washington State will win:
Both teams score points in bunches, and I like Cal's superior balance, but this one will come down to which defense can make a few stops. While, statistically, the defenses are comparable, what the Cougars did against Oregon and Utah suggests it has a better chance to throw the decisive blow (or two). -- Ted Miller
October, 2, 2014
Oct 2
8:00
AM PT
No one's going to remember the Open five years from now, who won... but they'll remember your 12! My, God, Roy, it was ... well, it's immortal!
Leading off
For months, we've been hearing the word "autonomy" when it comes to the five wealthiest conferences in college sports, aka The Power 5. Wednesday was the first day that autonomy structure went into effect, the the Power 5 outlined
some of the changes
it plans to make.
Per the Associated Press, some of those changes include:
Funding athletic scholarships that would cover the full cost of tuition.
Guaranteeing multiyear scholarships for athletes.
Lifetime scholarship guarantees that would allow former athletes to return to school at any time and complete their degrees.
Providing long-term health care and insurance to former athletes.
No rule change can occur until the start of the 2015-2016 season and the Pac-12 presidents and chancellors will meet later this month to discuss how best to implement the changes. These reforms are consistent with a letter the Pac-12
sent out in May
proposing several changes to the current structure.
"Student-athletes make tremendous contributions to their schools on and off the field and we want to boost the assistance they receive," said Pac-12 Commissioner Larry Scott in a release sent out by the conference on Wednesday. "Better meeting their evolving needs will allow us to preserve, and improve upon, the existing collegiate experience that has provided millions of student-athletes access to higher education and transformed the lives of so many young men and women."
What might have been
There was a chance that
Jameis Winston
might have ended up in the Pac-12. For those who remember the 2012 recruiting season, the
Stanford Cardinal
were hopeful that Winston might break his commitment to Florida State and end up on the West Coast.
Jon Wilner of the San Jose Mercury News wonderfully weaves in a Gwyneth Paltrow reference -- because, why not? -- when
running the subject by coach
David Shaw
.
Here's what Shaw told Wilner:
There are so many what-ifs during recruiting. There are players on lots of teams who could have ended up here ... It's two different environments; it's two different places. I don't know what would have happened.
It's an interesting read from Wilner with a couple more quotes from Shaw.
News/notes/team reports
Just for fun
A
hilarious segment
from USC with their players and coaches reading each other's tweets.
Awesome Mac quote.
#CUBuffs coach Mike MacIntyre was asked why OSU had trouble moving ball against USC "The USC dudes on the other side. They got some dudes."

— Kyle Ringo (@KyleRingo) October 1, 2014
Todd Graham has talked about putting up fences to keep Arizona guys in state. Billboards will have to do while the fences are under construction.
I love the billboard of @untouchablejay4 with the @SparkyArizonaSt helmet. Thanks @SharkeyAZ pic.twitter.com/70CJcL6yBh

— Rocky Harris (@SunDevilRocky) September 30, 2014
October, 1, 2014
Oct 1
4:44
PM PT
With the
Arizona State Sun Devils
coming to town this weekend, the Trojans were in shorts, shoulder pads and helmets on Wednesday, taking part in a two-hour practice session. USC head coach Steve Sarkisian came away pleased with the way quarterback
Cody Kessler
and the offense took care of the ball – something that they have done on a consistent basis this season. Through four games the Trojans offense has committed a total of just two turnovers (both fumbles), while conversely, the defense has forced nine turnovers (seven interceptions and two fumble recoveries).
To continue reading this article you must be an Insider
October, 1, 2014
Oct 1
12:21
PM PT
By
ESPN.com staff
| ESPN.com
October, 1, 2014
Oct 1
8:00
AM PT
"It says here breakfast anytime?"
"That's right."
"I'll have the pancakes in the Age of Enlightenment please."
Leading off
It's depth-chart Wednesday. As we do every week, here are the links to the teams playing this week followed by any significant notes. Washington is on bye this week, so we'll update the Huskies next week. The other 11 teams are in action. UCLA is the only team that doesn't do a weekly depth chart. Enjoy!
Notes
Heisman chatter
The
Heisman Pundit
has released its weekly straw poll. As always, it is made up of 10 anonymous Heisman voters. And despite a bye week, Oregon quarterback
Marcus Mariota
hasn't slipped a bit. Here are the results of this week's poll. Mariota received seven of the 10 first place votes.
Marcus Mariota, QB, Oregon -- 23 (7)
Todd Gurley, RB, Georgia -- 18 (3)
Kenny Hill, QB, Texas A&M -- 7
Amari Cooper, WR, Alabama -- 5
Ameer Abdullah, RB, Nebraska -- 4
Melvin Gordon, RB, Wisconsin -- 2
Jameis Winston, QB, Florida State -- 1
Chip Patterson of CBS
also weighs in on Mariota and notes that
Brett Hundley
climbed back into the conversation with his performance against ASU.
Tune in
Yours truly joined ESPN Radio 1080 The Fan in Portland last night if you're
aching for some pod
.
News/notes/team reports
Just for fun
USA Today wants to know which team
has the best helmets
? ASU and Oregon are in the discussion.
Speaking of the Ducks, their unis for this week.
Thursday's uniform is designed to help raise awareness for women's cancers @KayYowFund #Play4Kay #GoDucks pic.twitter.com/nT1COEKFPy

— Oregon Football (@WinTheDay) September 30, 2014
September, 30, 2014
Sep 30
8:00
PM PT
Football has always taken a back seat to other sports at Moraga (California) Campolindo High School when it comes to famous alumni. Matt Biondi leads the way for men's swimming, and five former baseball players, along with announcer Matt Vasgersian, made their way to the major leagues. While the football program hassent kicker Giorgio Tavecchio and punter Jackson Rice to California and Oregon, respectively, it's about to get a significant boost from ESPN 300 tight end
Tyler Petite
, the No. 132 prospect in the country.
Petite will be the first highly recruited position player from Campolindo. He was honored for that Tuesday afternoon, when Petite was presented with his Under Armour All-America Game jersey in a ceremony sponsored by American Family.
"It's crazy," Petite said of the attention heaped upon him Tuesday. "I don't really have a manual on how to take it all in or handle it. It's surreal almost. I'd watch the Under Armour Game on TV and always thought it would be so cool if I could play in that."
Petite said there were a lot more people than he expected who showed up for the ceremony, though he probably shouldn't be too surprised considering the family atmosphere that's been established with his football team. It was one of the things that led him to commit to Duke this past summer.
"This is one of those places -- it's a little hard to explain if you don't go to Campo," Petite said. "Our team is to tight-knit. It's like Duke in how we aren't expected to be the best team in the area, but we're starting to build that rep. We have four losses in four years and we're playing some top-tier teams. That's what Duke is doing. They're playing with incredible teams and winning games."
Petite said he still speaks with USC coaches -- one of his two finalists, along with Duke -- but added that at this point, he is still "100 percent" committed to the Blue Devils.
Five questions with Tyler Petite
What one player are you looking forward to competing with or against at the game?
"Honestly, I'm just ready to go up against some of the top players in the country, but I want to see what these quarterbacks have. There's a lot of hype around [Josh] Rosen and [Blake] Barnett and I want to go out there and play with them. I want to show everybody what I have and play with the top dogs.
What was your earliest football memory?
"My first memory in football was my first play. Back in third grade -- we played flag football back in the day -- I was playing quarterback and faked a hand off on a bootleg and went 60 yards for a touchdown. That feeling you get running by everybody. I was watching college football later that day and I started thinking about how much I would love to play college football."
If you could take on any pro player in their sport who would it be?
"I would love to go up against LeBron in the NBA. I would get totally murdered, but it would be crazy to see that guy fly around."
Why do you wear your number?
"Right now I wear No. 8. There's a tradition at our school with that number. Two of the best quarterbacks to come through here wore it and Vince Graziano, who was here my freshman year when our team went to State. He played tight end too and is a guy with a mind set that I want to follow.
What is one thing people would be surprised to know about you?
"I'm kind of rocking a beard right now so I look like I'm about 28 years old. But really I'm like a little kid, always ready to have fun."
#ESPN300 TE Tyler Petite sports his new #UAALLAMERICA jersey. https://t.co/PughV3ZXyF

— RecruitingNation (@ESPNRNFball) September 30, 2014
September, 30, 2014
Sep 30
3:40
PM PT
The Trojans started gearing up for Arizona State on Tuesday, with the team taking part in a full-pads practice session that was marked by some staunch play by the Trojans' defensive front seven, particularly during one 11-on-11 period in which
J.R. Tavai
,
Hayes Pullard
and the entire interior group came through with some impressive stops. And with a Sun Devils' squad coming to town that ranks No. 2 in the Pac-12 in total offense (560.8 ypg) and No. 1 in rushing offense (262.8 ypg), it's something that certainly didn't go unnoticed by USC head coach Steve Sarkisian.
"I was really impressed with the defensive front at the line of scrimmage today in the team run period," Sarkisian said. "I think that's going to be critical in the game Saturday with the tempo at which Arizona State operates at. With the guys they have running it,
D.J. Foster
and those guys, we're going to have to be really good up front Saturday."
With temperatures expected to soar -- at least during the early portion of the game -- combined with Arizona State's up-tempo offensive system, another point of emphasis was making sure that a large number of players up and down the depth chart were getting plenty of work in on Tuesday.
"Obviously, we've all see the forecast coming for Saturday, and it's going to be warm -- mid-90s," Sarkisian said. "I think Arizona State ran 111 plays versus UCLA the other night, so both teams are going to go fast, so we really have to prepare ourselves, and it started today -- playing all of our available people in all three phases of the game."
Injury report
Victor Blackwell update
Reportedly upset with his playing time, USC fourth-year junior wide receiver Victor Blackwell stopped attending practices and meetings at some point following the Trojans' loss to Boston College, and on Tuesday Sarkisian said that he hasn't seen or heard from him in over two weeks now.
When asked whether or not Blackwell was still with the team, Sarkisian said, "If he decides that he wants to talk to me, then we'll talk about it."
News and notes
Freshman cornerback Adoree' Jackson came out with the No. 1 defense when the first 11-on-11 period started, and he appeared to stay there throughout a majority of the day. Kevon Seymour was at the other cornerback position.
There was plenty of work featuring the No. 1 offensive and defensive units going up against the scout teams, with Bryce Dixon, JuJu Smith and Steven Mitchell hauling in deep passes, and Javorius "Buck" Allen and Justin Davis breaking off some long runs. Sarkisian had noted on his Sunday night media call that he wants to see the tailbacks do more once they get to the second level in terms of breaking tackles and getting by defenders, and he seemed pleased with the initial progress that they showed on Tuesday. "I thought they were good," Sarkisian said. "A lot of that stuff has to be applied in our scout team periods because a lot of those runs get to the second level. When we go to our team run period it's tough. So, when we get to our scout team periods it's about developing a plan. It's not just getting to the second level and just running straight ahead as fast as you can go. It's about the leverage of the safety -- How's the safety coming to tackle me? What move can I anticipate using? Is it a straight-arm? Is it a cutback. ... It's developing that skill-set, that tool box of how to run. So, we just have to continue to coach it and develop their confidence, because it's not about ability -- they're plenty talented. It's just a matter of practicing it and getting their awareness up about it, and I think they've been very good."
A number of NFL scouts were in attendance on Tuesday, including those from the Cincinnati Bengals, Houston Texans and Tampa Bay Buccaneers.
September, 30, 2014
Sep 30
6:00
PM PT
Here's another look at random stats pertaining to the Pac-12.
Thursday
Arizona at No. 2 Oregon
Saturday
No. 14 Stanford at No. 9 Notre Dame
California at Washington State
Oregon State at Colorado
Arizona State at No. 16 USC
Utah at No. 8 UCLA
Past weeks
Week 1
Week 2

Week 3
Week 4
Week 5
September, 30, 2014
Sep 30
2:00
PM PT
By
ESPN.com staff
| ESPN.com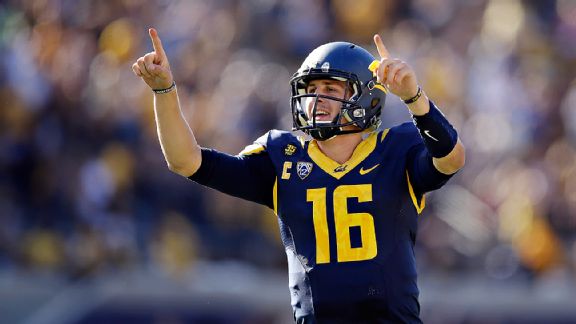 Ezra Shaw/Getty ImagesCal QB Jared Goff has 17 touchdown passes in four games. He had 18 last season.
The Pac-12 typically has great quarterbacks and good depth at the position, but the 2014 season is particularly stacked behind center. With a few All-American candidates and early NFL draft picks, it's almost difficult to keep up with who's doing what to which secondary.
No worries. We've got you covered. Each week, we will provide you a top-five ranking of the Pac-12 QBs.
Now, it won't always be a 1 to 5 ranking according to the expected pecking order at season's end or NFL draft lists. It will react heavily to the preceding week. And we'll try to spread some love.
Inactive Week 4
:
Marcus Mariota
, Oregon;
Anu Solomon
, Arizona.
To see last week's rankings, click here.
September, 30, 2014
Sep 30
10:39
AM PT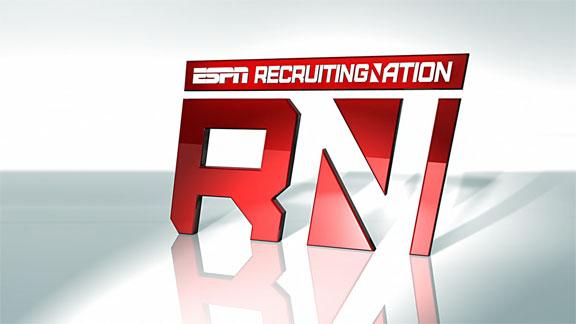 In late July, USC kicked off the 2016 class by picking up a commitment from former Michigan high school standout and current Saint Bonaventure High athlete
Daelin Hayes
. Fast-forward two months, and No. 210 Hayes is now one of two ESPN Jr 300 prospects committed to the Trojans after the pledge of
Isaac Garcia
on Sept. 29.
To continue reading this article you must be an Insider
September, 30, 2014
Sep 30
10:00
AM PT
We should know better by now. On weekend's when not much should happen, EVERYTHING WILL HAPPEN. And it happened this weekend. There are quite a few awesome plays up for the Pac-12 Blog's Play of the Week (and even more that just didn't make the cut -- we can only have five, sorry guys) and now it's your turn to vote for which was the best of the best.
Montgomery goes bowling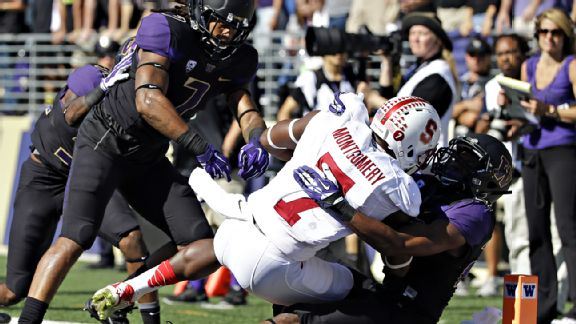 AP Photo/Elaine Thompson
Every wonder what it's like to be a human blocking sled? Well, Washington sophomore defensive back
Trevor Walker
discovered that on Saturday as Stanford receiver
Ty Montgomery
literally bowled him into the end zone. One defender approached Montgomery around the 8-yard line. He collided with Montgomery and flew out of bounds (that's
not
how tackling is supposed to happen). Then Walker met up with Montgomery at the 5-yard line before being bulldozed into the end zone. I think we can all agree -- that's how linemen and some fullbacks play. Wide receivers? Nah. Unless your name is Ty Montgomery.
Definitely, Mayle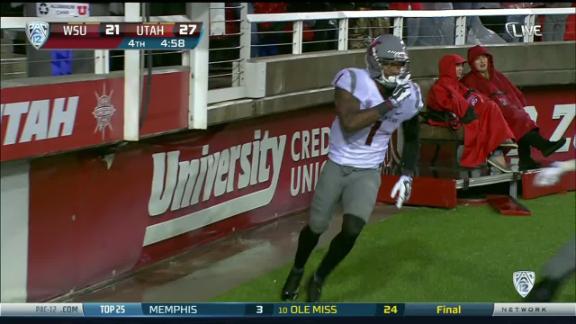 Washington State mounted a surprising comeback in the second half against Utah after going down 21-0 early and still training by 17 at the half. But an 81-yard touchdown by Washington State receiver
Vince Mayle
tied everything up in Salt Lake City (the extra point gave the Cougars their final margin for victory). With just about five minutes left in the game, QB
Connor Halliday
hit Mayle on the slant. Mayle got by one defender before a fellow receiver threw a perfect block to spring him, untouched, another 55 yards into the end zone.
Call me Ishmael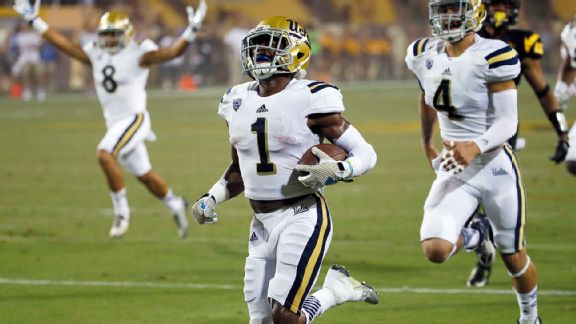 AP Photo/Matt York
With UCLA leading by just three points and the first half nearly coming to a close, UCLA defensive back
Ishmael Adams
managed to pick off Arizona State quarterback
Mike Bercovici
at the 5-yard line and returned it 95 yards for the score. Later in the game Adams would return a kick off 100 yards for a score, which is also ridiculous, but, the Bruins already had a hefty lead at that point and the Pac-12 writers decided to give the edge to the pick-six that totally deflated the ASU team before heading into the half.
Hail Mary 2.0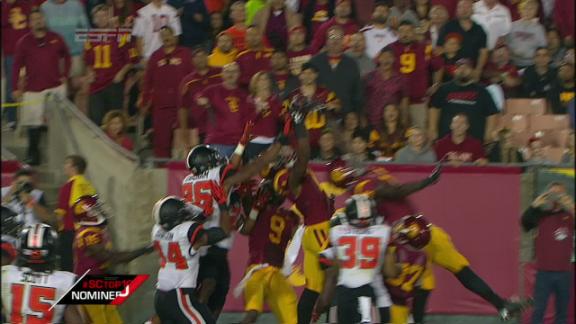 After Arizona beat Cal last week on a Hail Mary, USC threw one of its own against Oregon State. With the clock expiring before halftime and the Trojans only leading by four points, USC quarterback
Cody Kessler
scrambled around the pocket for a bit before he launched a 48-yard pass to the end zone where it found the hands of sophomore wide receiver
Darreus Rogers
. USC would go on to win the game by 25 points, but this play was certainly deflating for a the Beavers, who had shown signs of possible upset material early in the game.
Let's go Lasco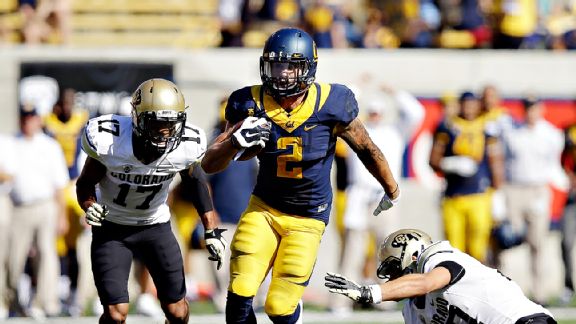 Ezra Shaw/Getty Images
Cal junior running back
Daniel Lasco
recorded the first "receiving" touchdown of his career on Saturday, though most of his work was put in on the ground. He snatched a pass from Cal QB
Jared Goff
before taking off down field. Before he even reached the 20-yard line there was a point in which there were five Colorado defenders circling in on him. He plowed through that group somehow before outrunning another two guys and finding the end zone. Not only was it ridiculously impressive to beat seven defenders head-to-head in a single play, it was also record setting -- the 92-yard receiving touchdown was the longest passing play for a TD in Cal football history.

September, 30, 2014
Sep 30
10:00
AM PT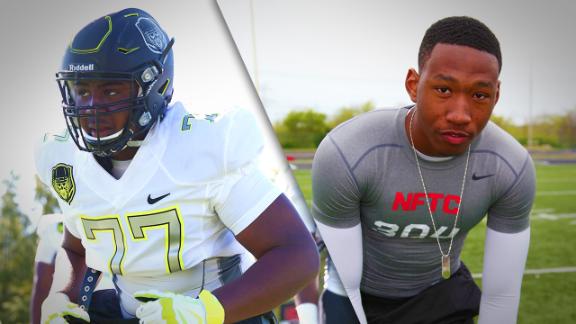 USC's impact visitor list, Stanford's statement in the Evergreen State, UCLA's major opportunity and a sophomore quarterback at his best under the bright lights are a few of the highlights from the recruiting weekend in the Pac-12 conference.
To continue reading this article you must be an Insider
PAC-12 SCOREBOARD
Thursday, 10/2
Saturday, 10/4