November, 24, 2014
Nov 24
7:00
PM PT
Eccentric twists and turns have become the primary theme of this 2014 season -- remember the Hail Mary binge, the comebacks, the upsets, the celebratory fumbles at the 1-yard line, the field goal icing drama, and the #Pac12AfterDark hashtag made to describe all the otherworldly mystery.
To remind us that absolutely nothing about the Pac-12 is normal, the stage is set for the South champion to be determined in another "only out West" kind of way: Simultaneous games on Black Friday -- the third to last day of November -- under the beating sun of 80-degree weather.
"Perhaps it is because he hears a different drummer," Henry David Thoreau wrote about the Pac-12 a good 169 years ago. "Let him step to the music which he hears, however measured, or far away."
Well, he wasn't really writing about the road to the Field of Jeans. But the point stands. The Weird West has hummed a different, fascinating tune all season long, and this last regular-season weekend promises to supply more of the same as the Levi's Stadium championship matchup is finalized.
Simultaneous explosions: Stanford-UCLA and ASU-Arizona
[+] Enlarge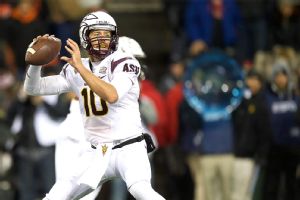 AP Photo/Troy WayrynenTaylor Kelly, Arizona State and Arizona will be scoreboard watching on Friday.
Two more detonations await before we will have fully traversed the minefield of the Pac-12 South. Fittingly, the Rose Bowl will be host to one, while the other will shake Tucson.
Both Stanford-UCLA and ASU-Arizona kick off at 3:30 p.m. ET/12:30 p.m. PT, on Black Friday. Arizona Stadium will require high bandwidth WiFi as both the 9-2 Sun Devils and 9-2 Wildcats need the Bruins to lose so that the Territorial Cup determines the Pac-12 South. So there'll certainly be more than a few fans trying to stream the happenings in Pasadena on their smart phones while simultaneously watching an intriguing Duel in the Desert.
ASU started slowly but ended up whipping Washington State 52-31 this past Saturday, so the Sun Devils feel they're back on track following bitter disappointment in Corvallis two weeks ago. Meanwhile, Arizona did some 1970s Arnold-style muscle flexing in Utah, racking up 298 rushing yards in a 42-10 road annihilation. The Sun Devils' aggressive defense has given up its share of big runs this season, and that's a danger point ahead of a matchup with Arizona's
Nick Wilson
(20 carries, 218 yards, 10.9 per carry, 3 touchdowns at Utah). We'll
keep an eye
on quarterback
Anu Solomon
's status (ankle) throughout this week.
The Territorial Cup will take on truly monumental importance if Stanford successfully embraces the spoiler role and asserts itself early versus UCLA. Remember that the Bruins haven't beaten the Cardinal since 2008 -- that's the pre-
Andrew Luck
era stuff. Stanford clinched its first Pac-12 title run with consecutive victories over UCLA in 2012, and although their title defense has already failed here in 2014, they did shut down the Bruins' rushing attack in a suffocating win last year.
Brett Hundley
's unit must show that it's made significant strides, because the Cardinal's defense looks ready: They battered Cal to the tune of a season-high five takeaways in Saturday's 38-17 win. Stanford set the table with competent offense, but the Bruins' obviously pose a greater challenge than the Bears did defensively. USC mustered only a season-low 4.1 yards per play against UCLA's defense, which is peaking at the right time.
The "rivalry": Utah at Colorado
Let's not kid ourselves: These two programs do not have enough historical hatred for each other to truly fall into the rivalry category. Nevertheless, this is a huge contest for both squads. The Utes have lost three of their last four games, and a loss in Boulder to close the season would put a massively bitter finishing touch on a once-promising season. It'd be like finding a massive, plump orange, only to discover there's a worm inside of it.
Meanwhile, this is Colorado's Super Bowl. The Buffs are 0-8 in conference play, and this is a wonderful chance to enter a critical building offseason on a much-needed high note.
Desperation bowl: Notre Dame at USC
At one point earlier this year, matters looked so promising for both the Irish and the Trojans. Now, this historical rivalry is more about avoiding complete late-season disaster than anything else. Notre Dame has dropped four of five games (including consecutive home defeats to Northwestern and Louisville), while USC's thorough whipping at the hands of hated UCLA has Steve Sarkisian scrambling to avoid that dreaded seven-win season. The loser of this game is going to stagger into bowl season neck-deep in turmoil.
Tipping point game: BYU at Cal
All is not lost for the Bears even though the wounded Stanford beast came into Memorial Stadium to drop off a few busloads of humble pie. Cal feels that it's still ascending as a program -- the defense must improve for the Bears to take that next step -- and this nonconference finale against the Cougars is the Cal's chance to punch a postseason ticket for the first time since 2011. Remember that bowl eligibility secures extra December practice time for a program. That's potentially vital as Sonny Dykes positions his team to attempt a third year breakthrough.
Civil War: Oregon State at Oregon
The "Civil War" is my favorite rivalry nickname, so I don't think I can come up with a better way to describe this game than that simple moniker, one which illustrates just how divided the Beaver State really is. Nobody is giving Oregon State much of a shot here, but remember they're playing for bowl eligibility in
Sean Mannion
's senior season. There's also that whole thing about top 10 teams struggling in Reser Stadium -- one fell victim to Corvallis just two weeks ago. The Ducks must be wary:
Marcus Mariota
's strong Heisman push is on the line along with College Football Playoff hopes.
Some ice cream for a Pac-12 dessert: Washington at Washington State
The last game of the Pac-12 regular season will, indeed, be an opportunity for some #Pac12AfterDark eccentricity. This will offer a good representation of how geographically diverse the Pac-12 is. Whereas Friday's games in Los Angeles and Tucson are expected to experience 80-degree temperatures, the forecast for this one in Pullman calls for the mercury to dip below 30 degrees on Saturday night. This is not the end of the road for Washington, but both the Huskies and the Cougars have chances to add a positive memory to difficult seasons.