March, 5, 2015
Mar 5
4:00
PM PT
USC's defense was a mixed bag in 2014.
It ranked fifth in the Pac-12 in scoring defense and tied for third in yards per play. It was good against the run -- 3.8 yards per rush -- and ranked second in the Pac-12 in pass efficiency defense. It led the conference in interceptions and third-down conversions.
So, the numbers were solid.
But there also was Boston College rushing for 452 yards in an upset win, Arizona State scoring 20 fourth-quarter points and winning on a Hail Mary pass, and there was UCLA gaining 461 yards in a win and Nebraska piling up 525 yards in a loss.
So, mixed bag.
Justin Wilcox, who has built quality defenses at Boise State, Tennessee and Washington before following Steve Sarkisian to USC, has long been a respected coordinator and is widely viewed as becoming a head-coaching candidate sooner rather than later. His defense welcomes back eight starters, but it also loses some star power, as the Trojans head into a season of high expectations.
With USC starting spring practices this week, it seemed like a good time to check in.
What were some of the things you were happy about with your defense last year?
[+] Enlarge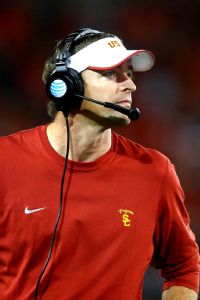 Mark J. Rebilas/USA TODAY SportsDefensive coordinator Justin Wilcox has eight starters coming back, but he also needs some new leaders to emerge.
Justin Wilcox:
This will probably answer both sides of your question. At times, we played really efficiently, good football. I think the biggest thing for us is finding consistency in performance. That to me is the big thing going forward. We had a couple of games and parts of games we played really well. It was just consistency. You've got to do it all the time in order to play well, whether it's the fourth quarter, which was an issue for us in a couple of games. We can do better preparing ourselves. The kids having a better understanding, it being a year in, are going to be more comfortable not only with the schematics and the teaching but also the situational awareness. Big picture-wise, we just need to do a better job performing consistently. I think we've got a good bunch of guys and we are excited about the ones who are joining us. We'll have a shot to do some good things.
How much was depth an issue?
Wilcox
: We don't really talk about that. I don't know if I've ever been anywhere with a college football coach where he's like, 'We've got too much depth.' Obviously we need to continue to develop our depth. I think where it shows is we need to substitute guys earlier in games, especially against the tempo teams. When the numbers get up high, you'd like to see the big guys, even some of the skill guys, you want to roll them a little bit so at the end of the game you've got more juice. But that's always a fine line. We're not the only school thinking that way.
I was thinking in terms of you guys still being yoked with NCAA sanctions last year. You guys weren't going very deep with substitutions on your defense and you seemed to tire out late.
Wilcox
: Yeah, it's not really something, the sanctions and all that, we just don't talk about it. We are excited about the guys who are here. We'll continue to develop depth on defense at every position through recruiting. And we'll continue to look at the best ways to substitute and roll guys. That's critical. You want your best players out there on critical third downs.
How do you replace Leonard Williams?
Wilcox
: A guy like that is pretty unique and rare, not only for the physical tools he has but also because he just loves to play the game. A guy with unique physical tools -- 6-5, 300-plus pounds, who runs and is smart and plays with good leverage and is athletic -- and you see he loves playing. Whether it was practice or a game, he was going. He had games when he played over 90 plays. To answer your question, it's not going to be one person. It's going to be a collection of people. It will be guys who are returning and some added bodies, freshmen who get here in the summer.
Su'a Cravens is a guy with a ton of talent. How does his role advance this year? He kind of has that hybrid thing going for you.
Wilcox
: Sure. I think just adding to his toolbox. We played him as you said in kind of a hybrid outside linebacker/strong safety type role and he was very effective. He affected the game as a blitzer and as a low zone player defending balls. Getting picks, getting sacks, tackle for losses, he was impacting the game, which was awesome. The more he can develop at that spot, playing off blocks, understanding route combinations that the offense is going to use to manipulate the zones. Just playing more and getting more experience. He's an intelligent guy. He's got really good instincts. Just adding a few more tools to that toolbox, whether it's coverage techniques he can expand on, maybe some run stunts we can use him. I think he'll continue to be a guy who affects a game in different ways.
You lose the veteran leaders of your 2014 defense, Williams and LB Hayes Pullard. Who are going to be the vocal leaders next year?
Wilcox
: That's a great question. We've got some veteran guys coming back. The names that jump out,
Anthony Sarao
has played quite a bit at linebacker. Up front, nose tackle
Antwaun Woods
is a guy who's played a lot. In the back end? We'll see. A lot of young guys played a lot last year,
Adoree' Jackson
,
John Plattenburg
, those guys were playing significant roles for us, starting. I think
Kevon Seymour
at the other corner did some good things. But the two guys who have played the most are Anthony and Antwaun. We'll look to them first for leadership, not only on the field but also at meetings, workouts. Between now and the start of the season, that stuff is as important as anything, just building the chemistry of the team and the accountability to one another.
Who are some young players you expect to compete for starting jobs?
Wilcox
: Obviously the ones I already mentioned. John Plattenburg did a really good job at safety. Got better every game as the season went on. I thought we saw him really grow up. He got dinged late in the bowl game but in the Notre Dame game he really played well. Adoree' obviously came in as a young guy, playing corner and playing offense. I think this is a big spring for [safety]
Leon McQuay
. He played as a true freshman and quite a bit last year. We get [MLB]
Lamar Dawson
back who's played a lot of football here but was out last season. He's kind of a guy we're looking for. Up front, guys like
Claude Pelon
and
Delvon Simmons
, we need them really to continue to take the next step. Backup nose guard
Cody Temple
. Outside linebacker
Scott Felix
. Those are guys who are really important for us to be good. They've got to continue to develop.
Jabari Ruffin
, we are going to get him back from injury last year, as we are with nose tackle
Kenny Bigelow
. Those are two guys we were looking forward to helping us last year but unfortunately got injured before the season.
With the freshman class, you signed a lot of guys who seem like they might be ready to play. How many do you anticipate playing?
Wilcox
: The feeling is when they get here we will give them every opportunity to compete to get on the field. We need them. We were talking earlier about developing our depth. Whether that means they play every special team and are situational players or they become starters, we recruited those guys because we believed they had the ability and physical tools to play. Now there are so many variables when you're talking about football, on and off the field. We really like the class and all of those guys are going to be pressed early in their careers. In fall camp, it's going to be a race to get them prepared to play. We're looking for all those guys to help us.
PAC-12 SCOREBOARD
Thursday, 9/3
Friday, 9/4
Saturday, 9/5