October, 24, 2014
Oct 24
10:46
AM PT
Elimination game: Both teams already have a loss in the conference so another loss in this game would mean a tough road ahead for a team looking to stay alive for a berth in the Pac-12 title game. USC coach Steve Sarkisian has been telling his players that every week is a championship week from here on out.
Continue offensive momentum: The Trojans offense seemed to find a groove last week against Colorado by adding elements of a downfield passing game that had been missing earlier in the year. Not only did Cody Kessler set a school record with seven touchdown passes in the game but several of those throws were for long gains that should help open things up even more for the run game. The ability to throw downfield against the Utes' secondary could be a key difference in the outcome.
Utah special teams: A quick check of the Utes' special teams shows that they are pretty solid across the board. Tom Hackett averages over 47 yards per punt and leads the conference. Place-kicker "Automatic" Andy Phillips has hit 13 of 15 field goals and is perfect on extra points; he leads the conference in scoring, too. And return man Kaelin Clay has returned three punts and one kickoff for scores. Utah coach Kyle Wittingham takes an active role in overseeing special teams and that kind of emphasis shows on the field.
USC O-line vs Utah D-line: The marquee matchup on paper is the Utah defensive front, which leads the nation in sacks and tackles for loss, against a Trojans line that is young but has made strides in recent games. Will USC be able to protect Kessler long enough to allow the downfield passing game to develop? Or will Nate Orchard & Co. be able to apply the kind of pressure that allowed them to get 10 sacks in one game against UCLA?
Battle of the running backs: Buck Allen leads the conference with 909 rushing yards and eight touchdowns, while also topping the position list for all-purpose yardage. Devontae Booker of Utah has been a force lately; over the last three games he's averaged 30 carries per contest and 187.7 yards, including a 229-yard, three touchdown effort in a double-OT win over Oregon State. Both backs are tough, physical runners who help set the identity for their teams, so fans of tailback play should get ready to sit back and enjoy watching these two in action.
October, 24, 2014
Oct 24
9:00
AM PT
We're still a week away from the in-season megavisit that will take place when Oregon hosts Stanford, but there are more than a few intriguing visitor lists in the Pac-12 this weekend. It's a weekend that could provide clarity in the Pac-12 South, and recruits will be on hand as Utah hosts USC and the Arizona schools travel to the state of Washington. Elsewhere, Stanford hosts Oregon State and important ESPN 300 prospects as we look at the top three visit weekends in the Pac-12.
USC at Utah
The Utes are scheduled to host at least three official visitors this weekend, led by Utah wide receiver commit
Donzale Roddie
. Also on hand will be safety
Tyson Cisrow
and defensive end
Simitali Moala
. Cisrow is another in a long line of Florida standouts the Utes are chasing in this 2015 class. Utah already holds commitments from three Florida preps and is well on its way to matching the five Sunshine State prospects signed in the 2014 class. This will be an important visit for Roddie as well, as the three-star recruit is being chased by Colorado and has said in the past that he'll continue to listen to other schools despite his verbal commitment.
October, 24, 2014
Oct 24
8:00
AM PT
Happy Friday!
Leading off
We've got football tonight! And in true Pac-12 fashion, it features the top two scoring offenses in the conference and the league's most efficient passers. Oregon ranks No. 1 in the Pac-12, scoring an average of 43.6 points per game. Cal is No. 2, averaging 41.6 points per game. Oregon quarterback Marcus Mariota ranks first in the league in quarterback efficiency, and Cal's Jared Goff is No. 2. The weather in Santa Clara tonight calls for 75 degrees and partly cloudy, so don't expect an monsoons like last season in Eugene.
Here's what some folks are saying about tonight's showdown:
As noted, the quarterbacks will take center stage in the showdown. Here's a statistical breakdown of Mariota and Goff.
Looking forward to #CalvsOregon Friday at @LevisStadium featuring #2ofTheBest #GoBears #BeatOregon #foxsports1 pic.twitter.com/lGZ0Q4QSgK

— Cal Football (@CalFootball) October 24, 2014
Pick 'em
As always, the Pac-12 blog
presents its picks on Thursday morning
. And each Friday we bring some picks from national writers and folks who cover the conference. Perhaps the most interesting aspect is that all the Pac-12 blog writers picked Utah to beat USC. And we all know what happens when the Pac-12 blog agrees (gulp).
But we're not the only ones. Stewart Mandel from Fox Sports
is also a Utah believer
:
The Trojans are the more talented team, but this is not the most favorable matchup for them. RB Buck Allen has sprung for at least 115 yards in all but one game but the Utes boast the nation's sixth-best rushing defense. And Utah star Devontae Booker is fully capable of exploiting an average USC rushing defense. The Trojans admittedly have a huge edge at quarterback with Cody Kessler, but if Utah prevents too many long throws downfield, it should survive.
News/notes/team reports
Just for fun
What does Super Mariota
really look like?
This doesn't qualify as "fun," but more of a tip of the cap to Colorado, UCLA, Navy and San Jose State, who will honor Houston offensive lineman David Quessenberry,
who is battling cancer
.
Yesterday was media day for Pac-12 basketball. Here's
an interesting comparison
between Pac-12 hoops and football. Unlike football, basketball has a little bit of
DIS
parity.
Good to see this guy up and moving.
Cal WR Trevor Davis on giving the crowd a thumbs up after his injury last week https://t.co/Y4PDis6uVE

— Mike Vernon (@M_Vernon) October 23, 2014
October, 23, 2014
Oct 23
4:15
PM PT
It's going to be a showcase of two of the top running backs in the Pac-12 on Saturday with
Javorius Allen
of the Trojans and
Devontae Booker
from Utah.
Allen leads the conference with 909 rushing yards. Booker is third with 742. Allen averages 6.1 yards per carry with eight touchdowns, Booker averages 6.2 yards per carry with seven touchdowns. Both have rushed for more than 200 yards in a game this season, and both will be facing defenses that have done a good job of stopping the run.
"Just about every game comes down to stopping the run and being able to run," Utah coach Kyle Wittingham said. "We've got two teams in this game who are doing a nice job in both areas."
[+] Enlarge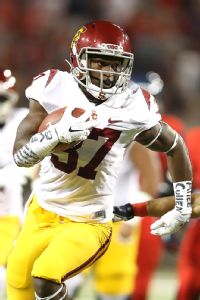 Christian Petersen/Getty ImagesJavorius "Buck" Allen has the most rushing yards in the Pac-12, but Utah's Devontae Booker isn't too far behind.
Allen has been the showcase back for the Trojans the entire season after being named the team MVP in 2013, and his all-purpose production so far this year has him receiving some buzz in consideration to be a finalist for the Heisman Trophy.
Booker, on the other hand, wasn't the starter for Utah this year as a junior college transfer, and he had only 31 carries in the first three games. That has changed in recent weeks as he has 89 carries in the last three games alone, averaging 187.7 yards per game in that span, a total no doubt helped by his 229-yard, three-touchdown performance last week in a double-overtime victoryt over Oregon State.
"Booker is really good," Oregon State coach Mike Riley said. "He's hard-nosed; boy, he competes like crazy."
The emergence of Booker as a physical running threat has added a different dimension to the Utah offense and Trojans coach Steve Sarkisian says it is one that seems to work well. Despite the fact that the Utes (5-1 overall, 2-1 conference) are ranked last in the conference in passing yards per game, they are ranked No. 19 in the country, are a point away from being unbeaten and have road wins over UCLA and Michigan.
"The biggest different from years past is that they've found an identity running the football," Sarkisian said. "They've gone from a spread fly look to a downhill running team and I think it fits Kyle's personality; it's certainly been successful for them.
"We've been able to stop the run pretty well since the BC game. We're defeating one-on-one blocks and we're more sound in our gap integrity, our guys are more familiar with our scheme and we have more depth. That will definitely be a matchup to watch in this game."
After giving up 452 rushing yards in the loss to Boston College, the Trojans went three games in a row without giving up 100 yards on the ground. That streak ended last week against Colorado but USC, still only gave up 3.7 yards per attempt on 46 rushes. The overall play of the D-line should benefit even more with the ability of
Greg Townsend Jr.
and
Cody Temple
to play an increased number of snaps, something that couldn't to happen earlier in the season when both were battling injuries, and that will help reduce the number of reps for
Leonard Williams
and others.
"It's a huge advantage to have a quality two-deep, to not have a real drop-off," USC defensive line coach
Chris Wilson
said. "It's nothing magical; it's a case of some guys getting healthy and performing well when they get their chance. It should really benefit us late in the game because we have to be prepared to tackle this guy (Booker) on every snap, he really complements what they do with their physical offensive line. As a defensive lineman, this is the kind of game you play for."
For fans of good running back play, this is the kind of game you watch for.
October, 23, 2014
Oct 23
6:00
PM PT
1. The popular knock on Utah stems from the fact that they only had 62 passing yards last week, but they keep finding other ways to win. Will the Utes' formula be enough in a big showdown against USC this Saturday?
Jennings/@ChantelJennings: I say yes. Utah's defense is going to be stout and Nate Orchard is going to have a monster game, getting after Cody Kessler. The Utes have the highest sack percentage (12.1 percent) of any team in the nation, and if we're doing over/under for 3.5 sacks from the Utes in this game, I'm going with the over. And with Kessler struggling, the Trojans will try to lean more on Buck Allen, but bad news for Buck. The Utes have the best run defense in the conference, allowing just 2.85 yards per rush (Stanford is in second with 2.89). They've given up just three rushing touchdowns (tied for fifth in the country). On top of that, Utah's special teams are going to ball out. USC has given up 13.3 yards per punt return (112th nationally) and have allowed almost one-fifth of kickoffs to be returned at least 30 yards. Kaelin Clay? Go for it … just leave out the Heisman pose this time. As long as Utah's offense is good enough (and with Devontae Booker coming off that Oregon State performance, I'm not super worried), the Utes take care of business.

Lombardi/@LombardiESPN: This will be a very close game, and although this whole Travis Wilson/Kendal Thompson quarterback shuffle isn't ideal (Wilson will start this week), Utah can succeed even with an anemic passing attack. That's because a strong rushing attack and a powerful defense form a potent combination. Booker has eclipsed the 150-yard mark in three consecutive weeks (he hit 229 yards his last time out), and that forms an intriguing matchup with a USC defense that has actually been good against the run since its debacle at Boston College. No discussion of Utah's chances is complete without an acknowledgement of #SackLackCity, the location of Saturday's game. Chantel mentioned Orchard; his 10.5-sack effort this season trails only Washington's Hau'oli Kikaha nationally. On a team-wide level, no one in the nation is even close to matching Utah's sack production, which stands at 5.5 per game. Second place is 4.0 sacks per game, and the Utes are on pace to post a staggering 71.5 sacks this season. The Trojans do have the athleticism to potentially burn Utah's ferocious pass rush, but it's really tough to bet against Kyle Whittingham's unit in its raucous home environment.
2. Rich Rodriguez vs. Mike Leach: How great offensive minds square off in the Palouse. How many points will we in Arizona-Washington State?
Jennings/@ChantelJennings: I don't think it'll be quite as crazy as Cal-Wazzu, but, I think we'll see at least 49 points combined.

Lombardi/@LombardiESPN: Well, Cal-Wazzu is an insane standard to live up to (119 combined points), but I think we're going to see some offensive madness in the Palouse. Both the Arizona defense (allowing 5.9 yards per play) and the Washington State defense (allowing 6.0 yards per play) rank near the bottom of the Pac-12 in that statistic, so that'll leave Leach and Rodriguez room to score. I have a feeling both teams will hit the 40s in this one.
3. Conversely, how few points will we see at Stanford-Oregon State? The Cardinal's defense had great success against Oregon State last year, but Stanford's offense is the Pac-12's worst in terms of scoring now, and the Beavers are playing solid defense.
Jennings/@ChantelJennings: Twenty-eight or fewer. I bet we'll see three touchdowns and maybe a field goal.

Lombardi/@LombardiESPN: Stanford is favored by 13 points here, and some jokesters on Twitter have asked if the number 13 is the spread or the over/under for this one. I think we'll see more points than people expect: The Cardinal will have receiver Devon Cajuste back, and they'll be missing key defensive linemen David Parry and Aziz Shittu. That should count for at least a few Oregon State points.
[+] Enlarge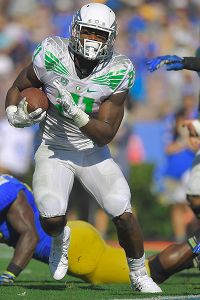 Mark J. Terrill/Associated PressRoyce Freeman has a bright future at Oregon.
4. Which freshman or sophomore in the conference will be an All-American by the time he graduates?
Jennings/@ChantelJennings: Oregon running back Royce Freeman. He's an absolute man-child. I saw him wearing a backpack one day and I thought it was a mini backpack because it looked so small on him. But then when I looked more closely I realized it was a normal backpack, it just looked mini-sized on him. But it's not just his physical size that makes him great. He's elusive. He's fast. His vision is improving. And if you look at the progress he has made from Game 1 to Game 7 of the Ducks' season, imagine what he'll do in the next two or three years.

Lombardi/@LombardiESPN: I like Chantel's pick. I also think that Arizona running back Nick Wilson is doing a heck of job carrying the freshman torch. His 6.4 yards per carry leads the the top Pac-12 running backs. And even though he's not as big as Freeman, Wilson still packs a physical punch -- just ask Ifo Ekpre-Olomu.
5. Statistically, Cal has the worst defense in the conference. If you could take any defensive player in the Pac-12 and put him on the Bears, who would you pick and why?
Jennings/@ChantelJennings: Initially I considered Washington's Hau'oli Kikaha, because any team would be better with him in its front seven. But I've decided to go with Washington linebacker Shaq Thompson. He doesn't lead the conference in tackles (that's Scooby Wright III), but he makes things happen on defense. And what I think Cal needs more than a stout pass rusher is a straight playmaker on the defensive side of the ball. The Bears have forced just nine fumbles and of those nine they've only recovered three. Thompson has forced and recovered three fumbles alone. I think he could make things happen for the Bears.

Lombardi/@LombardiESPN: The most valuable asset for a defense is a dangerous body that can attract and swallow multiple blocks, and no Pac-12 player provides more value in this regard than an athletic fire hydrant Danny Shelton: 339 pounds, 7.5 sacks, 12.5 tackles for loss. I'll let David Shaw's father Willie defend my position: "If you give me a choice between a great cornerback and a great defensive lineman, I'll take the great defensive lineman. Because a great defensive lineman can make an average corner look great."
6. Word/phrase association.
Jennings/@ChantelJennings:
a. Pac-12 South: Ultimate chaos
b. December 6: Anyone's guess
c. Wazzu: So close yet so far
d.
Andy Phillips
: Money
e. Hau'oli Kikaha: I'm glad I don't play quarterback in the Pac-12
f. Buck Allen: Tank
Lombardi/@LombardiESPN:
a. Pac-12 South: Minefield
b. December 6: Talking scoreboard (Bay Area radio listeners understand)
c. Wazzu: Poor
Connor Halliday
d. Andy Phillips: Automatic
e. Hau'oli Kikaha: A name fit for a sack master
f. Buck Allen: So why didn't Lane Kiffin play him?
October, 23, 2014
Oct 23
10:36
AM PT
LOS ANGELES -- There are many hostile environments in the Pac-12, and certainly the most difficult venue to come away with a victory is Oregon's Autzen Stadium, a facility legendary for its fans' proximity to the field and the incredible volume of noise.
However, there are other Pac-12 stadiums that are growing in difficulty, and one of those will be revisited by the No. 20
USC Trojans
this Saturday night, as the Men of Troy return to Rice-Eccles Stadium in Salt Lake City, home of the No. 19
Utah Utes
.
The last time the Trojans (5-2, 4-1 Pac-12) ventured into Utah's Rice-Eccles Stadium, it wasn't exactly a walk in the park at the outset. The wind in 2012 was strong, the air was cool and the Utes were hot, jumping out early to a 14-0 lead in the first three minutes of the game.
It seemed like the Trojans had barely suited up and able to catch their collective breaths in the high altitude before they had their heads in the Utes' guillotine. The Trojans, however, gathered themselves behind quarterback Matt Barkley and wide receiver Marquise Lee to roar back and
win 38-28
.
Today, the Utes (5-1, 2-1 Pac-12) seem more prepared than ever to challenge the supremacy of the Pac-12 South Division-leading Trojans.
Having had a few extra days to prepare for the Trojans after playing at Oregon State a week ago on Thursday night, Utah has positioned itself, thanks to a double-overtime victory over the Beavers, to rearrange the Pac-12 South leaderboard.
Just as important as playing well, Utah will again have that crazy atmosphere of Rice-Eccles Stadium, and those Trojans familiar with Utah's home hospitality know what awaits them Saturday evening, when the temperatures are expected to be in the 50s at kickoff time.
"We know it's going to be a hostile environment, 8 p.m. kickoff, blackout and all that," said Trojans sophomore linebacker
Su'a Cravens
, who remembers as a high school player watching his older brother, Siaki, play on Utah's defensive line in Rice-Eccles.
"They're crazy," Cravens said when asked about the Utah fans and the support of their heroes. Although this will be his first time actually playing in Rice-Eccles, Cravens said he loves the challenge and expects his teammates will be ready as well.
Echoing Craven's comments is Trojans first-year head coach Steve Sarkisian, who is also confident his team is well aware of what Saturday night's expected sellout (45,807) of Utah fandom will bring.
"We understand the environment that we are heading into," said Sarkisian, whose record against Utah as head coach at Washington was 1-0 at Rice-Eccles and 2-0 overall.
In anticipation of a raucous and voluminous crowd for this weekend, Sarkisian covered his preparation bases by having loud, artificial crowd noise pumped into Trojans practices this week.
There are Trojans on this season's club who clearly remember the last time the Cardinal and Gold ventured into Rice-Eccles and the effect the Utah fans' support had on the Utes team.
"We're going to be playing in their house and they aren't going to lay down for nobody," said senior linebacker
Hayes Pullard
. "Last time we were there they had a great crowd and a great group of guys. We've got to raise our level to the competition that we are playing."
One of those expecting to try to stonewall the physical Utah rushing attack is Trojans junior nose tackle
Antwaun Woods
, who was a young, inexperienced lineman when he joined his teammates at Utah in 2012.
"I remember the crowd being really loud and we had to play a four-quarter game," Woods said. "We are going to have to execute on both sides of the ball, and it's always physical when we play Utah."
With the support of their fans, a key on Saturday is that if this Utah team gets an early lead, it might not be vulnerable enough to allow the Trojans to make the same type of victorious rally produced two seasons ago.
Buyer beware.
October, 23, 2014
Oct 23
8:00
AM PT
Jim never has a second cup of coffee at home.
Leading off
If you believe what Todd Graham has been saying all along -- that
Taylor Kelly
is his starting quarterback
once he's back to 100 percent
-- then you can expect to see Kelly at the helm for the No. 14 Sun Devils when they travel to Washington this weekend.
Speaking with the media on Wednesday after practice, Kelly said he feels 100 percent and is ready to go.
Here's an excerpt from Zach Buchanan's piece in
The Arizona Republic
:
Kelly insists he's capable of making all the movements required of playing quarterback, which in ASU's system also means a lot of running the ball on read options. If he's worried about anything, it's a bit of mental rust.

Kelly has been throwing in some capacity for a few weeks, but nothing prepares you for game action.

"The main thing I was worried about was my eyes, trusting my eyes and the game speed and stuff," Kelly said. "It's been a really great experience this week, and things are going to work great."
During Kelly's absence,
Mike Bercovici
led the Sun Devils to a 2-1 record with wins over USC and Stanford.
The flip side
ASU's opponent, may or may not have its starter back for Saturday's matchup.
Cyler Miles
is still day-to-day after suffering a concussion in the loss last week to Oregon. Redshirt freshman
Troy Williams
has been taking first-team reps. Here's what Washington offensive coordinator
Jonathan Smith
told reporters after practice Wednesday
:
I think he's understanding and throwing the ball really accurately. That was the slight edge we thought Jeff (Lindquist)brought in the first game. And then we were really pleased at how Troy created some offense with his arm (against Oregon). He really has some arm talent, and that showed in the last month.
Williams was 5-of 10-for 37 yards against the Ducks. He rushed five times for 28 yards and a touchdown.
News/notes/team reports
Just for fun
Andre Yruretagoyena
talks about getting his ears pierced, running without pants and his kitten.
Seriously
.
You just knew it was going to make an appearance ...
Wave the flag at the World Series. #GoCougs @WSUCougars pic.twitter.com/XPTfmdtFKT

— Brett Ward (@bward09wsu) October 21, 2014
October, 22, 2014
Oct 22
10:00
PM PT
By
Kyle Bonagura, Kevin Gemmell, Chantel Jennings
and
David Lombardi
| ESPN.com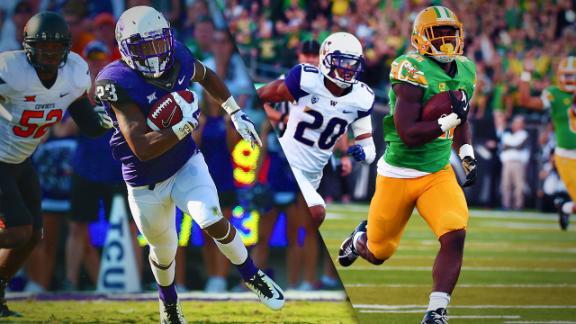 Your humble #4Pac welcomes you to another installment of what will be a regular feature on the Pac-12 blog. Here's how it works: We take one question or one topic, or maybe it's some other really cool format that we haven't even thought of yet, and all contribute our thoughts.
Have a suggestion for something we should address in a future #4Pac roundtable? Go ahead and send it to our
mailbag
.
Today, we're trying to make sense of the Pac-12 South as we head into the home stretch. Who's your favorite the win the division?
David Lombardi/@LombardiESPN:

As you may have noticed, "minefield" has been my description of choice for the Pac-12 South. So this is a dangerous question to answer.
Personally, I'm a "defense wins championships" guy, so I'll work with a process of elimination here: ASU hasn't yet proven they can consistently play sturdy defense (don't get too excited about shutting down Stanford's unimpressive 2014 offense), USC takes critical stretches off on that side of the ball (see their Hail Mary defense), Arizona has also been leaky, and UCLA has battled defensive discipline issues all season long.
That leaves me with Utah, a team leading the nation with 5.5 sacks per game and on pace for a record 71.5 sacks, as the only consistent defensive choice. Combine that with
Devontae Booker
's excellent running, and it becomes apparent that the Utes are the team with the necessary stability to be considered Pac-12 South favorites.
Chantel Jennings/@ChantelJennings:
I see it coming down to the winner of Arizona State-Arizona. And (drum roll please) in that matchup, I'd have to go with the Wildcats. I think Rich Rodriguez has enough talent on the field and trickery in his playbook to come away with a win in that game. The game is at Arizona so that would be going against the grain of road teams winning matchups, which makes sense. Arizona's defense has been suspect at times this season, but I think that group will begin making some major strides, but at the end of the day this is going to be about what offense is going to put the most points on the board. I think we're going to see a group of young players like
Anu Solomon
and
Nick Wilson
carry the banner for the Pac-12 South. It's going to be one heck of a rematch at Levi's Stadium when the Wildcats take on Oregon. That's a game I wouldn't mind seeing again.
Kevin Gemmell/@Kevin_Gemmell:
I mentioned this earlier in the week on our Spreecast. Utah reminds me a lot of Stanford in 2012. They are a team that isn't getting a ton of production out of the quarterback position, but they are winning on strength of a running game, good defense and efficient special teams play.
I know, I know. The upcoming schedule looks brutal. But we've seen that this year's Utes can handle the road -- something previous editions haven't been particularly good at. Booker's emergence (563 yards, five touchdowns in his last three games) has been enough to sustain an offense that has struggled in the air.
Defensively, this might be the best overall unit in the conference.
Nate Orchard
is a backfield menace and
Gionni Paul
has quietly been one of the best middle linebackers in the league. The secondary is hunting and the special teams are top notch.
Tom Hackett
has done an outstanding job flipping the field and anytime the Utes get in or around the 30-yard line, it's almost guaranteed points, courtesy of "Automatic"
Andy Phillips
.
The South is a mess right now. And you could easily make an argument for five teams to win the league. And you wouldn't be wrong about any of them. So why not Utah?
Kyle Bonagura/@BonaguraESPN
The fact that you can make a legitimate case for five teams to win the South means there isn't an obvious favorite. Best tie-breaker?
Remaining schedule ... and that clearly favors USC.
At 4-1 in conference play, the Trojans are two wins up on Arizona (2-1), Utah (2-1) and UCLA (2-2) and one on Arizona State (3-1). We've already established there are no easy games in the Pac-12, so that they're already at four is significant. And with that understood, their remaining slate -- at Utah, at Washington State, home against Cal, at UCLA -- is the most manageable.
Take Utah for example. The Utes have six more conference games -- USC, at Arizona State, Oregon, at Stanford, Arizona, at Colorado -- so while there's a good chance they beat USC on Saturday, their road to the division title is significantly more difficult. The other three teams face similar futures, which leaves USC with the best shot to emerge.
October, 22, 2014
Oct 22
9:00
PM PT
Welcome to the mailbag. I pray come and crush a cup of wine. And follow me on
Twitter
.
Arthur in Poulsbo, Washington writes
: If the Sun Devils win the rest of their games (big if), do you think the UCLA game with Bercovici's first start, will hurt their chances in getting into the playoffs?
Kevin Gemmell
: I think a one-loss Pac-12 champion is a lock, whether that's ASU, Arizona, Utah or Oregon.
But since you're talking about ASU specifically, let's look at the schedule: at Washington (a team that started the year ranked), vs. Utah (a top 20 team as of this week), versus Notre Dame (a top 10 team this week), at Oregon State, versus WSU and at Arizona (a top 15 team).
Combine all of that with the fact they have already beaten two ranked teams and their lone loss was at home to No. 11 (at the time), I think the Playoff Selection Committee would look very, very favorably on the Sun Devils for going 11-1.
Here's the catch, they probably won't. And Arizona and Utah probably wouldn't go 11-1, either (they all play each other, anyway). Oregon has the "easiest" road the rest of the way, so the Ducks might end up with just one loss. But would you be shocked if they didn't? I sure wouldn't be.
A one-loss Pac-12 champion is a sure-thing. Take it to the bank. It gets dicey with a 2-loss team. But even that I think might be safe -- if the committee members truly take depth of conference and strength of schedule into account.
This is a brave and scary new world we're entering. Year 1 will go a long way toward setting some precedents.
---
Derek in Cedar Rapids, Iowa writes:
Well, that was a brutal display by the Cardinal offense on Saturday! My question has to do with the explanation that Stanford is lacking a 220-pound back to run between the tackles, and that is the reason that the offense is so poor. Yes, Tyler Gaffney always seemed to fall forward for an extra yard last year, but how much of this has to do with an offensive line that is not (yet) living up to its recruiting rankings? If the blocking is what it needs to be, shouldn't
Remound Wright
,
Barry Sanders
and company be able to hit the hole for nice, positive gains? In other words, how much of this struggle has to do with the revamped offensive line, rather than Gaffney joining Stepfan Taylor and Toby Gerhart in the NFL?
Gemmell
: The answer to your question is yes, and yes. Yes, the Cardinal have not found a reliable back to give them, at least, 15 carries a game consistently. And yes, the offensive line has not lived up to the considerable hype it garnered when these guys were first recruited.
Does that mean they never will? Of course not. Remember,
Andrus Peat
is the only returning starter of the bunch. The rest of them -- while having seen a little playing time in the past -- are first-year starters.
But it's not all on the line. Because in Stanford's scheme, pass protection is a
huge
responsibility for the backs. And none of them have excelled in that department. For as outstanding as Gaffney and Taylor were at carrying the load, they were also very good at reading defenses and picking up blitzes.
This wouldn't have happened
in those days.
Or this
.
It is a combination of everything all snowballing into an avalanche of offensive inefficiency. You take an inexperienced line, combine it with backs who haven't done a great job in pass protection/getting extra yards and a quarterback who hasn't played particularly well, and you have the worst offense in the conference.
---
Mark in Phoenix writes
: It was a dominating weekend for the Pac 12 South over the North. Is it too soon to remove the justifier of "so far" and declare that the Pac 12 South is better than the North?
Gemmell
: By my count, the Pac-12 South is 7-4 against the North in their 11 inter-division matchups this year. Advantage, South.
Five of the six Pac-12 South teams are ranked, compared to just one team from the North. Advantage, South.
Every team but Oregon in the North has at least two conference losses, while the South has four teams with one conference loss and another with two. Advantage South.
The North has Oregon, the league's highest-ranked team at No. 6 and likely the Pac-12's best chance at making the College Football Playoff. Advantage, North.
Yes, the South is clearly the dominant division right now. That will sort itself out in the coming weeks with showdowns like USC at Utah, Arizona at UCLA and Utah at ASU. And then there are the rivalry games at the end of the year.
But outside of the SEC West, I don't think there is another division in football that is as nasty as the South.
The North has a chance to right things in the coming weeks. Arizona travels to Washington State this week and ASU heads to Washington. UCLA at Washington and Oregon at Utah in a couple of weeks will be interesting.
A rising South, in one sense, is great for the conference. The USC-Stanford rivalry is at a tipping point, as is the Arizona-Oregon matchup. There has never been a better time to be a fan of Pac-12 football. On the flip side, the power shift makes the league that much more balanced, which leads to further criticism of the league nationally.
I think back to a quote Mark Helfrich gave me a couple of weeks ago, when he said the Pac-12 has a perception that parity equals mediocrity, but in other leagues, parity equals strength.
Hopefully when the music stops and the four playoff teams are named, the Pac-12's depth will be an asset, not a deterrent.
October, 22, 2014
Oct 22
4:40
PM PT
No. 20 USC took part in a two-hour practice session in shorts, shoulder pads and helmets on Wednesday morning, and with a game at No. 19 Utah coming up this Saturday, Trojans head coach Steve Sarkisian said he liked what he saw from his team, and in particular, the role that team leaders have played this week.
[+] Enlarge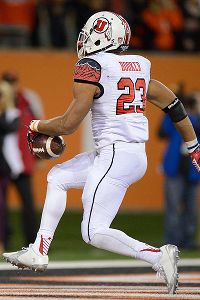 AP Photo/Troy WayrynenDevontae Booker is among the Pac-12's leading rushers with 742 yards and seven touchdowns in six games.
"They practiced really hard today, which I'm thankful for as a coach – on a Wednesday, midseason, that they had that right amount of energy," Sarkisian said. "I think that kind of gives me a little bit of an idea about the focus that they have heading into the game. There are still things for us to clean up. Obviously, we're just in the middle of this game plan mode, but all in all, what they brought today was really encouraging. I think we have some natural leaders in that department that kind of set the tone for the way they practice –
Nelson Agholor
,
JuJu Smith
,
Buck Allen
,
Leonard Williams
,
J.R. Tavai
… all those guys. I think they set the tone and the other guys do a great job of following."
USC's defense figures to face quite a test on Saturday in the form of Utah tailback
Devontae Booker
. The talented runner has 563 rushing yards in the Utes' last three contests, and his 123.7 yards-per-game average for the season ranks second in the Pac-12 behind Trojans tailback Allen (129.9).
Following practice on Wednesday, Sarkisian noted the challenge that Booker poses to the USC defense, particularly to the Trojans' front seven.
"I think he's a very physical runner, I think he gets behind his pads, I think he runs angry, I think that he almost appears to get stronger as the game goes on, and as you start to arm-tackle him, that's when he starts breaking those arm tackles and creating big plays," Sarkisian said. "So, for us it's key that we can keep him as corralled as best we can near or at the line of scrimmage so that he can't get his momentum going into the secondary. So, our defensive front has a tall order this week."
Injury updates
After spending the vast majority of Tuesday's workout on the sideline, inside linebacker Hayes Pullard returned to action on Wednesday and took part in a large portion of practice. He appeared to be moving well and didn't show any sign of being affected by the knee injury that he suffered on Saturday. "We got a lot more out of Hayes today, which was encouraging," Sarkisian said.
To continue reading this article you must be an Insider
October, 22, 2014
Oct 22
10:00
AM PT
If you want an indication of how things are going for the Trojans on Saturday against Utah, watch the battle between the USC offensive line and the front seven of the Utes.
Much has been made about the inexperience of a Trojans offensive line that features three true freshman in the rotation, and they will be going up against a typically big Utah defensive front that likes to get after the quarterback. While the Trojans line has seen improvement lately in run blocking, the ability to pass protect for
Cody Kessler
will be taken to another level in this game. Utah leads the nation in sacks (5.5 per game) and tackles for loss (10.2 per game), and sacked UCLA 10 times.
[+] Enlarge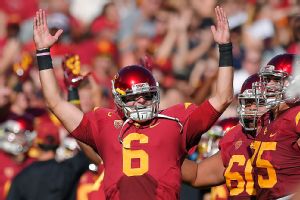 AP Photo/Mark J. TerrillCody Kessler is coming off a career game against Colorado, but he'll be tested against a Utah defensive line that leads the nation in sacks per game.
"They're pretty stout up front," USC freshman guard
Viane Talamaivao
said. "They get after the ball and they have good pass rushers. We're going to have to work really hard to make sure the pocket is clean for Cody."
Utah is led by senior defensive end
Nate Orchard
, a three-year starter, who has 39 tackles, 13 tackles for loss, and 10.5 sacks. Utah will likely try to follow a similar plan to the one used by Boston College when the Eagles defeated USC earlier this season by stunting and confusing the Trojans line, and we'll see how much the line has learned since that game.
"Utah has a very aggressive front and they look to get after the quarterback," USC coach Steve Sarkisian said. "It's nothing new for them; they've been this way for years under Coach [Kyle] Whittingham and coach [Kalani] Sitake and I've got a lot of respect for the way they do it. They play a specific style that, in my opinion, is unique to them with the aggressiveness they show on the defensive front.
"The best way to prepare for them is to go out and execute at a high level. We have to understand what we're going up against, the physicality that it's going to take, and then we need to be creative with our play-calls to make sure that we're taking care of our offensive line and putting them in positive positions to be successful. Our line will be challenged. First of all, Utah is really talented, and secondly, the crowd noise and road environment will be a factor."
Effectively protecting Kessler will go a long way, as this is a USC offense that is coming off its most dynamic performance of the season. Not only did Kessler set a school record with seven touchdown passes against Colorado, but the Trojans had a pair of 100-yard receivers and came within a few yards of having two tailbacks with 100 yards apiece. There was also an increased element of throwing the ball downfield, something that had been missing as a consistent threat early in the season.
"This is what we've been working towards with this offense," Sarkisian said. "We've got a really quality run game going right now that we're confident in, we've got an excellent short-to-intermediate pass game that we're confident in, and now when we're throwing it down the field that sure makes it more difficult on the defense."
That USC run game has been led by
Javorius Allen
, who leads the Pac-12 in rushing (129.9 per game) and has put together four 100-yard games in a row. Utah is giving up only 114.3 yards per game, a mark that is No. 2 in the Pac-12 and 20th in the nation. It's another one of those "strength on strength" battles, making the battle in the trenches one of the critical factors in the game.
October, 22, 2014
Oct 22
9:40
AM PT
Associated Press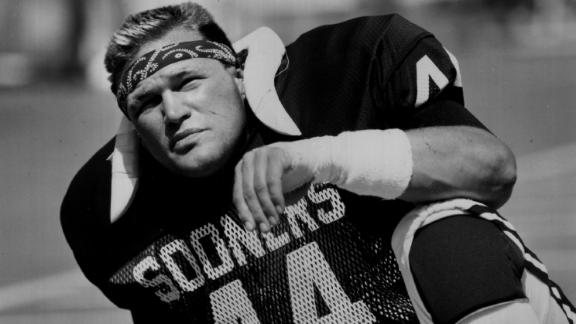 IRVING, Texas -- Kansas State coach Bill Snyder is among the 81 coaches and players up for election to the College Football Hall of Fame.
The National Football Foundation on Wednesday released the ballot for the class that will be announced Jan. 9. Former Heisman Trophy winners Rashaan Salaam of Colorado, Ricky Williams of Texas and Eric Crouch of Nebraska are among the 75 players from the Football Bowl Subdivision on the ballot.
Oklahoma linebacker Brian Bosworth and Southern California receiver Keyshawn Johnson are also up for election.
The NFF tweaked its rules for eligibility a few years ago to allow active coaches, such as Snyder, to be eligible for the election after they turn 75.
The 75-year-old Snyder is in his 23rd season at Kansas State. He has a record of 183-91-1.
PAC-12 SCOREBOARD
Saturday, 10/25
Friday, 10/24