November, 21, 2014
Nov 21
7:26
AM PT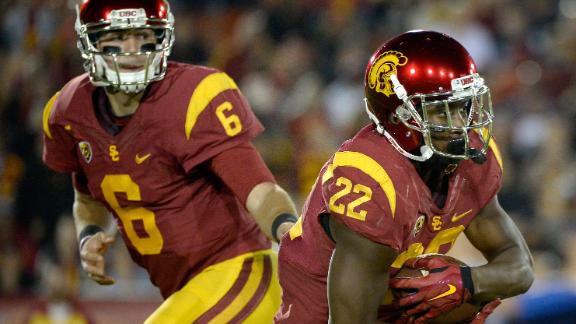 The USC Trojans are getting a potentially valuable reinforcement ahead of this weekend's massive clash against the UCLA Bruins.
Coach Steve Sarkisian said cornerback Josh Shaw, who missed the first 10 games of the season after lying about how he sprained both of his ankles, would be available Saturday in some role for the Trojans (No. 19 CFP, No. 24 AP).
Sarkisian didn't indicate just how much he expects Shaw to play against the Bruins (No. 9 CFP; No. 11 AP), but he did note that the fifth-year senior has not appeared rusty in his first week back at practice.
"He's an experienced guy, he's played a lot of football, so he's able to grasp things quickly," Sarkisian told the Los Angeles Times. "His muscle memory of how to align or how to move out of a certain break isn't as difficult for somebody who is new to doing it."
The 6-foot-1, 200-pound Shaw owns six career interceptions and is USC's most physically imposing cornerback. If he is indeed able to significantly contribute by Saturday, the Trojans could be in for a big boost against the explosive, up-tempo UCLA offense led by Brett Hundley.
Junior Kevon Seymour (6-0, 185) and freshman Adoree' Jackson (5-11, 185) are USC's current listed starting cornerbacks.
November, 21, 2014
Nov 21
10:00
AM PT
After two weeks on a diet, a jam-packed Pac-12 slate is back Saturday. Here's the rundown:
10 a.m.
Washington State at Arizona State, Pac-12 Network
One word: early. This game kicks off at 11 a.m. local time, but keep in mind that the Cougars' body clocks will still be set to the Pacific time zone.
Mike Leach
said that Washington State's hotel pregame routine will start between 5 and 6 a.m. It'll be a chance for fans to watch the Pac-12 while munching on pancakes, French toast, or -- my favorite -- crab Benedict. And it'll be a chance for ASU to wash away the horrible memory of last week's 35-27 loss at Oregon State as quickly as possible.
12:30 p.m.
Arizona at Utah, ESPN
By lunchtime, there should be a craving for a good dose of backfield pressure. #SackLackCity should be a fun place for the Wildcats' Scooby Wright to visit:
He's ranked in the top three
nationally in sacks and tackles for loss, so why not put him on the same field as the Utes'
Nate Orchard
, who's currently at the top of the sack heap? Defensive star power is the name of the game here, but keep an eye on Arizona's
Anu Solomon
: He must step up to the challenge of the Rice-Eccles crowd.
1 p.m.
Stanford at Cal, Fox Sports 1
Stanford's offense has been bad, but the Cardinal have found a way to score against shaky defenses this season (they've been terrible in games against ranked teams, averaging only 11.4 points per regulation in those contests). Well, good news for the Cardinal: The Golden Bears are worse than shaky on defense (39.2 points, 518 yards per game). Bad news for Stanford: Cal is at home, and it is
smelling blood
. Let's see what gives in the 117th Big Game. Oh, and that matchup between
Jared Goff
and Lance Anderson's top-ranked Cardinal defense isn't too shabby, either.
1:30 p.m.
Colorado at Oregon, Pac-12 Network
The best team in the conference meets the worst team in the conference. Prediction-wise, that's about all that needs to be said about this one. Some extra, slightly unrelated food for thought: Colorado coach Mike MacIntyre asserted that
the Pac-12 South was the best division in college football
, better than even the SEC West. Imagine how absurdly strong the South would be if Oregon were in it, too (I bring this up only because the SEC's top team, Alabama, happens to reside in the powerful West).
5 p.m.
USC at UCLA, ABC
Statues have been vandalized, airports have received
photogenic lighting
decorations, and
statues have been arguably vandalized some more by duct tape
(intended to protect them, but still, that's going to be a pain to remove, right?). The pregame rituals of rivalry week were fun, but it's time for some actual football with Pac-12 championship hopes on the line. The
matchup
of
Brett Hundley
and
Cody Kessler
is fascinating one, as is the battle between USC's frontline explosiveness and a UCLA machine that appears to be peaking at the right time.
7:30 p.m.
Oregon State at Washington, ESPN
The Beavers need one more win to earn bowl eligibility for
Sean Mannion
in his senior season. It's amazing what one good week (paired with a bad one) can do: Both of these teams have lost four of their past five games, but the feeling surrounding Oregon State is much more positive than the one in Seattle. The Beavers notched a huge 35-27 upset win over ASU last weekend, while the Huskies dropped a bitter 27-26 decision to Arizona. Both have a chance to finish forgettable seasons on a high note.
November, 21, 2014
Nov 21
9:00
AM PT
The penultimate weekend of the regular season is upon us, and that means some serious recruiting weekends in store for several Pac-12 programs. A look at the top three recruiting visits in the Pac-12 includes one staff taking advantage of hosting its rivalry game and two others bringing in recruits to witness their final home games of the regular season.

USC at UCLA


November, 21, 2014
Nov 21
8:00
AM PT
Happy Friday!
Leading off
As we do every Friday, we focus our attention on some picks. Only two weeks left (not counting the bowl games). Six are already bowl eligible, two more will punch their ticket this weekend (the winners of the Stanford-Cal and Oregon State-Washington games becomes bowl eligible). So we'll have at least eight. But nine or 10 are still mathematically possible. But we'll worry about that when we have to.
The Pac-12 blog
released its picks Thursday morning
. Chantel Jennings went against the grain in a couple of picks and Kyle Bonagura likes the Trojans. Other than that, pretty unanimous.
As we do every week, here are some predictions from folks who cover the conference and college football nationally.
The Fox Sports tandem of Bruce Feldman and Stewart Mandel both like the Bruins in a tight game. Here's what Feldman had to say:
Brett Hundley wrecked the Trojans last season with his legs and arm, and he was very sharp in carving up USC two years ago. Despite how well Cody Kessler, Nelson Agholor and Buck Allen are playing, my hunch is the Bruins have enough athletes on defense to contain them to get away with a win. UCLA 31, USC 30.
Here are some other thoughts:
Halliday update
Injured Washington State quarterback Connor Halliday spoke about the specifics of his injury for the first time Thursday. We had one
report here on the blog
. He also shared his frustration over the injury and the hope that he'll be playing football again within five months, which would put him in line to participate in WSU's pro day.
Here's a quote from Halliday from
a story in the Spokesman-Review
:
I think the hardest thing was just how close I was to being healthy throughout the year, going to the combine, getting to do all that stuff. That's what I've been dreaming about since I've been able to dream so that was the frustrating thing: I was just three games away from that.
Halliday was putting up monster numbers. We know this because he's
still
leading the Pac-12 in passing with 3,873 yards and 32 touchdown passes. Here's the
full transcript
of Halliday's conference call with the media.
News/notes/team reports
Just for fun
The Cal band continued its annual tradition of invading the San Francisco Chronicle, which is kind of funny.
I don't know what this is or what it does ... but I think I want one.
Countdown to the Big Game continues. #GoStanford #BeatCal pic.twitter.com/VJyrxNyqj1

— Stanford Football (@StanfordFball) November 20, 2014
November, 20, 2014
Nov 20
5:00
PM PT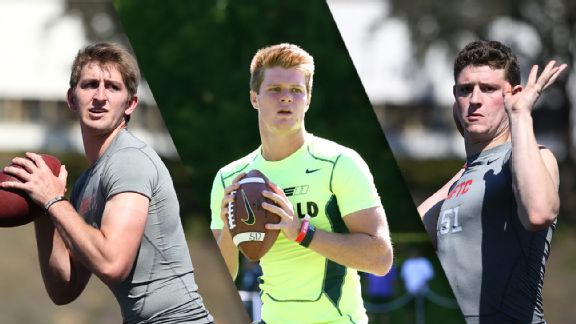 Tom Hauck for Student SportsIn Josh Rosen (UCLA), Sam Darnold (USC) and Ricky Town (USC), the Bruins and Trojans have pledges from three of the top seven pocket passers in the 2015 class.
There's no hotter ticket for Southern California recruits than the one that gets them into the Rose Bowl this weekend, as USC travels across town to take on UCLA. Both programs have an opportunity to make a statement in front of what should be a star-studded group of recruits.
The Bruins and Trojans already have put together solid 2015 recruiting classes, as both rank among the top 20 programs in the country --
USC checks in at No. 13
,
UCLA at No. 18
. This game won't make or break either recruiting class, but a win sure gives that staff some significant recruiting ammunition against what could be its biggest competition for several ESPN 300 prospects looking to make their decisions close to signing day.
To continue reading this article you must be an Insider
November, 20, 2014
Nov 20
11:00
AM PT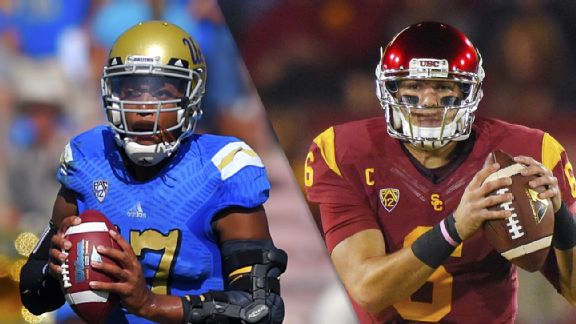 AP PhotosBrett Hundley and Cody Kessler will be fighting for individual awards and the Pac-12 South title.
It's safe to assume that when the postseason awards are handed out, Oregon quarterback
Marcus Mariota
will once again be holding top honors as the league's first-team all-conference quarterback.
Second team, however is still up for grabs. And this weekend's rivalry game between USC and UCLA might move the debate. There are only two quarterbacks in the conference who are completing more than 70 percent of their throws -- UCLA quarterback
Brett Hundley
(72.1) and USC quarterback
Cody Kessler
(70.2).
And while there are plenty of dynamic players on both sidelines, it's the quarterbacks who typically take center stage in this rivalry.
"I think a big part of deciding that stuff will be in this game," Kessler said. "Brett has played really well this year. He's one of my good friends and he's done a great job. I'm happy for him. This game will probably help define that. Not just the all-conference stuff. But some of the other awards and the Battle of L.A. thing. This game has a lot of emphasis on the quarterbacks and it's going to be a fun competition."
The league's two most accurate passers took different routes to get to where they are heading into Saturday. Hundley had a "competition" in the spring of 2012, but easily emerged as the starter before the season began and hasn't looked back since. Kessler's road has been more serpentine, as he had to win over two different coaching staffs (and multiple head coaches) along the way.
No one is going to confuse the two. They play very different styles, run different schemes and bring unique skill sets to their teams. But coaches who have seen both this season agree on the same thing: Both are very good at what they do.
"Very different style, but equally effective," said Utah coach Kyle Whittingham, who was on the winning end of both games against the L.A. schools this season. "Both of them are tremendous talents. I believe both will play a long time in this sport beyond college. Kessler is more of a traditional, pocket, NFL-type guy. Hundley is very dynamic and can run the football as well as throw it. They are both great leaders and do a great job in their respective systems. Should be a great matchup."
Even the way they handle pressure is a contrast in styles. Per ESPN Stats & Information, Kessler is completing 57.4 percent of his throws when he's under duress, which is tops among Power 5 quarterbacks. Conversely, Hundley ranks second among Power 5 quarterbacks with 391 scramble yards. One sticks in the pocket, the other uses his legs to make plays downfield.
"I think that Kessler is really doing a nice job executing that offense and taking care of the ball and not making mistakes," said Cal coach Sonny Dykes, who dropped both games to USC and UCLA. "Hundley can make a lot of plays with his feet. In some ways, he's probably at his best when he can freelance a little bit. But he's certainly capable of being a pocket guy and he does that well. I think his talent really comes out more when he's forced to make some plays with his feet and sustain some plays. They are very different that way, but they are both playing at a high level with two different styles. But both are good at what they do."
It's also worth noting that both have very strong run games supporting them. USC's
Javorius "Buck" Allen
leads the conference with 1,184 rushing yards. UCLA's
Paul Perkins
is right on his heels with 1,169 yards.
And yet for as much credit as Kessler gets for staying in the pocket and Hundley for leaving it, both aren't too bad when the roles are reversed. Kessler will never be a tuck-and-run guy, but he can improvise if needed.
"He has that in his arsenal," USC coach Steve Sarkisian said. "… He probably doesn't get enough credit for being as good of an athlete as he is. But I think we'd all prefer for him to stay within the system and utilize his reads and throws."
And Hundley -- who leads all FBS quarterbacks in completion percentage -- has to be a good pocket passer for those kinds of numbers. And when the Bruins throw on first down, he's completing nearly three out of every four passes (74.8 percent).
Of course, these two aren't alone in the quest for all-conference honors. Cal's
Jared Goff
and Arizona's
Anu Solomon
will get strong consideration. Even injured Washington State quarterback
Connor Halliday
still leads the league with 32 touchdown passes and 3,873 yards.
But neither is all that concerned with that right now. Both teams are still fighting for the Pac-12 South title and a date with Oregon in the Pac-12 championship game.
"There is always going to be a lot riding on this game," Hundley said. "It's the end of the season and typically both teams are doing well. This is usually the game where the South is decided and this year it's no different. We respect them as a team. They've put together a good season. We've done the same. It's two well-respected teams and we're going to go out there and put on a show."
November, 20, 2014
Nov 20
6:45
AM PT
LOS ANGELES -- For most Trojans football fans, Nov. 22 will be the 84th renewal of the greatest intra-city rivalry in the country, the ultimate Southern California football game between the No. 19
USC Trojans
and the No. 9
UCLA Bruins
in the storied Rose Bowl.
However, for Baby Boomers rapidly approaching their upper oldies, Nov. 22 will always be a haunting memory of one of the darkest days in the history of our great country: the day John Fitzgerald Kennedy, 35th president of the United States, was assassinated in Dallas in 1963.
There was already excitement in the air that November week 51 years ago, because in 1963, like today, there wasn't anything more exciting than a college football game between USC and UCLA, two universities that reside just a little more than 12 freeway miles apart.
In 1962, the Bruins gave the eventual national champions and head coach John McKay all his No. 1 and undefeated Trojans could handle, and it took a miraculous, leaping fourth-quarter catch by running back/receiver Willie Brown to help ensure the Trojans would eventually defeat the stubborn Bruins of coach Bill Barnes 14-3.
So heading into the 1963 game, there was a lot of anticipation that the Bruins could take it a step further and knock off the defending national champions.
However, all thoughts regarding the 1963 game came to a shattering moment in time the day before the game, a Friday in which the world stopped.
I remember playing basketball at recess at Fremont Elementary School in Alhambra, California, with classmates Jimmy White, Brian Salisbury, Mario Carrillo and Ronnie Brock. In football, most everybody was a Trojans fan, and in basketball, thanks to John Wooden, everybody emulated the Bruins basketball team, which featured guards Gail Goodrich and Walt Hazzard.
Fremont Elementary, which is located about eight minutes from downtown L.A., was a special place for athletes, having been the home of late baseball Hall of Fame slugger Ralph Kiner, with whom I had something in common, the same sixth-grade teacher, the patriotic Mrs. Edith Bloomingdale, wife of a former U.S. Naval officer.
An intense blacktop basketball game with no nets on the rims stopped on that infamous November Friday when a student came running out from one of the classrooms screaming hysterically that the president had been shot. Growing up in a politically active family, I immediately stopped playing and ran into a classroom with a black-and-white TV. In those days, TV and education together were considered a no-no unless being used to teach Spanish.
Breathless, I came across a number of teachers standing by the television tuned to CBS and legendary newscaster Walter Cronkite. It all seemed so dreamlike. I had always wondered from my previous history classes what it must have been like when Abraham Lincoln was shot, and now, unfortunately, I was getting it in real time.
All that was being reported over and over again was that three shots were fired at the presidential motorcade and Kennedy had been wounded, perhaps mortally. Cronkite said Kennedy had been taken to Parkland Hospital from Dealey Plaza, where the shooting had taken place.
To be etched in my Baby Boomer generation memory forever: Dealey Plaza, the grassy knoll, Elm and Houston Street, the sixth floor of the Dallas School Depository Building, Love Field, Parkland Hospital and eventually the name Lee Harvey Oswald, a 24-year-old ex-Marine and the alleged assassin.
Instead of lasting memories of Trojans gridiron legends like Pete Beathard, Hal Bedsole and Damon Bame and UCLA's Larry Zeno, Mike Haffner and Mel Profit, thoughts concentrated on the events in Dallas.
While most of Fremont remained at recess as the news was being delivered in that classroom of 35 empty desks, the bell finally rang and everybody returned to their respective classrooms. It was so quiet walking down the halls as word quickly spread regarding the assassination attempt in Dallas. At least we all hoped it was an attempt.
Upon entering my classroom, Mr. Joseph Abraham Trumpeter Fields, my eighth-grade teacher with a thick New York accent, was mute and pale. As we all sat down in those highly uncomfortable wooden desks, Mr. Fields kept the lights off in the classroom, although it was totally sunny outside.
Nobody talked. Nobody wanted to talk. Everybody either stared or put their heads on their desk. Frankly, we were all scared. At that moment, the 1963 USC-UCLA game might as well have been played on Mars. Nobody cared.
Although in reality it was just several minutes, it seemed like hours went by with nobody saying a word. In those days, Los Angeles had only seven commercial stations, and all of them were taking the feeds either off CBS, NBC or ABC. There were no commercials -- none.
Suddenly and somberly, Mr. Hollis Stoa, another eighth-grade teacher, walked into our classroom and matter-of-factly said, "He's dead."
What had been a quiet classroom turned to quiet whimpering, then sobbing, and then just plain crying of emotional pain. Mr. Fields put both hands over his face to hide his emotions and wept. It was all too surreal.
Upon getting home that afternoon, instead of talking about the USC-UCLA football game scheduled for the next day, my UCLA dad and USC mom didn't say anything. We all gathered in front of the television and tried to make sense of it all. The country was told that Vice President Lyndon Johnson had been sworn in as president and was flying back to Washington D.C. along with the casket carrying President Kennedy.
While the country and the world were in a state of shock, suddenly the USC-UCLA football game was pointless given the circumstances. But how would it be handled?
McKay was adamant that no game be played and that it should be moved to another date. UCLA and the Coliseum Commission agreed, so the game was moved back until Nov. 30. How ironic that the Coliseum was also the same site that Kennedy accepted the Democratic party's nomination for president in 1960.
For the record, the Trojans handily defeated the Bruins a week later, 26-6, before 82,460 in the Coliseum. The game was probably a therapeutic distraction from the events in Dallas a week earlier, but the pain of Nov. 22 wasn't going away any time soon, whether you were a Trojans or a Bruins fan.
So now, a little more than two generations later, the Trojans and Bruins will have at it on a Nov. 22, and for most attending in the Rose Bowl there will be little to no hint of that dark day in Dallas so long ago.
But for those who lived it back in the day, forgive us for closing our eyes for a moment at Saturday's kickoff in the Arroyo Seco and giving pause.
November, 20, 2014
Nov 20
9:00
AM PT
By
ESPN.com staff
| ESPN.com
Why Stanford will win:
Stanford winning the Big Game would be a sure-thing if I had predicted Cal to win -- as Bears fans know, my pick is like getting handed a condemning black spot from a pirate, a la "Treasure Island." But there is something to be said for the physicality of Stanford's defense being able to contain Cal's offense, as Washington's front seven did. I also suspect Stanford will get Good
Kevin Hogan
in this game, which should be enough to get the Cardinal bowl eligible in an otherwise disappointing season. -- Ted Miller
Why Cal will win:
I like this matchup: A great offense against a great defense, and a "meh" offense against a "meh" defense. Yay, Pac-12 football! But I think
Jared Goff
is going to come up huge for the Bears. I'm giving the nod to the team that has more positive vibes, rather than the one dealing with disappointment. That's what I've learned from the West Coast. -- Chantel Jennings
Why USC will win:
It just wouldn't feel right if the Pac-12 South finished without another change of course. Look for
Cody Kessler
to turn in another big game and the Trojans to avoid a three-game losing streak to UCLA -- something that has happened just three times in the series' history. -- Kyle Bonagura
Why UCLA will win:
With Buck Allen and
Nelson Agholor
exploding on a regular basis, USC may have more top-level flash (don't tell that to
Brett Hundley
, though), but UCLA has the depth advantage in this game. The Trojans' late-game struggles have to be cause for some concern here, especially since the Bruins have been playing their best football as of late. -- David Lombardi
Why Oregon State will win:
The Beavers are riding high and bowl eligibility is on the line in
Sean Mannion
's senior year. Last week, the Beavers played for pride. This week, it'll be to give their leader one extra game in an OSU uniform. They clicked last week and I think that will continue. I think the Beavers are going to leave Seattle with a win and extend their season one more game. -- Chantel Jennings
Why Washington will win:
In losing
Terron Ward
, the Beavers lose a running back, a leader and a special teams contributor. That's a big deduction this late in the season for a team not overflowing with playmakers. Combine that with a talented Washington front seven and the Huskies feel right in this one at home. Now, if
Cyler Miles
can just hold on to the dang ball. -- Kevin Gemmell
Unanimous picks
Why Utah will win:
Home-field advantage might not mean as much as it used to in the Pac-12 this season, but I think the crowd at Rice-Eccles Stadium fuels Utah's nation-leading pass rush. It will be enough to push the Utes to victory over an Arizona offense that's still young at key positions. -- David Lombardi
Why Oregon will win:
When the best team in the conference plays the worst team in the conference, it's easy to pick the winner (even in the Pac-12). It's only a question of how much the Ducks will win by. -- Kyle Bonagura
Why Arizona State will win:
The Sun Devils are going to be eager to bounce back from their loss in Corvallis and pick up win No. 9 against Washington State. Look for a better performance from
Taylor Kelly
and
D.J. Foster
, who rushed for just 51 yards against the Beavers. -- Chantel Jennings
November, 20, 2014
Nov 20
8:30
AM PT
The first four teams to ever make the College Football Playoff have yet to be determined. But the backlash against the committee has been so intense, people already are suggesting ways to fix the system.
ACC commissioner John Swofford spoke Wednesday at a weekly Durham (N.C.) Sports Club meeting and said eight teams would be "ideal"
in a playoff format
.
To continue reading this article you must be an Insider
November, 20, 2014
Nov 20
8:00
AM PT
I guess some mistakes you never stop paying for.
Leading off
The USA Today annual
database of coaches salaries
, which was released Wednesday, always draws plenty of debate. Coach "X" is overpaid. Coach "Y" is underpaid. Whatever your stance, one thing is for sure ... coaches salaries are at an all-time high. And thus, the expectations are equally high.
Here's how things shape up for the Pac-12 coaches, based on total compensation.
Chris Petersen, Washington, $3,681, 720
Rich Rodriguez, Arizona, 3,298,500
Jim Mora, UCLA, $3,250,000
Mike Leach, Washington State, $2,750,000
Todd Graham, Arizona State, $2,702,960
Kyle Whittingham, Utah, $2,200,000
David Shaw, Stanford, $2,012,666
Mike MacIntyre, Colorado, $2,010,150
Mark Helfrich, Oregon, $2,000,000
Sonny Dykes, Cal, $1,808,000
Mike Riley, Oregon State, $1,510,008
Steve Sarkisian, USC, N/A
When talking to some coaches last February for a story about
potential coaching changes in the future
, a few of them expressed to me that the main reason coaches only get three years now is the salaries. It used to be a coach would get at least four years -- one full recruiting cycle -- to turn a program around. Yet schools also have to spend the money to attract coaches, especially rebuilding projects. With the pressure to produce immediate results, it stands to reason that the heat gets turned up after Year 2 or 3. For now, it looks like everyone in the Pac-12 is reasonably happy with their coach, so it's unlikely we see any unforced moves in the offseason.
Player of the Year
The 15 semifinalists for the Walter Camp Award, given annually to the top player in college football, were released Wednesday with three Pac-12 players on the list.
J.T. Barrett, RS Freshman, QB, Ohio State
Trevon Boykin, Junior, QB, TCU
Rakeem Cato, Senior, QB, Marshall
Amari Cooper, Junior, WR, Alabama
Melvin Gordon, Junior, RB, Wisconsin
Rashard Higgins, Sophomore, WR, Colorado State
Gerod Holliman, Sophomore, DB, Louisville
Duke Johnson, Junior, RB, Miama (FLA)
Marcus Mariota, Junior, QB, Oregon
Bryce Petty, Senior, QB, Baylor
Dak Prescott, Junior, QB, Mississippi State
Blake Sims, Senior, QB, Alabama
Shaq Thompson, Junior, LB/RB, Washington
Jameis Winston, Sophomore, QB, Florida State
Scooby Wright, Sophomore, LB, Arizona
Not to be overshadowed, the 10 semifinalists for the Doak Walker Award, which goes to the nation's top running back, was also released Wednesday. USC's Buck Allen was the only Pac-12 player named a semifinalist.
News/notes/team reports
Just for fun
If you watch one video of a punter pinning opponents inside the 10 today,
make it this one
.
Here's injured Buffalo Bills linebacker and former Duck Kiko Alonso chillin in some snow, because, well, why not?
Some more Big Game motivation.
#BeatCal ... pic.twitter.com/x4I4EjMyPQ

— Alan George (@treeSIDjorge) November 19, 2014
November, 19, 2014
Nov 19
10:00
PM PT
By
ESPN.com staff
| ESPN.com
Your humble #4Pac welcomes you to another installment of what will be a regular feature on the Pac-12 blog. Here's how it works: We take one question or one topic, or maybe it's some other really cool format that we haven't even thought of yet, and all contribute our thoughts.
Have a suggestion for something we should address in a future #4Pac roundtable? Go ahead and send it to our
mailbag
.
Today, we're asking which rivalry game each reporter is most excited to see?
David Lombardi/@LombardiESPN
: Cal vs. Stanford
Here's a recipe for entertaining theater: Take two rival programs on opposite trajectories and have them collide. Stanford is diving fast coming off the pinnacle (a Rose Bowl season), while Cal is picking up steam coming from the nadir (1-11 misery). It's fitting, then, that both teams are 5-5 at this point of intersection. Technically, they're in the same spot when it comes to record, but aside from that, their situations couldn't be any more different.
The Cardinal brings the Pac-12's worst offense into this game, while the Bears own the conference's worst defense. Something has to budge in that matchup of extremes, right? This game should be significantly more competitive than last year, and the Bears should enter angry, too: Stanford put up a Big Game record 63 points in 2013 and posted the largest-ever margin of victory in the rivalry's century-plus long history.
Cal's on the upswing now, and Stanford is clearly vulnerable, so this features everything a legendary rivalry should: a chance at vengeance, pride, and a boatload of history. Oh, and a victory clinches a postseason berth for the winner. It's been a while since Big Game meant so much to both programs.
Chantel Jennings/@ChantelJennings
: Oregon vs. Oregon State
I'm most excited to watch the Civil War. For me, I think it'll feel a lot like my Michigan-Michigan State rivalry roots -- two great programs about 40 minutes from one another. Throughout the state of Michigan you split allegiances and I think that's true in Oregon as well. I would say the same of USC-UCLA, but there's so much else competing for people's attention in Los Angeles. Having been a part of the Michigan-MSU rivalry, I'm excited to see how this Oregon-Oregon State one stacks up. Plus, there's always the chance the Beavers pull off another upset and dash the Ducks' playoff hopes.
Kevin Gemmell/@Kevin_Gemmell
: Cal vs. Stanford
I grew up watching the Big Game, so that one will always be near and dear to me. I never had a favorite team, I just enjoyed the pageantry of the rivalry and the history of loathing between the schools.
A former colleague of mine at the San Diego Union-Tribune, Mark Zeigler, was one of the key instigators in producing the
fake Cal newspaper
. I love the history of the Immortal 21 and the Phoenix Five.
This year's offers an extra dose of drama because the teams meet right in the middle of differing trajectories. The Bears, building off their winless-against-FBS-teams season, boast the No. 2 offense in the conference. But they can't stop anybody. The Cardinal have the worst offense in the league. But their defense is fantastic.
Though Sonny Dykes won't be named the Pac-12 coach of the year (I don't think), he deserves some recognition for what he's been able to do in turning the program around so quickly.
I was asked in a recent radio interview if the Cardinal might come out flat because they've had such a down season. The answer is, obviously, no. This is not a game teams come out flat for. Both teams are fighting for postseason berths and given the different styles they play, the stage could be set for one of the more dramatic Big Games in recent history.
Kyle Bonagura/@BonaguraESPN
: USC vs. UCLA
Each rivalry has its own unique aspects that make it appealing, but this year the answer is clear: USC at UCLA. With the Bruins needing two more wins to clinch the Pac-12 South and USC also in contention, there won't be a Pac-12 rivalry game with higher stakes this year. And after UCLA came in at No. 9 in the College Football Playoff rankings on Tuesday, there's still a plausible route for the Bruins to be one of the four teams left standing. That ends the discussion.
There's always going to be something about the UCLA-USC game that other rivalries don't have as a result of the schools' locations. The campuses are about 13 miles apart and both fall within the Los Angeles city limits, making it without question the best crosstown rivalry in the country. That doesn't necessarily make it better than, say, the Apple Cup -- Washington and Washington State are nearly 300 miles apart -- but it does give it an added dynamic that other games don't have.
As for the actual game, the quarterbacks -- UCLA's
Brett Hundley
and USC's
Cody Kessler
-- would have made it interesting regardless of the stakes.
November, 19, 2014
Nov 19
8:00
PM PT
Welcome to the mailbag, where everybody knows your name and they're always glad you came. If you feel so inclined,
follow me on Twitter
.
Derrick in Omaha writes
: Who should Oregon fear the most in a Pac-12 champ game? I don't think we need a highly ranked opponent, just one we can beat. Tough to beat UCLA twice, but USC is looking pretty good, too. And Arizona has had our number the last few years.
Kevin Gemmell:
The simple answer is this: Fear everyone! There is no easy out.
Whoever the Ducks end up playing, they are going to get a unique challenge. But let's go down the line and look at the five teams left and what sort of trouble they could present the Ducks. (Relax, this is in alphabetical order).

Arizona
: The Wildcats have the benefit of beating Oregon twice in the past two seasons. Could they pull it off thrice? Oregon is a different team than the one that lost seven weeks ago. It's healthier in some places, but not in others. And as you note, it's hard to beat a team twice in one season. But the 'Cats seem to know something no one else does. If Arizona wins again, they should take a bow. (Ohhh ... See what I did there?)
ASU
: The Ducks didn't see the Sun Devils this year. But you've got to think the matchup with
Ifo Ekpre-Olomu
and
Jaelen Strong
(assuming both are at full health) would be a marquee storyline in this game. ASU will blitz, because that's what ASU does, and if they can keep
Marcus Mariota
contained, they'd have a shot. That's a big if, though.
UCLA
: The Bruins have the experience of having already seen the Ducks once this season. But they had no answer for
Royce Freeman
, who really blossomed in this game with 121 rushing yards and two scores. But UCLA's
Paul Perkins
, though kept out of the end zone, rushed for 187 yards on 21 carries -- an average of 8.9 yards per touch. That could be a problem.
USC
: Really good running back. Really good receiver. Really accurate quarterback who doesn't make a lot of mistakes. Really athletic defense. This one is intriguing. ...
Utah
: The final score,
51-27
, wasn't indicative of how close that game really was. The Utes were within a field goal with 11 minutes left, and we don't know what would have happened if the Utes had gone up 14-0 instead of the infamous 7-7 swing.
All five matchups have their pros and cons for the Ducks. Let the debate begin.
---
0006shy in Los Angeles writes
: Hey Kevin, is it time for the rest of the country to admit that the Pac-12 South is the toughest division in college football? Five teams -- five teams! -- are still in contention to win it. Talk about cannibalizing! Sorry Sec West, your propaganda doesn't work over here on the BEST coast. With teams like Arkansas (one conference win in two and a half years), A&M (no defense at all), LSU (couldn't complete a pass even if the existence of the universe depended on it), and the Mississippi schools (eight non-conference games combined, zero against Power 5 teams), you're a distant second.
Kevin Gemmell
: I think the rest of the country has, in fact, woken up and smelled the Southern goodness. That's why there are five Pac-12 South teams ranked in the
most recent College Football Playoff poll
with UCLA (9), ASU (13), Arizona (15), Utah (17) and USC (19). But it's not just the committee. All five are also ranked in the AP poll and the coaches' poll. So there is wide recognition that the South is deep.
That five of six teams from one division are ranked in the top 20 is awfully impressive. But for the sake of comparison, it's worth noting that the SEC West has four ranked teams and three of them are in the top 10 and all four are in the top 15.
So the question then becomes quality vs. depth. No doubt, the South is a deeper division. Even with seven teams compared to six, I'd take the bottom half of the South over the bottom half of the West any day. But does the South have more quality at the top than the West?
Colorado coach Mike MacIntyre has some thoughts on the subject,
which you can read here
.
For kicks, let's quickly look at the potential matchups of the top five from each division (we're going by rankings):
Alabama (1) vs UCLA (9)
Mississippi State (4) vs. ASU (13)
Ole Miss (8) vs. Arizona (15)
Auburn (14) vs. Utah (17)
Texas A&M (NR) vs. USC (19)
I think on any given day you have the Pac-12 South going 3-2 and the next day the West going 3-2.
So to answer your question/comment, I think the South probably has a slight edge. But that's also coming from a Pac-12 writer. But I think "distant" second might be a little too extreme. It's pretty neck and neck.
---
James in Corvallis writes
: What are your thoughts on
Jordan Villamin
after the OSU upset? He has a size/speed combo that OSU hasn't had in recent memory. Could he be something special? It would be nice to have that one-two punch with Bolden and Villamin.
Kevin Gemmell
: Interesting to see this question pop up, because I just asked Mike Riley about Villamin on Tuesday's conference call. And I know Chantel Jennings has a Pulitzer-worthy feature coming out on him for tomorrow, so look for that.
I'm not necessarily ready to speculate on anybody's future -- especially a wide receiver when a quarterback transition is going to occur in the very near future -- but it's fair to say he's made the most of his opportunities.
First, his measurables are outstanding. At 6-4, 240 pounds, he's certainly got the kind of frame that can give defensive backs fits. In the first five games, he had just three catches for 32 yards.
But since
Richard Mullaney
went out and Villamin's role has increased, he's caught 26 balls for 479 yards and four touchdowns. He had huge performances against Cal (9-140-1) and ASU (4-127-1) and appears to be gaining more confidence with every game he's played.
And that's exactly what Riley said when I asked him about him: more opportunities have led to greater confidence.
He's still a pup and learning the speed of the game. But I'd look for him to play a big role in the final two regular-season games and potentially a bowl game if the Beavers can get there.