March, 13, 2014
Mar 13
9:56
PM PT
By
Johnnie Curren
| ESPN.com
After the defense stood out in the team's first practice session under Steve Sarkisian on Tuesday, the new USC head coach said the offense stole the show on Day 2 of the Trojans' spring practice.
"I thought the offense created some explosive plays in the second practice which weren't there in the first practice," Sarkisian said. "And so, like I'm used to on this practice field, one side of the ball can get the better of the other on one day, and then you come back the next practice and the other side can get the better of them. I thought the defense had a great Tuesday [and] I thought the offense came out and created some explosive plays today. It was kind of their turn."
In particular, it was the play of quarterbacks
Cody Kessler
and
Max Browne
-- who are entrenched in a position battle -- that really caught the eye of Sarkisian. Directing the team's brand new uptempo, shotgun-based offense, both signal callers split the bulk of snaps during the 7-on-7 and team periods, with each contender completing deep passes downfield on a number of occasions.
"I thought they played well today," Sarkisian said. "I think that they're starting to recognize the speed coming out of Tuesday's practice of how fast things go, and how quickly they have to recognize fronts and coverages, and making those quick decisions -- similar to how a point guard would have to make quick decisions on a basketball court. And I thought both Cody and Max were much better at that today."
And even though the third member of the quarterback competition, early entry freshman
Jalen Greene
, didn't see as much action as his counterparts, he came up with a big play of his own when he completed a 35-yard touchdown pass in the corner of the end zone to
Darreus Rogers
, and it certainly didn't go unnoticed by Sarkisian.
"[He took] a little less reps, but to Jalen's credit he goes in and throws a touchdown pass," Sarkisian said. "He'll get plenty of reps. We've got 13 more [practices] to go, so he'll get his time. We just felt like it was important to get Cody and Max some extended reps in today's practice."
Cope-Fitzpatrick makes a big impression
No player benefitted more from the performance of the quarterbacks than junior tight end
Jalen Cope-Fitzpatrick
. With
Randall Telfer
sidelined due to injury, the former Rocklin (Calif.) Whitney standout is currently the only active scholarship tight end available for the Trojans. To his credit, he's taken advantage of the increased opportunity this spring, particularly on Thursday.
Showcasing soft hands, Cope-Fitzpatrick hauled in a number of passes all over the field, and he was especially in sync with Kessler. With Sarkisian having shown at Washington that he isn't afraid to use the tight end as a major weapon in his offense, he was encouraged by what he saw from Cope-Fitzpatrick on Thursday.
"In this system we love to utilize the tight end, and a lot of time multiple tight ends," Sarkisian said. "I think Jalen has really focused himself on trying to come out and have a good spring. I thought he was really attentive and locked in on Tuesday, and then he got opportunities today to make plays down the field, and he made them. I think that's what he's capable of. He's an athletic guy, he's got tremendous ball skills and I think he's seen a real opportunity to step up and make plays and he's doing it."
Notes and quotes
• Following practice defensive back
Josh Shaw
, who is still sidelined with a stress fracture in his foot and is wearing a boot, said that he will line up at cornerback in 2014.
•
J.R. Tavai
saw extensive time with the first-team defense at defensive end on Thursday, where
Kenny Bigelow
lined up for the majority of Tuesday's practice. Tavai had run primarily with the second unit on the outside at rush end on Tuesday.
• Among those in attendance were Class of 2014 signees
Viane Talamaivao
,
Damien Mama
,
Chris Brown
and
Ajene Harris
, Class of 2015 defensive lineman
Rasheem Green
and USC and NFL greats
Keyshawn Johnson
and
Ronnie Lott
.
• The next practice is on Saturday, but the team will be in shorts, shoulder pads and helmets, and it will not be in a scrimmage setting as some might have assumed. In fact, Sarkisian said that he isn't sure that the team will hold any scrimmages in the traditional sense this spring.
"I don't know if we're ever going to come out and have a two-hour scrimmage. I don't know if we benefit from that," he said. "But there will be portions of our practice that will be live, that will be scrimmage oriented, and I think that will allow us to tackle, it will allow us to cut block, it will allow us to learn from those things, but not be so overly fatigued to where guys can start getting injured."
March, 13, 2014
Mar 13
6:00
PM PT
The 2014 NFL draft doesn't kick off until May. That gives us plenty of extra time for speculation and guesswork.

Helping fuel that guesswork are the newest posts from Mel Kiper, who released his
Mock Draft 3.0

, and Todd McShay, who posted his
updated list

of the top 32 NFL prospects.
Three Pac-12 players appear on each list.
UCLA's
Anthony Barr
checks in as the highest-projected player from the Pac-12 to be drafted. Kiper has the outside linebacker at No. 11 going to the Tennessee Titans.
Per Kiper:
Barr has seen his stock slip some, but he put together a good pro day, and gives the Titans another pass-rusher aside from Derrick Morgan. In general, drafting the best possible player supersedes need unless the value lines up with need pretty well, but this is a spot where the needs are multiple and I can just see the team taking the best player. Barr can provide an early impact.
Wide receivers
Brandin Cooks
(Oregon State) and
Marqise Lee
(USC) are the other two Pac-12 players projected to be drafted in the first round.
In terms of ranking the prospects, McShay has Lee as the top-ranked player from the Pac-12 at No. 18, followed by Cooks at No. 22 and Barr at No. 23.
Here's McShay's take on Lee:
Lee didn't run a great 40 time at the combine (4.52 seconds), but he shows very good speed and explosiveness on tape, and is a big-play weapon after the catch and as a vertical route-runner. He had too many drops in 2013, but showed good ball skills during his freshman and sophomore seasons.
The conference has had at least one player drafted in the first round every year since 1967 -- and it looks like that trend will continue. Since 2000, 55 players from the league have been drafted in the first round.
March, 13, 2014
Mar 13
2:30
PM PT
A phrase began to beat in my ears with a sort of heady excitement: "There are only the pursued, the pursuing, the busy, and the tired."
March, 13, 2014
Mar 13
11:00
AM PT
LOS ANGELES -- When word of new Trojans offensive line coach Tim Drevno was first announced by head coach Steve Sarkisian, it was received with both thunderous applause and a sense of mystery.
Why would Drevno leave the highly successful San Francisco 49ers and long-time mentor Jim Harbaugh and return to the college game? After all, the NFL offers a great salary, a tremendous retirement plan for assistant coaches, and one doesn't have to deal with the non-stop world of recruiting.
"The big draw for me was USC," said Drevno, a Southern California native. "My grandfather went to USC -- a 1951 graduate of the pharmacy school -- my sister is a 1982 graduate in hospital administration, and I grew up a USC fan going to games."
The dream of his youth was to be a USC tailback and receive all the acclaim that goes with one of college football's most storied positions.
"I used to be on my mom's bed and would jump over the bed acting like I was Marcus Allen," said Drevno, a former all-league lineman at South Torrance (Calif.) High. "I wanted to be a tailback, but I grew up to be an offensive lineman."
Although he played at Cal State Fullerton, where he received his degree in criminal justice in 1992, you get the impression that Drevno is living a second childhood after being named the Trojans offensive line coach.
[+] Enlarge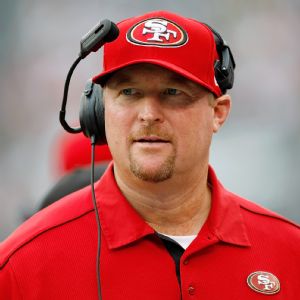 AP Photo/Scott BoehmTim Drevno comes to USC after helping the 49ers become the NFL's third-best rushing team a year ago.
USC fans are hoping that Drevno brings some of the Jim Harbaugh toughness that was a cornerstone of Stanford football, where the two coached together for four years before transitioning to the San Francisco 49ers in 2011.
"I love the man," said the 44-year-old Drevno. "He taught me to run the ball first and be physical up front -- attack each day with enthusiasm unknown to mankind. You're either getting better or you're getting worse; you're never staying the same. Be the best at whatever you do."
Drevno's 49ers résumé is impressive. In 2013, tackle
Joe Staley
and guard
Mike Iupati
made the Pro Bowl. In 2012, all five of the 49ers' line starters were selected for the Pro Bowl, and Iupati was a first-team All-Pro selection. Not bad for a coach whose previous coaching stops also include Cal St. Fullerton, Montana State, UNLV, San Jose State, Idaho, and the University of San Diego.
So should Trojans fans soon expect the same type of powerful offensive lines that Drevno formed with the 49ers and Stanford?
"First, we'll have to see what we're working with and we'll piece it together as we go," Drevno said.
And what will it take for the Trojans to play Drevno's physical brand of offensive line football?
"Covering somebody up, moving your feet and hands, and getting after it," Drevno said. "It's about both attitude and technique. This game is about blocking and tackling. Those are the qualities it takes to win, and the physicality comes later.
"All of football is a mindset when it comes to physical play. You have to work at it to be good at it. You just can't do one thing and be one-dimensional. It's a want to and a brotherhood in the room. You have to want to take ownership."
Despite the Trojans limited numbers, Drevno takes a practical yet positive approach as his unit embarks on a new system.
"We've got a great group to work with and we have 10 healthy guys right now," Drevno said. "We have other guys that will be healthy soon, and you just push forward. Guys are working hard and getting better every day. You coach them hard."
It was feared during the recruiting period that Drevno's late addition to the staff might affect USC's chances of signing a great offensive line class. As the 49ers went through the playoffs, only to lose to eventual Super Bowl champions Seattle Seahawks, Trojans recruits such as highly coveted Bellflower (Calif.) St John Bosco All-America prep tackle
Damien Mama
took notice.
"The staff did a great job of holding on to them and keeping me up to date," Drevno said. "We lost that game in Seattle and I flew down immediately to be in the home of Damien Mama. These are good football players coming in and we're excited to be working with them."
Even before spring ball, Drevno had been hard at work evaluating his offensive linemen. It was decided about a month ago that starting junior offensive guard
Max Tuerk
would get yet another crack at center with the early departure of
Marcus Martin
to the 2014 NFL draft.
"Max is a smart guy, and we're trying to put the best five guys on the field," Drevno said. "He's a veteran guy and he's played a lot of snaps. We started there; we'll mix it up and see what's best for everybody."
And everybody also means true freshmen
Toa Lobendahn
, a potential center candidate who left La Habra (Calif.) High early to enroll in time for spring practice, as did Claremont (Calif.) High tackle
Jordan Austin
.
"Toa comes from a football family with his dad being a coach," Drevno said. "Coach's kids do the right things, and they been around a lot chasing balls around, so he fits in pretty well.
"I am really impressed with Toa and Jordan Austin. They all have tremendous want to and they want to be good. These guys are a very good draft class in terms of prospects."
When asked about re-adjusting from coaching in the NFL to coaching in college, Drevno remains philosophical.
"Football is football whether you're coaching Pop Warner, high school, college, or the pros," Drevno said. "You roll the ball out and you execute at a high level. The patience level is the same; it's a journey."
Drevno's cardinal and gold journey is just beginning. Not bad for a former USC tailback wannabe.
March, 13, 2014
Mar 13
12:30
PM PT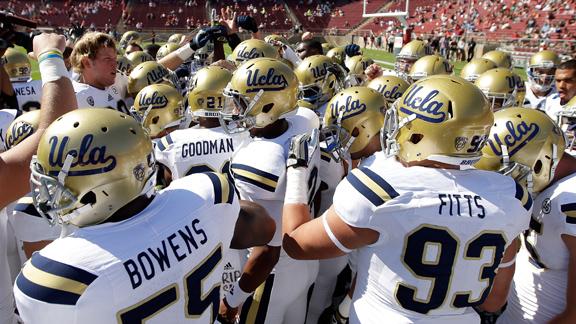 The new College Football Playoff is supposed to encourage schools to schedule better nonconference games, as teams try to beef up their schedule strength to earn one of the playoff's coveted four spots at season's end.
On Thursday, Texas A&M and UCLA
announced that they'll play each other
during the 2016 and 2017 seasons.
Other schools have announced future marquee nonconference opponents, including Texas A&M vs. USC, Notre Dame vs. Texas, Alabama vs. Michigan State and LSU vs. Oklahoma.
Here are five other nonconference games I'd like to see in the future:
[+] Enlarge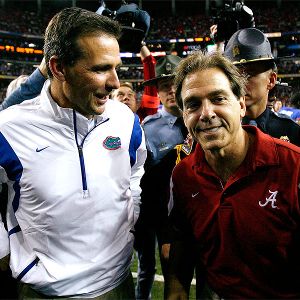 Kevin C. Cox/Getty ImagesUrban Meyer and Nick Saban have faced off for SEC titles, but their current teams, Ohio State and Alabama, have played only three times in history.
1. Alabama vs. Ohio State
: Alabama's Nick Saban and OSU's Urban Meyer dominated the SEC when Meyer was coaching at Florida, combining to win five BCS national championships from 2006 to 2012.
When Meyer was still coaching at Florida, the Crimson Tide and Gators played in two of the most anticipated SEC championship games. The No. 2 Gators beat the No. 1 Tide 31-20 in 2008, and then the Tide turned the tables on No. 1 UF with a 32-13 win in 2009.
Alabama and Ohio State have played only three times in history, with the Tide winning each time, most recently in a 24-17 victory in the 1995 Citrus Bowl.
2. Texas vs. Texas A&M
: Perhaps the biggest casualty in conference realignment, Texas and Texas A&M haven't played each other since the Aggies bolted the Big 12 for the SEC after the 2011 season. Sadly, there are no plans for the in-state rivals to play again in future regular seasons.
The Aggies and Longhorns played each other 118 times from 1894 to 2011, with their annual meeting traditionally being played on Thanksgiving Day. UT won nearly twice as many games as the Aggies (76-37-5), including nine of the last 12 meetings.
With former Louisville coach Charlie Strong taking over at Texas, and Kevin Sumlin building the Aggies into an SEC powerhouse, the game would also pit two of the sport's best African-American coaches against each other.
3. Oregon vs. Baylor
: Two of the game's most explosive offenses -- and two of its best-dressed teams -- would undoubtedly light up the scoreboard if they ever played. In fact, the contest would probably look more like a track meet.
Under coach Art Briles, the Bears have become the Ducks of the Southwest, with their hurry-up, spread offense and myriad flashy uniforms closely resembling what Chip Kelly and then Mark Helfrich built at Oregon. The Bears and Ducks follow the same blueprint on offense: play fast and score fast.
We hoped to see this matchup in the Tostitos Fiesta Bowl last season, but alas, it didn't happen. Oregon and Baylor have never met on the gridiron.
4. Michigan vs. USC
: Two of the sport's traditional heavyweights have faced each other eight times in the Rose Bowl Game Presented by Vizio, but only twice during the regular season -- in 1957 and 1958.
The Trojans won the last three meetings in the Rose Bowl, 32-18 in 2007, 28-14 in 2004 and 17-10 in 1990. USC has won six of the past seven meetings overall and holds a 6-4 advantage all-time.
We might have seen this matchup during the regular season if a Big Ten/Pac-12 scheduling partnership hadn't fallen apart in 2012.
5. Georgia vs. Florida State
: UGA coach Mark Richt was a longtime assistant under legendary FSU coach Bobby Bowden before taking over the Bulldogs, and he recently poached defensive coordinator Jeremy Pruitt off the Seminoles' staff.
The Bulldogs and Seminoles go head-to-head for a lot of recruits every year, and Florida State coach Jimbo Fisher upgraded his roster by effectively recruiting South Georgia and Atlanta.
The Bulldogs and Seminoles have played 11 times and only once since 1984 -- UGA defeated FSU 26-13 in the 2003 Sugar Bowl. Georgia leads the all-time series, 6-4-1.
March, 13, 2014
Mar 13
6:00
AM PT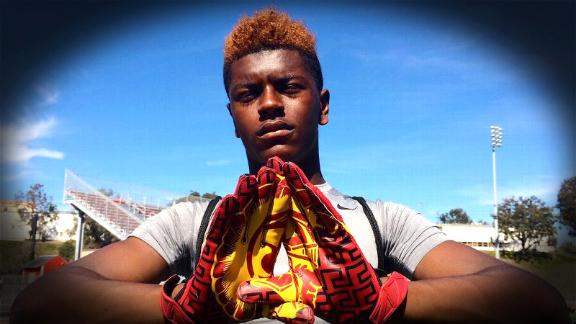 They are all highly coveted, Southern California-based recruits. They constantly link up at 7-on-7 passing league tournaments and training camps. So it should be no surprise that they have grown so close that ESPN Junior 300 wide receiver
Jaylinn Hawkins
has dubbed them "The Bros."
The clique includes ESPN Junior 300 prospects
Iman Marshall
,
Stanley Norman
and
Desean Holmes
, among others. Hawkins considers himself a member, though he acknowledges he's still far from matching the recruiting notoriety the others have built heading into the spring.
"The Bros" were among the Elite Junior Day visitors USC hosted the weekend before national signing day, and Hawkins said he and the others were happy to share the experience.
To continue reading this article you must be an Insider
March, 13, 2014
Mar 13
5:30
AM PT
1. Let me stipulate that Steve Sarkisian is a talented coach who didn't get sufficient credit for the resurrection of Washington football. But the expectations that Sark will pick up USC and deposit it into the top 10 are shortsighted. The coach might be new, but the Trojans are still operating under NCAA scholarship reductions. USC still has fewer players than the other contenders, and more of the Trojans are young and inexperienced. A team with one quarterback who has taken a college snap (sophomore
Cody Kessler
) is headed for the playoffs? USC's margin of error remains too thin.
2. Hard as it is to believe with a school that has sent Johnny Unitas, Brian Brohm, Stefan LeFors, Dave Ragone, Browning Nagle and Chris Redman to the NFL, but
Teddy Bridgewater
will likely be the first Louisville quarterback to be drafted in the first round.
Blake Bortles
of UCF can't claim that -- Daunte Culpepper went in the first round in 1999.
Johnny Manziel
of Texas A&M almost could, but
Ryan Tannehill
became the first Aggie to go in the first round two years ago. Of course the Aggies were a team that ran first and threw later forever.
3. If you love college football, I shouldn't have to tell you to read Dan Jenkins' autobiography, "His Ownself," published last week. Dan's 80-year love affair with the game shines throughout. My favorite nugget: Dan recounting how 1938 Heisman winner Davey O'Brien once explained to him that two rules adopted in 1934 made way for the passing game we love today. One reduced the circumference of the ball one inch, making it easier to grasp. The other rescinded the five-yard penalty for throwing more than one incompletion in a series of downs.
March, 12, 2014
Mar 12
4:55
PM PT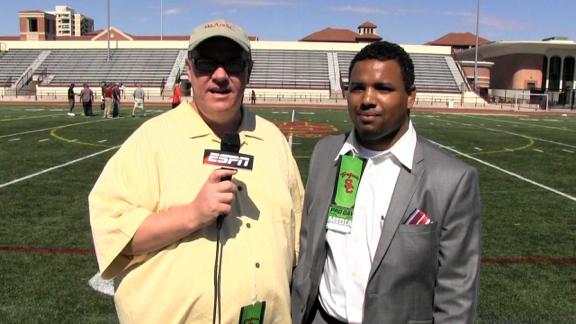 LOS ANGELES -- Former USC wide receiver Marqise Lee returned to campus Wednesday looking to improve his draft stock at the Trojans' pro day, but he skipped most drills from the workout itinerary in front of scouts.
The 2012 Biletnikoff Award winner said he was content with his performance at last month's NFL combine in Indianapolis, which included a somewhat underwhelming 4.52-second mark in the 40-yard dash. Lee did not attempt, or even consider, cutting that mark Wednesday, focusing instead on showing off his catching and route-running abilities.
"I knew I could do better, but you've got to understand film is different from the actual 40," Lee said. "I knew my film would make up for the time I didn't get."
Lee, a projected first-round selection who battled a left knee injury throughout the 2013 season, did go through cone drills and caught passes during an on-field session that lasted just more than an hour. He also did 11 reps in the 225-pound bench press, a workout he didn't partake in at the combine.
In Indianapolis, Lee was the top performer among receivers in the broad jump (10 feet, 7 inches) and had one of the best vertical jumps (38 inches), but his 40 time appeared to pave the way for Texas A&M's Mike Evans to overtake him in some mock drafts.
"Yeah, I didn't run the 40 like I wanted to -- fast -- but I still stuck a decent time," Lee said of his combine effort. "My jumping was great, and in meetings I was myself. Being myself is not bad, so I think I did well. If I had to give myself a grade out of everything, I'd give myself a B-plus. You can't give yourself too much."
March, 12, 2014
Mar 12
7:00
PM PT
Athlon has ranked the
FBS coaching jobs from No. 1 to No. 128
, and I suspect you'll be curious where the Pac-12 jobs fall.

But first, the methodology:
With all of this in mind, we have tried to rank the jobs in college football based on the attractiveness from a coaching perspective. As we mentioned above, many factors were considered. Tradition, facilities, location, budget and recruiting ability are just a few things we considered. But in the end, we simply asked ourselves the following question: Where would we want to coach if we had a blank slate and all of the jobs were open?
Texas ranked No. 1, Florida No. 2 and Alabama No. 3. USC came next and led the Pac-12.
Here's how the Pac-12 programs rank (number is national ranking):
4. USC
12. Oregon
18. UCLA
23. Washington
33. Stanford
38. Arizona State
39. Arizona
43. California
53. Colorado
54. Oregon State
55. Utah
63. Washington State
Though you certainly could quibble with these rankings, they are defensible. And keep in mind this is at the present moment. Ten or even five years ago, these would look different.
Further, just because a job seems challenging doesn't mean the right coach can't sustain success. Oregon State, Utah and Washington State have been more successful over the past decade than many of the teams ahead of them. Colorado was a consistent national power from 1989 to 2002.
And by the way, the Cougars have played in two Rose Bowls since 1997, something only USC, Oregon and Stanford can match.
March, 12, 2014
Mar 12
1:00
PM PT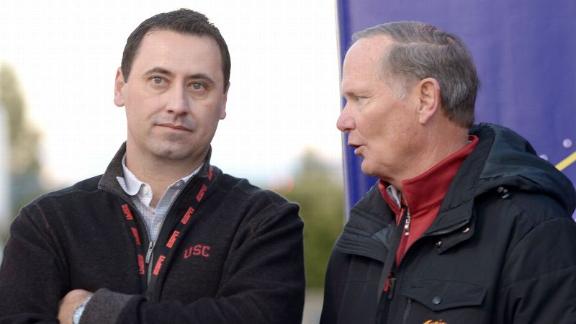 The first practice was on speed dial. The tempo was frenetic. The energy was palpable.
The Steve Sarkisian Era opened in a blur with the new head coach happily immersed in the middle of his revolutionary -- for USC, at least -- no-huddle offense, calling the plays, communicating with his quarterbacks and carefully positioning his running backs and receivers.
It was a happy, upbeat afternoon full of unbridled hope and surging optimism.
And while this is not meant to deflate anything that is just starting out and beginning to build, if Sarkisian wants to succeed where his predecessor failed, he needs to understand one major facet of the job that Lane Kiffin never grasped.
He needs to spend at least a portion of his practice time with the defense.
Granted, it was just one practice, but the truth is he didn't do much of that on Tuesday. He is an offense-oriented coach, and it is understandable. His priority is on that side of the ball. Moreover, he trusts the talented new coordinator he brought with him from Washington, Justin Wilcox, to take care of the defense.
But to many of those USC fans who suffered through the Kiffin regime, that tendency is more than a little scary. They watched Kiffin spend all his time at practice with the offense, rarely, if ever, wandering down to observe a defensive drill. They saw him during games staring at his now infamous play card, even while his team was desperately trying to stop an opposing offense. They would see him talking to a quarterback or a wideout but never to a linebacker or safety.
Whatever else you thought of him, there was no denying that Kiffin was a one-dimensional coach.
[+] Enlarge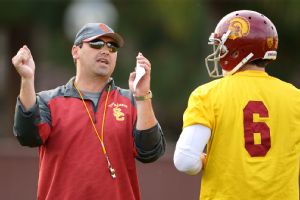 Kirby Lee/USA TODAY SportsSteve Sarkisian talks with USC quarterback Cody Kessler at practice.
Sarkisian must be careful not to fall into that same trap.
The great Trojan coaches of the past never did. John McKay was famous for developing Tailback U, but the rock-solid foundation of his teams was always a ferocious defense. Mike Garrett, O.J. Simpson, Anthony Davis and Co. were electrifying, but so was The Wild Bunch.
It was the same with John Robinson, who preached a strong, power-running game while making sure there were guys like Ronnie Lott, Chip Banks and Joey Browner to attend to the less-glamorous side.
And then, of course, there was Pete Carroll, who was a defensive guy first and foremost, although he did manage to recruit plenty of athletes like Matt Leinart, Mike Williams and Reggie Bush to light up scoreboards around the country.
The point is, the coaches who have been overwhelmingly successful in college football are those who have taken equal interest in offense and defense.
Now, this is not to say Sarkisian won't do that. Maybe he will. But as a noted offensive guru and, like Kiffin, a coach who refuses to give up the play-calling duties, it definitely is more difficult. You naturally become more attached to that facet of the job.
Based on his time in Washington, the evidence is that Sarkisian definitely has room for improvement in that area. In his first couple of seasons with the Huskies, while the team's offense and overall record were better, the defense was deplorable. In 2011, Washington finished 105th or lower nationally in scoring defense, pass defense and total defense.
Once he brought in Wilcox, those numbers changed dramatically. By 2013, Washington was in the top 35 in scoring defense and 11th in pass defense.
But while Sarkisian seems to have found the right defensive coordinator, he also has to show he is not just there to delegate on defense. Make no mistake, the players will know.
One of the main reasons Ed Orgeron was so warmly embraced in his time as interim head coach a year ago is that the kids saw how involved he was on both sides of the ball. When Dion Bailey or Devon Kennard made a big, rally-killing play on defense, Orgeron wasn't standing 10 yards down the sideline studying his next play-calling options. He was right there, cheering and enthusiastically slapping them on the backs.
Again, it is way too early to predict precisely what kind of coach Sarkisian will be for the Trojans. And one practice is far too soon to evaluate his methods.
But the warning signs are there, and if he's as smart as Pat Haden, J.K. McKay and others seem to think he is, Sarkisian will not only be aware of them, he will do something about them.
Remember, Sark, in your rush to become the next great coach at USC, the mantra is really simple:
Defense matters.
March, 12, 2014
Mar 12
2:30
PM PT
You take the van, I'll keep the dog.
March, 12, 2014
Mar 12
12:00
PM PT
LOS ANGELES -- Through a crush of digital cameras and recorders, new USC head coach Steve Sarkisian was given the requisite initial questions following his first official practice as USC's head coach.
"What's it like being back?"
"How was the walk onto the practice field?"
"What's it like coaching some of the guys you recruited at Washington?"
Yada, yada, yada.
It didn't take long, however, for the queries to turn to the quarterbacks. Much like last season, anytime USC has a quarterback competition it's going to be in the national spotlight. For now, save the cards -- score, report or otherwise -- because to speculate on the quarterbacks after one practice barely scratches the surface of superficial. Particularly since, as Sarkisian noted, "we were practicing in our underwear."
[+] Enlarge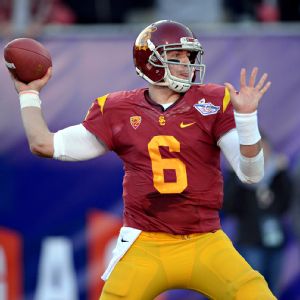 Kirby Lee/USA TODAY SportsCody Kessler led USC to 10 wins last season, but his status as starting quarterback is not guaranteed.
To be clear, the Trojans wore shorts and helmets. But the lingering question throughout spring and into the fall will be whether
Cody Kessler
will retain his starting job, or give way to
Max Browne
.
Neither quarterback seemed particularly thrilled to be talking about a competition on Day 1.
"I'm just trying to get better every practice," Kessler said. "I'm going to keep working. I've been competing my whole life. And even if (there wasn't a competition) I'd keep competing. It is what it is and I'm just going to keep trying to get better."
At first glance, the assumption is that Kessler has the inside edge given his experience. Last season he completed 236 of 361 passes for 2,968 yards with 20 touchdowns to seven interceptions. He posted a raw QBR of 59.7 with an adjusted QBR of 66.7 in guiding the Trojans to a 10-4 record and a victory in the Las Vegas Bowl, where he was named the game's MVP.
"I thought they both did some good stuff," Sarkisian said. "They both had some moments they'd love to have back. We have to look at the film. We're moving at a pretty fast clip out there, and you're trying to assess everything at once, and it's hard to do that. There's plenty of stuff for both of them to learn from."
Then again,
Max Wittek
had more experience than Kessler heading into spring last season. So as far as Browne is concerned, it's wide open.
"Since the day I got here we've all competed each and every day," said Browne, who redshirted last season. "My mindset hasn't changed. Even last year when it was a Week 7 game and I knew I was redshirting, I was still competing ... It's no secret he led us to 10 wins last year. We had a lot of success. But we're both going to come out and compete each and every day and see where the chips fall."
Max in the middle
Those in attendance for the open practice might have noticed big No. 75 playing center. You might recall that
Max Tuerk
spent about a week at center last spring but couldn't quite get the quarterback-center exchange figured out -- mostly because Tuerk's arms are so long.
But with
Marcus Martin
departing -- and the new scheme being installed by Sarkisian working almost exclusively out of the shotgun -- the versatile Tuerk could be the primary guy in the middle.
"We didn't snap any over the quarterback's head," Sarkisian said. "So knock on wood. And there were no grounders. That was the first thing I was concerned about coming out today."
Tuerk is obviously a fan of the shotgun. As a consummate team player, he's happy going wherever the team needs him, as he started 13 games at left guard and one game at right tackle last season. In his freshman season he started five at left tackle.
"He could probably play three different positions," Sarkisian said. "We have to see how we evolve. At some point we'll get
Aundrey Walker
back and
Zach Banner
and
Jordan Simmons
. We have some versatility on this front. But it is comforting to know you have an experienced player at center when you are operating at this pace."
Speaking of pace
The hot buzz word at practice was "tempo" because of the fast-paced offense that Sarkisian is installing. The Trojans ran approximately 120 offensive plays with little time to rest in between.
The upside is that the pace boosts conditioning and gets the Trojans more prepared for a game situation. The downside is it doesn't allow for much in-practice instruction.
"If you make a mistake, you're glad you're going right back," Browne said. "If you throw a touchdown, like I did today to
George Katrib
, you don't get to time to celebrate either. It works both ways. But it allows you to get into a rhythm. You can dink-and-dunk your way down the field and never really get time to breathe."
March, 12, 2014
Mar 12
11:00
AM PT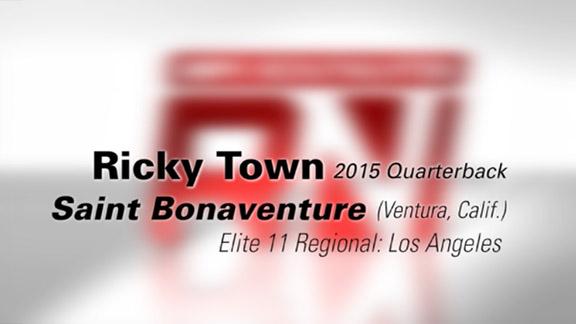 Throughout this recruiting cycle, RecruitingNation will profile a number of ESPN 300 prospects in the 2015 class, including an inside look at the prospect, his recruitment, a scouting report and what college program could benefit when he ultimately makes his decision.
This is exactly the way things were supposed to play out for
Ricky Town
.
While his documented proof doesn't stretch as far back as the video of an eight-year-old
Matt Barkley
telling his family that he would one day become the USC quarterback, Town does have a photo of himself as a seventh-grader, arm in arm with Barkley on the USC practice field.
It was a moment in a long line of USC-related events that led Town from Northern California to the top-ranked prospect in the Trojans' 2015 class.
To continue reading this article you must be an Insider
PAC-12 SCOREBOARD
Saturday, 12/21
Monday, 12/23
Tuesday, 12/24
Thursday, 12/26
Friday, 12/27
Saturday, 12/28
Monday, 12/30
Tuesday, 12/31
Wednesday, 1/1
Thursday, 1/2
Friday, 1/3
Saturday, 1/4
Sunday, 1/5
Monday, 1/6