October, 19, 2014
Oct 19
8:24
PM PT
There is something about the
Colorado Buffaloes
coming to the Coliseum that seems to bring out the best in USC quarterbacks.
Two years ago it was Matt Barkley tying a school-record with six touchdown passes against Colorado, including five in the first half, while also setting a new conference mark for most touchdown passes in a career.
Cody Kessler
had been on the sidelines that day as a redshirt freshman reserve and he must have been paying attention because when his opportunity came to face the Buffs defense on Saturday he took advantage with a record setting performance of his own.
Kessler and the Trojans were on fire from the start. The opening drive saw a touchdown pass to
Nelson Agholor
, and the same pair connected for a score on the second drive as well. Next it was
JuJu Smith
and then
Bryce Dixon
, both of the freshmen scoring touchdowns to put the Trojans ahead 28-0 at the end of the first quarter. Four drives, four touchdowns, and Kessler was 11-of-14 for 159 yards in the quarter. Kessler connected with Dixon in the second quarter as well to tie Barkley with five touchdowns in one half.
In the second half, Kessler got explosive with a 75-yard touchdown pass to Agholor, and then he closed his scoring day with a 24-yard touchdown pass to
Steven Mitchell
, the first of Mitchell's career. Total numbers for the day on Kessler were 19-of-26 for 319 yards and seven touchdowns, which set a new USC single game record.
October, 19, 2014
Oct 19
7:03
PM PT
October, 19, 2014
Oct 19
8:00
PM PT
Just a few weeks ago, it was popular to write off the Pac-12's chances of having a team in the initial College Football Playoff. What was then an overreaction is now just silly.
It's clear Oregon, as the top-ranked one-loss team outside the SEC, controls its own destiny as far as the playoff is concerned. In no way does that guarantee anything, but based on how the Ducks have played since losing at Arizona and what has happened elsewhere in college football, Oregon should feel good about where it is.
The Ducks became the Pac-12's first bowl-eligible team after beating Washington 45-20 on Saturday, but after them the conference remains a jumbled mess. Six others have at least five wins, including five teams in the South Division.
There's no sound way to logically project how this will end up -- too much parity -- but here's our weekly attempt:
College Football Playoff:
Oregon
Fiesta Bowl:
Arizona
Valero Alamo Bowl:
Utah
National University Holiday Bowl:
Arizona State
San Francisco Bowl:
USC
Hyundai Sun Bowl:
UCLA
Royal Purple Las Vegas Bowl:
Stanford
Cactus Bowl:
Washington
Heart of Dallas Bowl*:
Cal
* at large
October, 19, 2014
Oct 19
1:09
PM PT
October, 19, 2014
Oct 19
3:28
PM PT
Another weekend of Pac-12 games meant another weekend of Pac-12 visitors, as multiple conference programs hosted important official and unofficial visitors. Those recruits took to twitter to share their experiences, as Arizona State, Cal, USC and Oregon all put together significant performances -- including three home victories -- in front of recruits.
Cal hosts big weekend
The Golden Bears had a number of official visitors on hand -- including ESPN 300 wide receiver
Carlos Strickland
-- and almost pulled off the upset against UCLA. As always, the Cal passing game was on display, and this time it came in front of Strickland and three-star receiver
Lavan Alston
. Class of 2016 standout running back Sean McGrew, who holds a number of Pac-12 offers, was also on hand on an unofficial visit.
Cal game today! pic.twitter.com/sLl4tBxyQF

— Sean McGrew (@smcgrew11) October 18, 2014
Oregon's ESPN 300 visitors
Perhaps no Pac-12 program hosted a more potent one-two punch than the Ducks, as Oregon brought in ESPN 300 teammates
John Houston Jr
. and
Rasheem Green
on official visits.
Just landed in Oregon #GoDucks #WinTheDay #Oregon

— John Houston (@Official_John10) October 17, 2014
The two hold significant interest in UCLA, USC and other programs, but the Ducks picked a great weekend to bring in the talented defenders on official visits. Neither is expected to make a decision before signing day, but Oregon could be in the mix for both until the end.
Masina's second Pac-12 trip
ESPN 300 outside linebacker
Osa Masina
has three Pac-12 programs among his final schools, and the nation's No. 124 overall prospect was on an official visit to Arizona State this weekend. Masina went to UCLA earlier this month and will visit USC at the end of November.
#ESPN300 OLB Osa Masina on his official visit to Arizona State (photo from @mommamasina) pic.twitter.com/Qhf7ROWaO2

— Erik McKinney (@EMcKinneyESPN) October 19, 2014
Recruits see big USC win
While the Trojans didn't host any official visitors, being the only game in Los Angeles brought out some important local prospects.
ESPN 300 athlete
Ykili Ross
attended several USC games this season and was at the Coliseum again on Saturday.
Blessed! pic.twitter.com/sZpKFc3sQJ

— OvO_Y2K (@TheRealYK_7) October 18, 2014
The Trojans also received an unofficial visit from 2016 ESPN 300 safety
C.J. Pollard
, who picked up an offer from USC last week. Pollard is another in a long line of Gardena (Calif.) Serra standouts and his father, Marvin, is a former USC cornerback.
#ESPNJr300 S C.J. Pollard with USC head coach Steve Sarkisian. Pollard recently picked up a USC offer. pic.twitter.com/e0wbZKHeee

— Erik McKinney (@EMcKinneyESPN) October 19, 2014
October, 19, 2014
Oct 19
2:52
PM PT
Welcome back, UCLA. Goodbye, Stanford.
Oregon headlines the list of six Pac-12 teams ranked in this week's
AP poll
, which does not include the Cardinal for the first time since the second week of the 2010 season. The Cardinal's school-record, 72-week run ended following a 26-10 loss to Arizona State on Saturday, which also propelled the Sun Devils to No. 14.
Oregon jumped Baylor, Michigan State and Notre Dame to No. 6 and is the nation's No. 3-ranked one-loss team behind No. 4 Alabama and No. 5 Auburn.
Arizona, which was idle this week, is a spot behind its in-state rival at No. 15.
The most anticipated game in the Pac-12 this week will be No. 20 USC's trip to No. 19 Utah, which is one of just two games in the country that will feature a pair of ranked teams.
After a 36-34 win against Cal, UCLA re-enters the poll at No. 25. The preseason No. 7 team was unranked last week after consecutive losses to Utah and Oregon.
October, 19, 2014
Oct 19
2:00
PM PT
October, 19, 2014
Oct 19
9:00
AM PT
Another weekend is finished in the Pac-12. Here are some individual accolades.
Devontae Booker, RB, Utah
: The Utes passed for only 62 yards in their dramatic
29-23 double-overtime victory
at Oregon State, so they relied on Booker's running for the necessary offense to win. And boy, did he sure do some running. Booker amassed 229 yards on 32 carries (7.2 average) and he made sure he left nothing to chance in the second overtime, knifing his way 19 yards for the winning touchdown even though Utah needed only a field goal for the victory. Booker found paydirt two other times -- once to give the Utes a late fourth-quarter lead and once to open the first overtime. So aside from being statistically productive, he delivered in the clutch.

Gionni Paul, LB, Utah
: It's time to start recognizing the quality of this Utah defense. The front seven has been sturdy this season. On Thursday, the Utes allowed only 4.7 yards per play against Oregon State. They also recorded five more sacks, pushing their conference-best total to 33. Most importantly, the defense was again fundamentally sound across the board, so let's put a sticker on Paul's helmet -- he led the unit with 14 tackles.
Brett Hundley, QB, UCLA
: This was by no means Hundley's best game. He fumbled early on, and that set up a Cal touchdown. He then threw an ugly second-half interception that opened the door for another Bears score. But on a day marred by UCLA sloppiness on both sides of the ball, Hundley overcame his own mistakes and those of his teammates with his supreme athleticism. He did so with statistical flair: 330 passing yards, 94 rushing yards, and three total touchdowns. The Bruins ended up
beating the Bears 36-34
on a late field goal, and that capped a Hundley-led 567-yard performance.
Cody Kessler, QB, USC
: USC boasts an illustrious list of quarterbacks in its storied history. Well, Kessler can now say he has thrown more touchdown passes in a single game that any of the legendary names that came before him. Kessler tossed seven scores in the Trojans'
56-28 annihilation of Colorado
, and he did it with remarkable efficiency (19-for-26, 319 yards). More than a quarter of Kessler's throws were touchdowns. By the way, Matt Barkley held the previous USC single-game touchdown record, throwing six on two separate occasions.
Buck Allen, RB, USC
: It wasn't exactly tough running Saturday, but Allen deserves another sticker as he continues his fine season. The back's final line against Colorado: 15 carries, 128 yards, 8.5 per carry.
Royce Freeman, RB, Oregon
: Oregon's remarkable win streak over Washington reached 11 games with Saturday's commanding
45-20 win
, and the Ducks got it done by pummeling the Huskies' vaunted front seven. They did it behind Freeman, a true freshman power back who's built more like a senior. His bruising effort amassed 169 yards on 29 carries (5.8 average) against a Washington defense that had been sturdy against the run entering the game. Freeman powered his way to four touchdowns. The Ducks' offensive line seems to be back and firing on all cylinders.
Marcus Mariota, QB, Oregon
: Yes, I know -- Mariota's helmet is already full of stickers since he gets one seemingly every single week. But we can't ignore another ridiculously efficient performance: 24-for-33, 336 yards, two touchdowns. Mariota has now thrown 19 touchdown passes, and he's the only quarterback in the nation to not have thrown an interception. Now, where's he going to stash all these helmet stickers?
Mike Bercovici, QB, Arizona State
: It'll be interesting to see what Todd Graham does after
Taylor Kelly
is healthy again, because Bercovici sure delivered an excellent performance against Stanford's rugged defense in ASU's
26-10 win
. He finished 23-for-33 for 245 yards and a touchdown, but numbers don't really illustrate the critical elements of his performance. Remember that the Cardinal entered this game as the nation's top defense, so the Sun Devils had their offensive work cut out for them. Bercovici succeeded where most quarterbacks fail against Stanford: He managed a nearly perfect game, positioning ASU for a convincing victory.
ASU defense
: Granted, Stanford's offense is a mess right now, but ASU does deserve significant credit for its defensive performance in Tempe. The Sun Devils' defense had taken an enormous amount of flak following its Sept. 25 tackling meltdown against UCLA, in which the unit allowed 10 yards per play (that was a 62-27 final score). The Sun Devils smelled Cardinal blood today, and they preyed on Stanford's discombobulated offense with excellent aggressiveness, discipline and fundamentally sound tackling. The Cardinal didn't reach the end zone until 10 minutes remained. Graham's unit should have confidence again.
October, 19, 2014
Oct 19
5:55
AM PT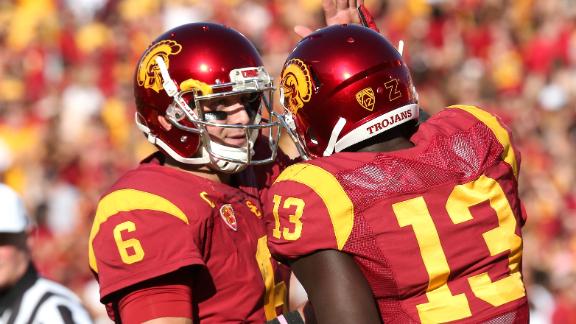 LOS ANGELES -- Notes, quotes and anecdotes from the Coliseum after the No. 22
USC Trojans
(5-2 overall, 4-1 Pac-12) defeated the
Colorado Buffaloes
(2-5, 0-4)
56-28
.
USC head coach Steve Sarkisian comments:
General assessment:
"I challenged them to take the field with same intensity today as they would with (University of Arizona). Obviously, a couple guys set the tone for that. Su'a (Cravens) did with the interception and Cody (Kessler) set the tone with managing the offense. I talked about Buck (Allen) last week and challenging the guys to improve certain aspects of their game. You'd like to think as a coach you are going to get results. We saw that with Cody. We wanted more explosive plays on offense and we did that from the beginning."
On quarterback Cody Kessler:
"I think he is running our offense really well. We have a lot of plays in system where he has dual reads and pass-play options. He handles everything really well. He takes our coaching well. Coach (Clay) Helton and I are not buddy buddies with him during the week. We coach this guy harder than any other guy on our team. He accepts it and comes to work every day with the mindset to get better."
On his team's identity:
"I think that we are a team that believes in running the football, and I am not going to change that. When you believe this, you have to make the D pay for loading the box. You also have to have the ability to throw. When you have those two things going for you, life is good. Then it is a cat-and-mouse game with the defense. If you are going to play safeties deep, then you have to be able to run the football. I am just not going to waver off that. I love the fact that we (almost) had two backs just over 100 yards and we threw seven touchdowns. To me, that's an awesome identity to have."
Colorado head coach Mike MacIntyre comments:
On the Trojans:
"USC played a good game, to say the least, and we gave them too many opportunities in the first half on some holding calls and roughing the punter and things like that that were things we worked on. And we need to do a better job coaching them and they need to do a better job listening on what they're supposed to do."
On Kessler's performance:
"He was too good today. He did some really good things, but we helped him out. His offensive line protected him better than they had been. I was disappointed with us on that. They were able to do the play-action and get him out of the pocket and they hit them on us."
On the Trojans' first drive of the second half:
"We worked on that stack stuff a bunch that they do and our safety kind of took his eyes off for a second and he was wide open. That's what happens when you play good athletes with good speed."
More notes and anecdotes
Key(s) to victory:
Kessler established a new USC single-game school record for touchdowns (7), as the No. 22 Trojans crushed the Buffaloes 56-28 in front of a homecoming turnout of 74,756 in the Coliseum.
Breaking the record:
On breaking the single-game USC touchdown passing record, Kessler said, "It's really a cool feeling, but at the end of the day, it wasn't just about me. It's a team thing and we are already moving on to next week. But it's awesome. I think the most meaningful thing was to watch the guy before me set the record and see Matt (Barkley) do it. He taught me so much when he was here."
Roommate compliment:
Of Kessler's record night, WR
Nelson Agholor
, who caught three of Kessler's touchdown passes, said, "I am very proud of him and the type of guy he is and the type of competitor he is."
Inside information:
Upon learning that Kessler might be approaching the touchdown passing record, a couple of his teammates started to mention to Kessler the possibility of making history, and the quarterback quickly told his informing teammates, "Don't mention it. I just want to keep playing."
Too many errors:
Regarding the loss, Colorado wide receiver
Nelson Spruce
said, "We made too many mistakes. Obviously they're a good team and they capitalized on them. We can't put ourselves in this position or what happened today will happen every time."
The offensive explosion:
The Trojans scored 56 points against Colorado on Saturday. The Men of Troy came into the CU game averaging 32.2 points per game.
Say what?:
Although USC won in a breeze, Colorado had 27 first downs compared to the Trojans' 21.
Red-zone bonanza:
The Trojans offense was 5-for-5 inside the Colorado red zone.
Defensive surplus:
The Trojans defense allowed 28 points to Colorado on Saturday afternoon. The Men of Troy were allowing 22.3 points per game prior to the CU game.
Quarterback talk:
Reflecting on the loss, Colorado quarterback
Sefo Liufau
said, "It goes back to the little things. I put a lot on my shoulders. You can't have two picks and expect to win and to have turnovers and win. It's the little things, execution-wise. We shot ourselves in the foot too many times today."
Under pressure:
The Trojans defense recorded four quarterback sacks.
Offensive increase:
The Trojans had 532 yards of total offense against Colorado on Saturday. The Men of Troy were averaging 451.2 yards per game prior to the CU game.
Giving praise:
Regarding the performance of his offensive line, Sarkisian said, "They were very good again tonight. They're improving and really playing well together."
The substitute:
Reserve Trojans kicker
Alex Wood
continued to substitute for regular starter
Andre Heidari
. Wood not only converted all eight of his PAT attempts but also was used on all nine kickoff attempts. Four of Wood's kickoffs were touchbacks.
Defensive average:
Against Colorado on Saturday, the Trojans defense allowed 403 total yards. Prior to playing CU, the Trojans were allowing 405.0 yards per game.
Rush hour:
Against Colorado on Saturday, the Trojans rushed for 213 yards. Prior to the CU game, the Men of Troy were averaging 185.3 yards rushing per game.
The Buck doesn't stop here:
Trojans junior tailback
Javorius "Buck" Allen
, the Pac-12's leading rusher, continued his torrid rushing pace with 128 yards, including a 49-yard dash around left end in the third quarter. It was Allen's 10th career 100-yard rushing game.
Defending the rush:
Against Colorado on Saturday, the Trojans defense allowed 172 net yards rushing. Prior to the CU game, the Men of Troy were allowing 150.5 rushing yards per game.
One man's opinion:
Asked about his defense's performance, Trojans linebacker
Su'a Cravens
said, "I think we did a great job tonight in the first half and second half. We did a great job containing them in the fourth quarter. They got a late touchdown, but that's football. They are all great players and they are going to get their points. But we have great athletes, too, and I am really proud of our team overall."
Above the passing average:
On Saturday against Colorado, the Trojans passed for 319 yards. Prior to the CU game, the Trojans were averaging 265.8 passing yards per game.
The revelation:
Afterward, Sarkisian revealed that wide receiver
JuJu Smith
played with a cast underneath his glove because of a thumb injury. On the night, Smith had four receptions for 104 yards and a touchdown. Smith's first-quarter touchdown reception was the first of his career.
Air defense up:
On Saturday against Colorado, the Trojans defense allowed 231 passing yards. Prior to the CU game, the Trojans pass defense was allowing 254.5 passing yards per game.
Interception analysis:
On his first-quarter interception that seemed to set the pace for the Trojans defense, Cravens said, "I didn't think their quarterback was going to throw, but their quarterback looked and pumped. Luckily I caught it and I should have scored, but I got tripped up. I saw the Colorado guy chasing me from behind and I wasn't being too patient. Their running back did a great job. He got my legs before I could even cut back."
The flag is still up:
On Saturday against Colorado, the Trojans were penalized seven times for 85 yards. Prior to the CU game, the Trojans were averaging 78.3 yards in penalties per game.
Top tacklers:
Trojans weakside linebacker
Anthony Sarao
led the defense with 12 tackles, followed by middle linebacker
Hayes Pullard
and corner
Chris Hawkins
with nine tackles each.
Injury report:
CB
Adoree' Jackson
(hip flexor), SS
Gerald Bowman
(foot sprain), WR JuJu Smith (thumb), and non-participants WR
George Farmer
(hamstring) and FB
Soma Vainuku
(hamstring).
Swann song:
Former Trojans All-America wide receiver and Hall of Famer Lynn Swann led the Trojans out of the Coliseum tunnel prior to kickoff.
Next game:
The Trojans will travel to Salt Lake City for next Saturday's Pac-12 South Division game against the
Utah Utes
(5-1, 2-1 Pac 12) in Rice-Eccles Stadium (8 p.m. MDT/7 p.m. PDT).
October, 18, 2014
Oct 18
11:36
PM PT
October, 19, 2014
Oct 19
2:33
AM PT
Some things we learned in Week 8 of the Pac-12.
The streak continues
: The Ducks beat Washington. Again. It was by more than 17 points. Again. Make it 11 in a row for Oregon over the Huskies. For obvious reasons, you tip your cap to Ducks running back
Royce Freeman
for his 169 rushing yards and four touchdowns in the
45-20 Oregon victory
. But a little credit also goes to
Marcus Mariota
's wide receivers. From
Darren Carrington
's tip-toe catch inside the 5 to
Dwayne Stanford
's phenomenal touchdown, the receivers came up big for their quarterback. Oh yeah, still no interceptions. The Ducks look every bit the part of a playoff team.
[+] Enlarge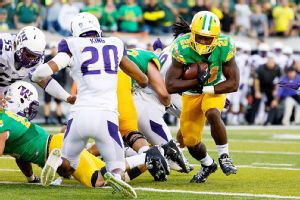 AP Photo/Ryan KangOregon's Royce Freeman had 29 carries for 169 yards and four touchdowns against Washington.
Huskies have to pick up the pieces:
Washington isn't
that
bad. It just seems like whenever it plays Oregon, whatever can go wrong will. Whether it's a quarterback throwing his first interception of the season, a shotgun snap when said quarterback isn't ready or the opposing quarterback getting a lucky bounce off a fumble, the wheels seem to come off for the Huskies when these teams meet, and the breaks never go their way. No need to panic yet about bowl eligibility. The defense is good enough that there are at least two wins out there, and probably three or four. But having dropped two of three, the last thing the Huskies need to do is hit the panic button. They got whooped. It happens. Move on. It'll be interesting to see how Chris Petersen's team looks with ASU coming to town. Speaking of which ...
... ASU inching toward elite status
: What was the big knock on Todd Graham? He still hadn't won the big one. Despite Stanford's offensive inefficiencies (add special teams to those inefficiencies after Saturday night), the Cardinal were still the two-time defending conference champs. Their
26-10 win
over the Cardinal brings ASU up a notch, as it knocked off one of the league's top-tier teams. They did it convincingly and by dictating the game. Graham has already said
Taylor Kelly
is his guy when he's ready to play. But you can't overlook the 2-1 record
Mike Bercovici
has put up in relief.
Stanford loses its elite status
: Elite teams don't look like Stanford did Saturday night. They don't fumble on kickoff returns and muff punts. They don't lose the turnover battle and rush for 76 yards when rushing is what they do. With two conference losses, the Cardinal aren't out of it yet. They could still run the table and get to the Pac-12 championship game. But a three-loss team, no matter how good the other three opponents or how close the losses, isn't getting into the playoffs.
Utah has their back, just not their quarterback:
Devontae Booker
is certainly making his case for newcomer of the year. He was one of the few offensive bright spots for the Utes, as he rushed for 229 yards and three touchdowns in their
29-23 double-overtime win
at Oregon State. Now, the quarterback is once again a question, with USC coming to town next week.
Travis Wilson
was 5-of-10 for 45 yards.
Kendal Thompson
, who started and played the first half, was 4-of-8 for 17 yards and an interception. There are some decisions to make (again) this week for Kyle Whittingham and Co.
Bears down
: You can make plenty of arguments about whether UCLA's
Marcus Rios
possessed the ball on that game-changing interception in the Bruins'
36-34 win
at Cal. But you first have to question the play call on first down, and you also have to go back through the game and look at Cal's tackling, which was not good. There were plenty of other places where Cal lost that game. The questionable replay, because it came at such a critical juncture in the game, will be highly debated. But Cal knows there was a lot more to that game than just that call.
The Bruins continue to defy logic
: UCLA was on the road. UCLA hadn't won in Berkeley since 1998. UCLA lost the turnover battle. Cal scored 21 points off turnovers. I'm not sure what the exact metric is, but logic says that's a game UCLA should not have won. Yet the Bruins overcame themselves and managed their first win at Cal after seven previous losses. The Bruins totaled 567 yards of offense, so moving the ball wasn't an issue. If they can cut the turnovers, there's no reason to think they still couldn't win the South.
Beavers bowl window is shrinking
: We talked in the past about the Week 8 showdown with Utah being a swing game for Oregon State. At 4-2, the Beavers have six opportunities left to find two wins. None of those opportunities are particularly appealing. Cal and Washington State can put up crazy points. They are at Stanford and at Washington while getting ASU and Oregon at home. Their only saving grace is that four of the six are at Reser … but given the way the league has shaped up, that probably doesn't mean much.
Colorado regressed
: Maybe it's a one-week deal. Maybe not. Either way, the
56-28 loss
to USC was ugly and worthy of the Pac-12 blog's "Dude?" status. The Buffs surrendered 56 points (all from the USC offense -- no special teams or defensive touchdowns) and yielded 532 yards. That wasn't the Colorado team we've seen in previous weeks. Which leads us to …
… USC has explosive potential
: Steve Sarkisian has said the past couple weeks that he wants to see his offense be more explosive. Remember
Nelson Agholor
? Hadn't heard his name in a while. Sure, he had 42 catches coming into this week, but he had only four receiving touchdowns and just 67.5 yards per game. He had a fairly monstrous day and caught six balls for 128 yards and three touchdowns. Of course, someone has to throw them. Agholor's day was made possible by
Cody Kessler
, who set a school record with seven touchdown passes.
October, 18, 2014
Oct 18
11:09
PM PT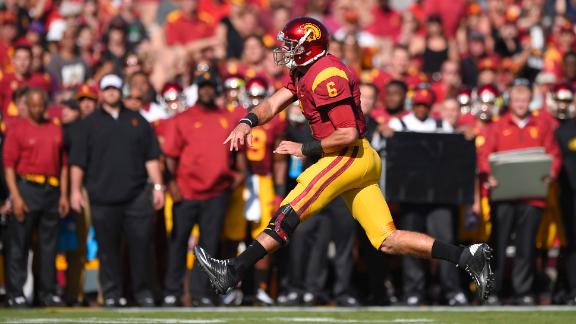 Former USC and Tennessee Titans running back LenDale White was escorted from Los Angeles Memorial Coliseum on Saturday after the Trojans' 56-28 win against Colorado.
He immediately took to Twitter, where, in a series of tweets, he blamed USC athletic director Pat Haden for the ejection and called him a "coward."
On the sideline in the fourth quarter, USC sports information director Tim Tessalone said White got into a "very loud and heated disrespectful conversation with Pat. Pat was trying to calm him down and make sense of what he was saying" but that Haden did not have White removed from the stadium.
"I spoke with Pat Haden, and he didn't see LenDale after the game," Tessalone said. "He didn't tell anybody to kick [White] out and never saw him in the tunnel."
White didn't see it that way.
The ejection occurred after the USC players had returned to the locker room, in which White was not allowed. Video from USCFootball.com shows White being slowly escorted out of a tunnel at the Coliseum by police and security personnel.
White spent the game on the sideline despite a series of very critical tweets last week aimed at the USC coaching staff and defensive coordinator Justin Wilcox in particular.
In three years at USC, White rushed for 3,159 yards and 52 touchdowns. The 57 total touchdowns he scored ranks No. 2 all time in conference.
He was drafted in the second round of the 2006 NFL draft by the Titans and rushed for 2,349 yards and 24 touchdowns in four seasons. He has not appeared in an NFL game since 2009.
October, 18, 2014
Oct 18
8:59
PM PT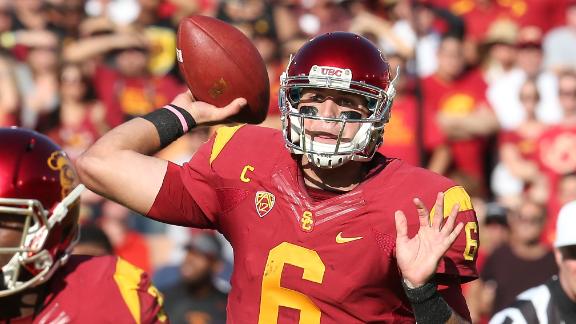 LOS ANGELES -- Cody Kessler knew what the single-game record for touchdowns was at USC.
He was on the sideline when Matt Barkley passed for six touchdowns three times during his career -- twice against Colorado and once against UCLA.
Kessler didn't need to be reminded, but it was hard not to hear about it after he passed for a school-record four touchdowns in the first quarter Saturday as USC jumped out to a quick 28-0 lead on -- who else -- Colorado.
"I'd be lying if I said I didn't know," Kessler said. "That wasn't my focus. Someone on the sideline made a joke that I only needed one or two more, and I cut them off before he finished because I didn't want to make it about that."
It was hard for Saturday's 56-28 win over Colorado -- which was effectively over before the end of the first quarter -- not to be about that, though. The game was a coming-out party of sorts for Kessler, who has quietly put together one of the best seasons by a USC quarterback.
It has been a season largely overshadowed by losses to Boston College and Arizona State, but USC's troubles this season have had very little to do with Kessler, who has come into his own as the team's leader and signal-caller.
Kessler has completed 162 of 233 pass for 1,884 yards this season, including 18 touchdowns and one interception. His completion percentage of 69.5 is on pace to break Barkley's record of 69.1 set in 2011. Kessler's career percentage is also on pace to break the record set by Matt Leinart.
Last week, Kessler's streak of 190 consecutive passes without an interception was snapped against Arizona, but it ended up being more liberating than debilitating.
PAC-12 SCOREBOARD
Thursday, 10/16
Saturday, 10/18