July, 30, 2014
Jul 30
4:55
PM PT
For all those people fretting that a playoff in college football would somehow water down the regular season, I offer up the blockbuster weekend of Sept. 3. 2016.
Yes, it's still a couple of years away and we're supposed to be focusing on what's right in front of us. But, geez, that Saturday to open the 2016 season could very well provide the most attractive lineup of nonconference games on one day that we've ever seen.
For that, at least in large part, we all have the College Football Playoff to thank.
Some of the matchups were already set or in the process of being set. But the real impetus in beefing up all these nonconference schedules was that a playoff was coming.
And, now, with a selection committee holding the keys to those coveted four playoff spots, we're going to be in store for some terrific nonconference showdowns in the regular season for years to come. Simply, teams that don't play and win those types of games are going to be on the outside looking in, which makes the regular season as important as ever.
My only knock on that weekend to kick off the 2016 season is that there are too many good games. I want to watch them all.
We've all been clamoring for an
Alabama
-
USC
matchup. Well, we're finally going to get it in Arlington, Texas to open that season.
And if you like your football Southern style,
Clemson
at
Auburn
has a nice ring to it. Lewis Grizzard, the late Southern humorist, once said that Clemson was Auburn with a lake. In a lot of ways, they're virtual clones of each other right down to their break-neck style of offense. Even more enticing, this is a home-and-home series with Auburn traveling to Clemson the next year.
There won't be a more unique game that weekend than
LSU
facing
Wisconsin
in historic Lambeau Field. Perhaps we'll get to see Les Miles perform the "Lambeau Leap" if the Tigers win.
Have the remote control ready because we also get
UCLA
at Texas A&M,
Notre Dame
at
Texas
and BYU Cougars at
Arizona
(in Glendale, Ariz.).
That's just the first weekend, too.
A week later,
Tennessee
and
Virginia Tech
will "trade paint" at Bristol Motor Speedway. And two weeks later,
Ohio State
travels to Oklahoma and
Oregon
visits Nebraska.
So much for opening the college football season with a tune-up … or two.
July, 30, 2014
Jul 30
2:30
PM PT
There's a place up ahead and I'm goin'. Just as fast as my feet can fly. Come away, come away if you're goin'. Leave the sinkin' ship behind.
July, 30, 2014
Jul 30
10:00
AM PT
By
ESPN.com staff
| ESPN.com
On Wednesday, WeAreSC reporter
Garry Paskwietz will be chatting
about
USC Trojans
football. Paskwietz is the publisher of WeAreSC and has been covering the Trojans since 1997. Send your questions now and join Paskwietz every Wednesday at 2 p.m. PT.
July, 30, 2014
Jul 30
7:15
AM PT
By
Garry Paskwietz, Johnny Curren
and
Greg Katz
| ESPN.com
The WeAreSC staffers discuss various topics related to the opening of
USC Trojans
fall camp practices next Monday.
Who will have the biggest camp impact? (offense/defense)
Garry Paskwietz:
Steve Sarkisian says this will be a physical run-first offense and that should mean plenty of opportunities for
Buck Allen
to establish himself early as a critical piece of the system. The reigning Trojans MVP is in great shape and appears ready for that kind of role. On defense,
Leonard Williams
may be the most talented and
Hayes Pullard
is the most productive -- but in terms of impact, I'm going to go with
Su'a Cravens
. His athleticism should allow for him to make a lot of plays.
[+] Enlarge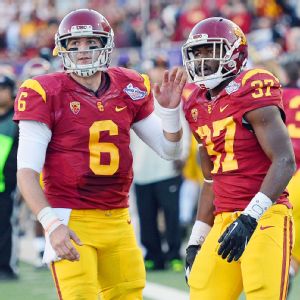 Ethan Miller/Getty ImagesThe Trojans' offense will run through quarterback Cody Kessler and tailback Javorius "Buck" Allen.
Johnny Curren:
On offense, I'm going to go with Allen. The fourth-year junior tailback is in fantastic shape right now, and with Sarkisian showing a real desire to pound the ball on the ground, he should get plenty of chances to shine. On defense, Williams is the one to watch. Close to 100 percent after undergoing offseason surgery on his shoulder, there's every reason to believe he'll have an even bigger 2014 campaign than his season of 2013, when he garnered ESPN.com first-team All-America honors.
Greg Katz:
Cody Kessler
on offense. The Trojans' offense may have more explosive players, but the system doesn't work unless Kessler works, and he has been relentless in not only learning Sark's no-huddle, fast-paced offense but executing it and teaching others. Williams on defense. Teammates of the "Big Cat" know he played with pain in his shoulder last season and was never 100 percent. In the summer, however, it was darn scary just how must quicker and intense he was during voluntary workouts.
What will be the best position battle?
Paskwietz:
The Trojans enter camp with no clear-cut starter at left guard and as many as four candidates for the job. The one veteran in the mix is
Jordan Simmons
, but he is coming off knee surgery last fall. The other three possibilities are all true freshmen in
Toa Lobendahn
,
Viane Talamaivao
and
Damien Mama
. All are extremely talented, but all will be taking part in their first fall camp practices as Trojans, though Lobendahn did participate in spring drills.
Curren:
I'm tempted to say the battle at Sam linebacker between
Jabari Ruffin
and
Quinton Powell
, but after seeing
J.R. Tavai
shine throughout the summer workouts, I'll go with the competition between he and
Scott Starr
at rush end. Both performers are excellent athletes who play physical and fast to the ball off the edge, and I look forward to watching them bring out the best in each other in fall camp.
Katz:
Because of the importance of both offensive guard positions, one would have to lump this as a critical unit position battle. Whether starting senior right guard
Aundrey Walker
, coming off an ankle injury, and Simmons, coming off of a knee injury, at left guard can be physically in shape and hold up to the pace of the offense remains in question. What isn't in question are the true freshmen O-liners such as Lobendahn, who is a well advanced talent despite his inexperience.
Who will be the surprise player of camp?
Paskwietz:
It's hard to call
Adoree' Jackson
a surprise player in anything when you consider he was the highest-rated recruit in this USC class. The surprise will come, however, in just how good he will be from the word go. And I'm not talking just at one spot, he will make a case for playing time on offense, defense and special teams.
Curren:
I really liked what I saw out of
Leon McQuay III
, both in the spring as well as this past summer. He's going to really open some eyes in his role as the starting free safety. Having bulked up considerably since his freshman season, he's also played with a new level of confidence over the past six months.
July, 30, 2014
Jul 30
9:30
AM PT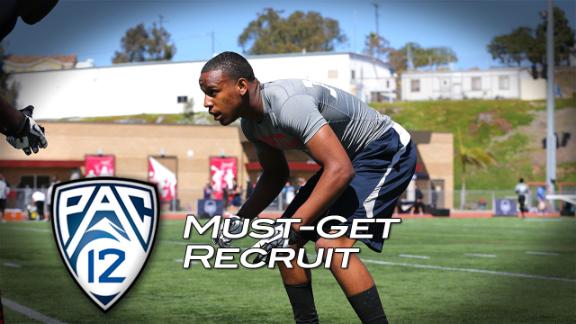 While one recruit will never truly make or break a recruiting class, some come closer than others. Every Pac-12 program has a must-get recruit in mind, whether it's a national standout whose commitment would rock the recruiting landscape, a star at a position where that program simply cannot miss, or a local prospect who can't be allowed to leave the area.
To continue reading this article you must be an Insider
July, 30, 2014
Jul 30
9:00
AM PT
Our list of the
Top 25 players in the Pac-12
continues.
15. UCLA LB Eric Kendricks
2013 stats:
106 tackles, 4 tackles for a loss, 2 sacks, 1 interception, 1 forced fumble
Why he's ranked here:
In his time at UCLA, Kendricks has gone from an outstanding defensive scout team member to being a crucial element to one of the best linebacking groups in the conference (and maybe the country). In his redshirt senior season, we are expecting big things. And we aren't the only ones. UCLA coach Jim Mora sees big things happening for Kendricks. At Pac-12 media days last week he spent quite a bit of time complimenting Kendricks. First, on his leadership, saying, "He's kind of a glue guy. Without even saying a lot, he's kind of that guy that everyone wants to orbit around." Second, Mora complimented Kendricks' personality, explaining that if his daughter married Kendricks, he would be perfectly OK with that. Third, he said Kendricks had great hair.
We can't guarantee all of that (though, if there's a Pac-12 award for best hair, he'd have to be a semifinalist, right?) but the first fact seems pretty valid. Kendricks' leadership is going to be huge for the Bruins this season, and when a player is given that kind of a role by his coaches, and looked up to by his teammates, a lot of times that results in very big numbers on the field. Will he record double-digit tackles in games? There is a good chance. In 2012, he averaged 10.6 per game and in 2013 (ailed by injuries) he averaged 8.8. But he's just the first of two Bruins linebackers in this grouping on our countdown. Running backs, take note ...
14. Washington LB/RB Shaq Thompson
2013 stats:
78 tackles, 4 tackles for a loss, 0.5 sacks, 1 interception
Why he's ranked here:
Thompson was second on Washington last season in tackles, but he's going to take on a bigger role this season as he begins his journey as a two-way player (perhaps he can ask No. 13 a few questions about that role). At Pac-12 media days, coach Chris Petersen addressed this and said, "We don't want to water him down and make him less of a defensive player. So I think there is a fine balance there and we'll continue to work through that." What exactly that fine balance is, we'll see. But there are certainly reps to be had at running back as the Huskies attempt to replace the production of Bishop Sankey. And Thompson could be a guy who contributes there. With the ability to impact the game on both sides of the ball for Washington, Thompson -- who wasn't talked about too much even a year ago -- cracked the top 15 players in the conference in 2014.
13. UCLA LB Myles Jack
2013 stats:
75 tackles, 7 tackles for a loss, 1 sack, 2 interceptions; 38 carries, 267 rushing yards, 7 rushing touchdowns
Why he's ranked here:
So, with Thompson taking on a larger role on both sides of the ball, Jack is scaling back a bit. He was the Pac-12 Freshman Offensive and Defensive Player of the Year in 2013, but this season, look for him to be much more a defensive player. Jack has athleticism pouring out of him, and with more of a focus on defense, and the discipline that brings, he could be scary, scary good this season -- so good he is the second-highest ranked linebacker on this list (not bad for a sophomore).
Though Mora didn't have quite the flowery sentiments about Jack as he did Kendricks (no hair or dating his daughter comments), he did say that if anyone were to ask UCLA players who the hardest-working Bruin was, that they would all say Jack or quarterback
Brett Hundley
. That is what the fans should care about. With someone who has his talent and athleticism, the fact that he is still the hardest-working player on the team means something. And that is going to show on the field this season. Could he lead the Pac-12 in tackles? Maybe. Could he and his top-25 counterpart Kendricks be an absolute nightmare to face this season? We think definitely.
12. USC LB Hayes Pullard
2013 stats:
94 tackles, 5.5 tackles for a loss, 1 interception
Why he's ranked here:
For two of the past three seasons, Pullard has led the Trojans in tackles. Chances are that this could be Year 3 for him in that category. He is going to have serious competition for best linebacker in the conference (cough, cough, Nos. 15-13), but with 39 starts and 282 tackles under his belt, we're pretty sure Pullard is going to make the most of his senior year. At Pac-12 media days, USC coach Steve Sarkisian said he thought the strength of his team was in its front seven, and at the middle of that front seven for the Trojans this season is going to be Pullard. The 6-foot-1, 235-pound senior should crack 100 tackles this season, and we wouldn't be too surprised if at least 10 of those are for a loss.
11. Stanford OT Andrus Peat
Why he's ranked here:
At Pac-12 media days last week, Stanford coach David Shaw told NFL.com that he thought Peat was second to just one offensive tackle he has ever been around -- 11-time NFL Pro Bowler John Odgen. That is pretty high praise. Peat is the highest offensive tackle and second-highest offensive lineman on our list. Assuming nothing goes insanely wrong, he will be an easy all-conference pick at the end of the season and possibly a semifinalist or finalist for the Outland Trophy. At 6-7, 316 pounds, he's going to be pretty tough to move. We're certainly looking forward to a few potential matchups with top defensive linemen (one, whose name will pop up later on in this list ...) as Peat looks to prove himself as the most feared tackle in the Pac-12. At this point in time, he has our vote. We'll see how the season shakes out.
Check out the rest of the rankings here:
No. 25-21
,
No. 20-16
July, 29, 2014
Jul 29
2:19
PM PT
The tailback recruiting picture got a little clearer for the
USC Trojans
on Monday night with the
verbal commitment
from
Aca'Cedric Ware
.
USC coach Steve Sarkisian had stated at the beginning of the recruiting cycle for the Class of 2015 that he would be looking to take two tailbacks, and that was before the transfer of
Ty Isaac
at the end of spring ball. With only one underclass scholarship tailback on the roster (
Justin Davis
), there was a definite need at the spot and it figured the Trojans would have their pick of players to choose from.
To continue reading this article you must be an Insider
July, 29, 2014
Jul 29
2:30
PM PT
He had not been unhappy all day. This was different though. Now things were done. There had been this to do. Now it was done. It had been a hard trip. He had been very tired. That was done. He had made his camp. He was settled. Nothing could touch him.
July, 29, 2014
Jul 29
9:30
AM PT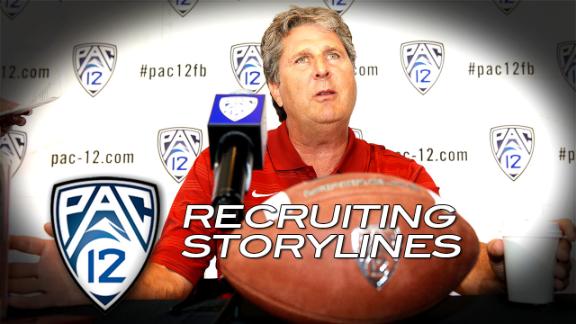 While things can and will change between now and signing day, the
updated ESPN 300 rankings
at the close of the summer period show 24 Pac-12 commitments and provide a number of discussion topics relating to the present and future of Pac-12 recruiting for the 2015 class.
Here are five things to know in the Pac-12:
To continue reading this article you must be an Insider
July, 28, 2014
Jul 28
8:51
PM PT
The Trojans scored a big get on Monday night when Cedar Hill (Texas) Class of 2015 running back
Aca'Cedric Ware
committed to USC. The Trojans, who likely need two tailbacks in this class, just lost out on Mission Hills (Calif.) Bishop Alemany's
Dominic Davis
to Washington State last weekl. There simply aren't a lot of prospects at the position on USC's radar, so Ware's commitment is significant.
The 5-foot-10, 175-pound ball carrier attended the Rising Stars camp earlier this summer, and he obviously impressed enough for the Trojans staff to continue in their pursuit of him. Ware rushed for 1,289 yards and 11 touchdowns in 2013, and he averaged 9.27 yards per carry. He chose USC over Iowa, Notre Dame and Ohio State, and he becomes the 13th commitment for Trojans from the Class of 2015.
I've verbally commited to USC #fighton #trojans

— ced (@ware_ced) July 29, 2014
July, 28, 2014
Jul 28
5:30
PM PT
We continue with our series looking at each Pac-12 team's nonconference opponents in 2014.
USC Trojans
Fresno State, Saturday, Aug. 30
Coach: Tim DeRuyter (20-6), third season
2013 record: 11-2, 7-1 MWC
Returning starters: five offense, eight defense
Offensive headliner: running back Josh Quezada. He rushed for 807 yards last year. With the QB spot in question (and possibly going with a more mobile QB), the RB spot is going to be even more important this season. Quezada also has pretty good hands -- he caught 51 passes last year for 290 yards.
Defensive headliner: free safety Derron Smith, who was pegged as the Mountain West's Preseason Defensive Player of the Year. He has 14 career interceptions, which is the most of any active FBS player entering the 2014 season. In 2013 Smith recorded 87 tackles, four sacks and seven picks.
The skinny: It's pretty rare that two teams ever play each other twice in a row, but USC and Fresno State will have that chance. The two faced off in last season's finale -- the Royal Purple Las Vegas Bowl, in which USC ran away with a 45-20 victory -- and they'll kick off the 2014 season together as well. But there's one very big difference between the team that put up 20 on USC and the team that'll take the field on Aug. 30 -- Fresno State doesn't know who its QB will be. They need to replace Derek Carr (5,082 yards, 50 TDs) and though they have options (junior Brian Burrell and Duke transfer Brandon Connette, among others), it's not looking great. Especially since they'll be welcomed to the post-BCS era by Leonard Williams and the rest of the USC defense.
At Boston College, Saturday, Sept. 13
Coach: Steve Addazio (7-6), second season
2013 record: 7-6, 4-4 ACC
Returning starters: 4 offense, six defense
Offensive headliner: Florida QB transfer Tyler Murphy, who finished the spring season as the Eagles' top QB. At Florida, he started six games and completed 112 of 185 passes. Also worth noting that the only Boston College player to be on any of the Preseason All-ACC teams was center Andy Gallik, so he gets honorable mention here.
Defensive headliner: linebacker Steven Daniels. He was third on the team in tackles last season (88) and recorded 6.5 tackles for a loss and three sacks.
The skinny: The Eagles are coming off one of the most surprising seasons in college football, but Boston College was a much different team with 2013 Doak Walker Award winner Andre Williams. The Eagles aren't going to be able to replace Williams with just one guy, so they'll likely go for a back by committee approach, but the truth is that it probably won't be able to do too much against the USC front (especially considering BC's offensive line lost both tackles).
Notre Dame, Saturday, Nov. 29
Coach: Brian Kelly (37-15), fifth season
2013 record: 9-4
Returning starters: 6 offense, 5 defense
Offensive headliner: quarterback Everett Golson. Golson was suspended from Notre Dame last year, but was readmitted to the school and reinstated to the football program following the 2013 season. Golson quarterbacked the Irish through the 2012 season and into the 2013 BCS title game, in which he completed 21 passes for 270 yards (but also threw just one touchdown to his one interception). He's mobile enough that defensive fronts are going to need to be honest and has a good enough arm that he'll be able to stretch the field.
Defensive headliner: linebacker Jaylon Smith. As a true freshman, Smith finished third on the team in tackles (67), including 6.5 tackles for a loss (second only to second round NFL draft pick, Stephon Tuitt). He'll be back and wreaking havoc all over the field for the Fighting Irish.
The skinny: This is a huge game every season and this season will be no different. Both USC and Notre Dame are in the early conversations for teams that could be in the mix for the inaugural College Football Playoff. And with this being the season finale for both teams, it could be a big statement for whichever teams walks away the winner.
July, 28, 2014
Jul 28
3:50
PM PT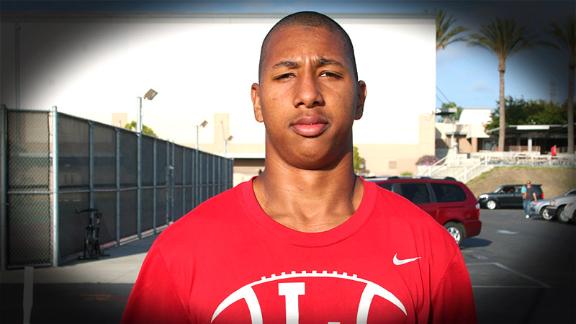 Defensive end
Keisean Lucier-South
planned to trim his considerable list of scholarship offers to a final five schools in early August, but just like he is on the field, the nation's No. 28 prospect was quick off the line, announcing his top five on Monday.
To continue reading this article you must be an Insider
PAC-12 SCOREBOARD
Thursday, 8/28
Friday, 8/29
Saturday, 8/30