November, 26, 2014
Nov 26
6:00
PM PT
By
ESPN.com staff
| ESPN.com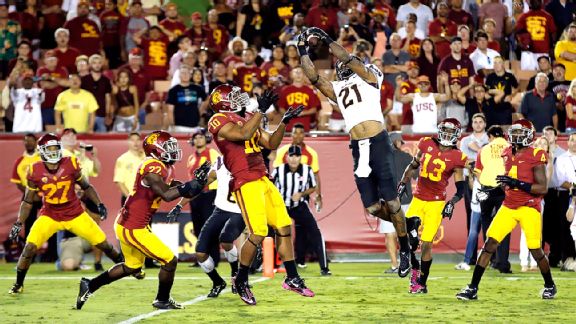 Ric Tapia/Icon SportswireArizona State receiver Jaelen Strong catches a Hail Mary to beat USC on Oct. 4.
Your humble #4Pac welcomes you to another installment of what will be a regular feature on the Pac-12 blog. Here's how it works: We take one question or one topic, or maybe it's some other really cool format that we haven't even thought of yet, and all contribute our thoughts.
Have a suggestion for something we should address in a future #4Pac roundtable? Go ahead and send it to our
mailbag
.
Today, in the spirit of Thanksgiving, we're asking what each Pac-12 reporter is most thankful for from this Pac-12 season.
David Lombardi/@LombardiESPN
:
I'm most thankful for never knowing what's going to happen next. College football is notoriously unpredictable, but the 2014 Pac-12 has taken this volatility to the next level, before proceeding to pour gasoline all over it. Every Saturday,
Larry Scott
lights the match.
First came the Hail Mary epidemic. I'm pretty sure that Pac-12 football viewers will never look at that prayer of a play in the same way again. Furious comebacks, iced kickers, confused officials, epic quarterback performances, mind-numbingly painful turnovers followed by 100-yard fumble returns, and just a whole bunch of general nonsense came next. This season, Pac-12 road teams are a combined 29-20 in conference games. That puts at least some kind of statistical value on the eccentricity that we're dealing with here. With a crazy closing weekend and a title game still ahead, the unpredictability isn't over yet. That's a rush, and I'm thankful for that.
Chantel Jennings/@ChantelJennings
:
Ted and I answered this question in the #6pac last week and I think I'll stick to my original answer. I'm so thankful for back-up quarterbacks. Can you imagine how different this season would be if the conference didn't have this kind of depth at quarterback? What if UCLA hadn't had
Jerry Neuheisel
to turn to when
Brett Hundley
went down at Texas? What if
Mike Bercovici
hadn't been the Sun Devils' star in late September and early October? How fun has it been to watch
Luke Falk
emerge at Washington State, and how much excitement has his presence brought to that fan base after losing
Connor Halliday
in such a disappointing manner?
At this point, would it be so crazy to imagine that whomever steps in for
Anu Solomon
on Saturday could lead the Wildcats to victory? Coming into this season we lauded the Pac-12 for being the conference of quarterbacks. Now, with one week left in the regular season, I don't think any college football fan across the country can deny this league's depth.
Kevin Gemmell/@Kevin_Gemmell
:
I'm most thankful to be covering the most exciting conference in college football. It's chaotic, it's mind-bending and it makes about as much sense as Thanksgiving in July. But it's hard not to love it.
From the Hail Mary's, to the last-second field goals, to the missed field goals, the Pac-12 has provided amazing theatre in 2014.
The road teams (29-20) will finish with a better record in conference games this season. The Pac-12 leads all conferences in scoring, but expect the postseason All-American teams to be littered with defensive players from the West Coast.
Very little about this league makes sense. Heading into last week's matchups, there had been 34 games involving Pac-12 teams that were decided by a touchdown or less. Last week? Zero. And that included Arizona vs. Utah, two teams that had played in more tight games than all but one team in the country.
This league never lacks in the surprise department. And as a writer trying to make sense of it all, I'm thankful that sometimes I can't. Rather, I just sit back and savor the chaos.
Kyle Bonagura/@BonaguraESPN
:
From a neutral perspective, it's hard to ask for a better season than the Pac-12 has provided this season. So looking through a football lens, I'm thankful the boring moments have been significantly outweighed by the exciting ones. Seasons like this don't come around very often.
In 49 conference games, 22 have been decided by one score, five went to overtime and two were decided on Hail Mary's. Oregon's
Marcus Mariota
is on his way to becoming the conference's first Heisman winner since Reggie Bush in 2005, Washington State's Connor Halliday broke the FBS single-game passing record and the Pac-12 South delivered a five-team race for the division title. Even the teams on the bottom half of the standings have stayed relevant late into the year.
To this point, there's not much within reason that could have added to the overall intrigue. Here's to a happy, healthy Thanksgiving to everyone in Pac-12 land any beyond.
Hopefully the final stretch matches what has been building since August.
PAC-12 SCOREBOARD
Friday, 11/28
Saturday, 11/29