September, 22, 2014
Sep 22
6:30
PM PT
With the Pac-12 schedule beginning in earnest Week 5, we at the Pac-12 blog identified one question that each team has answered thus far in a satisfactory way, and one that still needs to be figured out. Next up: The Pac-12 South.
Arizona
One question that has been answered
: Will the offense be OK with freshman QB
Anu Solomon
?
The Wildcats rank No. 5 in the country in total offense (593.5 yards per game) and are averaging 42 points per game. Yeah, that'll work.
One question that hasn't been answered
: Will early-season success translate against better teams?
At 4-0, Arizona is where it wants to be, but close games against UTSA, Nevada and Cal make it tough to gauge where the Wildcats stack up with the upper echelon of the Pac-12.
Arizona State
One question that has been answered
: This is a difficult one because the question answered already has a new question posed and it relates to the offense.
The question answered was that the Sun Devils will have one of the most prolific offenses in the Pac-12 this season. Then QB
Taylor Kelly
got hurt and we've yet to see how his backup,
Mike Bercovici
, will fare. Still, we can say for sure that RB
D.J. Foster
is proving to be a more than adequate replacement for Marion Grice.
One question that hasn't been answered
: How good will the defense be?
We still don't know if the Arizona State defense will be any good, at least whether it will be good enough to support an A-list offense and get the Sun Devils back to the top of the South Division. With the conference schedule ahead, starting with UCLA on Thursday, this question should get answered fairly quickly.
Colorado
One question that has been answered
: Will Colorado find a viable replacement for the explosive and departed Paul Richardson?
Yes, yes, 1,000 times, yes.
Nelson Spruce
went from being a solid possession receiver alongside Richardson last year to a bona fide star in the Pac-12. He already has 37 receptions and seven touchdowns -- which matches the seven he had for his career coming into this season. He's averaging 14 yards per catch and has posted 100-plus yards in three of four games this season.
One question that hasn't been answered
: Can the defense make plays in the red zone?
Heading into Saturday's game against Hawaii, the Buffs were last in the league in red zone defense and the only Pac-12 team to not record a red zone stop. Teams are now 17 of 17 in trips to Colorado's red zone -- and 12 times those drives have ended in touchdowns. The good news is Hawaii made three trips inside the CU 20, but came away with three field goals. Pac-12 teams won't be as forgiving. The Buffs' D needs to find a way to make a stand.
UCLA
One question that has been answered
: How will the Bruins' defense cope with the losses of coordinator Lou Spanos and linebacker Anthony Barr to the NFL?
So far so good. While the sack numbers haven't been there post-Barr the defense has bailed out the struggling offense, though the Memphis game was pretty forgettable.
One question that hasn't been answered
: Will the offensive line improve?
If it continues to struggle as it has through three games, the Bruins won't win the South Division. Simple as that.
USC
One question that has been answered
: Is
Cody Kessler
the right fit for Steve Sarkisian's offense?
You can't argue with the results. Right now Kessler is completing 71 percent of his passes (71-of-100) for 846 yards, eight touchdowns and zero interceptions. He's fourth in the Pac-12 with an adjusted QBR of 83.9 -- which is 14th nationally. There aren't many coaches who wouldn't take those numbers through three games.
One question that hasn't been answered
: Will the zone-read defense be a season-long issue?
Boston College crushed the USC defense with it to the tune of 452 rushing yards. While there are some identity issues the Trojans need to work out offensively, opposing coordinators have to be looking at what BC did and wondering how they can exploit this. They'll see read-option from ASU, Arizona, Colorado, Utah, Cal (with
Luke Rubenzer
) and UCLA -- plus a balanced attack from Oregon State this week and Air and Bear raids in consecutive weeks. There is a lot of offense coming up against a defense that suddenly looks unstable and leaky.
Utah
One question that has been answered
: Who would be the player (or players) to step up in the pass rush in the absence of a graduated Trevor Reilly and an injured
Jacoby Hale
?
Reilly had accounted for 8.5 sacks and 16 tackles for a loss last season while Hale registered 6.5 sacks and 10 TFL, but the Utes have replaced them on a committee basis --
Nate Orchard
4.5 sacks, 5 TFL),
Jared Norris
(2 sacks, 4 TFL) and
Hunter Dimick
(2.5 sacks, 3 TFL).
One question that hasn't been answered
: Can the Utes sustain this nonconference momentum through Pac-12 play?
A 3-0 start, especially with such an impressive win over Michigan in Ann Arbor last weekend is nothing to short change. However, Utah has had good starts before -- 3-1 in 2013, 2-1 with a win over No. 25 BYU in 2012 -- but the wheels have always started to fall off in conference play. In 2012 the Utes finished the conference schedule with a 3-6 record and in 2013 they finished with a 2-7 Pac-12 record. The 2014 league season isn't exactly kind but will this momentum carry over? Could they pick up three wins in conference play and find themselves bowl eligible?
September, 22, 2014
Sep 22
11:00
AM PT
The future prototype of the USC quarterback position could soon be at a crossroads.
Cody Kessler was an incumbent when Steve Sarkisian came in with an up-tempo, no-huddle offense and the transition has certainly been solid for Kessler as he is completing 71 percent of his passes with eight touchdowns and no interceptions.
After Kessler leaves USC, however, there is uncertainty about what style quarterback Sarkisian will want to have in control of his offense. Of course he will want someone who makes good decisions, can make the necessary throws and can manage the game, but will he want more running ability? Will he want a downfield running threat or just someone who can move well in the pocket? There are no clear answers since a quarterback will be judged on overall production and not just one trait, but Sarkisian will certainly have a wide variety of players to choose from.
Max Browne
would be considered the one who most closely resembles the classic pro-style quarterbacks such as Carson Palmer and Matt Leinart.
Jalen Greene
has the dual-threat skills that seem to fit what so many college offenses are featuring these days. Even the two current verbal commits --
Ricky Town
and
Sam Darnold
-- offer varying styles. Town has tremendous ball-faking skills and footwork in the pocket, and Darnold is a 6-foot-4, 215-pound athlete who can move.
If you're talking pure physical skills, Darnold is certainly one worth watching. His story is well-known about how he broke his foot early in the 2013 season and flew under the recruiting radar until he started lighting up the spring camps and passing tournaments. Suddenly the offers started rolling in and he was eventually invited to the Elite 11 finals, where he was praised for his quiet competitiveness and high athletic ceiling.
The athleticism comes naturally from a family full of athletes. Darnold's grandfather played basketball at USC and was an Olympian in volleyball. His father played college football and his mother was a volleyball player, his sister currently plays volleyball at Rhode Island.
"From the time I was bouncing around I had a ball in my hand," Darnold said. "My dad just always told me to compete, whether it was in sports or something else. I really put it on the shoulders of my parents for not pressuring me at all, letting me do what I want, and I found a sport I like a lot in football.
"I played football, baseball and basketball growing up. The last three years I've played some beach volleyball in the summer. I'm not very good, that's what my friends tell me (laughing), but there are some pretty good players down here so it's hard to compete."
Darnold will play basketball in his senior year for the Tritons, he was named league MVP as a sophomore in hoops. One interesting factor to watch for the two-sport star will be to see how his weight is impacted once he is concentrating on football and strength training on a year-round basis.
"Coach Sarkisian and (offensive coordinator Clay) Helton told me to enjoy my senior year," Darnold said "They said to do everything, play basketball, go to prom, do what I want to do. In May I will start up at SC and then it will be all business.
"In terms of how big they may want me to get, I don't know. My main thing that has helped through my whole life is playing it by ear and seeing where it takes me. If coaches tell me to lift more, I will take their advice. They have the best conditioning staff in the nation, so I'll do what they want."
In the meantime, Darnold has led San Clemente to a 4-0 record and he is putting up good numbers with 57-of-96 passing for 863 yards with 17 touchdowns and no interceptions. Darnold has also run 33 times for 231 yards and six touchdowns.
Bill Cunerty is a former national championship winning coach at Saddleback College who works with local youth quarterbacks in the south Orange County area, and has had the opportunity to watch Darnold develop over the years.
"I think Sam is one of the 2-3 best athletes in Orange County," Cunerty said. "I first saw him as a 6-foot-2 outside linebacker as a sophomore, and he made two plays as an edge rusher that made me pay attention. On the first one he sensed a screen, made the interception and returned it for a touchdown. On the second play he spun around and sprinted out to get an interception on a running back screen, a play that was all instinct. A couple months later I saw him playing basketball and he went for 26 points and 12 rebounds. This is a very good athlete and a fabulous kid."
Darnold also receives praise for his athleticism from John Jackson, a former USC wide receiver and local television analyst for high school broadcasts.
"What separates Darnold from other quarterbacks is his attitude," Jackson said. "He plays the quarterback spot with an athleticism and toughness that I think was helped by the fact that he played other spots. He's been a linebacker, he's been a tight end, he has a little better knowledge of what it's like to be in the other guy's shoes. He's big and physical, and he's a legitimate runner."
Edoga set to visit, becomes third Class of 2015 prospect to sign
ESPN 300 offensive lineman
Chuma Edoga
(Powder Springs, Ga./McEachern) will officially visit USC this coming weekend (Sept. 26), just over a week after signing a financial aid agreement with the Trojans. The document doesn't legally bind Edoga to USC, but it does clear the way for the December graduate to arrive on campus and enroll in January.
Edoga is the third mid-year candidate to sign early enrollee papers with the Trojans, joining quarterback Town (Ventura, Calif./St. Bonaventure) and linebacker
Cameron Smith
(Granite Bay, Calif./Granite Bay). Sarkisian talked about all three players recently.
On Edoga:
"With Chuma Edoga, we think we're getting the most premier offensive lineman in the country. The athleticism he possesses, the potential at left tackle that he has for the future, for his future, and the future of our program, is something that is very unique."
On Town:
"I think with Ricky we're getting a great leader, a guy who has played very good football at St. Bonaventure and continues to do so in his senior season. I loved his grit, his work ethic, his willingness to learn. This guy loves the game of football. He studies the game of football, similar to Cody that way -- a real football junkie."
On Smith:
"We're getting a prototypical, really physical middle linebacker -- smart, tough, probably more athletic than people give him credit for. I think you have to have those types of guys on your team in the middle of your defense from a character standpoint. You want to be a hard-nosed tough defense. You see it having Hayes in the middle of our defense. I think we get some of that with Cam."
More news and notes
A look at the stats some recruits recorded in their games this past weekend:
CLASS OF 2015
QB Sam Darnold (San Clemente, Calif./San Clemente) -- USC commit
Completed 14 of 16 passes for 178 yards and five touchdowns, while also adding 41 yards and one touchdown on the ground in a 49-20 victory over Atascadero.
QB Ricky Town (Ventura, Calif./St. Bonaventure) -- USC commit
Completed 21 of 42 passes for 297 yards and two touchdowns in a 42-28 loss to San Juan Capistrano (Calif.) JSerra.
RB Aca'Cedric Ware (Cedar Hill, Texas/Cedar Hill) -- USC commit
Rushed for 162 yards and three touchdowns on 20 carries in a 61-34 victory over Coppell (Texas).
WR Desean Holmes (Mission Hills, Calif./Bishop Alemany) -- USC commit
Had a 43-yard touchdown catch in a 45-15 victory over Los Angeles (Calif.) Dorsey.
LB Cameron Smith (Granite Bay, Calif./Granite Bay) -- USC commit
Racked up 21 tackles (5 solo), as well as two interceptions that he returned for a total of 94 yards in a 13-7 loss to Vacaville (Calif.).
CB Taeon Mason (Pasadena, Calif./Muir) -- USC commit
Made a 65-yard touchdown catch in a 40-7 loss to Newhall (Calif.) Hart.
WR Christian Kirk (Scottsdale, Ariz./Saguaro)
Rushed for 102 yards and two touchdowns on two carries, while also making five catches for 101 yards and three touchdowns in a 56-2 victory over Apache Junction (Ariz.).
WR Equanimeous St. Brown (Anaheim, Calif./Servite)
Made seven catches for 86 yards and one touchdown in a 42-21 victory over Huntington Beach (Calif.) Edison.
LB John Houston Jr. (Gardena, Calif./Serra)
Recorded 11 tackles (4 solo) in a 37-14 victory over Harbor City (Calif.) Narbonne.
DL Rasheem Green (Gardena, Calif./Serra)
Recorded six tackles (3 solo), four tackles for loss and 1.5 sacks in the victory over Narbonne.
LB Osa Masina (Salt Lake City, Utah/Brighton)
Had 13 tackles (5 solo) in a 34-6 victory over West Valley City (Utah) Hunter.
ATH Porter Gustin (Salem, Utah/Salem Hills)
Salem Hills defeated Heber City (Utah) Wasatch 48 -14 behind another phenomenal all-around effort by Gustin. On offense he completed 15 of 22 passes for 280 yards and 4 touchdowns, while also catching a 17-yard touchdown, and he also added 42 yards on the ground in three carries. On the defensive side of the ball he amassed 10 tackles, three tackles for loss, one sack and one pass deflection.
ATH Ykili Ross (Riverside, Calif./Poly)
Had a game-clinching interception in a 23-20 victory over Riverside (Calif.) King.
TE T.J. Wheatley Jr. (Buffalo, N.Y./Canisius)
In a 43-7 victory over Cuyahoga Falls (Ohio) Walsh Jesuit, Wheatley compiled six tackles (5 solo), four tackles for loss, three sacks and one forced fumble on defense, while also chipping in with one catch for eight yards on offense.
RB Dominic Davis (Mission Hills, Calif./Bishop Alemany) -- WSU commit
Rushed for 215 yards and one touchdown on offense, and also had a 99-yard interception return for a touchdown in the victory over Dorsey.
CLASS OF 2016
QB K.J. Costello (Coto de Caza, Calif./Santa Margarita Catholic)
Completed 24 of 45 passes for 312 yards with one interception in a 41-10 loss to Las Vegas (Calif.) Bishop Gorman.
QB Shea Patterson (Shreveport, La./Calvary Baptist Academy)
Completed 12 of 21 passes for 201 yards and two touchdowns with one interception in a 42-13 loss to Shreveport (La.) Byrd.
WR Dylan Crawford (La Canada, Calif./St. Francis)
Caught three passes for 115 yards and one touchdown, and also added a 55-yard touchdown run in a 35-13 victory over Monrovia (Calif.).
WR Jackie Jones (Long Beach, Calif./Poly)
Had eight receptions for 57 yards in a 42-34 loss to Corona (Calif.) Centennial.
WR Tyler Vaughns (La Puente, Calif./Bishop Amat)
Had a 58-yard touchdown catch in a 45-28 loss to Chino Hills.
ATH Trevon Sidney (La Puente, Calif./Bishop Amat)
Had a 52-yard touchdown catch in the loss to Chino Hills.
TE Devin Asiasi (Concord, Calif./De La Salle)
In a 52-0 victory over Loomis (Calif.) Del Oro, Asiasi had three receptions for 41 yards and one touchdown, and he also added four tackles on defense.
LB Lokeni Toailoa (Rialto, Calif./Carter)
In a 41-0 victory over Temecula (Calif.) Chaparral, Toailoa racked up six tackles (5 solo) and one sack on defense, while also rushing for four yards and one touchdown on two carries on offense.
LB Blake Walls (Gardena, Calif./Serra)
Compiled 12 tackles (3 solo) in the victory over Narbonne.
S C.J. Pollard (Gardena, Calif./Serra)
Recorded five tackles (4 solo) in the victory over Narbonne.
DL Oluwole Betiku (Gardena, Calif./Serra)
Recorded five tackles (3 solo), three tackles for loss, 1.5 sacks and one forced fumble in the victory over Narbonne.
ATH Brandon Burton (Gardena, Calif./Serra)
Amassed six tackles (4 solo) and one pass deflection in the victory over Narbonne.
CLASS OF 2017
QB Tate Martell (Las Vegas, NV/Bishop Gorman)
Threw 3 first-half touchdown passes on the way to a 41-10 victory over Santa Margarita
ATH Nathan Tilford (Upland, Calif./Upland)
Rushed 15 times for 39 yards, and also caught two passes for 19 yards in a 28-14 loss to Santa Ana (Calif.) Mater Dei.
WR Osiris St. Brown (Anaheim, Calif.)
Had a highlight-reel 23-yard touchdown catch where he hurdled a defender on his way to the end zone.
JUCO
WR De'Quan Hampton (Long Beach, Calif./Long Beach City College) -- USC commit
Caught 8 passes for 132 yards and one touchdown in a 31-19 victory over Bakersfield College.
September, 22, 2014
Sep 22
9:00
AM PT
LOS ANGELES -- Returning to Pac-12 play, it figures that the No. 18 USC Trojans (2-1, 1-0 Pac-12) will be in a feisty mood when they face the undefeated but unranked Oregon State Beavers (3-0, 0-0 Pac-12) Saturday night in the Los Angeles Memorial Coliseum.

The Trojans spent last week's bye trying to figure out what went wrong in the 38-31 loss at Boston College.

According to Trojans head coach Steve Sarkisian, the team worked to address their shortcomings during the bye -- which meant dealing with issues on both sides of the ball, healing the wounded, and looking at a few new wrinkles.
September, 22, 2014
Sep 22
11:00
AM PT
The
Socratic smugness
that enveloped me in the wee hours of Sunday morning was a revelation of sorts, though a recognition of futility isn't terribly comforting.
After the tumult of another thrilling weekend, Twitter spun and spun with ostensible wisdom, with Pac-12 and college football philosophers insisting this or that was true based on this or that result. As for me, all I knew is that I knew nothing. Therefore, I am wiser than Twitter, for neither Twitter nor I appears to know anything great and good; but Twitter fancies it knows something, although it knows nothing. In this trifling particular, then, I appear to be wiser than Twitter, because I do not fancy I know what I do not know.
Ya know?
Dominant teams? There may not be any. Florida State, Oklahoma, Alabama, Oregon etc. Each seems to be surviving rather than asserting itself. Same holds true in the Pac-12.
The good news is Socrates also believed an unexamined college football season is not worth following. Further, after four confounding weeks, both nationally and within the Pac-12, we figure to scrape and claw toward more substantial revelations this week, at least on the West Coast. Probably. Maybe.
First, just the facts.
Seven Pac-12 teams remain unbeaten, though hardly unblemished. Three in the North Division: Oregon, Washington and Oregon State. And four in the South: Arizona, Arizona State, UCLA and Utah.
At least one of those will go down before next weekend, as UCLA visits Arizona State in a critical South clash on Thursday. Both teams have looked vulnerable. Both teams have QB questions, with
Taylor Kelly
definitely out for the Sun Devils, and
Brett Hundley
trying to come back from a hyper-extended elbow that knocked him out of the nail-biting win over Texas.
Oregon, the putative top Pac-12 team and favorite to represent the conference in the College Football Playoff, is off this week. The Ducks might be good enough to win the national championship or they might lose three games due to an injury-riddled offensive line or a leaky defense. We've seen Oregon dispatch mighty Michigan State with a dominant second half on both sides of the ball and then cling for dear life at Washington State, the only conference team presently owning a losing record.
Just as UCLA-Arizona State is a separation game in the South, so is Stanford's visit to Washington on Saturday in the North. We have little feeling on the potency of either. Both have flashed potential on both sides of the ball. Yet both also have looked feckless and discombobulated, which is surprising when you consider the reputations of their respective head coaches. The winner becomes the top potential foil for Oregon in the North.
Or might that actually be Oregon State? We don't really know what to make of the Beavers, who visit USC on Saturday, because they haven't played anyone. For that matter, we don't really know what to make of USC either because it was good enough to beat Stanford and bad enough to be humiliated at Boston College.
Things are perhaps just as intriguing -- read: hard to figure -- among the hoi polloi, among the teams not widely viewed as serious threats to win the conference. And by "widely viewed" keep in mind the chattering classes tend to talk themselves into general agreement based their need to wheeze carbon dioxide into the atmosphere, yours truly not exempted by any means.
Colorado's trip to California is a game that matches teams that both said, "We can win this one!" in the preseason. The loser's long shot bowl hopes will take a huge hit. You could probably say the same about Washington State's trip to Utah, though a Utes victory might propel them into the Top 25 and transform them into a popular new dark horse in the South.
In fact, our limited intelligence after four weeks might merely be a confirmation of what most suspected in the preseason: There will be no easy outs this fall, which might be as much a function of the top slipping as the bottom rising. Sure, Washington State is 1-3, but the Cougs pushed Oregon to the brink. A little less brilliance from
Marcus Mariota
and a little more help from the officials and things might have been different. Colorado is 2-2 but it gave Arizona State trouble, the Buffs rushing for 232 yards against the Sun Devils' rebuilt defense. California was a Hail Mary pass away from winning at Arizona and improving to 3-0. Utah won convincingly at Michigan, which might not mean much but it's still a happy ending in the Big House against a team wearing cool winged helmets.
So expect to muddle forward toward clarity, even if we encounter a few false summits along the way. No Pac-12 team appears unbeatable. And no team appears incapable of playing competently. Each fan base should remain hopeful while not ruling out the possibility of eventual despondency.
The good news, as Socrates noted via Plato, is there are two ruling and directing principles in a college football season. It always at least teases our innate desire for pleasure. And, at its end, we acquire grounds to judge excellence.
Hey Shane Falco. I lost a ton of money on that Sugar Bowl disaster of yours. What a bloody shambles that was. You could smell the stink all the way back in bloody Wales.
Leading off
Have we all caught our respective breaths? Good.
What a weekend it was for the Pac-12. Thrilling games in Tucson and Pullman were the exclamation point on a day that saw Colorado cap the Hawaii sweep, OSU take care of business against SDSU, Utah go to B1G country and win on the road and 30 fantastic minutes of football from the Huskies. Here are some reactions from across the league and country:
Jon Wilner weighs in on the weekend in his Pac-12 roundup, with
some harsh analysis
for the Bears:
Cal played well, led 31-13 entering the fourth quarter and had the Wildcats beaten time and time again (or so it seemed). But with an offense incapable of eating the clock, the defense wilted and Arizona pounced on the opportunity. In the Hotline's opinion, the Air/Bear Raid approach is inherently flawed. The next time it wins a major conference championship will be the first time.
Things
aren't looking great in Michigan
after Utah rolled through town, writes Dan Wolken of USA Today. And Athlon Sports
offers up their thoughts
on the Michigan-Utah game.
By now, we've all seen the highlights of the Arizona-Cal game. Rich Rodriguez and his guys just want to remind you of the duration of the game:
In the rankings
The Ducks had a good chance to slide up into that No. 1 spot, but Washington State's gutty performance gave voters enough pause to not give Oregon top honors. Kyle Bonagura
broke it down here
for you.
Here's where the ranked Pac-12 teams stand. As always, the AP ranking is first followed by the coaches poll. You can see the complete polls
here
.
Oregon 2 - 4
UCLA 11 - 10
ASU 15 - 12
Stanford 16 - 14
USC 18 - 22
Utah, Washington Arizona and Oregon State all received votes in the AP poll. Washington, Arizona and Oregon State got votes in the coaches poll. Also, thought you'd like to see how a couple of people voted. Here is
Bill Rabinowitz's
ballot and
Wilner's
ballot.
News/notes/team reports
Just for fun
The
victory announcement
from the Cal store is kind of funny if you haven't heard about it yet.
Creepy? Adorable? A little bit of both?
Touchdown Bears! Cal leads 21-3! http://t.co/QOeGhBjq8g

— Cal Bears (@CalAthletics) September 21, 2014
Kind of dig this move from ASU and Todd Graham.
Sunday's mean work starts again tomorrow...but thanks to @CoachGrahamASU it's just a 3.5-day week #BlackOutBruins pic.twitter.com/1sSWNIIYqd

— Sun Devil Football (@FootballASU) September 21, 2014
Finally, thought this was funny as an impromptu game of Twitter-tac-toe broke out between Utah football and the Pac-12 Network during the rain delay.
While we wait, it's your move, @utah_football. #UTAHvsMICH pic.twitter.com/XpChi2PdAu

— Pac-12 Networks (@Pac12Networks) September 20, 2014
September, 21, 2014
Sep 21
8:00
PM PT
What did we learn this week, people? The Pac-12's depth is going to make for a fun season and probably a good dose of insanity when trying to sort out the postseason.
For example, two late games Saturday night that ended in dramatic fashion could have bowl implications. When you look at Cal's remaining schedule, are there four wins out there? How about Washington State? Had the Cougars won, you could make a case that, at 2-2, they weren't out of it yet. But what are the odds the Cougars win five of their next eight?
The Bears kick off a stretch of three games against nonranked opponents (Colorado, Washington State, Washington) before closing the season against five of six teams currently ranked in the Top 25. They will need an upset or two along the way. As for Colorado, that Cal game is a huge swing game for the Buffs as well.
Seven Pac-12 teams are still undefeated -- Oregon, Washington, Oregon State, Arizona, Arizona State, UCLA and Utah. We know that isn't going to last. Oregon and Arizona are two wins away from bowl eligibility. Washington needs seven because of the Hawaii rule, and Oregon State, Arizona State, UCLA and Utah are halfway there.
Things are sure to get more interesting in the coming weeks as we plow full steam ahead into conference play.
For now, here are the projections. As always, salt heavily.
College Football Playoff:
Oregon
Fiesta Bowl:
UCLA
Valero Alamo Bowl:
Stanford
National University Holiday Bowl:
Utah
San Francisco Bowl:
USC
Hyundai Sun Bowl:
Arizona State
Royal Purple Las Vegas Bowl:
Washington
Cactus Bowl:
Arizona
Heart of Dallas Bowl*:
Oregon State
*-At large
September, 21, 2014
Sep 21
2:00
PM PT
September, 19, 2014
Sep 19
6:00
PM PT
Happy Friday. This is the Week 4 mailbag, popularly known as the mailbag that appears before the fourth weekend of the season.
Follow me on Twitter here
. It makes it so easy to pass along an insult!
To the notes!
Ben from Los Angeles writes:
I think just about every person watching the USC-BC game last Saturday was wondering why Sark was running the ball. My mom even called to ask me what he was thinking. BC sold out to stop the run, but SC just ran straight into it anyway. How can a squadron of highly paid football coaches not see what the rest of us see? Sark admitted he was stubborn, but doesn't he pay these guys to tell him when he's off the mark?
Ted Miller
: USC rushed 29 times for 20 yards against Boston College. That is awful, even when you consider the 36 yards yielded on five sacks. Meanwhile, the Trojans and QB Cody Kessler complete 31 of 41 passes for 317 yards -- 7.7 yards per attempt -- with four TDs and no interceptions.
So obviously the passing game was working better than the running game against Boston College, a team that isn't known for its athleticism in the secondary, particularly compared to what the Trojans offer at receiver.
In other words: I hear you.
Steve Sarkisian's desire to maintain balance didn't work. While the defense was more of a disaster -- 452 yards rushing surrendered, 8.4 yards per rush, a complete breakdown of scheme and fundamentals -- scoring just seven points in the second and third quarters against a weak defense is pretty baffling.
Yet the bigger picture was most troubling. USC jumped to a 10-0 lead and then seemed to lose its focus and intensity, and BC took advantage. The performance fit in with typical stuff from Sarkisian's critics, most notably his teams' tendency to struggle on the road, even against outmanned teams.
Many jumped the gun on celebrating USC, including the Pac-12 blog, without really looking at the victory over Stanford and being more cautious about its potential ramifications and meaning. Many aspects of that game suggested the Cardinal were the better team; they just couldn't get out of their own way. Or kick a field goal. (In our defense, the lauding of USC as a South Division
contender was more about the schedule
than the Trojans looking like an elite team.)
USC and Sarkisian do have a ready-made excuse: The thinness of the roster because of scholarship limitations. While that is legitimate, that still doesn't cover for losing to a team that will be lucky to become bowl-eligible in the ACC.
Still, just as it was premature to rank USC in the top 10 after it beat Stanford, is it premature to fit Sark for his Lane Kiffin undergarments.
---
SharkDuck from Portland writes:
Since everyone is assuming (outside of Oregon) that the Ducks will implode at some point (OL issues, Mariota injury, etc), if they do run the table to a playoff spot, do they have to win it all to be considered "great," or is the playoff enough? I wait on the edge of my chair, unable to fufill my drone duties until answered.
Ted Miller
: Oregon played for the national title after the 2010 season. The Ducks finished No. 2 in 2012, one of five consecutive final rankings in the top 11, with three in the top five during that span.
Reaching the playoff would be a solid achievement, but the Ducks already have accomplished a similar feat by reaching the BCS title game against Auburn. The only thing the program hasn't accomplished -- the only box that hasn't been checked -- is winning a national title.
To earn legitimacy as "great" or to be considered one of "those" programs, the Ducks must win a national title. Doing so also, by the way, would eliminate the only remaining substantive tweak Washington fans have when going back and forth with Ducks fans.
Success is a harsh mistress, eh? Consider that finishing 11-2 and ranked No. 9 last year was treated as a significant disappointment by many Oregon fans.
---
AnGeLfRoMaBoVe from Heaven Streets of Gold writes:
Who do you think will win the national championship and/or Heisman?
Ted Miller
: Wait, I'll go get my crystal ball out of the closet.
Crystal ball, who wins the Heisman and national title?
Well, that's not very nice. I what? There's no proof of that! You have pictures? Do you want to go back into the closet? You wouldn't!
[Sounds of smashing crystal].
Er, Florida State wins the national title and Oregon QB Marcus Mariota wins the Heisman Trophy.
---
Bruce from Salt Lake City writes:
Ted, with all of the drama going into the first playoff selection, the committee might as well beef it up with a "Bachelorlette" rose-like ceremony where they invite all of the coaches in the top 10, who pull and pick the coaches (teams) one by one. Add in some dramatic music and a few camera confessionals of the coaches not picked, maybe a few heated words between rivals - this could make for some OK, good TV. If not TV, then at least a Frank Caliendo ESPN segment. Thoughts?
Ted Miller
: Adding Frank Caliendo makes just about everything better.
I like your idea. I particularly think it would be fun to have cameras trailing the spurned coaches as they exit in tears and then climb into their limos of shame.
"It just hurts so much," LSU coach Les Miles might say. "I
t's like reading a book and it's sad ... I don't read books, but if I read books, it would be like reading a book. A sad one.
It's not a hammer-and-a nail relationship, though.
I'm proud of our men, anyway. Spectacular group of men. You got to find them, you throw your arms around them and give them a big kiss on the mouth, if you're a girl. Anyway.
I'm the head coach at LSU. I will be the head coach at LSU. I have no interest in talking to anybody else, including you, camera guy. I got a Sugar Bowl to play, and I'm excited for the opportunity of my damn strong football team to play in it. Please ask me after. I'm busy. Thank you very much. Have a great day!"
September, 19, 2014
Sep 19
8:00
AM PT
Happy Friday!
Leading off
This is the final weekend of "mostly" nonconference play. Starting next week, it's a full slate of Pac-12-only games. So say your hellos and goodbyes to the Michigans, Hawaiis and Georgia States of the world this weekend. There are still three dates with Notre Dame and Cal's season finale against BYU. But for the rest of the league, we wrap up the non-league games this weekend.
The nonconference schedule always makes for some interesting picks. The Pac-12 blog
unleashed its picks
on the world yesterday morning. Not a ton of discrepancy, other than a 4-1 decision on the Utah-Michigan game. Besides that one game, the rest of the Pac-12 blog is in agreement.
Here are what others from across the country are picking for Week 4.
(I'm noticing a lot of folks went 7-1 last week ... hmmm, USC...)
Big Board update
When the first two names are called at the 2015 NFL draft, there's a good chance they will both be from the Pac-12.
So says ESPN's Mel Kiper Jr.
, who updated his Big Board. It's an Insider piece, but I'll tell you the new big board is silly with Pac-12 players. Eight players from the league are in his top 25 -- including three in the top 10.
Mel Kiper Jr. drops Winston from 3rd to 25th on Big Board » pic.twitter.com/Kkc8I249al

— ESPN CollegeFootball (@ESPNCFB) September 18, 2014
News/notes/practice reports
Just for fun
September, 18, 2014
Sep 18
11:02
AM PT
LOS ANGELES -- One of those in attendance last weekend for the Trojans' game at Boston College was Kevin Bruce, a former co-captain on the 1974 USC national champions and recent seven-year resident of Boston.

I had an opportunity to break bread with Bruce in Beantown's Italian North End and got his views on a variety of subjects that pertain to the past, present, and future of Trojans football.

What are your thoughts on the 2014 Trojans defense after it gave up 38 points and a whopping 452 yards rushing against Boston College?

Kevin Bruce: The defense lacks an identity. This is a winner group waiting to happen. BC blew the Trojans apart first by [offensive] complexity then physicality; yet they were one-dimensional. My view is that [defensive coordinator Justin] Wilcox has not demonstrated that he knows what to do with personnel and scheme yet. If in doubt, then simplify and get aggressive and disrupt offenses. We're missing upperclassman leadership right now, and the impact of the guys who left early for the NFL, especially [George] Uko, [Dion] Bailey and the loss of [Josh] Shaw are all showing.

Switching gears, Kevin, you played on two national championship teams (1972 and 1974). What's been the biggest change in the college game from then to now?

KB: Greg, the game has changed by rule and as you look at how, for example, pass blocking. The first thing that happens (now) is the hands go to the chest and you grab because that's what offensive players do. Back in the day, you couldn't do that, at least not legally, but of course it happened all the time, but not legally.

I think the other blocking changes that I've seen is the amount of below-the-waist blocking, chop block, cut blocks, whatever, that's routine. If you were going to play in the box, that front seven if you will, when I played, you had to be prepared to play it all from head to toe, literally.

Could the teams that you played on at USC compete with today's Trojans teams and the current top echelon teams of college football for that matter?

KB: We wouldn't compete, we would win! One of the reasons we'd win is because we loved to play football, and there isn't a tougher group of folks than the USC teams I played for (1972-75). I don't care what the rules are. Strap it on, go out there, and we're going make you pay if you're playing us.

Are players that play for USC today different than when you played?

KB: You know what, I don't think so. We are all cut from the same cloth, and the great equalizer, you go on to a 100-yard football field, put on the uniform, the rules are the same, you keep score, and you play the game and enjoy it. Hopefully, you enjoy it. You play hard and you get a good outcome. That has never changed. Some of the rules change, some uniforms change, some of the colors changes, ask Oregon on that one. That's the sizzle on the steak. The steak is the same. That hasn't changed.

What are some of the good memories you took with you after you finished your football career at the University of Southern California?

KB: The opportunity to play, to wear the uniform and put on the cardinal and gold is unbelievable. Winning in that environment is even better. Winning national championships is always a good thing. For us, some of the traditions, for example, is getting to the Rose Bowl. We had a very made clear, articulated goal, at the beginning of every season. We're going to win every game, and we're going to go the Rose Bowl and beat whomever the Big Ten sends out. That was our season, that is what we could control, and that's what we did.

My memories are that we accomplished that more than we didn't. In my four years, we were able to win two national championships, and we got to play Woody [Hayes'] team three times (1972, 73, 74) and beat them two out of three (1972 and 1973). I'd love to go back and get that third one, but you can't go back in time and change all that. I'll tell you, those games in the Rose Bowl were physically the most demanding football games I've ever played in.

I have great memories of that 1975 Rose Bowl game in January with the two-point conversion, we win by a point (18-17), and I was totally spent. I went into that game just sick. There wasn't nothing left in me after that game, nothing. I had cuts over both eyes and so did the guy I played against at Ohio State who had cuts over both his eyes. That's the truth because I talked to him after the game and we were both bleeding on each other.

What are your views of the new College Football Playoff? Do you wish they had this new system when you were playing or is it a bad idea?

KB: You know, there's a good and a bad. You know what I like is a little more football and getting good, elite teams playing each other. Those are good football games and I like that part. I am not sure it really supports the student part of student-athlete as much as I'd like to see because frankly that is part of the college experience and, yeah, you do go to class as required.

What I don't like is that it is destroying the traditions of over 120 years of college football. That is something that should be considered. The bowl games now, the Rose Bowl -- is that really the Rose Bowl now or is it like the precursor to another BCS game that has the name of some corporation? For me, it detracts from the tradition and the pageantry of the college game. It's more akin to the professional game, and I know this is big business. I get that. I am not naive.

You played for a legendary Hall of Fame coach in John McKay. What are your memories of Coach?

KB: It's interesting. My memories of Coach are that he was the best teacher of football that you could imagine. As a coach, he did all the things right. He was a great, great game-day coach. On the sidelines, he knew what he was looking for. He was able to make the kind of calls that were necessary, and he would make gutsy calls all the time.

I remember a fair amount of two-point conversion attempts in the Rose Bowl games, some were successful and some were not. Coach never hesitated. It was never even a decision in his mind. He didn't go to those games for a tie. He went to win, and that's what he instilled in all of us: accountability.

We didn't talk about accountability, it was expected. You loved football, you loved the university, you put the uniform on, and you went out and gave it your all. Your preparation preceded the game, you transferred it to the playing field, you executed the game plan and you did what you had to do. And in nine times out of 10 -- in my case, it was more than that in my four years -- we would win and be successful. It was great memories and that was on Coach McKay. He was a great teacher. He wasn't your friend; he was your coach.

Finally, was there a difference as a player coming down that famous Coliseum tunnel before a UCLA game as opposed to a Notre Dame game?

KB: No, the dislike is the same. When we played UCLA, we knew we were going to impose our will. With Notre Dame, we were going to impose our will, but we might get into a fight. You know what, it only happened two out of the four years I was playing, so I don't know what happened in the other two years. Somehow we got along. [Laughs.]
I see you have learned to work the Google on the internet machine.
Leading off
The two highest-ranked teams in the Pac-12 -- Oregon and UCLA -- have had some issues along the offensive line three weeks into the season. The Ducks have suffered injuries that have forced some younger or less experienced players into action. The Bruins haven't done a great job protecting their quarterbacks. If either hopes to advance to the College Football Playoff, they are going to have to figure things out up front. That's the premise of Steve Lassen's piece for Athlon Sports, which examines
the offensive lines of both schools so far
.
Lassen on Oregon:
Will Oregon's offensive line woes derail the offense against Washington State or Arizona? Probably not, but a thin offensive line could create more pressure on quarterback Marcus Mariota.
And on UCLA:
The stats from the first three games suggest the offensive line is improving. But what type of impact could a long-term injury to [Malcolm] Bunche hold for this group? And assuming Bunche does return to full strength, can this unit jell and continue to improve after a sluggish start to the season?
UCLA is off this week while Oregon travels to Washington State for its first Pac-12 game of the season. The Bruins will head to Tempe on the 25th to square off with ASU.
Utes & Cats
In
his mailbag this week
, Stewart Mandel of Fox Sports hit on a question about Arizona and Utah and their place in the South Division. Here's an excerpt about the Utes:
This year, with [Travis] Wilson back and currently the nation's No. 2-rated passer, the Utes have clobbered their first two foes, but they were Idaho State and Fresno State. Michigan has certainly proven beatable. If Utah can pull it off on the road, then I'd reevaluate their place in that division.
Mandel says, given the state of the division (injuries to
Taylor Kelly
, a shaky start for UCLA, USC's loss), the Utes might be a good sleeper team to sneak up and steal the division. He doesn't see Arizona as a team ready to make that leap yet. On the field, it won't get settled until the Wildcats make the trip to Salt Lake City on Nov. 22. Might be an intriguing showdown for a couple of teams either looking to reach bowl eligibility or improve their place in the pecking order.
My guess is if Utah wins this weekend, they'll be added to this list.
News/notes/team reports
Just for fun
If you're a fan of "The Office,"
this is for you
. If you're a fan of Stanford athletics, this is for you. If you're a fan of both, this might be the greatest thing in the world. And if you're a fan of neither, move along. Nothing to see here.
Want to see what the Ducks
saw before their Wyoming game?
Warning: The following video might make you want to go workout.
September, 17, 2014
Sep 17
11:55
AM PT
By
ESPN.com staff
| ESPN.com
WeAreSC staffers discuss the
USC Trojans
at the bye week:
What has been the most predictable thing you have seen this year?
Garry Paskwietz
: The fact that the Trojans went on the road and suffered a loss against an opponent that featured a strong running attack behind a punishing offensive line, and that the young USC offensive line went through some growing pains while featuring three freshmen in the interior rotation.
Johnny Curren
: The fact that USC's offensive line ran into a roadblock early on this season. While that wasn't necessarily a shock to me, what was surprising was that it happened against Boston College, and not Stanford. In any case, it certainly wasn't a secret heading into this season that Tim Drevno's group was a major question mark -- even with the influx of freshman talent. Those that follow USC closely always knew that this young and inexperienced group might struggle at some point, and that's precisely what happened.
Greg Katz
: The most predictable thing I've seen is the positive performances of defensive tackle
Leonard Williams
, linebacker
Hayes Pullard
, tailback Buck Allen, wide receiver
Nelson Agholor
, and quarterback
Cody Kessler
. All five players have, for the most part, lived up to the expectations for a majority of the young season.
What has been the least predictable thing you have seen this year?
[+] Enlarge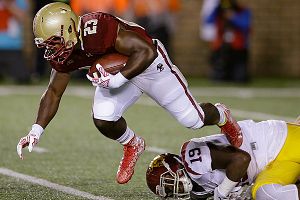 AP Photo/Stephan SavoiaThe USC defense was run over by Boston College, giving up 452 yards on the ground.
GP
: That the events I described in question No. 1 happened against Boston College, not Stanford. Most everyone had the second game of the season circled on the calendar with a trip to Palo Alto and, while that game certainly lived up to the billing, it wasn't the Cardinal who rolled up over 400 rushing yards while only giving up 20. I know Boston College qualified as the classic trap game but it was still a surprise to see the game won on both sides of the line of scrimmage, which is why they are called trap games.
JC
: The fact that the Trojans defense would rank No. 116 in the FBS against the run at this point, giving up an average of 245.7 yards per game. Sure, that is due in large part to Boston College's 452-yard outburst, but with the Trojans featuring a defense that is headlined by established stalwarts like Williams and Pullard, that ranking is shocking any way you look at it.
GK
: The way the defensive line has played considering it was supposed to be the strength of the team but has been badly outmuscled on the ground for the most part by Stanford and Boston College. If they don't pick up their game, the Trojans could be in real trouble in Pac-12 play.
Name one thing you would like to see from the bye week as the team moves forward.
GP
: A clear offensive plan to take advantage of the multiple weapons, and I completely expect Steve Sarkisian to make his intentions known as to the strategy options he looked at during the bye week. Sarkisian said it's important for the Trojans to play to their strengths and it will be interesting to see where he thinks the strengths lie based upon the direction he chooses to go.
JC
: More discipline on defense. The USC defense will need to turn things around in a big way, and in a hurry, for this team to have a high level of success throughout the rest of the schedule. Against Boston College players were out of position, they whiffed on tackles, and they just looked sloppy in general. I'm hoping Justin Wilcox & Co. are able to bring this collection of talent together over the course of the next week or two so that when they line up against Oregon State they stick to their assignments, they get back to playing physical football, and most importantly, they play as one cohesive unit.
GK
: I would like to see a team that realizes that it can't rest on its victories over Fresno State and Stanford and understands that the Boston College game was a major warning sign of things to come if they don't come out focused and intense every game.
September, 17, 2014
Sep 17
11:27
AM PT
By
ESPN.com staff
| ESPN.com
September, 17, 2014
Sep 17
10:04
AM PT
[+] Enlarge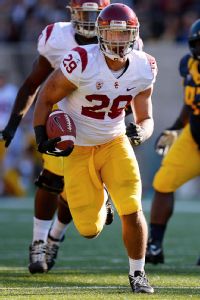 Thearon W. Henderson/Getty ImagesTy Isaac will have three years of eligibility remaining with Michigan.
ANN ARBOR, Mich. -- Running back Ty Isaac's appeal to play this season for Michigan was denied by the NCAA, coach Brady Hoke said Wednesday.
The sophomore, who transferred from USC this summer, had applied for a medical hardship waiver in an attempt to play immediately. Isaac, a Chicago-area native, said he was returning to the Midwest to be closer to his mother, who was recovering from hearing loss surgery.
The NCAA denied his initial request to skip the mandatory one-year waiting period for transfer players in late August.
Isaac ran for 236 yards and two touchdowns on 40 carries during his freshman year with the Trojans. The Wolverines had hoped he would be a part of the running back rotation in Ann Arbor this season.
Hoke said Isaac has been a productive member of the team while working with the scout team this fall.
"He's handled it great," Hoke said. "He had a great day yesterday. From an attitude standpoint and everything else, he's been awesome."