January, 28, 2015
Jan 28
9:00
AM PT
So, Peter, you've become a pirate.
Leading off:
Super Bowl media day has come and gone. With it there were a few notable appearances and quotes by some former Pac-12 players (there are 18 former conference players and five former conference coaches between the
Seattle Seahawks
and
New England Patriots
).
Notes/team updates/recruiting nuggets:
Just for fun:
On Tuesday, Arizona State quarterback
Mike Bercovici
and safety
Jordan Simone
attended Super Bowl media day to add to some of azcentral.com's coverage of the event. We'll have a story later on today with Bercovici's thoughts on the day and his advice to other reporters (now that he has such a deep understanding of the profession), but as a preview to some of the in-depth and exclusive content you'll get from the Bercovici-Simone media team, check out this tweet:
Just talked to Tom Brady about hair products... #BrotherFromAnotherMother

— Michael Bercovici (@MikeBerco) January 27, 2015
We're sure it was enlightening. Someone get this man a Pulitzer.
January, 28, 2015
Jan 28
4:59
AM PT
As USC head coach Steve Sarkisian and his staff sprint down the recruiting stretch with a legitimate chance to finish with the
nation's top signing haul

, there are a couple position groups that they're still working hard to shore up. Though, it's safe to say that the running back spot isn't one of them -- thanks in part to a pair of Texas standouts in McKinney North's
Ronald Jones II
and Cedar Hill's
Aca'Cedric Ware
.
Jones, the No. 1 ranked running back in the ESPN 300, is a highly acclaimed 6-foot, 187-pound explosive game-changer who rushed for 2,009 yards (8.4 avg.) and 28 touchdowns in 2014.
[+] Enlarge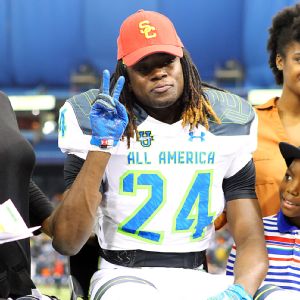 Miller Safrit/ESPNRonald Jones II, ranked No. 34 in the ESPN 300, says USC has always been one of his top choices.
Ware is a shifty, yet surprisingly physical ball carrier who had an even bigger senior campaign, amassing 2,440 yards (8.4 avg.) and 34 touchdowns on the ground while leading his team to its second consecutive state title. He's also added some bulk to his 6-foot frame as of late, recently weighing in at 200 pounds -- up 10 pounds from the weight he played at this past fall.
Both are solidly committed to the Trojans, and combined with speedy Southern California product
Dominic Davis
(Mission Hills, Calif./Bishop Alemany), they make up what is sure to be one of the top running back classes in the nation come signing day.
It's been quite awhile since any coaches at USC have spent the time and energy recruiting the Lone Star State that Sarkisian and Co. have over the course of the past year.
USC did pull in
John Plattenburg
out of Houston (Texas) Lamar last February, but in that case it was actually at Corona (Calif.) Centennial -- where he spent his sophomore and junior seasons -- that the talented safety first caught the eye of the Trojans' coaches. Before that, the last time USC signed a player from Texas was back in 2008 when Houston Aldine offensive lineman Daniel Campbell inked with the Trojans. Campbell failed to qualify, however, and he never played a down at USC.
So how did the Trojans reel in two running backs from the heart of Big-12 country this time around?
For Jones, it actually wasn't that difficult. USC first grabbed his attention at a young age, when he watched former head coach Pete Carroll's teams bring home victory after victory on television.
"USC has just always been one of my favorite schools," said Jones, who de-committed from Oklahoma State in mid-December before choosing the Trojans over Notre Dame a few weeks later. "I grew up watching Reggie Bush and all of those guys, so I knew I would always look at them closely."
Ware's interest, meanwhile, stems more from his desire to branch out.
"I was born and raised in Texas," said Ware, who also held offers from the likes of Florida, Ohio State and Arizona State. "I want to get out and explore the world and experience Cali life, and just have fun outside of Texas. I want to experience new things."
The turning point for both players, however, came when they were able to check out the USC campus in person for the first time. That was especially true for Jones, whose mother was initially hesitant to let her son go to school so far from home.
"My mom didn't want me to go far at all," said Jones, whose mother accompanied him on his official visit to USC in December. "But once she was able to see it for herself, she said that she'd be a fool for telling me not to follow my heart. That official visit was big. I was always sold, but for her, that's what did it."
Ware took his official visit to USC in September, but it was following his earlier unofficial visit for the Rising Stars Camp last July that he made up his mind.
"When I first went out there this summer I really liked the whole environment and the players' and coaches' attitude about football," Ware said. "I could really tell that they were passionate about football, and I knew that was the place that I wanted to be."
Set to arrive on campus early this summer, Jones and Ware, in addition to Davis, all appear to possess the talent to vie for immediate playing time, especially with the recent announcement by last year's leading Trojans' rusher,
Javorius Allen
, that he will forgo his senior season at USC to enter the upcoming NFL draft.
But the Trojans also still have a pair of talented veterans returning at the position in junior
Justin Davis
and fifth-year senior
Tre Madden
. That, coupled with the fact that this year's crop will also have each other to contend with, means that competition will be the name of the game come fall camp.
But that concept doesn't bother either Texas running back. In fact, both Jones and Ware are more excited about the idea of playing each other, as well as Davis, than anything else.
"I love competing and working for it," Jones said. "I don't look at it like those guys are my rivals or anything. I think we can really complement each other. Back when USC was rolling, they would have different running backs with different styles that they would go to, and I think that's what we're doing in this class."
That's something that Ware, who was a part of deep tailback group at Cedar Hill, knows about first-hand.
"At Cedar Hill, my junior year, we had three running backs, and my senior year it was me and Denvre Daniels," Ware said. "When you have that much talent, you can rotate the running backs and wear the defense down. I like that. We can inflict a lot of damage."
And with that trademark Texas confidence, Ware and Jones are determined to do everything they can to ensure that they're more than ready to do their part in making that idea become a reality -- and sooner rather than later.
"We're going to bring that Texas flavor to Cali," said Ware. "We're going to show everybody how it's done."
January, 27, 2015
Jan 27
7:00
PM PT
We continue our series looking at some of the top individual performances in the Pac-12 in 2014. If you feel a little nostalgic, you can check out the
top performances from 2013.
Up next
: 200 x 2

Who and against whom
: After catching eight passes for 220 yards against Washington State the previous week, USC receiver
Nelson Agholor
backed it up with another performance to remember against Cal on a Thursday night.
The numbers
: Agholor caught 16 passes for 216 yards and two scores, and USC held on for a
38-30 win
.
A closer look
: The final numbers were impressive, but it's what Agholor did in the first half -- more specifically the first quarter -- that made this one of the season's best performances. After the big game against WSU, Agholor couldn't have gotten off to much better of a start than he did at the Coliseum against Cal. He made eight catches for 120 yards in the opening quarter and had 13 for 177 yards before the break. If not for USC's 31-9 halftime advantage, who knows what he would have finished with, but he wasn't targeted much in the second half and finished one catch shy of Robert Woods' school record of 17 catches in a game. Not only had no USC receiver ever recorded more than one 200-yard receiving game in a season before Agholor recorded his second, but the school record for 200-yard receiving games is also just two. He was the only player in FBS to record back-to-back 200-yard receiving games this year and one of just seven since the 2004 season -- a group that includes Colorado's
Paul Richardson
in 2013.
January, 27, 2015
Jan 27
10:00
AM PT
It was a busy weekend in the conference, as 14 prospects made commitments between Friday and Monday night and several others backed out of Pac-12 recruiting classes. It looks as though this could be a sign of things to come, as the conference recruiting race is heating up with little more than a week until signing day.
January, 27, 2015
Jan 27
9:00
AM PT
Booked a ticket for tomorrow in Tempe
3 a.m., doing cartwheels down the hallway
Leading off:
Jack Follman over at Pacific Takes
broke down the rosters
of this weekend's Super Bowl teams to find out where the Seahawks and Patriots are finding their talent. His findings are very College Football Playoff-y. Here's the breakdown, by Power Five conference:
1. Big Ten, 26; 2. Pac-12, 25; 3. SEC, 22; 4. ACC, 13; 5. Big 12, 9. In all, 11 Pac-12 teams were represented, with Washington State being the lone exception. The full list of players, broken down by team, can be found at the link.
Here are a few other Super Bowl-related items as they relate to the Pac-12:
News/notes/team reports:
Just for fun:
Two groups of alums from USC's School of Cinematic Arts are finalists in Doritos' "Crash the Super Bowl" contest, which has been pared down to 10 finalists. The winner, chosen by an Internet vote, will have their 30-second commercial shown during the Super Bowl and earn a $1 million prize.
You can vote here.
Here are the commercials from USC's two groups:
Middle Seat
Lemonade Stand
January, 27, 2015
Jan 27
12:08
AM PT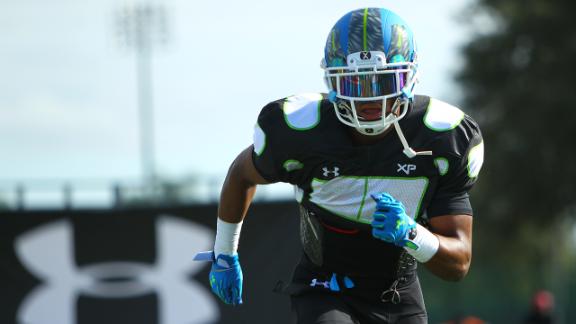 It's tough to imagine a more exhausting and stressful conclusion to a recruiting process than the one
Iman Marshall
orchestrated. Over the past 10 days, Marshall has taken official visits to Florida State, LSU and Michigan, as well as hosted several coaches at his home and school. But just like on the football field, the nation's No. 4 overall prospect doesn't appear to be fazed at all by what's being thrown at him.
To continue reading this article you must be an Insider
January, 26, 2015
Jan 26
4:30
PM PT
Here's a look at how programs in the Pac-12 are faring on the recruiting trail heading into national signing day on Feb. 4.

Commitments: 28
ESPN 300 commitments: 1
Who they have: The Wildcats hit it big with their top two commitments in ESPN 300 offensive tackle Keenan Walker and ESPN JC 50 defensive tackle Anthony Fotu. Arizona also will add four-star tackle Cody Creason, three-star tackle Harper Sherman and three-star guards Alex Kosinski and Nathan Eldrige to the offensive line. There are a number of skill players on both sides of the ball, including running backs Orlando Bradford and Darick Holmes Jr., cornerbacks Shun Brown, Anthony Mariscal, Samuel Morrison and Dane Cruikshank, wide receiver Cedric Peterson and athletes Antonio Parks and Brion Anduze.
Who they want: There aren't many spots left in this class for the Wildcats, but there are a few important names left on the board. The wide receiver spot could see another addition with Jaylinn Hawkins, though rival Arizona State will put up a fight there. Arizona also will look to continue its run of success in Louisiana, as teammates Arthur McGinnis and Darrell Clark (New Orleans/Warren Easton) are two of the top prospects left for the Wildcats, as well as teammates of Arizona commit Kendal Franklin.
To read the rest of our Pac-12 recruiting class breakdowns,
click here

.
January, 26, 2015
Jan 26
12:00
PM PT
LOS ANGELES -- They are as rare to find in Southern California and the West Coast as Super Bowl XLIX tickets at base price. No question, trying to find a quality prep defensive lineman with future all-star potential is perhaps a recruiter's greatest challenge.
In Southern California in particular, they just don't seem to grow behemoth high school defensive tackles with much quantity and quality. It's not to say that some of the defensive line prospects aren't good enough, but there just isn't an overabundance of them. The best of the best defensive linemen in SoCal can play for anybody, but there aren't enough of them to go around, especially when the country's best recruiters invade the SoCal looking for a stud or two.
That's what makes the recruiting of Gardena (Calif.) Serra High's
Rasheem Green
(6-foot-5, 290 pounds) such a high priority for the Trojans. Green stands alone as the best defensive line prospect in Southern California, and naturally everybody and anybody wants his services. Steve Sarkisian and staff are giving it their best shot to land the prep All-American.
Looking at past, heralded prep defensive linemen from SoCal, how many can you name that became major factors along the Trojans defensive line? Did you answer Chino High's Sedrick Ellis and/or Los Altos High's Shaun Cody? In their schoolboy days, they made everybody's recruiting list, and they lived up to the billing at USC.
Of course, there are always some lesser known prospects coming out of the local prep ranks that developed into Trojans All-America linemen like Los Alamitos High's Mike Patterson and Los Angeles Verbum Dei's Kenechi Udeze.
The point again is there are defensive linemen here but not like you see in the South, which seems to grow them like there is no tomorrow. Yet, every once in a great while, the Trojans can swoop into SEC country and extract a major D-line prospect. The Trojans seem to get their share of skill players from the South, but defensive linemen are another story.
The latest Trojans defensive tackle All-American,
Leonard Williams
, hails from Daytona Beach, Florida, and Mainland High School. It took a Herculean recruiting effort by the Trojans to sneak this major blue-chip prep tackle out SEC country.
For many in 2014, Williams was considered the premier defensive lineman in the country and deciding to forego his senior season, No. 94 is a possibility to be selected as the overall No. 1 pick in the 2015 NFL draft.
The Trojans' defensive line class of 2015 shows commitments from
Jacob Daniel
(Fresno, Ca./Clovis North),
Noah Jefferson
(Las Vegas, Nev./Liberty), and
Christian Rector
(Los Angeles Loyola). Currently, only Rector is from Southern California. While the Trojans are pleased with those commitments to be sure, it is Green that makes Sarkisian and defensive line coach Chris Wilson light up.
And while Green is considered the big fish amongst prep defensive tackles, there is also an under-the-radar prospect in rapidly rising
Kevin Scott
(6-4, 255) from Los Angeles Salesian. Scott could fall into the Mike Patterson/Kenechi Udeze category of the-best-is-yet-to-come.
Obviously out of necessity and the desire to recruit the best not only locally but nationally, the Trojans have not confined their defensive line search to Southern California. Sarkisian and his staff know to achieve expectations, defensive linemen are more valuable than ever.
However, it's not like the Trojans haven't been trying to lure stellar prep defensive linemen from out of the Southern California area. The USC staff put in yeomen efforts to persuade national recruits like
Kahlil McKenzie
(Clayton Valley, Calif./Charter HS),
Trenton Thompson
(Albany, Ga./Westover), and
Canton Kaumatule
(Honolulu, Ha/Punahou). McKenzie has since committed to Tennessee, Thompson to Georgia, and Kaumatule to Oregon.
So, as the Trojans streak toward signing day on Feb. 4, it appears USC will finish at the very least somewhere in the top 5 nationally and perhaps even No. 1. However, like all championships -- even in recruiting -- it starts with defense, especially along the defensive line.
January, 26, 2015
Jan 26
9:30
AM PT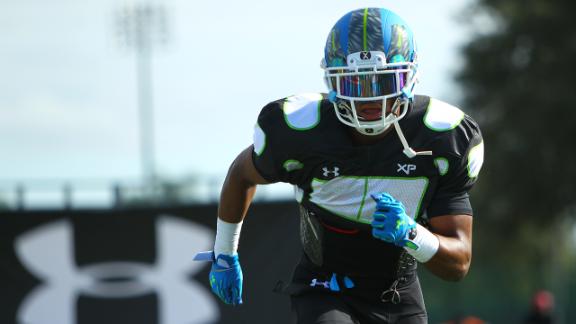 It's a fairly unusual year for recruiting when it comes to the two Los Angeles programs. While this is usually a zero sum war with a clear winner and loser -- as was the case with the 2014 class, when the Trojans finished 3-for-3 on the final three huge uncommitted prospects in Southern California -- this signing day provides the opportunity for both programs to either finish strong or fizzle out, without one much affecting the other.
To continue reading this article you must be an Insider
January, 26, 2015
Jan 26
9:00
AM PT
And in the morning, I'm making' waffles.
Leading off:
The 2015 Senior Bowl has come and gone, and there were plenty of great showings from Pac-12 players. Here's a brief compilation of some of the content you can find regarding the event:
News/notes/team reports:
Just for fun:
There was some #Pac12Trolling happening Sunday as former Arizona State defensive lineman Will Sutton decided to comment on Taylor Kelly and Jaelen Strong's autograph session. Always nice to see a few (fun) shots taken between teammates when it comes to this kind of stuff.
@JediASU @SweetTeaWillie is trolling Kelly and Strong. pic.twitter.com/1YJhqJBWXu

— Zack Chatterton (@zack_chatterton) January 25, 2015
.
Also, if anyone has a chance, check out Sutton's photo at the top of his Twitter page. It's pretty fantastic. Especially if you're a fan of The Lion King ...
January, 23, 2015
Jan 23
5:30
PM PT
Happy Friday. Welcome to the mailbag.
Follow me on Twitter
.
To the notes!
Andrew from Phoenix writes:
Can this post-season please put to bed this
obsession with "ranking" conferences
? Here we are, a week after the season is ended, and we're debating whether the Pac-12 or SEC is the best conference in college football. For what it's worth they are 1 and 2, yet, the representatives of those conferences went 1-5 in the big games. So, then what is it really worth? The Big XII took an absolute nosedive as a whole, yet TCU had the second best postseason of all teams, and will be ranked in the Top 5 to start the season. Florida St got ragged all season for being in the "weak" ACC, whose #2 and #3 teams put an absolute shellacking on comparable teams from "stronger" conferences. The Big 10 is allegedly "back" after going 5-5 in the bowl season, but they only have 3 teams in the whole conference (Ohio St, Michigan St, and Wisconsin) with a prayer of finishing above 5th in the Pac South. Didn't seem to hurt Ohio St much against Oregon, did it? So, please try to convince me why it matters that Wisconsin beat Auburn, Stanford smoked Maryland, and Clemson crushed Oklahoma.
Ted Miller
: To your first question, the answer is no. No, we can not put to bed this "obsession with 'ranking" conferences."
For one, it's necessary in college football, because we have to make subjective distinctions between teams that don't play each other. Whether it's the traditional national polls, the BCS system, or our new College Football Playoff, we have to rank teams, and how the conferences perform is one of the best ways -- the best way? -- we can do that.
Is it an exact science? No. Is it a way of conducting business that is laden with potential for bias and agenda? Absolutely.
Some, by the way, might argue that very subjectivity, an inescapable historical fact of college football, is one of the reasons the sport is so popular with its fans. Without an objective system -- such as large-scale playoffs used in pro sports -- a cherished U.S. institution therefore flourishes in college football: Endless, blathering debate, fueled by paranoia and manufactured offenses and cherry-picked "facts!"
It's a beautiful thing.
Another cherished institution is part of this: Regionalism. Due to the serendipity of a fan's or, often, a media member's birth location, that region becomes the source of all that is good and accomplished, and every other region is inferior, no matter how informed said fan or media member is on said other region. We all know from our present political reality that actually knowing stuff no longer matters and, in fact, can be a burden when debating with a louder and more pithy interlocutor.
But, hey, I'm not a scientist!
So the SEC fan thinks the Pac-12 is soft, and the Pac-12 fan thinks the Big Ten is slow, and the Big Ten fan things the Big 12 is finesse, and the Big 12 fan thinks the ACC is a basketball league, and the ACC fan thinks the SEC is overrated, etc., etc.
It. Will. Never. End.
And for that I am thankful.
---
Robert from New York writes:
I've seen a lot of hype around USC for next season, and I'm not really sold on why. USC had a losing record against the Pac-12 South in 2014, including a blowout loss to UCLA. They're losing key players on both sides of the ball, and have a coach who has never won more than eight regular season games. Are sportswriters getting excited because they want a brand-name school to be elite, or am I missing something?
Ted Miller
: Robert, you sound like some of my Pac-12 blogmates, so you are not alone in voicing some skepticism with the Trojans.
My case leads with this: Among its 16 returning position-player starters, USC welcomes back the most experienced, accomplished quarterback in the conference,
Cody Kessler
, and he will be playing behind an offensive line that will be the best in the Pac-12 (And USC fans should take heart for that 2016 opener against Alabama, because that should be an epic battle at the line of scrimmage between the Trojans and Crimson Tide). That offensive line welcomes back all five starters, led by senior, first-team-All-Pac-12 center
Max Tuerk
, as well has a good crew of backups.
Sure, there are some big hits, particularly with early departures, such as defensive end
Leonard Williams
, receiver
Nelson Agholor
, and runing back
Javorius Allen
. USC is going to need some young guys to step up. But finding ready-to-play youngsters is rarely a problem for USC, and, oh by the way, Steve Sarkisian is well on his way to signing
what could end up a top-five class
.
It will also help that Trojans should be well into the 70s in terms of scholarship players next fall. Though they won't get close to the maximum 85 scholarship players permitted by NCAA rules in their first post-sanctions season, they will be far above the 60 or so they played with in 2014. This will be a much deeper team in Sarkisian's second season.
As for doubting Sark, that's not unreasonable. No, he hasn't won a national title or a conference title, or even 10 games in a season. Yes, there were some times during his first season in which the Trojans seemed poorly prepared, poorly motivated, and poorly coached. You, by the way, could also say the same about Oregon. And Ohio State and Alabama, which went 7-6 and lost to UL Monroe in Nick Saban's first year in Tuscaloosa.
But, from today's vantage point, USC looks like the team with the fewest big questions in the Pac-12, though UCLA and Oregon could quickly counter with impressive clarity at quarterback.
I wouldn't be surprised if the Trojans are in the CFP discussion late into the 2015 season.
Does the USC "brand" play a role in that perception? Probably. But brand names have been pretty good bets over the long haul in college football.
---
Michael from Corvallis, Ore., writes:
With Gary Andersen's staff poaching several assistants and recruits from Utah, not to mention two consecutive games going into OT, is there a chance Utah-Oregon State becomes an actual rivalry?
Ted Miller
: Maybe, but it won't be because of any ill-will between the coaching staffs. Andersen and Utah coach Kyle Whittingham are extremely close -- both have said that to me within the past calendar year, Whittingham just a few weeks ago.
Whittingham also doesn't begrudge defensive coordinator Kalani Sitake jumping to Oregon State, because he knows it was a wise move professionally in the short and long term, particularly if Sitaki wants to be a head coach, which he does. Sitake needs to spread his wings outside of what had become a comfort zone in Salt Lake.
Further, being in different divisions, the Utes and Beavers will have a two-year hiatus coming up as the schedule rotates in 2017-2018.
Utah's chief rival remains BYU. Hard to believe that will change anytime soon, and it will be good to see the renewal of the Holy War in 2016. The Utes will develop Pac-12 rivalries, particularly in the South Division. But it will take time for ill-will and turf-wars to develop.
But Michael, if Utah/Oregon State is particularly annoying you, have at those dastardly Utes/Beavers (don't want to assume your preference just because you live in Corvallis).
---
Wayne from Mesa, Ariz., writes:
With the 2014-15 Bowl Season all wrapped up, I was wondering what your thoughts were and what feedback you may have heard with regard to the new bowl lineup for the PAC-12. Granted, it was more of a tweak over the previous 4 years, but still featured new venues (Santa Clara and Tempe), new opponents (2 Big Ten teams), a slight change in the pecking order (Sun Bowl moved down, Foster Farms up), and of course, altered timing to allow for the New Year's Six. I attended the Sun Bowl, cheering on the Sun Devils. The local fan turnout and community support for that game in El Paso was very impressive! I am a bit concerned about the on-going PAC-12 fan support and enthusiasm for the Cactus Bowl. One wonders if this looks like just a late season PAC-12 road game. Local Phoenix news featured mostly Oklahoma State stories, and thank goodness the Big 12 team once again brought a big group of fans and much excitement to Tempe.
Ted Miller
: The Pac-12 bowl lineup is about as good as it can be. Pretty nice mix of games against the ACC, Big Ten, and Big 12. Certainly the Pac-12 bowls have upgraded under commissioner Larry Scott.
I know some grumble about the bowl lineup. They want a matchup with an SEC team or a bowl game in Florida, but the SEC has a great bowl lineup, and Florida doesn't have much interest in bringing a Pac-12 team across the country. It's a choice of the marketplace, not due to managerial incompetence with the Pac-12 or some conspiracy of forces to keep the Pac-12 down.
Of course, if there's a business person on the West Coast who wants to offer up a $5 million per-team payout to lure a top SEC team across the country for a new bowl game against a Pac-12 team, I'm sure the SEC and Pac-12 would listen.
January, 23, 2015
Jan 23
3:02
PM PT
Osa Masina
has become USC's top-rated defensive pledge. Continue reading to see what this means for the Trojans:
To continue reading this article you must be an Insider