March, 27, 2015
Mar 27
11:35
AM PT
Spring ball is often a time of teaching, for coaches to work with players on installing the playbook or mastering fundamentals, but what happens when a player is an experienced veteran such as Cody Kessler who has 27 career starts under his belt?
USC offensive coordinator/quarterbacks coach Clay Helton has been through the situation before in 2012 when Matt Barkley was entering his senior year, and now he gets to go through it with Kessler, the Bakersfield, California, native who has already set numerous USC records and will -- like Barkley -- enter his final season as a strong Heisman Trophy contender.
[+] Enlarge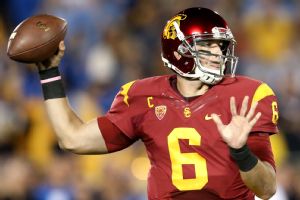 Stephen Dunn/Getty ImagesCan USC quarterback Cody Kessler top his record-setting season from 2014?
"Sometimes it's an even bigger challenge when you're a vet going into your fifth year because you have to be really mentally focused to take each opportunity to get better and not just go through the motions," Helton said. "That's what I really appreciate about Cody. He goes out and competes in every practice like it's a game."
It helps that Kessler is one of the hardest workers on the team, a trait that Trojans coach Steve Sarkisian has referenced many times as setting a strong example for the team's younger players. Kessler talked earlier in the spring about how he got a chance to watch guys like Barkley and others in terms of how they handled their senior years, and it showed him how to handle it the right way.
"His approach to getting better shows the young guys how you do it," Helton said. "And we've got a couple young bucks out here watching him every day, guys like Jalen Greene and Ricky Town, and they learn from him just like he learned from Matt [Barkley].
"We always talk about being the older brother and looking out for the younger brother, Cody is in that older brother role now, and he's doing a great job of setting the example. He and Max (Tuerk) are our rocks on offense and the other guys lean on them so much because of what they've been through."
It certainly makes for a nice situation for a coach like Helton, who gets the opportunity to coach a position, the USC quarterback, which has produced one of the best lineages of any position in college sports over the last 15 years and which is set up well for years to come.
"It's always a fun experience as a coach when you get a chance to 'raise' the kids and see them develop," Helton said. "We were fortunate to have Matt [Barkley] for three years and now we have Cody, who got to learn from Matt for two years before getting his opportunity. Now we've got some more guys who are learning and waiting for their chance, guys like Max Browne who is having a very good spring. It's a great situation for us, we've got a lot of talent at the position."
Of course, just because Kessler is a veteran who has been through a lot doesn't mean that there isn't anything to work on. There are definite advances in his game that will be looking to take place this spring which can build off his performance from last season when he completed 315-of-452 passes (69.7 percent) for 3,826 yards with 39 TDs and just 5 interceptions. It was the most efficient year ever for a quarterback at USC and one in which he set or tied six school-season records, and for good measure he also set a Notre Dame opponent record with six passing touchdowns in the victory over the Irish.
"Our goal last year was to have Cody compete to be the best quarterback in the league and I feel that by the end of the year he was as good as anyone, performance-wise," Helton said. "He progressed so much with his ability to move in the pocket, to re-establish his base and make an accurate throw. To be at a 70 percent completion rate means you're doing some really good things.
"Now there is the opportunity to be one of the best quarterbacks in college football and to lead your team to a championship. That's a big jump but it's one he is ready for and our approach as we prepare to propel his game for next year is to be a good athlete in the pocket and to anticipate plays even more. We grade on three things; decision-making, timing and accuracy and he's doing all those things pretty well right now."
Notes
One of the most improved position groups through the first half of spring has been the secondary. Adoree' Jackson, Kevon Seymour and John Plattenburg have stood out the most so far, but there is also more depth than we've seen in the past, led by Chris Hawkins and Jonathan Lockett who have been splitting time between safety and cornerback.
Sophomore wide receiver JuJu Smith has all but wrapped up the No. 1 receiver spot that was open after the early NFL departure of Nelson Agholor. Smith, who turned 18 last November, has noticeably bulked up in the offseason and appears more than ready for his new role. "Becoming the go-to guy can be a challenge for some players but I don't think it will be for JuJu," Sarkisian said. "He's so accustomed to it, I think quite honestly he wanted to be that guy last year."
At 6-foot-9, 350 pounds, Trojans right tackle Zach Banner poses a formidable frame on the offensive line, but his size was also put to good use on Thursday during the Trojans' practice session when he blocked a pair of field goal attempts by walk-on kicker Wyatt Schmidt.
PAC-12 SCOREBOARD
Thursday, 9/3
Friday, 9/4
Saturday, 9/5