March, 29, 2015
Mar 29
9:00
AM PT
NEW ORLEANS -- When you have some of the best defensive linemen in the nation in attendance at an event like the New Orleans Opening regional, you expect a lot of great one-on-one battles.
And nothing makes for better footage than watching a dominating defensive lineman go to work. Fortunately, high profile prospects like Alabama commitment
Raekwon Davis
and
Edward Oliver
did not disappoint at Saturday's camp.
March, 27, 2015
Mar 27
11:35
AM PT
Spring ball is often a time of teaching, for coaches to work with players on installing the playbook or mastering fundamentals, but what happens when a player is an experienced veteran such as Cody Kessler who has 27 career starts under his belt?
USC offensive coordinator/quarterbacks coach Clay Helton has been through the situation before in 2012 when Matt Barkley was entering his senior year, and now he gets to go through it with Kessler, the Bakersfield, California, native who has already set numerous USC records and will -- like Barkley -- enter his final season as a strong Heisman Trophy contender.
[+] Enlarge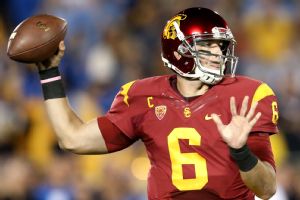 Stephen Dunn/Getty ImagesCan USC quarterback Cody Kessler top his record-setting season from 2014?
"Sometimes it's an even bigger challenge when you're a vet going into your fifth year because you have to be really mentally focused to take each opportunity to get better and not just go through the motions," Helton said. "That's what I really appreciate about Cody. He goes out and competes in every practice like it's a game."
It helps that Kessler is one of the hardest workers on the team, a trait that Trojans coach Steve Sarkisian has referenced many times as setting a strong example for the team's younger players. Kessler talked earlier in the spring about how he got a chance to watch guys like Barkley and others in terms of how they handled their senior years, and it showed him how to handle it the right way.
"His approach to getting better shows the young guys how you do it," Helton said. "And we've got a couple young bucks out here watching him every day, guys like Jalen Greene and Ricky Town, and they learn from him just like he learned from Matt [Barkley].
"We always talk about being the older brother and looking out for the younger brother, Cody is in that older brother role now, and he's doing a great job of setting the example. He and Max (Tuerk) are our rocks on offense and the other guys lean on them so much because of what they've been through."
It certainly makes for a nice situation for a coach like Helton, who gets the opportunity to coach a position, the USC quarterback, which has produced one of the best lineages of any position in college sports over the last 15 years and which is set up well for years to come.
"It's always a fun experience as a coach when you get a chance to 'raise' the kids and see them develop," Helton said. "We were fortunate to have Matt [Barkley] for three years and now we have Cody, who got to learn from Matt for two years before getting his opportunity. Now we've got some more guys who are learning and waiting for their chance, guys like Max Browne who is having a very good spring. It's a great situation for us, we've got a lot of talent at the position."
Of course, just because Kessler is a veteran who has been through a lot doesn't mean that there isn't anything to work on. There are definite advances in his game that will be looking to take place this spring which can build off his performance from last season when he completed 315-of-452 passes (69.7 percent) for 3,826 yards with 39 TDs and just 5 interceptions. It was the most efficient year ever for a quarterback at USC and one in which he set or tied six school-season records, and for good measure he also set a Notre Dame opponent record with six passing touchdowns in the victory over the Irish.
"Our goal last year was to have Cody compete to be the best quarterback in the league and I feel that by the end of the year he was as good as anyone, performance-wise," Helton said. "He progressed so much with his ability to move in the pocket, to re-establish his base and make an accurate throw. To be at a 70 percent completion rate means you're doing some really good things.
"Now there is the opportunity to be one of the best quarterbacks in college football and to lead your team to a championship. That's a big jump but it's one he is ready for and our approach as we prepare to propel his game for next year is to be a good athlete in the pocket and to anticipate plays even more. We grade on three things; decision-making, timing and accuracy and he's doing all those things pretty well right now."
Notes
One of the most improved position groups through the first half of spring has been the secondary. Adoree' Jackson, Kevon Seymour and John Plattenburg have stood out the most so far, but there is also more depth than we've seen in the past, led by Chris Hawkins and Jonathan Lockett who have been splitting time between safety and cornerback.
Sophomore wide receiver JuJu Smith has all but wrapped up the No. 1 receiver spot that was open after the early NFL departure of Nelson Agholor. Smith, who turned 18 last November, has noticeably bulked up in the offseason and appears more than ready for his new role. "Becoming the go-to guy can be a challenge for some players but I don't think it will be for JuJu," Sarkisian said. "He's so accustomed to it, I think quite honestly he wanted to be that guy last year."
At 6-foot-9, 350 pounds, Trojans right tackle Zach Banner poses a formidable frame on the offensive line, but his size was also put to good use on Thursday during the Trojans' practice session when he blocked a pair of field goal attempts by walk-on kicker Wyatt Schmidt.
March, 27, 2015
Mar 27
9:30
AM PT
USC continued spring practice in scorching 91-degree weather Thursday, and optimism continued to emanate from the Trojan camp. For weeks, the national media has focused primarily on USC's stockpile of skill position talent, but Damien Mama -- who has shed nearly 40 pounds -- spoke about the offensive line's chance to be special in 2015.
USC is also excited about incoming tight end Taylor McNamara, who is transferring from Oklahoma to fortify a thin position group. One current member is walk-on Connor Spears, whose interesting story is documented here.
Much USC press has been focused on off-field issues this week. This Bruce Feldman podcast contends that the NCAA completely botched the Todd McNair case, leaving the Trojans holding the short end of the stick. Former coach Pete Carroll reacted to the recently released documents in the case, while athletic director Pat Haden penned some strong words in response to the unsealing.
In other news, former USC wide receiver Mike Williams has been named the new football coach at Los Angeles' Locke High School. Carroll vouched for him during the hiring process.
March, 26, 2015
Mar 26
7:10
PM PT
When it comes to quarterback recruiting for the Pac-12, things have changed dramatically from last year.
In the 2015 class, ESPN 300 quarterbacks littered the California landscape and few Pac-12 programs even thought about venturing outside of the West region for their quarterback targets.
This year, the region hasn't been especially kind to the conference at the quarterback position in the early going, despite No. 40 overall prospect K.J. Costello announcing his commitment to Stanford on Thursday afternoon.
To continue reading this article you must be an Insider
March, 26, 2015
Mar 26
3:44
PM PT
The quarterback dominoes in the 2016 class continued to fall Thursday, as No. 4 pocket passer K.J. Costello announced his commitment to Stanford.
Costello, the nation's No. 40 overall prospect, had narrowed his choices to Michigan, Stanford and USC in recent weeks, and had been close to making a commitment since the beginning of the month, finally feeling comfortable enough with his final choice to do it Thursday.
This is a significant recruiting win for Stanford, as the Cardinal elected not to take a scholarship quarterback in the 2015 class after missing on top targets Ricky Town and Brandon Wimbush. In the 2016 class, the Cardinal focused all their attention at the position on Costello and did not make an offer to any other signal-caller.
Costello broke onto the scene as a sophomore, throwing for 1,478 yards and 13 touchdowns for Santa Margarita Catholic High School in Coto de Caza, California. His first offer came the following April as Florida State came calling. Costello then raised his game as a junior, passing for 3,123 yards and 23 touchdowns.
Grabbing a commitment from Costello means David Shaw and staff don't have to regroup and begin recruiting other quarterbacks in earnest, and it should give the Cardinal an in-state recruiting bump. Costello is the biggest name at the position in state, and is good friends with ESPN Junior 300 wide receiver and teammate Dylan Crawford, who also holds a Stanford offer.
Cardinal coaches also earn some recruiting bragging rights with the commitment, as Costello's mother attended USC and the 6-foot-4, 216-pound quarterback has said he grew up very familiar with the Trojans' program. Stanford also beat out Michigan, where coach Jim Harbaugh undoubtedly used his success with the Cardinal as a recruiting pitch for the Wolverines.
Costello is commitment No. 2 in the 2016 class for Stanford, joining defensive tackle Bo Peek
March, 26, 2015
Mar 26
3:19
PM PT
Jalen Cope-Fitzpatrick
is all about ... well, learning how to cope.
He has had to learn to cope with academics, which were shaky enough to keep him ineligible last year. And now, with a meager three catches for 16 yards in his college career, he has had to learn to cope with the sudden idea of being one of the pivotal players in USC's upcoming football season.
To continue reading this article you must be an Insider
March, 26, 2015
Mar 26
4:00
PM PT
We're in the midst of the NCAA tournament, that time of the year when upset wins (and losses, depending on one's perspective) define the month's sporting calendar. To mark the occasion, Ted Miller ranked the top 10 Pac-12 football bracket busters since the turn of the century.
Stanford's 24-23 shocker at USC was technically the biggest upset of them all -- the Cardinal were 41-point underdogs -- but which surprise was the most memorable?
Kevin Gemmell: No. 14 Stanford 17, No. 2 Oregon 14, 2012
Of the "Pac-12" era, you'd be hard-pressed to find a more memorable upset than Stanford's 17-14 overtime win over Oregon in Eugene in 2012.
You had the Zach Ertz touchdown catch (or non-catch … talk amongst yourselves). You had a Stanford team adjusting to life after Andrew Luck and Kevin Hogan making his first career road start and just his second start overall. You had an Oregon team that had scored at least 42 points in 13 consecutive games. You had Jordan Williamson's Fiesta Bowl redemption and you had a Stanford defense that was downright brilliant.
Oh, did we mention that Oregon was ranked No. 1 in the country (coaches' poll)?
Stanford's win busted the two-team BCS bracket wide open. And depending which lines you looked at, Oregon was favored by as many as 21.5 with an over-under of 64.5. The Cardinal couldn't beat the Ducks the year before … at home … with Luck! … so why on earth would they do it on the road with a green quarterback?
Not only was the outcome surprising, but the way the game played out was equally unexpected. The previous three years, the winner had scored at least 50 points and the loser at least 30. In 2009, Stanford won 51-42. The next two years, Oregon won 52-31 and 53-30, respectively. The 2012 edition rewrote the playbook for how teams attacked Oregon.
Everything about that game was thrilling. And Oregon fans are probably still left wondering what would have been if De'Anthony Thomas had just thrown a block?
Ted Miller: Washington 29, No. 3 Washington State 26, 2002
I covered four of our top-10 upsets but for a myriad of reasons none left a bigger impression than Washington's shocking 29-26 victory over third-ranked Washington State in the 2002 Apple Cup.
First of all, 2002 was an interesting year. For one, check out the preseason AP poll. Colorado is No. 7, Washington is No. 9 and Washington State is No. 11. Oregon and USC are Nos. 15 and 20. Yeah, that seems a bit weird. The Huskies imploded at Michigan in the season opener, tearing defeat from the jaws of victory, and never really recovered. Washington State bounced back from a loss at Ohio State to roll through the Pac-10, the signature victory over USC punctuated by a sliding Drew Dunning after he kicked the game-winning field goal. You might recall the Pete Carroll era at USC picked up after that.
Oh, and the Rick Neuheisel and Mike Price eras ended at Washington and Washington State after this season for very different reasons, though both would end up in a sort of coaching purgatory by the beginning of 2003.
As for the game, it was a remarkable back-and-forth affair, with a talented Huskies team finally playing to its potential against a Washington State team that was obviously much better. Yet you could feel Martin Stadium gasp with worry when Cougars QB Jason Gesser got hurt. If Gesser didn't get hurt, the Cougs would have coasted home, but if wishes were fishes then cows would fly.
While the game was exciting for all four-plus hours, which included three overtimes, the ending and aftermath was most remarkable (here's my column from after the game). It was decided by a controversial call that required referee Gordon Riese to explain himself on the field. That didn't go well. Cougars fans started pelting the field with bottles and anything else they could get their hands on. It was an ugly scene.
That said, I still talk about this game with Huskies and Cougars alike. Everyone who witnessed has a take on it. Some Cougs tell me they still aren't over it. And Huskies know that their program pretty much fell into an extended spiral down the toilet after this season. Their next winning campaign didn't come until 2010.
Chantel Jennings: Arizona 31, No. 2 Oregon 24, 2014
This was a pretty easy choice for me for two reasons.
First, it's the only upset on the list that I saw in person. And let's be honest: As great as it is to watch games from the comfort of your living room with friends, it doesn't come close to being able to see the thing in real life.
Second, it was the second straight year this happened. It's like the old "fool me once, shame on you; fool me twice, shame on me" adage. Only it's "Upset a team once, it's surprising; upset a team in back-to-back years, and it doesn't seem like much of an upset anymore."
Would we even be having a debate like this if any of the other upsets had happened twice in a row? Can you imagine the chaos that would've broken loose if Stanford had beaten USC again in 2008? (Instead, the Cardinal lost by 22.) Or, what if the Beavers came back in 2009 and beat up on the then-fourth-ranked Trojans again? (They almost did, only losing by six.)
Hands down, those would be memorable, right? Because there's something so great about that moment in which an upset or a second upset spurns a rivalry and the game is never the same. Every junior on Oregon's roster this season is going to be telling the freshmen and sophomores about how they've never beaten the Wildcats in the regular season. Every senior is going to be telling the underclassmen how they want to leave Eugene without the stigma of allowing Arizona to be a stumbling block in the regular season. The difference between avenging a loss and making the same "mistake" twice is something that never leaves these players.
If Oregon had come back and smacked Arizona last year during the regular season, that wouldn't be the case.
David Lombardi: Stanford 24, No. 2 USC 23, 2007
This was my first foray to the Coliseum, and it happened to feature the largest point spread (41) ever overcome in college football history.
I spoke with only one optimistic Stanford supporter before the game, and that happened to be Jim Harbaugh's fiancée (now wife), Sarah.
The USC dynasty was flying high -- the Trojans still had two more Rose Bowl championships on the way, including one later that season. It seemed as if Stanford hadn't advanced past its 1-11 nadir the year prior. In fact, a week before their trip to Los Angeles, the Cardinal had been blown out 41-3 at home by Arizona State. To further stretch out a long injury list, starting quarterback T.C. Ostrander had suffered a seizure during the week. So Stanford threw skinny sophomore backup Tavita Pritchard to the lions of the Coliseum for his first career start.
Just a few months earlier, Harbaugh had already verbally chest-bumped Pete Carroll, who was then the bully on the Pac-10 block. "We bow to no man, we bow to no program here at Stanford University," the Cardinal's new coach had said to conclude a war of words between the two men, which began when Harbaugh publicly speculated on Carroll's future at USC.
In short, all context suggested that the Trojans would administer a beatdown to put Harbaugh and his overmatched squad in its place.
At halftime, though, USC only led 9-0, and the crowd booed the home team off the field after Stanford had stuffed a fourth-down attempt at the goal line. That was the first in a series of dominoes that fell the Cardinal's way.
Every single break proved instrumental in the upset. Trojan quarterback John David Booty, who remained in the game despite breaking his finger, threw four critical interceptions. Richard Sherman (yes, that Richard Sherman, still a wide receiver playing for Harbaugh and not Carroll back then) converted a do-or-die fourth-and-20 by a millimeter or two.
That set the table for the decisive fourth-and-goal fade, in which Pritchard found Mark Bradford -- whose father had recently passed away -- for the score that pushed Stanford to a 24-23 victory. The Cardinal had sucked the air out of the Coliseum in a shocker that might have cost USC a national title shot in 2007 and ignited the Harbaugh-Carroll rivalry.
March, 26, 2015
Mar 26
8:50
AM PT
LOS ANGELES -- At the midway point of spring practice, talented USC Trojans sophomore quarterback Max Browne still waits patiently in the background, as all eyes are focused on senior starter Cody Kessler, who is being promoted as a strong Heisman Trophy candidate for 2015.
Having once been the 2012 Gatorade National High School Player of the Year out of Skyline High in Sammamish, Washington, Browne has shown remarkable patience, class and dignity waiting in line to hopefully take his turn at Quarterback U., which has produced the likes of Heisman Trophy-winning QBs Carson Palmer and Matt Leinart, as well as NFL passers Matt Cassel, Mark Sanchez, and Matt Barkley.
So how has Browne, a communications major with a 3.28 GPA, been able to maintain such patience?
"It's the people I have around me," said Browne, who saw limited action in 2014 by appearing in just six games and completing 3-of-7 passes for 30 yards and no touchdowns.
"I have great parents and a great family to look to advice for, and that's been huge, and I have had great teammates also," Browne added. "I am making sure I am ready when that time comes."
For the 6-foot-4, 220-pound quarterback with the pleasantly extroverted personality, could his patience also be tied to the reality that he is just one Kessler misfortune away from coming out of the Trojans bullpen this season, along with visions of being the starter against Nick Saban's Alabama Crimson Tide in the 2016 season opener in Dallas?
"I think so," said Brown without a hint of arrogance. "You definitely hear the phrase, 'I am one hit away or one snap away.' I am definitely preparing with that mindset.
"Cody has one more year, and that game (Alabama) is kind of off in the distance. If I need that motivation, it's definitely there. I am just focusing on this season, and the saying that 'I am only one hit way' is very evident in this game, as bad as it may seem to say in this kind of thing."
Browne's approach to this spring hasn't gone unnoticed. Quarterbacks coach and offensive coordinator Clay Helton, who was the Trojans' lead recruiter during Browne's recruitment, gives No. 4 high praise on how Browne has handled his business thus far.
"I'm unbelievably proud of Max," Helton said after Tuesday's practice. "What he's done in spring is exactly what you expect from him entering his third year. We challenged him by letting him know that he isn't stepping on Cody's toes when he goes onto the field.
"When he's on the field, it's his team and we want him to run it that way. I think this is the first time since he's been here that he has that confidence about him and he knows that it's his group. I think he's performing at his highest level since he's been here."
Despite his quarterback coach's praise, Browne believes there are areas of his game that need improvement, although he is also comfortable with where he is at this stage of his development.
So what does he hope to accomplish by the end of spring ball?
"Well, the next level of recognition such as recognizing blitzes, recognizing coverages and who's coming," Browne said. "I've got the playbook down, and it's been huge having [coach Steve Sarkisian] here for two years now. It's that next level of diagnosing defenses and making sure I am working on the consistency and timing of my accuracy, which is huge, too."
Like the great Trojans quarterbacks before him, Browne is grateful for the fact that he's tossing the pigskin around to some of the most highly recruited receivers in the nation, and he isn't shy to also praise some of those under-publicized yet deserving walk-ons.
"Obviously there's JuJu (Smith) and Darreus (Rogers) and Steven (Mitchell), who kind of highlight the top, but me working with the '2s' such as Christian Tober, Robby Kolanz, Aaron Minor and David Mellstrom, they're kind of my bunch," Browne said of his second-unit fraternity.
"I hope I didn't forget anyone," Browne added. "Ajene Harris when he's healthy is huge. They're a good group and we're getting older, which is nice. Isaac (Whitney) is learning. A lot of those older walk-on guys have helped and have been huge for sure."
The national hype for the 2015 Trojans has already begun, but USC fans well remember the disappointment of the 2012 team, which was a preseason No. 1 and then faltered badly as the season later unraveled.
So how does Browne see this team handling the oncoming expectations?
"I think a lot of guys probably learned from that year and making sure they're staying grounded and taking it one practice at a time," Browne said. "I think it's a great job that Sark and his staff have done making it a one-period mentality, one-practice mentality. I think that's the mindset we've got to take."
And if anybody on the current Trojans roster knows about mindsets, it's Max Browne.
March, 25, 2015
Mar 25
9:55
PM PT
By
WeAreSC staff
| ESPN.com
Give your thoughts on the release of NCAA emails in the Todd McNair case
Garry Paskwietz: You knew there had to be some damning words in the NCAA emails when a judge had said they were "malicious" and showed an "ill will and hatred" toward former USC running backs coach Todd McNair.
Even with that knowledge, I was still surprised by the blatant tone and words that I read when the emails were finally released. To think that the prejudicial and biased statements were made by people who were involved in the investigative process of the USC sanctions is hard to fathom, especially for Trojan fans who watched over the last several years as appeal after appeal fell short and the USC program suffered through some of the harshest penalties ever handed out.
I think it's going to be very interesting to see where things go from here. There are still more NCAA emails that are likely to be released, and there was a joint statement today from USC and athletic director Pat Haden which talked about waiting to review all of the unsealed documents before determining any further appropriate action. This is not a small potential development as USC has played a conciliatory role in dealing with the NCAA since receiving the sanctions, and Haden has taken heat from many Trojan fans because of that stance. Things could be changing, however, as part of Haden's statement today contained his most pointed words yet on the issue when he said, "I think these documents are cause for concern about the NCAA's own institutional controls. It should be concerning to all schools that the NCAA didn't appear to follow its own rules."
Johnny Curren: When initially learning that the NCAA emails would be released, I automatically expected them to reveal what they ultimately did -- that the NCAA committee had a clear agenda to hammer the USC football program and that they overstepped their boundaries in doing so.
Still, the tone of vengeance, and the flat-out absurdity of some of the statements were truly astounding, particularly coming from a group given the task of reaching a "fair" decision. Rodney Uphoff's comments really stood out to me, particularly his comparison of the Reggie Bush case to the Oklahoma City bombing trial. What's even more shocking is that Uphoff wasn't even a voting member of the infractions committee, and that his negative statements to those on the board were a clear violation of NCAA protocol.
Perhaps most striking of all, however, were the comments by Britton Banowsky -- an actual member of the infractions committee -- in discussing Todd McNair:
"It is challenging for me to make the finding when there is no allegation that he personally was involved in any rules violations, or even had any specific knowledge of any."
Unfortunately, the fact of the matter is that it's too little, too late. The sanctions are over, and the NCAA got what they wanted. But I would still like to see Max Nikias and Pat Haden respond aggressively, not just in terms of what they say, but also through their actions. For a program and a fanbase that has had a dark cloud hanging above it for so long, it's what everybody needs.
Greg Katz: Honestly, there wasn't much in terms of shock value for me, and it only confirmed what most had already ascertained. The NCAA was on a mission not to just punish USC for the misdeeds of the Reggie Bush fiasco but an attempt to send the Trojans football program back into the Stone Age. The emails only serve as concrete evidence that it was indeed a cardinal and gold witch hunt full of rage and zealous determination of epic proportions, involving members of the NCAA that were part of the whole process.
Now that being said, USC isn't innocent either in how they handled the whole sordid affair. The lesson here is to try and work with the NCAA, no matter how crooked and dysfunctional they are, and come to some sort of outcome that isn't so draconian. Other universities watched how USC handled their battles with the NCAA and quickly learned from the Trojans how not to antagonize the NCAA.
However, at the bottom of all this -- first and foremost -- is that Reggie Bush's family gave the NCAA an extraordinary opening and hurt USC undeniably. The NCAA then outrageously went over the top and broke its own rules to destroy the Trojans football program, and the University didn't exactly cooperate in a conciliatory manner.
The question now is what, if anything, is USC going to do about all this after reading the emails? If it were up to me, I'd aggressively go after the NCAA through the courts and make them plea bargain a settlement.
March, 26, 2015
Mar 26
12:30
AM PT
LOS ANGLES -- A day after court documents were unsealed to reveal an apparent bias toward USC by the NCAA, quarterback Cody Kessler could only shrug it off. He saw first-hand what the NCAA sanctions did to the Trojans, but his interest in the subject remains almost nonexistent.
And why wouldn't it?
[+] Enlarge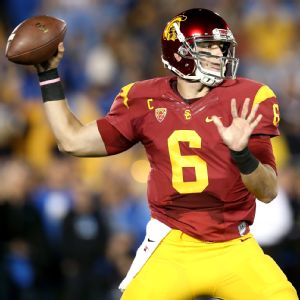 Stephen Dunn/Getty ImagesCody Kessler said he has learned to ignore the outside distractions and just focus on his goals.
Nothing that came from the documents related to former USC assistant coach Todd McNair's defamation lawsuit against the NCAA will have any bearing on the current team. It's not like the NCAA will pay a penance in the form of extra scholarships to USC named after Reggie Bush. No, this is all just more ambient noise at a place where they've had practice tuning it out.
"A lot of people over the years said it. 'This isn't fair. This isn't fair,'" Kessler said in reference to the NCAA sanctions. "And people were always mad about it. But the way we approached it was that it is what it is. It happened. It's in the past now. I think we're better from it and ultimately we learned from it."
To what degrees those lessons will play a role in football-related matters is tough to quantify, but USC will take any advantage it can as its looks to replace defensive lineman Leonard Williams, running back Buck Allen and receiver Nelson Agholor among several others in pursuit of a College Football Playoff berth and a national title.
Anything that doesn't factor into those goals is treated with the appropriate amount of attention. Usually none.
"We had enough guys that have been here for a while and have dealt with a lot," Kessler said. "Anything that gets thrown at us, we'll be ready for."
At the halfway point of spring practice, Kessler remains happy with his call not to join Williams, Allen and Agoholor in pursuit of an NFL career. More than a passing thought went into the decision after he threw 3,826 yards and tied the school record with 39 touchdowns passes last season. But after after talking it through with his family and meeting with coach Steve Sarkisian, it became obvious which path he preferred.
"When I made up my mind, I texted Coach Sark and told him I couldn't leave without winning a national title with him," Kessler said.
So despite signing arguably the best recruiting class in the country, it was Kessler's pledge that will have by far the greatest impact on whether the Trojans can navigates their way back to the top.
"I felt the same way [about him]," Sarksian said. "That's why you should come back. Guys make decisions to stay or to go, and at the end of the day the college experience is so unique and if you feel like you have a chance to win a championships you should try to do it because once you leave, that's it. You don't get another opportunity to do it.
"I think we both feel like we have a chance to do that. It's going to take a lot of hard work, but I think we understand we're capable of it."
March, 25, 2015
Mar 25
11:00
PM PT
Dominating Florida is always critical for Florida State, but another secret to the Seminoles' success is doing well in Virginia, and highly-coveted corner
Levonta Taylor
could be the Noles' next big get from the state.
Will Be Making My College Choice April 3rd! @ Ocean Lakes High School 6pm... Anyone Can Come, No Charge Decision, Decisions, & Decisions.=­

— Levonta Taylor (@iamlevonta) March 24, 2015
To continue reading this article you must be an Insider
March, 25, 2015
Mar 25
7:00
PM PT
Happy mailbag Wednesday. Follow me here on Twitter.
To the notes!
Greeny in Boston writes: You guys keep saying six Pac-12 teams are going to be ranked or should be ranked. Give me a "buy/sell" on each team, just for arguments sake.
Kevin Gemmell: Sure! Buy/sells are fun this time of year because it's pure speculation at this point. I actually think it should be seven. Others among us might disagree. But here are some quick thoughts on the seven I believe should be ranked (or will be ranked at some point throughout the season):
Arizona: A lot of talent coming back on offense. But we need to see how quickly the offensive line comes together.
Arizona State: Smooth quarterback transition and a defense that surged at times last year. Might be my dark horse for the South. Still thinking about that one.
Oregon: A perennial contender that should again have the strongest rushing attack in the conference. The quarterback question is the obvious selling point.
Stanford: Finished the year as strong as any team in the country. Another dark horse team I'm considering. But the depth at defensive line -- for the first time in a long time -- is the selling point.
UCLA: Should be one of the better defenses nationally and the Bruins return the league's leading rusher from last year. Same selling point as Oregon -- what happens at quarterback?
USC: On paper, this is a top-10 team. But as I wrote last week, the Trojans struggled against some of the top-tier teams. That provides enough pause before completely buying in.
Utah: Really good defense. Really good special teams. Really good running back. Is this the year we see some consistent quarterback play?
You'll notice that five of these teams are in the South, which again will beat itself up en route to the Pac-12 title game. It's likely not all seven will be ranked at the same time. But at some point during the year, my guess is that all seven will appear in the Top 25.
---
Dimond Mike in Oakland writes
: I think the blog has given
Jared Goff
plenty of love, but as a fan who has seen the real deal (Aaron Rodgers) and poseur (Kyle Boller), Jared Goff is a no doubt about it starting NFL QB in years to come. He'll have the numbers to back it up, so shouldn't that get him on more national radars, or is it solely about getting 10+ wins?
Kevin Gemmell: Depends on what kind of national radar you're looking for. If we're talking Heisman, then yes, 10-plus wins would certainly help. There were four quarterbacks who threw more touchdowns than Goff last season -- and one of them won the Heisman. But that's also because he ran for 15 on top of his 42 passing. Goff had zero rushing touchdowns.
Unfortunately, the en vogue Heisman candidate does more than just throw touchdowns. He's a dual-threat guy who is praised or criticized for his team's success. And when you play for the team that ranked 120th in scoring defense in 2014, well, you do the math.
Remember Colby Cameron? He was Sonny Dykes' quarterback his last year at Louisiana Tech. He tossed 31 touchdowns to just five interceptions and completed 68.8 percent of his throws for 4,147 yards. Pretty darn good numbers. I believe he plays in Japan now. It's unfortunate, but quarterbacks in throw-heavy systems get labeled as "system" quarterbacks. Well, guess what: Every single quarterback is a "system" quarterback. Marcus Mariota was a system quarterback. Andrew Luck was a system quarterback. It's a dumb label. Tangent ...
As to his NFL future, I'm not a scout. But a lot of scouts and coaches I've talked to seem to think he's a budding star. I've seen him make all the throws he has to make at the next level. But as always, a lot of it depends on where he goes, how much time he sits or is forced to play. Who is his coach/position coach/coordinator, etc. I think he'll end up getting drafted. But a lot of his success will come down to where he lands.
---
Al in Tempe, Ariz. writes
:
I liked the Travis Haney story on coaching bargains
. But do we still have to keep referring to Graham as a program hopper?
Kevin Gemmell: Let me first thank you for being an Insider. With your subscription, Ted can keep the air conditioning on for another week.
I'm not sure the stigma will ever leave him. Which is wildly unfair given the commitment he's made at ASU. He owns a home. He's donated half a mill to improving facilities. He also won a Pac-12 South title and is 2-1 in bowl games.
In Travis' defense, he did say "all jokes aside," meaning he wasn't going to make one. But still, the fact that the national media still goes there when thinking about Todd Graham is unfair at this point. While he left Pitt under bad circumstances, he's also owned it a 1,000 times over, calling it a mistake to go there in the first place. And let's be honest, do you really want a coach who doesn't want to be there?
Per the good folks at Arizona State, here's a list of all the coaches from that hiring class. You'll note that 11 have already moved on or been dismissed.
2011 coaching hires
Urban Meyer, Ohio State (38-3)
Jim Mora, UCLA (29-11)
Kevin Sumlin, Texas A&M (28-11)
Todd Graham, Arizona State (28-12)
Tim DeRuyter, Fresno State (26-14)
Rich Rodriguez, Arizona (26-14)
Matt Campbell, Toledo (25-13)
Hugh Freeze, Mississippi (24-15)
Kyle Flood, Rutgers (23-16)
Larry Fedora, North Carolina (21-17)
Justin Fuente, Memphis (17-20)
Curtis Johnson, Tulane (12-25)
Tim Beckman, Illinois (12-25)
Mike Leach, Washington State (12-25)
Terry Bowden, Akron (11-25)
Bob Davie, New Mexico (11-26)
Norm Chow, Hawaii (8-29)
Coaching changes (11): Arkansas (John L. Smith), Arkansas State (Gus Malzahn), Colorado State (Jim McElwain), FAU (Carl Pellini), Houston (Tony Levin), Kansas (Charlie Weis), UMASS (Charley Molnar), Penn State (Bill O'Brien), Pitt (Paul Chryst), Southern Miss (Ellis Johnson), UAB (Garrick McGee)
Graham isn't going anywhere. And even if he does … he gave ASU three good years and a lot of wins (and counting). Can anyone really complain at this point?
March, 25, 2015
Mar 25
7:59
PM PT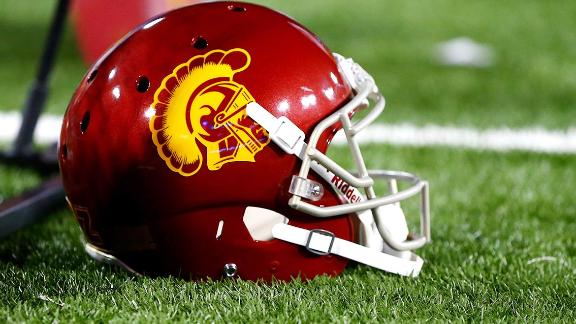 LOS ANGELES -- Documents filed by the NCAA that revealed private communications among committee members related to the investigation of USC's football program "are cause for concern about the NCAA's own institutional control," Trojans athletic director Pat Haden said in a statement released Wednesday evening.
Almost 500 pages of documents, which include emails, interview transcripts, phone records and other communication, were part of a filing Tuesday in former USC assistant football coach Todd McNair's defamation lawsuit against the NCAA in the Second District of the California Court of Appeal.
"These recent documents confirm what we've believed all along, that we were treated unfairly in this investigation and its penalties," Haden said.
The NCAA had fought to keep the documents sealed, arguing, according to the Los Angeles Times, "that not doing so would hinder future investigations by the organization." The court rejected the argument.
The documents were obtained by the Times.
The NCAA responded Friday to Haden and USC, saying, "These publicly filed documents illustrate how the Committee on Infractions underwent thorough deliberations consistent with the policies and procedures governing the infractions process," according to a statement obtained by the Times.
PAC-12 SCOREBOARD
Thursday, 9/3
Friday, 9/4
Saturday, 9/5