August, 26, 2014
Aug 26
7:00
PM PT
The talk of Pac-12 town this season is the quarterbacks. Yes, yes, we know.
But don't forget the talent the league has at running back, too. The run game, after all, is what opens up the passing lanes for the signal-callers.
The 1,000-yard mark has acted as a benchmark for backs for years, so, how many Pac-12 rushers (for fun, let's include QBs) will hit the mark in 2014?

In 2013 there were four 1,000-yard rushers: Arizona's Ka'Deem Carey (1,885), Washington's Bishop Sankey (1,869), Stanford's Tyler Gaffney (1,709) and Oregon's
Byron Marshall
(1,038). Only one of those guys, Marshall, returns in 2014, and even he is listed in a three-way battle for the starting RB spot at Oregon with
Thomas Tyner
and
Royce Freeman
.
In 2012 and 2010 there were six 1,000-yard rushers, and in 2011 there was seven. So what exactly will 2014 bring us?
Oregon has its three-headed monster (in addition to quarterback
Marcus Mariota
, who rushed for 715 yards last season). Will one or two emerge and become 1,000-yard backs? Or will they split carries, gain major yardage together and not have a single guy hit that mark? Could go either way.
USC has
Buck Allen
and
Justin Davis
and
Tre Madden
. ASU has
D.J. Foster
. Utah has
Bubba Poole
. Could Stanford's
Barry Sanders
follow in his dad's footsteps? Or will it be
Kelsey Young
who steals the show at Stanford? UCLA quarterback
Brett Hundley
accounted for 748 rushing yards last season. Could he add a few more long runs and hit the mark? What about one of his backs, such as
Jordon James
or
Paul Perkins
?
Colorado is pretty deep, Washington has options, and Oregon State says its run game is much improved.
With all those guys, how many 1,000-yard rushers will we actually see? History says it can range greatly. But what say you?
August, 26, 2014
Aug 26
5:00
PM PT
Enough chatter. Enough previews. Enough hype. It's game week. Time to put up or shhhhhh.
Today we're going to take a look at players/coaches/position groups with something to prove in 2014. These are in no particular order, but each is just as significant.
Hot seat coaches: While Utah coach Kyle Whittingham's and Cal coach Sonny Dykes' seats aren't exactly roasting, it's not like they just took the ice bucket challenge, either. The Utes have missed the postseason for consecutive seasons, and the Bears have dropped 16 straight FBS teams (11 under Dykes' watch). Unless either has a disastrous season, the Pac-12 blog sees them back in 2015. But results need to come sooner than later.

[+] Enlarge

AP Photo/Don RyanThe preseason hype has been in full force for Pac-12 QBs like Oregon's Marcus Mariota. It's now time to deliver.

Quarterbacks: The 10 returning starters have brought a crush of national attention to the Pac-12. Now it's time for those guys to earn it. Some are calling this the most talented collection of quarterbacks in one league in the history of college football -- headlined by Heisman trophy candidates Marcus Mariota and Brett Hundley. The expectations have never been higher for Pac-12 signal-callers.

Stanford's offensive line: Speaking of hype … a couple of years ago the Cardinal inked what some called the best offensive line recruiting class in the history of history. Now all five starters are from that class. Some already have significant experience. Others saw some work in Stanford's "extra linemen" packages last season. This group has to live up to its billing for the Cardinal to do what they want to do on offense.

Austin Hill: In 2012, he was a beast, catching 81 balls for 1,364 yards and 11 touchdowns. Then an ACL injury suffered in the spring of 2013 cost him all of last season. Now he headlines an extremely deep and talented wide-receiving corps for the Wildcats in a Rich Rodriguez system that favors pass-catchers. No doubt, Hill is looking to get that first catch, first hit and first touchdown out of the way. If redshirt freshman quarterback Anu Solomon can produce solid quarterback play, Hill could be in for another outstanding season.

USC freshmen: Damien Mama and Toa Lobendahn are slated at right and left guard, respectively, for the season opener against Fresno State. Ajene Harris is listed as a starting wide receiver. Adoree' Jackson and JuJu Smith are expected to contribute as receivers and on special teams. And with the loss of Josh Shaw, Jackson might see extended time at cornerback. Steve Sarkisian made a huge splash in his first preseason by landing a top-notch recruiting class. Now it's time for these guys to go out and prove it.

Mark Helfrich: Sometimes the burden of expectation can weigh heaviest of all. Helfirch got a taste of that last season when, despite going 11-2 and beating Texas in the Alamo Bowl, there were some who considered Oregon's 2013 campaign an unsuccessful one. He lost to Stanford (Chip Kelly also did, twice, by the way), lost to Arizona and some off-field incidents (Colt Lyerla, Rose Bowl comments, snowball fight) became bigger talking points than what was happening on the field. On the field, in case you forgot, was a Heisman-favorite quarterback playing the second half of the season with a partially torn knee ligament. A Pac-12 championship would go a long way toward silencing his doubters.

D.J. Foster: Working in tandem with Marion Grice last season, Foster rushed for 501 yards and six touchdowns to go with his 653 receiving yards and four touchdowns. He's a versatile back that Mike Norvell loves to split out and use in the passing game. But with Grice gone, Foster now takes over as the primary back. They'll still use him in the passing attack. He's too talented for them not to. But he'll get a lot more work as a runner beyond the 93 carries he had last fall.

Myles Jack: The Pac-12 blog has a special column on Jack coming out later this week so we won't spoil anything. All we'll say for now is he's getting a ton of national love. From All-America lists to Heisman chatter, Jack is the national darling of preseason college football. Thing is, he might just be worth all of the hype. His encore season will be telling.

The new guys: That the Huskies are a preseason Top 25 team speaks to how highly the national media thinks of Chris Petersen -- especially after they lost their quarterback, running back and tight end. He has his work cut out for him in a brutal Pac-12 North. But the expectations aren't as extreme as they are for the guy he replaced. Sarkisian and the Trojans are expected to compete for a South Division title, a conference crown and a spot in the College Football Playoff. Beating UCLA would be a good start.

Cal's defense: The Bears had a rough go of it last season. No doubt. As the injuries piled up, and younger players were forced into action. The end result was, well, Cal in 2013. With a new defensive coordinator in Art Kaufman and finally a little health, guys like Brennan Scarlett, Mustafa Jalil and Stefan McClure take center stage in what the Bears hope will be a defensive revival.
August, 26, 2014
Aug 26
11:19
AM PT
August, 26, 2014
Aug 26
11:04
AM PT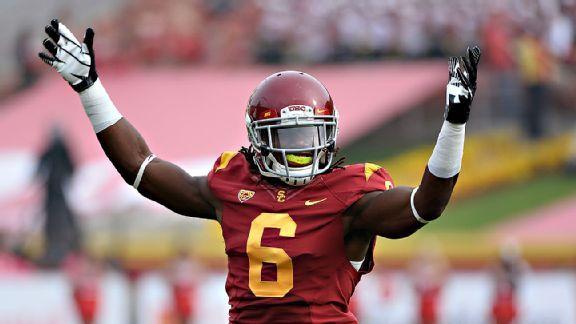 LOS ANGELES -- USC football coach Steve Sarkisian said the school has received several calls questioning the authenticity of Josh Shaw's story about saving his nephew from potentially drowning and is investigating the matter.
Shaw said he suffered a pair of high ankle sprains Saturday night after jumping from the second story of an apartment complex to save his 7-year-old nephew, who was struggling in the pool. Shaw said his nephew did not know how to swim.
"Josh Shaw, first and foremost, is a good person and a good kid," Sarkisian said after Tuesday's practice. "He came to us with what had occurred Saturday night, and I have no reason and no history to not believe Josh and his story and what has occurred. Within the last few hours or so, we've gotten a few phone calls contradicting what Josh said occurred Saturday night, so we're going to continue to vet. We're looking at it. Beyond that, I only know what I know. Josh is adamant with what occurred, and we'll continue to vet some of the other stories that have come across our desk and our phones and see where we can go from there."
When Sarkisian was asked who had called and made him second-guess Shaw's story, he said, "I don't want to get into who's calling us. I'd just appreciate it if you guys gave us some time to vet it and look into it so that we can give you a real solid answer instead of more hearsay and what might have or what might not have occurred."
August, 26, 2014
Aug 26
10:00
AM PT
Set to play in a new scheme put in place by first-year USC defensive coordinator Justin Wilcox, here's a position-by-position glance at how the Trojans look on defense as they inch closer and closer toward the team's season opener.
Defensive line
Headlined by 2013 ESPN.com All-American defensive end
Leonard Williams
, the Trojans defensive line is the backbone of an extremely formidable USC front seven. The 6-foot-4, 300-pound Williams missed some time early in camp with a shoulder strain, but he's returned to action and looks poised to have another monster season. At nose tackle,
Antwaun Woods
-- who started six games in 2013 -- also missed some time in camp due to a hyperextended elbow, but he too has returned and is showing no ill-effects from his injury. At the starting interior defensive tackle position a pair of transfers in
Delvon Simmons
and
Claude Pelon
share the top spot on the depth chart. Both are big, strong athletes, and Simmons brings the added bonus of possessing the ability to slide over to nose tackle.
Greg Townsend Jr.
had a promising camp and seems to be over his injury woes, so he'll likely factor into the rotation at defensive end.
Cody Temple
was sidelined for a majority of camp after suffering a concussion, but he's getting back in the swing of things now and is listed as the No. 2 nose tackle. Freshmen
Malik Dorton
and
Don Hill
, as well as fifth-year senior walk-on
Teddy Baker
, will also provide depth on the interior.
Over at rush end,
J.R. Tavai
and
Scott Felix
have battled it out since the spring, and both players have shined throughout the competition. In fact, as camp progressed Wilcox increasingly lined Felix up at SAM linebacker -- where he's now listed as the starter -- in an effort to get both defensive playmakers on the field at the same time.
Charles Burks
is another option at rush end.
Linebackers
Fifth-year senior MIKE linebacker
Hayes Pullard
led the Trojans in tackles in two of the past three seasons, and having been chosen as a captain in back-to-back years now, he also serves an important role as a team leader. Lining up next to Pullard at WILL linebacker will be
Anthony Sarao
, who has continued to assert himself as a valuable piece of the defense after starting the final seven games of the 2013 campaign. Sophomore
Michael Hutchings
is the primary backup at MIKE, and freshman
Olajuwon Tucker
made a major move during fall camp, to where he's now established himself as the No. 2 WILL linebacker. Still needing to add a little bulk to his 6-3, 230-pound frame, he's shown a knack for being around the ball. Senior
Lamar Dawson
, who has started 20 games in his career, figured to be a factor at WILL linebacker, but he still hasn't quite recovered from the knee injury that he suffered last season, and Sarkisian recently said that he expects him to be out another month or longer.
[+] Enlarge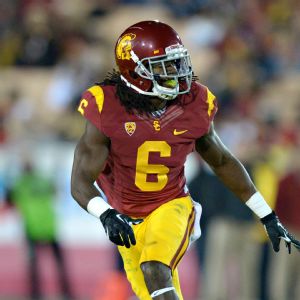 Kirby Lee/USA TODAY SportsUSC is going to have to move foreard without Josh Shaw in the immediate future.
With
Jabari Ruffin
going down with a season ending ACL tear early in camp, it was assumed that
Quinton Powell
would immediately moved into the No. 1 spot at SAM linebacker, but instead Felix has assumed that role. Meanwhile, Powell, who enjoyed a strong spring, is left battling freshman
Uchenna Nwosu
for the primary backup job. Right now Nwosu is actually listed ahead of Powell on the depth chart.
Defensive backs
Similar to the situation at wide receiver on offense, the Trojans found themselves with a seeming overabundance of talent in the secondary throughout fall camp -- particularly at cornerback -- after suffering from a lack of depth there last fall. But with the recent news that fifth-year senior cornerback
Josh Shaw
will be sidelined indefinitely after suffering two high ankle sprains while rescuing his nephew in a pool this past Saturday, this is a unit that all of a sudden will have to move forward, for at least awhile, without its most seasoned, and reliable performer at cornerback.
In the absence of Shaw,
Chris Hawkins
is the likely favorite to take his place atop the depth chart, with
Kevon Seymour
, who started 11 games for the Trojans in 2013, on the other side. It's a challenge that Hawkins appears more than up for. The redshirt freshman actually lined up with the No. 1 unit for a majority of the spring, as Seymour was sidelined early on due to illness.
Sarkisian and his staff also made a concerted effort to shore up the cornerback spot in the last recruiting cycle, and that will obviously aid the situation here. One of those freshmen,
Adoree' Jackson
, looks ready to make an immediate impact, and he'll almost certainly push for major minutes as well. One of the Trojans' most highly-touted signees, he's lived up to every bit of the hype so far, starring at both cornerback and wide receiver in practice. An explosive athlete, he figures to see more time on the defensive side of the ball early, especially now.
Jonathan Lockett
and
Lamont Simmons
are two more freshmen who have shown well, and it's not out of the question to assume that one or both will now be relied upon to contribute.
Ryan Dillard
and
Devian Shelton
are two veteran reserve players, although both are currently sidelined with injuries.
At safety
Leon McQuay
III and
Gerald Bowman
performed at a high level during fall camp, and both are listed as sharing the top spot at free safety, although Bowman spent quite a bit of time running with the No. 1 unit at strong safety.
Su'a Cravens
, a 2013 freshman All-American, battled illness and a groin injury during a portion of fall camp, but he looks to be healthy enough to have gained his starting job back at strong safety. He'll also see plenty of time at the Dollar spot -- a linebacker/safety hybrid position that plays to his strengths as a bigger, more physical defensive back with outstanding football instincts.
Freshman
John Plattenburg
will help add depth, and walk-on
Matt Lopes
is another name to watch out for.
D.J. Morgan
, a converted tailback who has been hampered by knee and leg injuries throughout his career, was held out for a majority of fall camp.
August, 26, 2014
Aug 26
8:00
AM PT
With fall camp in the books and the Trojans now immersed in game-week preparations for Saturday's season opener against Fresno State, here's a position-by-position look at where things stand for USC on offense today.
Quarterback
After emerging from a highly-publicized competition as USC's unquestioned starter at quarterback in the spring,
Cody Kessler
continued to perform at a high level throughout fall camp, appearing to grow more and more in command of Steve Sarkisian's new up-tempo offensive attack with each practice that passed. Having completed 65.4 percent of his passes for 2,968 yards with 20 touchdown and 7 interceptions a year ago in 14 starts for the Trojans, there's every reason to believe that his numbers will only go up in 2014.
Second-year freshman
Max Browne
had a solid camp as well, and he'll serve as the primary backup. Freshman dual-threat quarterback
Jalen Greene
appears destined to redshirt this season, although with the strides that he's already made, he certainly looks to have a bright future.
Running back
The Trojans have a three-headed monster at tailback in
Buck Allen
,
Tre Madden
and
Justin Davis
. Allen -- the Trojans' team MVP in 2013 -- came into camp in fantastic shape and looks to be a perfect fit in Sarkisian's offense. He, along with Madden -- who rushed for more than 100 yards in four of USC's first five games in 2013 -- took the bulk of the reps with the No. 1 unit during the majority of fall camp. Madden hasn't practiced in a week due to a turf toe injury, and he's a game-time decision at this point. That paves the way for Davis, who excelled in the team's fall camp scrimmages, to carry a heavier load.
Walk-on
James Toland
IV and converted cornerback
Anthony Brown
are two reserves at tailback, although Brown has been sidelined as of late with a hyperextended elbow.
One big question that arose as soon as Sarkisian became head coach was whether or not there's was a real role for the fullback in his offense. If fall camp is any indication, however, the answer is most definitely 'Yes,' as both
Soma Vainuku
and
Jahleel Pinner
were utilized in a variety of ways. Vainuku, in particular, appeared to make more plays coming out of the backfield than ever.
[+] Enlarge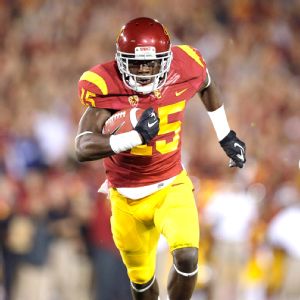 Ric Tapia/Icon SMINelson Agholor led the Trojans with 56 catches for 918 yards and 6 touchdowns last season.
Wide receiver
The Trojans will field a wide receiver corps marked by talent and, in contrast to last season's squad, a plethora of depth.
Nelson Agholor
is the headliner. The team's leader in receiving yardage (918) in 2013, he's been showing off his versatility in practice, lining up outside as well in the slot periodically.
George Farmer
had arguably the best camp of his career, and it paid off in him landing atop the depth chart at the wide receiver spot opposite Agholor. After having been hampered by injuries throughout his time on campus so far, there's reason to believe this could be the year that he finally breaks through.
Darreus Rogers
and
Victor Blackwell
are a pair of veterans who will provide depth. Rogers, who now wears the highly-coveted No. 1 jersey, is a big and physical target who will try to improve on what was a promising freshman year in 2013. Blackwell, a fourth-year junior, asserted himself as a potential deep threat in practice this month.
There are also a host of freshmen who look poised to make an instant impact at wideout, perhaps none more-so than
JuJu Smith
. Bringing a unique combination of size, speed and sure hands to the table, it wouldn't be a surprise to see him make a name for himself right from the get-go.
At the slot receiver position
Ajene Harris
is the name to watch. Somewhat of an underdog coming into camp after lining up at quarterback and defensive back on the high school level at Los Angeles (Calif.) Crenshaw, he now sits atop the depth chart after shining throughout fall camp. Highly sought-after two-way standout
Adoree' Jackson
will also see time here -- in addition to cornerback -- after asserting himself as a legitimate big-play threat.
Second-year freshman
Steven Mitchell
-- who was once thought to be the favorite to start at the slot position ahead of Harris and Jackson -- has been held back by knee and groin issues.
Freshman
Rahshead Johnson
, as well as veteran walk-ons
Christian Tober
,
George Katrib
,
Robby Kolanz
,
Christian Guzman
,
David Mellstrom
and
Aaron Minor
are others who will provide depth at wide receiver.
Tight end
The loss of
Jalen Cope-Fitzpatrick
(academics) obviously dealt this already-thin unit a significant blow, but the good news is that
Randall Telfer
looks healthy and primed for a big season in Sarkisian's tight end-friendly offense. Former Wake Forest pitcher-turned walk-on quarterback-turned tight end
Chris Willson
currently sits at the No. 2 spot on the depth chart. And then there's freshman
Bryce Dixon
, who just might be the most exciting performer of the bunch. A fantastic athlete with outstanding skills as a receiver, he certainly appears to possess the tools to allow him to flourish in Sarkisian's offense -- perhaps sooner than later.
With this group low in numbers, Sarkisian said that he might rely more on fullbacks Vainuku and Pinner, and that does seem to mesh with what was seen in fall camp.
Offensive line
Perhaps no unit was surrounded by more uncertainty heading into fall camp than the offensive line, but Tim Drevno's group has slowly started to come together. Still plenty of questions exist today, particularly with a trio of freshmen in
Toa Lobendahn
,
Damien Mama
and
Viane Talamaivao
all expected to play crucial roles.
The No. 1 group for the majority of camp was comprised of
Chad Wheeler
at left tackle, Lobendahn at left guard,
Max Tuerk
at center,
Khaliel Rodgers
at right guard and
Zach Banner
at right tackle. With Rodgers currently out with a knee sprain, however, it's Mama who is slated to get the starting nod against Fresno State -- meaning that for the first time in the post-World War II era the Trojans will likely have two freshmen starters on the offensive line in an opener. Fortunately for Sarkisian and Co., both Mama and Lobendahn appear to be up for the challenge.
Aundrey Walker
, who was hobbled early in camp, has started to come on, and with Sarkisian noting that he plans to rotate players in and out of the lineup along the offensive line, it stands to reason that he will see time somewhere on the field in a reserve role. He's currently listed as a backup at both tackle spots as well as at right guard. Talamaivao is the primary backup at left guard after beginning camp as a reserve center.
Center/guard
Giovanni Di Poalo
, guard/tackle
Nathan Guertler
, tackle
Nico Falah
and guard
Jordan Simmons
will all provide depth -- although Simmons has missed extensive time due to his 2013 knee injury.
Freshmen tackles
Chris Brown
and
Jordan Austin
(hip surgery) will likely redshirt.
August, 26, 2014
Aug 26
10:00
AM PT
By
Kyle Bonagura, Kevin Gemmell, Chantel Jennings
and
Ted Miller
| ESPN.com
Ivan Maisel offered up some bold national predictions for the 2014 season. Here's some we're calling in the Pac-12:
1. A Pac-12 team will win the national championship
: As the Pac-12 continues to gain ground on the SEC in conversations about the toughest conference in college football, there's really only one more step to take: win a national title. It has been 10 years since USC hoisted the Waterford Crystal football, but the conference's title drought will end this year. Oregon, UCLA, Stanford and USC are all preseason top-15 teams and one of them will be the last team standing in the first year of the College Football Playoff.
2. A Pac-12 player will win the Heisman Trophy
: The drought will end! The Pac-12 has not one, but two A-list quarterbacks who enter the season as front-runners. Oregon's
Marcus Mariota
and UCLA's
Brett Hundley
have plenty of hype and the talent to match. Both play for preseason top-10 teams (and the more they win, the more voters will gravitate toward them) and both are going to put up premium dual-threat numbers. Both fit the current Heisman blueprint.
[+] Enlarge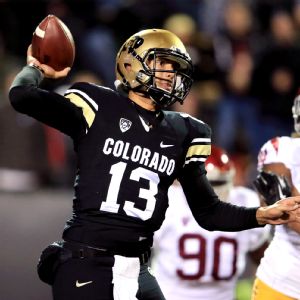 Doug Pensinger/Getty ImagesChances are good that QB Sefo Liufau and Colorado could upset one of the five preseason-ranked teams the Buffaloes will face in 2014.
3. No Pac-12 coach will be fired at season's end
: The coaching carousel will hit the skids for at least one season. There are really only two Pac-12 coaches with seats above frosty -- Cal's Sonny Dykes and Utah's Kyle Whittingham -- and their temperature is tepid at best. If neither coach shows significant improvement in 2014 (that probably means a bowl game for Utah and at least a few FBS wins for Cal), then we won't make this declaration for 2015. But unless either really, really bombs, they'll be given another shot next season. And the Pac-12 blog doesn't think either will really, really bomb.
4. Cal and Colorado will be good enough to deliver a major upset this fall
: There won't be many wins between the Buffs and Bears, but between the two, there will be at least one that no one sees coming. Utah set the precedent last season when it went 2-7 in conference play with one of those wins against conference champion Stanford. We like Colorado's chances better, but weirder things have happened.
5. The USC-UCLA game will be a battle of top-10 teams
: We're almost there already. The Bruins are at No. 7 and the Trojans are at No. 15. Win or lose in Week 2 at Stanford, the Trojans probably wouldn't fall out of the Top 25. If they beat No. 19 ASU, the schedule is there for them to run off seven or eight wins in advance of the UCLA game Nov. 22. UCLA's showdown with No. 3 Oregon on Oct. 11 could bolster or bust UCLA's rankings. But with four games between the time it faces the Ducks and the Trojans -- including a trip to Washington -- UCLA could get back in the top 10 win or lose against Oregon. If the Bruins win, they'll be one of the top three teams in the country.
6. Oregon will cover the spread against Michigan State in Week 2
: While the conventional thinking might be Michigan State beat the team that beat Oregon, as the Spartans slipped by Stanford, the Ducks' Pac-12 conqueror, in the Rose Bowl, that doesn't apply here. For one, Stanford was a familiar team to the Spartans. The Cardinal are built more like a typical Big Ten power team than most Big Ten power teams. The Ducks are a different matter. Michigan State hasn't seen anything like the Oregon offense, and you can't duplicate it in practice. Further, Oregon is playing in Autzen Stadium with a healthy Mariota. The Spartans are tough, but the Ducks should roll by at least two touchdowns.
7. The Pac-12 will go 3-0 against Notre Dame
: Last season, Notre Dame went 2-1 against the Pac-12, beating Arizona State and USC and losing to Stanford. This year, the Pac-12 will take revenge. The Sun Devils and Trojans will roll at home, while Stanford wants its vengeance set at Notre Dame, site of its grand jobbing in 2012, when the Cardinal twice scored a tying touchdown in overtime that the referees just couldn't manage to notice. (This is when Notre Dame fans chime in with their reflexive counter. Easy response: The video evidence is UNQUESTIONABLE.) Part of this is all three Pac-12 teams are better than Notre Dame in any event. The other part is the Fighting Irish are dealing with suspensions and scandal that could lead to season-long distraction.
8. Whoever starts at quarterback for Arizona will pass for more than 3,000 yards
: Rich Rodriguez announced that
Anu Solomon
will be starting for the Wildcats against UNLV, but after that, we'll see. The Pac-12 blog believes that by the fourth week of the season, Arizona will be settled on a starter. It could be Solomon. It could be someone else. Whichever quarterback it is, he'll pass for 3,000 yards. With
Nate Phillips
,
Austin Hill
,
Cayleb Jones
and
Davonte' Neal
(among others), he'll have targets downfield who are more than capable of turning the passer into a 3,000-yard guy.
9. Stanford QB Kevin Hogan will be the Pac-12's most improved player
: Hogan has proved he's a winner -- two seasons, two Pac-12 titles -- but he didn't have the individual season many were expecting in 2013. Look for him to deliver in 2014 as he returns for a third season, along with a talented group of receivers and not much in the way of experienced rushers.
10. Six teams will be ranked in the final Top 25 at the end of the season
: Six Pac-12 teams started the season in the Top 25 and guess what, six Pac-12 teams will end in the Top 25 as well. No promises that it'll be the same six, but there will be six.
August, 26, 2014
Aug 26
8:00
AM PT
At first, I thought prohibition was a good thing. People were drinking more and having a lot more fun. Without beer, prohibition doesn't work!
Leading off
Ahhhh, the honeymoon phase. It's that first year when a new head coach adjusts to his new surroundings (or in the case of Mark Helfrich, a new office). There is joy and excitement leading up to that first game.
And then reality hits. That joy and excitement turns to second-guessing and not-so-subtle whispers about whether this is the right guy.
The Pac-12 has a trio of second-year coaches: the aforementioned Helfrich, Sonny Dykes at Cal and Mike MacIntyre at Colorado. And Athlon Sports decided to
take a look at the expectations
for all of the second-year coaches in college football.
Here are their thoughts on Colorado:
But as the 2014 season approaches, it's easy to see why Colorado is probably a year away from contending for a bowl. The Buffaloes catch Oregon and Washington in crossover play with the North and must replace standout receiver Paul Richardson. Sophomore quarterback Sefo Liufau is promising, and the depth on defense is getting better. An upset or two wouldn't be a surprise in Pac-12 games. However, a 4-8 final record with a more competitive team in conference action is very likely for MacIntyre.
The key word is in the final sentence: competitive. Two of the Buffs wins were against FCS teams last season (one of which was scheduled, the other one was a result of the disastrous flooding and cancelation of the Fresno State game). This year there are no FCS teams on the schedule, so while he Buffs will likely still hover in the 3-4 win range, those would be considered of a greater quality. And while the Pac-12 blog is yet to meet a coach who can stomach morale victories, there is something to be said for being more competitive. And we too expect the Buffs to be a tougher team in 2014.
For Helfrich, it's business as usual. We all knew, and I'm sure he did too, that he would be judged by a different jury than MacIntyre or Dykes. All he did was win 11 games, win a bowl game and do it with a quarterback limping through the second half of the season. There's no question the Ducks are primed for a serious run. But if that run doesn't end in a playoff berth, is this season a bust? Curious to hear your thoughts.
Tweet them at me
.
As for Dykes, we've spent months rehashing all of the problems Cal went through last year, from the system changes to the youth to the onslaught of injuries. The tide will turn once (if?) the Bears start winning some games.
Who's all sneaky?
CBS's Jeremy Fowler took a look at
10 teams that could be "sneaky contenders"
in 2014. Among his 10 are Arizona State and Washington.
His thoughts on the Sun Devils:
Arizona wins 10 games and is still considered the fifth- or sixth-best team Pac-12 team on national scale. Well, don't be confused if the Sun Devils mess around and win the Pac-12 South for a second straight year. If Todd Graham gets a young defense ready, the potent offense will handle the rest.
Definitely not ready to count out the Sun Devils. We know about the losses to the defense – nine starters gone – but we also know how good that offense can be this year. If the offense can out-sprint some teams early in the season and give the defense time to get its footing, the Sun Devils will certainly be in the hunt for the South title. The timing of that UCLA game in Week 4 is very interesting.
Getting deep
Monday was depth chart day. Months of speculation has all been settled with one piece of paper. Unless you see an "or" in between players. Then the debate rages.
Because the Pac-12 blog likes you so much, we dug up all the depth charts that were available online. Some weren't. We'll try to update throughout the day.
Oregon State (page 11 from the preseason media guide, will be updated later today)
UCLA (Not released yet, possibly today)
USC (page 14 of the game notes)
Utah (page 9 of game notes)
Washington (page 9 of the game notes)
On the air
Your Pac-12 reporters have been making the rounds on multiple platforms. Here are a couple of links.
Ted Miller talks a little Pac-12 football here with ESPN's Zubin Mehenti.
Chantel Jennings will be on ESPN Radio in Pullman (1400 AM) this morning at 10:15 a.m.
News/notes/team reports
Just for fun
The entire Oregon cheer squad
takes the ice bucket challenge
.
Washington's Psalm Wooching is cooler than you.
And finally, if you want to learn how to Haka, Arizona has you covered.
August, 26, 2014
Aug 26
1:52
AM PT
Josh Shaw captured America's heart Monday when exploits of his
heroic jump from a second-floor balcony
to save his 7-year-old nephew from drowning spread across the Internet.
It was a tough pill for those at USC swallow considering the leap onto concrete below left Shaw with a pair of high ankle sprains that will sideline him indefinitely, but in no way were his actions surprising.
In May, Shaw was selected as one of the commencement speakers at USC's student-athlete graduation ceremony and his speech gave a small glimpse into the type of person he is. Athletic director Pat Haden gave a nice introduction -- Shaw went to Haiti with other USC athletes to build houses -- and the six minutes it takes to watch are well worth your time.
Among other things, Shaw reflected on his decision to transfer from Florida back to Southern California to be closer to his family in Palmdale after his grandfather became seriously ill and his father was unable to run the family landscaping business due to surgery.
Here's to a speedy recovery for Josh.
August, 25, 2014
Aug 25
9:15
PM PT
All 12 Pac-12 teams are in action this week, which means we can soon wave goodbye to preseason hype and focus on things that actually matter. To tide you over between now and Thursday, when three teams begin their seasons, here are five random stats or notes relating to each game.
Want another hard-to-find stat looked up?
I take requests on Twitter
.
Thursday
Idaho State at Utah
Utah is 6-0 against Idaho State and 36-0 against teams currently in the Big Sky Conference.
Coach Kyle Whittingham was the Utes' defensive line coach the last time Utah played Idaho State ... a 66-0 win in 1994. It was his second game on the staff.
Dating back to its win at Michigan in 2008, the Utes have won their last six season openers.
Since joining the Pac-12 in 2011, Utah has the conference's third-best winning percentage in nonconference games at 90 percent (9-1). During those games, it has outscored opponents by an average of 18.7 point per game -- also the third-best mark in the conference.
In their 10 nonconference games over the past three years, the Utes have only committed a total of six turnovers and are plus-17 in that span.
Rutgers vs. Washington State, in Seattle
The Cougars are 5-6 when playing at CenturyLink Field, dating back to the first-ever football game played in the stadium -- a win against Nevada in 2002.
Breakdown of where WSU QB Connor Halliday threw the ball last year: Left of the hashmarks: 31.2 percent. Between the hashmarks: 19.3 percent. Right of the hashmarks 49.4 percent.
Combined record of teams Rutgers beat last year: 17-54. Of those wins, only 11 were against FBS teams.
The last time WSU hosted a Big Ten team in Seattle, it lost 42-7 to Ohio State in 1974 -- the first Heisman-winning season for Buckeyes running back Archie Griffin.
Bob Robertson is set to begin his 48th season in the radio booth for WSU football games -- the longest streak in the country -- but will shift from play-by-play to analyst duties.
Weber State at No. 19 Arizona State
Since coach Todd Graham and offensive coordinator Mike Norvell arrived in 2012, Arizona State has averaged 41.8 points per game in nonconference games.
In both games it played against FBS teams last year -- Utah and Utah State -- Weber State allowed 70 points.
In 195 career carries, running back D.J. Foster has never lost a fumble.
QB Taylor Kelly's passes averaged 8.6 yards in the air last season, the second-most in the Pac-12 behind Stanford's Kevin Hogan (10.52).
Kicker Zane Gonzalez made more field goals (25) than anyone in the country last year.
Friday
Colorado State vs. Colorado
The Buffaloes are 7-3 vs their in-state rivals since 2004 and have scored on 35 percent of their 124 drives in that span.
How important was wide receiver Paul Richardson to the Colorado offense? He had the highest percent of his team's receptions (35.3) and touchdown catches (47.6) in the conference last year.
Only Oregon State (24) had more first downs from penalties last year than Colorado (24) in the Pac-12.
Colorado ranked last in the Pac-12 in drives of 60-plus yards last year (30).
Only 10 FBS teams in the country committed fewer penalties than Colorado (50) last year.
UNLV at Arizona
Arizona is 2-0 against UNLV all-time after a 58-13 win last season.
In two years at Arizona, coach Rich Rodriguez has yet to lose against a team outside the Pac-12 (8-0). In those games, the Wildcats' average margin of victory (26.6) is second-best in the conference behind Oregon (35.9).
Freshly-minted starting QB Anu Solomon, a redshirt freshman, was a rare four-year varsity starter in high school at Bishop Gorman High in Las Vegas. He led the Gaels to state titles all four years.
Worth pointing out (again): Ka'Deem Carey led the nation with 3,814 yards rushing over the past two seasons and Terris Jones-Grigsby, who is now atop the Arizona depth chart, is a redshirt senior without a carry in his career.
The Wildcats have rushed for at least 185 yards as a team in eight straight games, the fourth-longest active streak in the country.
Saturday
No. 7 UCLA at Virginia
Since 2004, current Pac-12 teams are 16-4 against ACC teams and 3-2 on the road. Average margin in those 20 games: plus-17.5.
Virginia had just one win against an FBS team last year (beat BYU 19-16) and has the nation's fourth-longest losing streak (9 games).
Since Jim Mora has been at UCLA, the Bruins are 7-1 in nonconference games.
Brett Hundley's odds to win the Heisman Trophy, according to Bovada: 10-to-1.
UCLA was the second-most penalized team in the nation last year at 8.15 per game, behind only Baylor.
Cal at Northwestern
Cal QB Jared Goff led the nation in yards passing per nonconference game last year (435.3).
The last time Cal had a second-half lead against an FBS team came against Northwestern in the season opener last year. The Bears led 24-20 early in the third before losing 44-30.
Cal and Miami (Ohio) share the nation's longest losing streak against FBS teams (16).
The Bears have allowed at least 30 points in 14-straight games, the longest streak in the country.
Dating back to 2004, Pac-12 teams are a combined 29-18 against Big Ten teams.
Portland State at Oregon State
Three Portland State players (receiver Stevie Coury, punter Kyle Loomis and defensive tackle Joe Lopez) transferred from Oregon State and a total of eight Vikings transferred from Pac-12 schools.
Oregon State has finished ranked in the final AP poll in four of the last eight seasons.
Oregon State went 3-and-out on just 16.6 percent of its drives last season, the second-lowest rate in the Pac-12.
Where Sean Mannion ranked nationally last year: completions (3), attempts (3), passing yards (2), touchdown passes (t4), completions of 20-plus yards (t3).
Mannion's Heisman odds are 50-to-1, according to Bovada.
UC Davis at Stanford
In 2005, Davis' last trip to Stanford, the Aggies won 20-17.
Stanford rushing yards by direction in 2013: outside left tackle (824), toward left guard (380), up the middle (736), toward right guard (361), outside right tackle (681).
On average, passes travelled 14.6 yards in the air when targeting receiver Devon Cajuste last year -- the highest in the Pac-12.
On passing plays, Stanford targeted its tight ends at a 3.5-percent clip last year. In 2012, that number was 38.1.
In games played before November since David Shaw took over, the Cardinal is 21-3.
Fresno State at No. 15 USC
Since the Pac-12 expanded in 2011, the conference is 19-7 against the Mountain West.
Despite their relative proximity, USC and Fresno State have met just three times in history with the Trojans holding a 2-1 advantage following last year's 45-20 win.
USC's all-time record with Steve Sarkisian on the coaching staff: 75-15.
USC is one of seven teams in the country -- and only school in the Pac-12 -- that hasn't lost to a non-AQ school in the past 10 years.
Among players with at lest 15 punt returns last year, Nelson Agholor ranked second in the country averaging 19.1 yards per return.
No. 25 Washington at Hawaii
New coach Chris Petersen's record in eight seasons at Boise State: 92-12.
Hawaii was 0-2 against the Pac-12 last year and lost its first 11 games before winning the season-finale against Army.
Washington ranked second in the Pac-12 averaging 499.3 yards per game last season.
The Huskies held opponents to a Pac-12 best 34.6-percent conversion rate on fourth down last year.
Cornerback Josh Shaw leads the nation in children saved from drowning.
South Dakota at No. 3 Oregon
Oregon ranked second in the country in yards per play (7.6) last year, behind Florida State (7.7).
QB Marcus Mariota owns the Pac-12 record for consecutive passes without an interception (

327).

Since Chip Kelly installed his offense in 2007, Oregon's average margin per game is plus-20.5 -- the best among Power-Five teams.
South Dakota's last game against a ranked FBS team came in 2011, a 59-10 loss to No. 6 Wisconsin.
No team in the country attempted more 2-point conversions last year than the Ducks (6).
Statistics via ESPN TruMedia
August, 25, 2014
Aug 25
4:18
PM PT
[+] Enlarge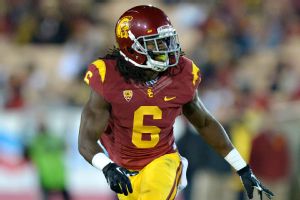 Kirby Lee/USA TODAY SportsHours after being voted team captain, USC cornerback Josh Shaw sprained both his ankles jumping to save his nephew.
USC cornerback Josh Shaw will be sidelined indefinitely after a heroic act left the fifth-year senior with a pair of high ankle sprains.
Just hours after being voted a team captain on Saturday, Shaw was attending a family function when he saw his 7-year-old nephew, who does not know how to swim, struggling in a nearby pool. Instinctively, Shaw jumped from a second-floor balcony onto concrete below and crawled into the pool where he was able to help his nephew to safety, according to a release from the school.
After getting his nephew to safety, Shaw made his way to a ladder and pulled himself from the water.
"I would do it again for whatever kid it was, it did not have to be my nephew," Shaw said. "My ankles really hurt, but I am lucky to be surrounded by the best trainers and doctors in the world. I am taking my rehab one day at a time, and I hope to be back on the field as soon as possible."
Shaw, who has six interceptions in two seasons at USC since transferring from Florida, was expected to be a major part of the Trojans secondary after starting all 14 games in 2013.
PAC-12 SCOREBOARD
Thursday, 8/28
Friday, 8/29
Saturday, 8/30