December, 5, 2013
Dec 5
4:00
PM PT
While much of the attention will be on Saturday night's massive matchup between Bellflower (Calif.) St. John Bosco and Santa Ana (Calif.) Mater Dei under the lights at Angel Stadium this weekend, the action on Friday night should also draw plenty of eyes.
USC commits
Ajene Harris
(Los Angeles/Crenshaw) and
Uchenna Nwosu
(Harbor City, Calif./Narbonne) will face off in the CIF City Section championship at East Los Angeles College, while top targets
Adoree' Jackson
and
Jordan Lasley
will chase yet another ring for Gardena (Calif.) Serra against four-star quarterback
Brad Kaaya
and West Hills (Calif.) Chaminade. But perhaps the most intriguing matchup will take place deep in the Inland Empire, where USC commits
Viane Talamaivao
and
Austin Maloata
hope to lead Corona (Calif.) Centennial past rival Murrieta (Calif.) Vista Murrieta again.
But even if their season ends on a sour note, Maloata and Talamaivao have the assurance they'll continue to suit up in the same colors.
To continue reading this article you must be an Insider
December, 5, 2013
Dec 5
3:00
PM PT
They're only college football opinions, but at least they're all mine:
• My impression after attending the Steve Sarkisian-USC press conference is that Pat Haden would have made this move even if Ed Orgeron had beaten UCLA. And can you imagine the fallout if that had happened?
[+] Enlarge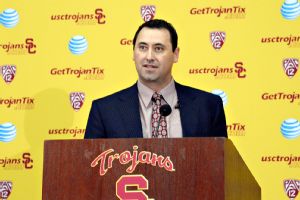 Kirby Lee/USA TODAY SportsUSC's hiring of Steve Sarkisian made big news, but his introductory press conference didn't exactly create a big buzz.
• Sarkisian's press conference was much like the announcement he'd been hired: It lacked any real carbonation. There was no buzz in the room at all.
To continue reading this article you must be an Insider
December, 5, 2013
Dec 5
2:41
PM PT
Washington was set to interview Alabama offensive coordinator Doug Nussmeier on Thursday and is scheduled to meet Friday with Boise State coach Chris Petersen about its head coach opening, according to a source.
The Huskies are seeking a replacement for Steve Sarkisian, who left for USC.
Nussmeier was the offensive coordinator at Washington under Sarkisian from 2009 to 2011 before being lured away by Nick Saban. In Nussmeier's two seasons at Alabama, the Crimson Tide have averaged almost 39 points a game.
Petersen, who is 92-12 at Boise State since 2006, was a candidate for the Huskies job in 2009 before Washington hired Sarkisian. He also had been linked to openings at USC and UCLA.
Boise State slipped to an 8-4 mark this season, including a loss to Washington.
Earlier Thursday, Missouri coach Gary Pinkel withdrew his name from consideration. The former Washington assistant told "Mike and Mike" on ESPN Radio, "I'm a Missouri Tiger, and I'm going to stay a Missouri Tiger."
Ted Miller of ESPN.com contributed to this report.
December, 5, 2013
Dec 5
2:30
PM PT
All I wanted was to eat the chicken that is smarter than other chickens and to absorb its power.
December, 5, 2013
Dec 5
2:00
PM PT
The rosters for the Under Armour All-America Game were released Wednesday night, and several Pac-12 commits and targets are scheduled to take part.
Here are the top five storylines that Pac-12 recruiting fans should be watching for during the week of practices and the game, which is set for 4 p.m. ET on Jan. 2 at Tropicana Field in St. Petersburg, Fla., and will be televised on ESPN.
To continue reading this article you must be an Insider
December, 5, 2013
Dec 5
2:00
PM PT
Join us for our weekly chat today -- Thursday! -- at noon PT or 3 p.m. ET.
Click here to join the fun
.
We can talk Pac-12 title game, coaching intrigue, bowl games or you can just show up to rage about anything you like.
December, 5, 2013
Dec 5
11:00
AM PT
LOS ANGELES -- The voice at the other end of the phone was new USC head football coach Steve Sarkisian. He was encouraging fans to get excited about the future and what he hopes to bring to the program.
Hand it to the USC marketing department, it doesn't miss a trick, as thousands of Trojans football fans heard from USC's 23rd head coach in a mass voicemail blitz shortly after Sarkisian was hired. The words were inspiring, enthusiastic, and the message was clear: The Men of Troy are about to embark on a new era.
With his hiring, the Sarkisian popularity campaign is now in full throttle. It was preceded with Tuesday's coronation and highly orchestrated press conference, which began with more Ed Orgeron damage control in the opulent John McKay Center.
To continue reading this article you must be an Insider
December, 5, 2013
Dec 5
7:19
AM PT
ESPN.com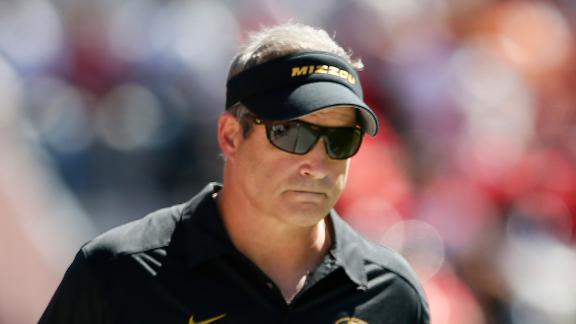 Missouri coach Gary Pinkel put to rest any speculation about his future Thursday, saying that he plans on staying with the No. 5 Tigers.
Pinkel, who has been rumored to be a candidate for Washington's coaching vacancy after Steve Sarkisian left for USC, told "Mike and Mike" on ESPN Radio that he won't be returning to his coaching roots.
"I coached there [Washington] for 12 years, and Don James is my mentor," said Pinkel, who was an assistant with the Huskies from 1979 to 1990. "I'll be quite frank: I'm staying at the University of Missouri. I, with the administration's help, will continue to build a national program in a quest for a national championship.
"I'm a Missouri Tiger, and I'm going to stay a Missouri Tiger."
Pinkel, who has been the coach at Missouri since 2001, has guided the Tigers to the SEC championship game in just their second season in the conference. Missouri (11-1, 7-1) captured the SEC East title and will play No. 3 Auburn on Saturday for a BCS bowl berth -- possibly in the championship game.
He is 101-62 with the Tigers and is tied with Don Faurot for most wins in Mizzou history.
Pinkel was a tight end for James at Kent State, then joined James' staff after his playing days were over. He left Washington to become coach at Toledo, where he had a 73-37-3 record from 1991 to 2000.
December, 4, 2013
Dec 4
5:30
PM PT
As is common every summer, we throw together the
Pac-12 Ultimate Road Trip
series to get you through the dog days. It also gives me something to do while Ted is jet setting across the South of France. The "Road Trip Revisited" post was a hit last season. So we bring the 2013 edition.
Week 1
Our pick
: Boise State at Washington
End result
: A 38-6 smackdown that pushed the Huskies into the Top 25 and sent a clear message to the rest of the country that Washington was ready to be a ranked team.
In retrospect
: Surprisingly, the most entertaining game was Oregon State's loss to Eastern Washington. But knowing what we know now, a trip to Auburn may have been worth the time to see WSU push the Tigers to the brink.
Week 2
[+] Enlarge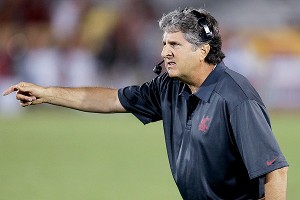 AP Photo/Chris CarlsonCoach Mike Leach and Washington State stunned USC in Week 2 of the season.
Our pick
: Washington State at USC
End result
: The Cougars pulled off an early-season stunner -- and they did it with defense.
In retrospect:
I remember taking some heat for this pick. I suppose a trip to Cal might have been nice to see what would be the Bears only win this season. But I think we made the right call given the fact that the Cougars are bowl eligible and this win is a major reason why.
Week 3
Our pick:
UCLA at Nebraska
End result
: It was an emotionally-heavy week for the Bruins following the
death of Nick Pasquale
. After a sluggish start, the Bruins exploded in the second half en route to a tearful 41-21 win in Lincoln.
In retrospect
: It was hard not to feel great for Jim Mora and the Bruins. Who didn't get chocked up when
Anthony Jefferson
recovered that fumble and ran the ball to Mora with a big hug? The Pac-12 blog certainly did. But for entertainment value, watching Utah and Oregon State exchange late touchdowns and go to overtime, which the Beavers won 51-48, was thrilling.
Week 4
Our pick:
Arizona State at Stanford
End result
: The Cardinal stomped the Sun Devils through three quarters, holding a 39-7 lead before a few late touchdowns by ASU gave us the final 42-28 margin.
In retrospect
: We thought this game would be better. And maybe Saturday's Pac-12 championship game between these two teams will be. But the Holy War produced another thriller – and another Utah win.
Week 5
Our pick
: USC at ASU
End result
: A high-scoring affair that propelled the Sun Devils to the top of the South Division and ended Lane Kiffin's coaching tenure. All in all, a pretty exciting and impactful game on the Pac-12 landscape.
In retrospect:
It was a rain-soaked weekend, so we're thinking we made the right call with this pick.
Week 6
Our pick
: Washington State at California
End result
: The Air Raid out dueled the Bear Raid.
In retrospect
: OK, so we were looking for a little diversity with this pick. And the Mike Leach vs. Sonny Dykes storyline was fun. ASU-Notre Dame was pretty exciting. But Washington at Stanford provided some of the most entertaining football this year. Tight game, controversial calls, and the squabbling fallout about injuries that carried over into the next week was delicious.
Week 7
Our pick
: Oregon at Washington
End result
: 10 in a row.
In retrospect
: Utah provided one of the biggest upsets of the college football season with its win over Stanford. It shook up the rankings and surely was a turning point for the Utes. Of course, weeks later, we know Stanford is back in the title game and Utah (plagued by an injured
Travis Wilson
) went on to lose five of its final six.
Week 8
Our pick
: USC at Notre Dame
End result
: Watching USC's offense in Notre Dame territory was painful as the Trojans dropped their first game of the Ed Orgeron era.
In retrospect
: This was a taking case of business sort of week as the Cardinal got back on track against UCLA, Oregon topped Washington State, ASU pummeled Washington etc. For as frustrating as the USC game was to watch, it was probably the best for entertainment value.
Week 9
Our pick
: UCLA at Oregon
[+] Enlarge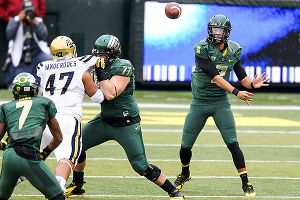 Steve Conner/Icon SMIQB Marcus Mariota and the Ducks had no problem with UCLA in Week 9.
End result
: The Ducks handed the Bruins their second straight road loss and exploded for 21 fourth-quarter points in a 42-14 win.
In retrospect:
Stanford at Oregon State turned out to be a pretty close game -- especially after a late Stanford turnover brought the Beavs back into contention. Utah at USC was pretty sloppy. Not a ton of great games, so we'll stick with this one as the top pick for what we knew at the time.
Week 10
Our pick
: USC at Oregon State
End result
: The Trojans snapped their Corvallis Curse and suddenly people were asking two questions: 1) Can USC make a run in the South? 2) Should Ed Orgeron be our head coach permanently?
In retrospect
: Arizona and Cal was tighter than a lot of people thought it would be. But with only four games on the docket, USC-Oregon State was the game that made the most sense -- and still does.
Week 11
Our pick:
Oregon at Stanford
End result
: The Cardinal pounded away for 45 minutes (and 45
Tyler Gaffney
carries) en route to their second straight win over the Ducks.
In retrospect
: There should be no arguments here, this was the game of the week. Amazing atmosphere (good work, Cardinal fans) and the Ducks made it thrilling in the fourth quarter. Great times all around.
Week 12
Our pick
: Stanford at USC
End result
: The Trojans turned the league back on its head with a last-minute field goal victory -- keeping with theme of amazingly close games between these two teams.
In retrospect
: We didn't know it when the Ultimate Road Trip was written, but this week would be flip week. I was in SEC country and Ted was in The Little Apple. I vividly recall following the Stanford-USC ESPN.com gamecast on my cell phone during Steve Spurrier's postgame news conference. The UCLA game was fun to watch because it showed
Myles Jack
was more than a one-week wonder. But we got it right with this pick.
Week 13
Our pick
: ASU at UCLA
End result
: The Sun Devils locked up the Pac-12 South championship with a signature road victory. They built a huge lead, but UCLA stormed back in the second half and had a chance to win on the final drive.
In retrospect
: We theorized in the preseason that this game would determine the winner of the Pac-12 South. And we were right. What we didn't know was that the outcome of the Oregon-Arizona game would determine the winner of the North. We still feel solid about this pick. But if you made the trip to Tucson, you saw one of the biggest upsets of the year.
Week 14
Our pick
: UCLA at USC
End result
: The Bruins topped the Trojans for the second straight year and won at the Coliseum for the first time since 1997.
In retrospect
: Surprisingly, this game turned out to be pretty one-sided. Given the fact that UCLA was coming off a loss and USC had a ton of momentum, it actually wasn't all that thrilling of a game. The real action was in Eugene – where the Ducks pulled out a last-minute, one-point victory over the Beavers.
December, 4, 2013
Dec 4
12:47
PM PT
By
ESPN.com staff
| ESPN.com
On Wednesday, WeAreSC reporter Garry Paskwietz stops by to
chat some USC football
. Paskwietz is the Publisher of WeAreSC and has been covering the Trojans since 1997. Send your questions now and join Paskwietz every Wednesday at 2 p.m. PT!
December, 4, 2013
Dec 4
2:30
PM PT
This wasn't the person he'd thought he was, or would have chosen to be if he'd been free to choose, but there was something comforting and liberating about being an actual definite someone, rather than a collection of contradictory potential someones.
December, 4, 2013
Dec 4
2:00
PM PT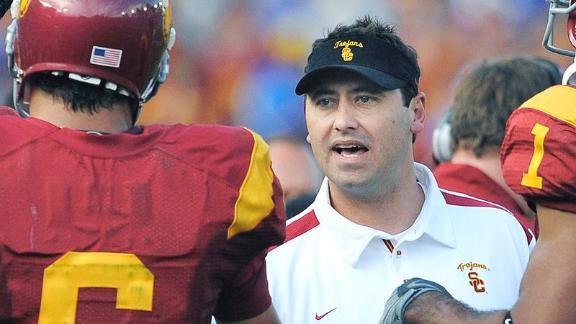 There was some good news for the Pac-12 in the updated
class rankings
released on Wednesday as Arizona, Arizona State and Oregon all moved up. The Wildcats maintained their grip on the top class in the conference and now sit at No. 18 overall. The Sun Devils jumped two places -- from No. 24 to No. 22 -- largely on the strength of a commitment from four-star running back
Demario Richard
(Palmdale, Calif./Palmdale), and in doing so, leapt Stanford for the No. 2 spot in the Pac-12. The Cardinal slid two spots, down to No. 25 overall, while Oregon remains the fourth conference team among the top 40, up to places to No. 30 overall. Here's a look at the
conference's rankings.


Trending up:
In the 2013 class, Arizona State didn't sign and enroll a single four-star high school prospect. With Richard's commitment on Monday, the Sun Devils now have eight in their 2014 class. While Richard is the first commitment since mid-November, Arizona State's on-field performance has recruits buzzing about the future of the Sun Devils and with a win this weekend, coach Todd Graham will have an opportunity to close out this class in a big way.
To continue reading this article you must be an Insider