July, 11, 2014
Jul 11
12:00
PM PT
Today, we finish our preseason position reviews.
Here's how we do this. We provide three evaluative categories: "Great shape," "Good shape" and "We'll see."
Hint: You'd prefer your team to be in "Great shape."
"We'll see" doesn't mean you're going to stink at said position. It means just what it says -- we'll see, because there's no way at present to know.
You can review last year's rankings here
.
Up next: Safety. Teams in each category are listed in alphabetical order.
GREAT
Arizona:
Jourdon Grandon
,
Tra'Mayne Bondurant
and
Jared Tevis
return with a combined 78 starts. On Thursday, Tevis, a former walk-on, was named to the Bronko Nagurski watch list for the nation's best defensive player. Safety is a clear strength for the Wildcats.
Oregon State:
Ryan Murphy
and
Tyrequek Zimmerman
both begin Year 3 as starters. Combined, they have 345 career tackles and neither has missed a game the past two years. Murphy was an all-conference honorable mention selection last year.
UCLA:
Between
Randall Goforth
,
Anthony Jefferson
and
Tahaan Goodman
, the Bruins are loaded with talent at safety. Both Goforth and Jefferson were named all-conference honorable mention last season, but Goodman has the potential to be the best of the group.
Tyler Foreman
, a well-regarded recruit, will be coming off his redshirt.
USC:
Despite losing Dion Bailey early to the NFL, USC still has the potential to have one of the best safety combinations the conference.
Su'a Cravens
might have been the best freshman safety in the country last season. Who he'll play next to remains a bit of a question, but if it's
Josh Shaw
-- who is proven at both safety positions -- or someone else, possibly
Leon McQuay III
, USC will be in great shape.
GOOD
Arizona State:
One of only two returning starters for the Sun Devils on defense is safety
Damarious Randall
, which, by default, will rise expectations for his performance. The competition for the other starting spot still needs to run its course, but many expect
Marcus Ball
, who missed last season with an injury, to win the job.
Stanford:
Jordan Richards
is a potential All-American at strong safety, but the spot opposite him remains the biggest question mark on the Stanford defense. The vacancy, created by Ed Reynolds' early departure for the NFL, resulted in the coaching staff moving a pair of offensive players -- QB
Dallas Lloyd
and receiver
Kodi Whitfield
to safety. Those two will compete with Zach Hoffpauir, who spent the spring playing baseball, and
Kyle Olugbode
.
WE'LL SEE
California:
Much like the case at linebacker, the Bears return several players that have started games, but based on the defense's performance last year, it's hard to generate much optimism. The best thing going for the group is the return of
Avery Sebastian
, who was a starter before going down with an Achilles tear in the first half of the first game last year (at which point he already had 10 tackles and a pick). He'll likely line up next to
Michael Lowe
.
Colorado:
Jered Bell
is back, but the Buffs need to replace
Parker Orms
, who was a fixture in the starting lineup the last two seasons.
Tedric Thompson
,
Marques Mosley
and
Terrel Smith
have all started games in the past and they'll compete with
Ryan Moeller
, who is coming off his redshirt.
Oregon:
Brian Jackson and Avery Patterson ran out of eligibility which makes safety one of question marks facing Oregon headed into 2014. Pencil in
Erick Dargan
, a fifth-year senior that has contributed throughout his career, at one spot, but the other isn't as clear.
Issac Dixon
is probably the favorite, but
Tyree Robinson
should push him.
Utah:
After three years of starting at safety,
Eric Rowe
split his time between corner and safety in the spring and will likely wind up playing more cornerback. That move leaves the safety spot a little hazy. Tevin Carter, who started his career as a receiver at Cal, went to a junior college and sat out last season due to academic issues, is expected to have one spot.
Brian Blechen
, who missed last season with an injury, should have the other. Although, Blechen could play linebacker, which would likely result in
Charles Henderson
at safety.
Washington:
The Huskies don't return either starting safety, but have a large group of talented players vying for playing time. It's probably too early to make safe predictions on who will start, but
Brandon Beaver
,
Trevor Walker
,
Kevin King
and
Thomas Vincent
are all in the mix. UW also signed three safeties to its most recent recruiting class.

Washington State:
If you were to name the individual player who meant more to his team's defense than any other last season, Deone Bucannon might have been that pick. Without him, the Cougars have a likely pair of starters in
Isaac Dotson
, a former quarterback, and
Taylor Taliulu
, who lost his starting job late last year.
Other position reviews:

July, 11, 2014
Jul 11
11:10
AM PT
Another day, another watch list.
Today, it's the watch list for the Jim Thorpe Award, given to the nation's best defensive back. The watch list includes 39 players from 10 conferences, including four players from the Pac-12. Again, like every watch list, this is in pencil, not permanent marker. Names could change and appear. The winner will be announced at the The Home Depot College Football Awards on Thursday, Dec. 11.
Pac-12 players on the watch list:
A few schools landed more than one player including Michigan State, UCF, Arkansas State, Boise State and Florida State.
July, 11, 2014
Jul 11
10:00
AM PT
There is no shortage of players who will excite on the field in the Pac-12 this season, but it's not all about on-field performance. Whether it's for their off-field contributions or their on-field demeanor, here are five guys worth rooting for even if they don't play for your team.
Taylor Kelly, quarterback, Arizona State:
Quick, who was the second-team All-Pac-12 quarterback last season -- UCLA's
Brett Hundley
or Arizona State's Kelly? Outside the Pac-12, the assumption would probably be Hundley, and that would be wrong. Kelly quietly led ASU to the best regular-season record in the Pac-12 last season and has a likely NFL future. His time in Tempe hasn't been one big party, either. The Master's candidate volunteers at local schools two days a week and is heavily involved in the Scholar Baller leadership and outreach program, for which he teaches high school students about leadership and character among other things. Kelly is also an accomplished drag racer, but that passion is currently on hold at the request of ASU coach Todd Graham. As a result of his vast car knowledge, Kelly has turned into the de facto mechanic for the ASU football team.
[+] Enlarge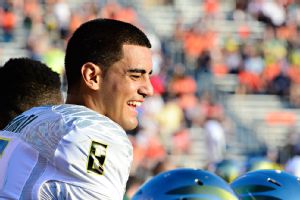 Bob Donnan/USA TODAY SportsWhen Marcus Mariota isn't piling up big stats on the field, he can usually be found studying somewhere.
Marcus Mariota, quarterback, Oregon:
After passing up a good shot at being the No. 1 pick in the NFL draft to return to school, Mariota has all the makings of a Heisman Trophy favorite. And he won't come with much controversy. If Andrew Luck set the standard for unassuming superstar quarterbacks in the Pac-12, Mariota isn't far behind. He's quiet, he's polite, he's humble and while pursuing a degree in General Science, he has developed a reputation as one of the most studious athletes on campus. For those looking for reasons to root against him, as an individual, it will be hard to justify.
Toni Pole, defensive tackle, Washington State:
When Pole intercepted a Keith Price pass in overtime and nearly returned it for a touchdown in the 2012 Apple Cup, he created a memory Washington State fans will remember for a long time. For many, that is not the only lasting impression he has produced. Pole is a frequent volunteer in the Pullman community, and his philantrophic efforts have included helping to put on "Butch's Bash," a holiday party for local kids. He makes trips to the local senior center where he plays games with the residents and is musically inclined. When the Cougars are on the road, he can be found playing the piano in hotel lobbies and has sang the National Anthem at women's basketball games.
Ty Montgomery, receiver, Stanford:
Stanford coach David Shaw has said Montgomery has the talent to be a No. 1 receiver in the NFL, but after big junior year with the Cardinal, Montgomery didn't even consider a pre-graduation jump to Sunday football. He didn't even ask for an evaluation from the NFL or for a draft-round projection, which is common for draft-eligible players. He chose Stanford largely for academic reasons and chose to stay for the same. As soft-spoken as they come, Montgomery has already been named to the Maxwell and Hornung Award watch lists and is one of the more dynamic kick returners in the country.
Stefan McClure, cornerback, Cal:
After a solid true freshman season in 2011, McClure appeared on his way to a great career for Cal. It hasn't quite worked out that way, but it's not for a lack of talent. He sat out the 2012 season rehabbing a torn ACL, then suffered another torn ACL five games into last season. If there is anyone who could use some good vibes coming his way, it's McClure.
July, 10, 2014
Jul 10
12:40
PM PT
Aim for the sky
and you'll reach the ceiling.
Aim for the ceiling
and you'll stay on the floor.
July, 10, 2014
Jul 10
12:00
PM PT
We're continuing our preseason position reviews. Please, hold your applause until we are finished.
Here's how we do this. We provide three evaluative categories: "Great shape," "Good shape" and "We'll see."
Hint: You'd prefer your team to be in "Great shape."
"We'll see" doesn't mean you're going to stink at said position. It means just what it says -- we'll see, because there's no way at present to know.
You can review
last year's rankings here
.
Up next: Cornerbacks. Considering the talent pool of quarterbacks in the Pac-12, each team's secondary is going to be tested more and more this season. Teams are really (read:
really, really, really
) going to want to be good here in 2014.
GREAT SHAPE
Oregon:
All-American
Ifo Ekpre-Olomu
is back, and considering how much opponents want to throw (though, who knows how much they will actually throw at him), he's looking at what could be a really, really impressive final season. Through the spring, fellow senior
Dior Mathis
emerged as the other starter, though
Troy Hill
could make this an intriguing position battle to watch. Backing up these guys will be
Chris Seisay
, junior college transfer
Dominique Harrison
and
Stephen Amoako
. Elite talent and excellent depth make this one of the best position groups for the Ducks.
Stanford:
The Cardinal have a new defensive backs coach in Duane Akina. In his 13 years with Texas he developed two Thorpe Award winners and 14 all-conference defensive backs, and he inherits a stocked pantry at Stanford.
Alex Carter
-- who sat out this spring -- and
Wayne Lyons
are both very, very good players who will anchor the secondary.
Ronnie Harris
will play the outside when Lyons shifts over to cover the slot.
UCLA:
Last year at this time, UCLA's cornerbacks were in the "we'll see" category. Well, we saw. We liked. The Bruins return
Fabian Moreau
,
Ishmael Adams
and
Anthony Jefferson
-- they combined for 201 tackles, six interceptions and 11 pass breakups in 2013. With an offseason to gel as a unit, mature and condition, expect those numbers to grow. If need be,
Randall Goforth
could play some cornerback, and early enrollee
Adarius Pickett
and 2014 signee
Jaleel Wadood
(younger brother of Arizona State cornerback
Rashad Wadood
) could also contribute.
GOOD SHAPE
Oregon State:
Steven Nelson
has one of the cornerback spots locked down. He recorded 62 tackles, six interceptions and eight pass breakups last season. Opposite him,
Larry Scott
and
Dashon Hunt
are vying for the starting spot. Scott has more game experience but spent half of the spring on the sideline nursing a hamstring injury, giving Hunt more and more reps as the spring season went on. And considering these guys go up against quarterback
Sean Mannion
every day in practice, their learning curves are going to be expedited.
Washington:
In
Marcus Peters
(55 tackles, five interceptions, 14 PBR in 2013) the Huskies have a very, very good cornerback on their hands. Opposing quarterbacks probably aren't going to throw at him a ton, which brings the second starter into question. The starter opposite Peters will be the one put in bigger situations (at least until he proves himself as a lockdown cornerback. If he doesn't, the passes will keep coming). Redshirt freshman
Jermaine Kelly
and former Alabama transfer
Travell Dixon
had the first shot at the job in spring ball, and the Huskies will get four freshman cornerbacks in the fall to add to that group. It is a young group, but expect Peters -- who we think could be one of the best defensive backs in the Pac-12 this season -- to pull along whoever plays the opposite spot.
Colorado:
Senior
Greg Henderson
is the most experienced defensive player returning to the Buffs this season, and his history of steadily improving through his Colorado career is a good sign that this season will be his best. On the other side, Colorado is still going through a position battle with junior college transfer
Ahkello Witherspoon
(who had an interception three pass breakups in the spring game) and
Kenneth Crawley
(who played in 11 of 12 games last season for the Buffs).
Chidobe Awuzie
also returns, making cornerback one of Colorado's deepest positions.
WE'LL SEE
USC:
A coaching change and a lot of questions about players made this a hard decision between Good Shape and We'll See. With the pure talent the Trojans have, it will be surprising if this is not a productive group, but that potential doesn't necessarily mean anything.
Kevon Seymour
has one starting spot. He ended last season on a high note and played well in the spring, but has had a very up-and-down career. Can he sustain this recent production? We'll see. Opposite Seymour, there is a battle brewing between
Josh Shaw
,
Chris Hawkins
and possibly
Adoree' Jackson
. This might be the group with the most upside and the most downside (basically, the most unknowns) of any cornerback corps in the conference.
Arizona:
Earlier this spring, head coach Rich Rodriguez said he wasn't as excited about his secondary's depth as he wanted to be. Considering the Wildcats play with a five defensive back system, that is not great. But, they have
Jonathan McKnight
to anchor one side. He started all 13 games for the Wildcats last season and led the team with eight pass breakups. The other side is still a question mark as the team tries to replace Shaquille Richardson.
Utah:
Expect to see a lot of nickel from the Utes as they prepare for life-after-Trevor-Reilly.
Eric Rowe
-- the team's third-leading tackler in 2013 -- is back and has secured one of the starting spots. He is the fastest defensive back on the team (4.39 seconds in the 40-yard dash) but the other starter remains a question. Utah likes sophomore
Reginald Porter
(10 tackles in 2013) and senior
Davion Orphey
(eight starts, 33 tackles in 2013) but they could see competition from incoming players like
Travonne Hobbs
and
Casey Hughes
.
Arizona State:
ASU lost both cornerback starters in
Osahon Irabor
and
Robert Nelson
following the 2013 season. Nelson accounted for 57 tackles, six interceptions and six pass breakups, and Irabor tallied 54 tackles, three interceptions and five pass breakups. Their backups --
Lloyd Carrington
and
Rashad Wadood
-- finished the spring atop the depth chart. Those two combined for just 32 tackles in 2013. There is always the argument that these two will step right into their mentors' shoes as they have had time to learn, but the verdict is still out on how effective these two will be.

Washington State:
The Cougars have taken major steps forward under head coach Mike Leach. At some point the cornerbacks need to follow suit (especially considering what they face in practice every single day). The Washington State secondary is in a major rebuilding period after losing cornerbacks
Nolan Washington
and
Damante Horton
. The only player with any kind of experience is
Daquawn Brown
, but beyond him it could be a lot of youth in the secondary.
Cal:
The Bears have new defensive backs coach Greg Burns, who helped USC win national titles in 2003 and 2004 (in those two seasons the Trojans gave up just 239 passing yards per game) so there is certainly not a lack of talent and experience on the coaching end. But on the field, it's a different matter.
Cameron Walker
-- who had to play safety last season because of injuries -- will return to cornerback and start alongside
Stefan McClure
. Both have experience at safety, which should help the defense be more dynamic, but again, that alone doesn't necessarily propel the group into good or great shape this season.
Other position reviews:
July, 10, 2014
Jul 10
11:35
AM PT
As much talk as there has been (including here at the Pac-12 blog) about how good the offenses in the conference will be this season, Thursday's release of the watch lists for the Bronko Nagurski Trophy, given to the nation's best defensive player, and Outland Trophy, given to the nation's best interior lineman, shows the Pac-12 measures up well against other conferences in defensive talent, too.
The Pac-12 led all conferences with 18 players on the Nagurski list, edging out the SEC (16), Big 12 (13), ACC (12) and Big Ten (10). For the Outland Trophy, which includes a mix of defensive and offensive players, the Pac-12 ranked second with 11 players behind the SEC (19).
Stanford's
Henry Anderson
, USC's
Leonard Williams
and Washington's
Danny Shelton
are on both.
Here are the Pac-12 players that were included:
Nagurski (defensive player)
Danny Shelton, Washington, DT
Henry Anderson, Stanford, DE
Hau'oli Kikaha, Washington, DE
Tony Washington, Oregon, DE
Leonard Williams, USC, DE
Myles Jack, UCLA, LB
Eric Kendricks, UCLA, LB
Derrick Malone, Oregon, LB
Hayes Pullard, USC, LB
A.J. Tarpley, Stanford, LB
Shaq Thompson, Washington, LB
Alex Carter, Stanford, CB
Su'a Cravens, USC, S
Ifo Ekpre-Olomu, Oregon, CB
Steven Nelson, Oregon State, CB
Marcus Peters, Washington, CB
Jordan Richards, Stanford, S
Jared Tevis, Arizona, S
Outland Trophy
Henry Anderson, Stanford, DL
Jake Brendel, UCLA, C
Andrus Peat, Stanford, OT
Isaac Seumalo, Oregon State, C
Jamil Douglas, Arizona State, OT
Danny Shelton, Washington, DL
Hroniss Grasu, Oregon, C
Max Tuerk, USC, C
Leonard Williams, USC, DL
Tyler Johnstone, Oregon, OT
Other watch lists
July, 9, 2014
Jul 9
10:52
PM PT
BEAVERTON, Ore. -- It was a full day of on-field work as the linemen put on pads and the skill players were divided into teams for the start of 7-on-7 pool play.
Here's a rundown of some of the USC recruits in action:
WR Christian Kirk: I would say Kirk was as good as any player I saw today who wasn't named Calvin Ridley. Kirk had multiple touchdowns during the day from the slot, including a pair down the middle where he simply split the defense and outran everybody to the end zone. The common speculation among the recruiting media is that this one is a USC-Texas A&M recruiting battle, and whoever lands Kirk is getting a good one.
July, 9, 2014
Jul 9
3:13
PM PT
July, 9, 2014
Jul 9
2:30
PM PT
I would rather learn what it feels like to burn than feel nothing at all.
July, 9, 2014
Jul 9
12:00
PM PT
We're continuing our preseason position reviews. Please, hold your applause until we are finished.
Here's how we do this. We provide three evaluative categories: "Great shape," "Good shape" and "We'll see."
Hint: You'd prefer your team to be in "Great shape."
"We'll see" doesn't mean you're going to stink at said position. It means just what it says -- we'll see, because there's no way at present to know.
You can review last year's rankings here
.
Up next: Linebacker. Teams in each category are listed in alphabetical order.
GREAT SHAPE
Oregon
: The Ducks are in great shape with inside linebackers
Derrick Malone
and
Rodney Hardrick
returning next to outside linebacker
Tony Washington
. The only departure they'll have to account for is Boseko Lokombo, and that spot appears destined for
Tyson Coleman
once he's completely healthy following a knee injury that sidelined him for the Alamo Bowl. Sophomore
Torrodney Prevot
is one of several talented young players to keep an eye on when the Ducks empty their bench during blowouts.
Oregon State:
The Beavers are deep at linebacker with
D.J. Alexander
,
Jabral Johnson
and
Michael Doctor
projected to start in their 4-3 scheme.
Rommel Mageo
was a starter down the stretch last season and should see plenty of playing time, as will
Caleb Saulo
and
Darrell Songy
.
USC:
Only outside linebacker Devon Kennard is gone from a a solid group that should have a rather seamless transition playing in new defensive coordinator Justin Wilcox's 3-4 defense.
Hayes Pullard
and
Anthony Sarao
figure to start inside, with
Jabari Ruffin
or
Quinton Powell
playing outside opposite
J.R. Tavai
.
Washington:
The Huskies weren't fully stocked during the spring, but figure to have one of the best groups in the conference with
John Timu
playing between
Shaq Thompson
and
Travis Feeney
.
Cory Littleton
can be listed at defensive end or outside linebacker -- UW calls him a rush end -- and is coming off a productive sophomore season.
GOOD SHAPE
Colorado:
Addison Gillam
led the Pac-12 in tackles per game last year (8.9) and will likely start between sophomore
Kenneth Olugbode
and senior
Woodson Greer
. The Buffaloes have depth, too, with
Brady Daigh
, a reliable backup for Gillam, and outside linebacker
Deaysean Rippy
, who sat out last season after transferring from Pittsburgh. Rippy was listed as an alternative starter to Greer on Colorado's post spring depth chart.
Stanford:
There might not be a more difficult task in the conference than replacing outside linebacker Trent Murphy and inside linebacker Shayne Skov, both of whom drew All-American accolades in multiple season. Inside linebacker
A.J. Tarpley
, already a three-year starter, is one of the conference's unheralded players and outside linebacker
James Vaughters
is poised for a breakout senior season. Kevin Andersen has seen a lot of playing time over the past two years at outside linebacker, but the other inside spot needs to be ironed out.
UCLA:
Like Stanford, the Bruins have a tough task in replacing Anthony Barr and Jordan Zumwalt, but have two talented returners in
Eric Kendricks
and
Myles Jack
. UCLA could very well end up one of the best groups in the conference pending the development of
Kenny Orjioke
,
Deon Hollins
,
Isaako Savaiinaea
and
Zach Whitley
.
Utah:
Junior
Jason Whittingham
is a potential first-team all-conference type player and the Utes are high on
Jared Norris
, who started seven games last year. The group looked even better when Miami-transfer
Gionni Paul
was projected to contribute, but the start to his season is expected to be delayed by a broken bone in his foot.
Uaea Masina
, after contributing on special teams last year, will likely see a lot of playing time.

Washington State:
Darryl Monroe
and
Cyrus Coen
return as starters and
Tana Pritchard
, who saw his role grow as the season went along, will be leaned on heavily. The final spot up for grabs is the 'buck,' which looks like it will come down to
Kache Palacio
, a slight favorite who started at the end of the season, and
Ivan McLennan
.
Chester Su'a
could also make some noise after missing last season with an injury.
WE'LL SEE
Arizona:
The Wildcats need to replace three-year starter Marquis Flowers and two-year starter Jake Fischer.
Scooby Wright
started 12 games as a true freshman last season and gives the Wildcats a good piece to start with, but we'll take a wait-and-see approach once the other pieces are in place. The good news is that Arizona has recruited well at linebacker.
Arizona State:
Salamo Fiso
returns, but having to replace three of the four starters from a year ago leaves more questions than answers. Early-enrollee
D.J. Calhoun
drew rave reviews during spring practice, but will have to beat out redshirt junior
Antonio Longino
for a starting job.
Eriquel Florence
(devil), and
Laiu Moeakiola
/
Marcus Washington
(spur) were also listed as starters at the end of spring practice.
Cal:
Jalen Jefferson
,
Michael Barton
and
Hardy Nickerson
are all back, but after last season's defensive woes it's hard to go in with much optimism. The situation at linebacker is clearly better than it was last year, but that's not inspiring enough not to erase speculation.
OTHER POSITION REVIEWS:
July, 8, 2014
Jul 8
11:08
PM PT
BEAVERTON, Ore. -- The first day of The Opening was highlighted by a commitment for the Trojans from
Isaiah Langley
(Pleasanton, California/Foothill), the No. 7-rated athlete in the ESPN 300 rankings. Langley (6-foot, 164 pounds) is a versatile receiver/corner who will focus on the defensive side of the ball for the Trojans. With good height and long arms to go along with solid coverage skills, Langley is the latest example of USC coach Steve Sarkisian's efforts to upgrade the cornerback spot.
"I'm a lockdown corner," Langley said. "I can bring some kind of physicality, but for the most part I'm a coverage guy."
To continue reading this article you must be an Insider
July, 8, 2014
Jul 8
10:10
PM PT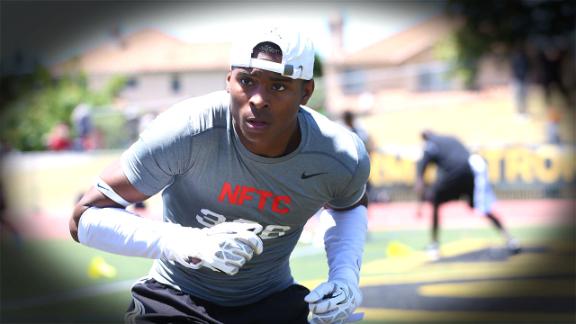 ESPN 300 prospect
Isaiah Langley
has committed to play in-state for the Trojans. Read below to see Tom Luginbill's take on USC's big pickup:
To continue reading this article you must be an Insider
PAC-12 SCOREBOARD
Thursday, 8/28
Friday, 8/29
Saturday, 8/30