August, 30, 2014
Aug 30
12:35
PM PT
By
ESPN.com staff
| ESPN.com
USC Trojans
coach Steve Sarkisian addresses the accusations made by senior running back
Anthony Brown
, calling Sarkisian a racist man after quitting the team.
August, 30, 2014
Aug 30
8:00
AM PT
Here is our quick guide to the season's first Saturday of Pac-12 games:
No. 7 UCLA at Virginia
Time:
12 p.m. ET
TV:
ESPN/WatchESPN
Hashtag:
#UCLAvsUVA
[+] Enlarge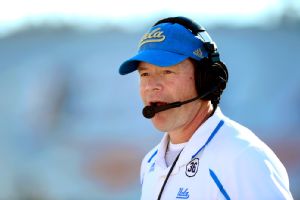 Andrew Weber/USA TODAY SportsSigns point to a convincing victory for UCLA and coach Jim Mora in Virginia.
The Bruins begin their much-anticipated season with a trip to Charlottesville in what has the makings of a relatively easy UCLA win. Virginia enters the game having lost 10 straight games against FBS teams -- a streak that began with a 59-10 home loss to Oregon the past season. Conversely, expectations couldn't be much higher for the Bruins, who start the season No. 7 in the AP poll, their highest preseason ranking since they started the 1998 season at No. 6.
California at Northwestern
Time:
3:30 p.m. ET
TV:
ABC/ESPN2/WatchESPN
Hashtag:
#CalvsNU
A year ago, Cal was a few tipped passes from opening the Sonny Dykes era with a win against what was then a ranked Northwestern team. It was all downhill from there, but now that Cal is healthy, has a new defensive coordinator (Art Kaufman) and has another offseason to adjust to the new coaching staff, there is a renewed sense of cautious optimism in Berkeley.
Portland State at Oregon State
Time:
4 p.m. ET
TV:
Pac-12 Network
Oregon State against an FCS team … what could possibly go wrong? After losses to FCS teams in season openers two of the past three seasons, there is no chance the Beavers aren't up for this one. Also, quarterback
Sean Mannion
renews his quest to eclipse Matt Barkley's Pac-12 career passing record (12,327 yards) -- he needs just 1,892 yards to take sole possession.
UC Davis at No. 11 Stanford
Time:
4 p.m. ET
TV:
Pac-12 Network
Stanford's rematch from a 2005 loss to Davis serves as just the fourth meeting between the Cardinal and an FCS team since the Division I-AA subdivision was created in 1978. Stanford will need its highly touted offensive line to gel quickly before next week, when it hosts USC and the Trojans' formidable front seven.
Fresno State at No. 15 USC
Time:
7:30 p.m. ET
TV:
FOX
Kickoff can't come soon enough for the Trojans after one of the more bizarre weeks for a team … ever? Turmoil, of course, isn't new to this group of players, which was able to band together for a strong close to 2013, despite changing head coaches twice during the season. An impressive showing for USC would go a long way toward changing the story back to football in coach Steve Sarkisian's debut.
No. 25 Washington at Hawaii
Time:
10:30 p.m. ET
TV:
CBS Sports Network
Coach Chris Petersen has a favorable early schedule to ease into his new job, starting with this trip to the Islands. Considering how much the Warriors struggled a year ago -- they started 0-11 before winning the finale -- this one doesn't figure to be much of a contest. Quarterback
Jeff Lindquist
will start for the Huskies as
Cyler Miles
serves a one-game suspension.
South Dakota at No. 3 Oregon
Time:
10:30 p.m. ET
TV:
Pac-12 Network
Oregon's starters face more difficult challenges every day against their scout-team counterparts. It would be a surprise if the Ducks don't score 35 first-half points and quarterback
Marcus Mariota
plays deep into the third quarter with No. 8 Michigan State looming next week.
August, 29, 2014
Aug 29
4:29
PM PT
ESPN.com news services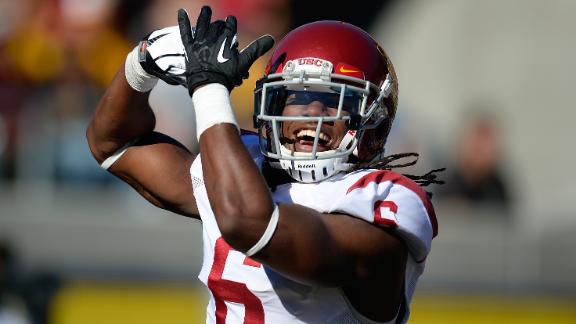 Los Angeles Police Department spokeswoman Nuria Vanegas told ESPN's Shelley Smith on Friday that as part of an investigation into a possible burglary at the Orsini apartment complex, the LAPD continues to look into whether USC cornerback Josh Shaw and his girlfriend were involved in a domestic dispute last Saturday night.
"Nothing has changed," Vanegas said.
According to Vanegas, it is not a domestic violence investigation.
"That is a crime," she said. "A domestic dispute is not."
Shaw is not a suspect or considered a person of interest in the burglary investigation.
Earlier this week Shaw said he suffered two high ankle ankles jumping to rescue a nephew who was drowning in a pool at the complex. He admitted to team officials Wednesday that the story was a complete fabrication.
USC has suspended Shaw indefinitely.
August, 29, 2014
Aug 29
6:00
PM PT
Happy Friday. That goes for you, too, Washington State.
Well, mostly. Hey, next round's on Gemmell? That help? Thought so.
Follow me on Twitter
, where I wax and wane between sympathetic, antagonistic and sarcastic.
To the notes!
Devon from Mesa, Arizona, writes:
When Todd Graham was hired at ASU, the national media focused only on his nomadic past and the admittedly less-than-ideal way he left Pitt. But since then, he's been nothing but extremely loyal and impressive as the Sun Devils' coach, improving the play on the field, the quality of recruiting, the discipline in the program, and the morale of the fan base. But even after winning the South and the conference coach of the year honors last year, most media picks ASU as
no better than fifth in the Pac-12
this season. What more does he need to do to convince the national media to get past the one-year stint at Pitt and to start giving Graham some respect for the outstanding program he's building in Tempe?
Ted Miller
: Well, fifth in the Pac-12 is good enough to be
19th in the preseason AP poll and 18th with the coaches
, slightly ahead of their
2013 finish
, so it's not exactly like the national media is hatin' them some Sun Devils. Further, fifth is only down two spots in the conference from last year, when ASU finished third in the Pac-12 behind Stanford and Oregon.
Why down two spots? Quick: Name four defensive starters. Ah ha! Yes, pretty much completely rebuilding your defense with unknown quantities is something the national media picked up on. It's not personal. It's business. The media goes all Missouri on you: You've got to show us. While Graham has recruited well, he's not in Alabama or Florida State territory, where he gets the benefit of the doubt with his true and redshirt freshmen and JC transfers.
[+] Enlarge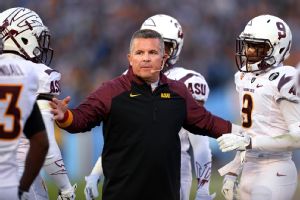 Robert Hanashiro/USA TODAY SportsTodd Graham and Arizona State have some rebuilding to do, but the pollsters have given the Sun Devils some respect.
Speaking of JC transfers, and I don't want to seem thin-skinned here, but the Pac-12 blog received gobs of "your an idiot" [sic] hate mail this offseason from maestros of the message boards fans telling us how stupid we were for not understanding how dominant front-seven stalwarts Dalvon Stuckey and Darrius Caldwell were going to be.
How's that working out? Not to be snide about academic non-qualifiers but
we've written over and over again
about the love affair folks seem to have with the idea of touted players who have yet to play a game or even practice. Previously we termed it, "Incoming Dude Is Obviously Transcendent." Or IDIOT. Yes, we just tittered at our own snarky joke. So sorry for that.
So the reason the Sun Devils slipped in the preseason projections is the defense looks suspect. It's nothing more complicated than that.
Did we learn anything about the Sun Devils -- defense or otherwise -- during their 45-14 stomping of Weber State on Thursday? Nope.
How can Arizona State improve its place in the national pecking order? Beat UCLA at home on Sept. 25, a Thursday night game that should have a significant national audience. A 4-0 start for Graham and the Sun Devils would earn them a top-10 ranking.
Ah, did you notice something about this answer, though? I didn't bring up Pittsburgh and all that muckety-muck. Know why? I've moved on and I think most writers have, too. Graham was the Pac-12 Coach of the Year last year and has shown no interest in moving out of Tempe. I think that narrative has seen its last whimper, at least until he seems to again show a wandering eye
---
Eric from Vallejo, California, writes:
Hi, longtime Ducks fan here. Saw my first game at Autzen in 1970.The two biggest conference games for the Ducks are with UCLA on the road, and Stanford at home. I have noticed that nobody has commented on the fact that the Ducks get two extra days to prepare for UCLA and one extra day to prepare for Stanford. (UCLA's game before meeting the Ducks is on a Saturday, but the Ducks' previous game is on a Thursday. Similarly, Stanford's previous game is on a Saturday, but the Ducks' previous game is on a Friday.) It could be the difference-maker! The scheduling gods smiled on the Ducks this year. How significant do you think the extra days of rest and prep will be for the Ducks on their two most important conference games?
Ted Miller
: Oregon's schedule is undoubtedly favorable. It starts with missing USC and Arizona State, a pair of top-25 teams from the South Division, and it includes having Michigan State, Washington and Stanford all come to Autzen Stadium.
And your point about extra days of preparation is entirely valid. I'm imagining UCLA offensive coordinator Noel Mazzone reading this and going, "Well that stinks," then telling Jim Mora and defensive coordinator Jeff Ulbrich, and that troika proceeding to trash the coaches' offices, throwing chairs out the window and kicking walls before they throw themselves on their knees and bellow in unison, "Why! WHY?! Oh, why doth thou forsake us, oh great scheduling gods?!"
It might not happen exactly like that, but it would be cool if it did.
There's no question extra preparation time, as well as extra rest/recovery time, is an advantage. While there's no obvious proof of a pro-Ducks scheduling conspiracy, you never know.
---
Jim from Los Angeles writes:
I think
Myles Jack
is a much better linebacker than running back. I'd rather seem him play defense and only occasionally play offense. How do you think UCLA can best utilize Jack's talents?
Ted Miller
: Jim... last name... Mora?
I think that's UCLA's plan, particularly with Jordan James back from injury. Recall that the reason Jack saw action at RB last year was because of injuries in the backfield, most notably to James, who ranked among the national rushing leaders early in the season.
But Jack also might offer a good change of pace to a more physical runner, particularly near the goal line. I expect him to get touches on offense in specific packages but I also don't think anyone has illusions about where his primary position is -- on defense, where he's got an NFL future.
---
Craig from Independence, Oregon, writes:
Do you think
Sean Mannion
and
Marcus Mariota
will be NFL quarterback(s)? Both seem to have the physical makeup of one, but are they NFL material?
Ted Miller
: Yes.
They are different, but they both will be early draft picks -- perhaps both going in the first round this spring -- and I suspect both will have good NFL careers.
Both have NFL arms. Both are tall, which the NFL values. Both are smart enough to learn an NFL playbook. Mariota brings a run/scramble element, while Mannion is a traditional guy who stands tall in the pocket.
I've learned through the years that my skills predicting NFL careers are limited, not unlike NFL GMs. But I'd be surprised if both don't end up as NFL starters.
---
Fleecemonkey from San Carlos, California, writes:
Did no one do any independent source verification before reporting the
Josh Shaw
story? Is that not the journalistic standard? I ask out of sincere curiosity. No snark intended. When I wrote a piece for the NY Times Sunday Review, I had to provide documentation for every fact. Does sports journalism adhere to different practices?
Ted Miller
: While all forms of journalism should adhere to basic 101 standards, these are complicated times for the profession. Things move faster than they once did. As in immediate fast. You get information you believe is from a good source and you tend to go with it ASAP. It used to be you could double- and triple-source and provide depth and perspective on breaking news because your only time constraint was the deadline for the AM edition. Now, for better or worse, there's a battle for Twitter turf.
That's a different bird than what you did for the NY Times Sunday Review, which I'm guessing was a non-deadline feature or long-form story that can be thoroughly fact-checked because there's time to do so.
In this case, team captain Josh Shaw, a senior with a good reputation, told coaches and administrators at USC that he jumped off of a second-story balcony and hurt his ankles because he was trying to save his drowning 7-year-old nephew. There was no reason, at that point, to view Shaw with suspicion, to see him as someone who would manufacture an outrageous lie. He had no history of deceit or questionable conduct within the program, at least as far as we know.
How did USC get fooled?
Read this
. It does a good job of explaining.
Then USC, using its official website, published a story with quotes from Shaw and coach Steve Sarkisian. That put the seemingly legitimate information out there, and beat writers felt they needed to react for their publications as soon as possible, probably knowing it would be of national interest. At that point, just about everyone was planning a follow-up. That would be the deeper and more detailed -- and more sourced -- picture of an act of heroism and the young man who performed it. .
Things moved pretty quickly thereafter, though not before many of us were captivated -- hook, line and sinker. As it was, the feel-good story became a stinking pile of manure.
---
Costi from Phoenix writes:
While a lot of optimism always inevitably floats around at the beginning of the season (which I love, of course). I want the pessimistic side of your analysis as well. I want to know what team or teams do you think is most likely to underwhelm, fall well short of expectations, or simply just surprise people with how thin or bad they are? I mean, sure, the Bears and Buffs are most likely to be the worst teams at the end of the season, but everyone expects that. Which Pac-12 team projected to contend is most likely to fall well short of expectations?
Ted Miller
: After watching Washington State lose Thursday to a Rutgers team that I thought it would roll over, I think all the favorites have plenty of room to self-destruct. Heck, many Pac-12 teams are just a few injuries away from massively reduced capabilities -- see Oregon with QB Marcus Mariota last year.
What could go wrong? How about this.
Arizona: What if QB play is poor and the defense gets exposed?

Arizona State: What if the rebuilt defense is lousy?

California: What if the team starts slowly and quits on Sonny Dykes?

Colorado: What if the voids left behind by WR Paul Richardson and DE Chidera Uzo-Diribe prove too much?

Oregon: What if the receivers and secondary underwhelm?

Oregon State: That O-line is questionable, and Brandin Cooks is in the NFL.

Stanford: Losing four starting O-linemen and the biggest producers on defense could actually be a problem.

UCLA: Sophomore slumps on both lines, a loss to Texas and a team unprepared for disappointment.

USC: New systems and a lack of depth, as well as swirling preseason controversies.

Utah: Still not ready for prime time Pac-12 play.

Washington: New systems, new QB, new RB and a young secondary.

Washington State: No run defense; no running game.
The teams set up for the biggest falls are everyone's favorites: Oregon and UCLA. While I don't see either faltering in a massive way, it wouldn't shock me if one or the other ended up outside the top 10. Because both have such high expectations, that first defeat might include a hangover that causes loss No. 2. Or even No. 3.
---
Gary from La Grande, Oregon, writes:
Ted, you've been catching a lot of heat for ending the best-case/worst-case scenarios. So, I thought you might feel better to know that I couldn't stand 'em.
Ted Miller
: Yes, Gary, I now feel great. Thanks.
August, 29, 2014
Aug 29
3:00
PM PT
(Pause for laughter)
(Pause again, for laughter)
(Pause, again, still for more laughter)
UCLA head coach Jim Mora had just been asked a purely-for-fun, purely-hypothetical question: What if UCLA and USC had to play in Week 1?
"I don't think it would be a good deal," Mora said. "You want the drama to build. I don't know what it would be like. I never thought of that. [Pause for laughter, again]. It would make for an interesting off season. You'd have a whole lot of time to talk about it rather than just a week. Heck, I don't know."
[+] Enlarge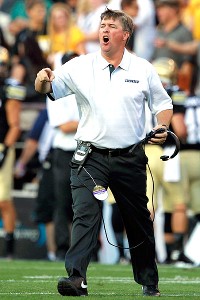 AP Photo/David Zalubowski Colorado coach Mike MacIntyre relishes the opportunity to play a rivalry game in Week 1. But most Pac-12 coaches would rather wait until the end of the season.
The roots of this comical concept stem from the fact that while most of the Pac-12 will be dining on desserts in Week 1, the
Colorado Buffaloes
have to play a rivalry game with Colorado State right out of the chute.
And make no mistake -- this is a rivalry game. This will be the 86
th
game in the series (the Buffs lead 62-21-2), which has been played off and on since 1893 and annually since 1995 (the longest gap was between '58 to '83).
It doesn't matter that Colorado is in the Pac-12 and Colorado State is in the Mountain West. This game is as heated as it gets.
"We think of this as a traditional rivalry, no doubt about it," said Colorado coach Mike MacIntyre. "You hear about it every day. Everybody is up and down Interstate 25, and CU fans and CSU fans run into each other. The kids know each other. The coaches know each other because we speak at different clinics and run into each other all of the time."
Colorado State got win No. 1 for coach Jim McElwain in 2012 with a 22-17 victory. A year later, the MacIntyre era kicked off with a 41-27 victory.
"The pros of it are it's a big, heightened game," MacIntyre said. "It keeps your kids on their toes. They hear about it all the time. It makes it a little more special. All opening games are special. But this puts an extra flavor to it, so to speak."
That got the Pac-12 blog to thinking … simply for extra flavor … what if every rivalry game in the league was played in Week 1. What would the storylines be?
Territorial Cup: New Arizona QB faces new ASU D as RichRod looks for first win in rivalry.

The Big Game: Bear Raid looks to get off the mat against two-time conference champs.

The Civil War: Potential first-round picks Marcus Mariota and Sean Mannion duel in opener.

UCLA-USC: Oh jeez … can you imagine USC and UCLA squaring off Saturday after the week the Trojans have had? This one writes itself.

The Apple Cup: Chris Petersen's Washington debut against the Cougs.
Look, we know this isn't ever going to happen. But it's fun to think about the possibilities. Right?
"Oh, we wouldn't like that. I wouldn't like that at all," said Arizona State coach Todd Graham, [OK, guess not]. "I'm a fan. I don't want to start the season off with a rivalry game. We love that being at the end of the season for our fans."
The consensus was that if the rivalry game was in Week 1, so be it, the coaches would prepare per usual. But it just wouldn't feel the same.
"One year we played Hawaii after [we played Oregon] at the end of the year and that felt funny," said Oregon State coach Mike Riley. "It would definitely make for an interesting start to the season."
Because the CSU-CU game is an out-of-conference showdown, the thought is that this game is best played before league play cranks up. And that makes sense.
"Late in the conference, you're worried about conference games and getting to the conference championship game," MacIntyre said." I think playing it early in the year is a good thing for both of us."
So, no. Pac-12 rivalries should not be played in Week 1. But the tradition works for the Colorado folks so don't mess with it. It will make for a fun debut Friday night and add some sizzle to a Week 1 slate that doesn't have a ton of gusto.
And we can all get on board with Graham: "That game is
the
game for us. You can win 11 games and lose that one and have an unsuccessful season. You could lose 11 and win that one and have a successful season. That's how big that game is for us. I kind of like it where it's at."
August, 29, 2014
Aug 29
11:30
AM PT
By
WeAreSC staff
| ESPN Insider
Who will score the 1st USC touchdown?

Garry Paskwietz: I'll go with tight end Randall Telfer. The Trojans go a long drive led by Buck Allen and when they get inside the red zone Cody Kessler will hit Telfer for the opening score.

Johnny Curren: Nelson Agholor. Kessler finds his favorite target early to get the party started.
August, 29, 2014
Aug 29
11:00
AM PT
Here are 5 storylines for the
USC Trojans
against Fresno State (4:30 p.m. PT, Fox):
To continue reading this article you must be an Insider
August, 29, 2014
Aug 29
9:00
AM PT
Here are five things I learned in college football this week:
1. We're often guilty of putting too much stock in a team's opening performance, but it was clear Thursday night that South Carolina is going to miss star defensive end Jadeveon Clowney a lot more than Texas A&M is going to miss Heisman Trophy-winning quarterback Johnny Manziel.
South Carolina's defense had no answer for A&M coach Kevin Sumlin's high-flying offense, as sophomore
Kenny Hill
threw for 511 yards and three touchdowns on 44-for-60 passing in the Aggies'
52-28
rout at South Carolina. Hill broke Manziel's single-game record for passing yards in his first career start and never seemed nervous on the road.
[+] Enlarge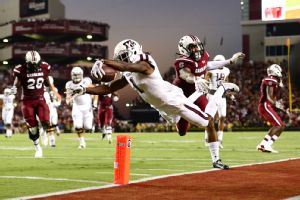 Phil Ellsworth/ESPN ImagesSouth Carolina's new 3-4 defense had a rough debut against Texas A&M as the Aggies racked up 680 total yards.
Afterward, South Carolina coach Steve Spurrier even seemed to criticize defensive coordinator Lorenzo Ward, who installed a 3-4 defense during the offseason.
"I thought we would play a lot better," Spurrier said. "I have been reading like you guys have about our new 3-4 defense. Did anybody like that 3-4 defense? But I don't know if it would have mattered if we'd have played a 6-6 defense. I don't know if 12 out there would have helped that much."
During the offseason, I said several times that I thought South Carolina might be one of the most overrated teams in the country, given its personnel losses on defense. I also believed the Gamecocks would miss departed quarterback
Connor Shaw
much more than some people believed. I might have been right on both accounts.
2. Ole Miss had its struggles against Boise State in Thursday night's opener at the Georgia Dome in Atlanta. Quarterback
Bo Wallace
threw three interceptions in the first half, and the Rebels couldn't pull away from the Broncos until early in the fourth quarter of a
35-13 victory
.
Still, Ole Miss coach Hugh Freeze has plenty of reasons to be excited, mainly that his vaunted freshman class of 2013 is a year older and wiser. Sophomore defensive tackle
Robert Nkemdiche
is becoming one of the toughest blocking assignments in the country and safety
Tony Conner
is a future NFL first-round draft choice. Receiver
Laquon Treadwell
is also fantastic.
Are the Rebels deep enough and experienced enough to challenge Auburn, Alabama and Texas A&M in the SEC West? Probably not. But the Rebels might be good enough to knock off any of those teams in one game and have a say in which team wins the division.
3. The season can't get here soon enough for new USC coach Steve Sarkisian. One day after Sarkisian had to indefinitely suspend team captain
Josh Shaw
for lying about how he suffered two high ankle sprains over the weekend, he was accused of being a racist by running back
Anthony Brown
, who quit the team.
Brown made his accusations on Instagram and other social media, claiming, "Sark treated me like a Slave in his office." Sarkisian said the accusations were "shocking," and anyone who has met the former Washington coach would have a very difficult time believing they're true.
4. So-called football factories such as Georgia, Oklahoma and Texas were in the news for all the wrong reasons during the offseason, as coaches at those schools had to dismiss several players for off-field problems.
But the recent troubles at high-academic institutions like North Carolina and Notre Dame prove it can happen anywhere. UNC coach Larry Fedora suspended four players from the Tar Heels' opener against FCS foe Liberty on Saturday, a couple of days after Yahoo! Sports reported that a walk-on receiver suffered a concussion during an alleged hazing incident.
The Fighting Irish announced Thursday that a fifth player, safety
Eilar Hardy
, is being held out of practice and games while the school investigates an allegation of academic misconduct. The Irish have already suspended receiver
DaVaris Daniels
, cornerback
KeiVarae Russell
, defensive end
Ishaq Williams
and linebacker
Kendall Moore
.
5. Kudos to Virginia Tech for giving coach Frank Beamer a new two-year contract extension, which might keep him with the Hokies through the 2018 season. Sure, the Hokies have uncharacteristically struggled the past couple of seasons, but we too easily forget that Beamer built his alma mater into a national powerhouse when most people believed it could never be done.
It's also significant that new Virginia Tech athletics director Whit Babcock gave him the deal instead of Jim Weaver, the retired AD who was one of Beamer's biggest supporters. The Hokies have won 15 games the past two seasons, after winning 10 games or more in each of the previous eight. Beamer built the program, and he should be given an opportunity to get it back to the top of the ACC.
August, 29, 2014
Aug 29
8:00
AM PT
Happy (football) Friday!
Leading off
So ... Cougs ... what's up?
While Utah and Arizona State cruised to easy victories over FCS teams, the Washington State Cougars fell behind early, came back and took a lead into the fourth quarter, but couldn't hold on in a
41-38 loss to Rutgers
. Can't pin this one on the offense. Connor Halliday went 40-of-56 for 532 yards with five touchdowns and one early interception. But the defense broke numerous times, yielding 173 rushing yards and three touchdowns to Paul James, and a critical special-teams error opened the door for a Rutgers go-ahead score. Ted Miller had
a quick take on the game
last night. And I don't necessarily want to call out Cougar Brian in a second links post this week, but please leave a comment at the bottom, just so we all know you're OK.
Speaking of special teams, the Utes put on quite the special-teams extravaganza in
their 56-14 win over Idaho State
-- headlined by Kaelin Clay, who went all Reggie Dunn and returned a kickoff and a punt for a touchdown. The Pac-12 blog makes it a habit not to get too high on wins over FCS teams. But it was nice to see a healthy Travis Wilson (13-of-18, 265 yards) throw for a touchdown and run another one in (well, dive it in, actually).
The Sun Devils also took care of business against FCS Weber State with
a 45-14 victory
. D.J. Foster left fans asking "Marion who?" and scored three touchdowns on the ground to go with 147 rushing yards. Same train of thought as above. It's a win. The Sun Devils did exactly what they needed to do and had a drama-free evening.
USC
Perhaps the weirdest Week 1 in college football history got weirder Thursday when USC running back Anthony Brown quit the team and then accused new coach Steve Sarkisian
of being a racist on the way out
. This comes on the heels of the Josh Shaw "story." Sark addressed that yesterday, saying he shares the blame for helping the initial heroic story take flight. But that there is also
potential for Shaw to return
to the team this year. The LA Times also has some details of how Shaw's name got linked to
a police incident report
.
Year of the Oregon quarterback?
Really interesting story from Gina Mizzell of The Oregonian, who asks
if this is the best QB combination
ever from the state of Oregon:
In a recent survey of former Oregon and Oregon State coaches and quarterbacks, Mannion and Mariota join other combinations such as OSU's Jonathan Smith and UO's Joey Harrington, who each were fixtures from 1999-2001. There was the combination of native Oregonians Kellen Clemens (a Burns-raised Duck) and Derek Anderson (first of Scappoose, then of Reser Stadium) from 2003-04. Farther back, Heisman winner Terry Baker of OSU faced Bob Berry, who led Oregon to three straight winning seasons for the first time in 25 years.
Comparing times and eras is always complicated. What Marcus Mariota is doing is a lot different than what Harrington and Clemens were asked to do. Mannion is the more traditional quarterback here. But the fact that he'll be the league's all-time leading passer in a matter of weeks shouldn't be overlooked either. For what it's worth, a fun debate and a question worth asking.
News/notes/practice reports
August, 28, 2014
Aug 28
11:34
PM PT
The purebred pro-style offense isn't extinct in college football, but it could appear soon on the endangered species list. The mutt population, meanwhile, is soaring.
"I don't think anybody is really running a pure form of anything anymore," Penn State coach James Franklin said. "Almost everybody has some form of West Coast philosophies. Even people who don't run a traditional spread run spread concepts. Football's become a melting pot of philosophies."
Some of the sport's most traditional, pro-style teams -- Wisconsin, USC, Iowa -- will look different this season.
Wisconsin will sprinkle some spread concepts into its ground-and-pound attack. USC wants to run at least 80 plays a game while maintaining a pro-style identity under Steve Sarkisian.
But the debate among coaches is whether offenses can effectively use tempo if they're not married to it.
To continue reading this article you must be an Insider
August, 28, 2014
Aug 28
7:00
PM PT
By
Kyle Bonagura, Kevin Gemmell, Chantel Jennings,
and
Ted Miller
| ESPN.com
Your humble #4Pac welcomes you to another installment of what'll be a regular feature on the Pac-12 blog. Here's how it works: We take one question, one topic or maybe it's some other really cool format that we haven't even thought of yet and all contribute our thoughts.
Sometimes, like today, we'll be playing devil's advocate for a specific team, player or idea.
Have a suggestion for something we should address in a future #4Pac roundtable? Go ahead and send it to our
mailbag
.
Today, we're looking for a player who may surprise the league by becoming a household name. They're already established contributors on their own teams, but they may be poised to join the upper echelon in the league with strong showings in 2014.
Utah QB Travis Wilson

Wilson
Ted Miller/@TedMillerRK
: The best news is Travis Wilson is still playing football. It wasn't so long ago that it appeared his career was threatened by an injury to an intracranial artery. The good news, at least for Utah fans, is that he successfully fought off a legitimate challenge this preseason from Oklahoma transfer
Kendal Thompson
.
It's not just good news that the Utes will have a 16-game starter behind center. It's that Wilson wasn't handed the job as a sentimental gesture. He competed and won. And he's won over new offensive coordinator Dave Christensen. That means Utah, a team that has struggled with quarterback play since joining the Pac-12 in 2011, has an experienced player behind center who has flashed real ability, both as a passer and a runner.
If you're looking for an under-the-radar guy who might surprise you, who might lead a team back toward its accustomed winning ways, it's Wilson.
Recall that Utah, though coming off consecutive losing seasons, was 4-2 after an upset win over Stanford in mid-October of last year. Those two losses came in overtime to Oregon State and by seven points to UCLA, despite a dreadful six interceptions from Wilson. Even with those picks, however, Wilson's efficiency rating at the time was just four points lower than Arizona State's
Taylor Kelly
, who ended up second-team All-Pac-12.
Wilson has something to prove, but he also has the means to prove it. The Utes are going to surround him with good offensive talent, starting with perhaps the Pac-12's most underrated crew of receivers -- underrated in large part because so many other teams are good at the position. He has weapons to help him and a solid offensive line to protect him. Don't be surprised if you're looking at the sparkling Pac-12 QB numbers and see his name ranking in the top half.
Stanford LB James Vaughters

Vaughters
Kyle Bonagura/@BonaguraESPN
: Vaughters' arrival at Stanford in 2011 signaled a significant change in the way Stanford was able to recruit. The Cardinal went into Georgia and pried away one of the most coveted recruits in the country.
Vaughters had offers from Alabama, Georgia and just about every big-name school in the country -- so listing him here is not so much a surprise as it is a breakthrough. He bounced around from defensive end to inside linebacker to finally outside linebacker last season when he played opposite All-American Trent Murphy. The results were good -- 36 tackles in 14 starts with four sacks -- but he's still never quite reached the heights his recruiting profile suggested.
This year, that changes.
A.J. Tarpley
is going to lead the team in tackles, but Vaughters will be the most physically imposing player on the Cardinal defense and the player most capable of delivering a highlight-caliber hit. At 6-foot-2 and 258 pounds, I fully expect him to push double digits in sacks and turn himself into a legitimate NFL prospect.
Stanford needs that out of him, too. Murphy meant so much to the defense a year ago and with him gone, Vaughters' role will be key.
USC RB Buck Allen

Allen
Kevin Gemmell/@Kevin_Gemmell
: All this guy does is take advantage of his opportunities. You tell him he's under the radar and he runs over the radar on his way to the end zone.
It's likely we'll see him shuffle carries with
Tre Madden
(when he gets healthy) and
Justin Davis
. But when you look at what Allen accomplished last season, it's pretty impressive.
After spending the first portion of his career on Lane Kiffin's do-not-play list (six carries for 32 yards in 2012), he exploded in the second half of last year and turned into one of the most productive backs in the league, earning all-conference honorable mention along the way. He had four 100-yard rushing performances in the final six games and finished the season with 135 carries for 785 yards (5.8 average) and 14 touchdowns.
When you look at what Steve Sarkisian's up-tempo twist did for Bishop Sankey last season in Washington (1,870 yards and 20 touchdowns, in case you forgot) it's hard not to get giddy about the prospect of a productive back like Allen getting a full season's worth of carries. Whether he emerges as a solo act or part of a committee, he's shown to be a back you have to scheme for.
Washington State WR Vince Mayle

Mayle
Chantel Jennings/@ChantelJennings:
Last season, Vince Mayle had 42 catches (539 yards, seven touchdowns) for the Cougars. But this year, I think he might be making a big jump. He became quarterback
Connor Halliday
's go-to guy in the spring and based off the bit I saw in fall camp, the chemistry between the two is pretty darn good.
Mike Leach likes to spread the ball around to his receivers and get as many guys involved as possible, but if Mayle is Halliday's safety net then the quarterback's going to go back to him time and time again.
Mayle has really only played wide receiver for a few seasons (he was a running back in high school and junior college), but with his learning curve, I think this could be a huge year for him. A 1,000-yard season seems a bit of a stretch considering how many wide receivers the Cougars have, but there's no reason he couldn't lead Washington State in receptions, receiving yards and touchdowns by year's end.
PAC-12 SCOREBOARD
Saturday, 8/30
Thursday, 8/28
Friday, 8/29