July, 30, 2014
Jul 30
9:30
AM PT
While one recruit will never truly make or break a recruiting class, some come closer than others. Every Pac-12 program has a must-get recruit in mind, whether it's a national standout whose commitment would rock the recruiting landscape, a star at a position where that program simply cannot miss, or a local prospect who can't be allowed to leave the area.


July, 30, 2014
Jul 30
9:00
AM PT
Our list of the
Top 25 players in the Pac-12
continues.
15. UCLA LB Eric Kendricks
2013 stats:
106 tackles, 4 tackles for a loss, 2 sacks, 1 interception, 1 forced fumble
Why he's ranked here:
In his time at UCLA, Kendricks has gone from an outstanding defensive scout team member to being a crucial element to one of the best linebacking groups in the conference (and maybe the country). In his redshirt senior season, we are expecting big things. And we aren't the only ones. UCLA coach Jim Mora sees big things happening for Kendricks. At Pac-12 media days last week he spent quite a bit of time complimenting Kendricks. First, on his leadership, saying, "He's kind of a glue guy. Without even saying a lot, he's kind of that guy that everyone wants to orbit around." Second, Mora complimented Kendricks' personality, explaining that if his daughter married Kendricks, he would be perfectly OK with that. Third, he said Kendricks had great hair.
We can't guarantee all of that (though, if there's a Pac-12 award for best hair, he'd have to be a semifinalist, right?) but the first fact seems pretty valid. Kendricks' leadership is going to be huge for the Bruins this season, and when a player is given that kind of a role by his coaches, and looked up to by his teammates, a lot of times that results in very big numbers on the field. Will he record double-digit tackles in games? There is a good chance. In 2012, he averaged 10.6 per game and in 2013 (ailed by injuries) he averaged 8.8. But he's just the first of two Bruins linebackers in this grouping on our countdown. Running backs, take note ...
14. Washington LB/RB Shaq Thompson
2013 stats:
78 tackles, 4 tackles for a loss, 0.5 sacks, 1 interception
Why he's ranked here:
Thompson was second on Washington last season in tackles, but he's going to take on a bigger role this season as he begins his journey as a two-way player (perhaps he can ask No. 13 a few questions about that role). At Pac-12 media days, coach Chris Petersen addressed this and said, "We don't want to water him down and make him less of a defensive player. So I think there is a fine balance there and we'll continue to work through that." What exactly that fine balance is, we'll see. But there are certainly reps to be had at running back as the Huskies attempt to replace the production of Bishop Sankey. And Thompson could be a guy who contributes there. With the ability to impact the game on both sides of the ball for Washington, Thompson -- who wasn't talked about too much even a year ago -- cracked the top 15 players in the conference in 2014.
13. UCLA LB Myles Jack
2013 stats:
75 tackles, 7 tackles for a loss, 1 sack, 2 interceptions; 38 carries, 267 rushing yards, 7 rushing touchdowns
Why he's ranked here:
So, with Thompson taking on a larger role on both sides of the ball, Jack is scaling back a bit. He was the Pac-12 Freshman Offensive and Defensive Player of the Year in 2013, but this season, look for him to be much more a defensive player. Jack has athleticism pouring out of him, and with more of a focus on defense, and the discipline that brings, he could be scary, scary good this season -- so good he is the second-highest ranked linebacker on this list (not bad for a sophomore).
Though Mora didn't have quite the flowery sentiments about Jack as he did Kendricks (no hair or dating his daughter comments), he did say that if anyone were to ask UCLA players who the hardest-working Bruin was, that they would all say Jack or quarterback
Brett Hundley
. That is what the fans should care about. With someone who has his talent and athleticism, the fact that he is still the hardest-working player on the team means something. And that is going to show on the field this season. Could he lead the Pac-12 in tackles? Maybe. Could he and his top-25 counterpart Kendricks be an absolute nightmare to face this season? We think definitely.
12. USC LB Hayes Pullard
2013 stats:
94 tackles, 5.5 tackles for a loss, 1 interception
Why he's ranked here:
For two of the past three seasons, Pullard has led the Trojans in tackles. Chances are that this could be Year 3 for him in that category. He is going to have serious competition for best linebacker in the conference (cough, cough, Nos. 15-13), but with 39 starts and 282 tackles under his belt, we're pretty sure Pullard is going to make the most of his senior year. At Pac-12 media days, USC coach Steve Sarkisian said he thought the strength of his team was in its front seven, and at the middle of that front seven for the Trojans this season is going to be Pullard. The 6-foot-1, 235-pound senior should crack 100 tackles this season, and we wouldn't be too surprised if at least 10 of those are for a loss.
11. Stanford OT Andrus Peat
Why he's ranked here:
At Pac-12 media days last week, Stanford coach David Shaw told NFL.com that he thought Peat was second to just one offensive tackle he has ever been around -- 11-time NFL Pro Bowler John Odgen. That is pretty high praise. Peat is the highest offensive tackle and second-highest offensive lineman on our list. Assuming nothing goes insanely wrong, he will be an easy all-conference pick at the end of the season and possibly a semifinalist or finalist for the Outland Trophy. At 6-7, 316 pounds, he's going to be pretty tough to move. We're certainly looking forward to a few potential matchups with top defensive linemen (one, whose name will pop up later on in this list ...) as Peat looks to prove himself as the most feared tackle in the Pac-12. At this point in time, he has our vote. We'll see how the season shakes out.
Check out the rest of the rankings here:
No. 25-21
,
No. 20-16
July, 29, 2014
Jul 29
2:19
PM PT
The tailback recruiting picture got a little clearer for the
USC Trojans
on Monday night with the
verbal commitment
from
Aca'Cedric Ware
.
USC coach Steve Sarkisian had stated at the beginning of the recruiting cycle for the Class of 2015 that he would be looking to take two tailbacks, and that was before the transfer of
Ty Isaac
at the end of spring ball. With only one underclass scholarship tailback on the roster (
Justin Davis
), there was a definite need at the spot and it figured the Trojans would have their pick of players to choose from.
To continue reading this article you must be an Insider
July, 29, 2014
Jul 29
2:30
PM PT
He had not been unhappy all day. This was different though. Now things were done. There had been this to do. Now it was done. It had been a hard trip. He had been very tired. That was done. He had made his camp. He was settled. Nothing could touch him.
July, 29, 2014
Jul 29
9:30
AM PT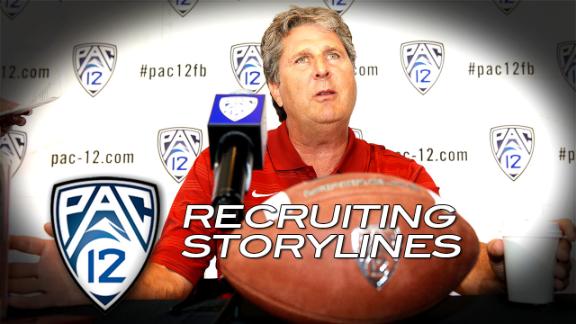 While things can and will change between now and signing day, the
updated ESPN 300 rankings
at the close of the summer period show 24 Pac-12 commitments and provide a number of discussion topics relating to the present and future of Pac-12 recruiting for the 2015 class.
Here are five things to know in the Pac-12:
To continue reading this article you must be an Insider
July, 28, 2014
Jul 28
8:51
PM PT
The Trojans scored a big get on Monday night when Cedar Hill (Texas) Class of 2015 running back
Aca'Cedric Ware
committed to USC. The Trojans, who likely need two tailbacks in this class, just lost out on Mission Hills (Calif.) Bishop Alemany's
Dominic Davis
to Washington State last weekl. There simply aren't a lot of prospects at the position on USC's radar, so Ware's commitment is significant.
The 5-foot-10, 175-pound ball carrier attended the Rising Stars camp earlier this summer, and he obviously impressed enough for the Trojans staff to continue in their pursuit of him. Ware rushed for 1,289 yards and 11 touchdowns in 2013, and he averaged 9.27 yards per carry. He chose USC over Iowa, Notre Dame and Ohio State, and he becomes the 13th commitment for Trojans from the Class of 2015.
I've verbally commited to USC #fighton #trojans

— ced (@ware_ced) July 29, 2014
July, 28, 2014
Jul 28
5:30
PM PT
We continue with our series looking at each Pac-12 team's nonconference opponents in 2014.
USC Trojans
Fresno State, Saturday, Aug. 30
Coach: Tim DeRuyter (20-6), third season
2013 record: 11-2, 7-1 MWC
Returning starters: five offense, eight defense
Offensive headliner: running back Josh Quezada. He rushed for 807 yards last year. With the QB spot in question (and possibly going with a more mobile QB), the RB spot is going to be even more important this season. Quezada also has pretty good hands -- he caught 51 passes last year for 290 yards.
Defensive headliner: free safety Derron Smith, who was pegged as the Mountain West's Preseason Defensive Player of the Year. He has 14 career interceptions, which is the most of any active FBS player entering the 2014 season. In 2013 Smith recorded 87 tackles, four sacks and seven picks.
The skinny: It's pretty rare that two teams ever play each other twice in a row, but USC and Fresno State will have that chance. The two faced off in last season's finale -- the Royal Purple Las Vegas Bowl, in which USC ran away with a 45-20 victory -- and they'll kick off the 2014 season together as well. But there's one very big difference between the team that put up 20 on USC and the team that'll take the field on Aug. 30 -- Fresno State doesn't know who its QB will be. They need to replace Derek Carr (5,082 yards, 50 TDs) and though they have options (junior Brian Burrell and Duke transfer Brandon Connette, among others), it's not looking great. Especially since they'll be welcomed to the post-BCS era by Leonard Williams and the rest of the USC defense.
At Boston College, Saturday, Sept. 13
Coach: Steve Addazio (7-6), second season
2013 record: 7-6, 4-4 ACC
Returning starters: 4 offense, six defense
Offensive headliner: Florida QB transfer Tyler Murphy, who finished the spring season as the Eagles' top QB. At Florida, he started six games and completed 112 of 185 passes. Also worth noting that the only Boston College player to be on any of the Preseason All-ACC teams was center Andy Gallik, so he gets honorable mention here.
Defensive headliner: linebacker Steven Daniels. He was third on the team in tackles last season (88) and recorded 6.5 tackles for a loss and three sacks.
The skinny: The Eagles are coming off one of the most surprising seasons in college football, but Boston College was a much different team with 2013 Doak Walker Award winner Andre Williams. The Eagles aren't going to be able to replace Williams with just one guy, so they'll likely go for a back by committee approach, but the truth is that it probably won't be able to do too much against the USC front (especially considering BC's offensive line lost both tackles).
Notre Dame, Saturday, Nov. 29
Coach: Brian Kelly (37-15), fifth season
2013 record: 9-4
Returning starters: 6 offense, 5 defense
Offensive headliner: quarterback Everett Golson. Golson was suspended from Notre Dame last year, but was readmitted to the school and reinstated to the football program following the 2013 season. Golson quarterbacked the Irish through the 2012 season and into the 2013 BCS title game, in which he completed 21 passes for 270 yards (but also threw just one touchdown to his one interception). He's mobile enough that defensive fronts are going to need to be honest and has a good enough arm that he'll be able to stretch the field.
Defensive headliner: linebacker Jaylon Smith. As a true freshman, Smith finished third on the team in tackles (67), including 6.5 tackles for a loss (second only to second round NFL draft pick, Stephon Tuitt). He'll be back and wreaking havoc all over the field for the Fighting Irish.
The skinny: This is a huge game every season and this season will be no different. Both USC and Notre Dame are in the early conversations for teams that could be in the mix for the inaugural College Football Playoff. And with this being the season finale for both teams, it could be a big statement for whichever teams walks away the winner.
July, 28, 2014
Jul 28
3:50
PM PT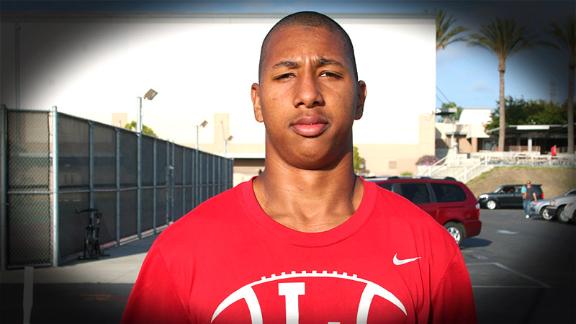 Defensive end
Keisean Lucier-South
planned to trim his considerable list of scholarship offers to a final five schools in early August, but just like he is on the field, the nation's No. 28 prospect was quick off the line, announcing his top five on Monday.
To continue reading this article you must be an Insider
July, 28, 2014
Jul 28
2:30
PM PT
When we were kids. We used to race our bikes down Cherry Hill every day after school. We raced every day and he always beat me, but one time, one time I beat him.
July, 28, 2014
Jul 28
11:00
AM PT
Gas up the family station wagon and hit the
Holiday Road
. The Ultimate Road Trip is back! Over the next couple of weeks we're going to look at each week during the 2014 season and pick the can't-miss game (and maybe for Thursday/Friday games, we'll work in two).
Start planning accordingly. The Ultimate Pac-12 Road Trip continues.
Welcome to Week 9.
Friday, Oct. 24
Saturday, Oct. 25
Arizona at Washington State
Arizona State at Washington
USC at Utah
UCLA at Colorado
Oregon State at Stanford
Byes: None
My choice
: Arizona at Washington State
Why
: It's Pullman in late October, the jewel of Eastern Washington. Duh, why wouldn't you want to be there?
We've seen some pretty good defensive battles so far during the first eight weeks of the road trip. But now it's time to let loose and watch a little offense. And what better matchup than seeing two of the most innovative offensive minds in the country squaring off.
This will be the second time these two coaches have met -- and Round 1 went to
Mike Leach
and Co. with a surprisingly low scoring 24-17 win last year in Tucson. Connor Halliday threw for 319 yards and a pair of scores as the Cougs erased a 14-10 halftime deficit and
made chumps out of the Pac-12 blog
.
What's going to happen this time around? Both squads boast a thrilling cast of wide receivers. But the quarterback edge, at least for now, goes to Halliday and the Cougars for the simple reason that we still don't know who Arizona's quarterback is going to be. Of course, by Week 9, Rich Rodriguez's guy might be putting up monster numbers, given the talent he'll be throwing to and the style of offense. But for now, we just don't know.
And if there were ever a pair of coaches who were simpatico in their thinking -- especially in their responses to proposed "slow down" measures -- it's Leach and Rodriguez.
Arizona State at Washington is intriguing, because it was, by far, the Huskies' worst game of the season last year. Oregon State and Stanford were tight the last time the two met on the Farm. And there's nothing wrong with doing a Bay Area two-fer by hitting Oregon-Cal the night before at the new Levi Stadium. That in itself is a compelling draw.
But for actual game value, this one might turn out to be the most thrilling, high scoring game of the week with plenty of fireworks. Or the Pac-12 blog could look like chumps again when the Utes shock the Trojans at Rice-Eccles. We're big enough to admit when we've been wrong before.
July, 28, 2014
Jul 28
7:00
AM PT
There they were, sitting together for an ESPN SportsCenter interview the other day, Steve Sarkisian and Chris Petersen.
The new head coach at USC, and the coach who might have been. The former head coach at the University of Washington, and the coach who arrived in Seattle as soon as the other passed him on the way out.
Appearing there side-by-side on television seemed so appropriate, considering they will be inexorably linked for the rest of this fascinating transition season, for the season after that and probably for the remainder of their college coaching future. Their unique career paths literally dictate the constant comparison.
To continue reading this article you must be an Insider
July, 28, 2014
Jul 28
9:00
AM PT
ESPN writers and analysts put together a ranking of the top 100 football players nationwide. The #CFBrank reflects how certain players are seen on a national level as writers who cover every conference participated in the vote. But, at the Pac-12 blog, we decided to break it down further and rank our top 25 Pac-12 players. The #4pac put together this list and will be counting down our top 25 guys this week. But make sure you pay close attention -- we know that how players are viewed nationally aren't quite how they're viewed in the conference, so our top 25 doesn't necessarily follow the same pecking order as the 20 conference players who ended up on the nation's top 100 list.
Now, on to the list. Drum roll, please.
No. 25:
Stanford DE Henry Anderson
2013 Stats:
19 tackles, 4 tackles for a loss, 3 sacks
Why he's ranked here:
For as much as we keep talking about how this season is "The Year of the Pac-12 Quarterbacks," it also could prove to be the year for pass-rushers to really prove themselves, and Anderson is in that spot. Players such as Anderson will have ample opportunity to get to first- and second-round NFL draft picks every single weekend, which will undoubtedly help their own draft stock. He has flown under the radar a bit throughout his career, but we think he's on track for a huge senior season. He finished with three sacks in 2013, but with pass-rushers such as
Trent Murphy
(23.5 TFL, 15 sacks) gone, the Cardinal will be looking for someone else to step up in the scheme. That will likely be Anderson.
At Pac-12 media days last week, Stanford coach David Shaw said that he thinks defensive coordinators "will have their hands full all year accounting for the combination of these schemes and [how] they're intricate and difficult and different." But Shaw's defensive coordinator, Lance Anderson, will have a much easier time of it with his 6-foot-6, 295 pound pass-rusher up front. Yes, Stanford will have to face UCLA, Oregon, Oregon State and USC, but
Brett Hundley
,
Marcus Mariota
,
Sean Mannion
and
Cody Kessler
will have to face Anderson.
No. 24: Utah WR Dres Anderson
2013 Stats:
53 catches, 1,002 receiving yards, 7 receiving touchdowns, 8 carries, 30 rushing yards, 1 rushing touchdown
Why he's ranked here:
Last year, Anderson became just the seventh Ute to ever have a 1,000-yard receiving season. This year, he'll likely put up much bigger numbers. Assuming quarterback
Travis Wilson
-- who was medically cleared recently -- is truly back and ready to go, Anderson is going to be a guy who will be able to stretch defenses and test players in one-on-one situations. He's the son of former NFL receiver Willie "Flipper" Anderson (who was on the Los Angeles Rams when Utah coach Kyle Whittingham's father was a coach for the Rams as well, so Whittingham has known about the Anderson pedigree even before Dres was born).
Anderson is the conference's returning leading receiver (at 87.7 yards/game). Last year, Oregon State's
Brandin Cooks
, Colorado's
Paul Richardson
and Oregon's
Josh Huff
all impressed and gained national recognition. Could this be the year for Anderson to do so? Wilson is a returning starter, though not one that's usually mentioned in the top group of the Pac-12 QBs, but a great receiver can make his signal-caller very, very good. We have a feeling that Anderson could be a player that raises that level for Wilson.
No. 23:
USC S Su'a Cravens
2013 Stats:
52 tackles, 1.5 tackles for a loss, 4 interceptions, 1 pass break up, 5 passes defended, 1 forced fumble, 1 fumble recovery
Why he's ranked here:
Cravens earned a starting spot in the USC secondary as a freshman last season after enrolling early. He's one of just two sophomores to make this list (we're guessing you know who the other one is). Cravens recorded four interceptions in 2013 and finished eighth on the team in total tackles, and even with that kind of a year he has admitted that he allowed the crowds to get to him and that he was nervous at times. That's not surprising for a freshman, but if last year was Cravens being affected by fans and stadiums, what could a 2014 version look like in which he's older, more mature and not affected by the bright lights? That's what puts him at No. 23 on this list. He was already named to watch lists for the Jim Thorpe Award, the Bronko Nagurski Trophy and the Bednarik Award. He's on track to having an excellent career at USC, but his next step will be having a stellar, consistent sophomore season. And we have a feeling he's on his way to that.
No. 22: Oregon RB Byron Marshall
2013 Stats:
168 carries, 1,038 rushing yards, 14 touchdowns, 13 catches, 155 receiving yards
Why he's ranked here:
Marshall was the Ducks' leading rusher in 2013 and is back and looking at an even bigger season in 2014. With Marcus Mariota back, defenses are going to have to be cautious up front because of the mobile threat he provides. Even if defenses are able to stop Mariota's feet, they're still going to need to worry about Marshall and his feet. In fact, defenses are going to have to worry about the whole gamut of Duck rushers. Mariota averaged 7.4 yards per carry last year while Marshall and running back
Thomas Tyner
(who is putting up a fight for the starting spot in Eugene) both averaged 6.2 yards per carry. Past those two, offensive coordinator Scott Frost is still high on several other players in the running backs' meeting room. But if Marshall can build on his experience, he could be the lead back for the Ducks in what could be a very, very big season for them.
No. 21: Arizona WR Austin Hill
2013 Stats:
DNP ... 2012 stats: 81 catches, 1,364 yards, 11 touchdowns
Why he's ranked here:
In 2012, Hill was a Biletnikoff Award semifinalist after putting up 11 touchdowns and 1,364 yards -- good enough for second-best in the Pac-12 -- as a sophomore. But he sat out last season as he rehabbed a torn ACL and had to spend the year on the couch, watching the Wildcats lose five games, including three by a touchdown or less. "Missing a season after coming off a good season, it was really rough," Hill told the Pac-12 Networks at Pac-12 media days. "But, I made it through." And now that he's on the other side, and after an impressive spring season, he's looking to have a huge impact on Arizona football in 2014. One thing that could keep him from that is the fact that Arizona is once again in a quarterback quandary and Hill doesn't know exactly who the ball will be coming from. At Pac-12 media days he said he was working to build chemistry with every QB that comes through, but that he's hoping one begins to really separate himself as the season inches closer, so that he can work to just get on the same page with that guy. If he is able to find that relationship, there's a good chance we see a bigger, better version of the 2012 Austin Hill.
July, 28, 2014
Jul 28
6:30
AM PT
Over the past few weeks, ESPN writers and analysts sat down to rank the top 100 football players in the country based on their own predictions of the kind of contribution -- both quantitatively and qualitatively -- they'd make to their team in this upcoming season.

We perused about 460 different players who hailed from each position group and conference across the country and ranked those players on a scale of 0-10. If we thought a player would be a "stellar contributor," we ranked him somewhere in the 8-10 range.

A "solid contributor" earned a 4-7 ranking and a "contributor" (meaning, he'll certainly contribute but not to the level of the others who were listed on the voting sheet) was given a 0-3. Their averages were found and then ranked and we were left with the top 100 players.

Twenty players from the Pac-12 made their way on to the list, including two players in the top 10 (both of which are from the same team -- can you guess whom?). This week, we'll be counting down those 100 players. Keep your eyes here as we begin our march toward the 2014 season.
PAC-12 SCOREBOARD
Thursday, 8/28
Friday, 8/29
Saturday, 8/30