September, 30, 2014
Sep 30
6:00
PM PT
Here's another look at random stats pertaining to the Pac-12.
Thursday
Arizona at No. 2 Oregon
Saturday
No. 14 Stanford at No. 9 Notre Dame
California at Washington State
Oregon State at Colorado
Arizona State at No. 16 USC
Utah at No. 8 UCLA
Past weeks
Week 1
Week 2

Week 3
Week 4
Week 5
September, 30, 2014
Sep 30
2:00
PM PT
By
ESPN.com staff
| ESPN.com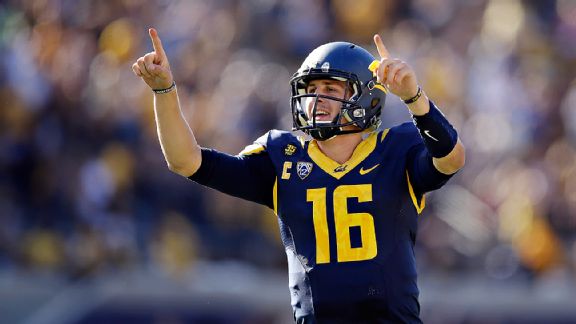 Ezra Shaw/Getty ImagesCal QB Jared Goff has 17 touchdown passes in four games. He had 18 last season.
The Pac-12 typically has great quarterbacks and good depth at the position, but the 2014 season is particularly stacked behind center. With a few All-American candidates and early NFL draft picks, it's almost difficult to keep up with who's doing what to which secondary.
No worries. We've got you covered. Each week, we will provide you a top-five ranking of the Pac-12 QBs.
Now, it won't always be a 1 to 5 ranking according to the expected pecking order at season's end or NFL draft lists. It will react heavily to the preceding week. And we'll try to spread some love.
Inactive Week 4
:
Marcus Mariota
, Oregon;
Anu Solomon
, Arizona.
To see last week's rankings, click here.
September, 30, 2014
Sep 30
10:39
AM PT
In late July, USC kicked off the 2016 class by picking up a commitment from former Michigan high school standout and current Saint Bonaventure High athlete
Daelin Hayes
. Fast-forward two months, and No. 210 Hayes is now one of two ESPN Jr 300 prospects committed to the Trojans after the pledge of
Isaac Garcia
on Sept. 29.
September, 30, 2014
Sep 30
10:00
AM PT
We should know better by now. On weekend's when not much should happen, EVERYTHING WILL HAPPEN. And it happened this weekend. There are quite a few awesome plays up for the Pac-12 Blog's Play of the Week (and even more that just didn't make the cut -- we can only have five, sorry guys) and now it's your turn to vote for which was the best of the best.
Montgomery goes bowling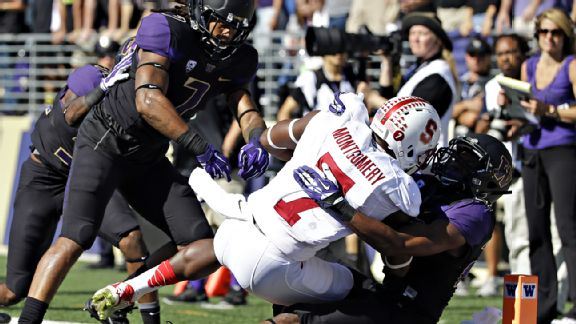 AP Photo/Elaine Thompson
Every wonder what it's like to be a human blocking sled? Well, Washington sophomore defensive back
Trevor Walker
discovered that on Saturday as Stanford receiver
Ty Montgomery
literally bowled him into the end zone. One defender approached Montgomery around the 8-yard line. He collided with Montgomery and flew out of bounds (that's
not
how tackling is supposed to happen). Then Walker met up with Montgomery at the 5-yard line before being bulldozed into the end zone. I think we can all agree -- that's how linemen and some fullbacks play. Wide receivers? Nah. Unless your name is Ty Montgomery.
Definitely, Mayle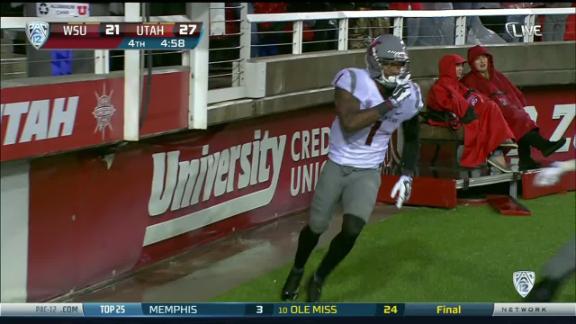 Washington State mounted a surprising comeback in the second half against Utah after going down 21-0 early and still training by 17 at the half. But an 81-yard touchdown by Washington State receiver
Vince Mayle
tied everything up in Salt Lake City (the extra point gave the Cougars their final margin for victory). With just about five minutes left in the game, QB
Connor Halliday
hit Mayle on the slant. Mayle got by one defender before a fellow receiver threw a perfect block to spring him, untouched, another 55 yards into the end zone.
Call me Ishmael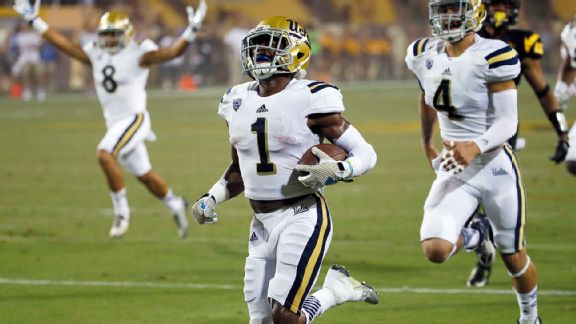 AP Photo/Matt York
With UCLA leading by just three points and the first half nearly coming to a close, UCLA defensive back
Ishmael Adams
managed to pick off Arizona State quarterback
Mike Bercovici
at the 5-yard line and returned it 95 yards for the score. Later in the game Adams would return a kick off 100 yards for a score, which is also ridiculous, but, the Bruins already had a hefty lead at that point and the Pac-12 writers decided to give the edge to the pick-six that totally deflated the ASU team before heading into the half.
Hail Mary 2.0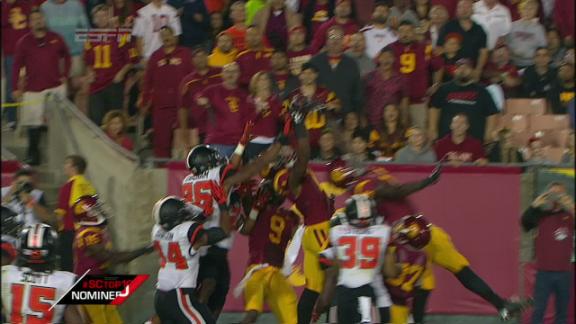 After Arizona beat Cal last week on a Hail Mary, USC threw one of its own against Oregon State. With the clock expiring before halftime and the Trojans only leading by four points, USC quarterback
Cody Kessler
scrambled around the pocket for a bit before he launched a 48-yard pass to the end zone where it found the hands of sophomore wide receiver
Darreus Rogers
. USC would go on to win the game by 25 points, but this play was certainly deflating for a the Beavers, who had shown signs of possible upset material early in the game.
Let's go Lasco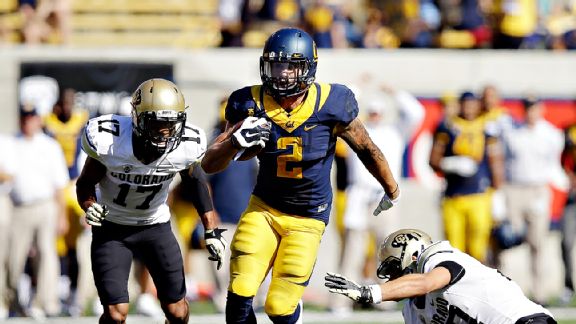 Ezra Shaw/Getty Images
Cal junior running back
Daniel Lasco
recorded the first "receiving" touchdown of his career on Saturday, though most of his work was put in on the ground. He snatched a pass from Cal QB
Jared Goff
before taking off down field. Before he even reached the 20-yard line there was a point in which there were five Colorado defenders circling in on him. He plowed through that group somehow before outrunning another two guys and finding the end zone. Not only was it ridiculously impressive to beat seven defenders head-to-head in a single play, it was also record setting -- the 92-yard receiving touchdown was the longest passing play for a TD in Cal football history.

September, 30, 2014
Sep 30
10:00
AM PT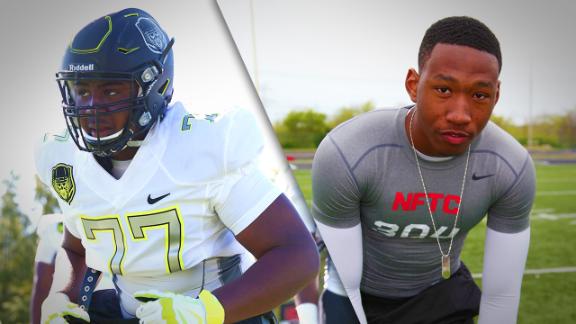 USC's impact visitor list, Stanford's statement in the Evergreen State, UCLA's major opportunity and a sophomore quarterback at his best under the bright lights are a few of the highlights from the recruiting weekend in the Pac-12 conference.
To continue reading this article you must be an Insider
September, 29, 2014
Sep 29
6:00
PM PT
Declarative sentences are dangerous heading into Week 6 of a college football season. History has taught us most things that appear ready to be tied neatly with a bow end up torn to shreds. But danger is the Pac-12 blog's middle name. (We just thought "Pac-12 Danger Blog" might scare some folks away and damage advertising revenue).
Ergo.
Oregon's visit to UCLA on Oct. 11 will be what we thought it would be in August
Sure, both/either the Bruins and Ducks could fall this week at home, going down to Utah and/or Arizona, and we'd pin that on the proverbial "look ahead." But the expectation is that won't happen. The Utes lost some gusto while surrendering a 21-0 lead at home to Washington State, and Arizona is more than a three-touchdown underdog in Autzen Stadium.
[+] Enlarge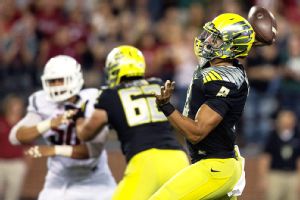 AP Photo/Dean HareMarcus Mariota and Oregon will try to avoid a letdown this week against Arizona.
While neither the Bruins nor Ducks have been consistently impressive, they have produced the loudest national statements in the conference thus far. UCLA posted a dominant road win at Arizona State, while Oregon overwhelmed Michigan State in the second half.
What's most notable about the Ducks-UCLA matchup is its potential for a rematch in the Pac-12 championship game, as both appear to be front-runners in their respective divisions. Not to look too far ahead, which we are clearly doing, but that could create a quandary for the College Football Playoff. It certainly would make it more difficult to get two Pac-12 teams into the playoff.
Of course, if both arrive at the game -- and that's obviously no guarantee at this early juncture -- with multiple losses, the issue is moot. But play out the various scenarios of zero, one and two losses for each in your head. What if they split close games? What if, say, Oregon is the nation's only unbeaten team but UCLA's only defeats are close losses to the Ducks?
It could get complicated. Good thing we can call such speculation "way premature" in order to avoid taxing our brains with the myriad possibilities.
The Pac-12 needs Stanford to beat Notre Dame
If Stanford wins at Notre Dame, the Cardinal will likely jump into or at least be very close to the Top 10, which could give the Pac-12 three Top 10 teams heading into Week 7. If the Cardinal lose, it will become a big hit for them and the Pac-12 as a whole.
While the Pac-12 is widely viewed as the nation's No. 2 conference, probably by a wide margin, and its 22-4 record versus FBS foes is impressive, there already have been substantial damaging defeats.
Most obviously, whatever USC accomplishes this year will be diminished by the loss at Boston College. If the Trojans had lost amid a flurry of turnovers and miscues, that's one thing. The problem is that defeat was all about getting whipped at the line of scrimmage on both sides of the ball. That rates as a physical issue, which is a very football-y thing.
Washington State's losses to Rutgers and Nevada also will hurt because the Pac-12 blog suspects the Cougars are going to give a lot of conference teams trouble this season, witness the so-close performance against Oregon and the huge comeback win at Utah. The Cougs are a solid team, much better than they showed against the Scarlet Knights and Nevada, which by the way are a combined 7-2. But that won't prevent pundits and rival fans from using the transitive property against the Pac-12 when the Cougs notch an upset or two.
Yet if Stanford beats Notre Dame and surges into its Nov. 1 date at Oregon with just one defeat, the Pac-12 might produce a second Top-10 matchup in less than a month. That's the sort of thing the SEC does, which inspires all that media gushing that so annoys many of you fine people.
Bottom line: A road win over No. 9 Notre Dame would provide a significant perception boost and a loss would do the same in a negative direction.
The middle stepped back instead of forward
Washington and Oregon State could have made big statements on Saturday. They didn't. Therefore that velvet rope that has separated both from the North Division VIP room, uncomfortably shared by Oregon and Stanford, is still there, still manned by a couple of beefy security guys.
You probably could say the same for Utah, which looked like a potential South contender before it completely collapsed against the Cougars. The jury is still out on Arizona State, which is dealing with an injury to QB
Taylor Kelly
and a not-ready-for-prime time defense. We'll see where Arizona stands Thursday at Oregon.
Despite many unanswered questions, the overall feeling about the challenging middle of the Pac-12 feels different than it did in August or even a few weeks ago. It doesn't appear as rugged. There seems to be some separation between Oregon, UCLA, Stanford and -- perhaps -- USC and the rest of the conference, though the Trojans could topple if they lose at home to the Sun Devils on Saturday.
Washington was a preseason Top 25 team, and Oregon State and Utah looked like threats to advance into the rankings. No longer. At least not at this point.
That is not to say teams can't get healthy, solve issues or simply grow up and then go on a run. In fact, it's reasonable to suspect that among the gaggle of Arizona, Utah, Washington and Oregon State, at least one will end the season in the Top 25.
At this point, however, there's little to suggest we will have an unexpected interloper breaking through in either division, challenging the consensus preseason favorites.
September, 29, 2014
Sep 29
4:00
PM PT
When Arizona took down Oregon last season, it was considered one of the biggest upsets of the year. The Ducks had everything on lock and had seemingly "learned their lesson" two weeks prior, before handing it all away on the road against a 6-4 team.
This Thursday, Oregon will have the chance to see Arizona again, a year removed from one of the biggest blemishes of the Ducks' recent history. Which got us thinking about other big conference upsets -- how did teams respond in those matchups the following season? Well, we've got you covered with four different examples.
2007: Stanford 24-No. 2 USC 23
[+] Enlarge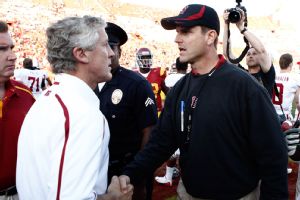 AP Photo/Matt SaylesWhen Jim Harbaugh, right, led Stanford to an upset of Pete Carroll's USC team in 2007, the rivalry heated up. It led to a memorable confrontation after the 2009 game, shown above.
Stanford scored 17 fourth-quarter points, giving the 41-point underdog Cardinal a huge win at USC. It stopped several of the Trojans' win streaks including five straight against Stanford, 35 straight at home and 24 straight conference home wins.
And in 2008 ...
No. 6 USC 45-Stanford 23
No. 6 USC played a rough first half and entered halftime tied at 17 with unranked Stanford. But a strong second half propelled USC to a 45-23 win. From the AP write up: "From the highlights of the game played on the video board during warm-ups, to the "Greatest Upset Ever" T-shirts worn by many fans in the crowd, to the Stanford band spelling out the score of last year's game at halftime, the Cardinal did their best to extend the memory."
2003: No. 13 Kansas State 35-No. 1 Oklahoma 7
Kansas State put up 519 yards of offense against the vaunted Oklahoma defense, giving the Sooners their first loss of the 2003 season (though, they would still go on to play in the BCS Championship, where they endured their second loss of the season, against No. 2 LSU).
And in 2004 ...
No. 2 Oklahoma 31-Kansas State 21
The Sooners, like USC in 2004, started slow against the team that had upset it the previous season. Oklahoma had 60 penalty yards midway through the second quarter and started the game with two three-and-outs. But a strong second half -- Adrian Petersen rushed for 104 yards -- propelled the Sooners to the win.
1998: NC State 24-No. 2 Florida State 7
NC State was a 25-point underdog, but managed to make the Seminoles look like the one that was far overmatched. Florida State was riding a 47-1 ACC record heading into this game, but when your quarterback throws six interceptions, it's pretty hard to win.
And in 1999 ...
No. 1 Florida State 42-NC State 11
This year it was the NC State quarterback who struggled, throwing four interceptions and losing two fumbles en route to a 31-point loss. Two of those turnovers resulted in FSU touchdowns, and the FSU kicker made five field goals -- so it wasn't exactly an impressive performance for the FSU offense, but overall, the Seminoles managed to avenge their upset from the previous season.
1985: Oregon State 21-Washington 20
Oregon State came into this game after being shut out offensively in the two previous games and was a 38-point underdog against the Huskies. With just under four minutes left and the Beavers trailing by six, Oregon State failed to convert a fourth down at its 11 yard line. But minutes later a blocked punt turned into a defensive score and the extra point gave the Beavers the edge they needed for the win.
And in 1986 ...
No. 13 Washington 28-Oregon State 12
The Beavers had already lost three games to ranked opponents in 1986 (by a collective score of 103-24) when the Huskies visited Corvallis. They were overmatched for against their fourth top-25 team of the season and ended up with a 16-point home loss to the team they had shocked the year before.
September, 29, 2014
Sep 29
12:00
PM PT
LOS ANGELES -- There was talk before the start of the season that the
Arizona State Sun Devils
' (3-1, 1-1 Pac-12) visit to this Saturday to play the
USC Trojans
(3-1, 2-0 Pac-12) would be a pivotal Pac-12 South game.
Well, nothing has really changed, despite UCLA's 62-27 smackdown of ASU Thursday night in Tempe. In fact, for USC, the Bruins' demolition has little consequence, considering that last season the Sun Devils provided its own smackdown of the Trojans, 62-41.
The ramifications of last season's embarrassment in Sun Devils Stadium came hours later when USC athletic director Pat Haden unceremoniously fired head coach Lane Kiffin on the tarmac of LAX in the wee hours of Sunday morning.
To continue reading this article you must be an Insider
September, 29, 2014
Sep 29
11:02
AM PT
There was an impressive group of recruits in attendance at the Trojans victory over Oregon State on Saturday, including official visitors
Chuma Edoga
,
Aca'Cedric Ware
and
DaMarkus Lodge
.
For Edoga, an ESPN 300 offensive lineman who is committed to the Trojans, the visit offered a chance to catch up with Caleb Wilson, the son of USC defensive line coach Chris Wilson. Edoga and the younger Wilson were friends in Georgia before the father took the coaching position with the Trojans and moved west.
With the bro @edogawd ?? pic.twitter.com/oSqYQlIj0V

— Caleb Wilson (@CWilson__12) September 28, 2014
Ware is a running back commit to USC from Texas state champion Cedar Hill and he was accompanied on the trip by his teammate Lodge, an ESPN 300 wide receiver who recently de-committed from Texas A&M. The pair had an opportunity to spend time with
Ricky Town
, one of two USC commit quarterbacks from the ESPN 300 -- the other being
Sam Darnold
== who were in attendance at the game.
#ESPN300 USC QB commit Ricky Town along with USC RB commit Aca'Cedric Ware and #ESPN300 WR DaMarkus Lodge pic.twitter.com/0wsXufNsyX — Erik McKinney (@EMcKinneyESPN) September 29, 2014

For Town, it was a day that began with USC athletic director Pat Haden greeting him with a hug and a walk down the Coliseum tunnel. Town also got pulled into the postgame victory chant by
Leonard Williams
.
The class of 2016 quarterback class was well represented with
Malik Henry
,
Shea Patterson
and K.J. Costello. All three are ranked among the top 10 quarterbacks in the ESPN Junior 300. Henry was considered somewhat of a surprise name on the list as he did not include the Trojans in his top 5 list earlier this summer. Patterson made the trip from Louisiana and it's the second time he has visited USC in the past couple months. Costello got stuck in traffic on the ride home but still had a positive feeling about the game.
"USC always has an electric atmosphere and I feel like I get along with the coaches really well," Costello said.
Thoughts on 1 versus 2
Bishop Gorman defeated St. John Bosco fairly handily Friday night in a game that was delayed for an hour due to lightning in the area. Once things got started, it was clear that Gorman was just going to be too much on this night with quarterback
Tate Martell
and the weapons around him. First of all, it's easy to see why USC offered Martell recently as part of the class of 2017 as he is one of the more dynamic high school quarterbacks we've seen. It helps that he is surrounded by skill players such as
Cordell Broadus
, Tyjon Lindsey and Russell Booze. Bosco came back at the end to make the score respectable but it would have been interesting to see how last year's Bosco team -- which had more high end talent than this year -- would have fared against this year's Bishop Gorman squad.
News and notes
More notable Class of 2015 out-of-state targets could be on campus for official visits this coming weekend, including cornerback Kendall Sheffield (Missouri City, Texas/Thurgood Marshall) and athlete Terry Godwin (Hogansville, Ga./Callaway). Both have stated in the past that they would be at USC on the weekend of Oct. 4. Godwin is currently committed to Georgia.
USC recently offered Miami (Fla.) Booker T. Washington's Antonio Callaway. The talented ESPN 300 wide receiver now holds close to 20 total offers from big time programs across the country like Florida State, Alabama and Miami.
To continue reading this article you must be an Insider
September, 29, 2014
Sep 29
2:00
PM PT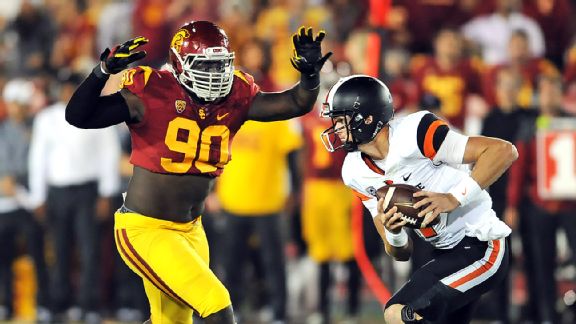 John Cordes/Icon SportswireThe USC defense held Sean Mannion to 123 yards passing, no touchdowns and two picks.
LOS ANGELES -- Saturday night, the USC defense played like a group that had been marinating in mistakes for the last 14 days. That's 336 hours to ponder the 452 rushing yards they surrendered to Boston College. That's 20,160 minutes to mire in the misery of the 506 total yards and 37 points they yielded at Chestnut Hill.
Nothing will take that loss off of the standings. Instead, it serves as a reminder of how disastrous things can turn when the Trojans don't play to their potential.
"This team needed to get punched in the face," said linebacker
Hayes Pullard
, who sat the first half of the BC game for an illegal hit the week before against Stanford. "I hate to say that. But because of that we're bouncing back and growing as a team."
Following a bye last week, this group was eager to show the Sept. 13 performance wasn't the norm. And they stifled the Oregon State offense and its strong-armed quarterback en route to a 35-10 home win.
The USC defense held Oregon State to just three offensive points (its only touchdown coming on special teams), 58 yards rushing and 181 total offensive yards. They sacked
Sean Mannion
twice, intercepted him twice and forced him into the worst statistical performance of his career -- which included a 14.6 adjusted QBR.
"I'm proud of these guys after what they had to hear about for the last week," said USC coach Steve Sarkisian.
If Sept. 13 was the burn, then film session the next morning was the frosty reminder of all that had gone wrong.
Said Pullard: "We didn't want to see it. But we had to. That's the thing about football. You have to tell the truth on Sundays."
Added defensive lineman
Leonard Williams
: "Everybody was just down."
Noted safety
Su'a Cravens
: "It was tough watching plays that we should have made not being made. It was tough messing up assignments [even though] we went over it 100 times in practice. But we still messed it up."
Cravens turned in a phenomenal performance Saturday, posting a team high six tackles, including two for a loss, one sack and a 31-yard interception return for a touchdown in the first quarter to break the early scoreless tie.
"Nobody likes losing," Cravens said. "And the way we lost, that's not SC ball. We got back to the basics and what we needed to do. That attitude of being hungry and dominant on the field came back. That attitude we had against Fresno State came back. It showed [Saturday]."
The Trojans are hoping it sticks around for a while. They have back-to-back games against the Arizona schools -- at home against ASU this week and at Tucson a week later. Both of those teams rank in the top 20 in scoring nationally.
Whether ASU quarterback
Taylor Kelly
, who sat out last week's game against UCLA with a foot injury, plays is still to be determined. Early reports are that his return this week is questionable.
Recall last year that it was the ASU game in Tempe that ultimately cost USC coach Lane Kiffin his job after the Trojans were blasted 62-41. The fallout sparked Kiffin's firing, Ed Orgeron's promotion, his quitting, Clay Helton's promotion and eventually Sarkisian's hiring.
USC's run defense will be tested by ASU's
D.J. Foster
, who leads the league in rushing with an average of 135 yards per game. The pass defense, however, is feeling pretty good about itself. Through four games and five weeks, the Trojans are the only team in the country that hasn't allowed a touchdown through the air.
"We were talking about that earlier in the week," Cravens said. "I think the coaches are doing a great of calling the right plays at the right time, and everyone is executing. I'm really proud of the DBs."
September, 29, 2014
Sep 29
12:00
PM PT
By
ESPN.com staff
| ESPN.com
Join ESPN.com Pac-12 reporters Kyle Bonagura, Kevin Gemmell and Chantel Jennings at 4 p.m. ET as they review Week 5 in the conference and look ahead to the games this week, including Arizona vs. Oregon on Thursday. Don't forget that you can also ask the experts your Pac-12 questions live on the show.
September, 28, 2014
Sep 28
7:16
PM PT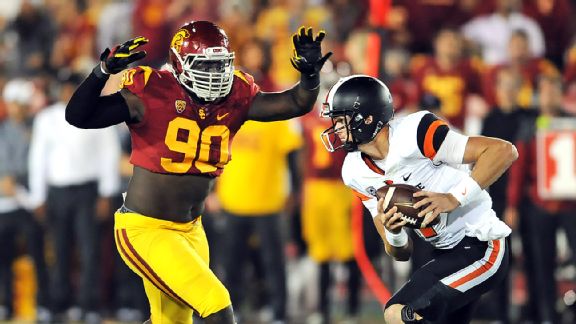 John Cordes/Icon SportswireClaude Pelon and the USC defense harrassed Sean Mannion throughout the Trojans' blowout win.
The
USC Trojans
had to wait two weeks to get back onto the field after their embarrassing upset loss to
Boston College
. They also had to wait a month to return to the Coliseum after opening up the season four weeks ago against
Fresno State
.
It's still too early in the season to know exactly what kind of team USC has. Are they the team that blew out Fresno State and shocked
Stanford
in Palo Alto, California, to open up the season or the team that was unable to run or stop the run against Boston College? It's hard to say, but USC's 35-10 win over
Oregon State
momentarily put USC back on track and made the Boston College fiasco look like an early-season aberration.
Passing attack
Cody Kessler
was once again efficient for the Trojans. He completed 24 of 32 passes for 261 yards, two touchdowns and no interceptions. In fact, Kessler has not thrown an interception this season. Kessler has thrown at least one touchdown in 15 of his past 18 games. He is already 10th on USC's career completions list with 333. Kessler is also completing 76.5 percent of his passes from inside the pocket this season, tied for fourth best by any Power Five quarterback with a minimum of 50 attempts.
Rushing attack
USC ran for 200 yards against Oregon State, bouncing back from their 20-yard performance against Boston College.
Javorius Allen
rushed for 115 yards and a touchdown, and
Justin Davis
rushed for 82 yards and a touchdown. Allen also had a team-high five receptions for 23 yards, and Davis had three catches for 30 yards and a touchdown.
In the trenches
Not only did USC rush for 200 yards, but they held Oregon State to 58 yards rushing and recorded two sacks. Kessler was given enough time, more often than not, as USC controlled the line of scrimmage on both sides of the ball and dictated time of possession.
Defense
After a nightmarish game against Boston College, USC's defense responded with its best performance of the season. Oregon State had only 181 total yards, the fewest by a USC opponent since
San Jose State
's 121 in 2009. Oregon State quarterback
Sean Mannion
finished 15-for-32 for 123 yards, which was his lowest career output.
Su'a Cravens
had a first-quarter interception return for a touchdown, the first of his career, and
Leon McQuay
had an interception in the end zone. USC's secondary has not allowed a touchdown pass this season; no other secondary in college football can say that after the first four weeks of the season.
Special teams
Andre Heidari
's lone field goal attempt from 36 yards was missed, but punter
Kris Albarado
had his best game, averaging over 40 yards per punt, including a 57-yard kick. USC didn't get much from the return game outside of a
JuJu Smith
35-yard return. The Trojans allowed
Ryan Murphy
to return a first-quarter kick for a 97-yard touchdown to tie the game and gave up 170 yards on four kick returns.
Coaching
Steve Sarkisian opened up the offense some after a lackluster first quarter, as USC scored 35 points, their most since the season opener against Fresno State. The offense tallied 461 yards and USC won the turnover battle 2-0 after entering the game eighth in the nation with a plus-1.7 turnover margin. USC's defense also shored up its problems from the Boston College game and shut down the Beavers, stifling Mannion, who passed for the fewest yards in his career.
September, 28, 2014
Sep 28
6:12
PM PT
The
USC Trojans
came away from the Coliseum on Saturday with a
35-10 victory
over the
Oregon State Beavers
that was highlighted by a trio of critical plays.
-- The first was the pick-six interception by
Su'a Cravens
in the first quarter. The game was scoreless at that point and the Trojans had been a little sluggish on offense on the first couple drives with a pair of punts. Oregon State quarterback
Sean Mannion
tried to throw in the flat, only he didn't anticipate Cravens reading the play from his strong side linebacker spot and stepping in the passing lane to make the pick and go untouched 30 yards for the score. The play was a good example of why USC coaches want Cravens closer to the line of scrimmage in the linebacker role to take advantage of his high football IQ. Cravens led the Trojans in tackles with six, and also added a sack and two tackles for loss. It was the fifth career interception for Cravens.
-- The next big play came late in the second quarter with the Trojans holding a 14-10 lead. Oregon State had driven the ball to the USC 22 and Mannion tried to take a shot at the end zone to grab the lead, but freshman cornerback
Adoree' Jackson
was in terrific coverage and was able to bat the ball up and it landed in the hands of
Leon McQuay
for the USC interception. The Trojans then drove the length of the field and completed a Hail Mary pass on the final play of the half for a huge momentum swing.
-- Speaking of the Hail Mary, that is the third critical play. So many things need to go right on a play like that and they all did for the Trojans. USC coach Steve Sarkisian let the play clock run down to :01 to insure that the pass would be the final play of the half.
Cody Kessler
had to drop back and make an accurate 50-yard throw, with the line giving him enough time for the receivers to get downfield, and then a USC player needs to come down with the ball, which is exactly what
Darreus Rogers
did. Rogers has huge hands, and they came in handy to pluck the ball from midair and run the one-yard into the end zone. It allowed the Trojans to go into the locker room with a 21-10 lead and a major bounce in their step.
Notes from the sidelines
Kessler continued his efficient play with a 24-of-32 passing night for 261 yards and a pair of touchdowns. One of his more impressive plays came early in the fourth quarter when he escaped a sack on a third-down play and hit
Nelson Agholor
inside the Beavers' red zone.
Buck Allen
scored on the next play to give the Trojans a 28-10 cushion. Kessler moved to 10th place on the all-time USC completions list in this game. ... There were 27 penalty flags for 232 yards between the two teams. ... The 57-yard punt by
Kris Albarado
was his longest of the season. ... It was a return to form for
Justin Davis
, who looked closest to the freshman skills he showed before injuring his ankle last year. Davis had 15 carries for 82 yards and a touchdown, he also added 3 catches for 30 yards and another score, which was the first TD catch of his career. ... The Trojans dressed 57 recruited scholarship players. ... USC remains the only defense in the country that hasn't given up a touchdown pass this year.
Extra points
1. Oregon State entered the game leading the nation in third-down defense at 23.1 percent, but the Trojans converted 8 of 19 third-down opportunities, a 42.1 percentage.
2. The Trojans' defensive line needed to play well in this game and they did as three players on the line had four tackles apiece;
Leonard Williams
,
Antwaun Woods
and
J.R. Tavai
. Williams had a TFL and a sack, Tavai also had a TFL.
3. It was a pretty convincing numbers game in favor of the Trojans. USC had 461 total yards, Oregon State had 181 (the lowest total by a USC opponent since 2009). The Trojans ran 81 plays and averaged 5.7 yards per play, the Beavers ran 56 plays and averaged 3.2. USC forced two turnovers and turned them into 14 points, Oregon State did not get any turnovers. The Beavers went 1-10 on third-down conversions.
Final thoughts
While the numbers look good, including the scoreboard, this was a game that was still very much in doubt up until the final play of the first half.
The Trojans had only rushed the ball for 13 yards to that point, they already had four drives end in punts and with only one second remaining on the clock they were faced with the probability of going into halftime with a slight 14-10 lead. Then the Hail Mary changed everything. Not only did it give USC a bigger cushion going into the locker room, but it helped to galvanize the team for the second half.
Suddenly the Trojans were running the ball with confidence, 18 times in the third quarter alone for 81 yards. There was a good balance in the third quarter between Davis (nine carries) and Allen (seven carries). It says something about Buck's consistency lately that he can have 115 rushing yards for the day and most of the attention goes to Davis. The TB duo also added eight catches between them for 53 yards and a touchdown.
But make no mistake, it was USC's defense that drove this game home. Mannion is one of the better quarterbacks in the country, there's a reason he will likely end this season as the all-time conference leader in passing yards, but the Trojans limited him in the second half by forcing him to go for 4-of-13 passing and 16 yards over the final 30 minutes. Those are surprising numbers for a guy like that, and he ended the day with only 123 passing yards and four passing first downs.
Give the Trojans credit for changing the tone of this game at halftime, it was a trademark of the successful Pete Carroll teams and it happened again on Saturday.
September, 28, 2014
Sep 28
8:00
PM PT
Well, that was interesting.
Remember how we talked about Utah-Washington State being a swing game? If the Cougars can somehow rally to find four more wins and the Utes can't find three, we're going to look back at the Cougs'
28-27 come-from-behind win
as a tipping point.
The same could be said for Cal, which pulled off
a double-overtime win
against a feisty Colorado team to pick up win No. 3.
Let's begin with the Utes, who once again started hot in nonconference play, only to see things fall apart once league competition started. Can't blame this one on injured quarterbacks, because Utah had two opportunities in the fourth quarter with its starter to make something happen. The Pac-12 blog still thinks there are three wins out there for Utah. Of its eight remaining games, three of them are against unranked teams. The rub is that all three are on the road.
Cal also has five ranked teams still on the schedule, and the three remaining against unranked teams -- Washington State, Washington and Oregon State -- are critical. Two of the three are on the road. We're adding Cal to the projections this week. We like its moxie.
As for the Beavers, boy, that offense didn't look good. Given OSU's three unimpressive wins and one very bad loss, we're going to drop them from the projections for now, but as always reserve the right to change our minds.
We're down to just three undefeated teams left: Oregon, Arizona and UCLA. And 10 teams are either halfway to a bowl game or beyond.
Here are the latest projections. As always, salt heavily.
College Football Playoff:
Oregon
Fiesta Bowl:
UCLA
Valero Alamo Bowl:
Stanford
National University Holiday Bowl:
USC
San Francisco Bowl:
Arizona
Hyundai Sun Bowl:
Washington
Royal Purple Las Vegas Bowl:
Arizona State
Cactus Bowl:
Utah
Heart of Dallas Bowl*:
California
* at large
PAC-12 SCOREBOARD
Thursday, 10/2
Saturday, 10/4