August, 28, 2014
Aug 28
8:00
AM PT
LOS ANGELES -- In approximately 48 hours, Clay Helton will once again walk down the famed Los Angeles Memorial Coliseum tunnel to be the eyes and suggestion-maker for another new
USC Trojans
head football coach.
Helton, however, still, hasn't forgotten that just nine months ago he was the third USC head football coach of 2013. The coach also hasn't forgotten that despite the unusual circumstances of last season, he thoroughly enjoyed his experience as a one-game interim head coach, guiding the Trojans to a resounding victory, 45-20, over Fresno State in the Royal Purple Las Vegas Bowl.
"I have very good memories and we had a great time as a football family putting together and capping off a 10-win season," Helton reminisced. "I was very excited for those players, for that team, and for our Trojans family, and I am even more excited to get this next season started and to carry on from there."
In less than a year, Helton's responsibilities have evolved from interim head coach of one of college football's most storied programs back to his familiar role as offensive coordinator and quarterback coach.
If you think that once being the big cheese and returning to a subservient position as assistant has been difficult, nothing could be further from the truth and much of the credit goes to first-year head coach Steve Sarkisian and to Helton's own positive demeanor.
"Sark's a joy to work with," Helton said. He's one of those guys you love to have on your side. He's a player's coach. He gives you jobs to do as an offensive staff and delegates authority and challenges you as a coach. But then he makes it fun also, so he's a dream come true, really. I feel honored to be working for him and USC."
Sarkisian will call the offensive plays on Saturday against Fresno State, so how has that changed or added to Helton's responsibilities as offensive coordinator?
"My role as offensive coordinator is help Coach Sark in any way I can," said Helton, now in his fifth season as the Trojans quarterback coach.
"Whether it's from organizational like the organizing of practices, helping in the game planning, seeing what's going on from upstairs in the (press) box and letting him know what's going on with the defense to make the proper play calls, to giving him some suggestions after a series to where we might want to go."
Since Helton has some extensive knowledge of Fresno State from last season's bowl game encounter, does he consider it an advantage or disadvantage?
"I'll tell you what, I think the biggest you gain as an advantage is that it goes both ways," said Helton, son of former assistant collegiate and NFL coach Kim Helton.
"You actually know Fresno State's personnel now and you know their safety No. 13 (Derron Smith) is a heck of a football player. You can figure out the areas you may want to attack, and the areas that are some of their strengths that you'd better prepare for. Yeah, it does help you out when you play a common opponent year after year."
It could be said that playing the Bulldogs in back-to-back seasons is much like playing a conference opponent.
"No question," said Helton, 42, the former University of Houston quarterback, who actually played against the Trojans in the Coliseum back in 1993.
Helton's thoughts, however, are not about the past. He is solely concentrating this week in making sure the Trojans understand that despite last season's shellacking of Fresno State, the Bulldogs and the Red Wave, their rabid fan base from Central California, will be coming down to L.A. looking for revenge.
"This is a really, really talented Fresno State team and coach DeRuyter has done a terrific job with them, and we know they're going to come in hungry after the bowl game and looking to prove something," Helton cautioned.
For Helton, his years as a Trojans assistant has given him time to reflect from when he arrived in Los Angeles to coach under former head coach Lane Kiffin to where he is today under Steve Sarkisian. He understands that times change, teams change, and head coaches change.
Understandably, Helton is still proud of the positive work that he and another former interim Trojans head coach from last season, Ed Orgeron, did in picking for the pieces after Lane Kiffin's firing.
Helton is genuinely pleased Sarkisian has continued to embrace, enhance, and build upon the optimistic direction of the program since the Las Vegas Bowl.
"Obviously, Coach Sark has continued that way by helping us in spring ball and training camp," Helton said. "He has really brought this team together in a very positive way and has done a terrific job, and, hopefully, it will transfer over on game day."
And heading into Saturday, Helton, thus far, is impressed by what he's seen of the 2014 Trojans.
"I am very pleased with this unit how close they are, how hard they've worked in this training camp, and the energy that they've brought to make the Trojans family proud,' Helton said. "You can feel that as a coaching staff, and we're really looking forward to getting this season started so we can show what we are."
And what the Trojans are will begin to be revealed this weekend.
August, 28, 2014
Aug 28
11:00
AM PT
The 2014 Pac-12 season starts tonight, and that is unquestionably a righteous thing. The first week's slate of games? Well, it's not exactly going to awaken any echoes. Still, Confucius say he who casts a disrespectful glance at a season opener finds his beer warm and his prayers to the college football gods unanswered.
Yet with all due respect, the Pac-12 plays five games versus overmatched FCS foes and is double-digit favorites in four other games. The only underdog is California, which visits Northwestern.
Ah, but that second Saturday. That, my friends, is a biggie. Not entirely across the conference, but two games will attract beaucoup Pac-12 and national eyeballs and are decidedly meaningful in terms of setting up the first season of the College Football Playoff.
[+] Enlarge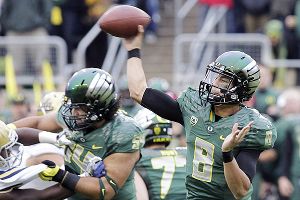 AP Photo/Don RyanMarcus Mariota and Oregon can make a significant statement with a win over Michigan State in Week 2.
Start with No. 8 Michigan State's visit to No. 3 Oregon. This might be the biggest nonconference matchup of the season, and it's even bigger after the season-ending injury to Ohio State QB
Braxton Miller
. The Spartans are now the clear favorites in the Big Ten, as the Ducks are the popular preseason pick in the Pac-12. It might look like a Rose Bowl, but it probably ends up operating like a CFP elimination game. Or validation game.
It's an intriguing matchup, too: Celebrated offense versus celebrated defense, with the Ducks, led by preseason Heisman favorite
Marcus Mariota
, facing Spartans defensive coordinator Pat Narduzzi, who might be the best in the business.
Meanwhile, No. 11 Stanford plays host to No. 15 USC. The Trojans used to feast on the Cardinal. Now this is a bitter and highly competitive rivalry. What makes this game fun is the rivalry is as much player-based as fan based. That bitterness ignited between Pete Carroll and Jim Harbaugh -- "What's your deal?" -- and has maintained its burn over the past few years, with the teams exchanging major upsets the past two seasons.
It also won't cool things down, at least in terms of perception, that new Trojans coach Steve Sarkisian and Stanford coach David Shaw were
at public loggerheads last year over the Cardinal allegedly faking injuries
in a tight victory over Sark's Washington team. While it might be responsible to note that Shaw and Sarkisian seem to get along well and chat amiably at coaching functions, that would de-sensationalize an angle the Pac-12 blog would prefer to jump up and down and point at next week.
It also has been established, though less publicly, that more than a few Stanford players were extremely unhappy with Sarkisian's accusation, most notably DE Ben Gardner, whose NFL career has already
been waylaid by the shoulder issue that hampered him against the Huskies
.
We also must add that the irreverent Stanford band surely is already clicking its collective heels over the possibilities the "
Josh Shaw
Tall Tale of Heroism
" offers for a halftime snark.
Even if you cast aside the emotions, this is a big Pac-12 game. The winner figures to establish itself as a top-10 team and national contender. While they occupy different divisions, one will end up 0-1 in conference play and the other will be 1-0. In what figure to be tight races in both divisions, that one-game swing could prove critical.
A USC victory would be a significant event in the South Division. The Trojans don't play Oregon, as UCLA does. Arizona State doesn't, either. The Bruins and the Sun Devils both play Stanford. The Sun Devils visit USC. In other words, in terms of schedule strength among the contenders, a USC win over Stanford might change the perception of the South race.
Of course, from a coach's perspective we are getting ahead of ourselves. USC plays host to Fresno State on Saturday. While the Bulldogs don't look like the formidable foe the Trojans whipped in the Las Vegas Bowl a year ago, they certainly have a pulse. Stanford plays UC Davis and Oregon plays South Dakota. Both will roll, though some Davis folks have pointed out the Aggies upset the Cardinal in 2005, one of the notable moments of Walt Harris' coaching tenure.
As you well know, sports teams play one game at a time.
"We approach this game, literally, exactly like every other one," Oregon coach Mark Helfrich said of South Dakota and, by extension, Michigan State. "To do anything else would be a conflict of our process, disrespectful to our opponent and to the game."
While Helfrich and Shaw admit that they spent plenty of time this offseason reviewing Michigan State and USC/Washington film knowing about their big dates in Week 2, the nature of football is routine, and routine dictates you prepare for each game the same way.
Dangers of looking ahead this week? Unlikely. For one, it's the first game of the season. The opportunity to play a real game in front of a crowd after a long preseason camp is a reward in itself. Don't expect players to be blasÚ and unfocused.
And there are stakes for players in game one, no matter how undecorated the foe is, according to Shaw.
"We have a lot of guys still competing for things, for who's going to get more playing time," he said. "I'd feel bad for the guy who shows a sign of not focusing on the task at hand. He's going to meet with a
not very happy Coach Shaw
."
August, 28, 2014
Aug 28
9:00
AM PT
By
Kyle Bonagura, Kevin Gemmell, Chantel Jennings
and
Ted Miller
| ESPN.com
This week is really going to test the picking prowess of your Pac-12 reporters. OK, maybe not so much. The conference is a heavy favorite in almost every game, with Cal being the only underdog with its trip to Northwestern. If the league doesn't cruise in Week 1 with at least 10 wins, that would be considered a bad opening week. To the picks!
Why Washington State will win: The Scarlet Knights really don't have an answer for Mike Leach's Air Raid offense and in Connor Halliday's senior year -- his third season with Leach -- even good defensive backs will struggle. On the other side of the ball, the Wazzu defense is improved and the pass rush is going to get after Gary Nova, who was sacked 25 times last season (tied for No. 96 in the country). -- Chantel Jennings
Why Colorado will win: Colorado State has a veteran quarterback in Garrett Grayson, but the Buffs finally have some experience in the secondary (though they'll miss Jered Bell). A confident Sefo Liufau leads an offense that has depth at receiver and tailback. Should it be close, Colorado also has veteran specialists. It might not be a blowout, but on paper the Buffs are the better team. -- Kevin Gemmell
Why UCLA will win: When one team has better talent at just about every position and a better coaching staff -- which is the case here with UCLA -- the possibility of an upset is rare. Yes, the Bruins have to deal with a cross-country trip and an early start, but that won't be much of a hurdle playing against a team that enters the season on 10-game losing streak against FBS teams. -- Kyle Bonagura
Upset pick: I'm going with an upset here. I think Cal is much improved from last season and even though the Bears are on the road, I think they'll come away with the win. Northwestern has been forced to find a replacement for transfer running back Venric Mark in the past few weeks and I think Cal QB Jared Goff is going to be better than people are giving him credit for. -- Chantel Jennings
Why USC will win: Fresno State didn't belong on the same field with the Trojans when they met in the Las Vegas Bowl last year, and now they're without QB Derek Carr and WR Davante Adams. USC lost talent too, but returns more than enough to indicate this one won't be much different from last year's matchup. -- Kyle Bonagura
More consensus picks: Utah over Idaho State; Arizona State over Weber State; Arizona over UNLV; Oregon State over Portland State; Stanford over UC Davis; Washington over Hawaii; Oregon over South Dakota
August, 28, 2014
Aug 28
8:00
AM PT
Could it be? In a bizarre twist, a horse is abusing a jockey. Might this be the start of a terrifying planet of the horses? In this announcer's opinion, almost certainly yes. And away I go.
Leading off
While there are still plenty of questions swirling about the
Josh Shaw
situation, we at least have some confirmation that his original story was a lie. As a result, Shaw has been suspended indefinitely from the team and has retained counsel.
Here's a few of the stories that are out there:
What a rush
Interesting little stat here courtesy of the Pac-12 Networks.
Most consecutive seasons (active streaks) with a 1000-Yard rusher in FBS? @UWBadgers 9 @WinTheDay 7 @StanfordFball 6

— JB Long (@JB_Long) August 27, 2014
I like Oregon to continue their streak. The only argument against being that with three backs it's possible that we could see three guys in the 700- 800- 900-yard range. Plus you factor in injuries, assorted carries for whoever has the hot hand and a quarterback that's going to rush for about 700 yards and it's possible Oregon doesn't get a 1K rusher. Possible, but not probable.
Stanford is going to be really interesting to watch as they move back to a by-committee backfield. But even when they had that approach in previous years, they were still able to produce a 1,000-yard rusher. A lot of it will depend on who emerges as the 15-20 carry back (if there is one) and how quickly the four new offensive linemen come together. But if I had to bet, I'd like both of these schools to continue this streak.
Heisman love?
Chris Huston, who runs the site Heismanpundit.com released
his preseason straw poll for 2014
. It's a small sample -- only 10 Heisman voters from around the country -- but the results are slanted heavily toward the Pac-12, including a couple of names we haven't previously seen connected with the award. First, the results (first place votes in parentheses):
1.
Marcus Mariota
, Jr., QB, Oregon — 24 (6)
2.
Jameis Winston
, So., QB, Florida State — 19 (3)
3.
Brett Hundley
, Jr., QB, UCLA — 6
4.
Bryce Petty
, Sr., QB, Baylor — 5
5.
Myles Jack
, So., LB/RB, UCLA — 3 (1)
6.
(tie)
Leonard Williams
, Jr., DT, USC — 1
Melvin Gordon
, Jr., RB, Wisconsin — 1
Ty Montgomery
, Sr., WR, Stanford — 1
Mariota, we expected. Same for Hundley. Even Jack we'd heard had been getting some Heisman love. (And in case you missed it, the Pac-12 blog talked with Jack
about all of the preseason attention
he's been getting). But it's interesting to see USC's Leonard Williams and Stanford's Ty Montgomery on the list.
Williams, we know, is an All-America defensive linemen and considered by many to be the best in the country and a top five pick in the 2015 draft. Chances are this is just some preseason posturing from voters. There's always talk in the preseason that a defensive player will break through and win. We saw it with
Jadeveon Clowney
and
Ndamukong Suh
. And while the Pac-12 blog would love to see the day that "the best" college football player wins the award (
see this column from 2012
, Huston is actually quoted), the odds of it happening are slim.
Even for a guy like Montgomery, who is expected to be a significant special teams contributor to go with his receiving stats. We'll see how this all shakes out in November and December. As the Pac-12 blog
wrote last week
, we've been fooled by preseason favorites before. Still, nice to know the rest of the country has its eyes on the West.
News/notes/practice reports
Just for fun (LA themed)
Some new artwork in the Coliseum.
If this isn't one of the greatest motivational graphics, I don't know what is? @adventresults nailed it, #FightOn pic.twitter.com/fHCuODrWYx

— LA Memorial Coliseum (@LAColiseumOps) August 27, 2014
What say you, America?
USC & UCLA both projected to go 9-3 by FPI. More surprising: USC wins 9 games or UCLA loses 3 games #CFBLIVE ESPN2 pic.twitter.com/mcNpZEEo34

— ESPN CollegeFootball (@ESPNCFB) August 27, 2014
August, 27, 2014
Aug 27
11:00
PM PT
The Early Offer is RecruitingNation's regular feature, giving you a daily dose of recruiting news from across the country. Today's offerings:
UCLA
quarterback commitment
Josh Rosen
is off to a strong start in Week 1, showcasing why he will be a valuable recruiting tool for the Bruins this season. Plus, most of the Pac-12 attention has been on UCLA,
USC
and Oregon, but don't forget about the quality classes at UofA and ASU, and we continue our tour of the top recruiting happenings on social media.
August, 27, 2014
Aug 27
6:21
PM PT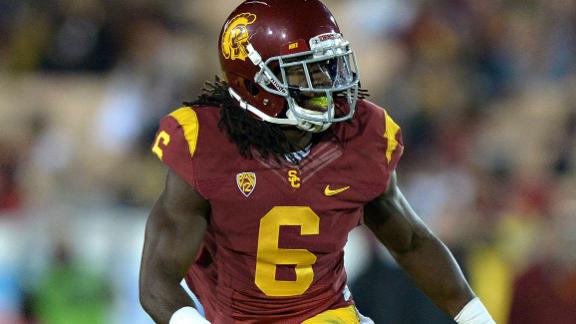 Josh Shaw
will play football again. But it shouldn't be for the
USC Trojans
.
Not after this. Not after humiliating his coaches, his teammates and the program. Not after a blatant lie that grew worse when he, for some inexplicable reason, tried to make himself out a hero.
If there has ever been a more bizarre set of circumstances at USC, I can't remember it. This school has had its share of drama recently. From the
Reggie Bush
scandal, the ensuing NCAA sanctions, the Lane Kiffin experiment, to the bumbling coaching situation at the end of last season. This is the last thing beleaguered athletic director Pat Haden needed.
What Shaw has done is not only embarrass himself, but he has torpedoed everything Haden and coach Steve Sarkisian have been trying to do to change the culture at USC.
People were laughing and making fun of them on national television late Wednesday afternoon. "This kid said he saved his nephew from drowning, and he really did what?" Every Trojans fan watching had to grimace as the TV people carried on.
It doesn't matter how he really injured his ankles. Had he come forth immediately and told school officials what happened, he probably still would have been suspended. But it wouldn't have blown up into a national story.
Talk about your public relations nightmare.
There's also a matter of timing. Shaw's lie dropped on them like some kind of giant anvil -- providing the worst kind of late August distraction as the team prepared for the 2014 season opener against Fresno State on Saturday.
If you have to feel bad for anybody today, feel bad for the rest of the players on this USC team. They are as stunned as anyone by what Shaw did. This is a guy they named a captain just a few days ago. As much as they don't want this to affect their preparation for the season, it will.
That's why Haden and Sarkisian shouldn't delay their action. As soon as all the details of what occurred are known, they should do what they have to do.
They should tell Josh Shaw that he can no longer play football for USC.
August, 27, 2014
Aug 27
3:44
PM PT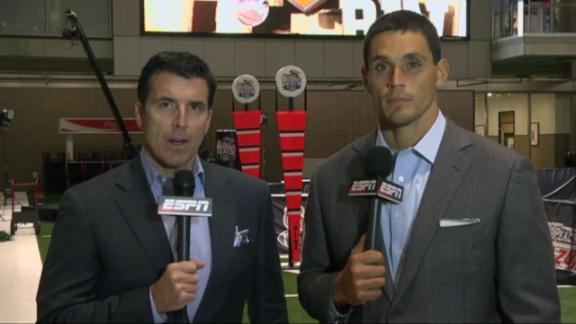 USC senior cornerback Josh Shaw has admitted to lying about how he suffered his ankle injuries last weekend and has been suspended indefinitely, the school said in a statement Wednesday.
Shaw said he suffered a pair of high ankle sprains Saturday night after jumping from the second story of an apartment complex to save his 7-year-old nephew, who was struggling in the pool. Shaw said his nephew did not know how to swim. He admitted to team officials on Wednesday that the story was a complete fabrication.
Head coach Steve Sarkisian said Tuesday the school received several calls questioning the authenticity of Shaw's story and had been investigating the matter.
"We are extremely disappointed in Josh," Sarkisian said in the statement. "He let us all down. As I have said, nothing in his background led us to doubt him when he told us of his injuries, nor did anything after our initial vetting of his story.
"I appreciate that Josh has now admitted that he lied and has apologized. Although this type of behavior is out of character for Josh, it is unacceptable. Honesty and integrity must be at the center of our program. I believe Josh will learn from this. I hope that he will not be defined by this incident, and that the Trojan Family will accept his apology and support him."
August, 27, 2014
Aug 27
11:22
AM PT
LOS ANGELES -- USC football coach Steve Sarkisian said the school's investigation into the authenticity of Josh Shaw's story about saving his nephew from potentially drowning is in a "holding pattern" and is now being handled by campus authorities.
"It's pretty clear that there's quite a few conflicting stories out there," Sarkisian said after practice on Wednesday. "Any information we have been provided up until this point we have pushed along to campus authorities. We're really going to let it play out in their hands up until this point and quite honestly we're in somewhat of a holding pattern. That's where we are at. Anything I do get that I can provide you guys with, I will, believe me, I will."
When Sarkisian was asked specifically what campus authorities were handling the investigation he said, "everything above me."
"In this day and age of college football and head coaches' responsibilities, I'd be foolish not to push everything up the ladder," Sarkisian said. "I think we learned that a couple years ago with a couple other high-profile coaches, so everything I've ever done when things come across my desk is to push them to campus authorities and let them do their due diligence.
"When things come back to me, then I can comment on them. Until then, I don't really have much to say on it."
August, 27, 2014
Aug 27
12:45
PM PT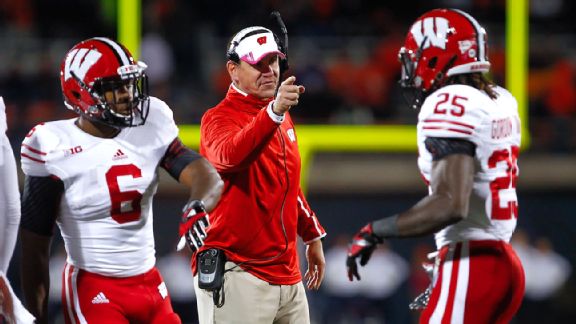 Michael Hickey/Getty ImagesThe Badgers could very well be playing a playoff contention knockout game in Week 1.
With the countdown to college football's kickoff now measured in hours, we thought we would revise a
feature from 2013
called "Pivot Points." As a refresher, it's cause-and-effect: "If X happens, then Y will happen."
Here's one take for each Power Five conference:
If Wisconsin can get past LSU this week, then the Badgers will be in the playoff.
I'll quickly lay out why the Badgers will at minimum gain momentum if they win this week.
Up next: Western Illinois, Bowling Green, South Florida, Northwestern, Illinois, Maryland, Rutgers and Purdue. That takes you to the middle of November, when they close with Nebraska, Minnesota and Iowa.
So even with some front-seven question marks and a first-time starter at QB, Wisconsin is 100 percent a playoff threat. But the Badgers will likely have to go undefeated to make it, which means knocking out a wild-card LSU team this weekend.
In fact, there's a shot this could be a playoff contention knockout game. Both teams are on the fringe, and this is a win that both could very well need to woo the committee.
To continue reading this article you must be an Insider
August, 27, 2014
Aug 27
9:00
AM PT
By
ESPN.com staff
| ESPN.com
PAC-12 SCOREBOARD
Thursday, 8/28
Friday, 8/29
Saturday, 8/30