January, 29, 2015
Jan 29
5:27
PM PT
January, 29, 2015
Jan 29
3:15
PM PT
We continue our look at what positions groups need to improve between now and next season.
USC Trojans
Position to improve:
offensive line

Why it was a problem:
It's not necessarily that the offensive line was a problem, but there were certainly growing pains up front. The group opened the season with two freshman starters (
Damien Mama
and
Toa Lobendahn
) and started three in the final five games. To find the last time USC started a pair of freshmen on the offensive line in a season opener would require you look back to before World War II. With that much youth involved, it would have been unfair to expect much more than what USC got in 2014. That changes next year.
How it can be fixed:
Get rid of the offensive line coach! Kidding, of course. With offensive line coach Tim Drevno off to Michigan to be Jim Harbaugh's offensive coordinator, USC remains without an offensive line coach. Whoever Steve Sarkisian hires as Drevno's replacement will be tasked with helping good players take the next step. It's a great situation as far as the talent the next O-line coach inherits, but the pressure will be high as the offensive line's development figures to play an important role in USC's ability to compete for a conference title and beyond.
Early 2015 outlook:
With quarterback
Cody Kessler
and USC's usual stable of talented receivers returning, the offensive line is where there is the most room for improvement. Everyone that started a game will be back, including center
Max Tuerk
, who was voted the team's offensive lineman of the year. Left tackle
Chad Wheeler
, who started the first eight games before tearing his ACL, will be expected to regain his spot at left tackle, while right tackle
Zach Banner
will return after a strong sophomore year. However, with four freshmen that started games over the course of the season -- Lobendahn (13 starts),
Viane Talamaivao
(11 starts), Mama (four starts),
Khaliel Rodgers
(three starts) -- there is a strong potential for some shuffling.
January, 29, 2015
Jan 29
10:30
AM PT
USC just wrapped up its 2014 campaign a little over a month ago, but that's old news for the returning players on the team. They've already switched their focus to next season.


January, 29, 2015
Jan 29
9:45
AM PT
Super Bowl XLIX is this Sunday, and there is a pretty clear-cut favorite if you're a
USC Trojans
fan. You have the defending Super Bowl champion
Seattle Seahawks
, led by a combination of former Trojans coaches, players, and administrative support.
While Bill Belichick's
New England Patriots
can't boost of present day or former Trojans, if you are looking frantically for a reason to root for the Pats, they're the franchise that once employed former USC greats such as running back Sam "Bam" Cunningham, fullback and special-teams demon Mosi Tatupu, and defensive giant Willie McGinest, who helped them to a Super Bowl along the way.
To add some tantalizing flavor to Sunday's Super Bowl XLIX, current Seattle Seahawks head coach Pete Carroll was once fired from the Patriots, even though he had once led New England into the playoffs.
Carroll has modeled his highly successful Seahawks into what some refer to as the "Seattle SeaTrojans." Using his competition model and modus operandi that he honed at USC during his remarkable tenure in Los Angeles, he has incorporated former Trojans personnel to great success.
Here is a quick look at those former Trojans that are now part of the Seahawks juggernaut who will be looking to acquire another Super Bowl ring:
To continue reading this article you must be an Insider
January, 29, 2015
Jan 29
11:00
AM PT
Looking ahead at potential playmakers in 2015, there should be two divisions: Ohio State, and everyone else.
[+] Enlarge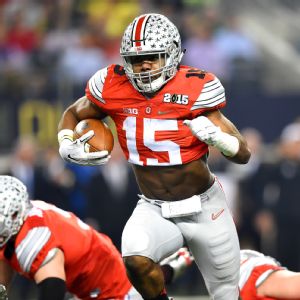 Scott Clarke/ESPN ImagesEzekiel Elliott is among Ohio State's many offensive weapons returning for the 2015 campaign.
Heaven help Big Ten defensive coordinators trying to plan for a team that will have the power element of
Ezekiel Elliott
's running complemented by the ankle-breaking athleticism and versatility of utility types
Jalin Marshall
,
Curtis Samuel
and
Dontre Wilson
. Oh, and there's that
Braxton Miller
fella, should he return to OSU.
Jokes about "Big Ten speed," or lack thereof, are hereby declared dead. They have ceased because of Urban Meyer and his staff's recruiting.
Miller, the Buckeyes' quarterback from 2011-13, will be one of the country's top playmakers regardless of where he plays. Most people in college football believe returning is his best option, even if it means a new, varied role.
Miller's size (6-foot-2, 215 pounds) compares well to NFL running backs such as
Matt Forte
,
Darren McFadden
and
Arian Foster
, according to ESPN Stats and Information. Miller, though, needs to prove to NFL teams that he can play the position without injury. Miller's ability in space is uncanny, but I was surprised to learn that he rushed for 701 yards between the tackles in 2013 (508 outside). One more Stats & Info nugget: His 7.3 yards per carry since 2011 puts him behind only
Melvin Gordon
(minimum 320 carries).So, yeah, it would be highly intriguing to add Miller's skill to the elite-level playmaking talent that's already present.
As a redshirt freshman, Marshall was the team's breakout playmaker in 2014. He scored eight touchdowns (six receiving, one rushing, one punt return). If something happened to
Cardale Jones
in the postseason, Marshall likely would have played QB, too.
Samuel, a freshman this past season, and Wilson, a sophomore, are similarly versatile. They're the team's primary kick returners, averaging 22.8 yards per return last season. They're nowhere near their ceilings, either. You think new co-OC and QBs coach Tim Beck entered into a good situation?
Here are playmaker standouts from the non-Ohio State crop
To continue reading this article you must be an Insider
January, 28, 2015
Jan 28
11:00
PM PT
Despite making a commitment to Alabama last week, ESPN 300 offensive tackle
Isaiah Prince
said Wednesday he's visiting Maryland and will give the Terps a solid look.
To continue reading this article you must be an Insider
January, 28, 2015
Jan 28
3:00
PM PT
If this season was the "Year of the Quarterback" in the Pac-12, then next year is the "Year of the Running Back." With eight of the top 10 running backs returning in 2015, the conference is going to be stacked with rushing talent.
Three of the four running backs who averaged at least 100 yards per game will be back in 2015 with the exception being USC's Buck Allen, who opted to leave early for the NFL draft. But the Trojans don't need to fear. Sophomore
Justin Davis
is primed to enter the competition to be a top-5 running back in the conference, filling Allen's shoes for USC.
But this got the Pac-12 Blog thinking: Who is going to lead the conference in rushing next season? There are plenty of arguments to be made for each of the top eight guys returning and the top spot could really go to any one of them. So, who do you think steals that spot?
1. UCLA's Paul Perkins | 251 carries, 1,575 yards, 9 touchdowns
With Brett Hundley's early departure, the Bruins will likely rely on Perkins even more next season than they did this past season to get things going for UCLA. Perkins averaged 6.3 yards per carry, a Pac-12 best for running backs who toted the ball at least 200 times. He's not a little-by-little type of running back. Expect him to get his 2015 yardage the same way he got his 2014 yardage -- in big chunks. He led the league in rushes of 10-plus yards (46). A few big games could be enough to put him at the top of the list.
2. Utah's Devontae Booker | 292 carries, 1,512 yards, 10 touchdowns

Booker burst onto the scene this past season and carried a Utah offense that was -- at times -- one-dimensional (especially near the end of the season). He proved his effectiveness even when opponents knew exactly what the Utes were going to do. With a little more stability on the offensive side of the ball (specifically at QB), expect the Utes to make some big strides. He'll need to clean it up a bit; he tallied five fumbles last season, the most of any running back who carried the ball at least 100 times.
3. Arizona's Nick Wilson | 236 carries, 1,375 yards, 16 touchdowns
Because of Oregon's title run and the attention that got, Wilson's accomplishments played second fiddle to the other star freshman running back in the conference (No. 4 on this list). But Wilson actually accrued more yardage on fewer carries than
Royce Freeman
did. Of running backs who carried the ball at least 150 times last season, Wilson was the most effective on third down, converting 58.6 percent. With Wilson and quarterback
Anu Solomon
both returning, Rich Rodriguez's offense is going to be even more dynamic and more difficult to stop.
4. Oregon's Royce Freeman | 252 carries, 1,365 yards, 18 touchdowns
Freeman was an absolute truck for Oregon this season. Give him a full season's worth of starts next season and expect these numbers to go up. With the Ducks transitioning to a new quarterback, and one who likely won't be nearly as mobile as
Marcus Mariota
, expect Oregon to rely more on Freeman and the run game to get some offensive yardage.
5. Cal's Daniel Lasco | 210 carries, 1,115 yards, 12 touchdowns
Even though Sonny Dykes comes from the school of Air Raid, he has much more of a balance in his offense when it comes to rushing and passing. Enter Lasco, who made huge, huge strides between his sophomore and junior seasons. He only got better as the year went on, finishing with three 100-yard games in the Bears' final four appearances. Like Wilson, Lasco will benefit from playing with the same quarterback two seasons in a row, which should help his total yardage. Plus, with Cal coming so close to a bowl game this season, don't discount the value of a chip on the shoulders, especially on the shoulders of a senior.
6. ASU's D.J. Foster | 194 carries, 1,081 yards, 9 touchdowns
What makes Foster so valuable as a running back is that he's so difficult to defend. He managed to pick up all this rushing yardage while also tallying 62 receptions for 688 receiving yards -- which led the country for running backs. If he continues to develop his hands (and we've all seen what
Mike Bercovici
can do), he'll just be even more difficult to game plan against.
7. Oregon State's Storm Woods | 121 carries, 766 yards, 5 touchdowns
Woods might be one of the most interesting running backs to watch next season given the coaching change in Corvallis. Gary Anderson coached
Melvin Gordon
to two phenomenal seasons in Madison (549 carries, 4,196 yards, 41 touchdowns). Obviously Anderson won't be able to turn Woods into Gordon overnight, but there should be several reasons for optimism around the Beaver program and what Anderson could do with the run game. And Anderson will be happy with the product he's getting. Woods was the cleanest running back on this list this season, not recording a single fumble despite carrying the ball 133 times.
8. Washington's Dwayne Washington | 132 carries, 697 yards, 9 touchdowns
Washington split carries with freshman
Lavon Coleman
this season for the Huskies, who averaged 188.6 rushing yards per game. It'll be interesting to see who really takes over for UW next season as the competition between Washington and Coleman will be tight this spring. Expect bigger things from the Huskies in Year 2 of Chris Petersen's tenure.
January, 28, 2015
Jan 28
12:30
PM PT
The final
ESPN Junior College 50 rankings
for the 2015 class has been released. While the changes weren't big in number, there is certainly noteworthy movement with names familiar to recruiting and college football fans in general.
Moving in at No. 3 overall is former TCU defensive end
Devonte Fields
. The former Big 12 Defensive Player of the Year is spending the school year at Trinity Valley Community College, and appears ready to make the move back to the FBS ranks and play one more season before entering the 2016 NFL draft. Fields is scheduled to visit
Louisville
Jan. 30 with the Cardinals the heavy favorite to land the Under Armour All-American Game alumni.
To continue reading this article you must be an Insider
January, 28, 2015
Jan 28
12:00
PM PT
This season we evaluated the state of Pac-12 quarterback play each week when we released our
Pac-12 Quarterback Power Rankings
, but now that the season is over we decided to take in the full body of work from each quarterback and do a season's-end ranking.
We unveiled our
No. 5 QB
on Monday and
No. 4
on Tuesday. Up next:
No. 3: USC junior QB Cody Kessler.
Statistics:
315-of-452 passing (69.7 percent), 3,826 passing yards, 39 touchdowns, 5 interceptions
Why he's here:
The part of Kessler's game that jumps out right away when reading his stat line is the completion percentage. For a player to throw almost 500 passes and complete nearly 70 percent of those attempts is just insane. Kessler led the conference in completion percentage and was second nationally of QB's who attempted at least 300 passes. Because he was so accurate, his TD:INT ratio was -- unsurprisingly -- also very high, second only to
Marcus Mariota
in the Pac-12 and third nationally to Mariota and Northern Illinois'
Drew Hare
.
His clutch-ness didn't stop there. He led the conference in third-down completion percentage (47.6 percent) and his play was a huge reason why the Trojans finished 9-4 with a season-ending win over Nebraska in the National University Holiday Bowl.
Kessler's improvement between last season and this season is quite staggering. He improved his completion percentage by 4.3 percent from his sophomore season to his junior season, throwing 19 more touchdowns while being picked off two fewer times.
What might be the most exciting thing about Kessler's all-around performance this season is that he returns in 2015 to lead a squad that'll be more settled under second-year coach Steve Sarkisian. Kessler will lose a fair number of playmakers, but the Trojans' roster is more in reload mode than rebuild mode. Mark Schlabach put the Trojans at No. 4 in his
Way Too Early Top 25
-- the highest ranking for any Pac-12 team. A huge part of that ranking is Kessler and his proven track record of improvement. If he makes the same kind of gains this offseason that he made last offseason, and continues to settle into Sarkisian's offense, Kessler is going to be very, very dangerous.
January, 28, 2015
Jan 28
9:00
AM PT
So, Peter, you've become a pirate.
Leading off:
Super Bowl media day has come and gone. With it there were a few notable appearances and quotes by some former Pac-12 players (there are 18 former conference players and five former conference coaches between the
Seattle Seahawks
and
New England Patriots
).
Notes/team updates/recruiting nuggets:
Just for fun:
On Tuesday, Arizona State quarterback
Mike Bercovici
and safety
Jordan Simone
attended Super Bowl media day to add to some of azcentral.com's coverage of the event. We'll have a story later on today with Bercovici's thoughts on the day and his advice to other reporters (now that he has such a deep understanding of the profession), but as a preview to some of the in-depth and exclusive content you'll get from the Bercovici-Simone media team, check out this tweet:
Just talked to Tom Brady about hair products... #BrotherFromAnotherMother

— Michael Bercovici (@MikeBerco) January 27, 2015
We're sure it was enlightening. Someone get this man a Pulitzer.
January, 28, 2015
Jan 28
4:59
AM PT
As USC head coach Steve Sarkisian and his staff sprint down the recruiting stretch with a legitimate chance to finish with the
nation's top signing haul

, there are a couple position groups that they're still working hard to shore up. Though, it's safe to say that the running back spot isn't one of them -- thanks in part to a pair of Texas standouts in McKinney North's
Ronald Jones II
and Cedar Hill's
Aca'Cedric Ware
.
Jones, the No. 1 ranked running back in the ESPN 300, is a highly acclaimed 6-foot, 187-pound explosive game-changer who rushed for 2,009 yards (8.4 avg.) and 28 touchdowns in 2014.
[+] Enlarge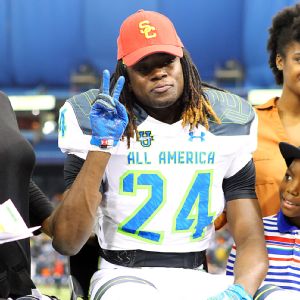 Miller Safrit/ESPNRonald Jones II, ranked No. 34 in the ESPN 300, says USC has always been one of his top choices.
Ware is a shifty, yet surprisingly physical ball carrier who had an even bigger senior campaign, amassing 2,440 yards (8.4 avg.) and 34 touchdowns on the ground while leading his team to its second consecutive state title. He's also added some bulk to his 6-foot frame as of late, recently weighing in at 200 pounds -- up 10 pounds from the weight he played at this past fall.
Both are solidly committed to the Trojans, and combined with speedy Southern California product
Dominic Davis
(Mission Hills, Calif./Bishop Alemany), they make up what is sure to be one of the top running back classes in the nation come signing day.
It's been quite awhile since any coaches at USC have spent the time and energy recruiting the Lone Star State that Sarkisian and Co. have over the course of the past year.
USC did pull in
John Plattenburg
out of Houston (Texas) Lamar last February, but in that case it was actually at Corona (Calif.) Centennial -- where he spent his sophomore and junior seasons -- that the talented safety first caught the eye of the Trojans' coaches. Before that, the last time USC signed a player from Texas was back in 2008 when Houston Aldine offensive lineman Daniel Campbell inked with the Trojans. Campbell failed to qualify, however, and he never played a down at USC.
So how did the Trojans reel in two running backs from the heart of Big-12 country this time around?
For Jones, it actually wasn't that difficult. USC first grabbed his attention at a young age, when he watched former head coach Pete Carroll's teams bring home victory after victory on television.
"USC has just always been one of my favorite schools," said Jones, who de-committed from Oklahoma State in mid-December before choosing the Trojans over Notre Dame a few weeks later. "I grew up watching Reggie Bush and all of those guys, so I knew I would always look at them closely."
Ware's interest, meanwhile, stems more from his desire to branch out.
"I was born and raised in Texas," said Ware, who also held offers from the likes of Florida, Ohio State and Arizona State. "I want to get out and explore the world and experience Cali life, and just have fun outside of Texas. I want to experience new things."
The turning point for both players, however, came when they were able to check out the USC campus in person for the first time. That was especially true for Jones, whose mother was initially hesitant to let her son go to school so far from home.
"My mom didn't want me to go far at all," said Jones, whose mother accompanied him on his official visit to USC in December. "But once she was able to see it for herself, she said that she'd be a fool for telling me not to follow my heart. That official visit was big. I was always sold, but for her, that's what did it."
Ware took his official visit to USC in September, but it was following his earlier unofficial visit for the Rising Stars Camp last July that he made up his mind.
"When I first went out there this summer I really liked the whole environment and the players' and coaches' attitude about football," Ware said. "I could really tell that they were passionate about football, and I knew that was the place that I wanted to be."
Set to arrive on campus early this summer, Jones and Ware, in addition to Davis, all appear to possess the talent to vie for immediate playing time, especially with the recent announcement by last year's leading Trojans' rusher,
Javorius Allen
, that he will forgo his senior season at USC to enter the upcoming NFL draft.
But the Trojans also still have a pair of talented veterans returning at the position in junior
Justin Davis
and fifth-year senior
Tre Madden
. That, coupled with the fact that this year's crop will also have each other to contend with, means that competition will be the name of the game come fall camp.
But that concept doesn't bother either Texas running back. In fact, both Jones and Ware are more excited about the idea of playing each other, as well as Davis, than anything else.
"I love competing and working for it," Jones said. "I don't look at it like those guys are my rivals or anything. I think we can really complement each other. Back when USC was rolling, they would have different running backs with different styles that they would go to, and I think that's what we're doing in this class."
That's something that Ware, who was a part of deep tailback group at Cedar Hill, knows about first-hand.
"At Cedar Hill, my junior year, we had three running backs, and my senior year it was me and Denvre Daniels," Ware said. "When you have that much talent, you can rotate the running backs and wear the defense down. I like that. We can inflict a lot of damage."
And with that trademark Texas confidence, Ware and Jones are determined to do everything they can to ensure that they're more than ready to do their part in making that idea become a reality -- and sooner rather than later.
"We're going to bring that Texas flavor to Cali," said Ware. "We're going to show everybody how it's done."
January, 27, 2015
Jan 27
7:00
PM PT
We continue our series looking at some of the top individual performances in the Pac-12 in 2014. If you feel a little nostalgic, you can check out the
top performances from 2013.
Up next
: 200 x 2

Who and against whom
: After catching eight passes for 220 yards against Washington State the previous week, USC receiver
Nelson Agholor
backed it up with another performance to remember against Cal on a Thursday night.
The numbers
: Agholor caught 16 passes for 216 yards and two scores, and USC held on for a
38-30 win
.
A closer look
: The final numbers were impressive, but it's what Agholor did in the first half -- more specifically the first quarter -- that made this one of the season's best performances. After the big game against WSU, Agholor couldn't have gotten off to much better of a start than he did at the Coliseum against Cal. He made eight catches for 120 yards in the opening quarter and had 13 for 177 yards before the break. If not for USC's 31-9 halftime advantage, who knows what he would have finished with, but he wasn't targeted much in the second half and finished one catch shy of Robert Woods' school record of 17 catches in a game. Not only had no USC receiver ever recorded more than one 200-yard receiving game in a season before Agholor recorded his second, but the school record for 200-yard receiving games is also just two. He was the only player in FBS to record back-to-back 200-yard receiving games this year and one of just seven since the 2004 season -- a group that includes Colorado's
Paul Richardson
in 2013.
January, 27, 2015
Jan 27
10:00
AM PT
It was a busy weekend in the conference, as 14 prospects made commitments between Friday and Monday night and several others backed out of Pac-12 recruiting classes. It looks as though this could be a sign of things to come, as the conference recruiting race is heating up with little more than a week until signing day.
To continue reading this article you must be an Insider
PAC-12 SCOREBOARD
Thursday, 9/3
Saturday, 9/5