August, 1, 2014
Aug 1
9:00
AM PT
Our list of the
top 25 players in the Pac-12
concludes.
No. 5: Arizona State QB Taylor Kelly
2013 stats:
Completed 62.4 percent of his throws for 3,635 yards with 28 touchdowns and 12 interceptions, giving him an adjusted QBR of 74.2, which ranked 24th nationally. He also rushed 173 times for 608 yards and nine touchdowns.
Why he's ranked here:
There was some disagreement at the end of last season about who was the second-team All-Pac-12 quarterback. Kelly won the official Pac-12 vote with the coaches, and that means a lot. It also helps that he is the quarterback of the defending South Division champion. Further, you have to love his story. Nothing has been given to Kelly. In the spring of 2012, he was little more than an afterthought, ranking third in the Sun Devils' quarterback competition. You have to be mentally tough to emerge from that sort of deficit. He has earned his spot by fighting like crazy to win the job, to lead his team well and, finally, to become an A-list quarterback worthy of national attention. He has a chance to play his way into a solid spot in the NFL draft too. As for this season, Kelly has a lot coming back on offense and, because of the Sun Devils' questionable defense, offensive coordinator Mike Norvell figures to set him free as a third-year starter.
No. 4: Oregon CB Ifo Ekpre-Olomu
2013 stats:
Ekpre-Olomu was second on the Ducks with 84 tackles. He had five tackles for a loss to go with three interceptions and nine passes defended. He also forced a fumble.
Why he's ranked here:
Ekpre-Olomu might be the best cornerback in the nation. He earned All-American honors last season and is pretty much a unanimous 2014 preseason All-American. He is not expected to last too far into the first round of the 2015 NFL draft, and truth be told, it was a bit of a surprise he stuck around for another season because he likely would have been a first-round pick last spring. It will be interesting to see if he sees much action on his side of the field this season, considering he is the lone returning starter in the Ducks' secondary. His numbers might not wow you, but opposing coaches will start their Monday meetings by drawing a line down one third of the field and saying, "Ifo is here, so we're throwing over here."
No. 3: UCLA QB Brett Hundley
2013 stats:
Hundley completed 67.2 percent of his throws for 3,071 yards with 24 touchdowns and nine interceptions. He also rushed for 748 yards and 11 scores.
Why he's ranked here:
Kelly-Hundley, Hundley-Kelly -- based on last season, Kelly should nip his buddy from UCLA. But Hundley ends up at No. 3 because of projection. He is simply overbrimming with talent. He's big, strong, smart, charismatic, etc. Outside of Johnny Manziel, no one has more scramble yards in the past two seasons than Hundley (per ESPN Stats & Information). Though there are parts of his game that didn't completely arrive in 2013 -- still more feared as a runner than downfield passer and still takes too many sacks -- those were delays, not cancellations. Hundley also has a stacked supporting cast. The Bruins are the favorite in the Pac-12 South, a preseason top-10 team and a dark horse national title contender. If UCLA surges, Hundley almost certainly will become a top Heisman Trophy candidate.
No. 2: USC DT Leonard Williams
2013 stats:
Williams was second on the Trojans with 74 tackles, tied with
Devon Kennard
for the team lead with 13.5 tackles for loss and forced two fumbles.
Why he's ranked here:
Williams, a 2013 first-team ESPN.com All-American, is the consensus pick as the nation's best returning defensive lineman. He could be the top overall pick in the 2015 NFL draft, and he's almost certainly not going to last past the top 10 picks. Former USC coach Ed Orgeron called him the best defensive lineman he's ever coached, and Orgeron's defensive line résumé is deep. Williams has great length and athleticism and surprising power. He is the centerpiece of what might be the Pac-12's best defense. Last season, he was the lone sophomore semifinalist for the Chuck Bednarik Award, given to the nation's top defensive player, and he is likely to be a finalist for just about every award for which he is eligible.
No. 1: Marcus Mariota
2013 stats:
Mariota completed 63.5 percent of his passes for 3,665 yards with 31 touchdowns and just four interceptions. He also rushed for 715 yards and nine touchdowns.
Why he's ranked here:
Surprise! Bet you didn't see this coming, considering Mariota finished No. 1 on this list in 2012 and 2013. This was the easiest spot to fill on this list, perhaps the only easy spot by the way. Why? Mariota might be the best quarterback and player in the nation. In the 2014 Heisman Trophy race, he is option 1A besides Florida State's
Jameis Winston
, who won it last year but has significant character issues. Mariota opted to return and get his degree -- yes, he is taking a light class load this fall because he doesn't need any more credits -- and instantly made the Ducks (again) the Pac-12 favorite and a national title contender. The biggest question of the 2013 season was what might have happened if Mariota didn't suffer a knee injury before playing at Stanford. Pre-injury, he had 20 touchdowns and zero interceptions; post-injury, 11 touchdowns and four picks. All nine of his rushing touchdowns came before he partially tore his MCL. Despite that injury, Mariota led an offense that averaged 45.5 points per game last season -- tops in the Pac-12 and fourth in the nation -- in a very good defensive conference. While his speed and production as a runner is impossible to ignore, what separates him is his passing ability. He was No. 1 in the Pac-12 in efficiency and No. 1 in the nation in ESPN's adjusted QBR rating. He set an Oregon single-season record with 4,380 total yards. He also set a Pac-12 record by attempting 353 consecutive passes without an interception. Though character isn't much of a factor on this list -- the Pac-12 is fortunate that it didn't see much of that weigh down the offseason -- Mariota's is difficult to ignore. St. Marcus of Eugene seems likely to be in New York in December.
July, 31, 2014
Jul 31
3:00
PM PT
Heavy on poll links today in honor of the coaches poll being released.
July, 31, 2014
Jul 31
1:42
PM PT
In another sign of the Pac-12's rise, half the conference is ranked in the
preseason Amway Coaches Poll
, released Thursday.
Oregon, unsurprisingly, leads the way at No. 4, followed by No. 7 UCLA, No. 11 Stanford, No. 15 USC, No. 18 Arizona State and No. 25 Washington. Oregon State (four votes) and Arizona (one) also received some love from the coaches.
Defending national champion Florida State is an overwhelming No. 1, receiving 56 of the 62 first-place votes. Oregon was one of four other teams to receive at least one first-place vote, along with No. 3 Oklahoma, No. 6 Ohio State and No. 9 South Carolina.
With seven teams in the poll, the SEC leads all conferences, but it should also be noted the Pac-12 and SEC both had the same percentage of teams from their respective conferences included.
As a result of the Pac-12's depth, five of the six most difficult schedules in the country, according to ESPN's
preseason Football Power Index
(FPI) belong to teams in the conference: No. 1 UCLA, No. 2 Utah, No. 3 Cal, No. 5 Washington State and No. 6 USC.
The way things stand, there are 12 games during the Pac-12 conference schedule that will feature two ranked teams.
Pac-12 coaches Mike Leach, Mike MacIntyre, Chris Petersen, Mike Riley, Rich Rodriguez and Steve Sarkisian are among the voters.
July, 31, 2014
Jul 31
10:00
AM PT
LOS ANGELES -- As the
USC Trojans
prepare to open their 2014 training camp on Monday, you probably already know that there are big changes coming. The changes on and off the field could be the biggest for USC since the arrival of John McKay as head coach back in 1960.
The offense:
Tailback U., as you know it, is now currently in mothballs. So long traditional McKay "I-formation." Forget about asking first-year head coach Steve Sarkisian about the term "tailback. It doesn't exist. If that isn't a huge change, what's next? No Traveler? No marching band?
At last week's Pac-12 media days, Sarkisian was asked whether the offense was no longer Tailback U. The former Pete Carroll assistant's response was that he believes in a power running game first but went on to say he sees no difference between the terms "tailback" and "running back." They are both he same to him.
July, 31, 2014
Jul 31
12:00
PM PT
Last week at Pac-12 media days, the media poll was announced and the resounding response was that the media believes the Ducks will win this year's Pac-12 championship game.
When it came to the breakdown of where teams would finish, again it was a pretty clear agreement: most media had Oregon and Stanford as No. 1 and No. 2, respectively, in the North Division and UCLA and USC as their counterparts in the South Division.

We didn't need a media poll to start thinking about the Pac-12 championship game, but this just gave us even more reason to explore it. Yes, these four teams seem to be a step ahead in personnel and game plan for the season, and have some favorable matchups here and there. But, it's college football and craziness happens, so there is certainly a chance that a team not in this group jumps into the lead in the North or South and ends up playing in Levi's Stadium at the end of the season.
So, we wanted to ask you: which matchup do you think you will be watching when it all comes down to it on Dec. 5?
Will it be:
Oregon-UCLA:
This would be a rematch of an Oct. 11 game that would match up (what could be) an explosive and dynamic Oregon run game against some of the best linebackers in the country --
Myles Jack
, Eric Kendrick, we're looking at you, can you handle
Marcus Mariota
,
Byron Marshall
and
Thomas Tyner
? It would be great to be able to see Mariota and
Brett Hundley
on the same field twice this season as they battle it out for NFL draft status, top quarterback in the Pac-12/nation, etc. etc.
Oregon-USC:
These teams don't play during the regular season, and if you can say that you don't want to see USC defensive end
Leonard Williams
get after Mariota and the Oregon offensive line, then you are probably the kind of person who doesn't like puppies, apple pie or happiness. This could be one of the best battles-within-a-battle to watch all season, regardless of conference. No doubt football fans all over the country would tune in to see what could be the best defensive lineman and the best quarterback battle for 60 minutes.
Stanford-UCLA:
Could we see two teams play in back-to-back weekends? If Stanford wins the North and UCLA wins the South, that would be the case. They would close out the regular season on Friday, Nov. 28 in Los Angeles and then meet again a bit further north at Levi's Stadium the following weekend. If you are not completely trusting of Oregon and its ability to close out a season, maybe this is the pick to make. Stanford has been the underdog before and has done pretty well.
Stanford-USC:
This would be a great rematch. These teams play in Week 2, but can you imagine how different they would be by the championship game? The growth that happens between Sept. 6 and Dec. 5 would just be ridiculous, and it would be fun to compare these two games side-by-side and say, "Yes, this is where this team has grown the most over a season." A Steve Sarkisian-David Shaw dual-duel is completely conceivable and would be fun to watch.
Other:
Those are the front-runners in the conference, but could we see some surprises? Trap games exist for all four of those teams, and with coachs like Chris Petersen or Todd Graham, you can't completely count out their teams. Could Washington sneak into a matchup with UCLA or USC or someone else? Could Arizona State appear in the championship game for the second season in a row? It's all possible. But is it probable? You decide.
July, 31, 2014
Jul 31
11:00
AM PT
Gas up the family station wagon and hit the
Holiday Road
. The Ultimate Road Trip is back! Over the next couple of weeks we're going to look at each week during the 2014 season and pick the can't-miss game (and maybe for Thursday/Friday games, we'll work in two).
Start planning accordingly. The Ultimate Pac-12 Road Trip continues.
Welcome to Week 12.
Thursday, Nov. 13
Saturday, Nov. 15
My choice
: Free pass
Why
: Only two-thirds of the league is active this week, so rather than force-feeding a game down you're throat, we're going to leave you to your own devices and pick the game that is best for you. The Pac-12 blog isn't copping out by not picking one. But rather all four have their own element of interest that it's pretty much impossible to go wrong. So Sean Hein, go to Tucson with a clear conscious and enjoy the game.
For starters, you have the Bears visiting the Coliseum. I'm just as curious as everyone else to see what both teams are going to look like this late in the season. Has Cal found its footing with Sonny Dykes and are all of those yards the offenses is gaining translating into points? Or is his seat hotter? And we're nearing the end of Steve Sarkisian's first season as USC's head coach. With a big game against UCLA looming next week, it's going to be interesting to see exactly where the Trojans are at this late in the game.
The last time Washington went to Tucson, the Huskies got whipped 52-17 behind four
Matt Scott
touchdown passes. Last year they returned the favor with a win at home -- though it's safe to say those trips to the desert haven't treated the Huskies well the last couple of seasons. By this point in the season, chances are these two teams will be jockeying for bowl placement, adding an extra element of excitement for both fan bases.
The same can be said for ASU's trip to Oregon State. Unless there has been catastrophic setbacks, both of these teams will likely be bowl eligible by this point in the season (or will need this game to become bowl eligible) so any game down the stretch takes a sense of urgency. And when you combine two of the top quarterbacks in the league in
Sean Mannion
and
Taylor Kelly
, you have the makings of an exciting offensive showdown.
And finally there is a rematch of one of the biggest upsets in the Pac-12 last season. If Arizona over Oregon was No. 1, then Utah over Stanford was 1A. Yet despite getting that "signature" win they'd been looking for since joining the league, the Utes weren't able to capitalize on it as they were plagued (again) with quarterback injuries. The Pac-12 blog was extremely impressed with the game plan then-offensive coordinator Dennis Erickson cooked up for the Cardinal. It will be interesting to see if Dave Christensen takes a similar tack.
You can see the rest of the road trip
here
.
July, 31, 2014
Jul 31
9:00
AM PT
Our list of the
Top 25 players in the Pac-12
continues.
10. Oregon C Hroniss Grasu
Why he's ranked here:
Grasu is one of three players in the conference -- all from Oregon -- to have been named first-team All-Pac-12 the last two seasons. As a junior in 2013, he was a finalist for the Rimington Trophy, given to the nation's best center, and the undoubted leader of the Ducks' offensive line that blocked for the conference's No. 1 rushing attack. Grasu enters his final year in Eugene having started all 40 games of his career with a chance to leave his mark as one of the Ducks' all-time greats. And as good as Grasu and the line were a year ago, they should be better this year with all five starters back and some talented players behind them who could push for playing time in training camp.
9. Stanford WR Ty Montgomery
2013 stats:
Caught 61 passes for 958 yards and 10 touchdowns, and ranked second nationally averaging 30.3 yards per kickoff return.
Why he's ranked here:
When Montgomery is on the field for Stanford, he's the team's best player. Whether that's as a receiver or kick returner, he's the one guy who has consistently proved he can change a game on any given snap. There's minimal concern he won't be 100 percent for the start of the season due to an arm injury, but Montgomery said Wednesday he's not limited when it comes to running, catching or lifting weights. At 6-foot-2, 220 pounds, with just 4 percent body fat, Montgomery certainly didn't look injured. "When he comes back, he might be the most explosive player in college football, and he's going to touch the ball in every single way possible," Stanford coach David Shaw said at Pac-12 media days. It remains to be seen whether we should take Shaw literally and add punt return duties to Montgomery's other responsibilities, but there have been discussion about that as well. When comparing Montgomery as a receiver to the other two receivers listed below, there's really not much separation -- a solid case can be made to have each of them in front of the other.
8. Arizona State WR Jaelen Strong
2013 stats:
Caught 75 passes for 1,122 yards and seven touchdowns in his first year with ASU.
Why he's ranked here:
Perhaps no one in the conference made as strong an immediate impact as Strong did last year after arriving at ASU from Pierce College in Los Angeles. He eclipsed the 100-yard receiving mark in five of his first six games and finished fourth in the Pac-12 with 1,122 receiving yards. The three players who finished ahead of him -- Oregon State's
Brandin Cooks
, Colorado's
Paul Richardson
and Oregon's
Josh Huff
-- are all off to the NFL. Like Montgomery, Strong is physically imposing and at 6-4, 212 pounds makes a dangerous red zone target for quarterback
Taylor Kelly
. Of the 25 players the Pac-12 blog has deemed the conference's best, Kelly-Strong is the only quarterback-receiver tandem to be included together on the list (you'll see where Kelly lands Friday morning). They're the main reason ASU coach Todd Graham proclaimed at Pac-12 media days that "This will be the best offensive football team that I've ever coached." If Strong makes the kind of jump Cooks made from 2012 to 2013, it shouldn't surprise anyone.
7. USC WR Nelson Agholor
2013 stats:
Caught 56 passes for 918 yards and six touchdowns and also returned kicks (17.5 avg) and punts (19.1 avg)
Why he's ranked here:
On a team that featured 2012 Biletnikoff winner
Marqise Lee
, Agholor was simply the better receiver in 2013 and his value to the Trojans stretched further than that because of how he could impact games as a return man. What Montgomery was to Stanford on kickoff returns, Agholor was for the Trojans on punt returns. He returned two for touchdowns, and his 19.1 average was a new school record and ranked second nationally. With Lee off to the NFL, a second-round pick of the
Jacksonville Jaguars
, Agholor figures to see his receiving numbers improve -- even if that means more attention from opposing defenses. Agholor has developed a reputation for being an NFL-caliber route runner and is among the nation's most dangerous receivers after the catch. ESPN draft analyst Mel Kiper Jr. ranks Agholor as the
No. 3 receiver on his Way-Too-Early Big Board
(one spot behind Strong).
6. Oregon State QB Sean Mannion
2013 stats:
Threw for a Pac-12 record 4,662 yards with 35 touchdowns and 15 interceptions.
Why he's ranked here:
By the time the NFL draft rolls around, Mannion might just end up being the top quarterback on some teams' boards. He's that talented. With 10,436 career passing yards, Mannion already sits at No. 10 on the conference's all-time passing list and, assuming he stays healthy, should have no problem passing
Matt Barkley
's record of 12,327. Mannion admits he had a great relationship with former offensive coordinator Danny Langsdorf, who left to become the quarterbacks coach for the
New York Giants
, but he has already grown under the tutelage of Langsdorf's replacement, John Garrett. "It has been good to get another perspective, another coach to learn from," Mannion said at Pac-12 media days. "It was tough to see [Langsdorf] go, but I think it'll end up being beneficial." Mannion is also the first Oregon State player to be selected team captain three times. Kiper ranked him as the
No. 2 senior NFL quarterback prospect in the country
.
Check out the rest of the rankings here:
Nos. 25-21
,
Nos. 20-16
,
Nos. 16-11
July, 30, 2014
Jul 30
4:55
PM PT
For all those people fretting that a playoff in college football would somehow water down the regular season, I offer up the blockbuster weekend of Sept. 3. 2016.
Yes, it's still a couple of years away and we're supposed to be focusing on what's right in front of us. But, geez, that Saturday to open the 2016 season could very well provide the most attractive lineup of nonconference games on one day that we've ever seen.
For that, at least in large part, we all have the College Football Playoff to thank.
Some of the matchups were already set or in the process of being set. But the real impetus in beefing up all these nonconference schedules was that a playoff was coming.
And, now, with a selection committee holding the keys to those coveted four playoff spots, we're going to be in store for some terrific nonconference showdowns in the regular season for years to come. Simply, teams that don't play and win those types of games are going to be on the outside looking in, which makes the regular season as important as ever.
My only knock on that weekend to kick off the 2016 season is that there are too many good games. I want to watch them all.
We've all been clamoring for an
Alabama
-
USC
matchup. Well, we're finally going to get it in Arlington, Texas to open that season.
And if you like your football Southern style,
Clemson
at
Auburn
has a nice ring to it. Lewis Grizzard, the late Southern humorist, once said that Clemson was Auburn with a lake. In a lot of ways, they're virtual clones of each other right down to their break-neck style of offense. Even more enticing, this is a home-and-home series with Auburn traveling to Clemson the next year.
There won't be a more unique game that weekend than
LSU
facing
Wisconsin
in historic Lambeau Field. Perhaps we'll get to see Les Miles perform the "Lambeau Leap" if the Tigers win.
Have the remote control ready because we also get
UCLA
at Texas A&M,
Notre Dame
at
Texas
and BYU Cougars at
Arizona
(in Glendale, Ariz.).
That's just the first weekend, too.
A week later,
Tennessee
and
Virginia Tech
will "trade paint" at Bristol Motor Speedway. And two weeks later,
Ohio State
travels to Oklahoma and
Oregon
visits Nebraska.
So much for opening the college football season with a tune-up … or two.
July, 30, 2014
Jul 30
2:30
PM PT
There's a place up ahead and I'm goin'. Just as fast as my feet can fly. Come away, come away if you're goin'. Leave the sinkin' ship behind.
July, 30, 2014
Jul 30
10:00
AM PT
By
ESPN.com staff
| ESPN.com
On Wednesday, WeAreSC reporter
Garry Paskwietz will be chatting
about
USC Trojans
football. Paskwietz is the publisher of WeAreSC and has been covering the Trojans since 1997. Send your questions now and join Paskwietz every Wednesday at 2 p.m. PT.
July, 30, 2014
Jul 30
7:15
AM PT
By
Garry Paskwietz, Johnny Curren
and
Greg Katz
| ESPN.com
The WeAreSC staffers discuss various topics related to the opening of
USC Trojans
fall camp practices next Monday.
Who will have the biggest camp impact? (offense/defense)
Garry Paskwietz:
Steve Sarkisian says this will be a physical run-first offense and that should mean plenty of opportunities for
Buck Allen
to establish himself early as a critical piece of the system. The reigning Trojans MVP is in great shape and appears ready for that kind of role. On defense,
Leonard Williams
may be the most talented and
Hayes Pullard
is the most productive -- but in terms of impact, I'm going to go with
Su'a Cravens
. His athleticism should allow for him to make a lot of plays.
[+] Enlarge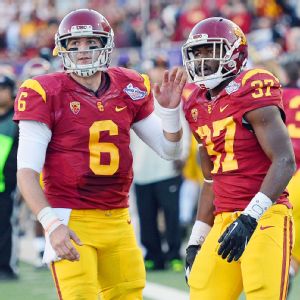 Ethan Miller/Getty ImagesThe Trojans' offense will run through quarterback Cody Kessler and tailback Javorius "Buck" Allen.
Johnny Curren:
On offense, I'm going to go with Allen. The fourth-year junior tailback is in fantastic shape right now, and with Sarkisian showing a real desire to pound the ball on the ground, he should get plenty of chances to shine. On defense, Williams is the one to watch. Close to 100 percent after undergoing offseason surgery on his shoulder, there's every reason to believe he'll have an even bigger 2014 campaign than his season of 2013, when he garnered ESPN.com first-team All-America honors.
Greg Katz:
Cody Kessler
on offense. The Trojans' offense may have more explosive players, but the system doesn't work unless Kessler works, and he has been relentless in not only learning Sark's no-huddle, fast-paced offense but executing it and teaching others. Williams on defense. Teammates of the "Big Cat" know he played with pain in his shoulder last season and was never 100 percent. In the summer, however, it was darn scary just how must quicker and intense he was during voluntary workouts.
What will be the best position battle?
Paskwietz:
The Trojans enter camp with no clear-cut starter at left guard and as many as four candidates for the job. The one veteran in the mix is
Jordan Simmons
, but he is coming off knee surgery last fall. The other three possibilities are all true freshmen in
Toa Lobendahn
,
Viane Talamaivao
and
Damien Mama
. All are extremely talented, but all will be taking part in their first fall camp practices as Trojans, though Lobendahn did participate in spring drills.
Curren:
I'm tempted to say the battle at Sam linebacker between
Jabari Ruffin
and
Quinton Powell
, but after seeing
J.R. Tavai
shine throughout the summer workouts, I'll go with the competition between he and
Scott Starr
at rush end. Both performers are excellent athletes who play physical and fast to the ball off the edge, and I look forward to watching them bring out the best in each other in fall camp.
Katz:
Because of the importance of both offensive guard positions, one would have to lump this as a critical unit position battle. Whether starting senior right guard
Aundrey Walker
, coming off an ankle injury, and Simmons, coming off of a knee injury, at left guard can be physically in shape and hold up to the pace of the offense remains in question. What isn't in question are the true freshmen O-liners such as Lobendahn, who is a well advanced talent despite his inexperience.
Who will be the surprise player of camp?
Paskwietz:
It's hard to call
Adoree' Jackson
a surprise player in anything when you consider he was the highest-rated recruit in this USC class. The surprise will come, however, in just how good he will be from the word go. And I'm not talking just at one spot, he will make a case for playing time on offense, defense and special teams.
Curren:
I really liked what I saw out of
Leon McQuay III
, both in the spring as well as this past summer. He's going to really open some eyes in his role as the starting free safety. Having bulked up considerably since his freshman season, he's also played with a new level of confidence over the past six months.
To continue reading this article you must be an Insider
July, 30, 2014
Jul 30
9:30
AM PT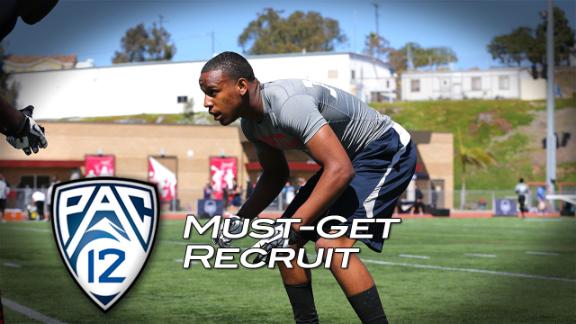 While one recruit will never truly make or break a recruiting class, some come closer than others. Every Pac-12 program has a must-get recruit in mind, whether it's a national standout whose commitment would rock the recruiting landscape, a star at a position where that program simply cannot miss, or a local prospect who can't be allowed to leave the area.
To continue reading this article you must be an Insider
July, 30, 2014
Jul 30
9:00
AM PT
Our list of the
Top 25 players in the Pac-12
continues.
15. UCLA LB Eric Kendricks
2013 stats:
106 tackles, 4 tackles for a loss, 2 sacks, 1 interception, 1 forced fumble
Why he's ranked here:
In his time at UCLA, Kendricks has gone from an outstanding defensive scout team member to being a crucial element to one of the best linebacking groups in the conference (and maybe the country). In his redshirt senior season, we are expecting big things. And we aren't the only ones. UCLA coach Jim Mora sees big things happening for Kendricks. At Pac-12 media days last week he spent quite a bit of time complimenting Kendricks. First, on his leadership, saying, "He's kind of a glue guy. Without even saying a lot, he's kind of that guy that everyone wants to orbit around." Second, Mora complimented Kendricks' personality, explaining that if his daughter married Kendricks, he would be perfectly OK with that. Third, he said Kendricks had great hair.
We can't guarantee all of that (though, if there's a Pac-12 award for best hair, he'd have to be a semifinalist, right?) but the first fact seems pretty valid. Kendricks' leadership is going to be huge for the Bruins this season, and when a player is given that kind of a role by his coaches, and looked up to by his teammates, a lot of times that results in very big numbers on the field. Will he record double-digit tackles in games? There is a good chance. In 2012, he averaged 10.6 per game and in 2013 (ailed by injuries) he averaged 8.8. But he's just the first of two Bruins linebackers in this grouping on our countdown. Running backs, take note ...
14. Washington LB/RB Shaq Thompson
2013 stats:
78 tackles, 4 tackles for a loss, 0.5 sacks, 1 interception
Why he's ranked here:
Thompson was second on Washington last season in tackles, but he's going to take on a bigger role this season as he begins his journey as a two-way player (perhaps he can ask No. 13 a few questions about that role). At Pac-12 media days, coach Chris Petersen addressed this and said, "We don't want to water him down and make him less of a defensive player. So I think there is a fine balance there and we'll continue to work through that." What exactly that fine balance is, we'll see. But there are certainly reps to be had at running back as the Huskies attempt to replace the production of Bishop Sankey. And Thompson could be a guy who contributes there. With the ability to impact the game on both sides of the ball for Washington, Thompson -- who wasn't talked about too much even a year ago -- cracked the top 15 players in the conference in 2014.
13. UCLA LB Myles Jack
2013 stats:
75 tackles, 7 tackles for a loss, 1 sack, 2 interceptions; 38 carries, 267 rushing yards, 7 rushing touchdowns
Why he's ranked here:
So, with Thompson taking on a larger role on both sides of the ball, Jack is scaling back a bit. He was the Pac-12 Freshman Offensive and Defensive Player of the Year in 2013, but this season, look for him to be much more a defensive player. Jack has athleticism pouring out of him, and with more of a focus on defense, and the discipline that brings, he could be scary, scary good this season -- so good he is the second-highest ranked linebacker on this list (not bad for a sophomore).
Though Mora didn't have quite the flowery sentiments about Jack as he did Kendricks (no hair or dating his daughter comments), he did say that if anyone were to ask UCLA players who the hardest-working Bruin was, that they would all say Jack or quarterback
Brett Hundley
. That is what the fans should care about. With someone who has his talent and athleticism, the fact that he is still the hardest-working player on the team means something. And that is going to show on the field this season. Could he lead the Pac-12 in tackles? Maybe. Could he and his top-25 counterpart Kendricks be an absolute nightmare to face this season? We think definitely.
12. USC LB Hayes Pullard
2013 stats:
94 tackles, 5.5 tackles for a loss, 1 interception
Why he's ranked here:
For two of the past three seasons, Pullard has led the Trojans in tackles. Chances are that this could be Year 3 for him in that category. He is going to have serious competition for best linebacker in the conference (cough, cough, Nos. 15-13), but with 39 starts and 282 tackles under his belt, we're pretty sure Pullard is going to make the most of his senior year. At Pac-12 media days, USC coach Steve Sarkisian said he thought the strength of his team was in its front seven, and at the middle of that front seven for the Trojans this season is going to be Pullard. The 6-foot-1, 235-pound senior should crack 100 tackles this season, and we wouldn't be too surprised if at least 10 of those are for a loss.
11. Stanford OT Andrus Peat
Why he's ranked here:
At Pac-12 media days last week, Stanford coach David Shaw told NFL.com that he thought Peat was second to just one offensive tackle he has ever been around -- 11-time NFL Pro Bowler John Odgen. That is pretty high praise. Peat is the highest offensive tackle and second-highest offensive lineman on our list. Assuming nothing goes insanely wrong, he will be an easy all-conference pick at the end of the season and possibly a semifinalist or finalist for the Outland Trophy. At 6-7, 316 pounds, he's going to be pretty tough to move. We're certainly looking forward to a few potential matchups with top defensive linemen (one, whose name will pop up later on in this list ...) as Peat looks to prove himself as the most feared tackle in the Pac-12. At this point in time, he has our vote. We'll see how the season shakes out.
Check out the rest of the rankings here:
No. 25-21
,
No. 20-16
PAC-12 SCOREBOARD
Thursday, 8/28
Friday, 8/29
Saturday, 8/30