August, 20, 2014
Aug 20
9:00
PM PT
Your humble #4Pac welcomes you to the first installment of what'll be a regular feature here on the Pac-12 blog. Here's how it works: We take one question, one topic or maybe it's some other really cool format that we haven't even thought of yet and all contribute our thoughts.
Sometimes, like today, we'll be playing Devil's advocate for a specific team, player or idea.
Have a suggestion for something we should address in a future #4Pac roundtable? Go ahead and
send it to our mailbag
.
Our first topic is centered on wide receiver depth. Specifically, which team in the conference has the most? As a group, we selected the four schools below -- something that was not clear cut -- and then divvied them up between the four of us.
Arizona
Ted Miller/@TedMillerRK:
Arizona would rate near the top of the Pac-12 just on what it's got coming back from 2013, starting with leading receiver
Nate Phillips
, who earned honorable mention All-Pac-12 honors as a true freshman. Toss in the water-bug quick
Samajie Grant
and 6-foot-4
David Richards
, who combined for 29 receptions last season, as well as the surging
Trey Griffey
-- son of Kenny Griffey Jr. -- who hauled in two TD passes in the bowl game, and you have a talented, experienced unit.
Yet, the receivers that didn't play in 2013 have the Wildcats among the nation's best at receiver this fall.
First, there's
Austin Hill
, a 6-foot-3, 212-pounder who was second-team All-Pac-12 in 2012 with 81 receptions for 1,364 yards. He would have been a Biletnikoff contender in 2013 if he didn't miss the season with a blown-out knee. Then there are a pair of marquee transfers,
Cayleb Jones
(Texas) and
Davonte' Neal
(Notre Dame) who had to sit last season due to NCAA rules. Jones is another big, athletic target, while Neal is a dangerous runner with the ball in his hands out of the slot.
The list of intriguing athletes doesn't end there, but that is enough to establish Arizona as the Pac-12's deepest receiving unit. It will be interesting to see who ends up leading the unit in receptions, as Hill, Phillips and Jones are legit possibilities. The only issue? Who the heck is going to deliver the ball?
California
Kyle Bonagura/@BonaguraESPN:
With apologies to Stanford, which was tough to leave off this list, Cal is the Bay Area team with the most receiver depth this season. If we're talking top 3, maybe things are different, but considering Cal uses four receivers on just about every play and doesn't even list a tight end, this shouldn't come as much of a surprise.
By returning
Chris Harper
(70 catches, 853 yards) and
Bryce Treggs
(77 catches, 751 yards), Cal is the only school in the conference that has a pair of 700-yard receivers from last season. Treggs played primarily on the inside, but the coaching staff plans to take advantage of his varied skill set by using him on the outside this season.
Interestingly, Harper wasn't even listed with the starters on Cal's preseason depth chart. He was behind Hawaii transfer
Trevor Davis
, who sat out last season after catching 45 passes for 601 and five touchdowns in two seasons with the Warriors. That shouldn't matter too much because Cal will rotate receivers heavily, but still worth noting.
Along with Treggs and Davis, Cal listed
Kenny Lawler
(37 catches, 347 yards) and
Stephen Anderson
(14 catches, 125 yards) as the other two
starting
receivers. There's plenty of depth behind them too with
Darius Powe
(25 catches, 231 yards),
Maurice Harris
and
Bryce McGovern
.
USC
Kevin Gemmell/@Kevin_Gemmell
: I'm not going to spew out a couple hundred words and pretend that the Trojans have the deepest wide receiver corps in the conference. Because they don't -- at least not at first glance. The other schools on this list -- Arizona, Cal and Washington State -- are heavy at receiver because they run spread offenses contingent on a deep wide receiving corps.
But what the Trojans do have is
Nelson Agholor
, who is widely regarded as the best receiver in the conference and one of the top five in the country. And that has to count for something. I know what the counter argument is -- what if USC loses Agholor? Well, then it's in trouble. You could say that for any team's No. 1 receiver. But there is also some talented potential behind Agholor that could be getting overlooked.
Remember
George Farmer
? He's finally healthy and appears on track to start opposite Agholor after rave reviews this fall. Sports Illustrated even tapped him as one of its top players set to have a bounce-back year.
Darreus Rogers
(22 catches last season),
Steven Mitchell
,
Victor Blackwell
and five-star recruit
JuJu Smith
are also waiting in the wings. Another five-star recruit,
Adoree' Jackson
, could see work at receiver.
Agholor's presence automatically makes USC relevant to this conversation. And with explosive potential behind him, it would be unwise to disregard USC's receiving corps.
Washington State
Chantel Jennings/@ChantelJennings:
I don't know how anyone is going to make an argument for any team other than Washington State. The Cougars throw the ball more than any other team in the conference, thus they need more receivers than any other team in the conference.
They return their top seven receivers from last season. Each of those players caught at least 35 passes, and the top five receivers averaged at least 40 yards per game. What other team can say that? Yes, other teams might have a player who averages 100 or 120 receiving yards per game but the Cougars have weapons everywhere on the field. Though they might contribute in smaller amounts, the end total is greater.
Senior
Vince Mayle
had a huge spring for the Cougars and is continuing to impress in the fall, becoming
Connor Halliday
's go-to guy. Look for him and junior
Gabe Marks
to lead the pack. But, there's a pretty deep group behind those two headliners.
Warning: here comes a long (very long) list of names ... but that's what you get with the deepest receiver group in the Pac-12.
There are the guys who most will remember from last season -- senior
Kristoff Williams
, sophomore
River Cracraft
, junior
Dom Williams
, senior
Rickey Galvin
and senior
Isiah Myers
. And that's just the guys who played last year. Two freshmen could contribute this season -- redshirt freshman
Robert Lewis
and true freshman
Calvin Green
.
August, 20, 2014
Aug 20
11:30
AM PT
By
WeAreSC staff
| ESPN Insider
Give three under-the-radar storylines from fall camp that aren't getting a lot of attention but will be very important to the
USC Trojans
.
August, 20, 2014
Aug 20
8:44
AM PT
By
ESPN.com staff
| ESPN.com
On Wednesday, WeAreSC reporter Garry Paskwietz
will be chatting
about
USC Trojans
football. Paskwietz is the Publisher of WeAreSC and has been covering the Trojans since 1997. Send your questions now and join Paskwietz every Wednesday at 2 p.m. PT.
August, 20, 2014
Aug 20
8:18
AM PT
August, 20, 2014
Aug 20
8:00
AM PT
And I have one of those very loud, stupid laughs. I mean if I ever sat behind myself in a movie or something, I'd probably lean over and tell myself to please shut up.
Leading off
Previews, previews, previews. Lots of them hit the web yesterday. Fox, SI and Athlon all had major Pac-12 pieces.
Perhaps the biggest surprise came from
Fox Sports' Stewart Mandel
, who picked the
Washington Huskies
to win the North Division and Oregon to finish third.
Here's Mandel's take on the Ducks:
The string of 11- and 12-win seasons can't go on forever, and despite the return of star quarterback Marcus Mariota, the Ducks' once-unstoppable offense showed cracks last year following Chip Kelly's departure. Oregon's defense may miss retired coordinator Nick Aliotti.
There's a couple of ways to interpret this. First, Mandel -- a good friend who knows college football as well as anyone in the country -- is brilliant. And when the Huskies are walking away with the North title, he's going to have a satisfied grin on his face for the entire offseason. Or, he could be wrong. Nothing wrong with putting yourself out there.
The country seems high on the No. 25 Huskies. For the national voters to place them in the Top 25 after losing their starting quarterback, a Doak Walker finalist running back and a Mackey Award winning tight end speaks to how highly Chris Petersen is regarded as a head coach. And maybe, just maybe those East of the Rockies are starting to pay the Pac-12 a little more national respect.
But as the Pac-12 blog is fond of saying (and so is every single coach in America), the final rankings are the only ones that matter. So a tip of the cap to Mandel for by far the boldest prediction of this preseason.
Some other previews:
SI's Lindsey Schnell
has Oregon and UCLA playing in the Pac-12 title game -- a common pick among most media, including the Pac-12 blog -- UCLA's
Myles Jack
as the league's defensive MVP. That's another fairly bold prediction considering the quality of players like
Leonard Williams
,
Ifo Ekpre-Olomu
,
Shaq Thompson
,
Hau'oli Kikaha
and Jack's teammate,
Eric Kendricks
. That's going to be a fun award to keep an eye on throughout the season.
NFL.com's college football blog
pays homage to the quarterback depth
in the Pac-12, and Bryan Fischer taps
Kevin Hogan
as the league's breakout player in 2014.
Schedule accordingly
A couple different posts have come out over the last two days about must-see games. Let's put it this way – if you plan on watching Oregon, Stanford or UCLA, you're covered.
First up,
Pat Forde of Yahoo Sports
has his annual list of the 25 most intriguing games of the 2014 season and five of the 25 involve Pac-12 teams. From his list:
No. 2 Michigan State at Oregon (Sept. 6)
No. 4 UCLA at Texas (Sept. 13)
No. 7 Stanford at Oregon (Nov. 1)
No. 14 Oregon at UCLA (Oct. 11)
No. 17 USC at Stanford (Sept. 6)
Next up is
Athlon Sports
, which posted 25 must-see games specific to the Pac-12. Here's their top 5:
No. 1 Stanford at Oregon
No. 2 Oregon at UCLA
No. 3 Michigan State at Oregon
No. 4 USC at UCLA
No. 5. Stanford at UCLA
You can see some interesting opinions in terms of placement. But for the most part all of the major games are covered.
Rank'em
Athlon also came out with its rankings of the
top 37 players in the Pac-12
.
Here's what their top 10 looks like:
Marcus Mariota, QB, Oregon
Leonard Williams, DE, USC
Brett Hundley, QB, UCLA
Ifo-Ekpre Olomu, CB, Oregon
Andrus Peat, OT, Stanford
Myles Jack, LB, UCLA
Taylor Kelly, QB, ASU
Sean Mannion, QB, Oregon State
Hroniss Grasu, C, Oregon
Jaelen Strong, WR, ASU
The top four are identical to
what the Pac-12 blog had
for its Top 25 players. Though we lumped a trio of receivers in our 5-10 and gave the nod to Agholor over Strong for his special teams contributions.
Also,
Jon Wilner of the San Jose Mercury News
released his all-conference projections for 2014. Not a lot of surprises, though it's interesting to see UCLA's
Jordon James
get the nod over Oregon's
Byron Marshall
.
News/notes/practice reports
Just for fun
One member of the Stanford coaching staff told me he believes center Graham Shuler could be better than both of the guys who preceded him.
.@GrahamShuler draws upon the wisdom of his Stanford center forefathers. #TunnelWorkersUnion #gostanford #cardcamp14 pic.twitter.com/B07kMkCTvE

— Stanford Football (@StanfordFball) August 20, 2014
And speaking of reunions, these guys are back together. This could get interesting.
Chip Kelly acquires one of his former Oregon standouts, running back Kenjon Barner, for conditional 2015 7th-rd pick pic.twitter.com/o1aVsnT9by

— NFL on ESPN (@ESPNNFL) August 20, 2014
August, 19, 2014
Aug 19
5:00
AM PT
The
USC Trojans
held a full live scrimmage on Monday night at the Coliseum and came away with the kind of positive impressions you want from the final scrimmage of fall camp.
The opening part of the session featured the first-team offense against the second-team defense and the first-team defense against the second-team offense. The first-team offense scored touchdowns on its first two possessions, one each by
Tre Madden
and Buck Allen, who had help from a long
Randall Telfer
run after a catch on a pass from
Cody Kessler
. Allen added a second touchdown on a pass reception from Kessler and
Jalen Greene
also ran for a score.
To continue reading this article you must be an Insider
August, 18, 2014
Aug 18
8:00
AM PT
LOS ANGELES -- If
USC Trojans
junior inside linebacker
Anthony Sarao
looks a little East Coast angry, it's because the New Jersey native and the rest of his teammates are trying to get through what head coach Steve Sarkisian affectionately calls the "dog days of camp."
"We've got through the first week of two-a-days, and once you get past the first two-a-days, everybody starts getting grumpy," Sarao said. "We hit the same people, but even if you're hitting the same people, you still have to keep a smile on your face."
[+] Enlarge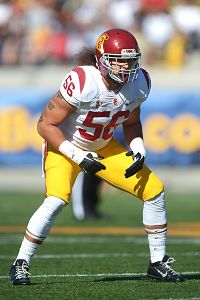 Kirby Lee/USA TODAY SportsUSC linebacker Anthony Sarao started the final seven games of 2013 and recorded 44 tackles for the season.
Sarao says the Trojans coaching staff understands the challenges of the "dog days" of camp, and has warned the Men of Troy that they won't get much compassion from any upcoming and potential opponents.
To continue reading this article you must be an Insider
August, 18, 2014
Aug 18
10:00
AM PT
Frank Beamer says it has never crossed his mind. Al Golden wasn't sure if it was already happening at the high school level.
They're not the only two college coaches who didn't know what to think when asked about prep quarterbacks who -- before stepping on campus -- were already equipping themselves to use the graduate transfer rule in a worst-case scenario.
"You know, I've never thought of that," Beamer said. "I'm not saying that that's not possible."
This offseason, Beamer and Golden have taken advantage of the graduate transfer rule. It's a rule that -- for the most part -- allows players who have graduated early from college but have not exhausted their eligibility to transfer to another school without sitting out a year. Virginia Tech brought in
Michael Brewer
(Texas Tech), and Golden signed
Jake Heaps
(Kansas). Boston College coach Steve Addazio also brought in a graduate quarterback in
Tyler Murphy
, and even Alabama, which grabbed
Jacob Coker
from Florida State, made use of the rule made famous by
Russell Wilson
when he left NC State for Wisconsin in 2011.
[+] Enlarge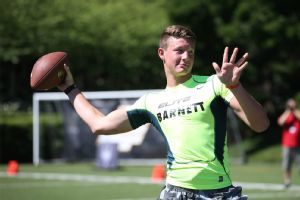 Tom Hauck for Student SportsAlabama 2015 QB commitment Blake Barnett plans to graduate in three years, giving him the option of transferring without penalty as early as possible if things don't work out with the Crimson Tide.
A large contingency of coaches either haven't put much thought into the idea of high school quarterbacks preparing for Plan B or don't believe college football has reached that point -- "I think it's looking too far down the road," Addazio said -- but the truth is the latest cycle of prep stars are acutely aware of all their options. It's manifested itself after an offseason in which nine FBS quarterbacks, according to
a list compiled by CBSSports.com's Jeremy Fowler
, are eligible to play immediately at their new schools, thanks to their use of the graduate transfer rule.
Blake Barnett
is a five-star Alabama commitment. The No. 2 quarterback nationally in the ESPN 300 is possibly in line to be one of the sport's upcoming superstars. His father, Lance, said his son is prepared to compete for the Crimson Tide's starting job in 2015 as a freshman and is not intimidated by the Tide's collection of elite high school signal-callers.
But the Barnetts also understand only one quarterback per team is on the field at a time, so graduating in three years is the plan for Barnett.
"The faster he can get his degree, the better off he is," Lance said. "God forbid you have to transfer, or you can go to the NFL, or he can work on his master's. ... You always have to prepare for situations that come your way down the road. Hopefully, [transferring] is a situation he doesn't see himself in. ... Get your degree as soon as possible, and worry after that. You're not penalized then."
Ricky Town
is one of two 2015 quarterback commits to USC. His father, Rick, said his son "loves USC, and you couldn't pry him away," but he is keeping an eye out for his son's best interests long-term. The Towns envision Ricky graduating from USC in three years, which gives him the same three options: NFL, master's degree or transfer.
Rick said he first became aware of the graduate transfer rule within the past year when he read reports that Coker was looking to transfer using the graduate rule. Coincidentally, Coker announced he was transferring to Alabama days before Town flipped from the Tide to the Trojans.
"You always plan ahead and explore more exit strategies, and the more avenues you have the better," the elder Town said. "You don't think you'll transfer in three years -- you set up for it, but it's not a goal. It's a bailout strategy if, for whatever reason, things don't go according to plan. It's a business. That's the bottom line."
Florida State coach Jimbo Fisher had two quarterbacks transfer over a nine-month period, Coker among them. The national championship-winning coach was in favor of both players transferring and said it was in their best interest with
Jameis Winston
entrenched as the Seminoles' starter.
Fisher said he is not for or against the graduate transfer rule -- it depends on each player's circumstance. He did say, however, he wishes more quarterbacks allowed the carousel to do a full revolution before they opt off the ride.
"I think it's better to have patience -- I really do," he said. "We're quick to jump."
But coaches are, in a way, opening their programs to graduate transfers at quarterback with how the position has been recruited recently. Of the top five quarterbacks in the ESPN 300, each could be January enrollees. Rick Town said his family began preparations for early enrollment after the second game of Ricky's sophomore season. Blake Barnett didn't begin thinking about enrolling early until Division I attention starting pouring in, but he's made up for lost time and will take two classes at Alabama during the spring semester.
Most players take classes during the summer as well, and the NCAA passed legislation in October that allows coaches to implement eight weeks of mandatory summer workouts. Between early enrollment and the summer credits, quarterbacks are often on track for graduation after three years.
"Then you still have those two full years of eligibility," Rick Town said.
August, 18, 2014
Aug 18
10:00
AM PT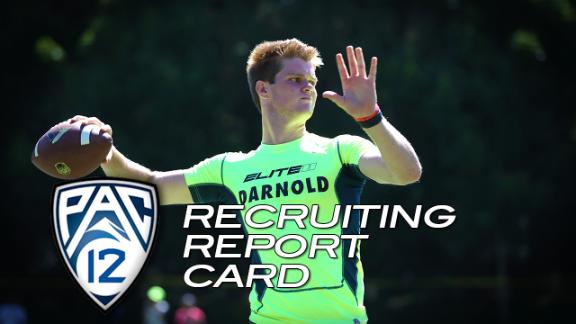 Nearly 90 recruits -- including 10 ESPN 300 prospects -- made commitments to the Pac-12 since the start of June, as the conference recruiting race heated up alongside the weather this summer. Not surpisingly, even with the boon over the past two and a half months, the Pac-12 still lags behind other conferences when it comes to sheer commitment numbers. Many Pac-12 programs have become content to wait until the season, or after the season, to put an emphasis on official visits and commitments. At this point, 35 programs hold commitments from 16 or more recruits, and only one of those -- Arizona -- resides in the Pac-12.
To continue reading this article you must be an Insider
August, 18, 2014
Aug 18
6:11
AM PT
As I wrote on Sunday, recent history tells us that at least half of the playoff teams are likely to come from outside the preseason AP top 10.
So which teams ranked Nos. 11-25 are most likely to finish in the selection committee's top four? Let's use ESPN's Football Power Index (FPI) to identify the strongest candidates.
---

There's nothing surprising about this pick. The highest-ranked SEC team outside of the top 10 is an obvious place to start.
To continue reading this article you must be an Insider
August, 18, 2014
Aug 18
8:00
AM PT
Good morning. You might have noticed a little change in the way we've been doing links the last couple of weeks. Ted gave you a quick
heads up in his mailbag last week
that things would be changing. From here on out, they'll be right there waiting for you when you wake up in the morning.
But on the Pac-12 blog, we're going to add a twist. Moving forward, I'll be manning the links in a column format, tossing in some opinion and analysis of stories the Pac-12 community will be talking about. This is a work in progress,
so tweet at me
with what you'd like to see: quote of the day, tweet of the day, etc. Do you want me to keep the literary and pop culture quotes? Let me know your thoughts.
Without further ado, to the links:
Leading off
The big news over the weekend was obviously
the release of the preseason AP Top 25
. Half of the teams in the league are ranked: Oregon (3), UCLA (7), Stanford (11), USC (15), ASU (19) and Washington (25).
The exact same six
ended last season
ranked: Oregon (9), Stanford (11), UCLA (16), USC (19), ASU (21) and Washington (25).
We all expected Oregon and UCLA to be in the top 10. And with the considerable hype Marcus Mariota and Brett Hundley have received, the Pac-12 blog wouldn't have been shocked if both were top five.
Washington should be pleased to be ranked, considering it lost its starting quarterback, running back and Mackey Award-winning tight end. That ranking is a clear reflection of Chris Petersen's presence, because a Pac-12 team losing that much offensive firepower usually doesn't get the benefit of the doubt with voters.
ASU should feel pretty good about being in the top 20 -- especially after the way
it closed out last season
and the departure of nine starters on defense.
Doug Haller offers
an interesting perspective
on the Sun Devils:
This marks the first time since 2008 that the Sun Devils have made the preseason poll.

Certainly, nothing stinks about that except ... This isn't always a good thing for the Sun Devils. The last six times they made the AP preseason poll -- a stretch dating to 1998 -- they didn't finish in the final AP Top 25 poll.
The Trojans should also feel pretty good about their spot at No. 15. Voters don't appear to be taking a wait-and-see approach to the Steve Sarkisian era. Sounds like a lot of folks are buying in.
And as for the Cardinal, this is just more fodder for head coach David Shaw to play up the nobody-believes-in-us card, which his team often embraces.
Practice reports
Nice/interesting reads
A little fun
The Beavers closed out their scrimmage over the weekend with a little
slip-and-slide action
. Don't see Mike Riley on the tarp. I'm guessing if there was a double-double at the other end, he'd be sliding.
And finally, for everyone who has been to San Bernardino or covered a UCLA camp, we can all relate to Ryan Kartje.
Fall camp in San Bernardino is officially over, and UCLA beat writers rejoice!

— Ryan Kartje (@Ryan_Kartje) August 16, 2014
August, 17, 2014
Aug 17
11:30
PM PT
It was quite the scene at USC practice on Sunday night when kicker
Andre Heidari
hit a 30-yard field goal to set off a wild celebration that brought an early end to practice.
Trojans coach Steve Sarkisian had told the players that if Heidari made the kick he would cut short practice, which would spare the players a 20-minute team drill in the hot August sun. With teammates lining both sides of the ball and shouting encouragement it was probably the most pressure Heidari has faced since his game-winner against Stanford last year.
"Obviously you saw the excitement from the players to get a little bit of an extra break," Sarkisian said with a smile.
It brought an end to one of the best practices of camp for the Trojans, which Sarkisian noted is not always easy to do when the players know they have a scrimmage coming up the next day.
"It can be really easy to just kind of survive a practice at this point in camp," Sarkisian said. "They know they have double-days tomorrow and a scrimmage at night in the Coliseum but I thought they came out today with great energy and competed from the moment they walked on the field. I was really proud of that.
"I think it shows we have a pretty good sense of who we are right now. We're focused on the details. Today we worked on some goal-line stuff, tomorrow will be 4-minute offense, we've done 2-minute scenarios, we've done special teams with our punt team backed up or practicing returns after safeties. It's not about implementing schemes or any of that stuff anymore, it's about the little things."
Freshmen making an impression
Sarkisian took the time to address the fact that his freshman class has been doing some good things on the practice field so far in camp, and it's not just a few guys either. One of the more notable things about this group is just how many of them are showing well in their first real opportunities as Trojans, something that certainly bodes well for the future.
"I thought we had signed a really good class but you never really know," Sarkisian said. "But there are a lot of guys doing quality work. I look up front and I see Toa, Damien and Viane, that's really impressive what they are doing.
Bryce Dixon
,
Ajene Harris
,
JuJu Smith
and Adoree' when he was on offense, we're just getting some great work out of them. Uchenna and Olajuwon have really improved and we've got some great young defensive backs like Lockett and Plattenburg.
"I've been very impressed by their work ethic as a group, the way they listen to the leaders, they've left a good impression on their teammates, their coaches and you guys (media), I know you've noticed."
Injury update
The first big news of the day was that Damien Mama and J.R. Tavai -- who both suffered ankle injuries on Saturday -- came out on Sunday in full pads and went through the entirety of practice. Justin Davis, who also rolled his ankle one day earlier, was dressed out as well, but he made it through just the warm-up period before heading to the sideline for the day.
Also in full pads were a couple of key performers on the defensive line -- Leonard Williams (shoulder) and Antwaun Woods (elbow). Both players looked to be moving well through the early drills, and they even came out and ran with the No. 1 defense during the first 11-on-11 period of the day. Sarkisian opted to hold them both out of a late, more physical goal-line session.
To continue reading this article you must be an Insider
August, 17, 2014
Aug 17
2:10
PM PT
Six Pac-12 teams, led by Oregon at No. 3, were ranked in the preseason AP poll released Sunday.
The Ducks received one first-place vote and were followed by No. 7 UCLA, No. 11 Stanford, No. 15 USC, No. 19 Arizona State and No. 25 Washington.
This is the fourth year in a row year the Ducks have been ranked in the preseason top five and seventh straight year they've appeared in the preseason AP poll.
The same six teams were also ranked in the
USA Today Coaches Poll
, in nearly the same places. The only differences being Oregon is one spot higher in the AP poll and Arizona State is one spot lower.
The College Football Playoff committee, responsible for selecting the four teams to play in this year's inaugural playoff, will release its first top-25 rankings Oct. 28 on ESPN.
PAC-12 SCOREBOARD
Thursday, 8/28
Friday, 8/29
Saturday, 8/30