September, 16, 2014
Sep 16
7:49
PM PT
There wasn't any doubt about the message that Steve Sarkisian has sent in the past regarding the identity he wanted to establish with his USC offense.
"I've been clear about the fact that I want to run the football," Sarkisian said. "I want us to be a physical, run-first football team."
That's exactly what the Trojans did during the first two weeks of the season. In the opener against Fresno State, USC ran the ball 64 times for 277 yards. The numbers weren't as gaudy against a physical Stanford team -- 37 attempts for 156 yards -- but the effort came in an emotional win and there were no complaints. Against Boston College, however, things went a bit sideways.
[+] Enlarge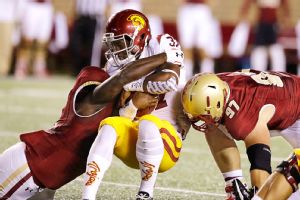 AP Photo/Stephan SavoiaJavorius Allen and the USC running game were completely throttled by Boston College.
The Trojans ended the game with 20 total rushing yards. To put that number into perspective, consider that Pittsburgh ran for over 300 yards on the same Eagles defense the previous week. It was the lowest rushing total for a USC team since the 2001 Las Vegas Bowl.
The result was surprising, yes, but there were legitimate items to explain it. Three of the four guards in the offensive line rotation are true freshmen, and the fourth was seeing his first game action of the season after missing most of last season with a knee injury. There is also a new starter at right tackle who is seeing his first action as a Trojan this season. This is not to say that the blame is placed on the shoulders of these players, but miscommunication on the line was a factor in the last week's performance, and the inexperience of the group has to be considered part of that cause.
"They [Boston College] took great advantage of our young offensive line, and that depends on communication," Sarkisian said. "It's one thing to come in with a plan and realize they are defensing it; it's another thing to make the adjustment to what they are doing. We didn't do that well and a confused football player is not a very good football player."
USC quarterback
Cody Kessler
put the responsibility on the players to execute the plays that are called.
"We had a lot of missed assignments when we were trying to establish the run but the play calls were there, the looks we wanted were there," Kessler said.
With the USC run game stopped, the Boston College defense was able to pin its ears back and get after Kessler to the tune of five sacks. Kessler actually had a pretty good game, completing 31 of 41 passes for 317 yards with four touchdowns and no interceptions. It continues a pattern of efficient play for Kessler, who eight touchdowns and no interceptions along with a 71% completion percentage this season.
"Protecting the ball is my biggest thing and I've been doing an OK job with that right now," Kessler said.
There were a lot of USC fans who would have been happy to see Kessler throw the ball even more against Boston College when it was clear that the run game wasn't working. When Sarkisian held his weekly call with the media on Sunday night, he admitted that, in hindsight, throwing the ball more might have been the proper thing to do.
"I want to run the ball but we have to make sure we aren't being stubborn about it," Sarkisian said. "Over the last two weeks we've had a lot of three-and-outs, and the key for us to get our play count up and really get the tempo going is to get first downs. We need to figure out who we are on offense, what is our identity? Are we a run-to-pass team or a pass-to-run team? When is the time right to pass to set up the run? We need to figure that out so that we can play to our strengths. Last night might have been a perfect example of that."
For the head coach to admit to reconsidering a major focus of his offensive strategy has received mixed reviews among USC fans. There are certainly some who welcome the honestly and the willingness to be flexible about what is working with the personnel of your team. There are also others who question how the original premise could change so quickly.
Of course, there is no clear answer to fixing what went wrong against Boston College, just as it might be an overreaction to change much of anything because of one bad game. Sometimes there isn't any amount of strategy that is going to work if you are getting physically beat on both sides of the line, as the Trojans were Saturday. That is more surprising than any rushing total or completion percentage. I just don't think there were too many people who expected the Eagles to overpower the Trojans, yet that is exactly what happened.
Any changes in offensive strategy during the bye week will likely depend upon the comfort level between coaches and players in terms of adjustments. Sarkisian called it "in-game adversity" when you have a situation like Saturday where the defense throws some complicated stunts and twists at a young offensive line to cause confusion. Where do you go? How do you adjust? It's a fine line that Sarkisian and his staff will need to walk, and it will be very interesting how it plays out with the USC offense in the coming weeks.