August, 28, 2014
Aug 28
9:00
AM PT
By
Kyle Bonagura, Kevin Gemmell, Chantel Jennings
and
Ted Miller
| ESPN.com
This week is really going to test the picking prowess of your Pac-12 reporters. OK, maybe not so much. The conference is a heavy favorite in almost every game, with Cal being the only underdog with its trip to Northwestern. If the league doesn't cruise in Week 1 with at least 10 wins, that would be considered a bad opening week. To the picks!
Why Washington State will win: The Scarlet Knights really don't have an answer for Mike Leach's Air Raid offense and in Connor Halliday's senior year -- his third season with Leach -- even good defensive backs will struggle. On the other side of the ball, the Wazzu defense is improved and the pass rush is going to get after Gary Nova, who was sacked 25 times last season (T-No. 96 in the country). -- Chantel Jennings
Why Colorado will win: Colorado State has a veteran quarterback in Garrett Grayson, but the Buffs finally have some experience in the secondary (though they'll miss Jered Bell). A confident Sefo Liufau leads an offense that has depth at receiver and tailback. Should it be close, Colorado also has veteran specialists. It might not be a blowout, but on paper the Buffs are the better team. -- Kevin Gemmell
Why UCLA will win: When one team has better talent at just about every position and a better coaching staff -- which is the case here with UCLA -- the possibility of an upset is rare. Yes, the Bruins have to deal with an early start and and cross-country trip, but that won't be much of a hurdle playing against a team which enters the season on 10-game losing streak against FBS teams. -- Kyle Bonagura
Upset Pick: I'm going with an upset here. I think Cal is much improved from last season and even though the Bears are on the road, I think they'll come away with the win. Northwestern has been forced to find a replacement for transfer running back Venric Mark in the last few weeks and I think Jared Goff is going to be better than people are giving him credit for. -- Chantel Jennings
Upset Watch: Why USC will win: Fresno State didn't belong on the same field with the Trojans when they met in the Las Vegas Bowl last year, and now they're without QB Derek Carr and WR Davante Adams. USC lost talent too, but returns more than enough to indicate this one won't be much different than last year's matchup. -- Kyle Bonagura
More consensus picks: Utah over Idaho State; Arizona State over Weber State; Arizona over UNLV; Oregon State over Portland State; Stanford over UC Davis; Washington over Hawaii; Oregon over South Dakota
August, 28, 2014
Aug 28
8:00
AM PT
Could it be? In a bizarre twist, a horse is abusing a jockey. Might this be the start of a terrifying planet of the horses? In this announcer's opinion, almost certainly yes. And away I go.
Leading off
While there are still plenty of questions swirling about the
Josh Shaw
situation, we at least have some confirmation that his original story was a lie. As a result, Shaw has been suspended indefinitely from the team and has retained counsel.
Here's a few of the stories that are out there:
What a rush
Interesting little stat here courtesy of the Pac-12 Networks.
Most consecutive seasons (active streaks) with a 1000-Yard rusher in FBS? @UWBadgers 9 @WinTheDay 7 @StanfordFball 6

— JB Long (@JB_Long) August 27, 2014
I like Oregon to continue their streak. The only argument against being that with three backs it's possible that we could see three guys in the 700- 800- 900-yard range. Plus you factor in injuries, assorted carries for whoever has the hot hand and a quarterback that's going to rush for about 700 yards and it's possible Oregon doesn't get a 1K rusher. Possible, but not probable.
Stanford is going to be really interesting to watch as they move back to a by-committee backfield. But even when they had that approach in previous years, they were still able to produce a 1,000-yard rusher. A lot of it will depend on who emerges as the 15-20 carry back (if there is one) and how quickly the four new offensive linemen come together. But if I had to bet, I'd like both of these schools to continue this streak.
Heisman love?
Chris Huston, who runs the site Heismanpundit.com released
his preseason straw poll for 2014
. It's a small sample -- only 10 Heisman voters from around the country -- but the results are slanted heavily toward the Pac-12, including a couple of names we haven't previously seen connected with the award. First, the results (first place votes in parentheses):
1.
Marcus Mariota
, Jr., QB, Oregon — 24 (6)
2.
Jameis Winston
, So., QB, Florida State — 19 (3)
3.
Brett Hundley
, Jr., QB, UCLA — 6
4.
Bryce Petty
, Sr., QB, Baylor — 5
5.
Myles Jack
, So., LB/RB, UCLA — 3 (1)
6.
(tie)
Leonard Williams
, Jr., DT, USC — 1
Melvin Gordon
, Jr., RB, Wisconsin — 1
Ty Montgomery
, Sr., WR, Stanford — 1
Mariota, we expected. Same for Hundley. Even Jack we'd heard had been getting some Heisman love. (And in case you missed it, the Pac-12 blog talked with Jack
about all of the preseason attention
he's been getting). But it's interesting to see USC's Leonard Williams and Stanford's Ty Montgomery on the list.
Williams, we know, is an All-America defensive linemen and considered by many to be the best in the country and a top five pick in the 2015 draft. Chances are this is just some preseason posturing from voters. There's always talk in the preseason that a defensive player will break through and win. We saw it with
Jadeveon Clowney
and
Ndamukong Suh
. And while the Pac-12 blog would love to see the day that "the best" college football player wins the award (
see this column from 2012
, Huston is actually quoted), the odds of it happening are slim.
Even for a guy like Montgomery, who is expected to be a significant special teams contributor to go with his receiving stats. We'll see how this all shakes out in November and December. As the Pac-12 blog
wrote last week
, we've been fooled by preseason favorites before. Still, nice to know the rest of the country has its eyes on the West.
News/notes/practice reports
Just for fun (LA themed)
Some new artwork in the Coliseum.
If this isn't one of the greatest motivational graphics, I don't know what is? @adventresults nailed it, #FightOn pic.twitter.com/fHCuODrWYx

— LA Memorial Coliseum (@LAColiseumOps) August 27, 2014
What say you, America?
USC & UCLA both projected to go 9-3 by FPI. More surprising: USC wins 9 games or UCLA loses 3 games #CFBLIVE ESPN2 pic.twitter.com/mcNpZEEo34

— ESPN CollegeFootball (@ESPNCFB) August 27, 2014
August, 27, 2014
Aug 27
11:00
PM PT
The Early Offer is RecruitingNation's regular feature, giving you a daily dose of recruiting news from across the country. Today's offerings:
UCLA
quarterback commitment
Josh Rosen
is off to a strong start in Week 1, showcasing why he will be a valuable recruiting tool for the Bruins this season. Plus, most of the Pac-12 attention has been on UCLA,
USC
and Oregon, but don't forget about the quality classes at UofA and ASU, and we continue our tour of the top recruiting happenings on social media.
August, 27, 2014
Aug 27
6:21
PM PT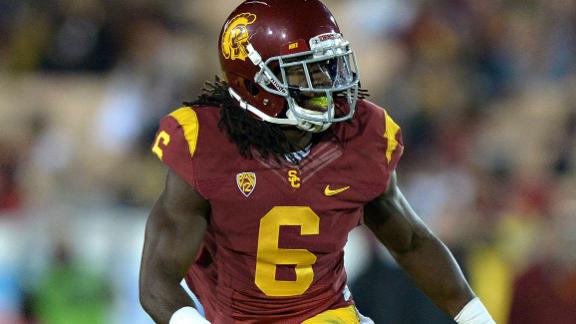 Josh Shaw
will play football again. But it shouldn't be for the
USC Trojans
.
Not after this. Not after humiliating his coaches, his teammates and the program. Not after a blatant lie that grew worse when he, for some inexplicable reason, tried to make himself out a hero.
If there has ever been a more bizarre set of circumstances at USC, I can't remember it. This school has had its share of drama recently. From the
Reggie Bush
scandal, the ensuing NCAA sanctions, the Lane Kiffin experiment, to the bumbling coaching situation at the end of last season. This is the last thing beleaguered athletic director Pat Haden needed.
What Shaw has done is not only embarrass himself, but he has torpedoed everything Haden and coach Steve Sarkisian have been trying to do to change the culture at USC.
People were laughing and making fun of them on national television late Wednesday afternoon. "This kid said he saved his nephew from drowning, and he really did what?" Every Trojans fan watching had to grimace as the TV people carried on.
It doesn't matter how he really injured his ankles. Had he come forth immediately and told school officials what happened, he probably still would have been suspended. But it wouldn't have blown up into a national story.
Talk about your public relations nightmare.
There's also a matter of timing. Shaw's lie dropped on them like some kind of giant anvil -- providing the worst kind of late August distraction as the team prepared for the 2014 season opener against Fresno State on Saturday.
If you have to feel bad for anybody today, feel bad for the rest of the players on this USC team. They are as stunned as anyone by what Shaw did. This is a guy they named a captain just a few days ago. As much as they don't want this to affect their preparation for the season, it will.
That's why Haden and Sarkisian shouldn't delay their action. As soon as all the details of what occurred are known, they should do what they have to do.
They should tell Josh Shaw that he can no longer play football for USC.
August, 27, 2014
Aug 27
3:44
PM PT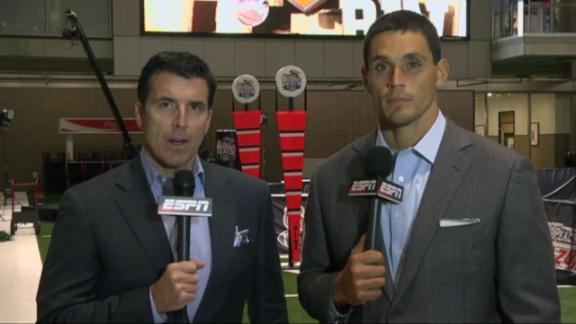 USC senior cornerback Josh Shaw has admitted to lying about how he suffered his ankle injuries last weekend and has been suspended indefinitely, the school said in a statement Wednesday.
Shaw said he suffered a pair of high ankle sprains Saturday night after jumping from the second story of an apartment complex to save his 7-year-old nephew, who was struggling in the pool. Shaw said his nephew did not know how to swim. He admitted to team officials on Wednesday that the story was a complete fabrication.
Head coach Steve Sarkisian said Tuesday the school received several calls questioning the authenticity of Shaw's story and had been investigating the matter.
"We are extremely disappointed in Josh," Sarkisian said in the statement. "He let us all down. As I have said, nothing in his background led us to doubt him when he told us of his injuries, nor did anything after our initial vetting of his story.
"I appreciate that Josh has now admitted that he lied and has apologized. Although this type of behavior is out of character for Josh, it is unacceptable. Honesty and integrity must be at the center of our program. I believe Josh will learn from this. I hope that he will not be defined by this incident, and that the Trojan Family will accept his apology and support him."
August, 27, 2014
Aug 27
11:22
AM PT
LOS ANGELES -- USC football coach Steve Sarkisian said the school's investigation into the authenticity of Josh Shaw's story about saving his nephew from potentially drowning is in a "holding pattern" and is now being handled by campus authorities.
"It's pretty clear that there's quite a few conflicting stories out there," Sarkisian said after practice on Wednesday. "Any information we have been provided up until this point we have pushed along to campus authorities. We're really going to let it play out in their hands up until this point and quite honestly we're in somewhat of a holding pattern. That's where we are at. Anything I do get that I can provide you guys with, I will, believe me, I will."
When Sarkisian was asked specifically what campus authorities were handling the investigation he said, "everything above me."
"In this day and age of college football and head coaches' responsibilities, I'd be foolish not to push everything up the ladder," Sarkisian said. "I think we learned that a couple years ago with a couple other high-profile coaches, so everything I've ever done when things come across my desk is to push them to campus authorities and let them do their due diligence.
"When things come back to me, then I can comment on them. Until then, I don't really have much to say on it."
August, 27, 2014
Aug 27
12:45
PM PT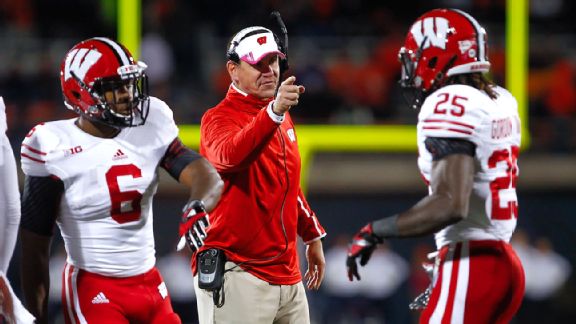 Michael Hickey/Getty ImagesThe Badgers could very well be playing a playoff contention knockout game in Week 1.
With the countdown to college football's kickoff now measured in hours, we thought we would revise a
feature from 2013
called "Pivot Points." As a refresher, it's cause-and-effect: "If X happens, then Y will happen."
Here's one take for each Power Five conference:
If Wisconsin can get past LSU this week, then the Badgers will be in the playoff.
I'll quickly lay out why the Badgers will at minimum gain momentum if they win this week.
Up next: Western Illinois, Bowling Green, South Florida, Northwestern, Illinois, Maryland, Rutgers and Purdue. That takes you to the middle of November, when they close with Nebraska, Minnesota and Iowa.
So even with some front-seven question marks and a first-time starter at QB, Wisconsin is 100 percent a playoff threat. But the Badgers will likely have to go undefeated to make it, which means knocking out a wild-card LSU team this weekend.
In fact, there's a shot this could be a playoff contention knockout game. Both teams are on the fringe, and this is a win that both could very well need to woo the committee.
To continue reading this article you must be an Insider
August, 27, 2014
Aug 27
9:00
AM PT
By
ESPN.com staff
| ESPN.com
August, 26, 2014
Aug 26
7:00
PM PT
The talk of Pac-12 town this season is the quarterbacks. Yes, yes, we know.
But don't forget the talent the league has at running back, too. The run game, after all, is what opens up the passing lanes for the signal-callers.
The 1,000-yard mark has acted as a benchmark for backs for years, so, how many Pac-12 rushers (for fun, let's include QBs) will hit the mark in 2014?

In 2013 there were four 1,000-yard rushers: Arizona's Ka'Deem Carey (1,885), Washington's Bishop Sankey (1,869), Stanford's Tyler Gaffney (1,709) and Oregon's
Byron Marshall
(1,038). Only one of those guys, Marshall, returns in 2014, and even he is listed in a three-way battle for the starting RB spot at Oregon with
Thomas Tyner
and
Royce Freeman
.
In 2012 and 2010 there were six 1,000-yard rushers, and in 2011 there were seven. So what exactly will 2014 bring us?
Oregon has its three-headed monster (in addition to quarterback
Marcus Mariota
, who rushed for 715 yards last season). Will one or two emerge and become 1,000-yard backs? Or will they split carries, gain major yardage together and not have a single guy hit that mark? Could go either way.
USC has
Buck Allen
and
Justin Davis
and
Tre Madden
. ASU has
D.J. Foster
. Utah has
Bubba Poole
. Could Stanford's
Barry Sanders
follow in his dad's footsteps? Or will it be
Kelsey Young
who steals the show at Stanford? UCLA quarterback
Brett Hundley
accounted for 748 rushing yards last season. Could he add a few more long runs and hit the mark? What about one of his backs, such as
Jordon James
or
Paul Perkins
?
Colorado is pretty deep, Washington has options, and Oregon State says its run game is much improved.
With all those guys, how many 1,000-yard rushers will we actually see? History says it can range greatly. But what say you?
August, 26, 2014
Aug 26
5:00
PM PT
Enough chatter. Enough previews. Enough hype. It's game week. Time to put up or shhhhhh.
Today we're going to take a look at players/coaches/position groups with something to prove in 2014. These are in no particular order, but each is just as significant.
Hot seat coaches: While Utah coach Kyle Whittingham's and Cal coach Sonny Dykes' seats aren't exactly roasting, it's not like they just took the ice bucket challenge, either. The Utes have missed the postseason for consecutive seasons, and the Bears have dropped 16 straight FBS teams (11 under Dykes' watch). Unless either has a disastrous season, the Pac-12 blog sees them back in 2015. But results need to come sooner than later.

[+] Enlarge

AP Photo/Don RyanThe preseason hype has been in full force for Pac-12 QBs like Oregon's Marcus Mariota. It's now time to deliver.

Quarterbacks: The 10 returning starters have brought a crush of national attention to the Pac-12. Now it's time for those guys to earn it. Some are calling this the most talented collection of quarterbacks in one league in the history of college football -- headlined by Heisman trophy candidates Marcus Mariota and Brett Hundley. The expectations have never been higher for Pac-12 signal-callers.

Stanford's offensive line: Speaking of hype … a couple of years ago the Cardinal inked what some called the best offensive line recruiting class in the history of history. Now all five starters are from that class. Some already have significant experience. Others saw some work in Stanford's "extra linemen" packages last season. This group has to live up to its billing for the Cardinal to do what they want to do on offense.

Austin Hill: In 2012, he was a beast, catching 81 balls for 1,364 yards and 11 touchdowns. Then an ACL injury suffered in the spring of 2013 cost him all of last season. Now he headlines an extremely deep and talented wide-receiving corps for the Wildcats in a Rich Rodriguez system that favors pass-catchers. No doubt, Hill is looking to get that first catch, first hit and first touchdown out of the way. If redshirt freshman quarterback Anu Solomon can produce solid quarterback play, Hill could be in for another outstanding season.

USC freshmen: Damien Mama and Toa Lobendahn are slated at right and left guard, respectively, for the season opener against Fresno State. Ajene Harris is listed as a starting wide receiver. Adoree' Jackson and JuJu Smith are expected to contribute as receivers and on special teams. And with the loss of Josh Shaw, Jackson might see extended time at cornerback. Steve Sarkisian made a huge splash in his first preseason by landing a top-notch recruiting class. Now it's time for these guys to go out and prove it.

Mark Helfrich: Sometimes the burden of expectation can weigh heaviest of all. Helfirch got a taste of that last season when, despite going 11-2 and beating Texas in the Alamo Bowl, there were some who considered Oregon's 2013 campaign an unsuccessful one. He lost to Stanford (Chip Kelly also did, twice, by the way), lost to Arizona and some off-field incidents (Colt Lyerla, Rose Bowl comments, snowball fight) became bigger talking points than what was happening on the field. On the field, in case you forgot, was a Heisman-favorite quarterback playing the second half of the season with a partially torn knee ligament. A Pac-12 championship would go a long way toward silencing his doubters.

D.J. Foster: Working in tandem with Marion Grice last season, Foster rushed for 501 yards and six touchdowns to go with his 653 receiving yards and four touchdowns. He's a versatile back that Mike Norvell loves to split out and use in the passing game. But with Grice gone, Foster now takes over as the primary back. They'll still use him in the passing attack. He's too talented for them not to. But he'll get a lot more work as a runner beyond the 93 carries he had last fall.

Myles Jack: The Pac-12 blog has a special column on Jack coming out later this week so we won't spoil anything. All we'll say for now is he's getting a ton of national love. From All-America lists to Heisman chatter, Jack is the national darling of preseason college football. Thing is, he might just be worth all of the hype. His encore season will be telling.

The new guys: That the Huskies are a preseason Top 25 team speaks to how highly the national media thinks of Chris Petersen -- especially after they lost their quarterback, running back and tight end. He has his work cut out for him in a brutal Pac-12 North. But the expectations aren't as extreme as they are for the guy he replaced. Sarkisian and the Trojans are expected to compete for a South Division title, a conference crown and a spot in the College Football Playoff. Beating UCLA would be a good start.

Cal's defense: The Bears had a rough go of it last season. No doubt. As the injuries piled up, and younger players were forced into action. The end result was, well, Cal in 2013. With a new defensive coordinator in Art Kaufman and finally a little health, guys like Brennan Scarlett, Mustafa Jalil and Stefan McClure take center stage in what the Bears hope will be a defensive revival.
August, 26, 2014
Aug 26
11:06
AM PT
[+] Enlarge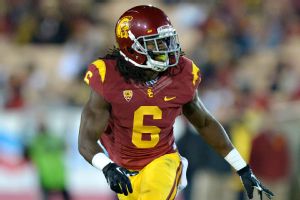 Kirby Lee/USA TODAY SportsUSC says it has received a few phone calls contradicting a story from cornerback Josh Shaw, who said he sprained his ankles jumping from the second story of an apartment to save his nephew in a pool.
LOS ANGELES -- USC football coach Steve Sarkisian said the school has received several calls questioning the authenticity of Josh Shaw's story about saving his nephew from potentially drowning and is investigating the matter.
Shaw said he suffered a pair of high ankle sprains Saturday night after jumping from the second story of an apartment complex to save his 7-year-old nephew, who was struggling in the pool. Shaw said his nephew did not know how to swim.
"Josh Shaw, first and foremost, is a good person and a good kid," Sarkisian said after Tuesday's practice. "He came to us with what had occurred Saturday night, and I have no reason and no history to not believe Josh and his story and what has occurred. Within the last few hours or so, we've gotten a few phone calls contradicting what Josh said occurred Saturday night, so we're going to continue to vet. We're looking at it. Beyond that, I only know what I know. Josh is adamant with what occurred, and we'll continue to vet some of the other stories that have come across our desk and our phones and see where we can go from there."
PAC-12 SCOREBOARD
Thursday, 8/28
Friday, 8/29
Saturday, 8/30