Overlooked recruits on all-time USC team
July, 11, 2013
7/11/13
7:30
AM PT
By
WeAreSC staff
| ESPN.com
Here are three all-time greats at USC who were under-recruited.
SS Troy Polamalu:
It's hard to imagine right now, considering that he turned out to be one of the elite safeties in USC history, but there was a point when then-USC head coach Paul Hackett basically had to be talked into offering Polamalu a scholarship. Polamalu had moved to a small town in Oregon for his high school career at Winston (Ore.) Douglas, and the long arm of recruiting coverage wasn't as big then, so there wasn't a lot of hype about him. Polamalu had an offer from Stanford, which he was close to accepting, along with the possibility of playing baseball at USC, but his uncle Kennedy Polamalu was a former Trojans fullback who was then coaching at San Diego State. The elder Polamalu reached out to Hackett and assured him his nephew was worth the ride, and the rest is history. Polamalu ended up an All-American for the Trojans, was a first-round draft choice of the Pittsburgh Steelers and has won two Super Bowls.
-- Garry Paskwietz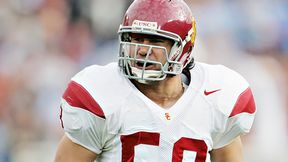 Jeff Gross/Getty ImagesAfter transferring to USC from Maine, middle linebacker Lofa Tatupu helped the Trojans return to national prominence.
LB Lofa Tatupu:
Another hard-to-believe-it-now story, but Tatupu -- a 2004 All-American -- couldn't get a sniff from the Trojans coming out of high school primarily due to the fact that he stood under 6-foot tall and weighed less than 220 pounds at the time. In fact, despite compiling 110 tackles on defense and throwing for 800 yards at quarterback as a senior at Plainville (Mass.) King Philip Regional, the only program willing to take a shot at him was Division I-AA Maine. It was there, as a freshman in 2001, that Tatupu showed that he was destined for greater things, grabbing a starting linebacker job right off the bat and posting 67 tackles. Following that season, Tatupu decided to leave Maine and to do everything that he could to land at a high level college football power. USC, where his father, Mosi, had starred as a fullback in the mid-70s was at the top of his list, and he sent a highlight tape to Pete Carroll with the hopes of getting a look. To his surprise, Carroll -- who was in the process of rebuilding the program -- soon extended a scholarship offer that Tatupu immediately accepted. After sitting out the 2002 season due to NCAA transfer rules, Tatupu would seize the starting middle linebacker job and develop into the heart and soul of a very talented defensive unit. Leading the team in tackles in 2003 and 2004, he helped USC compile a record of 25-1 in his time on the field.
-- Johnny Curren
DL Dan Owens:
The former La Habra (Calif.) High defensive lineman wasn't all that well known outside of prep football crazy Orange County at the time, and he wasn't exactly a household recruiting name, either. Owens was a quick and very physical player, but he was not flashy. In the 1985 Orange County prep All-Star Game, his coach had to restrict him in practice because he was such a disruptive force. Owens work ethic and unrelenting style of play elevated him from a recruiting secret eventually into a major cog along the USC defensive line. Former Trojans All-America defensive lineman
Tim Ryan
and Owens teammate once said that the Orange County was really "underrated" and that he did things on film that were just amazing. Owens' work ethic and non-stop motor turned him into an All-Pac-10 selection his senior season, and he was later rewarded as the 35th player selected in the NFL draft by the Detroit Lions. He started his rookie season with the Lions and later played for the Atlanta Falcons. Not bad for a kid who said at the time upon entering USC that his only goal was to be successful in college.
-- Greg Katz
PAC-12 SCOREBOARD
Thursday, 9/3
Friday, 9/4
Saturday, 9/5