Cricket:

Mohammad Shahzad
September, 20, 2012
9/20/12
2:53
PM ET
Sports journalists and commentators are sometimes derided for inserting war metaphors into descriptions of action on the field of play. Athletes become warriors who fight battles in the trenches. Catching the other team off guard isn't just good coaching, it's an ambush. A high-scoring game is no longer a contest with an excessive amount of points on the scoreboard but rather a shootout.
For the cricketers of Afghanistan, these casual clichés are no laughing matter. They are things they have to worry about from the moment they wake up in the morning. Yet, they've found a way to not only survive the daily hardships of life in a war-torn country, but somehow prosper on the field of cricket.
Afghanistan's Cinderella story is not just remarkable for the heights it's climbed from a day-to-day life of despair, but the speed with which it's risen to compete in ICC tournaments like the World Twenty20. Cricket's historical powers such as England and Australia have been part of the ICC since its inception in 1909, with national cricket boards in those countries dating well before that.
[+] Enlarge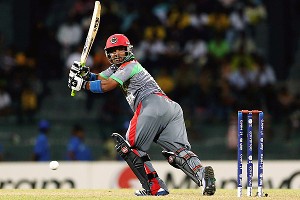 Matthew Lewis/ICC/Getty ImagesMohammad Shahzad, working the ball toward the boundary Wednesday against India, embodies the Afghans' gritty spirit.
Conversely, the Afghanistan Cricket Board was formed only in 1995, followed by Afghanistan being admitted into the ICC fold in 2001. In 2008, the Afghans were in the lowest level, Division Five, of the ICC's World Cup qualification ladder system for second-tier associate and affiliate teams. Eleven months and four tournaments later, they had progressed to Division One and came within one game of clinching a spot in the 2011 ICC World Cup, finishing fifth at a qualifier when only the top four teams gained spots in the main event.
In January 2010, the Afghanistan U-19 team participated for the first time in the U-19 World Cup in New Zealand. A month later, the men's team continued making strides by winning the World Twenty20 qualifier in Dubai and participated in the World Twenty20 in the Caribbean that April and May. That December, the Afghans defeated Scotland in the final to win the ICC Intercontinental Cup, the premier multiday competition for associate nations.