Cricket:

Peter Della Penna
October, 1, 2012
10/01/12
1:17
PM ET
For those watching cricket for the first time during the ICC World Twenty20 over the past two weeks, one of the first things that stands out is that with the exception of the wicketkeeper, the fielders in cricket are not allowed to wear gloves to field or catch the ball. Because the cricket ball is similar in size, weight and shape to a baseball and comes just as quickly off the bat when it is struck by a cricket batsman, viewers might get the impression that cricketers are a bit loony and risking injury in this way.
While cricketers are definitely an odd bunch in many regards, fielding without gloves is actually one of the less dangerous aspects of cricket. After all, this is a sport where it's well within the rules for the bowler to hurl a ball off the pitch aimed at the body, or the head, of the batsman at more than 90 mph.
[+] Enlarge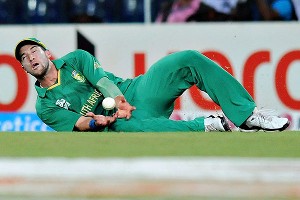 Pal Pillai/Getty ImagesSouth Africa's Wayne Parnell lays it on the line against Australia on Sunday.
Ground fielding in cricket nowadays borrows many of the athletic techniques used in baseball. Viewers will see cricketers doing baseball slides along the edge of the boundary to prevent the ball from going over the rope. Throwing at the stumps requires surgical precision in order to run out a batsman attempting to switch ends. Yet, something like a fielder giving chase and slapping the ball back inside the boundary rope is very similar to a gunner on a special teams unit in football running for the goal line and slapping the ball back toward the 5-yard line to prevent a touchback.
Catching a cricket ball in the air also requires a technique that is actually more akin to catching a football than a baseball. People automatically associate cricket with baseball in many regards, mainly because each sport uses a bat to hit a round ball. From watching some of the cricketers in this tournament, though, you'll see their athleticism transfers well beyond comparisons to baseball.