September, 18, 2012
9/18/12
2:35
PM ET
Yes, cricket. Not the stodgy stereotype of the game, but the caffeinated, raucous variety that will appeal to our quick-trigger attention spans. The 2012 ICC World Twenty20 kicked off Tuesday in Sri Lanka with enough exciting storylines and high-octane drama to draw in the most indifferent of sports fans. Below are 12 players to watch as the tournament progresses.
Yuvraj Singh, India:
He's India's Mario Lemieux, the comeback kid. Singh's story could be the highlight of the tournament. One of India's most heralded players, Singh is making a return to the game after battling a rare form of germ-cell cancer. After receiving chemotherapy in the U.S., Singh is back in the form of the game he's dominated in the past, including his unforgettable six sixes in one over against England in the 2007 ICC World Twenty20. If he plays as well as he has in the past, it's going to be a long tournament for bowlers.
[+] Enlarge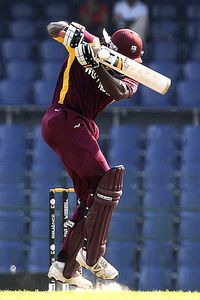 Lakruwan Wanniarachchi/AFP/Getty ImagesChris Gayle's power has made quite an impression on foes -- and fans -- in the West Indies and beyond.
Chris Gayle, West Indies:
Called "The King of the Twenty20," the Herculean all-rounder doesn't hit cricket balls, he pulverizes them into aerial spectacles. During a match this year, one of Gayle's monstrous sixers broke the nose of a 10-year-old girl in the stands. When Gayle visited her in the hospital, she actually said it was an honor to be hit by one of his shots. Gayle has set batting records in the Twenty20 format, including the most sixes in the latest Indian Premier League season. For Gayle, playing in Sri Lanka is like Chipper Jones at Shea Stadium; he dominates. He scored 333 runs in a test match there in 2010.
Lasith Malinga, Sri Lanka:
Malinga is the Boba Fett of cricket bowlers. Instead of collecting Wookiee scalps, the fast bowler collects wickets. Known as "The Slinga," Malinga is the only bowler to have taken four wickets in four deliveries and won the golden wicket in the 2011 Champions League Twenty20, when he had the highest wicket count in the tournament. With his trademark hair that fluctuates from blond streaks to Valderrama-chique, Malinga has had a rough go in the few months since the Indian Premier League ended. However, he's on home soil. He knows these fields better than anyone else. So be warned: The Slinga will strike back.
Brendon McCullum, New Zealand:
The Kiwi wicketkeeper has the top spot in the Twenty20 batting rankings despite the fact that he would make a hobbit seem tall. Standing a diminutive 5-foot-7, McCullum exhibits Hack Wilson-like strength in putting up crazy power numbers. He slugged a 158 not out in the IPL inaugural season in 2008. Indeed, this one possesses the power of the ring.