September, 24, 2012
9/24/12
10:22
AM ET
He's becoming the
Mike Trout
of cricket. Virat Kohli is considered the brightest and most exciting talent in his sport. The 23-year-old Indian batsman, who blasted England on Sunday for 40 runs off 32 balls in a convincing 90-run win in an ICC World Twenty20 Group A matchup, has dominated the cricketing world with his play in the past year.
He was recently named the ICC ODI Cricketer of the Year for his scintillating 66.5 runs per match average, including eight centuries and six half-centuries the past season. He has 13 centuries in 90 career ODI matches, and in test matches in 2012, he has a 62.62 average -- marks that make a convincing argument that he is the undisputed heir to the great Sachin Tendulkar as India's premier cricket star.
Kohli has positioned himself through outstanding performances -- 183 runs against Pakistan in the Asia Cup, 133 not out against Sri Lanka -- to create a buzz among fans on the subcontinent and ease the reality that the twilight of Tendulkar's career is upon us.
[+] Enlarge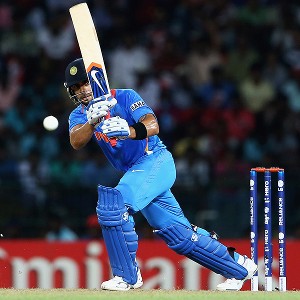 Matthew Lewis-ICC/Getty ImagesOnly 23, Virat Kohli infuses an old-school patience with a new-world edge in thriving as a batsman.
For 20 years, one man has cast an aura around Indian cricket that's simply mythic in scale. Tendulkar has broken nearly every record in cricket and created a body of work that remains unprecedented. But he is now 39 and no longer plays all formats of the game. India has had other players who have worn the moniker as the next Sachin, from Virender Sehwag to Yuvraj Singh, but no player has sustained the hype. That is until Kohli, who made his international debut in 2008.
During the 2011 ICC World Cup, Kohli made his grand entrance with a century in the first match of the tournament against Bangladesh and sustained a key 83-run partnership with Gautam Gambhir that gave India the momentum it needed to chase Sri Lanka's total in the final. Like
Tim Duncan
replacing
David Robinson
as the face of the San Antonio Spurs with his 1999 NBA Finals performance, Kohli's achievement was the moment that marked the changing of the guard.