October, 31, 2014
Oct 31
8:40
PM ET
TEMPE, Ariz. – With
Dallas Cowboys
coach Jason Garrett declaring quarterback
Tony Romo
a game-time decision Sunday, the Cardinals are preparing to potentially face
Brandon Weeden
.
Weeden
If Weeden starts, it will be his first since Week 13 of 2013, when he started for the
Cleveland Browns
. As a starter in the NFL, Weeden has a career record of 5-15 and has a touchdown-to-interception ratio of 21 to 25. His completion percentage as a starter is 56.5.
His total QBR as a starter is 25.9, the worst in the league among 32 qualifying quarterbacks since 2012, according to ESPN Stats & Information.
If Weeden starts, he'll be the Cowboys' fifth starting quarterback in the past five seasons.
"He's a veteran player," Cardinals coach Bruce Arians said. "He's got a big, strong arm. He's not a real young guy. He's got plenty of savvy. And he obviously played extremely well going in against Washington."
Defensive coordinator Todd Bowles said Arizona won't prepare differently for Weeden. While Bowles called Romo an "outstanding quarterback," he pointed out that Weeden was a first-round pick.
Regardless of who starts for Dallas, Arians doesn't expect the Cowboys' offense to change.
"You got another big arm to prepare for," Arians said. "It's not like you're going against [a team's] weak link.
"He won't be the weak link."
October, 31, 2014
Oct 31
4:00
PM ET
IRVING, Texas -- The
Washington Redskins
didn't create some blueprint to beat the
Dallas Cowboys
with their blitzing attack Monday night.
They just executed their plan well, and the Cowboys didn't. The Cowboys missed too many assignments whether we're talking the offensive line, running backs or tight ends, and quarterback
Tony Romo
didn't consistently get rid of the ball fast enough.
For now, the Washington loss is an aberration.
That's because Romo has been outstanding against the blitz much of the season. He has completed 49 of 75 passes against the blitz for 634 yards with eight touchdowns, two interceptions and a 116.2 passer rating.
But he has also been sacked 11 times against the blitz, tying the
Chicago Bears
'
Jay Cutler
and the
Jacksonville Jaguars
'
Chad Henne
for most in the league.
Arizona Cardinals
defensive coordinator Todd Bowles blitzes about 30 percent of the time when opponents pass, but he really unleashes the blitz when teams face third-and-long.
Bowles has called blitzes 72.9 percent (27 of 37 plays) on third down and 7 yards or more. If the Cowboys don't want to see the blitz, they have to run the ball well on first and second down so they can avoid third-and-long.
Just so you know, Arizona leads the NFL in run defense.
"We got caught a couple of times with the blitz and we didn't execute some things that were there, which is what stops people from blitzing," Linehan said. "We expect more blitzes, we're accustomed to it.
"The long runs we've had, the average per carry we've had, the average per pass attempt is because we've been pretty good against the blitz all year."
October, 31, 2014
Oct 31
3:42
PM ET
IRVING, Texas – In addition to quarterback
Tony Romo
, left guard
Ronald Leary
is questionable for Sunday's game against the
Arizona Cardinals
.
Leary has not practiced this week, but he said he is feeling much better and was able to do more running Friday than he did all week.
Leary
"It's going to be a game-time decision," Leary said. "I didn't practice any this week so that was big, but I did some more moving around today and I'll do some more tomorrow, then I'm going to get up Sunday and do more and judge it on how I feel. That's going to decide if I play or not."
It is possible Leary could be active but not start, with
Mackenzy Bernadeau
taking over as the starter.
Linebacker
Rolando McClain
(shoulder), cornerback
Brandon Carr
(hamstring), linebacker
Bruce Carter
(finger), defensive end
Jack Crawford
(calf), defensive end
Anthony Spencer
(knee, foot) and right tackle
Jermey Parnell
(chest) are probable. Defensive end
Jeremy Mincey
did not practice because he was sick, but he is also probable.
Right tackle
Doug Free
will miss his third straight game with a foot injury. He could return Nov. 9 when the Cowboys play the
Jacksonville Jaguars
in London, but with the bye week after that game the Cowboys could choose to keep him out another week.
October, 31, 2014
Oct 31
3:40
PM ET
IRVING, Texas --
Dallas Cowboys
wide receiver
Dez Bryant
and running back
Joseph Randle
exchanged heated words during Friday's practice at Valley Ranch.
It got to the point where tight end
Jason Witten
told Randle to, well this is a family website, to shut up.
The reason for the exchange surrounds Randle getting booked into jail two weeks ago by Frisco, Texas, police for shoplifting and saying a few things about teammates --
Josh Brent
and Bryant.
Bryant
Randle
On a videotape released to Dallas-area television stations, Fox 4 and CBS 11, Randle asked about possibly getting suspended for his arrest on shoplifting charges and noted Brent, who did some time for intoxication manslaughter, was in the Cowboys' locker room.
Then, Randle said this about Bryant, "Dez don't miss no games for smacking his mom."
In 2012, Bryant turned himself in after he was charged on a misdemeanor domestic violence charge in DeSoto, Texas. Bryant didn't do any jail time for the incident, and it was dismissed after he served probation.
Randle might have crossed the line in mentioning these two incidents with police. He probably didn't know he was being videotaped when getting booked and felt he could say anything he wanted. He probably also was unaware the videotape of any arrest is public record, and any media outlet can obtain the booking video.
Keeping your mouth shut regarding teammates off-the-field issues is an important part of locker room code.
You could probably say the Cowboys have some issues in their locker room, but Witten, the sage captain of this team, has seen these issues before. He was involved in a skirmish himself with former wide receiver Terrell Owens several years ago. And in 2006, former cornerback
Terence Newman
got into a fight with former defensive tackle
Chris Canty
over some foolishness.
"That's Witten, that's just him, it's great to have somebody like that in this locker room," Bryant said. "Not a lot of teams (are) blessed with a guy like that. Wit does a tremendous job, that's why we look at him as our leader. We're going to keep doing that."
There have been practice fights and arguments over the years.
It happens.
Everyday in the Cowboys' locker room, players are debating about something.
"I know those two guys probably better than anybody in this locker room and I was with them at Oklahoma State," backup quarterback
Brandon Weeden
said of Bryant and Randle. "Shoot, they [are] always arguing about something. I've seen them fight over who's better, [Michael] Jordan or Kobe [Bryant]. When those guys are going at it you laugh at it. I've been around them since 2007, nothing surprises me."
So, this tiff between Bryant and Randle, regardless of what it was about, is nothing more than two people beefing over something that should have remained private.
"Oh man, it's all good, it's all right," Bryant said. "That ain't no big deal, it ain't a big deal. It ain't no big deal, we got to get on the
Arizona Cardinals
."
In reality, that's what it's really about.
October, 31, 2014
Oct 31
3:15
PM ET
IRVING, Texas – After
DeMarco Murray
ran for 100 yards in his sixth straight game to open the season, the Dallas Cowboys' offensive linemen
received iMac computers
.
Romo
Four days after
Tony Romo
was sacked five times and injured his back, the quarterback gave tight end
Jason Witten
and his offensive linemen Louis Vuitton travel bags just in time for the team's trip to London on Monday.
"Appreciate it," Witten said. "Timing is now for the London trip, I'm assuming. So perfect timing."
The Cowboys will travel to London on Monday, leading up to a Nov. 9 game against the
Jacksonville Jaguars
at Wembley Stadium.
Left guard
Ronald Leary
could not stop smiling. The bags also included a London travel book in case the players want to see the city while overseas.
"They're taking care of us this year," Leary said. "We appreciate it."
October, 31, 2014
Oct 31
3:10
PM ET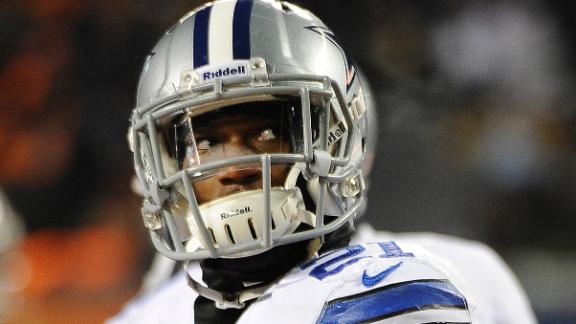 IRVING, Texas -- Dallas Cowboys wide receiver Dez Bryant and running back Joseph Randle got into an argument as the media was entering the practice field Friday.
Bryant did not divulge what the argument was about when asked after practice, but a source said it was related to a comment Randle made during the running back's arrest earlier this month in reference to a July 2012 incident involving Bryant and the receiver's mother.
"Dez didn't miss no games for slapping his mama," Randle said in the video, obtained by KDFW-TV, that was taken while he was being booked after stealing underwear and a tester bottle of cologne form a Dillard's in Frisco, Texas.
Randle was wondering aloud if he'd be suspended by the team for the shoplifting arrest.
In July 2012, Bryant was accused of hitting his mother, Angela, but the misdemeanor family assault charge was eventually dismissed.
"Oh, man it's all good," Bryant said Friday of the argument. "It's all right. That ain't no big deal. It ain't a big deal. It ain't no big deal. We got to get on the Arizona Cardinals."
In the video, Randle also made a comment about Josh Brent, who was convicted of vehicular manslaughter for his involvement in an accident that led to the death of teammate and friend Jerry Brown in 2012.
"Josh Brent, he's still up in the locker room. He was driving drunk. That's stupid," Randle said.
Brent returned to practice this week and still has two games left to serve on his 10-game suspension.
Randle made other flippant remarks while being booked, including asking a female jail employee if she would give him a massage if he paid her $100 and asking why his height and weight were not on his mug shot.
"This is not a damn trading card," a male jail employee responded.
Randle only told reporters that "I regret saying everything" after Friday's practice.
While the team was stretching, tight end Jason Witten
October, 31, 2014
Oct 31
3:00
PM ET
I think the Dallas Cowboys need DeMarcus Lawrence to be a good player, nothing more. It's unrealistic to expect him to be a dominant pass-rusher based on recent history. There have been 32 defensive ends drafted in the second round since 2004. None have had more than Carlos Dunlap's 9.5 sacks for Cincinnati as a rookie. Most have been average as rookies and increased their sack total by four or five in their second year.
I think I'd rather have Brandon Weeden with a full week of practice and a strong running game than Tony Romo, who hasn't practiced all week, against a nasty defense that thrives on the blitz and putting quarterbacks under duress. This style of defense requires a quarterback to be sharp. Romo is fine mentally, but without practice he might not be sharp, which could lead to turnovers.
I think some good play calls don't work and some dumb play calls do work. The easiest play to criticize is one that doesn't work. It's about a body of work -- not a play here or there.
Key stat: 25
When this season ends,
Justin Durant
will have missed 25 of 105 games (23.8 percent) in his eight-year NFL career.
He has played 16 games once and has missed 16 of 32 games with the Cowboys. While he was having a terrific season, the Cowboys must consider his health when deciding whether to sign the 29-year-old linebacker to another deal. Durant will be a free agent at the end of the season.
Durant had surgery to repair a torn biceps he suffered against Washington this week and will miss the rest of the season after being placed on injured reserve. He will be difficult to replace this season.
Player to Watch
:
Joseph Randle
The second-year running back is doing a good job on special teams and on the field with 21 carries for 143 yards, including a significant 38-yard run against the
Seattle Seahawks
that helped the Cowboys rally from a 10-0 deficit.
But his off-the-field issues have leaked into the locker room and that's never a positive.
After he was arrested recently for stealing underwear and cologne from a Dillard's department store, he made some disparaging remarks about teammates
Dez Bryant
and
Josh Brent
that were caught on video.
Well, a few teammates have privately seethed at his comments and he was involved in a skirmish with Bryant during practice on Friday.
Jason Witten
broke up the skirmish and chastised Randle.
Randle needs to make amends with the teammates he has offended because the Cowboys have a good thing going this season, and they don't need locker room turmoil creating an issue on the team.
October, 31, 2014
Oct 31
1:00
PM ET
IRVING, Texas -- Outside of talking about the status of quarterback
Tony Romo
, Cowboys owner/general manager Jerry Jones discussed a potential position change for one of his best players:
Sean Lee
.
Lee
Jones, speaking to 105.3 The Fan on Friday said Lee, the Cowboys' starting middle linebacker, who is out for the season with a torn ACL, could change positions.
Jones said Lee could move to weakside linebacker, a spot where
Justin Durant
, who is now out for the season with a torn biceps muscle, played.
"That's really going to be hard," Jones said of losing Durant. "That's quite a loss for us, he plays a key spot, that weakside linebacker in what [defensive coordinator] Rod Marinelli and [assistant head coach/defense] Monte Kiffin want to do with this system. It's probably likely, and we're probably getting ahead of ourselves but it's where Sean Lee will end up. That's when you got a guy who can play that way, he becomes next to what they call the three-technique or quick tackle on your defensive front, your pressure player, that guy comes right there with him as an important player."
The thinking of moving Lee, who has yet to finish a 16-game season due to injuries, allows him to take on fewer blockers by playing the weakside.
At middle linebacker, he faces guards and centers on nearly every play. With Lee out for the season, the Cowboys have started
Rolando McClain
at that position, but he's retired twice in his career and prior to this season, there was concern about his commitment to the game.
After the solid start to the season, McClain's commitment hasn't been an issue, still the Cowboys have to be cautious regarding the middle linebacker position if Lee doesn't start there in 2015.
Of course, the team could move
Anthony Hitchens
to that spot, and he's performed at all three linebacker positions this year. Durant's solid season and now his loss, in addition to how McClain is playing, raises some interesting questions.
"Durant has been that for us and to a lot of peoples surprise, he's really come onto his own," Jones said on 105.3. "Having said all that, we're going to miss him. He had his best game ever last week as you read about and heard about. We're going to not be able to replace him heads up."
October, 31, 2014
Oct 31
1:00
PM ET
IRVING, Texas -- The
Dallas Cowboys
' 6-2 start was better than just about anybody could have imagined, but the loss to the
Washington Redskins
on Monday night in overtime quelled some of those good feelings. Plus it is not clear whether
Tony Romo
will play against the
Arizona Cardinals
because of a back injury. Even if he does play, can he move around well enough to avoid the pressure-happy Arizona defense after the Redskins were able to put him under constant pressure?
Cracks appeared for the defense too. The Redskins hit the Cowboys for two pass plays of more than 40 yards and
Colt McCoy
completed 83 percent of his passes. Cardinals quarterback
Carson Palmer
can press the ball down the field to
Larry Fitzgerald
,
Michael Floyd
or rookie
John Brown
. Without a steady pass rush, the Cowboys' defense has holes and it won't have linebacker
Justin Durant
. It's too early to hit a panic button, but the timing of the matchup is coming at a bad time for the Cowboys with a confluence of injuries and questions.
My prediction:
Cardinals 27, Cowboys 20
October, 31, 2014
Oct 31
12:28
PM ET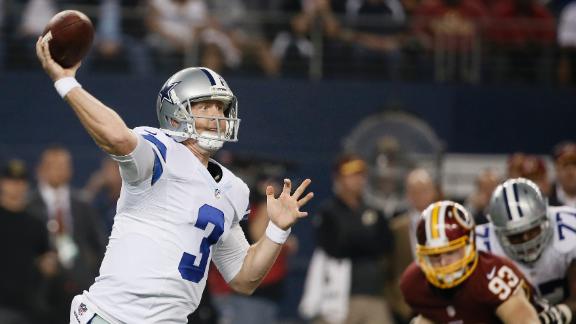 IRVING, Texas -- Tony Romo, who missed his third straight day of practice with a back injury Friday, has been listed as questionable for Sunday's game against the Arizona Cardinals.
"We've still got about 48 hours to the game," coach Jason Garrett said Friday, "so we're going to give him every chance."
Romo has been receiving treatment on his back all week but has not done any football activities. The Cowboys have a walkthrough Saturday morning as their final preparations for the Cardinals' game.
If Romo plays, the equipment staff has sewn extra padding into his undershirt.
Owner and general manager Jerry Jones said on 105.3 The Fan in Dallas that Romo is "moving around, and he's doing a little stuff in the back there to get the stiffness out, kind of like a bicycle-type thing. He's moving around, been in the meetings today."
If Romo can't play, Brandon Weeden would start and undrafted free agent Dustin Vaughan would be the backup.
Left guard Ronald Leary is missing his third straight day of practice, as well, with a groin injury. Garrett said Leary took part in Friday's walkthrough. It is possible Leary could be active but not start. Mackenzy Bernadeau would start.
October, 31, 2014
Oct 31
12:00
PM ET
IRVING, Texas – One game does not make a trend, but the
Dallas Cowboys
know the
Arizona Cardinals
will try to emulate what the
Washington Redskins
did against them Monday.
Passing game coordinator Scott Linehan, however, did not like the suggestion that the Cowboys were exposed by Washington. The Cowboys were able to beat the
St. Louis Rams
and
New Orleans Saints
when they brought pressure.
"We've defeated the blitz all year," Linehan said. "We got sacked a couple of times last week that was disappointing, but the fact that we were able to have the long runs that we've had and the average per carry we've had, and the average per attempt we've had, that's what we've done. We've done it consistently all year. Not as well this last game, but all year we've been pretty good at it."
Frederick
The Cowboys had few answers for Washington's pressure and it led to
Tony Romo
being sacked a season-high five times. The Cardinals are a heavy blitz team as well, but they don't bring the Cover 0 blitzes as much as the Redskins where the cornerbacks have no help.
"I don't think that's Arizona's tendency, although you've seen it," center
Travis Frederick
said. "They have it. We know they have it, so they might bring it out."
The Cowboys believe they will have the correct answers this week whether Romo plays or if
Brandon Weeden
has to start.
Frederick said the good that came from the Washington game is that it can get corrected in a hurry.
"It gets you a chance to see that, find where your flaws are and fix it," Frederick said. "It's finding the leak before it explodes I guess. You could say the pipe exploded last week but as long as you get it fixed, you get a patch on it. Hopefully we can make it so nobody is coming through this week."