Dallas Cowboys:

Chicago Bears
March, 19, 2014
3/19/14
12:15
PM ET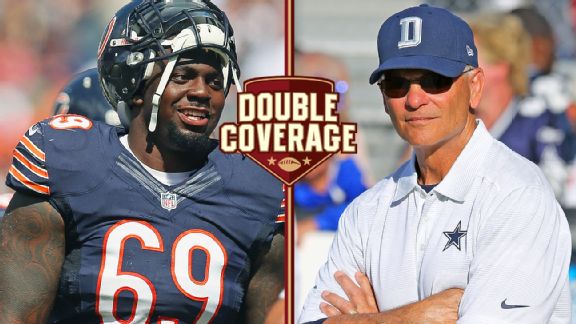 Getty Images, Icon SMIDallas signed Henry Melton, left, and believes Rod Marinelli can bring the best out of the pass-rusher.
IRVING, Texas -- The
Dallas Cowboys
needed to do something -- anything -- to help their defensive line in free agency.
After releasing
DeMarcus Ware
and losing
Jason Hatcher
, the Cowboys found their answer in
Henry Melton
, who agreed to a one-year deal with an option for three more on Tuesday night.
Melton has 15.5 sacks for his career and went to the Pro Bowl in 2012 as a member of the
Chicago Bears
, but he played in only three games in 2013 because of a torn anterior cruciate ligament.
ESPN.com Chicago Bears reporter Michael C. Wright and Cowboys reporter Todd Archer take a look at what the move means for both teams.
Todd Archer:
What are the Cowboys getting in Melton?
Michael C. Wright:
If Melton plays like he did in 2011 and 2012 (13 combined sacks), the Cowboys are getting a heck of a player who probably still hasn't reached his potential, because you have to remember the Bears drafted him to play defensive end in 2009 and he didn't become a defensive tackle full time until 2011. In Melton's first season as a full-time interior defensive lineman, he led all NFC defensive tackles with seven sacks. My only gripe with Melton is he's probably not as stout as you'd like against the run. As an under tackle, obviously Melton is more of a penetrator than a run-stuffer. But as you know, the No. 1 objective of any defense is to stop the run, and I don't think Melton does that as well as he rushes the passer. Just watch next season, you'll see several times when Melton will slash into the backfield only to have the running back run right past him. As good as Melton is at running down plays from the backside, he'll struggle somewhat when teams run right at him. Another thing you'll notice about Melton is he has a tendency to run hot and cold. I know in his first season as a full-time starter, Melton admitted that increased playing time wore on him down the stretch. But the bottom line is if Dallas gets a committed Melton, who shows up to camp in shape and playing with a passion, he'll be worth every dollar the Cowboys spent.
Did the Cowboys get desperate? I know there's an escape hatch in the deal, but it seems like the Cowboys paid quite a bit.
Archer:
I don't know if they were desperate, but they had to do something after losing Ware and Hatcher. The first-year value is a maximum of $5 million, so the Cowboys won't be hamstrung by the salary cap in the first year. The big money happens in 2015, and if he has a terrific season, the Cowboys would be more than willing to gamble on a 28-year-old going forward. Without seeing the deal in its entirety, I think the Cowboys have a deal that allows them to pay as they go. I think the desperate move would have been to give him a four-year deal with no escape clause, and a more desperate move would have been to give in on
Jared Allen
's contract demands. So far this offseason, the Cowboys have been disciplined financially. Maybe it's a new way of doing business.
Can you talk about the relationship he forged with Rod Marinelli?
[+] Enlarge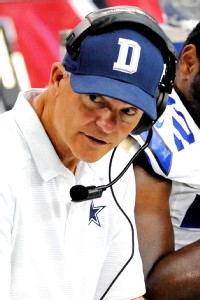 Casey Sapio/USA TODAY SportsRod Marinelli helped make Henry Melton a star in Chicago.
Wright:
Todd, I don't know what it is about Marinelli, but he has a way of getting through to people and helping them play their best. He did it with Warren Sapp,
Julius Peppers
, Melton and a host of others. I think in Melton, Marinelli saw early on a player who could develop into a star if he could put on some weight and refine his game, and I think the coach relayed those thoughts to the defensive tackle; sort of one of those "if you just listen to me," type of deals. Prior to the 2011 season when the Bears made the decision to make Melton a defensive tackle full time, Marinelli, former coach Lovie Smith and former general manager Jerry Angelo constantly told everyone Melton was about to have a breakout year. Of course, nobody believed them because the year before, Melton didn't play much, and when he did he was splitting time between defensive tackle and end. Anyway in Melton's first year as a starting defensive tackle (2011), he became a beast under Marinelli's tutelage. Then with more guidance from Marinelli, Melton turned it up a notch in 2012. Melton was certainly missing Marinelli last season with the coach having left for Dallas. Ultimately, Melton believes in Marinelli -- known as an expert motivator and stickler for strict adherence to fundamentals and accountability -- and the coach believes in the player. Marinelli has said Melton is one of the most natural pass-rushers he's ever coached.
What caused negotiations to take so long? He visited another team after leaving Dallas, and wasn't there something Tuesday night holding up the deal even though Melton was tweeting he was about to be a Cowboy?
Archer:
I think it was just the structure of the deal. You just don't see very many of these kinds of deals, and the team and his agent, Jordan Woy, wanted to make sure everything was just right so the contract would be approved by the NFL. I think by letting Melton leave to visit the
St. Louis Rams
, the Cowboys showed they were willing to move on without him and they were able to get him more at their price than at his price. To me, if a free agent is visiting a bunch of teams, he's not getting what he wants and he's looking for that great offer. That is what happened with Hatcher and the Redskins. He received $27.5 million and $10 million guaranteed without even visiting. For a lot of years the Cowboys have forked over big money to free agents and they have not received the payoff on the field. This is a risk, but it's mitigated some by the structure of the contract.
It seems like the Bears had some concerns with his maturity, what's the deal?
Wright:
Bears general manager Phil Emery mentioned Melton's "passion" for the game and commitment to rehabbing from the torn ACL as potential concerns right after the season, but I'm not sure there's quite enough evidence to suggest he'll have issues in the future. In fact, at the time, I thought Emery was sort of laying the seeds to give Melton a low-ball offer in free agency. "Henry, in particular, he has got to fully dedicate himself to rehab. He has to fully dedicate his mind and his focus to football, which is extremely important," Emery said back on Jan. 2. But maybe Emery's concerns about Melton's commitment to rehab stemmed, in part, from his arrest back in December for that incident out in Grapevine, Texas. The night Melton was arrested, the Bears were out in Philadelphia getting ready to play for a spot in the postseason. And although Melton wasn't obligated to be with the team or at its facilities rehabbing at the time, you know the perception a situation like that puts out: instead of working out and rehabilitating, Melton is back home getting into a bar fight. Sure, Melton is known to go out and have a good time, just like many of his peers around the NFL, and he's still a very young player. But the only concern I'd have regarding Melton's maturity is the fact he's now back in his hometown playing for the home team, and he's likely to be surrounded by a lot of old friends and family that might distract from his focus on the craft. At the same time, I think being back with Marinelli might alleviate some of that.
Melton is coming off a torn ACL. What are the team's realistic expectations for him in 2014?
Archer:
They expect him to be the guy in 2011-12 who had 13.5 sacks. I don't think this move takes the Cowboys out of the market for a defensive tackle in the first round of the draft, because the only guarantee is that Melton will be here in 2014. If the right player fell to them, I think they would still take the guy. But they really want this deal to work out. They're getting a player in his prime -- granted coming off an injury -- and can have him at a relatively good price through his prime. Too often the Cowboys have had to pay guys past their primes. They are also banking on Marinelli. Since he arrived last year he's become their pass-rush whisperer. What he says goes with management. They passed on
Sharrif Floyd
in the first round last year because of Marinelli. He was able to take a bunch of guys off the street and make the line competent. With a talent like Melton, whose knee should be fine for at least part of training camp, they think Marinelli can make it work.
December, 9, 2013
12/09/13
7:00
PM ET
Join our ESPN.com NFL experts for "Monday Night Football" between the Dallas Cowboys and the Chicago Bears.
Contribute your thoughts and questions beginning at 8:30 p.m. ET. See you there.
December, 6, 2013
12/06/13
10:00
AM ET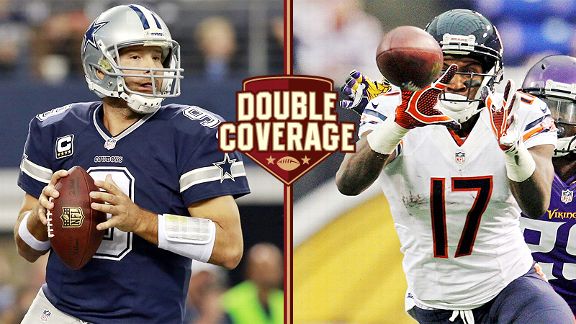 USA TODAY SportsTony Romo and Alshon Jeffery will aim to keep their respective teams in the NFC playoff hunt on Monday night.
The month of December, along with the
Dallas Cowboys
, has defined "collapse" the past two seasons.
But Dallas finds itself in an advantageous position at 7-5 with the NFC East title in its sights. And on Monday night, the Cowboys will face a 6-6
Chicago Bears
team with rapidly fleeting postseason aspirations.
ESPN.com Chicago Bears reporter Michael C. Wright and Cowboys reporter Todd Archer break down the matchup.
Michael C. Wright:
What's the real deal with this whole Jeremiah (I know you guys call him Jay) Ratliff situation? Based on Jerry Jones' remarks from his radio show, there seems to be a little underlying tension there, and Ratliff has been really reluctant to go too far into detail about went wrong out there.
Todd Archer:
There's some inside the organization who feel they were duped by Ratliff when he said that he could not play football this year because of his health. There's a lot of "he said, he said" stuff going on. When he underwent surgery last year for the sports hernia, the Cowboys did not place him on injured reserve hoping he could return for a playoff run that ultimately never happened. After he was cut, his agent, Mark Slough, said the injury was far more severe than a sports hernia and he would need a year to recover. It seems like a dubious claim because the Cowboys never put him on IR last December, restructured his contract in the offseason in a way that made cutting him more costly, did not draft a defensive lineman or go after anybody in free agency. If the team felt Ratliff needed 12 months to recover, would it have done any of those things? I know Jerry Jones isn't considered the best general manager, but even he would have done some things differently. Ratliff was always something of a loner here. He always felt trouble lurked around every corner. He was not very trusting of anybody. But the Cowboys and Jerry could have avoided this deal by just cutting him after he got in the owner's face in the locker room after a game. At that point they could have claimed "conduct detrimental to the team," and gotten some money back. Now they're really kind of stuck.
Since you asked about
Jeremiah Ratliff
, let me repay the favor. What are the Bears' expectations for Ratliff? Seems like a lot of former Cowboys have not had much success up there after leaving here.
Wright:
Boy, you're absolutely correct about the former Cowboys coming to Chicago (I'll point out however, that
Martellus Bennett
has been a good addition). But Ratliff's situation here could turn out to be different. The Bears went into the situation the right way: with no expectations. In fact, when the club first signed Ratliff, the move was such a low-risk acquisition (no picks given up, low salary) the Bears were prepared for the possibility the defensive tackle would have been unable to play this season. The Bears had already lost defensive tackles
Henry Melton
and
Nate Collins
for the year, and they've had to learn to utilize the little depth they have and switch players to other positions just to survive the majority of this season. So when they signed Ratliff, they weren't looking for him to come in and be a savior. They also made it a point to exercise extreme patience with Ratliff in his recovery. Ratliff played just 23 snaps last week in his Bears debut, and the only expectation the team has for him moving forward is to be able to handle a slightly increased workload. Ratliff went from being someone the Cowboys depended heavily on to just a guy in Chicago.
The Cowboys haven't run the ball especially well, and the Bears can't stop the run. Something has to give here. What does Dallas need to do to get the run game popping against Chicago's porous run D?
Archer:
The running game has been better here the last couple of games. Not great by any stretch but better. Losing
Lance Dunbar
hurts because he brought a change of pace from
DeMarco Murray
. But this is Murray's running game. He is the workhorse and will get even more work now. The Cowboys run better out of three-wide receiver sets when teams go to their nickel defense. They need to spread the Bears out. The Cowboys don't have an overpowering-type line or scheme. It's more built on zone schemes and finding creases. Dunbar was good at finding creases. Murray takes a little more time to hit them. The commitment to the run from coach Jason Garrett and offensive coordinator Bill Callahan sometimes wanes, especially on the road if things don't go well early. With the cold weather and I'm guessing windy conditions, then Murray will have to be a huge factor.
Josh McCown
has done a nice job, but what have the Bears missed in not having
Jay Cutler
and what's the sense you get on Cutler being a long-term answer?
Wright:
The Bears miss two things without Cutler in the lineup: that cannon of an arm, and his gunslinger mentality. McCown has been productive and efficient, and has moved Chicago's offense well. But you can see in games there are throws McCown doesn't make as well as Cutler, throws he won't even try. I think that's part of the reason that although the Bears are averaging more yards with McCown at quarterback than Cutler, the club is also averaging fewer points. McCown simply doesn't take chances, which has translated into a high quarterback rating (103.6). Cutler, meanwhile, is a lot like
Tony Romo
in that he'll gamble on occasion, and a part of that is he's confident in his arm. But Cutler also possesses uncanny chemistry with his receivers to where he can go off script on occasion and still make big plays.
Now I'm still not sure about whether the team views Cutler as the long-term answer. After eight years in the NFL, you are what you are. That's not to say Cutler isn't a good quarterback. He is. But the financial resources the Bears would have to sink into him to keep him around, in my mind, don't match up with the production. Cutler owns an 84.4 career passer rating, and he's thrown 149 touchdowns to 108 interceptions. I'm not sure that's worth $16 million-plus per year. General manager Phil Emery doesn't seem to be inclined to use the franchise tag on Cutler. So it'll be interesting to see whether the sides can come to a long-term agreement that's acceptable to both parties.
With Dallas eyeing a potential division title, Romo seems to be catching a lot of flak about his record during games in December. How much of it is on Romo, and how much does the rest of the team have to do with the quarterback's struggles during the month of December?
Archer:
Some of it is on Romo, but more of it is on the rest of the team. Would you be surprised if I told you Romo has 28 touchdowns and seven interceptions in 15 December/January regular-season games since 2009? Or that he has seven 300-yard games? Or 10 games with a passer rating of better than 100? He has two four-touchdown games -- with no picks -- and the Cowboys have lost them both. Ultimately, however, the record falls on the quarterback. Overall he is 11-15 in December and 7-8 since 2009. He has put the Cowboys in position to compete for the playoffs the past two seasons and lost in Week 17 both times. Without Romo the Cowboys are not sniffing playoff contention. I can't say he has to play better because 28 TDs and seven picks are pretty ridiculous, but he has to play better. The defense is something of a mess, even with
Sean Lee
returning and guys getting healthy. The run game is still hit or miss. If the Cowboys do make it to the playoffs, it will be because of Romo and the passing game.
I can see what kind of a difference Rod Marinelli has made here. How much have the Bears missed their former defensive coordinator?
Wright:
Tons. On the same day Marc Trestman was first introduced as the new head coach, all the assistants from the old staff were holed up in their offices at Halas Hall awaiting their fates as Trestman spoke to the media. The new head coach knew it was imperative to bring back Marinelli, which is why he tried to convince him to come back as soon as the news conference was over. But out of loyalty to former coach and close friend Lovie Smith, Marinelli declined the offer. The Bears have struggled ever since. Obviously, the team's rash of injuries is the most significant factor in the defense's slide. But Marinelli was revered among Chicago's players. They'd run through a wall for him. Marinelli is an excellent motivator and nobody knows Chicago's scheme better. His attention to detail, and the ability to relay the importance of those small details to the players, is what the Bears miss. Marinelli liked to break down players and make them focus on every single nuance from a technical standpoint. Marinelli was also a master of simplifying the most complicated aspects of a scheme or game plan for players. In fact, I think second-year defensive end
Shea McClellin
would be blossoming right now the way
Corey Wootton
is had Marinelli stayed.
October, 1, 2012
10/01/12
5:19
PM ET
Join our ESPN.com NFL experts as they bring you the Monday Night Football match up between the Chicago Bears and the Dallas Cowboys.

Contribute your thoughts and questions beginning at 8:30 p.m. ET. See you there.


October, 1, 2012
10/01/12
4:46
PM ET
OK. We've reviewed the Sunday performances
for three-fourths of the NFC North
. Now it's time to turn our attention to the Monday night matchup between the
Chicago Bears
and
Dallas Cowboys
. Kickoff is set for 8:30 p.m. ET, but the game will be hard-pressed to reach
the drama level of last Monday's affair
.
PODCAST
Coop and Nate discuss the Monday Night Football matchup between the Cowboys and Bears.

Listen

We've discussed a few aspects of this game, from the
apparent mismatch the Bears' defensive line
should have over the Cowboys offensive line, to quarterback
Jay Cutler
's dismal record
in prime-time games on the road
, to the Bears'
aggressive but unsuccessful attempts
to get the ball down the field through three games.
In the last few hours before kickoff, I'd like to focus on the Cowboys' top-ranked defense, and how a potential antidote has to this point not been a part of the Bears offense.
The Cowboys are limiting opponents to an NFL-low 250 yards and 15.7 first downs per game and boast one of the league's top pass-rushers in
DeMarcus Ware
. An easy and high-percentage offensive alternative to the Bears' downfield throws could include an emphasis on receiver
Devin Hester
near the line of scrimmage, but to this point Hester has been almost invisible in the Bears' new offense.
Hester has been targeted on five passes, catching two for 27 yards, and has played on 30 percent of the Bears' snaps,
according to Pro Football Focus
. Late last week, he expressed frustration
to ESPNChicago.com
, saying: "It's hard being one of the top electrifying players in the league and you're not able to get your hands on the ball as much as you want."
Based on what we discussed over the weekend, I'm not sure Cutler wants to redirect his efforts away from receivers
Brandon Marshall
and
Alshon Jeffery
. But you wonder if Hester won't emerge as a bigger factor Monday night -- or whether he should. Just a thought.