Dallas Cowboys:

Cincinnati Bengals
December, 6, 2012
12/06/12
1:02
PM ET
The way the Bengals' defensive line has been sacking quarterbacks, you're waiting for some comparison to the Fearsome Foursome or another memorable defense from the past. You probably weren't expecting a reference to a young adult novel about a fight to the death.

"We treat it like the Hunger Games," Bengals defensive end
Carlos Dunlap
told reporters. "Whoever gets there first. Especially when we know its a pass, me,
Geno (Atkins)
and
Mike (Johnson)
are licking our chops like we hadn't eaten all day, ate at like breakfast, now we got to eat."
This quarterback feast could give the Bengals their first NFL sacks title. Cincinnati currently leads the league with 39, which is one more than the Broncos. The Bengals have never finished higher than fourth in the NFL in sacks, and that was in 1973 and 2011. The key to the Bengals' pass rush this year is how it's generated by the defensive front. Atkins (9.5 sacks), Johnson (eight) and Dunlap (four) have accounted for 55 percent of the team's sacks.
The Bengals are also on pace to break the franchise record in sacks, which was set in 2001 (48 sacks). This year's defense is averaging 3.2 sacks per game and is projected to finish with 52.
Cincinnati is looking to add to its total Sunday against the Cowboys.
Tony Romo
has been sacked 28 times this season, eighth-most in the NFL.
December, 5, 2012
12/05/12
1:42
PM ET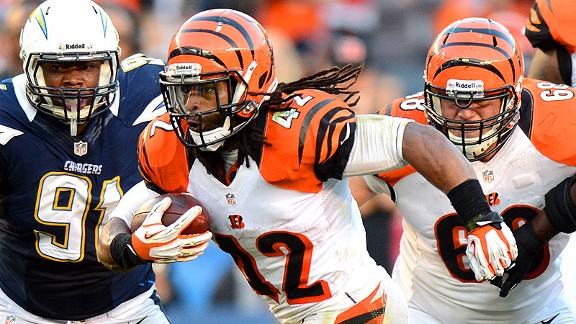 Jake Roth/US PresswireRunning back BenJarvus Green-Ellis has eclipsed 100 yards rushing in three consecutive games.
The baffling Bengals are at it again. Just when you think you know where Cincinnati is headed, this team makes an unexpected U-turn.
PODCAST
Cincinnati Bengals defensive coordinator Mike Zimmer says he's very impressed with Tony Romo and that Dez Bryant is starting to remind him of Michael Irvin.

Listen

In 2010, the Bengals went from being the defending AFC North champions to winners of four games. In 2011, when the Bengals ranked last in the Power Rankings to open the season, they ended the regular season by making the playoffs. And now, weeks removed from being written off, the Bengals have everyone reaching for the delete key.
Cincinnati (7-5) somehow went from becoming one of the most disappointing teams in the league to jumping back in the postseason hunt all in the same season. The Bengals are tied with Pittsburgh for the final playoff spot in the AFC, and they're two games behind the Ravens (9-3) in the AFC North race with four weeks remaining. It's been a remarkable turnaround for the Bengals, who had a 3-5 record on Nov. 4 after losing four straight games. The Bengals have since won four games in a row, and have done so in impressive style. Their margins of victory have been 18, 22, 24 and 7 points.
What has everyone learned from the Bengals' win streak? While the Bengals often make people regret making predictions about them, it's time to start taking the Bengals seriously. They're looking like a playoff team and they're playing like they have something to prove.
"This team is getting better each week," wide receiver
A.J. Green
said. "A lot of people said it was out of our reach to make the playoffs, but I feel like we have momentum on our side coming down the home stretch of the season."
There's not another team with more momentum on both sides of the ball. That includes teams that have already clinched a playoff spot like Houston, New England and Denver.
PODCAST
Cincinnati Bengals defensive coordinator Mike Zimmer says he's very impressed with Tony Romo and that Dez Bryant is starting to remind him of Michael Irvin.

Listen

The Bengals have hit their stride on offense. Running back
BenJarvus Green-Ellis
became the first Bengals player in 13 years to gain more than 100 yards in three straight games. Over the past four weeks, the Bengals have averaged 28.2 points and scored touchdowns on 13 of their past 17 trips to the red zone.
Their defense is stonewalling teams from the end zone. The Bengals are allowing 10.5 points during the win streak and have given up one offensive touchdown in three weeks. Over the past four weeks, Cincinnati's D has four interceptions and 15 sacks.
There's also a different attitude with this team. It surfaced against the Raiders two games ago when offensive tackle
Andrew Whitworth
was ejected in coming to the defense of quarterback
Andy Dalton
. In other words, these Bengals aren't going to be pushed around.
These young Bengals are growing up quickly. Dalton is among the best quarterbacks in getting the ball into the end zone. (His 24 touchdowns rank behind only
Drew Brees
,
Peyton Manning
,
Aaron Rodgers
and
Tom Brady
.) Green is one of the most explosive wide receivers in the game. And defensive tackle
Geno Atkins
is the best player no one outside this division knows about.
"We control our destiny," linebacker
Rey Maualuga
said. "We can only control what we can. That is preparing for the next game. Show up and win. Be disciplined. Play with the same intensity and effort that we have been playing with the past couple weeks. I think that is all the coaches can ask for."
What the Bengals' coaches have asked for has changed throughout the season. Early last month, coach Marvin Lewis was challenging his team leaders, Dalton and Maualuga, to step up. A month later, Lewis sounds concerned about overconfidence.
Maybe that's why the Bengals needed a victory like the one in San Diego on Sunday. Cincinnati turned the ball over three times and trailed by three points with four minutes remaining. But, as the Bengals have done this season, they bounced back from adversity and escaped with a 20-13 win.
Still, Lewis doesn't want his players to feel satisfied by that performance.
"Break up the glee club because we've got to do better," Lewis said. "It wasn't good enough [on Sunday] -- in a lot of areas. Everybody is patting them on their backs about what they're doing. Well, we haven't done anything. We just got back to even, and now we have to move forward. These last four are what counts."
The Bengals' next two games are home against Dallas (6-6) and at Philadelphia (3-9). What likely will determine their playoff fate is their final two games: at Pittsburgh and home against Baltimore.
This generation of Bengals -- Dalton, Green and other second-year or rookie players -- once again face their biggest obstacle. Since the start of the 2011 season, the Bengals are a combined 0-6 against the Ravens and Steelers, while they're 16-6 against the rest of the NFL.
Another sweep by Baltimore and Pittsburgh likely would eliminate Cincinnati from the postseason. The Bengals have to split with the Steelers because of tiebreaker implications.
Before the Bengals can become a playoff team again, they have to show they're a consistent team. The Bengals need two wins to put together back-to-back winning seasons for the first time since 1981 and '82.
"I think we are a far better football team than we were last year when we finished the season. That's key," Lewis said. "We have to go prove that we're better-equipped to finish out this last quarter of the season. That's where we are now. We put ourselves back in position. We were able to overcome October, which was hard. We've done this by playing one snap at a time. We can't lose sight of that."
By how they've turned around their season, the Bengals are suddenly a team to watch in December.
April, 11, 2012
4/11/12
12:03
PM ET
So, you're an out-of-work former first-round pick and you're wondering where you'll end up. I see a flight to Cincinnati in your future.
The Bengals continued their run of signing former first-round picks,
agreeing to a one-year deal
with Cowboys free agent cornerback
Terence Newman
, according to
ESPN NFL Insider Adam Schefter
.
Newman becomes the sixth former first-round pick signed by the Bengals in free agency this year, joining cornerbacks
Adam Jones
and
Jason Allen
, safety
Reggie Nelson
, defensive lineman
Jamaal Anderson
and defensive end
Derrick Harvey
.
Given that the Bengals have two first-round picks in this year's draft (Nos. 17 and 21), they could go into the season with 15 of them on their 53-man roster. That's 28 percent of the team. Cincinnati could trim that number down if the team
ends up trading
linebacker
Keith Rivers
to the
New York Giants
.
Having a lot of first-round talent doesn't mean a team will end up in first place. According to the
Bengals' official website
, the Raiders ended the 2011 season with 14 first-round picks on their roster and finished with an 8-8 record.
This is another move by the Bengals that provides insurance going into the draft. The cornerback position was an area of concern because
Leon Hall
is coming off a season-ending Achilles injury and
Nate Clements
is entering his 12th season. If Hall isn't ready to start the season or Clements gets injured, the Bengals can plug in an experienced defender like Adam Jones into the starting lineup and still have Allen or Newman to play nickelback.
Newman, who will turn 34 when the season begins, was the fifth overall pick of the 2003 draft and last went to the Pro Bowl in 2009. He was cut by the Cowboys primarily because of his high salary-cap number ($8 million), but he was picked on more frequently by quarterbacks last season.
Still, he's made 20 interceptions over the past five seasons and he is familiar with defensive coordinator Mike Zimmer's system from their days together in Dallas.