Dallas Cowboys:

Cowboys Mailbag
June, 30, 2011
6/30/11
11:43
AM ET
With the lockout entering the month of July, we know you guys have some questions about it. Maybe you might have questions about the Cowboys.
We're working on a mailbag, so if you got something here's your chance to ask.
Go
here
to ask a question and I might answer it.
May, 26, 2011
5/26/11
9:20
PM ET
Dallas Mavericks superstar Dirk Nowitzki led his team to a championship berth in 2006. Things didn't go the Mavericks' way after taking a 2-0 series lead against the Heat, but Nowitzki has matured and emerged yet again to lead his team to another Finals berth. Can Tony Romo take the Cowboys on a similar path? The quarterback has shown signs and did give the Cowboys their first playoff win in a decade in 2009 before watching his 2010 season get cut short by injury. Romo appears to be taking on a bigger leadership role by organizing teammates for practices, but can he get the Cowboys to the level Dirk has taken the Mavericks? Calvin Watkins looks at the quarterback's development and answers your questions in his latest
Cowboys mailbag
.
January, 28, 2011
1/28/11
8:45
AM ET
How does a 6-10 team wind up with six players at the Pro Bowl? That's what Dallas Cowboys fans are asking.
The Cowboys obviously had the talent, so did they underachieve or were they just overrated?
Calvin Watkins tackles that question and more of your queries during his weekly Cowboys Mailbag.
Click here to read his answers.
January, 21, 2011
1/21/11
8:30
AM ET
Welcome to our first mailbag of the offseason, and it might be a long one if there's a lockout. Before we get to the mail, let's address two issues:
Trading Dez Bryant
[+] Enlarge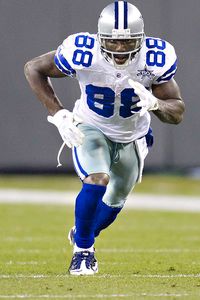 Jeff Hanisch/US PresswireNFL teams are always willing to listen to discussion about players. However, that doesn't mean Dez Bryant is going anywhere.
It's dumb. The Cowboys haven't gotten any offers for Bryant and are not expecting to trade him. Some readers misinterpreted my blog post from a few days ago that the team was trying to trade Bryant. A team source said he would listen to offers for Bryant, but never said he would trade him. Last year, another source -- when asked would he consider bringing outside linebacker
Greg Ellis
back to the Cowboys -- said yes. But it never happened.
NFL teams, the Cowboys included, talk about players all the time and how they would fit. In Ellis' case, it wouldn't work because the coaches felt confident
Anthony Spencer
was going to be fine as the starter and the backup linebackers would provide adequate relief for him if necessary.
In the Bryant case, a hypothetical question about what you could get for him considering the Cowboys' offseason needs was the basis of what was being said. Nobody reported Bryant was on the trade blocks.
The Rooney Rule
Some readers are upset with the Rooney Rule, which forces NFL teams to interview minority candidates. The rule was enacted because NFL teams didn't consider interviewing minorities on a regular basis for head coaching jobs. All minority coaches have ever asked for is a fair chance to become head coaches, and it didn't appear that was happening.
John Wooten, who is the chairman of the Fritz Pollard Alliance, sends NFL teams a list of minority coaches that should be considered for head coaching positions. The other day I found a list from 2008 naming 16 coaches. Of that list, Leslie Frazier, Hue Jackson, Raheem Morris, Ron Rivera and Mike Singletary became head coaches. Former Cowboys receivers coach Ray Sherman is also listed but hasn't gotten a head coaching job. I think the Rooney Rule works, but readers and maybe some of us in the media should ask some more questions before criticizing it.
Enough of the soap box. Let's get to the mailbag.
[+] Enlarge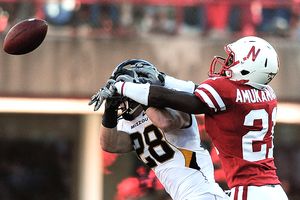 Eric Francis/Getty ImagesWill Nebraska CB Prince Amukamara be there for the taking with the Cowboys' first-round pick (No. 9) in the draft? Mel Kiper Jr. sure thinks so.
Q: Most mock drafts have Da'Quan Bowers, Nick Fairley, Marcell Dareus, Patrick Peterson and Prince Amukamara all going before the Cowboys draft at No. 9. Do you see any possibility in which Carolina would swap picks with Dallas and pick up Blaine Gabbert or Jake Locker at No. 9 -- since that's where they are projected to go -- and the Cowboys pick up an elite defender to fit in nicely with Rob Ryan's new defense? -- Lawrence Torres (Bakersfield, Calif.)
A:
The Cowboys have a chance to get a premium player at No. 9, and I don't believe a trade is necessary. Last season, they traded up to get Bryant, a premium player who fell in the draft for off-the-field issues. Getting an elite pass rusher or safety is the way to go for the Cowboys at No. 9. But if a guy like
Von Miller
, for instance, is gone, then maybe you get Amukamara or somebody else. Remember there are holes on the offensive line, and it's uncertain if the Cowboys will re-sign
Kyle Kosier
as the left guard for 2011. There are many possibilities for a top 10 pick, and the Cowboys can't go wrong here with whoever they select.
Q: Despite accomplishments by Jay Ratliff,I believe that he's a tad overrated. I know that he is a Pro Bowler, but that is more of a popularity contest at this point. I feel that the Cowboys should look at Marcel Darius of Alabama and move Ratliff to defensive end. I've said for three years, he's too small for nose guard. He consistently gets blown off the ball in the run game but his speed would be great at end. Your thoughts? -- Byron (Indianapolis)
A:
That's an interesting take on Ratliff. I thought he was double-teamed plenty of times last season, which is why he didn't get to the quarterback more or create enough pressure in 2010. A move to end might be better for him, and it's something the team tried to do a few years ago. Ratliff didn't seem thrilled with it then, but knowing the team player that he is, a move such as this might sit well with him now. The problem I had with Ratliff was his lack of quarterback pressures and his inconsistency at stopping ball carriers for no gain. Rob Ryan, the new defensive coordinator, might make some position changes or keep things the same but change how certain players do things technique-wise.
Q: Do you feel Felix Jones can be an every-down back? Should the Boys look to draft one? -- Mike T (Syracuse)
A:
It was very interesting to note when
Marion Barber
was healthy toward the end of the season, the Cowboys kept him on the sidelines and Felix Jones remained the starter. Those last four games of the 2010 season might have been an audition for Jones to show he can carry the ball 15-20 times a game. If the Cowboys feel he can, then
Tashard Choice
is the No. 2 and Barber will be released.
Q: Trading Dez Bryant would be a dumb mistake. We all know which of the receivers need to be traded (Roy Williams). -- Andrew Maxwell (Colombia, Maryland)
A:
I'm not sure if you can get anything for Williams. At best, if you cut him, it's a $12.9 million cap hit -- and the Cowboys might be willing to do that. Bryant is not going anywhere. Never said he was. But Williams might. A trade isn't happening, but releasing him is a possibility.
Q: Dallas clearly has the worst secondary in the NFL. Their secondary was clearly the reason for half of their losses. Dave Campo is the secondary coach. It's time for him to hit the road. He clearly does not have a clue how to coach their personnel. The Cowboys never win on third down, and the coach does not know now to get his point across. Wasn't he fired once before? -- Williams McClelland (Port Neches, Texas)
A:
It's easy to blame the coach for the problems with the secondary. In 2009, when
Mike Jenkins
and
Terence Newman
reached the Pro Bowl, Campo was the secondary coach. I think Jenkins had an off year and is poised for a bounce-back season in 2011. Newman might get released in a cost-savings move. There are some in the front office that aren't too happy with him, but Jerry Jones, Stephen Jones and Jason Garrett will make the final call on Newman. I think he'll be here unless the Cowboys decide to get a cornerback in the first round.
December, 24, 2010
12/24/10
9:30
AM ET
IRVING, Texas -- For the first time, I open up the mailbag with five questions. Here we go:
Q. Your article on how the Cowboys should have called in some "project" to play quarterback after the [Tony] Romo injury is odd to me. Jason Garrett is trying to keep his job as a head coach and you want him to call in an unknown quarterback to help him do it? I don't get it. Anybody in Garrett's position would play Kitna too. And as a Cowboys fan, that's exactly what I want him to do. Give himself the best chance to succeed, not just throw in the towel. I see your point about building for the future, but in a year where the team had Super Bowl expectations, Jerry Jones isn't pulling the plug and giving up no matter what. -- Ryan, Acworth, Ga.

A.
I never said they should play the project quarterback. I don't think they should play
Stephen McGee
. What I wrote was that they missed the chance to look for another quarterback by keeping Romo on the active roster too long. They could have had a guy in here to help in practice, see if he has something for the future. You can play to win the game, in my best Herm Edwards imitation, but you can also have an eye on the future in terms of developing players in practice. I think they missed a chance there to look down the road.
Q. Why don't the Cowboys do a blockbuster Herschel Walker deal. This is going to be a rich player draft and if you make [Jason] Garrett head coach, you know he can make that offense click no matter the QB … The untouchable players on that defense are [DeMarcus] Ware, [Orlando] Scandrick, [Sean] Lee and [Jay] Ratliff. Saying all that, can you consider trading Tony Romo and Jason Witten in a blockbuster package deal with any team in the league? -- Chris, Fort Worth, Texas

A.
This is certainly outside-the-box thinking. I can't see it happening. Romo is the present and future quarterback of this team, and Witten is one of the best tight ends in the NFL. They are part of the solution, not the problem here. You need a quarterback to win, and you would take some steps back for a year or two if you go with a rookie. You don't have a replacement for Witten. There are few tight ends in the NFL that can do what he can do, and I think he'll be a Cowboy for as long as he wants to be.
Q. Jason Garrett has done pretty well, but I am wondering why no one mentions his clock management. He bungled this again on Sunday at the end of the first half when they were using a huddle INSIDE of the 2-minute mark. In the end, [David] Buehler bailed him out with a long field goal, but they constantly waste time in the 2-minute drill since Garrett took over. Happened in the Giants game, too, and I think the Indy game. No one is talking about it. -- Brian Carwana, Guelph, Ontario, Canada

A.
I think it's been OK. Not great, but OK. He has had some head scratchers, but I do like how he manages the game overall as a head coach. Every coach seems to struggle with clock management, especially Andy Reid. Garrett takes into account a lot of circumstances. He'll take a chance when necessary, but he will play more conservatively. Maybe he is a little gun shy from what happened at Washington in the opener. The more experience Garrett gets, the better I think he will be.
Q. Do you think Tony Romo is the right fit for this team because I don't. Will you please explain how Jon Kitna is able to show more drive and better leader skills than Romo. Heck, the team plays harder for an old backup QB who's well past his prime than they do for Romo. And is it me or is Romo not a down the field quarterback? -- Ben, Dallas

A.
Romo is the right fit for this team, sorry to disagree with you, Ben. Romo was 38-17 before this season as a starter, so I don't know how you can say the team plays harder for Kitna than it does Romo. And the leadership thing, to me, is such a non-topic. Romo has improved as a leader over the years. He has taken guys to task more and he has done a better job of taking himself to task. As far as the downfield passing game, you must be seeing a different game than me. Kitna has not taken as many shots down the field in recent weeks. Romo has a career yard per attempt average of close to 8 yards, which ranks up there with the top quarterbacks.
Q. Me and most of my Dallas fans friends think that Igor Olshanky hasn't lived up to his potential, but yet several weeks ago, he called out the offense. Was this the pot calling the kettle black? What do you think? Should he be let go next year in favor of younger talent? -- Jym Concha, Santa Fe, New Mexico

A.
Olshansky was better last year than he has been this year, but I don't think you let him go. You have to look at the rest of the roster.
Marcus Spears
,
Stephen Bowen
and
Jason Hatcher
will be free agents after the season. The Cowboys cannot afford to cut a defensive end until they have some players fill out the position. Olshansky will have to rebound in 2011, like a lot of defensive players in 2011.