Dallas Cowboys:

Tony Romo
September, 8, 2014
Sep 8
3:00
PM ET
There have been seasons when
Dallas Cowboys
quarterback
Tony Romo
has done a great job of protecting the ball such as last season, when he threw just 10 interceptions on 535 attempts.
Romo
Or 2011, when he threw 10 in 522 attempts. Or 2009, when he threw nine in 550 attempts.
There have been other years, such as 2012, when Romo tied his career high with 19 interceptions and made some of the dumbest decisions you've ever seen a good quarterback make. He also threw 19 in 2007, but it was his first year as a starter so mistakes were expected.
Entering this season, Romo had 208 career touchdowns and only 101 interceptions, which is more than fine.
What coach Jason Garrett has to be concerned with is whether this is going to be one of the seasons that Romo protects the ball or is it going to be a season that he makes poor decisions that result in interceptions.

Obviously, we don't have the answer after just one game, but Romo threw interceptions on three consecutive possessions for the first time in his career Sunday against San Francisco. And he probably would've had a fourth if
Dwayne Harris
hadn't made a spectacular catch over a defender.
The defense isn't nearly good enough this season to survive mental meltdowns by Romo. Over the years, Garrett has had several conversations with Romo about the importance of protecting the ball.
He's told him that it's OK to throw the ball away. He's told him it's OK to take a sack. At 34 years old with 109 career starts, you have to wonder how many more of these conversations Romo needs.
Then again at this point of his career, this probably isn't going away. He'll always have an occasional meltdown game.
The Cowboys just hope it doesn't occur in their biggest game of the season.
FYI: In the games following his three-interception disasters, Romo averages 237 yards passing with 15 touchdowns and eight interceptions.
August, 16, 2014
Aug 16
10:45
PM ET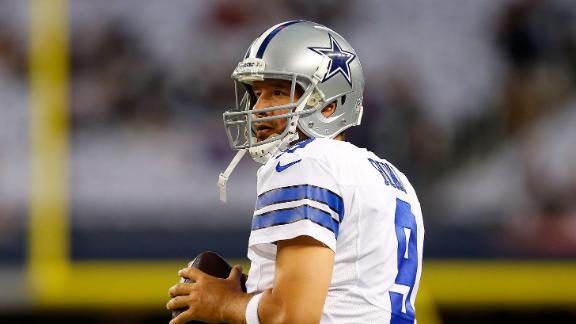 ARLINGTON, Texas -- You wanted to see
Tony Romo
move around Saturday night in his preseason debut against the
Baltimore Ravens
.
You wanted to see him get jostled, and you wanted to see him throw the deep ball. And deep down, you probably wanted to see him lead the first-team offense on a scoring drive too.
He did all of that in just 14 plays and emerged unscathed.
So the evening must be considered a rousing success, despite Baltimore's 37-30 win at AT&T Stadium.
This season is all about the
Dallas Cowboys
' offense because we know the defense is going to stink. For the Cowboys to end their string of three consecutive 8-8 seasons, Romo must stay healthy and the offense must be prolific.
[+] Enlarge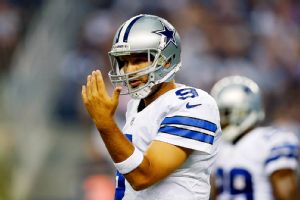 Tom Pennington/Getty ImagesTony Romo's 4-for-5 night and long TD pass suggest the 34-year-old QB will be ready for Week 1.
Obviously, we won't know whether Romo's back is going to hold up until the regular season begins, but the starting offense has looked dynamic throughout training camp and has been good in each of the first two preseason games.
The Cowboys have taken a cautious approach with Romo throughout training camp, given that the 34-year-old quarterback has had two back surgeries in the past year and the alternative is
Brandon Weeden
.
So far, so good.
Romo completed four of five passes for 80 yards and a touchdown in his preseason debut. He led the starting offense to a touchdown but also botched a handoff that resulted in a Ravens touchdown.
Considering he's missed so much practice time during training camp, we shouldn't really be surprised he was involved in a mishap such as that. Actually, the real surprise is probably that more mistakes didn't occur.
Romo has become one of the NFL's best quarterbacks because of his ability to move in the pocket and create extra time that often results in big plays. He provided a glimpse of his ability to still do that on the Cowboys' third play.
Facing pressure, Romo stepped up into the pocket. Then, he moved right and delivered a perfect pass to
Dez Bryant
, who was running across the field. The catch and run netted 22 yards.
"I thought he looked like himself and moved around in the pocket," coach Jason Garrett said. "He made some good throws that looked like he saw the field well. He felt the pocket really well and looked comfortable moving the team."
July, 27, 2013
7/27/13
10:16
PM ET
OXNARD, Calif. -- On the eve of Sunday's Blue and White scrimmage,
Dallas Cowboys
owner/general manager Jerry Jones said he's pleased with the play of his $108 million quarterback,
Tony Romo
.
"Very good," Jones said after Saturday's practice. "I like what he's doing. He's benefiting not only from on-the-field but off-the-field stuff. A lot of the stuff you're seeing out there is him and some of his things. Really good. Sit in on most of the after practice offensive meetings, and I know it's going good from their perspective in those meetings."
There was a controversy from the morning practice session regarding coach Jason Garrett's discussion with a reporter about sitting Romo for the Hall of Fame game next week. Jones said he didn't know anything about the controversy, but understood the thought process behind sitting Romo for the first preseason game.
"We just want to use our head," Jones said. "We've got five games to get the work in we think is good. We'll just use our head. We obviously want to see all these guys at the QB. But I didn't know there is any hubbub about it. Is there?"
Jones added: "You all sit down and tell me what you'd do, seriously, about just how much (to play him). Here he is, he's coming back, working himself into shape, I think really what Jason meant was with all these guys with a fifth game, we'll use our head and be sensible about it."
When training camp started there was some debate about Romo's weight.
Romo missed the entire offseason because of his recovery from back surgery to remove a cyst. Romo was listed at 236 pounds following the OTAs, and before the start of training camp Garrett said his quarterback was just one pound over his prescribed playing weight, which is assumed to be 230 pounds. During training camp practices, Romo has moved around the pocket well, especially when there's pressure.
On Saturday, he completed a few bootleg passes and didn't appear winded.
"I'm not seeing any differences," Jones said. "Maybe I see playing into shape, he looks a little more comfortable out there than when he started."
June, 11, 2013
6/11/13
4:12
PM ET
IRVING, Texas --
Dallas Cowboys
quarterback
Tony Romo
is still recovering from minor back surgery, but things are going well and he's started throwing passes.
PODCAST
ESPN NFL Insider John Clayton joins Fitzsimmons & Durrett to discuss the Cowboys and Tony Romo missing OTAs.

Listen

Romo threw passes during the walk-through sessions prior to the start of the just-completed organized team activities and on Tuesday, before the start of the mandatory veteran minicamp.
"It's a progression that takes shape, and I'm to the point where I feel pretty good about it," Romo said. "If we had anything next week, I'm sure we would be going full, but obviously we don't. But I'll be doing that on my own in some other areas."
Romo had a cyst removed in April. He said the cyst wasn't cancerous, and he didn't know its size; team officials described it as minor. The recovery time was supposed to be three weeks, but it's taking longer.
"He has made a lot of progress, but like with a lot of the guys, we are erring on the side of caution," coach Jason Garrett said. "He has been involved in the meetings and on the field, he just hasn't gotten the physical reps. He is working on the side and making progress in rehabbing that back. He feels good. He has certainly taken a lot of reps in this offense and at this level, so he is staying in it mentally and will catch up physically."
Romo hasn't thrown passes in front of reporters during the offseason. He has watched practice or done rehab work in the weight room. He said he hasn't had any setbacks from a physical standpoint.
"I think, more than anything, I feel ready to go," Romo said. "I was running; we're pushing on the treadmill good last week and I was pretty amped up, ready to go. I think as a player you're always just trying to push through, but at this time of year, it's intelligent to be patient with it. Anytime you go through something like that and be smart and make sure you don't do anything dumb."
February, 9, 2013
2/09/13
11:00
AM ET
Forbes released America's Most Disliked Athletes
this past week
, and I was surprised to see
Dallas Cowboys
quarterback
Tony Romo
on the list.
Romo is 10th.
PODCAST
ESPNDallas.com's Todd Archer joins Coop and Nate to discuss the Cowboys' salary cap situation and Tony Romo.

Listen

The interesting thing about Romo is his off-the-field antics have been nothing to worry about. He plays soccer and basketball in the offseason, has had a few celebrity girlfriends, visited Cabo during the bye week of the playoffs in 2007, and last year donated $1 million to Dr. Tony Evans' Urban Alternative to help raise money for a national Church Adopt-A-School initiative.
He's never been in trouble with the law. Never been popped for PEDs. He's played in pain and challenges his teammates in private and in public settings.
So why the hate?
Romo plays for America's Team, the Dallas Cowboys, and with that comes expectations. Since becoming the starter in 2006, Romo has won one playoff game and is 1-6 in win-or-go-home games.
Some of Romo's biggest disappointments have been on national television -- most recently, his three-interception game in the regular season finale at the
Washington Redskins
with a playoff berth on the line.
It's a hard life, but until Romo pushes his team to a deep playoff berth, some fans might hate him.
If you judge Romo on a small sample, 2010-12, he is one of 14 NFL quarterbacks with over 10,000 passing yards. He's thrown for 10,692 yards -- 11th most in the NFL -- and his 70 touchdown passes ties him for eighth among QBs from 2010-12. Romo has also thrown 81 passes of 25 or more yards -- eighth most in the league. That's more than
Michael Vick
,
Matt Ryan
,
Jay Cutler
,
Peyton Manning
and
Ben Roethlisberger
.
The problem, of course, whether it's Romo's fault or not, is he plays for the Cowboys, and the expectations are high for this team. Until Romo gets a Super Bowl, they will continue to be. And at 33 when the 2013 season starts in September, time is starting to run out on him.
One of the most hated? That's unfair to Romo. He is a good quarterback and just hasn't won the big enough game to get his team to the Super Bowl.
January, 15, 2013
1/15/13
6:05
PM ET
IRVING, Texas -- A couple of hours ago
I wondered
if
Tony Romo
could be headed to the Pro Bowl. Turns out that is about as likely as me being named the Cowboys' offensive coordinator.
Aaron Rodgers
pulled out of the game with an ankle injury,
according to 540 ESPN and ESPNWisconsin.com
, and the
New York Giants
announced
Eli Manning
as the replacement.
If Atlanta's
Matt Ryan
wins the NFC Championship on Sunday, then Seattle's
Russell Wilson
would be added.
You can debate the merits of Romo getting into the all-star game over Manning and Wilson. Remember the votes were tallied before the three-interception finale against Washington, so that game did not play a factor in the vote.
Romo had more passing yards (4,903) and touchdown passes (28) than Wilson (3,118, 26) and Manning (3,948, 26), but he also had 19 interceptions, which tied
Drew Brees
, who is replacing
Robert Griffin
III, for the most in the NFL. Wilson led the Seahawks to the divisional round of the playoffs, and Manning's Giants finished 9-7, one game better than the Cowboys.
Even if Romo would get the nod if Manning, Wilson or Ryan can't play, there's doubt over whether he could play. He cracked a rib against Washington that left him in great pain after the game, and three-plus weeks of rest might not have been long enough to help him anyway.
October, 29, 2012
10/29/12
8:00
AM ET