Dallas Cowboys:

Wade Phillips fired
December, 15, 2010
12/15/10
12:57
PM ET
IRVING, Texas -- After he was fired by the Cowboys Wade Phillips said he wanted to continue to coach and he will get the chance Jan. 22 at the
East-West Shrine Game
in Orlando.
Phillips will coach against his former boss, Dan Reeves. He was Reeves' defensive coordinator in Denver and Atlanta and was his full-time successor with the Broncos and on an interim basis in Atlanta.
Harold Richardson is the East-West Shrine Game's executive director and some of you might remember his brief time on the Cowboys' staff in 2007 after Wade Wilson was suspended for five games by the NFL. Richardson is an SMU grad and worked with Phillips in New Orleans and Denver.
November, 8, 2010
11/08/10
10:49
PM ET

Ten possible candidates to become the Cowboys' next full-time coach, with odds:

John Fox: 2-1 -- Jones family loves the Carolina coach, but he has to finish the season first

Jason Garrett: 5-1 -- The front-runner if he can turn the 1-7 season around into a positive

Jim Harbaugh: 8-1 -- A dark horse who is young and will make players accountable

Jon Gruden: 10-1 -- A tough hire; he might prefer to coach in the Midwest

Mike Zimmer: 10-1 -- He knows the Cowboys' way of doing things but has never been a head coach

Brian Schottenheimer: 12-1 -- An up-and-coming coach who seems to push players, especially the quarterback

Bill Cowher: 20-1 -- Cowher wants power to come out of retirement, but Cowboys might not give it to him

Leslie Frazier: 30-1 -- A defensive-minded coach who is quiet and firm

Rob Ryan: 45-1 -- Fiery defensive coordinator who comes from a good coaching family

Tony Dungy: 100-1 -- He likes retirement, but will the lure of the Cowboys bring him back?
November, 8, 2010
11/08/10
7:28
PM ET

IRVING, Texas -- Jason Garrett paid lip service to how much of a honor it was to work for Wade Phillips.

Then he made it clear that things would change at Valley Ranch now that he's in charge.

"Wade is no longer the coach," Garrett said. "I am the coach."

He's the coach of a 1-7 team. The Cowboys can't just wipe the slate clean in the middle of the season. The standings don't allow that to happen.

However, that's the type of mentality Garrett wants the Cowboys to have.

"I think anybody involved in this organization, really from the top down, is disappointed with our season so far and how we got here," Garrett said. "Having said that, we're all excited about what we're going to do going forward. This is about going forward.

"We have to put the first eight games of the season behind us, we have to learn from them and we need to go forward. One of the things that I talk to the players about all the time is embracing the moment, embracing the day, being great today. That's what I'm going to ask the coaching staff to do, that's what I'm going to ask the players to do, and everyone involved in this organization to do. Be great today. Be great going forward."


November, 8, 2010
11/08/10
6:25
PM ET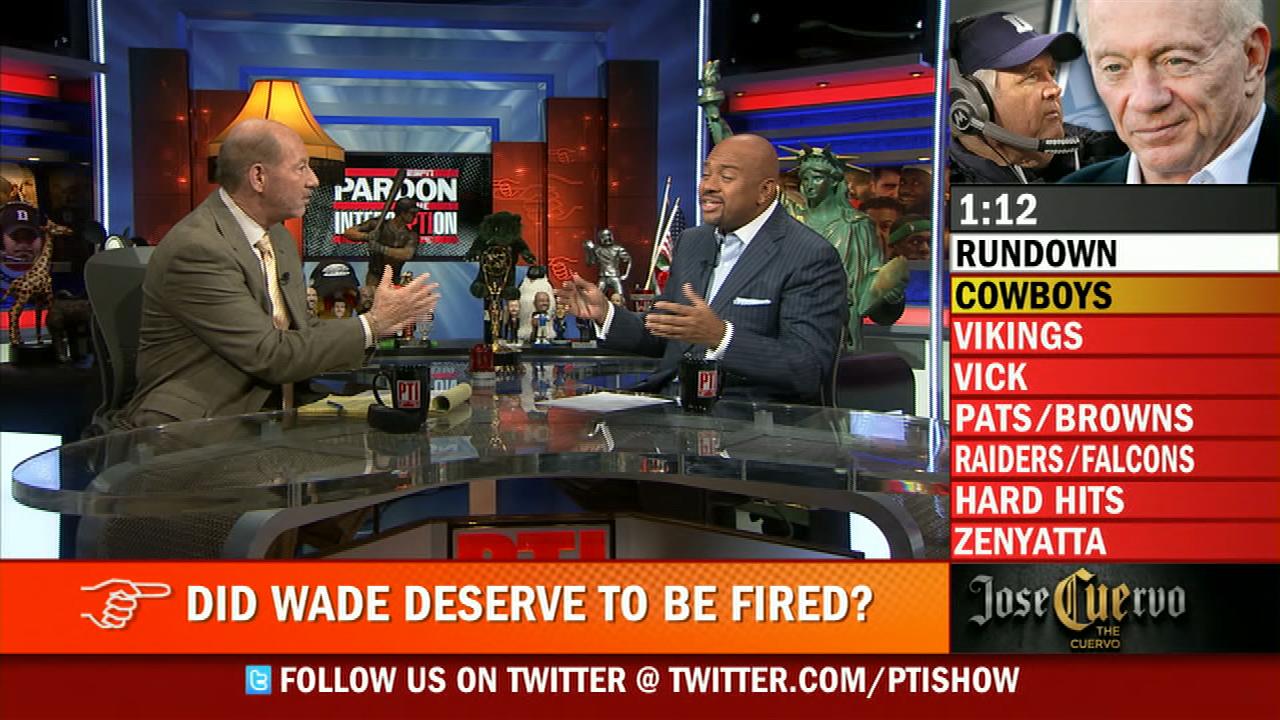 IRVING, Texas -- Even at 1-7, Jerry Jones refuses to give up on this season.
That's the message he delivered to the Cowboys during their 3 o'clock meeting Monday.
"I told them that they should not think for even a second they should not think this is an admission of defeat or finality for this season," Jones said. "I told them we have eight games remaining and we will go into each with one goal, to win.
"I told them the evaluation process would begin with finding the guys who play the hardest. I told them we were looking for players who want to win the most.
"Winning games and winning players will be the criteria upon which we move forward for the remainder of this season."
Many Cowboys aren't just playing for pride the rest of the season. They're playing for the right to remain on the roster.
November, 8, 2010
11/08/10
6:01
PM ET
IRVING, Texas -- Jerry Jones hasn't given up on Jason Garrett as the Cowboys' head coach of the future.
It's far from the slam dunk it seemed to be when Jones gave Garrett a $3 million per year contract while convincing him to turn down a head coaching offer from the Baltimore Ravens a few years ago. There will be plenty of other candidates, including those on
ESPN.com NFL scribe John Clayton's list of frontrunners.
[+] Enlarge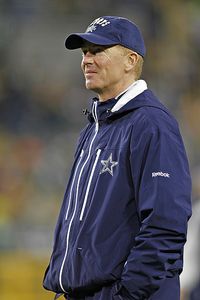 AP Photo/James D SmithJason Garrett has been the Cowboys' offensive coordinator since 2007.
But Jones considers this to be an eight-game audition for his interim head coach to prove he deserves the job on a permanent basis.
"He does have the opportunity to get the job long-term," Jones said. "That opportunity would be obvious if you stepped back and looked at it and we do outstanding as a team and we have very visible, very tangible success then certainly that's doing your job, if you will, in a crisis situation and that kind of action goes beyond a resume, especially when you're in the foxhole with him."
What exactly is "very tangible success"? In classic Jerry fashion, he first mentions intangible things that he'll use to judge Garrett.
"I want to see the kind of effort that is incorporating into playing to win," Jones said. "I'm not overusing it, but playing to win. That in my definition could be extraordinary effort, the kind of effort that you might not expect to see on a team this is 1-7 right now and not in the playoffs or perceived to not be in the playoffs. Then an inordinate effort under those circumstances would be a big plus as a team and as a player. That would be a big plus.
"I'm not and shouldn't get into the number of games we'll win or what the record will be. That will be a factor if you're playing as a winning team."
The hunch here is that it'd take at least a 5-3 mark in the second half of the season to keep Jones from going outside the organization in his coaching search.
November, 8, 2010
11/08/10
5:23
PM ET
IRVING, Texas -- The Cowboys failed Wade Phillips.
[+] Enlarge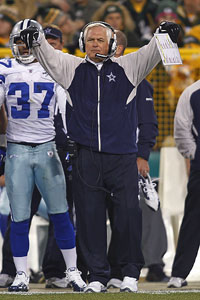 AP Photo/James D SmithThe failure of Wade Phillips' defense led to his dismissal from the Cowboys.
Phillips, who set a soft tone and struggled as a defensive coordinator this season, certainly gets a large share of the blame. But the players who consistently professed their love for the coach performed so poorly that they forced Jerry Jones to fire Phillips.
"Anytime the head coach gets fired, it's an indictment of the football team," fill-in quarterback
Jon Kitna
said. "I hope it serves as a wakeup call for guys around here. When they start making decisions like that and things like that happen, it's just a prelude of things to come as far as changes on the football team."
The defense especially failed Phillips, although opposing players told the Cowboys after games that they'd caught up with their scheme. The Cowboys allowed 1,299 yards and 121 points over the last 12 quarters.
Nose tackle
Jay Ratliff
, the lone defensive player to talk to the media Monday, acknowledged that he felt like the defense let Phillips down. Ratliff, like Phillips, just can't figure out how a defense that allowed the fewest points in the NFC last season deteriorated so drastically.
"If I knew, I would have said something a long time ago," Ratliff said. "We wouldn't be here talking about this. Nobody knows. You ask anybody else the same thing and they probably give you the same answer I just did. I'm pretty sure you heard that a lot lately. I can't quite put my finger on it."
Phillips needed to be phenomenal as a defensive coordinator to make up for his obvious flaws as a head coach. Jerry Jones believed that Phillips' defensive expertise gave him credibility as a head coach. That vanished in the last three games.
"When we started having the problems we're having over there, that compounded the overall team thing," Jones said. "There was a lot of me in denial for at least the last couple of ball games. But where we are right now is that we've got to be able to do the biggest challenge everybody does in the NFL and that is get a defense that can slow them down."
Phillips' biggest strength is now a glaring weakness, which has a lot to do with why he's gone.
November, 8, 2010
11/08/10
5:05
PM ET

Wade Phillips left Valley Ranch without speaking to reporters. He released the following statement through the Cowboys' public relations department.

"I would like to express my sincere appreciation to the fans of the Cowboys and to the entire Jones family for all of the support that we received here in Dallas. I would also like to thank our coaches and players for their loyalty and dedication.

"I told the team today that I have been proud to be a part of their family, and that will never change. I have enjoyed the privilege and responsibility of representing this franchise as its head coach.

"I am disappointed in the results of this season to this point, but I am also very proud of what our team and our players accomplished in the previous three years. In good times and difficult times, our players stuck together and never lost hold of their belief in each other and the strong team bond that they have shared. Family and coaching football have always defined my life and I will always be grateful for my experiences here with the Dallas Cowboys."
November, 8, 2010
11/08/10
4:49
PM ET

IRVING, Texas -- It's Paul Pasqualoni's job to try to fix the mess that is Wade Phillips' defense.

Pasqualoni, the defensive line coach, was promoted to defensive coordinator after Phillips was fired. He takes over a unit whose awful performance in the last three games was a primary reason that Phillips was fired.

Pasqualoni, who was the head coach at Syracuse University for 14 seasons, is in his second stint as a Cowboys assistant. He spent the previous two seasons as the Dolphins' defensive coordinator and was dismissed after Miami finished 22nd in the NFL in total defense last season.

Owner Jerry Jones cited Pasqualoni's no-nonsense disposition as one of the reasons he was promoted.

"I think that he brings something to the table to institute something for us this week, next week and if you will for these eight weeks to institute a change in the culture," Jones said.
November, 8, 2010
11/08/10
4:04
PM ET
By
Richard Durrett
| ESPNDallas.com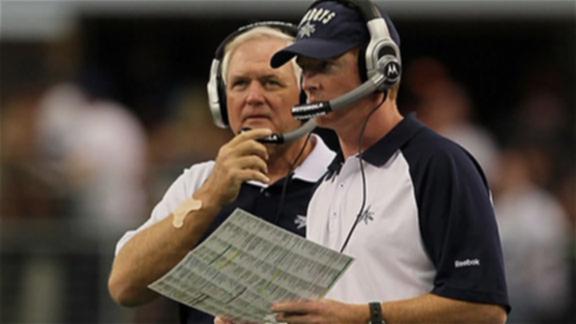 The top five and bottom five moments from Wade Phillips' tenure as the Cowboys' coach:
High-5
Dallas defeats Philadelphia, 34-14, in the 2009 NFC wild-card game, Phillips' first playoff victory of his career and the first Cowboys playoff win since 1996.
The Cowboys defeat the previously unbeaten New Orleans Saints, 24-17, on Dec. 19, 2009, ending what appeared to be another December swoon.
Cowboys win Phillips' regular-season opener, defeating the New York Giants, 45-35. It was the first of five straight wins as Cowboys coach for Phllips.

AP Photo/Eric GayWade Phillips' reign as coach of the Dallas Cowboys ended Monday.

Dallas beats Detroit, 28-27, on Dec. 9, 2007, to clinch the NFC East. The club was 12-1 at the time.
A 24-0 win over Philadelphia at Cowboys Stadium in front of 100,621 is the club's second straight shutout of 2009 and has team on roll headed into playoffs.
Low-5
Needing a win to secure a playoff appearance, the Cowboys are trounced by Philadelphia, 44-6, in the final game of the 2008 season. They fall to 9-7 and are out of the playoffs one season after going 13-3. The game comes one week after Dallas fell, 33-24, in the final game played at Texas Stadium in front of a sellout crowd and a gaggle of legendary Cowboys.
After a first-round bye, the favored Cowboys lose to the Giants, 21-17, in the NFC divisional playoffs in the 2007 season. A 13-3 record turns into playoff disappointment.
Despite all the excitement of the opening of Cowboys Stadium on Sept. 20, 2009, Dallas loses, 33-31, to the Giants in front of a record crowd of 105,121.
In a 2010 season full of disappointing moments, Phillips watches as his team plays poorly in a 45-7 loss to Green Bay that drops them to 1-7.
A Super Bowl favorite to start the season, the Cowboys desperately need a home win against the Giants. Instead, they lose 41-35 in a game that wasn't as close as the score indicated to fall to 1-5. Quarterback Tony Romo fractures his left collarbone and could miss the remainder of the season.
November, 8, 2010
11/08/10
4:01
PM ET
By
Richard Durrett
| ESPNDallas.com
IRVING, Texas -- Cowboys wide receiver
Miles Austin
said owner and general manager Jerry Jones makes the coaching decisions and that it's up to players to get the job done on the field no matter who is coaching.
PODCAST
SI's Jerome Bettis thinks Wade Phillips' firing was inevitable and he talks about Bill Cowher as a potential candidate.

Listen

"We have to do our jobs to the best of our ability," Austin said.
Asked if changing to
Jason Garrett
will give this team a shot in the arm, Austin said he hoped so.
"Right now we're 1-7," Austin said. "We definitely need to get going. Hopefully, it changes things for the better. It's nothing us as players can really control. We have to go in and play our best."
Austin didn't want to comment on whether a change was necessary, saying it wasn't up to the players.
"My job is to go in and be a receiver for the team and not stir anything up," Austin said.
November, 8, 2010
11/08/10
3:55
PM ET
By
Richard Durrett
| ESPNDallas.com
IRVING, Texas -- Cowboys kicker
David Buehler
said he was "in shock" when told of the firing of Wade Phillips just before facing the media on Monday afternoon.
PODCAST
Chris Mortensen thinks Green Bay's domination of Dallas forced Jerry Jones to make a decision about Wade Phillips. Mortensen expects the Cowboys' next coach to have a strong personality.

Listen

"I'm just in shock," Buehler said. "It sucks and that's the way the NFL is. You see the business side of it through these decisions. Obviously, I don't want to see anybody go. It's hard, but that's the way it is. That's the way the cookie crumbles."
Buehler said if he had his way, Phillips would still be the head coach. But the kicker is committed to doing his job.
"I know what I have to do," Buehler said. "It's different from the rest of the guys. Me and [punter Mat] McBriar have a different job. I have to go about it no matter who the head coach is."
November, 8, 2010
11/08/10
3:17
PM ET
By
Richard Durrett
| ESPNDallas.com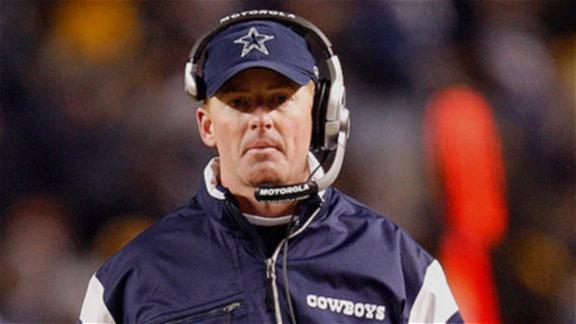 IRVING, Texas -- Cowboys quarterback
Jon Kitna
, like many of his teammates on Monday, seemed surprised by the news that Wade Phillips is out as head coach and offensive coordinator
Jason Garrett
is the interim coach.
But he said he believes Garrett has some of the tools needed to be a head coach in the NFL.
PODCAST
ESPNDallas.com's Calvin Watkins reacts to the Cowboys' dismissal of Wade Phillips and talks about what comes next for Jerry Jones and company.

Listen

"He certainly has the makeup of it, the right demanor and things like that," Kitna said. "He's got strong convictions, which I think you need as a head coach. He has them."
Kitna said he hopes the move can serve as a much-needed wake-up call for a 1-7 team.
"We've got eight weeks left and it will be a pretty miserable eight weeks to experience what we experienced the last four weeks," Kitna said. "Hopefully it does. That remains to be seen."
Kitna said he could only speak for himself when asked if the team quit on Phillips.
"To try to say that this person quit or that person quit, I think that's disrespectful," Kitna said. "As for me, that's just not in my nature. But I can't speak for everybody."
Kitna acknowledged that he's disappointed the team finds itself at the bottom of the NFC East.
"I don't know that surprise is the right word because you know the nature of this game and that you don't get to pick up where you left off the previous season," Kitna said. "But I would say very disappointed that we find ourselves here."