Jason Garrett enters new world
August, 5, 2013
8/05/13
11:30
PM ET
OXNARD, Calif. – For the first time in 125 games as a coach -– assistant, interim or head -– Jason Garrett did not call the offensive plays for the Dallas Cowboys in their 24-20 win against Miami in the Hall of Fame Game on Sunday.
PODCAST
Todd Archer joins Galloway and Company live from Oxnard, Calif., to discuss the latest Cowboys news and which players they will keep on their roster.

Listen

Offensive coordinator Bill Callahan called the plays from the coaches' booth at Fawcett Stadium. Quarterbacks coach
Wade Wilson
relayed the plays to quarterbacks
Kyle Orton
,
Nick Stephens
and
Alex Tanney
.
Garrett was on the headset and offered suggestions, but he let the coaches coach.
"For me it was a little bit different because I wasn't directly involved. But like everything else we've been doing this offseason, it allowed me to step back and coach the whole team," Garrett said. "I always tried to do that, but when you're calling plays during a game, you're occupied doing that as well. The conversations were good on the offensive side of the ball, on the defensive side of the ball and with Rich [Bisaccia] in the kicking game. I thought it was a real positive."
[+] Enlarge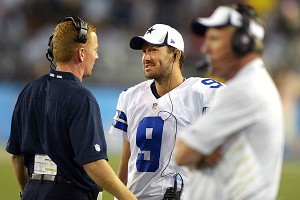 Kirby Lee/USA TODAY SportsJason Garrett took a hands-off approach as Bill Callahan and Wade Wilson (right) called the offensive plays against the Miami Dolphins on Sunday night.
Garrett alluded to some hiccups in the "mechanics of the game" that need to be ironed out before the regular season begins Sept. 8 against the
New York Giants
, but mentioned most of it came when the inexperienced quarterbacks, Stephens and Tanney, were in the game.
Against the
Miami Dolphins
, there were no delay-of-game penalties and just one timeout during which there seemed to be some confusion, when Tanney wanted wide receiver
Cole Beasley
to go in motion with the play clock running down.
Drawing any conclusions on Callahan's playcalling style would be folly, but the Cowboys ran the ball 34 times to just 24 pass plays (21 attempts, three sacks). Is that the influence of an offensive line coach calling plays or a staff attempting to keep it simple, especially with
Tony Romo
wearing an ear piece and not playing?
We'll find out as we go.
Much was made of Garrett's decision to give up the playcalling -- or Jerry Jones' demand he not do it anymore -- after doing it in every preseason, regular season and playoff game since 2007. When he took over from Wade Phillips as the interim head coach in 2010, there was a question whether he would continue to call plays. He did, and it ran through the 2012 season with some game management mistakes (Arizona in 2011, Baltimore in 2012 come to mind).
Late in the second quarter on Sunday, Garrett used timeouts when leading 17-0 in order to set up a 2-minute situation for his backups. Miami ended up kicking a field goal but Garrett was able to create a situation with his game management that normally he would not have done in a regular-season game.
Preseason games are not only about winning. They're about evaluating players in different situations, and getting hurry-up work is not a given. But like a lot of well-laid plans, Garrett's stopping of the clock did not pan out because of an illegal-use-of-hands penalty by tackle
Darrion Weems
that wiped out a 10-yard pass to tight end
Gavin Escobar
.
The Cowboys eventually had to punt and gave Miami another opportunity to score, but Garrett's timeouts were well thought out considering the circumstance.
One of the points of emphasis made by the staff in the offseason was to get the offense to the line of scrimmage with plenty of time so the quarterback can survey the defense. Most of the time on Sunday they were at the line with anywhere from 22 to 18 seconds left.
In order to streamline the process, the Cowboys' quarterbacks are wearing wrist bands that have the play calls on them. League rules prevent Callahan to signal the plays to the quarterback from the coaches' booth, which brings Wilson into the equation.
"That's something we worked on in practice as well, doing a lot of situation work, running our practices where both the offensive and defensive guys are on the sidelines and playing it like a scrimmage," Garrett said. "Those plays aren't scripted. You've got to call them. You've got to call them on offense and call them on defense and you have to react to different situations. The reason why we do that is because that's how a game goes."