Jerry Jones offseason plan resides with two
January, 10, 2014
1/10/14
3:00
PM ET
It's easy to blame Jerry Jones, the Cowboys' owner/general manager, for the woes of the franchise.
Yes, the Cowboys are not the
Washington Redskins
, who had to get rid of a two-time Super Bowl winning coach because he couldn't get along with his franchise quarterback.
The Cowboys are not the
Houston Texans
, coming off a two-win season and despite a talented group, will have the No. 1 overall pick of the May NFL draft.
[+] Enlarge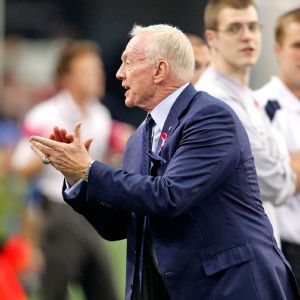 AP Photo/James D SmithJerry Jones will look to assistant director of player personnel Will McClay and director of scouting Tom Ciskowski to help make changes this offseason.
Jones isn't running the
Cleveland Browns
, which fired the coach after one season and had its owner take a question that the Three Stooges weren't running the team.
It could be worse here in Dallas, but Jones is trying to make sure it doesn't get that way.
There are two men Jones is asking to elevate the Cowboys in 2014 in Will McClay, assistant director of player personnel and Tom Ciskowski, director of scouting.
McClay is in charge of finding pro players in free agency, evaluating the current roster, which is badly in need of an overhaul on defense, but salary cap restrictions make that difficult to do. And more importantly, McClay takes over this year as putting the draft board together.
Ciskowski provides McClay and Jones with all the information necessary to make the draft selections.
Jones trusts these men with helping him make the final decisions. During the 2013 season, McClay was the point man in securing several players in free agency when injuries and poor play forced the Cowboys to look elsewhere for help.
McClay found
George Selvie
and
Nick Hayden
, two defensive linemen who were projected backups, emerge as starters once injuries to Jay Ratliff and
Anthony Spencer
were discovered.
Jones along with his son, vice president of player personnel Stephen Jones, believe in what McClay and his staff are doing. The Cowboys have no choice because the salary cap is holding the Cowboys back from making an impact in free agency.
There will be hard choices with the 53-man roster this offseason, with the biggest decision coming on defensive end
DeMarcus Ware
. McClay's group, in consultation with the coaching staff, have to decide if Ware is worth keeping another season or should he be asked to take a pay cut and become a pass-rush specialist.
Ware has said he won't take a pay cut, and knowing this, the front office is forced to either restructure his contract to reduce his cap numbers or let him go.
If McClay recommends Ware should play for somebody else, and he won't be alone in his thinking, he should have another alternative at defensive end in free agency.
McClay and Ciskowski must solve a draft process that's haggard. The Cowboys traded down in the first round last year so San Francisco could draft a safety,
Eric Reid
, whom the Cowboys didn't value as a first-rounder. The Cowboys drafted center
Travis Frederick
in the first round, which was a positive move seeing how well he played in 2013.
The problem with the draft is Jones. The owner listens to his coaches, which is his right, but sometimes, the owner needs to let the personnel people, namely Ciskowski and now McClay have a bigger say in the war room.
It was defensive line coach Rod Marinelli's voice Jones heard the most on draft night as a reason why a defensive lineman wasn't taken in the first round. A defensive lineman wasn't picked in the second round either, and the Cowboys went with tight end
Gavin Escobar
, a pass catching one at that, who struggled to block on a consistent basis.
The Cowboys said Escobar would be used in two-tight end sets during the season, but that was quickly erased as the season progressed. Escobar has talent but it could go to waste in 2014 if the Cowboys don't get him on the field regularly.
Jones has to upgrade the roster through the draft and there are needs along the defensive line, linebacker, receiver and secondary.
Whatever Jones decides to do, Ciskowski and McClay will have a major hand in what the Cowboys need to fix this offseason.