Dallas Cowboys:

2012 Fixing the Cowboys
January, 19, 2012
1/19/12
12:45
AM ET

IRVING, Texas -- I would like to thank my warmup acts -- Tim MacMahon, Calvin Watkins and Bryan Broaddus -- for their solutions on how to fix the Cowboys.
The salary cap will not be an issue. The Cowboys have said they will be able to do whatever they want in free agency, despite the dead money that lingers. By the time free agency begins, they could have around $20 million in room.
That's plenty.
I'm looking at the four teams that are playing this weekend in the conference championship games as prime examples of how to structure your team.
Baltimore, New England, San Francisco and the
New York Giants
offer the Cowboys a blueprint of what works.
[+] Enlarge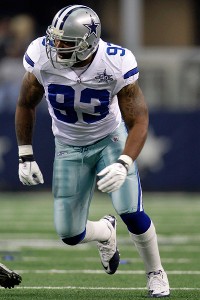 AP Photo/Tony GutierrezAnthony Spencer has been solid against the run but does not get to the quarterback enough.
The NFL is not about running the ball and stopping the run anymore. Those are tired clichés. It's protecting the passer, especially up the middle, and rushing the passer.
So while we can all say the Cowboys need to get better in the secondary, I'll go with improving the pass rush first.
DeMarcus Ware
needs some help.
Jay Ratliff
needs some help.
The Giants have pass rushers all along their defensive front, from
Jason Pierre-Paul
to
Justin Tuck
to
Osi Umenyiora
. San Francisco has pass rushers in
Justin Smith
and
Aldon Smith
. Baltimore gets pressure from more than
Terrell Suggs
.
Go get a pass rusher -- make that two.
Let's look at a team that lost last week: Houston. The Texans drafted
J.J. Watt
and Brooks Read, and Wade Phillips' defense attacked the passer. Too often we have used the excuse that defensive ends in a 3-4 are just space eaters. Smith proves that wrong. So does Watt. They can be disruptive.
To come up with draft names at this point is somewhat silly, but at No. 14 the Cowboys need to get that 3-4 defensive end or outside linebacker, especially if they deem the
Anthony Spencer
experiment over. Spencer will be a free agent, and while he is solid against the run, he does not get to the quarterback enough.
My first two picks go to defensive end and outside linebacker.
What about cornerback? I'll use San Francisco as an example again.
Carlos Rogers
was the epitome of "just a guy" when he played for Washington. He goes to the 49ers with that great front seven and makes the Pro Bowl. The Giants' secondary is playing a lot better now that the pass rush has improved.
A terrific pass rush can offset some deficiencies in the secondary. We saw that in 2009 with the Cowboys.
If you want a cornerback, be wise. There is not a Jonathan Joseph or
Nnamdi Asomugha
available this year. Kansas City's
Brandon Carr
offers some intrigue but he might get overpaid this year.
Next up is the offensive line.
[+] Enlarge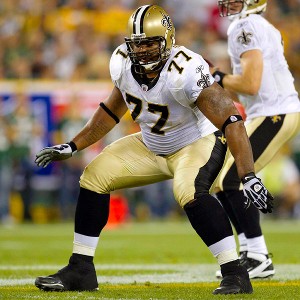 Jeff Hanisch/US PresswireThe Saints' Carl Nicks, a veteran who has multiple Pro Bowls to his credit, could be an attractive option for the Cowboys if he is available in free agency.
This is where MacMahon got something right in targeting New Orleans guard
Carl Nicks
in free agency. He must've been reading the blog last week when I made the suggestion. We have to suppose Nicks will be available and doesn't re-sign with the Saints before the market opens in March. I'll take my chances on a 26-year-old free agent with multiple Pro Bowls to his credit.
Interior offensive line play is huge. New England protects
Tom Brady
with
Logan Mankins
and
Brian Waters
. Baltimore does it with
Ben Grubbs
, who is also set to be a free agent, and
Marshal Yanda
. San Francisco has a first-rounder in
Mike Iupati
inside. The Giants have
Chris Snee
.
Too often last season
Tony Romo
was left dodging traffic up the middle, and quarterbacks just can't survive there. So why not take a guard with the first-rounder? I'm not sure Stanford's David DeCastro can come in and duplicate what
Tyron Smith
did at right tackle as a rookie. Unless they are special, most rookie linemen need time to adapt to the speed and power of the NFL.
Give me Nicks, a stronger, more veteran center, and new coach Bill Callahan, and the line will be better in 2012.
Plus, to me, the defense needs more work. They have to come away with at least three impact players in the draft and/or free agency.
If they can do that, they can jump into the NFC mix next season.
January, 18, 2012
1/18/12
11:34
AM ET
By
Bryan Broaddus
| ESPNDallas.com
This is the third installment of Fixing the Cowboys:
When the final whistle blew on that chilly night at MetLife Stadium, the season ended for the
Dallas Cowboys
. The hope of a division title died with a roster that wasn't good enough to compete with the Giants for the second time in four weeks. If Jerry Jones and Jason Garrett are honest with themselves, they will look at this roster and say that it's just not good enough to compete with the Giants and the Eagles. We can talk about the Super Bowl all we want, but if you are not playing well in your division, there are going to be problems.

When I worked for the Cowboys, the biggest issues I had during our final meeting of the season was that we were not honest with the makeup of our squad. When you go 5-11 for three straight seasons and the coaches talk about the players like we were 11-5, there are going to be problems. Garrett and these coaches can't keep Jerry from believing his roster is better than it really is. I'm not going to say that there isn't talent on this team, but I will say there were players on this roster that Jones and Garrett were counting on that just weren't good enough.
Here is what I would try and do to help it:
1. As much as I want to overhaul this secondary, I am going to try and fix the left cornerback spot first.
Terence Newman
needs to be replaced immediately. His level of play has clearly slipped and he no longer plays with any confidence. When a corner lacks confidence you might as well be playing with a speed bump out there. There are two ways that Jones can attack this area. The first is to trust his pro scouting staff, which brought him
Laurent Robinson
and
Tony Fiammetta
. The big name corners on the market this spring will be
Cortland Finnegan
of the Titans and
Brent Grimes
of the Falcons. Both of these players are similar in age and will command top dollar. If I had to lean one way, I would probably go toward Finnegan because of his aggressive style and the nastiness in his play, which this team lacks. If there might be a hitch, it'd be that Jones and Garrett would like to have a corner with more size -- Finnegan and Grimes are both in the 5-9, 185-pound range.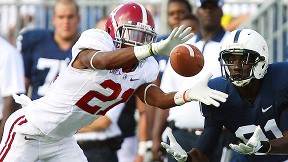 Matthew O'Haren/Icon SMIThere's no doubt that Alabama's Dre Kirkpatrick could instantly help the Cowboys' secondary, but can the team look past his recent arrest for marijuana possession?
The second way this area could be addressed is through the draft, which can either be feast or famine. Sitting in the 14th spot, Jones is still in decent shape because you usually have between 15 to 18 players that have first-round grades on your board. The second-best corner on the board will be
Dre Kirkpatrick
from Alabama. There is no questioning Kirkpatrick's ability or size (6-2, 192 pounds), but now character issues have been raised -- he was charged with possession of marijuana Tuesday and was released after paying a $120 fine.
When I worked for Bill Parcells, he put players with character flaws into "The Box" -- an area where you put players that you did not want to draft, period. I guarantee there will be teams that will take Kirkpatrick off their boards and into "The Box." The question for the Cowboys: Will Kirkpatrick be able to explain what happened, and will other examples of questionable behavior be uncovered? I would still consider Kirkpatrick an option for the Cowboys, but he really has to convince me that it'd be in my best interest to select him. I promise the Cowboys will turn over every rock to get to the bottom of this. He's that good of a player.
2. As much as I want to fix the interior of this offensive line with the addition of a free-agent guard like the Saints'
Carl Nicks
, I have to think about the amount of funds I wound have to allow for this to work. Don't get me wrong, it'd be money well spent, but there's also an opportunity to select the best guard in the draft -- Stanford's
David DeCastro
.
Jones and Garrett have to ask themselves if finding a replacement for OLB
Anthony Spencer
is more important than filling a position where you seem to have better options. Does
Kyle Kosier
,
Montrae Holland
,
Derrick Dockery
,
Kevin Kowalski
,
Bill Nagy
and
David Arkin
make you feel comfortable enough with the guard spot as is, whereas you just have
Victor Butler
and
Alex Albright
at outside linebacker? There is no doubt the Cowboys lacked a pass rusher that could help
DeMarcus Ware
on the other side. The Cowboys like Butler -- and he very well could be the starter going into 2012 -- but why not use the 14th pick to upgrade that spot with Alabama's
Courtney Upshaw
or South Carolina's
Melvin Ingram
? The Cowboys must do a better job of pressuring the quarterback because Ware can't do it alone. I have been critical of Ware, but a player on the other side could take pressure off him
and
help this defense tremendously.
[+] Enlarge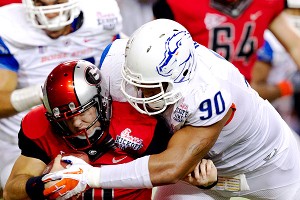 Bob Kupbens/Icon SMIBoise State's Billy Winn could be an interesting draft choice for the Cowboys as his physical presence could help them at the defensive end spot.
3. Sticking with the defense, I'm also taking a hard look at three spots -- defensive end, inside linebacker and safety. At defensive end, I'd move on from
Kenyon Coleman
, who wasn't nearly as good at the end of the season as he was at the beginning. I like
Jason Hatcher
, and I also think there is a role for
Marcus Spears
.
Sean Lissemore
proved to be a nice swing guy, but he looked better at nose tackle, so I'm tempted to keep him there. The scouts have hope for
Clifton Geathers
, but I don't share that. I would look to draft a productive player like Boise State's
Billy Winn
, who played tackle but should be suited more for play on the outside.
4. I'm also looking for help at inside linebacker, because there's really no depth. It's time to move on from
Bradie James
and
Keith Brooking
.
Bruce Carter
will be ready to play in 2012 and will be productive playing next to
Sean Lee
. However, behind those two, there's nothing. I'd try to add player in the fourth round that could be a quality backup but also help in the nickel, like
Kevin Burnett
did several years ago. Texas'
Emmanuel Acho
could be an interesting choice. Acho has a nose for the ball and is super active.
5. At safety, I'm moving on from
Abram Elam
because I need someone with more range. I have too many safeties on this roster that are forward players, such as
Barry Church
and
Danny McCray
. This defense needs someone that gets their hands on the ball and can help off the hash or middle of the field. I don't need safeties that can't adjust to
Victor Cruz
going down the field or
Riley Cooper
catching a jump ball from
Michael Vick
. If the Cowboys have a safety with range, it would be a step in the right direction in helping this secondary.
For all the problems that Garrett has had with game management, I feel he's got a good eye for talent and understands how you go about gathering players. Despite what people want to believe, the head coach does have a great deal of say in what players are signed and drafted. Bill Parcells took advantage of this; Dave Campo didn't. Chan Gailey convinced Jones that he wanted nothing to do with
Randy Moss
. Jason Garrett went to USC last season to see
Tyron Smith
work out and talk with members of the staff to get a feel for him.
You might not want to trust Jerry Jones, but you should trust Jason Garrett. I think he gets it.
January, 16, 2012
1/16/12
11:00
PM ET
This is the second installment of fixing the Cowboys.

1. One of the main things the Cowboys front office will do when it looks at draft picks is find players who force turnovers in the secondary. The problem with veteran cornerback
Terence Newman
is that he doesn't make enough plays on the ball. And while he was tied for the team-lead with four interceptions, he didn't have one the last seven weeks of the season and was credited with only one pass breakup the last five weeks of the year.
Mike Jenkins
and
Orlando Scandrick
, who battled injuries along with Newman, combined for just two picks. Inside linebacker
Sean Lee
was tied with Newman for the team lead.
That's fine, but in a pass-happy NFL, the corners and safeties need to not only knock passes down, but pick them off to take some pressure off the offense. It's easy to say the Cowboys need a shutdown corner, everybody in the NFL does, but they're not growing on trees. So the Cowboys have to find secondary players who make plays on the ball. Playmakers.
[+] Enlarge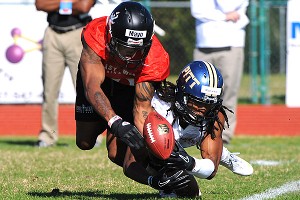 Al Messerschmidt/Getty ImagesThe Cowboys could use more depth at wide receiver, and California's (Pa.) Thomas Mayo, who is working out at the East-West Shrine game this week, is one to watch.
2. Beef up the offensive line. It doesn't matter if you do it in the draft or free agency, the Cowboys have to get stronger here. The tackles are fine with
Doug Free
and
Tyron Smith
, but the interior of the offensive line struggled with health and play.
The Cowboys started three different left guards,
Derrick Dockery
,
Bill Nagy
and
Montrae Holland
, and if they had made the playoffs would have missed
Kyle Kosier
, who suffered a torn MCL in the last regular-season game.
Center
Phil Costa
started every game, but
Kevin Kowalski
earned praise from the coaching staff when he came in for a nicked up Costa. Kosier's age, 33, and health, he also had a foot problem, leads you to believe he might not be with the Cowboys in 2012.
It's time for the Cowboys to get younger at the guard positions and they've done that with Nagy and Kowalski, but drafting another guard in the second or third rounds won't hurt. New offensive line coach Bill Callahan is good with younger players and if that's the case, the Cowboys should improve in this area.
3. If the Cowboys don't re-sign
Laurent Robinson
, there is trouble at the wide receiver position.
Miles Austin
and
Dez Bryant
, when healthy, are major threats in the passing game. After that, there is concern.
The Cowboys might not use a first-round pick on a wide receiver, but at some point they need to get another one.
Dwayne Harris
,
Andre Holmes
and
Raymond Radway
are the returning receivers and all need more playing time.
Jesse Holley
and
Kevin Ogletree
have reached their ceiling with the Cowboys and most likely won't return.The Cowboys value receivers coach
Jimmy Robinson
and his work with young players, much like they did with former receivers coach Ray Sherman. Robinson has done a good job with Holmes, who the Cowboys wanted to promote to the active roster in early December, but a hamstring injury prevented it from happening sooner. Holmes has good speed and gave the defense a good look on the scout team.
But the Cowboys need Robinson. What to pay him is a question that must be answered in March. If the Cowboys don't have Robinson, depth at wide receiver is lacking. One receiver to watch out for is California's (Pa.) Thomas Mayo, who is working out at the East-West Shrine game this week.
4. Draft a quarterback. This is nothing against
Tony Romo
, but he has two-years left on his contract and
Stephen McGee
is the backup and doesn't appear ready to become a No. 1 quarterback in this league.
The Cowboys window to win a title with Romo is growing short, so drafting a quarterback in the second round not only raises the competition level at the position, it also sends a message to the rest of the team. Everybody is expendable.
The Cowboys won't have a shot at Andrew Luck or Robert Griffin III, but Ryan Tannehill, Nick Foles and Brandon Weeden are projected as late first-round to middle second-round selections. The Cowboys do have plenty of holes on the roster, but they've done a poor job in taking care of their depth. Getting a young quarterback with potential adds to the roster.
5.
Anthony Spencer
might leave the Cowboys this spring with a new contract from a different team. If that's the case, the Cowboys shouldn't get too worried, there are plenty of outside linebackers in the draft and that pool might get bolstered if some underclassmen come out.
But Kyle Wilber (Wake Forest), Brandon Lindsey (Pittsburgh), Andre Branch (Clemson) and Ronnell Lewis (Oklahoma) are some names to look out for. If
DeMarcus Ware
and
Jay Ratliff
are going to survive the season without getting worn down, adding to the pass rush only helps.