Dallas Cowboys:

2013 Week 4 DAL at SDG
September, 29, 2013
9/29/13
11:15
PM ET
SAN DIEGO -- The bad news is the
Dallas Cowboys
come home following a 30-21 loss to the
San Diego Chargers
.
The good news is the Cowboys are still in first place with a 2-2 mark in what is developing into a bad NFC East .
Dallas had a chance to put some distance between themselves and the rest of the division. Only Washington, among the four NFC East teams, won on Sunday. The Cowboys hold just a one-game lead over the 1-3
Philadelphia Eagles
and Redskins.
"It's tough, really tough," tight end
Jason Witten
said. "You don't want to win one, lose one and that's disappointing. It's still a lot of football to play and we have a close group that believes in themselves. We'll get better and bounce back. We have a lot of resolve on this team and we got to go do it though, we can't just say that."
The Cowboys were trying to win consecutive games for the first time since November and start a season 3-1 for the first time since 2008. It seems strange the Cowboys are having trouble doing something like this, but that's the situation this franchise is in right now.
The Cowboys held a 21-13 lead in the first half against the Chargers but were shutout in the second half for the first time since Week 2 at Seattle last season.
"It's disappointing after a loss like today," quarterback
Tony Romo
said. "We had a good week of practice, guys prepared well and were ready to go so to not come out and play as well as we hoped, is frustrating and disappointing. Our football team has a close knit group of people that are going to go back to work and learn from the mistakes that each one of us made to make us better going into the next game."
September, 29, 2013
9/29/13
10:41
PM ET
SAN DIEGO -- So much for those major mismatches.
On paper, it seemed that a
Dallas Cowboys
defense that had 13 sacks in the first three games would have a field day against a
San Diego Chargers
offensive line featuring three backups. That isn't the way it played out on the field Sunday afternoon.
Chargers quarterback
Philip Rivers
picked the Cowboys apart while sitting in the pocket, completing 35 of 42 passes for 401 yards and three touchdowns. Defensive end
George Selvie
recorded the Cowboys' lone sack.
Defensive end
DeMarcus Ware
, who was coming off back-to-back two-sack performances, was a nonfactor. He didn't even get credited for a quarterback pressure despite being matched up against backup left tackle
Michael Harris
, who allowed 10 sacks as a part-time starter last year.
Coach Jason Garrett said Ware strained his back in the second quarter, which is why he watched several defensive plays from the sideline, but Ware declined to use injuries as an excuse for his ineffectiveness.
"I just didn't play the game I needed to play," Ware said.
Defensive tackle
Jason Hatcher
was held without a sack for the first time this season despite both of San Diego's starting guards being inactive due to injuries.
Pressure from Hatcher led to
Sean Lee
's pick six. That, however, was the only time all day that Hatcher made an impact play.
"We've just got to do a better job of getting to the quarterback," Hatcher said. "They did a good job of keeping guys in, doubling me all night, chipping me all night.
It was a rough day for me, but I've got to find a way to do better in getting to the quarterback even if I have three or four people on me. I've got to find a way to do it. That's what an under tackle does, so that's what I've got to continue to do."
The Cowboys credited Rivers for consistently getting rid of the ball quickly, not giving pass-rushers a chance to get to him.
However, Rivers had great success throwing the ball downfield, too. According to ESPN Stats and Information, Rivers completed 9 of 11 passes for 230 yards and all three of his touchdowns on throws that traveled at least 10 yards in the air.
"It really doesn't matter what the rush is doing if he's getting rid of the ball in two seconds," Ware said. "But when he does hold the ball, we weren't effective enough as a rush team getting pressure on him."
September, 29, 2013
9/29/13
10:16
PM ET
SAN DIEGO -- It's time to tap the brakes on a couple of highly optimistic comparisons.
It's pretty clear that labeling
Bruce Carter
as potentially the next
Derrick Brooks
was premature, at best. And, at this point,
Morris Claiborne
has no business even being mentioned in the same breath as
Deion Sanders
.
A couple of young players the
Dallas Cowboys
are counting on to blossom into defensive superstars simply stunk in Sunday's
30-21 loss
to the
San Diego Chargers
. Carter and Claiborne were picked on repeatedly while the Chargers shredded Monte Kiffin's defense for 506 total yards.
[+] Enlarge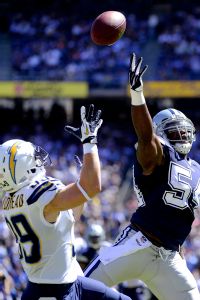 Donald Miralle/Getty ImagesDanny Woodhead gets behind Bruce Carter for one of his two touchdowns.
"We've got to correct that, because they're the kind of players who can make plays," owner/general manager Jerry Jones said. "They have the ability to make the plays."
Carter made a lot of plays in Rob Ryan's 3-4 scheme last season, and the schematic switch to Monte Kiffin's 4-3 was expected to benefit the third-year linebacker as much as anybody. Carter's speed and athleticism were thought to be perfect fits for the weakside linebacker spot, where Brooks starred during Kiffin's Tampa Bay days.
But Carter has struggled in coverage, something San Diego schemed to exploit. Carter twice got beaten by Chargers running back
Danny Woodhead
for touchdown receptions. On the second one, Carter got torched about as badly as possible on a 13-yard wheel route.
"There are no excuses," said Carter, who was replaced by
Ernie Sims
in the nickel package after Woodhead's second score. "It's my fault. I take all that, and I've just got to play better."
We're still waiting on Claiborne to flash the playmaking form that prompted Cowboys scouts to give him a draft grade higher than any cornerback since Sanders. The sixth overall pick in the 2012 draft has one career interception and has become the preferred target for opposing quarterbacks.
Chargers quarterback
Philip Rivers
, who finished with 401 yards on 35-of-42 passing, seemed to feel like he could attack Claiborne at will. Rookie receiver
Keenan Allen
(five catches for 80 yards) had the most success against Claiborne, who described his day as "very frustrating."
"They hit a couple of plays all over the field," Claiborne said, "but obviously they found more over there on the right side."
Claiborne has already lost his starting job to
Orlando Scandrick
. That was originally to protect Claiborne's dislocated shoulder, but Scandrick has clearly outperformed him.
It might be a stretch to think that Carter could be demoted, but he watched almost all of Sunday's fourth quarter from the sideline.
"I mean, that's just up to the coaches," Carter said when asked if his benching was justified. "It's my job as a player just to go out there and play and just go out there and do the best I can. That's out of my control."
Kiffin insists it wasn't a benching, but that seems like silly semantics.
Pressed on the issue, Kiffin made a strange reference to needing to rotate players due to the San Diego heat. It was a sizzling 77 degrees during the game, and
Sean Lee
certainly didn't come off the field.
"It's not like, 'Wow, this guy got benched,' or something like that," Kiffin said. "I'm just telling you, it wasn't that. I can't be more honest than that."
The painful truth for the Dallas defense is that a couple of players they're depending on to develop into stars got picked on Sunday.
September, 29, 2013
9/29/13
8:59
PM ET
SAN DIEGO -- Observed in the locker room after the
Dallas Cowboys
' 30-21
loss
to the
San Diego Chargers
.

Lee
Momentum lost:
The Cowboys felt like they were ready to turn a corner after last week's win against St. Louis, but they were unable to come up with back-to-back wins when they could have kept separation in an NFC East that is there for the taking.
"It's frustrating," linebacker
Sean Lee
said. "We want to be a consistent team that wins week in and week out, and we haven't been for two years. And right now we're not. We're an average football team. Until we start winning consistently that's what we're going to be."
Missing an option:
Rookie
Terrance Williams
took over Miles Austin's role as the No. 2 receiver and finished with seven catches for 71 yards, surpassing what had been his season totals in catches and yards, but he had a drop in the first quarter and a fumble at the goal line in the fourth quarter.
Austin did not play because of a hamstring injury, and it's not known when he will be back, even though Jason Garrett said the injury was not as severe as some of the strains Austin has suffered in the past.
"Miles is a great football player," quarterback
Tony Romo
said. "Whenever you don't have him, it's always going to be tougher. Saying that, it's a part of the game. Miles knows that. Same thing when I got hurt. You've got to be able to find a way to win football games."
Another injury for Ware:
DeMarcus Ware
has been bothered by stingers through the early part of the season, but that wasn't an issue for him Sunday. A back strain was.
Ware said he pulled a muscle in his back in the first series of the game, and was in and out of the lineup for most of the game. He was held without a sack despite an inexperienced defensive line. He said he would not need an MRI for the injury.
"A little bit," Ware said when asked how much it affected his play, "but if you get out there, you've got to play and do what you've got to do."
September, 29, 2013
9/29/13
7:29
PM ET
SAN DIEGO -- A few thoughts on the
Dallas Cowboys
' 30-21
loss
to the
San Diego Chargers
.

What it means for the Cowboys:
Once again, the Cowboys let slip away a golden chance to show they were more of a team to watch in the NFC than just a team that can compete in a bad NFC East.
They had an 11-point lead with 1:19 left in the first half, but allowed 20 straight points to the Chargers, leaving with another loss to an AFC West foe. And it doesn't get easier with another AFC West foe, the
Denver Broncos
, visiting AT&T Stadium next week.
They lost 17-16 in Week 2 at Kansas City in a game they could have won, but the offense was unable to sustain any momentum. On Sunday, the defense could not come up with any crucial stops after
Sean Lee
's interception return for a touchdown.

Stock watch:
Falling --
Morris Claiborne
. He is playing with a dislocated shoulder, but this had nothing to do with his ability to tackle. He was poor in coverage against
Vincent Brown
and rookie
Keenan Allen
.
Philip Rivers
continually went at Claiborne (as well as
Bruce Carter
, who could not stick with running back
Danny Woodhead
).
Can't get off the field:
After Lee's second career pick-six and the third defensive touchdown of the season, the Cowboys' defense had no answers for Rivers, who was playing behind a line filled with backups.
After the Cowboys took that 21-10 lead, the San Diego offense ripped off 20 straight points with 310 yards on 37 plays. The Chargers only got to third down five times on those 37 plays, and converted three times.
Rivers was hardly pressured, and he was able to toy with the secondary using receivers Allen, Brown,
Eddie Royal
, Woodhead (two touchdowns) and
Antonio Gates
(56-yard touchdown).
Can't stay on the field:
Offensively, the Cowboys ran just seven plays in the third quarter.
Their second possession of the second half lasted only seven plays because a
Ronald Leary
holding penalty negated a first-down catch by
Cole Beasley
at the San Diego 32. Two plays later,
Jason Witten
couldn't hold onto a seam throw from
Tony Romo
and the Cowboys were forced to punt. The Chargers answered with Gates' backbreaking touchdown.
The Cowboys' third possession of the second half ended at the Chargers' goal line when rookie receiver
Terrance Williams
fumbled, ending any chances for a miracle comeback.
What's next:
Peyton Manning
visits AT&T Stadium for the first time when the Denver Broncos come to town, and it is only the second time Manning will play in the area as a pro. Manning brought the 9-0
Indianapolis Colts
to Texas Stadium on Nov. 19, 2006 and lost 21-14.