Dallas Cowboys:

2013 Week 6 WAS at DAL
October, 14, 2013
10/14/13
8:00
AM ET
ARLINGTON, Texas -- Last Monday
Jason Hatcher
held his grade sheet from the 51-48 loss to the
Denver Broncos
and made a promise to assistant defensive line coach Leon Lett.
"I owe you one, man," Hatcher said, shaking the paper. "I didn't like this."
Hatcher spoke for himself, but he could have spoken for the entire
Dallas Cowboys
defense.
On Sunday, Hatcher repaid the coaches and so did the rest of the defense in the Cowboys'
31-16 win
against the
Washington Redskins
.
"I felt like I owed my coaches," Hatcher said. "I owed it to Coach Marinelli and Leon. They put so much into it and I let them down. I couldn't let that happen again. I had to redeem myself."
[+] Enlarge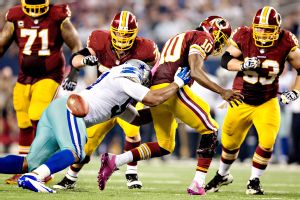 Wesley Hitt/Getty ImagesJason Hatcher strips the ball from Robert Griffin III. Hatcher finished with two sacks.
Hatcher had two sacks, giving him a career-high five on the season. He was credited with six tackles, a tackle for loss, two quarterback hurries and forced a fumble. He did most of it with running mate
DeMarcus Ware
on the sidelines because of a quadriceps injury.
There was redemption for the whole defense, too.
After giving up 81 points in the previous two games, the Cowboys gave up just one touchdown to the Redskins. After seeing San Diego's
Philip Rivers
pass for 401 yards and Denver's
Peyton Manning
pass for 414 yards in back-to-back weeks, the Cowboys gave up just 246 yards to
Robert Griffin
III. After combining for one sack on Rivers and Manning, they managed to get Griffin on the ground three times.
A defense that had five takeaways in the season opener had only four in the last five games, but came up with two Sunday with a
Kyle Wilber
sack/fumble that was turned into the game-clinching touchdown and an
Orlando Scandrick
interception.
"I don't think we lost any confidence," Scandrick said. "We've just got to keep playing. We've got to find a way to win games. I've been around here for a long time and it's whatever it takes."
It wasn't perfect.
The Redskins still put up 433 yards, which showed improvement from the 506 yards the Chargers put up and the 517 yards the Broncos put up, but still way too much.
Washington converted on 8 of 16 third-down attempts and held the ball for 34 minutes, 32 seconds. The tight ends continued to give them issues with
Jordan Reed
catching four passes for 58 yards.
Washington ran for 216 yards on 33 carries, the eighth most the Cowboys have allowed in a win in franchise history. Griffin ran nine times for 77 yards.
Alfred Morris
had a 45-yard touchdown run in the third quarter that Scandrick lamented.
"They should've only scored nine points," Scandrick said. "I can't miss that tackle."
There was more progress than just making the Redskins punt (something that Denver didn't do last week). The Cowboys defense rallied in the red zone. Washington did not score a touchdown in three red zone trips. The Broncos had six in seven trips.
"As a defense we challenged ourselves," said cornerback
Brandon Carr
, who shadowed Redskins wide receiver
Pierre Garcon
. "We weren't satisfied with the last few performances. We felt like we could've made plays and left some on the field and didn't play to the best of our abilities. There was no more excuses. No more talking about it. Just go out and get the job done and have fun.
"Hopefully it was a glimpse of some good things to come."
October, 14, 2013
10/14/13
2:15
AM ET
By
Todd Wills
| ESPNDallas.com
ARLINGTON, Texas --
Terrance Williams
' evolution as an NFL wide receiver took another step forward in the
Dallas Cowboys
' 31-16
victory
over the
Washington Redskins
on Sunday night.
And it came with the Baylor rookie's Heisman Trophy-winning college quarterback,
Robert Griffin III
, playing for the opposition.
Williams caught a touchdown pass for the second straight game, this one on a spectacular throw and catch, on which he combined with quarterback
Tony Romo
, for the play of the night.
The scoring play went for 15 yards. Romo avoided an outside rush, recovered and lofted a perfect throw into the corner of the end zone that Williams was able to bring down and then keep both feet in bounds.
[+] Enlarge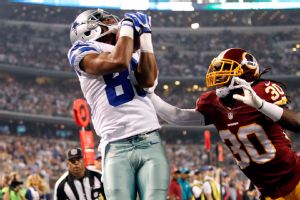 Tim Heitman/USA TODAY SportsTerrance Williams has taken advantage of Miles Austin's absence with six catches and two TDs in the past two weeks.
"Fantastic play," Cowboys coach Jason Garrett said. "It really was."
Williams' season is turning around after some early-season drops and a crucial fumble near the goal line in the Cowboys' 30-21 loss at San Diego two weeks ago.
Since then, Williams scored on an 82-yard touchdown play and had four receptions for 151 yards against Denver last week before his dazzling TD catch on Sunday night, when he finished with two receptions for 27 yards.
"He's got just a lot of will," Cowboys owner Jerry Jones said. "He's a player that it just breaks his heart to mess up, so to speak. He's just continually fighting through that and trying to get better, and you're seeing that right before our eyes."
Williams' rise from a two-star high school recruit to a star at Baylor happened because of the fast-paced practices he went through with Griffin.
That has carried over to the Cowboys, among whom Garrett has praised Williams often for his work ethic and desire to improve.
"He learns from the experience he has, both good and bad, and he really grows," Garrett said. "It's a real tribute to the approach he takes each week."
Williams said he leaned on the work he puts in with Romo during practices to make Sunday night's touchdown catch, an over-the-shoulder grab.
"In practice, it's something that we try to do," Williams said. "Whenever plays break down, you have to find a way to get yourself open."
Williams said he had a brief meetup with Griffin after the game, the first time they've been on opposing teams. His Baylor teammate had an erratic game, completing 19 of 39 passes for 246 yards.
"He just told me he loved me, and I love him back," Williams said. "I told him I'll see him again."
October, 14, 2013
10/14/13
1:15
AM ET
ARLINGTON, Texas -- Observed in the locker room after the
Dallas Cowboys
'
31-16 win
over the
Washington Redskins
.
Witten
Atop the East:
With Philadelphia winning earlier in the day, the Cowboys knew they needed to win to keep pace in the NFC East. Sunday's win sets up a first-place showdown with the Eagles (3-3) next week at Lincoln Financial Field. "Obviously this was a big game in the division," tight end
Jason Witten
said. "You want to get to 2-0 in the division. Two losses there in a row [overall], too, but we know how important to get that win in our division was. Especially after last year, they took it to us pretty good twice. That's a big win for us. Our division games are always that way. They're tight. They're ugly in a lot of ways. I thought we did a good job fighting through it."
Situational defense:
After getting torched in their last six quarters, the defense responded with a better effort in slowing down the Redskins. They allowed 216 yards rushing on 33 carries, including a 45-yard touchdown from
Alfred Morris
, but they were able to keep
Robert Griffin III
out of the end zone and hold him to a 58.3 passer rating, sacking him three times and intercepting him once. Most important, they were able to keep Washington out of the end zone on three red-zone trips, one week after they allowed Denver to score on six of seven red-zone possessions. "Any time you can keep a team out of the end zone, that's huge," linebacker
Sean Lee
said. "They made some plays, but we were able to come up with plays when we needed them."
Health check:
DeMarco Murray
and
DeMarcus Ware
will undergo MRIs on Monday after being forced to leave the game with knee and quadriceps injuries, respectively. Murray has a sprained MCL in his left knee. The team is not sure of the severity of the injury, but
Felix Jones
played through the injury last season with a heavy tape job on both knees. Ware was walking fine after the game, and said that he would be OK.
October, 13, 2013
10/13/13
11:43
PM ET
ARLINGTON, Texas -- A few thoughts on the
Dallas Cowboys
'
31-16 victory
against the
Washington Redskins
.

What it means for the Cowboys:
It might be too early in the season to say this was a must-win for the Cowboys, but coming off the disheartening 51-48 loss to the
Denver Broncos
last week it really was.
Falling to 2-4 would have been devastating with back-to-back road games upcoming and the team in the midst of the first three-game losing streak of the Jason Garrett era.
This was by no means a masterpiece, but the Cowboys travel to face the
Philadelphia Eagles
with a 3-3 record and feeling a lot better about their team. The Cowboys are 2-0 in the division for the first time since 2007.

The special teams kick-started the victory with
Dwayne Harris
' punt return for a touchdown and the offense was able to take advantage of two short fields (set up by a Harris kick return and a
Kyle Wilber
fumble recovery) for two touchdowns.
The first touchdown was a thing of beauty from
Tony Romo
, who sidestepped a blitzing
Josh Wilson
and fired a pass to the corner for
Terrance Williams
. The second score was
Joseph Randle
's from 2 yards with 9:36 to play, but center
Travis Frederick
should get an assist for helping push the rookie running back across the goal line.
Stock watch:
Rising --
Jason Hatcher
. He was without
DeMarcus Ware
for most of the game, but he was simply a terror on the interior, giving the Redskins fits throughout. He had two sacks of
Robert Griffin
III to give him five on the season, which is a career high.
A special returner:
Harris was named the NFC Special Teams Player of the Week for his three-tackle effort versus the
New York Giants
in Week 1. He could win his second honor of the season for his returns against the Redskins.
Harris had an 86-yard punt return for a touchdown in the second quarter that gave the Cowboys a 14-3 lead. His 90-yard kickoff return in the third quarter set up Williams' 15-yard touchdown that gave the Cowboys a 21-9 lead.
It was the third kickoff return of at least 90 yards in franchise history that did not go for a touchdown.
Defense makes a stand:
The Cowboys' D wasn't perfect, but after allowing 1,023 yard and 81 points in the previous two games, it didn't need to be perfect, though Dallas still allowed 416 yards.
The Cowboys allowed a 45-yard touchdown to
Alfred Morris
, but made him work for his yards. After allowing back-to-back 400-yard passing games, they kept Robert Griffin III in check for most of the game as well, limiting him to 246 yards.
Wilber came up with a sack/fumble of Griffin to set up the clinching touchdown, and
Orlando Scandrick
had a pick of Griffin in the end zone to end a fourth-quarter threat.
The defense even had three sacks after putting up one in the previous two games combined.
What's next:
The Cowboys travel to Lincoln Financial Field to take on the Eagles. For defensive coordinator Monte Kiffin it will be a chance to show he can slow down Chip Kelly's offense at the NFL level. He didn't do it at Southern California. In three games against Oregon, Kiffin's defense allowed an average of 601 yards and 50 points in losing two games. Last November the Trojans gave up 730 yards in a 62-51 loss.
October, 13, 2013
10/13/13
5:50
PM ET
ARLINGTON, Texas -- Welcome to AT&T Stadium where the
Dallas Cowboys
take on the
Washington Redskins
in a crucial NFC East matchup.
The Cowboys (2-3) have lost two straight games and the Redskins are coming off their bye week after their first win of the season. In order to keep pace with the
Philadelphia Eagles
the Cowboys will have to beat Washington.


The last time these teams met the Cowboys lost their second straight de facto NFC East title game, dropping a 28-18 decision at FedEx Field to finish 8-8 for the second straight year.
Rekindling the rivalry:
Last December's game could go a long way to re-establishing a rivalry that has largely been among the fans -- and not the players -- because their on-field successes have been minimal in the past 15 years.
Most of the players are unaware of the feelings the Cowboys had toward George Allen, Joe Theismann and even Joe Gibbs. They don't know about Harvey Martin throwing the wreath in the locker room.
"A lot of people are asking you, 'Who's your biggest rival?'" coach Jason Garrett said. "I think all the division games, since I've been around, they're great rivalries. You think about the Cowboys-Giants games, the Cowboys-Eagles games and certainly the Cowboys-Redskins games, these things go back a long, long way. I've been fortunate to be a part of it in a couple different seats and I think our players understand. Whether or not they know the history about the different players and the great teams involved, I don't know that, but I think they understand the importance of it and the significance of it and how the games feel."
Slowing RG3:
The Cowboys were not able to get to quarterbacks
Philip Rivers
and
Peyton Manning
the past two games, sacking them just once, and they largely knew where they would be in the pocket.
Robert Griffin
III might not be running the way he ran last year, but he can still move.
"It's all about how you can change with the way the league changes," defensive end
DeMarcus Ware
said. "You have Philip Rivers and you have Peyton Manning and now you got a read and react type quarterback who can run but also pass the ball really well, so you have to look at it as your responsibilities. You can't give guys too many things to worry about when they're doing all kind of trick 'em plays and you have to make it simple for them."
What's the encore:
Tony Romo
threw for a franchise-record 506 yards and tied the team record for touchdowns in a game with five in last week's loss to the
Denver Broncos
.
Can he replicate the game if not the numbers?
"You want to be able to play games over and over again where you play at a high level," Romo said. "That is the goal."
Romo is 6-6 as a starter against the Redskins. In five of his last seven starts against Washington, the Cowboys have not scored more than 18 points. He has completed 273 of 442 passes for 3,093 yards with 21 touchdowns and 13 interceptions. He has two games with more than 300 yards, three three-touchdown games and four one-touchdown games.