Dallas Cowboys:

2013 Week 7 DAL at PHI
October, 21, 2013
10/21/13
9:00
AM ET
PHILADELPHIA -- The second interception thrown by
Dallas Cowboys
quarterback
Tony Romo
in
Sunday's victory
over the Philadlephia Eagles was a result of a wrong route by running back
Phillip Tanner
, who got in the way of a pass intended for receiver
Cole Beasley
.
Linebacker
DeMeco Ryans
picked off the third-quarter pass and returned it 36-yards.
"Cole Beasley has his guy beat pretty good on the play and the ball is thrown to Beasley," Romo said. "Our back actually kind of end up going to the wrong spot even with it, the kid makes a good play on it, getting back into the play and then I got to be able to see him and not make that mistake."
On the return, Romo tried to strip Ryans near the sidelines, but right tackle
Doug Free
ended up making the tackle.
"I was trying to get the ball," Romo said. "I thought that was my best chance."
After the play, Romo yelled at Tanner for running the wrong route.
"That's what a leader of a team is supposed to do," Tanner said of getting chastised by Romo. "I respect him doing that as a leader."
Beasley ran a crossing route but Tanner was supposed to run his route in the opposite direction. When Romo threw the pass, Ryans moved to his right and snagged it. The Eagles converted the turnover into a field goal, cutting the Cowboys lead to 10-3.
The turnover wasn't a momentum changer for the Cowboys as Romo would lead the Cowboys on a 10-play, 72-yard scoring drive to push the lead to 17-3.
"That's a big play in the ballgame for the defense to get a stop and a sudden change there and not allow them to kick a field goal," coach Jason Garrett said. "That's really important and a significant part of the ballgame and then we responded back on offense to extend the lead one more time."
October, 20, 2013
10/20/13
8:05
PM ET
PHILADELPHIA --
Dallas Cowboys
quarterback
Tony Romo
, in his 100th career start, visited the place where he's been embarrassed in the past and instead made the
Philadelphia Eagles
fans boo its own team.
Romo
Romo earned his 59th career victory on Sunday afternoon in helping the Cowboys take over first-place in the NFC East with
a 17-3 victory
at Lincoln Financial Field.
Romo didn't have a spectacular day for a man who threw 47 passes for 317 yards with one touchdown and two interceptions. When the Cowboys needed him to make plays at the right moments, he produced.
On a game-clinching fourth-quarter drive, Romo completed seven-of-eight passes for 69 yards. The only incompletion was a dropped pass by rookie running back
Joseph Randle
. The drive ended with Romo hitting rookie receiver
Terrance Williams
on a slant for a nine-yard touchdown pass.
"It was a mixture of different things but stuff you felt comfortable with throughout the game," Romo said of the drive. "You knew some of the stuff they had been doing but we hadn't had an opportunity to attack them with [different plays]. It's just about execution. We went out there and felt if you were behind almost in that football game the way it was going even though you had the lead, to come out there and put your foot down and do what we needed to do to win the game was important."
The 10-play, 72-yard drive, lasting 5:32 pushed the Cowboys to a commanding 17-3 lead and reminded everybody why Jerry Jones has confidence in him. It was such a game turning series for Romo, who threw an interception on the previous possession with three minutes left in the third quarter. The pass was for Beasley, crossing the middle of the field, but
Phillip Tanner
got in the way by running a bad route allowing linebacker
DeMeco Ryans
to pick off the pass.
Nobody dropped their heads on the sideline or felt like this is the same-old Romo, the man whose imploded in key fourth quarter moments in the past. It was Jones saying earlier in the week on his weekly radio show Romo is a solid fourth quarter quarterback.
The first possession of the fourth quarter supported that statement.
"After an interception I think sometimes it's 'let's calm down,'" Romo said. "Let's just run it three times. There is that feeling sometimes. But give Bill [Callahan] credit. He called an aggressive game. He came out right after that. To me ,that was fantastic. I understand. Sometimes it's out of your control. You throw a pick at the end of the half, a Hail Mary, basically. Those things are just random things that happen. It's about decision making. Over time you keep making decisions whether or not negative things happen every once in a blue moon. It's part of the game. It gives your team a chance to succeed. They trusted me. They trusted the team to go out and execute it and put the game away."
He's lost in this city before, even falling down in the shower after a loss in 2008 because he was in so much pain, prompting former Cowboy
Tank Johnson
to yell, "medic, medic." But he has also thrown for 324 yards and three touchdowns in a 2007 victory. He beat the now retired
Donovan McNabb
in 2009 and upended
Michael Vick
in a gritty performance last season.
Romo seemed in a reflective mood watching the Eagles third string quarterback,
Matt Barkley
, relieve an injured
Nick Foles
in the fourth quarter, ending the boos from the Eagles fans for a poor offensive performance.
"I've been there, we've all been there," he said.
When you look back at Romo's 100 starts it gives you pause when you notice he's thrown more passes than Joe Namath (27,747 to 27,663), has 189 career touchdowns and completed more passes through 100 games than
Dan Marino
,
Drew Brees
,
Peyton Manning
and
Kurt Warner
.
Yet, Romo is judged on championships, that's just how it is around here. And Romo noted if goals are to be achieved in January, the defensive effort on Sunday, holding the Eagles to a season-low 278 yards, are needed in 2013.
"I think more than anything, it's not something I think about or anything," Romo said on start 100. "I know it was talked about this week. It's when you're playing the game, it's hard to reflect why you're still trying to accomplish your goals and what you're set up to do. I'm sure there will be a time for it where I will sit back and think some great things and have some great memories and think about the people I've been around. Right now, I don't think it's the time for it."
October, 20, 2013
10/20/13
7:38
PM ET
PHILADELPHIA –
DeMarcus Ware
's streak of consecutive games played ended Sunday at 134.
Ware suffered a quadriceps strain against the
Washington Redskins
last week, and while he said the leg improved during the week leading into Sunday's game against the
Philadelphia Eagles
, it was not good enough for him to even test it
before kickoff
.
"I knew I wasn't going to play," Ware said.
Ware is not sure if he will play next week at the
Detroit Lions
.
"All I know is I start running on Monday, and we'll know from there," Ware said.
Kyle Wilber
started in Ware's place against Philadelphia. The Cowboys managed three sacks without Ware:
George Selvie
picked up 1.5,
Jason Hatcher
had one, and new pickup
Jarius Wynn
split a sack.
"We have guys that can come in there and play and still be effective, still get pressure on the quarterback," Ware said. "Not having guys healthy, that's what you want -- then, when everybody gets healthy, you're hitting it full steam."
Ware said there was a benefit from his sideline perspective.
"It's different because you see some of the plays that you can make when you're on the sideline, and with me just having that type of mentality, knowing I can get out there and make those plays, but I can't because of my injury," Ware said. "But now, giving it up to Wilber and him going and doing it and seeing him do it, it really wasn't about athleticism. It's all about technique and knowing what's going on."
October, 20, 2013
10/20/13
7:30
PM ET
PHILADELPHIA -- Chip Kelly joked this week that he never saw
Sean Lee
wreaking havoc while he was studying the USC defenses the last few years.
It was Kelly's way of downplaying the relevance of his success against Cowboys defensive coordinator Monte Kiffin at the college level, pointing out that personnel mattered much more than scheme. It was a much more prescient comment than the Eagles coach would have preferred.
Lee, the Cowboys' middle linebacker, headlined a dominant defensive effort in Dallas'
17-3 victory
Sunday afternoon.
"I'm glad he's on our side and we're counting on him," owner Jerry Jones said. "You could argue there's nobody that's more important to the success of our team than Sean Lee."
Lee provided plenty of ammunition for that argument against the Eagles. He was credited with 11 tackles, one tackle for a loss, an interception and a pass deflection as the Philadelphia offense sputtered all day.
That's the kind of outing that makes an owner smile after the six-year, $42 million contract extension he gave Lee just before the season started.
LeSean McCoy's statistical line might be the best indicator of Lee's impact on the game. McCoy, the NFL's leading rusher, was held to only 55 yards on 18 carries. The most impressive play Lee made was when he ran down McCoy a few yards behind the line of scrimmage on a sweep, when it appeared that McCoy was going to turn the corner and rip off a big gain.
"I remember the last time I came up here and played two years ago, he ran for 180," Lee said, acknowledging that he took the challenge of containing McCoy personally. "He ran all over us, so I knew coming in, this guy's an unbelievable player and an extreme challenge. All week we were working on finding a way to stop him, finding a way to stop him. I think we did a pretty good job today doing it."
McCoy has been the best running back in the league this season, but Lee was the best player at Lincoln Financial Field on Sunday.
October, 20, 2013
10/20/13
7:20
PM ET
PHILADELPHIA --
Terrance Williams
stopped in the middle of the end zone and waved to the not-so-friendly folks in the Lincoln Financial Field stands.
Williams was sarcastically bidding farewell to the
Philadelphia Eagles
' comeback hopes after his 9-yard touchdown catch stretched the
Dallas Cowboys
' lead to 17-3 in the fourth quarter, a margin that ended up being
the final score
in the fight for first place in the NFC East.
The rookie receiver might as well have been bidding farewell to
Miles Austin
playing a major role in the Cowboys' offense.
[+] Enlarge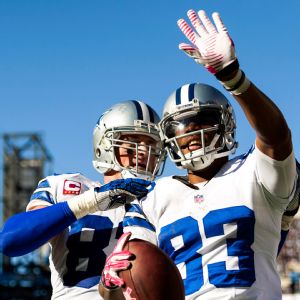 Howard Smith/USA TODAY SportsCowboys WR Terrance Williams (right) celebrates scoring a touchdown Sunday at Philadelphia.
Austin has become the NFL's most expensive afterthought, and that's fine for now. Austin's $54 million contract is an issue for the front office to deal with during the offseason -- when he should either take a drastic pay cut or be released -- but it's only a problem for the remainder of the year if the coaches feel forced to give him playing time over more deserving candidates.
There's no question that Williams and
Cole Beasley
are better options than Austin, although you won't get anyone who reports to work at Valley Ranch to say that on the record.
These numbers don't lie:
• Williams has 19 catches for 320 yards and three touchdowns since Austin's last reception, which occurred in Week 3. That includes Sunday's six-catch, 71-yard, one-score outing, the third straight game that the third-round pick has scored.
• Beasley has 17 catches for 160 yards and a score since Austin's last reception. That includes career highs of six catches and 53 yards on Sunday.
• Quarterback
Tony Romo
is 24-of-28 for 380 yards and three touchdowns when targeting Williams. He's 18-of-21 for 167 yards and one score when targeting Beasley this season. And he's 15-of-28 for 125 yards and no scores when targeting Austin, including 0-of-7 the past two weeks with Austin hampered by yet another hamstring strain.
Look at how the Cowboys finished the drive that essentially served as the knockout punch of the Eagles. On second-and-10 from the Philadelphia 22, Beasley made a beautiful catch on an out route for an 8-yard gain. The Cowboys moved the chains with a quick out to Beasley for 5 yards the next play, followed by Williams' score.
Any questions about Romo's trust in the kid receivers?
"It just comes over time of making plays in the game when he does throw the ball to me and taking advantage of it," Beasley said. "As he keeps throwing the ball my way and I keep catching it, more and more trust is going to build. Then more and more balls will come my way."
Those ought to come at Austin's expense.
It's painfully apparent Williams is a better outside receiver at this point than Austin. Williams has the ability to separate from defensive backs that Austin has lost in the last few years. He's a much more dynamic downfield playmaker.
Williams had some rookie moments early in the season, but he's more than made up for them, established himself as a reliable weapon.
"Terrance Williams has improved as much as maybe anybody that I've seen in the six months he's been here," Romo said. "It usually takes wide receivers a while. He continually takes coaching and does the thing you need to do to improve. It's just a testament to his work ethic and commitment to the football team. You love having guys like that."
Added owner and general manager Jerry Jones: "He's going to be a long-term, big-time player for us."
It's just as obvious that Beasley, the lil' fella from Little Elm, is a better option than Austin in the slot. Beasley is the prototypical itty-bitty, shifty, sure-handed slot receiver, a poor man's
Wes Welker
.
"Beasley showed everyone that he's got great hands, he separates and he has instincts about getting open," Jones said. "That's a major plus for Romo. Romo is big into that."
The Cowboys have outstanding complements to No. 1 receiver
Dez Bryant
and perennial Pro Bowl tight end
Jason Witten
, and they come at a fraction of Austin's cost.
Of course, the GM isn't going to publicly give up on his $54 million investment, even though Jones' dreaded "progress stopper" label seems to fit Austin well now. Nope, Jones still talks about banking on big things from Austin once that tricky hamstring is nursed back to full health.
"If a player's been a blue, then it's not a bad bet on them being a blue -- blue being the highest color on the grading on the player," Jones said. "It's not a bad bet."
It sure was a bad bet on
Jay Ratliff
, the high-priced, past-his-prime nose tackle unceremoniously dumped by Dallas this week. It certainly seems like the end for Austin is nearing as well.
The good news is that, unlike Ratliff, the replacements for Austin are already on the roster.
October, 20, 2013
10/20/13
7:00
PM ET
PHILADELPHIA -- Cowboys running back
DeMarco Murray
was out for this early season NFC East contest against the
Philadelphia Eagles
on Sunday with a sprained left knee. The replacement, for now and in the possible future, is rookie
Joseph Randle
, a fifth-round pick from Oklahoma State.
It was Randle who rushed for 65 yards on 19 carries, including 13 in the fourth quarter of a 17-3 victory. Who knew that Randle would have more rushing yards than the NFL's leading rusher,
LeSean McCoy
of the Eagles, who finished with 55 yards on 18 carries?
"It felt really good and I got more comfortable as the game progressed," Randle said of his first start. "First half was a little slow but then we got moving well on offense. I think I ran the ball well North to South down the field but there are always things you would like to do better."
Randle wasn't dazzling, but solid enough to give the Cowboys confidence he can maintain a starting role before Murray gets back.
Sunday, the Cowboys continued the use of five receiver sets, shotgun formations and numerous passes,
Tony Romo
threw 47 times, to ease the pressure on Randle. Another backup running back,
Phillip Tanner
, was used on some third down plays for pass protection, but Randle did a nice job with that as well.
"We did a little bit of things," Romo said. "I think more than anything we dictated how they were playing different things. I thought they did a good job, Tanner and Randle really played well today, (Randle) going to help us. I don't think it was too big for him. I thought he ran hard and I thought he was pretty good on the blocking assignments. We'll have to see it when we watch the tape but it was good to see."
There are all sorts of injuries to the running back position.
Murray is out, backup
Lance Dunbar
(hamstring) is nicked up and it left the Cowboys with just two healthy players at the position. In the offseason, the Cowboys, knowing Murray has durability issues, he's never played a full NFL season, drafted Randle with the goal of using him as a starter. In training camp, Dunbar and Tanner emerged as solid players the Cowboys could depend on for various things from third down, special teams and in Dunbar's case, a change of pace.
It left Randle on the sidelines early in the season waiting his time until Murray's injury last week against Washington thrust him into a starting role.
"I think Randle can really early the openings in the line and he understands his responsibilities more and more every week," Cowboys owner and general manager Jerry Jones said. "I thought he played really well today."
October, 20, 2013
10/20/13
6:03
PM ET
PHILADELPHIA -- Observed in the locker room after the
Dallas Cowboys
'
17-3 win
against the
Philadelphia Eagles
on Sunday:
Jones
Owning the division:
For the first time since 2007 the Cowboys are 3-0 in the NFC East. In a division that has come down to the final game of the season the past two years, the Cowboys are doing their best to get some separation from the Eagles,
Washington Redskins
and
New York Giants
.
"It's meaningful because by the nature of the way the game is today you're going to have these teams knock each other off and you're really getting some legs up on everybody when you can win all your division games," owner and general manager Jerry Jones said. "To get this win on the road, we've got two more that we've got to play on the road, this is the way to start it."
This isn't college ball:
To say Chip Kelly owned Monte Kiffin when the two were at Oregon and Southern Cal, respectively, is being kind. Oregon averaged 50 points and 600 yards in three games against Kiffin's defense and scored 70 points last year.
Playing without
DeMarcus Ware
, the Cowboys held the Eagles to 278 yards, forced three turnovers and came up with three sacks.
"The college deal, it's not even close," linebacker
Sean Lee
said. "It's apples and oranges comparing college teams to pro teams. It's the time we spend. We have different players. Defenses can be different. I see that as an apples-and-oranges comparison."
Rookie shines again:
Wide receiver
Terrance Williams
is making sure the Cowboys' offense does not miss a beat as
Miles Austin
tries to get back in step.
Williams caught six passes for 71 yards and had a touchdown in his third straight game. His 9-yard slant from
Tony Romo
iced the game for the Cowboys with 9:25 to play and a 17-3 lead. Austin has played the past two games, but has not recorded a catch in seven throws from Romo.
The last rookie receiver to have a touchdown catch in three straight games was
Dez Bryant
in 2010 against the
Green Bay Packers
, Giants and
Detroit Lions
.
October, 20, 2013
10/20/13
4:27
PM ET
PHILADELPHIA -- A few thoughts on the
Dallas Cowboys
'
17-3 win
against the
Philadelphia Eagles
on Sunday:

What it means:
With back-to-back wins for the first time this season, the 4-3 Cowboys have taken control of the NFC East. They are 3-0 in the division for the first time since 2007 and just the seventh time in franchise history. They also won on the road for the first time this season after losses to Kansas City and San Diego. After allowing 1,456 yards in their last three games entering Sunday, the Cowboys kept the up-tempo Eagles in check (278 yards) and came up with three fourth-quarter interceptions of
Matt Barkley
-- by
Sean Lee
,
Barry Church
and
Brandon Carr
. An interception of
Nick Foles
was negated by a replay review. The third-down defense was particularly strong, holding Philadelphia to just four conversions in 18 tries.

Stock watch:
Rising -- Monte Kiffin. The defensive coordinator was falling two weeks ago when his defense allowed 51 points to Denver. When he was at USC and faced Chip Kelly's offense at Oregon, Kiffin's defense allowed 50 points and 601 yards per game. The Eagles had scored 30 or more points in four of their first six games, but managed only a field goal thanks to strong man-to-man coverage from the Dallas cornerbacks.
Tony Romo at 100:
The quarterback was starting his 100th regular-season game for the Cowboys and improved to 59-41 as a starter. It wasn't a vintage Romo performance. He had his first multi-interception game of the season, even if the first pick was on an end-of-half Hail Mary. But when the offense needed him most, Romo came through. On Dallas' fourth-quarter touchdown drive, he completed 7 of 8 passes for 69 yards, capped by the clinching touchdown throw to
Terrance Williams
.
Big names missing:
For the first time in his nine-year career, defensive end
DeMarcus Ware
missed a game. Ware did not play because of a quadriceps strain and was replaced in the starting lineup by
Kyle Wilber
. The Cowboys still managed decent pressure on Foles (three sacks). The Cowboys were also without
DeMarco Murray
(knee). It was the 10th game Murray has missed in three seasons. His replacement,
Joseph Randle
, ran for 65 yards, and
Phillip Tanner
added a touchdown run, giving the Cowboys a rushing score in their third straight game.
What's next:
The Cowboys remain on the road with a trip to Ford Field to take on the
Detroit Lions
next Sunday. While not as important as a division game, it could come into play later in the season in a possible wild-card race. The Cowboys won 28-27 in their last visit to Ford Field on Dec. 9, 2007.
October, 17, 2013
10/17/13
12:00
PM ET
There was a time when the
Philadelphia Eagles
and
Dallas Cowboys
both had a good chance of being undefeated going into an October showdown. That time may be long gone, but this meeting between a pair of 3-3 teams still has a lot of cachet.
The winner will have sole possession of first place in the NFC East. With Washington (1-4) and the
New York Giants
(0-6) already wrecked on the side of the road, this game will establish pole position for the race ahead.
Todd Archer, who covers the Cowboys for ESPN.com's NFL Nation, and Philadelphia counterpart Phil Sheridan discussed some of the big questions going into the game.
Sheridan:
DeMarcus Ware
and
DeMarco Murray
-- whether they're out or just limited by injury -- which can the Cowboys least afford to lose and why?
Archer:
To me, the easy answer is Ware because they really don't have much of a pass rush without him. The Cowboys can get by without Murray because of
Tony Romo
and the passing game. Ware has several little injuries this year with a stinger, a back strain, dehydration, getting poked in the eye and now this quad strain. He says he is a fast healer, but I don't think he'll heal fast enough for this week and the Cowboys will have to get by with what Jerry Jones called the "no-names," like
George Selvie
,
Kyle Wilber
and
Caesar Rayford
.
I'll go with the either/or as well:
Michael Vick
or
Nick Foles
? If both are healthy, whom does Chip Kelly eventually roll with?
Sheridan:
I wish I knew what Chipper is really thinking. Ultimately, I think he has to get an extended look at Foles this season. Vick's injury opened the door, and Foles certainly took a confident stride through it Sunday, earning NFC Offensive Player of the Week honors in Tampa. But part of being a successful NFL quarterback is coming back, week after week, through nagging injuries and fatigue. Kelly has to know whether Foles can do that before this season is over. Combine that with the fact that Foles may actually run the offense more effectively and I think it may be a while before we see Vick again.
Foles had a good day in Tampa. Now he faces the godfather of the Tampa 2. How is Monte Kiffin's defense coming together after six games?
Archer:
To be kind, not well. The Cowboys have allowed three 400-yard passers this season. They allowed 216 rushing yards last week against Washington. They likely won't have Ware, so that will hinder the pass rush. The Cowboys aren't really the true Tampa 2 scheme that Kiffin ran so well in Tampa. First off, he doesn't have
Warren Sapp
,
Derrick Brooks
or
John Lynch
, but the Cowboys are mixing their coverages a lot more because of their cornerbacks. They paid a lot of money for
Brandon Carr
,
Morris Claiborne
and
Orlando Scandrick
and have tried to play more man-to-man lately. They were fairly effective against the Redskins, and that helped the pass rush. They'll have to be that effective this week too.
I mentioned the 216 rushing yards, and
LeSean McCoy
is on the docket for the Dallas D. He's off to a great start and seems to be a perfect fit in this offense. True?
Sheridan:
One hundred percent true, although McCoy might be a pretty good fit in any offense that involves a football. Some of the Broncos, who don't see him often, were comparing him to
Barry Sanders
, and it's not as big a reach as you might think at first. He's quick, he's strong, he changes direction almost magically, and his instincts are remarkable. For a few weeks, the Eagles were piling up rushing yards without getting enough points. Against Tampa Bay, McCoy went for 116 yards and there was a 31 on the scoreboard. That's where the Eagles need to be.
Let's turn to the Dallas offense. Eagles defensive coordinator Bill Davis said this week what a lot of people think, that Romo is capable of making a big play or a big mistake at any time. How is the franchise quarterback's confidence this year?
Archer:
I wonder if Davis has seen Romo play much this year. Maybe he just saw the end of the Broncos game when he had the interception, but Romo has only three picks on the year. One was a busted route by a rookie receiver, and another was a tipped ball. I think his involvement in the game plan really has Romo tuned into the opposing defenses and what they're trying to do. He is not forcing throws (no, I'm not forgetting the late Broncos interception), and he is being more patient than ever. This is his offense in a lot of ways, and he doesn't want to screw it up. That being said, the offense has not performed well in its first two road games, scoring 16 and 14 points against Kansas City and San Diego. In the last two games, the Cowboys have spread it out more, and without Murray this week, I think you'll see more spread looks Sunday.
For so long we've been used to seeing a Jim Johnson-type defense in Philly, but Davis has a different style. What has or hasn't happened so far in the Eagles' move to the 3-4?
Sheridan:
It is a process, as Davis and Kelly constantly remind us. It's a tough transition when you have players better suited to a 4-3. It's even tougher with players who aren't suited to any defensive scheme at all. The Eagles seemed to have a few of those while giving up 33 passing touchdowns last year. They made a lot of changes in the secondary, but it has still been vulnerable -- especially on third down. The defense seemed to make progress against the Giants and Bucs, but those are two winless teams. It will be a big deal if the Eagles can continue to make progress against a quarterback like Romo.
How good is
Dez Bryant
right now, and how much more potent can this offense be if and when
Miles Austin
gets it going?
Archer:
Bryant has carried over his success from the second half of last season to this season, at least in terms of touchdowns. He is a nightmare for cornerbacks in the red zone. He's just too big and physical down there for them to handle. He's almost too physical and might get a pass interference penalty one of these days. But Romo is so confident in him down tight that he'll just throw it up knowing Bryant will get it or nobody else will. What's strange, however, is that Bryant has had three games in which he has averaged less than 10 yards per catch. If teams want to take him out with help, they can. And that's where Austin comes in. He's just not healthy yet but was off to a good start before injuring his hamstring. Rookie
Terrance Williams
has really caught on lately and helped make up for Austin's absence/lack of production. When he's right, Austin is dangerous in the slot and outside and is a tough matchup.
Let's stick with the receivers. Is
DeSean Jackson
, well, DeSean Jackson again?
Sheridan:
DeSean Jackson is DeSean Jackson, only better. He seems to have matured almost overnight. He says he worked out and added a little muscle mass during the offseason. Not sure whether it's that or Foles or Kelly's offensive approach, but Jackson is suddenly a factor in the red zone. He was always a deep threat but disappeared inside the 20. He has red zone scores in each of the last two games. He'll never be the kind of receiver you described Bryant as being, but he's added a better understanding of the game to his gift of speed.
Both teams are 3-3. It's not exactly the 1990s, when they might both be undefeated when they met in October, but this will still decide who is in first place in the NFC East. Do you think the Cowboys have what it takes to knuckle down and win the division in a decidedly down year?
Archer:
I think they do, but if there's one thing I've figured out in covering this team, it is to never come to expect anything. They are just too up and down. There's no doubt the NFC East is down, but the prevailing wisdom is that the Cowboys are infinitely more talented than every other team in the division, so they should run away with it. I don't know about that. They're good at the top but not so much in the middle and bottom. They have a ton of questions on defense. They can't afford injuries. They might have the best chance to win the NFC East, but it's not a lock. This game, to me, is huge. If they can get to 3-0 in the division, it gets a little easier. If they lose, they're riding that 8-8 bus again.
Is Kelly in this for the long haul?
Sheridan:
Here's another case where I wish I knew what was going on inside Kelly's head. He's good at talking about football, what he's trying to do and why. He doesn't entertain any questions that appear to be probing into his personal life or his feelings about anything. I think he's learned the NFL is difficult in different ways from the college game. Whether he enjoys being out of his comfort zone and sees it as a challenge to excel at this level or whether he can't wait to get back to a college gig, I have no idea. He just doesn't share that kind of thing. I can say that neither extreme would surprise me. More to the point, I think he can be a very good NFL coach. His offense certainly works in the league.