Dallas Cowboys:

2013 What Went Right/Wrong
January, 11, 2013
1/11/13
1:30
PM ET
[+] Enlarge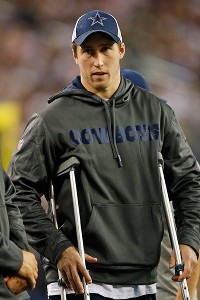 AP Photo/James D SmithSean Lee's injury was one of many the Cowboys had to endure.
Our five-part series
on what went right and what went wrong for the Cowboys concludes with No. 1:
Throughout the season, Jason Garrett kept talking about the "next man up" philosophy used by the Cowboys and every team in the NFL in dealing with injuries.
The Cowboys took that to a ridiculous extent in 2012 with some of the "next men up" coming off the couch, or in
Ernie Sims
' case, a tractor, to play important roles.
It started with safety
Barry Church
tearing his Achilles against Tampa Bay and then moved on to linebacker
Sean Lee
suffering a significant toe injury against Carolina. Center
Phil Costa
was lost in that game, as well, to a dislocated ankle. Punter
Chris Jones
suffered a partially torn anterior cruciate ligament. Defensive end
Kenyon Coleman
tore a triceps. Linebacker
Bruce Carter
broke his elbow. Cornerback
Orlando Scandrick
broke his wrist
Even backups like
Ben Bass
and
Orie Lemon
were lost for the season.
This doesn't even count guys that were hurt but continued to play, such as
DeMarcus Ware
,
Eric Frampton
,
Gerald Sensabaugh
,
Nate Livings
,
Felix Jones
and the six games missed by
DeMarco Murray
.
Jay Ratliff
played in only six games because of ankle and groin injuries and needed sports hernia surgery in December.
Injuries are a reality in the NFL. Teams have to overcome them. The Cowboys couldn't, and it was part of the reason – at the least – why Rob Ryan is no longer this team's defensive coordinator.
The games lost to injury also showed how flawed the roster has been because of poor drafts in 2007-09 that robbed the team of depth.
January, 11, 2013
1/11/13
1:00
PM ET
Our five-part series
on what went right and what went wrong for the Cowboys concludes with No. 1:
Dez Bryant
entered 2012 facing something of a crossroads. He left the season as one of the most dynamic young receivers in the NFL.
Bryant's season did not start perfectly, with only two touchdown catches in the first eight games and far too many games in which he was invisible. His misread on a hot route led to an interception return for a touchdown by Chicago's
Charles Tillman
. He and
Tony Romo
just never looked to be on the same page.
But over the second half of the season it all changed.
Bryant had a touchdown catch in seven of his last eight games. He finished the year with 92 catches for 1,392 yards and 12 touchdowns. He displayed a toughness by playing with a fractured index finger that required surgery after the season ended.
He was also more dependable on the field. He ran better routes. He knew his assignments. He made the boring plays in addition to the stunning. In his first two seasons he would make the stunning but not the boring plays, acting more like a tease than a foundation player.
The Cowboys hope Bryant has figured it out, but he now enters what has been a troubling time for him in the past: the offseason.
For Bryant to continue to grow, this offseason has to be a quiet one.
If it is, then opponents will fear just how loud he can be on the field for 2013 and beyond.
January, 10, 2013
1/10/13
12:30
PM ET
Our five-part series on what went right and what went wrong for the Cowboys continues with No. 2:
The Cowboys placed the franchise tag on outside linebacker
Anthony Spencer
last offseason at a cost of $8.8 million. Spencer rewarded the Cowboys with a career-high 11 sacks and career-highs in total tackles (95) and solo tackles (55).
Spencer rushed the passer more in Rob Ryan's scheme in 2012 than he did in 2011, and it worked out well for him. He was particularly effective late in the late stages of games, getting seven fourth-quarter sacks, which ranked fourth in the NFL.
He also made several key plays late in the season. And when
DeMarcus Ware
was nicked up with elbow and shoulder injuries, it was up to Spencer to make more plays in the pass rush.
When Ryan was first hired, he was questioned about Spencer's lack of playmaking ability. Ryan scoffed at that notion, saying he felt Spencer made plays in the run and passing attacks.
Spencer, the strong-side linebacker, did a good job against the run this season and dropped back more often than Ware against the pass. However, Ryan sent Spencer on the rush more as he developed into a solid player.
PODCAST
Ben and Skin take a journey through the never-ending DFW sports soap opera. Who are the good and bad guys? Click here to find out!

Listen

While Spencer didn't get named to the Pro Bowl, he earned much respect from NFL coaches and personnel for his production this season.
Meanwhile, the Cowboys will have a tough decision to make regarding Spencer. Should he get franchised again or will the team let him hit the open market?
It's one of many decisions the Cowboys have to make this offseason.
January, 10, 2013
1/10/13
12:00
PM ET
[+] Enlarge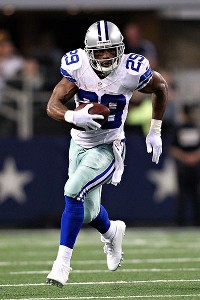 Tim Heitman/US PresswireThe Cowboys' rushing attack suffered a big blow with DeMarco Murray having to sit out six games.
Our five-part series on what went right and what went wrong for the Cowboys continues with No. 2:
The
Dallas Cowboys
finished the 2012 regular season with the 31st-ranked rushing attack in the NFL. The Cowboys rushed for a 1,265 yards, the lowest output in a 16-game season in franchise history.
When the season was over, running backs coach Skip Peete was relieved of his duties. But Peete wasn't playing with a full deck.
DeMarco Murray
missed six games with a sprained foot, backup running back
Felix Jones
played with two sore knees and two younger players,
Phillip Tanner
and
Lance Dunbar
, didn't impress the coaches enough to warrant more playing time.
Of the Cowboys' 1,265 rushing yards, 227 came in a loss to the
Baltimore Ravens
on Oct. 14. It was the most rushing yards allowed by the Ravens in franchise history. In that game, however, Murray suffered his injury and things went downward from there for the Cowboys.
The best Jones could do as the starter was gain 71 yards on 16 carries in a win at Philadelphia on Nov. 11. The Cowboys rushed for over 100 yards as a unit only once in the six games that Murray was out.
It was clear the Cowboys' run game was compromised by the team's failure to build leads at the start of games and the inconsistency of the offensive line. The Cowboys started three different centers, two different left tackles and right guards and rotated the right tackle spot.
Yet when Murray returned Dec. 2 at Philadelphia, the Cowboys began a surge toward saving their season. With Murray back in the lineup, the Cowboys won three consecutive games. Murray rushed for 83 yards on 23 carries with one touchdown in the Eagles game. And while they lost the final two games of the regular season, there is hope that Murray will become a every down back in the future.
January, 9, 2013
1/09/13
1:30
PM ET
Our five-part series on what went right and what went wrong for the Cowboys continues with No. 3:
IRVING, Texas -- On the first day of camp, Jason Garrett stresses the importance of the football to his team and recites the turnover statistics going back since about the beginning of time.
The Cowboys weren't very good in taking the ball away and they were too good in giving it away.
They finished the year with a minus-13 turnover ratio, tied for 27th. The only teams with worse marks were the
New York Jets
, Detroit, Philadelphia and Kansas City, and they finished a combined 16-48. That the Cowboys finished 8-8 is something of a miracle.
Tony Romo
matched his 16-game high with 19 interceptions in 2012, with 13 coming in the first seven games of the season. The Cowboys lost 10 fumbles, led by Romo, who had three.
Dez Bryant
,
Felix Jones
and
DeMarco Murray
had two apiece. Murray's two fumbles came in Weeks 15 and 16 and helped lead to the loss to New Orleans.
On defense, the Cowboys continued a maddening trend of not creating turnovers. Fired coordinator Rob Ryan went so far as to change the name to takeovers, as if calling them something different would help.
The Cowboys had 16 takeaways, the fewest in a season in franchise history. Even the 1-15 team in 1989 had more with 17. Only three teams had fewer than the Cowboys: Indianapolis (15), Philadelphia (13) and Kansas City (13).
Brandon Carr
led the Cowboys with three interceptions.
Sean Lee
didn't play in the final 10 games and was tied for second with one pick. First-round pick
Morris Claiborne
had one pick and did not flash the ball skills he showed at LSU.
January, 9, 2013
1/09/13
1:00
PM ET
Our five-part series on what went right and what went wrong for the Cowboys continues with No. 3:
IRVING, Texas --
Jason Witten
's season started unlike any he had in his career and ended with him catching more passes in a season than any other tight end in NFL history.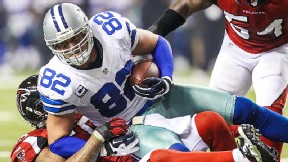 Daniel Shirey/US PresswireAfter suffering a lacerated spleen in the preseason opener, Jason Witten was on the field when the regular season began and proceeded to set an NFL single-season record for receptions by a tight end (110).
Along the way, he also became the Cowboys' all-time leader in receptions and was named to the Pro Bowl.
But Witten's season was nearly over before it could begin because of a lacerated spleen suffered in the preseason opener against Oakland. He returned sooner than anybody expected to play in the season opener against the Giants but caught just two passes for 10 yards.
He did not look like the same player through the first three weeks of the season, but then he caught 13 passes for 112 yards and a touchdown against Chicago. Three weeks later, he caught 18 passes for 167 yards against the
New York Giants
.
Against Atlanta on Nov. 4, he passed
Michael Irvin
on the franchise's reception list. He caught his 103rd pass of the season on Dec. 232 against New Orleans to surpass Tony Gonzalez's record for catches by a tight end in a season.
He finished the season with 110 catches for 1,039 and three touchdowns.
January, 8, 2013
1/08/13
11:00
AM ET
Our five-part series on what went right and what went wrong for the Cowboys continues with No. 4:
The Cowboys were a mess at the end of November.
But coach Jason Garrett had the team just where he wanted them. The Cowboys were 5-6 and heading into a dreaded December schedule with tough games at Cincinnati, Pittsburgh and a rematch with Washington.
The Cowboys had lost four of five games earlier in the season and it appeared their playoff dreams were bleak. A wild 38-33 win over Philadelphia was followed by tragedy struck.
Practice squad player
Jerry Brown
was killed in a car accident. Backup nose tackle
Josh Brent
was charged with intoxication manslaughter in connection with the death of his teammate, and the Cowboys were forced to move on.
The Cowboys upended the Bengals, 20-19, in one of the more emotional games in franchise history. A stunning overtime win over Pittsburgh the next week clinched a winning December and set the Cowboys up for a potential playoff berth with the
New York Giants
struggling to finish the season on top of the division.
But losses to New Orleans and the
Washington Redskins
in the regular-season finale gave the Cowboys a 3-2 finish for the season. It was in sharp contrast to 2011, when the Cowboys finished the 1-4 in December/January.
You could say the Cowboys' finish to the season went badly, especially the loss in Landover, Md.. But they kept their playoff dreams alive until the final day. It backed up Garrett's boast of taking things one day at a time. It was something the Cowboys needed to do, given the emotional state of the team after the Bengals win.
Garrett should be given credit for how he managed the Cowboys though the final weeks of the season. While the team didn't reach the postseason, he put them in the right place when it counted considering where they were in November.
January, 8, 2013
1/08/13
10:00
AM ET
Our five-part series on what went right and what went wrong for the Cowboys continues with No. 4:
The Cowboys' offensive line problems started in training camp, when center
Phil Costa
struggled with his snaps and then his health. He lasted just three snaps into the season opener and was replaced by
Ryan Cook
.
As the season progressed, the Cowboys used three centers and four lineups.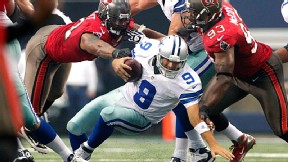 AP Photo/Tim SharpThe Cowboys offensive line struggled to protect Tony Romo this season as injuries took their toll. The Cowboys were among the NFL's worst in rushing, and they led the NFL with 27 false start/offside penalties.
In the first meeting with the
Washington Redskins
, the Cowboys missed left tackle
Tyron Smith
and Cook, and moved guard
Mackenzy Bernadeau
to center.
In the last four weeks of the regular season, right tackle
Doug Free
shared his starting spot with
Jermey Parnell
, and quarteback
Tony Romo
was moving around the pocket looking for time in the regular-season finale against the Redskins.
The Cowboys spent more than $30 million on two free-agent guards,
Nate Livings
and Bernadeau, and still had problems along the line.
Costa never finished the season, undergoing surgery to repair ligament damage to his ankle. Free's status with the team is in doubt because of his inconsistent play. Smith played uneven, though his future looks bright.
Penalties hurt this offensive line more than anything. The Cowboys led the NFL with 27 false start/offside penalties. Free led the league in total penalties for an offensive linemen with 14 and in false starts with eight.
Smith wasn't much better. He finished tied for second in the NFL with seven false starts.
The Cowboys tried to get younger along the offensive line this season but nearly benched two starters, Bernadeau and Free. The run game had its worst numbers during a 16-game season in franchise history with 1,265 yards.
There is hope in the future of guard
Ronald Leary
and
Kevin Kowalski
, and if Parnell takes over at right tackle full time in 2013 things could get better.
January, 7, 2013
1/07/13
12:30
PM ET
IRVING, Texas -- The Cowboys showed a remarkable ability to come back from double-digit deficits throughout the course of the season.
[+] Enlarge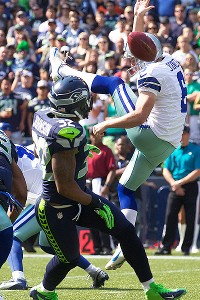 Stephen Brashear/Getty ImagesThe Cowboys' three disastrous opening drives in Week 2 at Seattle included a blocked punt, and Dallas found itself down 10-0 early on.
Unfortunately, they were mostly caused by their poor starts. Whatever Jason Garrett was selling before the game, the Cowboys were not buying at the beginning, especially early in the season.
In Week 2 at Seattle, the Cowboys fumbled the opening kickoff, allowed a blocked punt return for a touchdown and had an interception on their first three drives, which led to a 10-0 deficit and 27-7 loss.
In Week 4 against Chicago, the Cowboys found themselves down 24-10 thanks to interception returns for touchdowns by
Charles Tillman
and
Lance Briggs
.
In Week 8 against the
New York Giants
, they trailed 23-0 thanks in part to two interceptions, including a 28-yard pick-six by
Jason Pierre-Paul
.
On Thanksgiving, the Cowboys allowed 28 second-quarter points, falling behind by 25 at halftime against Washington.
For a team that had little margin for error, the poor starts were too much to overcome and played a big part in why the Cowboys finished 8-8 for the second straight year.
January, 7, 2013
1/07/13
12:00
PM ET
IRVING, Texas -- The Cowboys entered 2012 hoping
Bruce Carter
would be able to develop into a starter on the defense, but they didn't know he would.
[+] Enlarge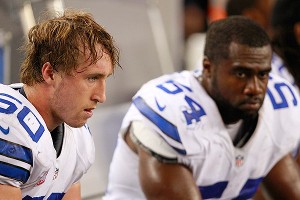 Ron Jenkins/Fort Worth Star-Telegram/MCT/Getty ImagesBruce Carter (right) was a suitable replacement for Sean Lee as the Cowboys' defensive signal caller, but he too would fall victim to injury.
How unsure were they? They signed veteran
Dan Connor
to a two-year, $7 million deal as insurance.
The Cowboys are no longer unsure, but there is worry about Carter's ability to stay healthy. They got him in the second round in 2011 because of a knee injury suffered at North Carolina, and he missed the final five games in 2012 because of a left elbow injury.
In between, however, Carter showed he has long-term ability if not Pro Bowl potential.
He finished with 80 tackles, good for third on the team, and his nine tackles for loss were a team high. He also had three quarterback pressures and three pass deflections.
The best part of Carter's season came after
Sean Lee
went down with a season-ending toe injury at Carolina on Oct. 21. Carter took over as the defensive signal-caller and played better even as he received more attention from opposing offenses.