Dallas Cowboys:

Adam Jones
May, 5, 2014
5/05/14
11:00
AM ET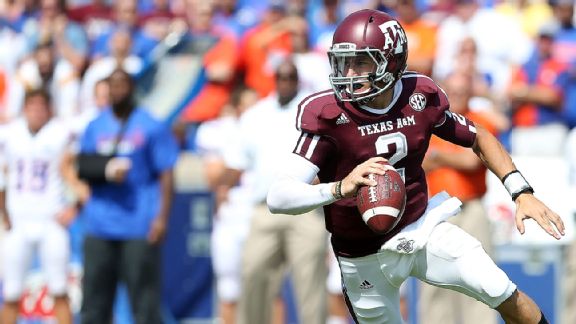 Ronald Martinez/Getty ImagesIs Tony Romo's back enough of a concern for the Dallas Cowboys that they'd take a flier on the media circus that would come with drafting quarterback Johnny Manziel?
IRVING, Texas --
Johnny Manziel
is the most polarizing player in this draft, so naturally people believe he will end up with the
Dallas Cowboys
, the most polarizing team in the NFL.
With the first round coming fast, ESPNDallas writers take a roundtable look at what a union of the Cowboys and Manziel would mean.

Todd Archer:
Let's make an huge assumption here that Manziel will be available at No. 16 when the Cowboys pick in the first round. I ask this question first: Should the Cowboys pick the Texas A&M quarterback? We'll get to "Would the Cowboys pick him?" in a second.
My take is, yes, the Cowboys should take him, and I'm not even thinking about the marketing opportunities and off-field stuff that Jerry Jones thinks about. From a football standpoint, I'd argue it would be a great value pick. There is no way the
Green Bay Packers
thought they would get
Aaron Rodgers
in 2005 late in the first round, but they took him even when
Brett Favre
was playing well.
Tony Romo
is 34 and coming off two back surgeries. I think he'll be fine and return to form, but what happens if he doesn't or he takes a big hit in Week 8 and is down for the year?
Jerry always tried to find a quarterback on the cheap after
Troy Aikman
retired and he never found a guy until Romo. And that was lucky. I think he'd be lucky again if Manziel were there at No. 16.
Calvin Watkins:
I don't believe the Cowboys should take him. No. 1, I don't believe he'll fall to No. 16 or even out of the top 10. If he does fall to No. 16, the Cowboys should either bypass him or trade down. This team has bigger holes to address such as secondary and defensive line before quarterback. There are quarterbacks later, such as
Aaron Murray
from Georgia, who can be taken in the second or third round. Yeah, I know Romo is coming off back surgery and he's 34 and all of that. It's a back injury and you never know about backs. However, getting Manziel at No. 16 isn't worth it to me. You can find a good quarterback to groom in the later rounds.
Tim MacMahon:
Heck, yes. If you can get a guy you feel is a franchise quarterback in the middle of the first round, you do it, especially when the fate of your franchise rests on a 34-year-old back that has been operated on twice in the past year. This isn't about trying to run Romo out of town. It would be a chance to extend the window of having a Pro Bowl-caliber quarterback another decade or so, an opportunity the Cowboys shouldn't pass up after navigating that rickety bridge from Aikman to Romo. It would be complicated for a couple of years because of Romo's massive contract and the potential chemistry issues that Roger Staubach mentioned, but it would be well worth it if Manziel can make plays in the NFL like he did in the SEC.
Jean-Jacques Taylor:
No. No. No. A thousand times no. This team has way too many holes to draft a quarterback in the first round to sit behind Romo for at least three years. That makes absolutely no sense. When Green Bay drafted Aaron Rodgers and let him sit, they were a contender. They could afford to do it. There's a good chance Jason Garrett gets fired at the end of next season if he's not in the playoffs. Do you think he wants to take a first-round pick and stash him for the next coach? Heck, no. This was the worst defense in the universe last year. Are they really going to miss out on a chance to help it to draft a quarterback who may or may not be a star?
Archer:
OK, let's move on to the second part of the question: Would the Cowboys take Manziel if he is there at No. 16?
I believe they would. We always talk about how the Cowboys should draft a quarterback every year, so now when they could do it, we're going to say, "No, not that guy?" I don't think the next Cowboys quarterback will be developed by this team. In other words, a middle-round pick who sits for a few years and takes over. Almost all of the top quarterbacks come from the first or second round. The Cowboys would have Manziel ready to go without the burden of having to carry the franchise early on. He is skilled. He has ability. And he is a draw. I do think it would be incumbent on the coaches to manage this thing the right way because the second Romo throws a poor pass, fans will be calling for Manziel. You can't operate that way.
Watkins:
Say the Cowboys do take him, which I doubt, can you imagine if Romo has a bad game? He has been known to have them from time to time. Garrett would be under pressure to send Manziel into the game when he's not ready. Then if he does use Manziel, you've got a media and fan circus. The Cowboys have endured their own type of drama from Terrell Owens, Pacman Jones, Romo's own issues, Jerry Jones and how he runs the franchise among other things, but a quarterback drama isn't fun for anybody. Having Manziel around isn't fun. But if Jerry drafted him he wouldn't care, it would be about the business of marketing and not the business of football.
MacMahon:
Well, that might depend on who gets the last word in with GM Jerry. I can't imagine Garrett, a head coach fighting to keep his job as he enters the last season of his contract, would be thrilled with the idea of using a first-round pick on a guy who might be holding a clipboard and still drawing a media horde as a rookie. But Stephen Jones seems just as enamored with Johnny Football as his father is. I don't think Jerry could help himself if Manziel were available when the Cowboys are on the clock. A strong football argument can be made for Manziel as a fit, and it'd be a home run for the marketing department. And we all know the Cowboys' GM cares about marketing almost as much as he does about football.
Taylor:
Jerry loves collecting baubles. We know this.
Dez Bryant
was a bauble. So was Terrell Owens. And Rocket Ismail. He loves any marketing aspect that added more cash to the family treasure trove. I can absolutely see Jerry using the force of his personality to persuade Garrett and vice president Stephen Jones the right move to make is adding Johnny Football to the roster, even though he's going to sit for multiple seasons and wouldn't make an impact on the team unless Romo was hurt. Hey, at least the preseason games would be sold out.
Archer:
Let's be honest, he won't be there at No. 16 and I think we all believe it would cost too much to trade up to get him, so who takes Manziel and why is he a better fit there than with the Cowboys?
I'm going with Jacksonville. They need a quarterback and they need a draw. It's probably not the most sound football decision to think of it like that, but the Jaguars have no juice. Manziel would give them some juice. And the Cowboys will see him at Wembley in November. Perfect.
Watkins:
It's interesting, but when I read Ourlads' mock draft, it didn't have Manziel going until No. 26 to Cleveland. But when I look at the top 10, I can see six teams taking him. I think Cleveland takes him at No. 4, but you have to wonder about the weather in the AFC North. Manziel hasn't played in that on a regular basis in college. Can he produce in cold weather in Pittsburgh and Baltimore in November and December? Oakland seems logical as well at No. 5.
Matt Schaub
should start in 2014 and Manziel would get his chance the following year. It's just no easy place for him to go. Houston, I don't believe, thinks Manziel is better than the two defensive players. So, I guess to answer this question, I think Cleveland takes him at No. 4.
MacMahon:
I think the Browns take him at No. 4. The Browns have been searching for a franchise quarterback since cutting
Bernie Kosar
, and drafting Manziel would fire up a rabid fan base desperately searching for a reason to be optimistic. Strange as it sounds, I also see Cleveland as a team that would give Manziel a chance to succeed early in his NFL career.
Josh Gordon
just led the NFL in receiving yards as a 22-year-old despite dealing with a QB rotation. Tight end
Jordan Cameron
is coming off a Pro Bowl season as a 25-year-old. The Browns have two Pro Bowl offensive linemen -- left tackle
Joe Thomas
and center
Alex Mack
-- who are in their prime. And Cleveland addressed its need for a running back by signing
Ben Tate
. Add an electrifying quarterback, and the Browns might actually have one of the NFL's most explosive offenses.
Taylor:
On the surface, Jacksonville should be really intrigued by Johnny Football because they need a quarterback and they need someone to put butts in seats. They're going to be bad again, so they need a playmaker on offense. That said, coach Gus Bradley is a defense-minded dude, so he'll probably go defense and take Buffalo linebacker
Khalil Mack
. That leaves Johnny Football to Cleveland. The Browns have a really good, young defense. They have a young star in receiver Josh Gordon. What they need is a triggerman. Since 2002, the Browns have had 10 different players lead them in passing, which is not a positive. If he's the star some project, Johnny Football will turn that franchise around and he'll own the city.
January, 4, 2014
1/04/14
10:00
AM ET
IRVING, Texas -- The
Dallas Cowboys
did not make the playoffs, but they could have as many as 11 former players taking part in the postseason this weekend.
Kansas City Chiefs
Anthony Fasano
caught 23 passes for 200 yards and three touchdowns in nine games for the Chiefs. He was the first of three second-round picks the Cowboys have used on tight ends since 2006. The lack of creativity at times with "12 personnel" has hurt him,
Martellus Bennett
and
Gavin Escobar
.
Indianapolis Colts
Running back
Tashard Choice
had 11 carries for 44 yards in three games for the Colts after he was cut by the
Buffalo Bills
. He had some moments with the Cowboys but could not get in the running back rotation with
Marion Barber
and/or
Felix Jones
.
Defensive tackle
Jeris Pendleton
was signed in June and released by the Cowboys on Aug. 26.
Erik Walden
was a sixth-round pick in 2008, just like Choice, but he never showed the pass-rush ability the Cowboys hoped for. He won a Super Bowl with the
Green Bay Packers
and has 45 tackles and three sacks in 15 games for the Colts.
New Orleans Saints
Shayne Graham
was with the Cowboys in training camp in 2011 when they had five kickers on the roster at one point. At one point it looked like the job was his, but the Cowboys went with undrafted rookie
Dan Bailey
, who has been one of their best players the past three seasons. Graham was a late-season addition to the Saints' roster.
Kenyon Coleman
is on injured reserve and
Victor Butler
is on the reserve/physically unable to perform list.
Philadelphia Eagles
If there was a player to make the all-airport team it would be
Clifton Geathers
. He had the look of the prototype defensive end in a 3-4 but he just didn't make enough plays. He had 26 tackles in 16 games for the Eagles this season with one in last week's win against the Cowboys.
Cincinnati Bengals
Cornerback
Adam Jones
had an eventful one season with the Cowboys in 2008. He has found a home in Cincinnati. He has 56 tackles and three interceptions, returning one for a touchdown, in 16 games.
Terence Newman
had a second straight solid season with the Bengals but missed the final three games with a knee injury. He should play Saturday against the
San Diego Chargers
. In 13 games he had 52 tackles, two interceptions and 14 pass deflections.
Who is
Kevin Brock
? A tight end. He did a short stint in training camp with the Cowboys in 2010.
Dennis Roland
was an undrafted offensive tackle with the Cowboys in 2006. He has had a decent career, mostly with the Bengals and is a backup now.
San Diego Chargers
The Cowboys traded
Sean Lissemore
to the Chargers on Sept. 1 for a seventh-round pick in 2015. Given the injuries they had on the line, they would have been better served to keep Lissemore, who might not have been the best fit in a 4-3. In 15 games (two starts), Lissemore had 24 tackles and two sacks for the Chargers.
Tight end
John Phillips
was placed on injured reserve with a knee injury. He had four catches in 15 games.
The
San Francisco 49ers
and Green Bay Packers do not have any former Cowboys on their rosters.
December, 11, 2012
12/11/12
10:30
AM ET
IRVING, Texas – There are a lot of things to wonder about as the Cowboys prepare for Pittsburgh on Sunday, but we'll stick with our five.
Away we go:
** I wonder if those who believe Jason Garrett is too robotic and does not show enough emotion to be the leader of the Cowboys have changed their minds. Too often the public face a coach or player puts on is seen as the only face of the coach or a player. The supposition goes that if Garrett is that boring in front of the media, then he is that boring in front of the players. It's just not true. Before this tragedy, players have spoken about Garrett's stirring speeches to lead off a practice week or before a game as edge-of-your-seat amazing. In training camp, Garrett was more relaxed and forthcoming publicly. When the season started, he reverted back to his day to day mantras. His job is not to be glib with the media. It's to win football games and lead players. Would he receive more public benefit if he showed more of the Garrett we've seen in the last three days? Absolutely. But he's not in it to win public relations' points. The leadership Garrett has shown since the death of
Jerry Brown
has revealed just what type of person he is, more than a coach. He cares about his players more than just what they can do on the field. He wants them to be successful in life, too.

** I wonder why it took until Week 14 of the season for the Cowboys to start this right tackle rotation with
Doug Free
and
Jermey Parnell
. Well, not really. Until the Thanksgiving game against Washington, the Cowboys didn't know what they had in Parnell. They still don't have concrete answers, but Parnell played well enough at left tackle against the Redskins to warrant more consideration. Free has struggled for most of the season, but coaches will tend to lean to the devil they know than to the devil they don't. Parnell played sparingly in three tight-end sets and truthfully did not do that well early in the season. He didn't earn more playing time. But with
Tyron Smith
unable to play against the Redskins, the Cowboys had no choice. Parnell was OK against Cincinnati. Free was better than he was against Philadelphia. The Cowboys will continue the rotation, but they took too long to get to it.
** I wonder what's in the water near where
Jason Witten
and
Gerald Sensabaugh
grew up in Tennessee. Seriously. There are not too tougher players on the team. They play through injuries. They do not complain. They show up on Sundays, as Bill Parcells would say. The common thread: they love football. We all know about Witten's pain tolerance and ability to play through injuries. In back to back weeks he has taken big shots down the seam and came up a little gimpy but didn't miss a snap. On Sunday, he took a shot to the thigh. Sensabaugh is the same way. He just doesn't miss games. The latest sign for him was a hip injury that slowed him against the Bengals. It didn't slow him enough to break up a touchdown pass to
Jermaine Gresham
. He was slow to get up but stayed in the game. And he has this curious habit: he's always the first defender to sprint on the field after change of possessions.
** I wonder how Rob Ryan can preach to his players to have poise when things get tough when he can't keep his emotions in check. The penalty Ryan got on Sunday for unsportsmanlike conduct was embarrassing and unnecessary. So what if Bengals tackle
Andre Smith
was chirping at the bench after getting away with a holding call? Ryan's actions were childish. You just can't do those things. It got so discombobulated on the sideline that the defense became unglued. Two plays later they had a 12-men on the field penalty. That came after they had to call a timeout for having only 10 guys on the field in the first half. Ryan has said he wants to be a head coach one day, but that penalty is not going to help his resume.
** The Cowboys say they are not going to look at other punters despite Brian Moorman's poor day in Cincinnati, and I wonder why. What would it hurt to check out some guys? Overall, Moorman has done a good job since signing with the team as Chris Jones' replacement. But in his last six punts he has had one returned 98 yards for a score when he should have kicked it out of bounds late against Philadelphia, and had punts of 23, 39 (which was tipped), 27 and 27 yards against Cincinnati. Could he have been that freaked out by the possibility of
Adam Jones
returning one that he was trying to be too perfect? Maybe, but with a hurting defense field position in the final three games takes on a greater importance. I wonder if the Cowboys are taking a chance here.
December, 7, 2012
12/07/12
10:44
AM ET
IRVING, Texas -- Cincinnati cornerback
Terence Newman
isn't the only player facing his former team Sunday. Former Cowboys cornerback
Adam Jones
just isn't getting that much fanfare.
"I won't say personal ... strictly business," Jones said. "The way I left Dallas was a business decision. It wasn't a personal decision. I'll do whatever I can do to win this game. I mean whatever. I truly want to walk away with a W at the end of the game. Guys know how bad we want them."
Jones played one season with the Cowboys, and 2008 was a wild ride.
He was suspended during the season for getting into a fight with a bodyguard at The Joule, prompting the NFL to suspend Jones. After he returned, a nagging neck injury forced him off the field.
Jones wound up playing nine games, finishing without an interception. He had seven pass breakups and had a forced fumble and recovery.
After returning four punts for touchdowns in two seasons with the
Tennessee Titans
, Jones didn't return any punts for scores with the Cowboys and finished with 95 yards on 21 attempts.
Jones still has a fondness for Cowboys owner/general manager Jerry Jones, who took a risk on signing Pacman Jones.
The experiment was a failed one.
"I'm not getting into all that," Adam Jones said. "I'm happy that the Bengals did me right. A little time, confidence and the opportunity. They've been patient with me through the ups and downs. Now that I get the time, I'm getting a lot of confidence. Just keep working and try to be the best, week in and out. Keep my nose clean and working hard. I'll be one of the guys out there with no seat belt. I probably won't sleep the night before.
"I don't have any friends on Dallas ... well just one -- No. 21 (
Mike Jenkins
). That's the only guy I can say I'm friends with. The rest of them, I don't care about. I just want to win. Whatever we need to do to win the game, we must do it. I don't have any bad blood over there, but I don't care about them."
It seemed as if the Cowboys could never reach Jones. The stage was too big for him at that time because he was still dealing with his off-the-field issues. Since he's been with the Bengals, he's been relatively quiet off the field.
In three seasons with the Bengals, Jones has one interception and 16 pass breakups. Jones has also returned a punt for a touchdown.
To hear Jones speak, one would think he believes the Cowboys did him wrong compared to Tennessee, who traded him to Dallas.
"That situation was different," Jones said. "In Dallas, a lot of (expletive) is fairy tale. I should say, 'It's not real life.' They don't tell you how it really is. I have nothing against Tennessee. My coach down there (Jeff Fisher) is a great friend and father-figure to me. I have no hard feelings against none of them. But down deep, this is the one you want."
December, 5, 2012
12/05/12
12:55
PM ET
IRVING, Texas – Since leaving Dallas,
Adam Jones
has found a home in Cincinnati. Yes, Adam Jones.
Jones, who had a tumultuous season with the Cowboys in 2008, has been a valuable member of the defense and a dangerous return man, averaging 15.3 yards per punt return with an 81-yard touchdown.
On a conference call with local media on Wednesday, Bengals coach Marvin Lewis was asked how Pacman was doing.
"Adam? Pacman got left in Dallas or wherever," Lewis said. "Adam's doing fine. He's really done well and I think just all the athleticism and all the ability he has it's been great to see it come to the forefront. He's obviously turned his life around in a lot of ways and it's fun to see him as a dad and doing the things he's doing here. He's really helped a lot of the young players,
Dre Kirkpatrick
, who we drafted No.1 this year … Not many people get to live through what he's lived through and still be standing to play in the National Football League. So his story is one that will be written for a while of a guy who football was that important to him that he realized that a lot of the things going on his life were not benefitting him to play football. They were taking football away from him and you could tell how important football was to him."
June, 26, 2012
6/26/12
9:41
AM ET
We're not sure about this headline on our blog this morning, but while I was on vacation I noticed Pacman Jones, the former Cowboys cornerback,
was scheduled to speak with the incoming NFL rookie class
at the yearly rookie symposium.
NFC rookies, including Cowboys first-round pick Morris Claiborne, arrived Sunday.
To see Jones, who plays for the Cincinnati Bengals, speak is a testament to how far he's come in his life.
"I'm at a point in my life where I'm not doing the same things that I used to," Jones told The Cincinnati Enquirer recently. "Now that I'm grown up, you are accountable for certain things. Everything you do reflects on you, and the consequences are yours."
To be honest, Jones was crazy.
He walked around as if he didn't have a care in the world and challenged anybody who held him accountable for things. During his brief time with the Cowboys, Jones was suspended for getting into a fight with his body guard, and his overall antics in the locker room wore down some of his teammates.
I remember speaking to Jones on the phone the night he got into a fight and he denied it ever happened. I also remember then-coach Wade Phillips telling reporters we were making stuff up regarding the fight. There was also Jerry Jones saying the fight between Jones and the bodyguard was just some horseplay, or "jiving" that caused minimal damage.
Of course, that was a long time ago, but Jones' actions from his past, including a terrible incident in 2007 at a Las Vegas strip club that left a bodyguard paralyzed,
cost him $11 million in a lawsuit
.
Jones' lawyers say he doesn't have $11 million and we believe them because of his excess spending habits over the years. But it seems Jones has matured some, enough at least to have him speak to NFL rookies.
What better person to talk about the issues NFL players, especially rookies, go through, than Jones?
"I want to tell them what I went through and hopefully not make the same mistakes that I made. Please don't do what I did," Jones said. "Keep a group of people with you. There are a lot of guys that come from the same background that I do who run into a whole bunch of money. They don't respect the money. If they don't, they will be in the same situation I was."
October, 20, 2011
10/20/11
12:05
PM ET
IRVING -- The Cowboys have lost their last two games and now take on a 0-5
St. Louis Rams
team who might not have their quarterback
Sam Bradford
(ankle) and will need to rely on
A.J. Feeley
on Sunday afternoon.
Cowboys outside linebacker
DeMarcus Ware
said despite this losing skid for the Rams, they're a dangerous team.
"Those teams are probably the most hungriest teams that you play," Ware said. "They feel like they don't have anything to lose but have everything to prove to themselves and their organization."
The Cowboys were in a similar situation against the Rams in the 2008 season. The Cowboys faced a Rams team without their starting quarterback
Tony Romo
, but these comments from former cornerback Pacman Jones might have summed up the feeling in the locker room when he said if he's concerned about that upcoming game, "it's the Rams, dude."
Well, the Rams, then 1-4, beat the Cowboys at home, 34-14.
Ware's team is well aware of that game and while there are some different players on the roster now, the Cowboys have endured their share of losing streaks. In the last five seasons, the longest losing streak the Cowboys have endured was five games last season. There have been five two-game losing streaks and this one doesn't appear to have placed the Cowboys in a desperate mode.
"Desperate for what," Ware asks. "You're motivated to get some wins. You can't be desperate with a 16-game season. We lost these three games within [11] points. What is it to be desperate about when you have a great team and you have everything in place? But you're just not closing and you just have to figure out how to close it to get that bad taste out of your mouth."
August, 6, 2010
8/06/10
8:35
AM ET
SAN ANTONIO -- Before leaving training camp for Canton, Ohio, Cowboys owner and general manager Jerry Jones was asked about the upcoming game against the Bengals which features a few ex-Cowboys.
Terrell Owens
,
Roy L. Williams
,
Adam Jones
and
Tank Johnson
are on the squad. Of course, Jones had the most problems with Owens, who tried to cause a riot in the Cowboys locker room, and Jones, who got into a scrum with his team-issued body guard, registering a suspension from the league.
Jones said he wouldn't second-guess himself about signing Owens, Jones and Johnson and understands why Bengals president
Mike Brown
would do it.
"To me it shows the positive qualities that they could bring to a team and I respect Mike Brown," Jones said. "With that comes the iffiness. Are these guys going to contribute to the team concept? I've done it and I will do it again?
March, 24, 2010
3/24/10
12:25
PM ET
ORLANDO -- Let's be honest:
Adam Jones
was a train wreck when he played for the
Dallas Cowboys
.
He got suspended for fighting his bodyguard, wasn't good on punt returns and was inconsistent in pass coverage. Somehow, Jones was tied with
Terence Newman
for the team lead with 13 pass breakups in 2008.
Jones missed football in 2009, probably a good thing. But now
several teams have expressed interest
in the cornerback, including the
Detroit Lions
.
Cowboys coach Wade Phillips thought if Jones got his act together away from the field, he had a chance.
"He played pretty good for us when he played," Phillips said. "His problems were more off the field than on the field. I think the important thing with him is he got his life straighten out. ... As long as he stays OK [off the field], he will be a good football player."
We talked to one of Jones' bodyguards -- not the one who punched him -- and he said the cornerback looked pretty good in a workout in New Orleans last week. There were even rumors that Jones ran a 4.4 40-yard dash.