Dallas Cowboys:

Ahmad Brooks
January, 1, 2013
1/01/13
10:57
AM ET
IRVING, Texas -- With the Cowboys' season over, this will be the final weekly version of Five Wonders, but we'll continue an occasional series throughout the offseason.
These Wonders are about the future:
** I wonder how much turnover this roster will see. Of the 16 unrestricted free agents, I don't know if there is a lock to return.
Anthony Spencer
is not a lock, though the team wants him back badly. Then there will be salary-cap decisions that could be made on guys like
Doug Free
,
Jay Ratliff
,
Marcus Spears
,
Dan Connor
,
Lawrence Vickers
and possibly even
Miles Austin
and/or
Orlando Scandrick
. That's 23 guys right there. You figure on a lot of turnover every year, but this offseason figures to involve more regular contributors than just down-the-line guys. The Austin case could be interesting. He is scheduled to make $6.7 million in base and count $8.3 against the cap. I'm not advocating getting rid of him by any stretch, but there is frustration over at Valley Ranch. Austin finished with 66 catches for 943 yards and six touchdowns, but he was slowed again by hamstring injuries and was knocked out of both Washington games because of injuries. While it would not be cap prohibitive to cut Austin, the Cowboys do not have a receiver ready to replace him, and it would be hard to find a guy who can play outside and inside the way he does. Like everybody else on the roster, 2013 will be a key year for Austin.
** I wonder how the Cowboys can pay Spencer. As noted before the Cowboys wil,l be in a difficult salary-cap situation and will have to make a lot of decision related to money. I'm not sure they will have enough to keep Spencer before he hits the open market. And I would figure a team will be ready to give him more than what the Cowboys can afford. Spencer is coming off a career-high 11-sack season and he is one of the best run-stopping linebackers in the NFL. I do wonder if he can be a star for a defense, the way
DeMarcus Ware
is a star, or is more of a supporting actor. San Francisco's
Ahmad Brooks
signed a six-year deal worth a max of $44.5 million last year ($37.5 million actual) with $17.5 million guaranteed. The Cowboys paid Spencer $8.8 million this season on the franchise tag. It would be $10.6 million if they tag him again and that's a lot to budget for in a cap crunch. Signing him to deal with an average of $8 million-plus would be good, but another team flush in space in need of a strong-side outside linebacker who never comes off the field will probably pay more.
** I wonder if there is a chance
Felix Jones
returns in 2013. Stop laughing and hear me out. Jones is what he is: a backup. The Cowboys will need a backup running back in 2013 and one with the ability to start if needed, especially given the health issues
DeMarco Murray
has had his first two years. Is it worth it to keep Jones for two more years at low money? I'm not talking anything substantial at all. Jones is not going to get a chance to be a starter anywhere else on the free-agent market. He hasn't shown he is that guy. But he's not a bad option as a backup, and, yes, I realize health is an issue for him too. He's proven to be tough, playing 2011 with a shoulder injury and this season with two bad knees. The Cowboys like
Lance Dunbar
but, to me, he's more of a niche back. We can say the Cowboys can draft a runner late and find a guy, but there are so many needs that keeping Jones on a low-money, short-term deal might make more sense. OK, continue laughing.
** I just talked about player turnover. I wonder about coaching turnover. Jason Garrett would not get into whether the coaching staff would return in 2013, calling it premature. It makes you wonder if changes are coming. Is Rob Ryan safe? Garrett admired how Ryan worked through so many injuries in 2012 and kept things competitive, but he stopped short of a vote of confidence. Even after the loss to the Redskins, Ryan made it sound as if he might not be back when asked if he would like to coach this defense at full strength going forward. Let's move on to special teams coach Joe DeCamillis. Last year, Oakland was denied permission to speak with him about a move to the Raiders, but that special teams' job has opened again. DeCamillis and Oakland coach Dennis Allen are great friends. There could be a few new head coaches who would like to speak to DeCamillis. The special teams' units had some poor moments with a blocked punt for a touchdown at Seattle and a kickoff return for a score at Baltimore. The kick return game didn't provide much of a lift, but
Dwayne Harris
proved to be a tremendous punt returner and
Dan Bailey
was Dan Bailey. On offense, John Garrett, Skip Peete,
Wade Wilson
and Wes Phillips have been around since 2007. Just wonder if there has to be some moves to break up the band, so to speak.
** The last Wonder will focus on the draft. I wonder if the Cowboys will help the offensive and defensive lines come April. They need help. They also need to look at how they evaluate players in those spots, especially on the offensive line where they have missed on just about everybody not named
Tyron Smith
. Since Garrett has taken over they have done a better job of taking the "right kind of guys," and have put together a growing young nucleus. They need interior line help on both sides of the ball. If Spencer leaves, then they need an outside linebacker. They will need cornerback help, too, with
Mike Jenkins
unlikely to return. If you want to add a safety to the list, OK, but to me, that's not a top-end priority. They can use a tight end to pair with
Jason Witten
, even though they like
James Hanna
's development. They can use wide receivers too. A running back, too. I haven't mentioned a quarterback of the future yet, and I'm not sure they go that route with so many more pressing needs to fill. Because of the poor drafts in the Wade Phillips' Era, the Cowboys do not have much depth (think the 2009 draft). Because of the upcoming cap limitations the Cowboys can't miss on their picks.
March, 1, 2012
3/01/12
8:15
AM ET
The Cowboys have tentative plans to speak with the agent for free agent outside linebacker
Anthony Spencer
by the end of the week about a possible new contract or to inform him his client will get a franchise tag.
The potential discussions between Spencer's agent, Roosevelt Barnes, and the team would be the second in the last week. Barnes said he met with Cowboys officials at the NFL scouting combine in Indianapolis last week and was open to more discussions.
If the Cowboys can't come to terms with a new deal, they have until March 5 to franchise Spencer. The franchise tag would cost $8.8 million.
It was an interesting week for contracts involving linebackers.
San Francisco 49ers
outside linebacker
Ahmad Brooks
and
Cleveland Browns
inside linebacker
D'Qwell Jackson
signed long-term deals this week that are examples for what Spencer could be seeking.
Brooks signed a six-year contract extension worth $44.5 million with $17.5 million guaranteed.
Jackson inked a five-year contract worth $42.5 million with $19 million in guarantees.
Spencer had hinted that the 2011 regular-season finale against the
New York Giants
might end his time with the Cowboys.
"It could be," Spencer said in late December. "It's a fact. I really don't think about it. I play to win and try to get through the season and get to where we want to be at the beginning of the season to now. It hasn't changed."
The team didn't approach Barnes about a new contract during the season, instead waiting for the free agency period to talk about any future deals.
Spencer has said he wants to remain with the Cowboys.
"Yeah, I've been here. I like it here," Spencer said. "I don't want to go nowhere else, but I got to do what's best for me and my family.
February, 28, 2012
2/28/12
4:31
PM ET
IRVING, Texas -- Much has been made about the Cowboys thinking about the possibility of using the franchise tag on outside linebacker
Anthony Spencer
.
At $8.8 million, some (many?) believe that is too high of a price for a player who has never had more than six sacks in a season.
Now we point to Exhibit A why it might be the best wisest move the Cowboys can make: San Francisco's
Ahmad Brooks
signed a six-year deal with San Francisco
worth $7 million a year.
Brooks has started 16 games in a season just once in his career. Spencer has done it in two of the last three seasons. He started 15 of 16 games in 2011.
Using the same press box stats for fairness to compare the players, Spencer has 266 tackles, 21.5 sacks, one interception, 10 pass deflections and 10 forced fumbles in 53 starts. Brooks has 139 tackles, 20 sacks, one interception, nine pass deflections and seven forced fumbles in 24 starts.
There is no doubt Spencer is the best outside linebacker in free agency, especially if you consider
Mario Williams
a defensive end.
Earlier in the morning I did more than wonder
whether Spencer would get the franchise tag. Now I'd almost guarantee Spencer will get the franchise tag.
September, 16, 2011
9/16/11
8:00
AM ET
By
Bryan Broaddus
| ESPNDallas.com
Something I learned a long time ago when I was starting out as a young scout with the Packers was that when you lost a game in the NFL, there is no one in the league that felt sorry for you. You study the tape, make the corrections, and you move on to the next week.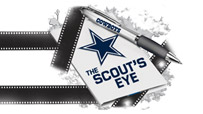 As hard as that loss against the Jets was to take, this team must move on. What awaits the Cowboys in Week 2 is a trip to San Francisco against a 49ers team that smothered the Seahawks on defense and then made them pay for their inability to cover on the punt and kickoff return with reserve wide receiver
Ted Ginn
returning one of each for a touchdown to put the game away.
The 49ers have some nice talent in some key spots, but I would not say that quarterback is one of those spots.
Alex Smith
was selected with the first overall pick in the 2005 draft, the same draft with
Aaron Rodgers
who went some 22 picks later. Rodgers has thrown for over 8,000 yards his first two years as a starter and has a Super Bowl MVP to his credit, while Smith is working with his third head coach in the last seven years.
Breaking down Smith, he stands tall in the pocket, keeping his feet active. When he feels pressure, he will slide to safety. If receivers are covered down the field, he will check the ball down to the backs underneath.
Smith did a nice job in the Seattle game of keeping his eyes down the field but running with the ball to convert third downs or put his offense in a positive position. The Cowboys have to be careful with Smith if Rob Ryan plays man coverage chasing receivers all over the field and Smith takes off running to try to make a play.
The ball comes off his hand with some velocity with an overhand throwing motion. Smith will try to look off receivers then come back the other way with the ball.
Head coach
Jim Harbaugh
is the play caller, so he really tries to run the offense to give Smith the best opportunity to make an easy throw in the passing game. Harbaugh will move the pocket with waggles or boots giving Smith high/low reads with receivers.
In the Seattle game, Harbaugh mixed his formations throughout, lining up in one look then shifting pre-snap to try to create confusion. Harbaugh went unbalanced several plays, then ran the ball weak side with
Frank Gore
, which was a different wrinkle.
Along with tight end
Vernon Davis
, Gore is the 49ers' best offensive player. Gore doesn't have explosive speed, but what he does have is the ability to keep coming at you. He is a physical back.
There were times where Harbaugh was able to start Gore one way then bring him back with misdirection with a pulling tackle and a backside tight end. Gore has the vision to see the creases and holes. Again, he just isn't a burner.
The Seahawks had some success against Gore making him stop and have to restart. Gore is one of those backs that builds up speed as he runs. The Seahawks were able to get some defenders into the backfield, causing him problems getting going again.
This will be the second week that the Cowboys defense will have to face an athletic tight end. Last week, it was the Jets'
Dustin Keller
. This week, it's Davis, who has freakish speed down the field. If I am Ryan, I do not allow him free access in the route.
Davis is similar to
Jason Witten
in that he is too athletic for a linebacker to cover and too big for a defensive back to deal with. Unlike Witten, Davis wants nothing to do with the run blocking side of the game. Harbaugh will line Davis up all over the formation and Smith looks for him in route first.
Last week against the Jets, Ryan took
DeMarcus Ware
and moved him to the left side to rush against right tackle
Wayne Hunter
. This week, look for Ryan to potentially have the same plan moving Ware over 49ers right tackle
Anthony Davis
.
Was not impressed at all with Davis' work. He is heavier than Hunter and his feet are slower. Ware and the other rushers should be able to attack Davis to the outside then work some underneath moves as well. Look for Harbaugh to try to use that misdirection I mentioned earlier to slow Ware down in his rush.
Last week, the Cowboys did a nice job in their front seven of coordinating their linemen with linebackers and creating pressure on
Mark Sanchez
. Smith will likely face the same pressure from Ryan with multiple looks and pressure. Again, Harbaugh will try and give Smith easy throws and he will also try and move the pocket to keep the pressure off his quarterback as well.
On the defensive side of the ball, the 49ers have a nice front seven. It's a group of players that are high effort and motor types. Ends
Justin Smith
and
Ray McDonald
are relentless rushers and active against the run.
The Seahawks had trouble blocking this front because they were unable to sustain blocks. If you don't keep a hat on Smith, McDonald,
Ahmad Brooks
and
Isaac Sopoaga
, you are going to struggle to move the ball.
The inside linebackers on the 49ers are outstanding.
Patrick Willis
and Navorro Bowman are always around the football.
When the Cowboys tried to run the ball last week, they had to deal with the Jets and their run-through inside linebackers. Run-through linebackers read the play quickly, see the gaps and beat the blockers to the spot. When you face run-through linebackers, it throws off your running game because they get into the backfield and it messes with the timing of the play.
These 49ers linebackers are more active than what the Cowboys faced last week, so the zone blocking scheme of the Cowboys will be tested.
When the 49ers blitz, they like to use their inside linebackers in games with the defensive line. In the nickel, Smith and McDonald will move inside and Brooks moves from outside linebacker to rush end. In this look is where you see those blitzes.
The Cowboys will also need to be aware that the 49ers can get good pressure with just a four-man rush.
In the secondary,
Tarell Brown
and
Carlos Rogers
are the corners and
Dashon Goldson
and
Donte Whitner
are the safeties. I really liked the play of Brown more than that of Rogers. Brown is quick footed and also did a nice job of fighting for the ball in the air. Brown is a bit of a gambler and is not afraid to jump routes.
Rogers has faced the Cowboys many times in his career as a former member of the Redskins. Rogers will play in the slot when the 49ers go to the nickel. If the Cowboys can hold up against the front seven pressure of the 49ers, then they will have a chance to make some plays against this secondary that is good but not great.