Dallas Cowboys:

Alabama Crimson Tide
April, 7, 2013
4/07/13
11:30
PM ET
By
Calvin Watkins
| ESPNDallas.com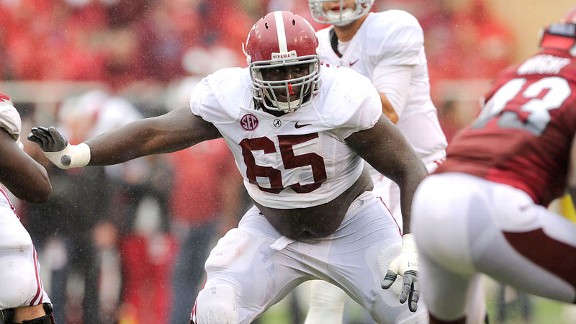 AP Photo/John WilliamsonChance Warmack plays with an edge and is considered one of the top guards in the draft.
To help preview who might be on the Dallas Cowboys' board for the NFL draft, ESPNDallas.com has identified five players at five key positions that we'd like to learn more about. Along those lines, we've asked former Cowboys assistant coach Glenn "Stretch" Smith – the official scout of Galloway & Company – to study tape of each player and give his thoughts.
Position:
Guard
Height/weight:
6-foot-2, 317 pounds
School:
Alabama
Why he's on the radar:
The Cowboys signed
Nate Livings
and
Mackenzy Bernadeau
in free agency last year but still want to upgrade the interior of the offensive line. Warmack is considered one of the top guards in the draft and probably will be off the board when its time for the Cowboys to select at No. 18. Warmack doesn't have the position flexibility the Cowboys normally want, but he's a solid player who has the potential to be a starter for the next 10 seasons.
Projection:
First round
Stretch Truths:
Played all four years at Alabama. … Has strong punch and power to press a defender in pass protection. … Good lower body to anchor, and balance that matches. … Has excellent feet to get to second-level blocks and run his feet through contact. … Is comfortable with a tackle over his nose. … I only question his true foot speed after running 40 in 5.49 seconds. … He's the top guard in the draft and has a real nasty side. … Overall opinion: Take him if he's there with the 18th pick.
March, 12, 2013
3/12/13
11:30
AM ET
By
Calvin Watkins
| ESPNDallas.com
ESPN's NFL Draft expert Mel Kiper Jr. has the Cowboys taking Alabama guard Chance Warmack at No. 18 in his
latest mock draft (Insider).
PODCAST
John Clayton joins Fitzsimmons & Durrett to discuss the offseason happenings around the NFL and what they mean for the Dallas Cowboys.

Listen

It's a logical selection, given the Cowboys' inconsistency along the interior of the offensive line last season.
Cowboys director of pro and college scouting Tom Ciskowski is scheduled to attend Alabama's pro day Wednesday. No word on whether coach Jason Garrett will show up. He attended last year's pro day in Alabama and has a close relationship with Crimson Tide coach Nick Saban. Now, just because Garrett watches a pro day doesn't mean the Cowboys will draft a player from that particular school.
Garrett doesn't attend a lot of pro days. However, he did attend USC's in 2011 with former offensive line coach Hudson Houck. The Cowboys selected tackle
Tyron Smith
in the first round that year.
The Cowboys' offensive line is an area of concern this offseason. While the team believes it has a solid left tackle in Smith, the other four positions have issues.
Guards
Nate Livings
and
Mackenzy Bernadeau
were signed as free agents last year and had an uneven first season. Centers
Phil Costa
and
Ryan Cook
will return, but injuries limited Costa to just three games in 2012.
Right tackle
Doug Free
shared playing time in the last month of the season with
Jermey Parnell
.
According to ESPN's Stats and Information, quarterback
Tony Romo
threw an NFL-high eight interceptions when under duress last season. That can be attributed to the receivers, Romo holding the ball too long and the offensive line.
Whatever it is, improving the offensive line is something that must be done in 2013.
March, 28, 2012
3/28/12
10:00
PM ET
Jason Garrett's planned pit stop in Tuscaloosa
should be the first step in the Cowboys following the BAD-A plan in the first round of the draft.
That's picking the Best Alabama Defender Available.
[+] Enlarge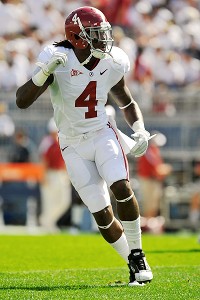 Randy Litzinger/Icon SMIAlabama safety Mark Barron could be a good fit for the Cowboys if they decide to trade down in the first round.
There are four potential first-rounders that played on the BCS champions' dominant defense: cornerback
Dre Kirkpatrick
, outside linebacker
Courtney Upshaw
, safety
Mark Barron
and inside linebacker
Dont'a Hightower
. Garrett's presence at the Crimson Tide's pro day -- the only one he plans to attend -- is a pretty good sign that one of those guys will hear his name called when the Cowboys go on the clock in the first round.
One scenario for the Cowboys is trading down in the first round and selecting Barron, a hard-hitting safety with some range and ball skills who was widely recognized as the vocal leader of that Bama defense. That would fill a hole that has existed since Darren Woodson's retirement last decade.
The best-case scenario? The Cowboys stay put at No. 14 and take Kirkpatrick or Upshaw.
You can argue that those players don't address immediate needs, but that's the kind of short-sighted thinking that caused the Cowboys to pay Pro Bowl money this offseason to non-Pro Bowlers
Brandon Carr
and
Anthony Spencer
.
PODCAST
Deion Sanders says that Jason Garrett is not the reason the Cowboys didn't make the playoffs. Deion says that the biggest need for the Cowboys is a solid pass rush.

Listen

Mike Jenkins
, who is heading into the last season of his rookie deal,
wants a new contract
. You think agent Drew Rosenhaus and Jenkins plan to give the Cowboys a hometown discount? It's much more likely that they'll note that Jenkins, unlike Carr, has made a Pro Bowl and use Carr's fresh five-year, $50.1 contract as the starting point for negotiations.
If the Cowboys give Jenkins that kind of money, they'll end up with the most overpaid cornerback corps in NFL history. They're already overpaying – Jerry Jones prefers the term "paying retail" – for Carr and nickel corner
Orlando Scandrick
(five years, $27 million).
Kirkpatrick would give the Cowboys a much-needed physical presence in the secondary at an affordable price. Get him and the Cowboys can afford to let Jenkins go after this season.

Or the Cowboys can pick Upshaw, putting themselves in a position where they don't have to pay Anthony Spencer a franchise-tag rate to be slightly above average. With a salary of $8.8 million, Spencer is due to make about a million and a half bucks per sack.
Oh, and Spencer would love to negotiate a long-term deal. Why wouldn't Spencer when he has all the leverage?
The reason Spencer has all the leverage against the Cowboys certainly isn't his performance. It's because the Cowboys, who have no faith in Victor Butler's potential as a starter, have done such a poor job preparing to replace Spencer.
That all changes if the Cowboys select Upshaw, who could be described as Spencer with a serious mean streak.
That's the kind of Bad A the Dallas defense desperately needs.
March, 28, 2012
3/28/12
11:48
AM ET
By
Calvin Watkins
| ESPNDallas.com
PALM BEACH, Fla. -- With the
Dallas Cowboys
leaving the NFL owners' meetings here, coach Jason Garrett will have a detour.
Garrett will attend Alabama's pro day Thursday.
It's the first pro day Garrett has attended his spring.
Last year, Garrett visited the USC pro day, and the Cowboys selected Trojans tackle
Tyron Smith
in the first round.
Cowboys owner/general manager Jerry Jones hinted the team has interest in drafting a defensive player with the 14th overall pick of the first round this year.
Alabama has three players -- safety
Mark Barron
, outside linebacker
Courtney Upshaw
and cornerback
Dre Kirkpatrick
-- who might be available when it's time for the Cowboys to pick.
"As of now, it's the only one of scheduled to go to," Garrett said. "Alabama had a pro day earlier in the month and a number of their players were not able to work out cause of injury. We felt it was worthwhile. Logistically it made sense. I am here. I'm going back to Texas. We are going to fly right over Tuscaloosa. It made sense for me to stop there and go to this workout tomorrow. So that is one of the reasons. We have had reps from the Cowboys at a lot of different pro days."
January, 18, 2012
1/18/12
11:34
AM ET
By
Bryan Broaddus
| ESPNDallas.com
This is the third installment of Fixing the Cowboys:
When the final whistle blew on that chilly night at MetLife Stadium, the season ended for the
Dallas Cowboys
. The hope of a division title died with a roster that wasn't good enough to compete with the Giants for the second time in four weeks. If Jerry Jones and Jason Garrett are honest with themselves, they will look at this roster and say that it's just not good enough to compete with the Giants and the Eagles. We can talk about the Super Bowl all we want, but if you are not playing well in your division, there are going to be problems.

When I worked for the Cowboys, the biggest issues I had during our final meeting of the season was that we were not honest with the makeup of our squad. When you go 5-11 for three straight seasons and the coaches talk about the players like we were 11-5, there are going to be problems. Garrett and these coaches can't keep Jerry from believing his roster is better than it really is. I'm not going to say that there isn't talent on this team, but I will say there were players on this roster that Jones and Garrett were counting on that just weren't good enough.
Here is what I would try and do to help it:
1. As much as I want to overhaul this secondary, I am going to try and fix the left cornerback spot first.
Terence Newman
needs to be replaced immediately. His level of play has clearly slipped and he no longer plays with any confidence. When a corner lacks confidence you might as well be playing with a speed bump out there. There are two ways that Jones can attack this area. The first is to trust his pro scouting staff, which brought him
Laurent Robinson
and
Tony Fiammetta
. The big name corners on the market this spring will be
Cortland Finnegan
of the Titans and
Brent Grimes
of the Falcons. Both of these players are similar in age and will command top dollar. If I had to lean one way, I would probably go toward Finnegan because of his aggressive style and the nastiness in his play, which this team lacks. If there might be a hitch, it'd be that Jones and Garrett would like to have a corner with more size -- Finnegan and Grimes are both in the 5-9, 185-pound range.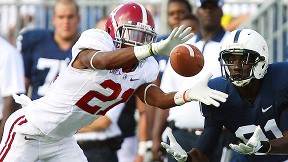 Matthew O'Haren/Icon SMIThere's no doubt that Alabama's Dre Kirkpatrick could instantly help the Cowboys' secondary, but can the team look past his recent arrest for marijuana possession?
The second way this area could be addressed is through the draft, which can either be feast or famine. Sitting in the 14th spot, Jones is still in decent shape because you usually have between 15 to 18 players that have first-round grades on your board. The second-best corner on the board will be
Dre Kirkpatrick
from Alabama. There is no questioning Kirkpatrick's ability or size (6-2, 192 pounds), but now character issues have been raised -- he was charged with possession of marijuana Tuesday and was released after paying a $120 fine.
When I worked for Bill Parcells, he put players with character flaws into "The Box" -- an area where you put players that you did not want to draft, period. I guarantee there will be teams that will take Kirkpatrick off their boards and into "The Box." The question for the Cowboys: Will Kirkpatrick be able to explain what happened, and will other examples of questionable behavior be uncovered? I would still consider Kirkpatrick an option for the Cowboys, but he really has to convince me that it'd be in my best interest to select him. I promise the Cowboys will turn over every rock to get to the bottom of this. He's that good of a player.
2. As much as I want to fix the interior of this offensive line with the addition of a free-agent guard like the Saints'
Carl Nicks
, I have to think about the amount of funds I wound have to allow for this to work. Don't get me wrong, it'd be money well spent, but there's also an opportunity to select the best guard in the draft -- Stanford's
David DeCastro
.
Jones and Garrett have to ask themselves if finding a replacement for OLB
Anthony Spencer
is more important than filling a position where you seem to have better options. Does
Kyle Kosier
,
Montrae Holland
,
Derrick Dockery
,
Kevin Kowalski
,
Bill Nagy
and
David Arkin
make you feel comfortable enough with the guard spot as is, whereas you just have
Victor Butler
and
Alex Albright
at outside linebacker? There is no doubt the Cowboys lacked a pass rusher that could help
DeMarcus Ware
on the other side. The Cowboys like Butler -- and he very well could be the starter going into 2012 -- but why not use the 14th pick to upgrade that spot with Alabama's
Courtney Upshaw
or South Carolina's
Melvin Ingram
? The Cowboys must do a better job of pressuring the quarterback because Ware can't do it alone. I have been critical of Ware, but a player on the other side could take pressure off him
and
help this defense tremendously.
[+] Enlarge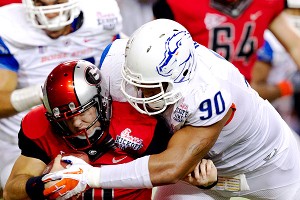 Bob Kupbens/Icon SMIBoise State's Billy Winn could be an interesting draft choice for the Cowboys as his physical presence could help them at the defensive end spot.
3. Sticking with the defense, I'm also taking a hard look at three spots -- defensive end, inside linebacker and safety. At defensive end, I'd move on from
Kenyon Coleman
, who wasn't nearly as good at the end of the season as he was at the beginning. I like
Jason Hatcher
, and I also think there is a role for
Marcus Spears
.
Sean Lissemore
proved to be a nice swing guy, but he looked better at nose tackle, so I'm tempted to keep him there. The scouts have hope for
Clifton Geathers
, but I don't share that. I would look to draft a productive player like Boise State's
Billy Winn
, who played tackle but should be suited more for play on the outside.
4. I'm also looking for help at inside linebacker, because there's really no depth. It's time to move on from
Bradie James
and
Keith Brooking
.
Bruce Carter
will be ready to play in 2012 and will be productive playing next to
Sean Lee
. However, behind those two, there's nothing. I'd try to add player in the fourth round that could be a quality backup but also help in the nickel, like
Kevin Burnett
did several years ago. Texas'
Emmanuel Acho
could be an interesting choice. Acho has a nose for the ball and is super active.
5. At safety, I'm moving on from
Abram Elam
because I need someone with more range. I have too many safeties on this roster that are forward players, such as
Barry Church
and
Danny McCray
. This defense needs someone that gets their hands on the ball and can help off the hash or middle of the field. I don't need safeties that can't adjust to
Victor Cruz
going down the field or
Riley Cooper
catching a jump ball from
Michael Vick
. If the Cowboys have a safety with range, it would be a step in the right direction in helping this secondary.
For all the problems that Garrett has had with game management, I feel he's got a good eye for talent and understands how you go about gathering players. Despite what people want to believe, the head coach does have a great deal of say in what players are signed and drafted. Bill Parcells took advantage of this; Dave Campo didn't. Chan Gailey convinced Jones that he wanted nothing to do with
Randy Moss
. Jason Garrett went to USC last season to see
Tyron Smith
work out and talk with members of the staff to get a feel for him.
You might not want to trust Jerry Jones, but you should trust Jason Garrett. I think he gets it.
January, 9, 2012
1/09/12
3:27
PM ET
Cowboys fans with an eye toward the future should pay especially close attention to the defenses during Monday night's BCS championship game.
According to Scouts Inc., LSU and Alabama feature a total of six defensive players that grade as first-round prospects in this draft class. With the Cowboys expected to focus primarily on defense – interior offensive line is the other glaring need – that makes it pretty likely that the name of an LSU or Alabama player will be called when the Cowboys go on the clock in the first round.
A look at those prospects, in order of their Scouts Inc. ranking:
LSU CB Morris Claiborne (third overall):
The Thorpe Award winner is expected to be long gone by the time the Cowboys get on the clock with the 14th overall pick, if they don't trade out of that spot. The former wide receiver has phenomenal ball skills, picking off 11 passes in the last two seasons, including six this year. The 6-foot, 185-pound Claiborne is considered the same caliber of prospect that Arizona's Patrick Peterson was coming out of LSU last year.
Alabama CB Dre Kirkpatrick (eighth overall):
The 6-foot-3, 192-pound Kirkpatrick is a big, tough, physical cornerback. He didn't have an interception this season, but opponents rarely threw the ball in his direction. He's a hard hitter who tied for the team lead with two forced fumbles and is an impact player in run support as well as pass coverage. He's considered the No. 2 cornerback in the draft class, so the Cowboys would likely have to trade up to get Kirkpatrick.
Alabama S Mark Barron (14th overall):
A senior with 38 career starts for the Crimson Tide, Barron is the only safety Scouts Inc. ranks among the top 32 prospects. However, the 6-foot-2, 218-pound Barron isn't the rangy free safety the Cowboys would like. He has some ball skills (12 career interceptions, including seven as a sophomore), but Barron is really a prototypical strong safety. Ideally, the Cowboys can get a free safety and move Gerald Sensabaugh back to strong safety.
Alabama OLB Courtney Upshaw (16th overall):
At a shade under 6-foot-2 and 265 pounds, the stocky Upshaw has drawn comparisons to Steelers outside linebacker LaMarr Woodley. Upshaw would likely be an immediate upgrade if the Cowboys allow 2007 first-round pick Anthony Spencer to leave in free agency. Upshaw is a dominant run defender with pass-rush skills. He had 17.5 tackles for losses and 8.5 sacks this season.
LSU DE Sam Montgomery (17th overall):
Montgomery is a redshirt sophomore who could opt to stay at LSU. He's an explosive 6-foot-4, 245-pounder who would make the transition to outside linebacker in a 3-4 scheme. He ranked third in the SEC with nine sacks and seventh in the conference with 13 tackles for losses this season.
LSU DT Michael Brockers (19th overall):
He's another draft-eligible sophomore who could opt to stay in school and improve his stock. He's a disruptive defensive tackle for the Tigers (9.5 tackles for losses this season). His 6-foot-6, 306-pound frame is ideal for a 3-4 defensive end.