Dallas Cowboys:

Allen Wranglers
August, 6, 2012
8/06/12
12:23
AM ET
By
ESPN.com wire services
RENTON, Wash. -- Still looking for wide receiver help, the
Seattle Seahawks
are bringing
Terrell Owens
in for a tryout.
The Seahawks
confirmed a report
from KJR-AM in Seattle late Sunday night that Owens, the former Cowboys receiver who last played professionally for the Allen Wranglers, would be working out Monday. The team is off Monday before returning to practice Tuesday.
June, 21, 2012
6/21/12
8:51
PM ET
By
Michael J. Mooney
| ESPNDallas.com
Since signing with the Allen Wranglers,
Terrell Owens
hasn't exactly been excited to talk to reporters. Back in his Philadelphia days, in the prime of his career, he used to hold press conferences all the time, sometimes in his own driveway. He couldn't wait to be on camera. He would tell reporters what questions to ask. He never shied away from a microphone: not in a locker room, not in a studio, and certainly not on his own reality show.
But now that he's been relegated to the lowest rung of professional football, with no team in the NFL even interested in watching him work out, Owens hasn't been so loquacious. He made an appearance on Dr. Phil with three of the four mothers of his kids to explain why he hasn't been paying child support (he's broke), and why he hasn't even seen some of his children (it's complicated). And he's done a few brief radio interviews. But he hasn't wanted to talk much about playing in the Indoor Football League. He hasn't wanted to talk about his financial troubles, or his personal life, or what it's like to fall so far so fast. He's pushed back interviews. He's skipped press conferences. He's missed scheduled appearances.
But now, on an indoor soccer field in the suburbs of Dallas, on a Thursday afternoon after practice, he's unloading. At first, he's positive. He says he really isn't the same person he was a few years ago.
"This has definitely been a humbling situation for me," he says. "For a lot of reasons, personally and professional. I'm just taking everything in stride."
Of course, this is before the Wranglers waived him. Before he threatened to sue. Before he fired his agent. This is before it all ended like we knew it would. Because how could a T.O. story end any other way? There can be no redemption, no change in this narrative. It's gone on too long. We know it too well.
Still, he's trying. He says he's grateful to Wranglers owner Jon Frankel and general manager Drew Pearson for the chance to prove he's still able to play.
Read the rest of the story
here
.
February, 10, 2012
2/10/12
1:10
PM ET

Allen Wranglers receiver and co-owner Terrell Owens talks about using the Indoor Football League as an avenue back into the NFL, his reported financial issues and much more.


On his time with the Cowboys and their lack of postseason success:
When I was here, obviously we were winning but we weren't getting to the NFC championship games and stuff like that. We had some good seasons. I was a problem. Now that I'm not here and I've been gone, I don't know what people can say now as to what the problem is. I have no remedy, no answers for how they can get back to the glory days of bringing championships back to Dallas. It's not rocket science, as they have great players on both sides of the ball, but things are just not happening for them.
All I can do is just wish them the best. I still have friends on the team, and I'm pretty sure they're scratching their head and trying to figure things out just as well as the city of Dallas is. Again, it's very unfortunate that my stint here was kind of cut short. I definitely thought that I probably would have retired a Cowboy but that didn't happen, and you know, things happen in life and you just got to move on.
On why he chose to join the Allen Wranglers and his NFL comeback bid:
Well, you know what, obviously I'm going to have fun with it, and again, I'm using this as a platform really to keep myself in shape. The business side of it too is something that intrigued me, being a co-owner with the team, so again, this is me transitioning into life after football. That's the business side of it, obviously football doesn't last forever, and I feel I'm physically fit and can play at a productive level to where I can play a couple more years in the National Football League, and that's what I'm pushing for.
Other than that, I'm not going to give up hope just because somebody says that I'm 38 and I just had a knee injury. Injuries are part of the game. I think everybody knows my track record ... I work out hard, I'm going to do whatever I can to get back on the field and get back to 100 percent, and I'm doing that.
On his reported financial issues:
Have I lost money? Yeah. Was it $80 million? I doubt it. But at the same time, I feel like this is a situation for me to go out and speak and let a lot of guys know that are coming into the National Football League or any league for that matter ... when you have financial advisers that you're dealing with and that are on their team that are supposed to be taking care of their finances ... I fell victim to it because I had heard about these stories prior to it happening to me, and there's going to be some other stories after me.
I fell victim to the fact that they were all about, you know, go out and play football, concentrate on football, we're going to take care of your financial business. I really trusted them that that's what they were going to be doing, and that's not what happened. And when I found out, it was too late.
February, 9, 2012
2/09/12
12:00
PM ET
ALLEN, Texas -- During his 12-minute Q&A with the media Wednesday night, wide receiver
Terrell Owens
, now with the Allen Wranglers, was asked about his departure from the
Dallas Cowboys
.
PODCAST
Allen Wranglers receiver and co-owner Terrell Owens talks using the Indoor Football League as an avenue back into the NFL, his reported financial issues and much more.

Listen

Owens didn't sound like a man who was over his release from the Cowboys.
"I think everybody knows after the first three years, I had signed an extension [in 2008] and after that season I got that call or whatever, that meeting that said they wanted to part ways," Owens said. "It was very disappointing. It was one of those things where again, it's a lot of lip service. People saying they're going to do one thing and do another. I've learned a lot within the last three to five years about life in general and even people in general."
Owens was referring to Cowboys owner/general manager Jerry Jones.
After the Cowboys missed the playoffs in 2008, all sorts of decisions were made -- the biggest was cutting Owens. Jerry Jones had said Owens would return for the 2009 season but later said things could change.
Things did.
During a dinner meeting in Fort Lauderdale, Fla., Jerry and Stephen Jones told Owens he wouldn't be coming back to the team. It devastated Owens, who felt he was going to retire with the Cowboys.
And now it seems Owens wants nothing to do with Jerry Jones.
"I've seen him maybe a handful of times since then. Other than that, it is what it is," Owens said. "I'm not bitter about it. At that time, it was disappointing considering the stadium was about to be open and he had told me I was going to be a big part of that process. Then it's like having the wind knocked out of you. But life goes on."
February, 9, 2012
2/09/12
10:19
AM ET
ALLEN, Texas -- Across from the outlet mall off U.S. Highway 75 at the Allen Events Center on Wednesday night,
Terrell Owens
talked about getting another chance.
[+] Enlarge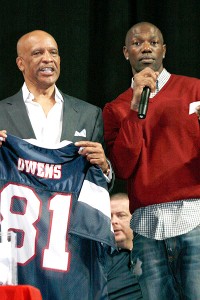 Mike Fuentes/Getty ImagesTerrell Owens (right, with Allen Wranglers GM Drew Pearson) is 38 and coming off ACL surgery but hasn't filed retirement papers with the NFL.
Owens is once more being paid as a professional athlete -- not in the NFL but with the Allen Wranglers of the Indoor Football League, a minor league arena team. The first game is Feb. 25.
Owens is a 50 percent owner of the franchise along with Jon Frankel.
It was a sad and strange scene seeing Owens stand on the stage, talking to the media and taking questions from fans about his NFL career.
Owens still believes he can play in the NFL, but no team signed him last season. He doesn't have plans to file retirement papers and hopes to use his skill set in this league to show everybody he can still play in the NFL.
He has an opt-out clause with the Wranglers that allows him to leave if an NFL team wants to sign him.
I'm no expert, but one thing I've learned about the NFL is that the younger you are, the better.
Owens is 38. His chances are slim.
I asked Owens why he is in Allen:
"These guys sent me a proposal last year," he said simply. "I have no answers as for why. I know God works in mysterious ways. It was an opportunity for myself and my family. It's a way for myself to keep in shape. I haven't retired from the NFL. I want to play a couple more years. This right here will allow me to do that and assess where I am. I know I'm physically fit to play the game still."
Owens also has financial issues. He's lost some of his $80 million fortune because of bad investments, and he wants to tell younger players to be careful with their money.
The major issue with Owens is he doesn't know when to retire. He can't play in the NFL anymore.
It's got nothing to do with his attitude; he didn't get into trouble in his last two stops -- Buffalo and Cincinnati -- and it has nothing to do with previous stops in Dallas, Philadelphia and San Francisco.
Owens doesn't have the skills any more to play in the NFL. He can't get off press coverage and isn't a threat down the field with his speed and while he might possess good hands, who knows if he has the quickness to get into open spots in zone coverage to catch passes.
Owens is also coming off ACL surgery. At 38. Let's say that again -- at 38 years old.
There's a documentary on HBO on boxing great Sugar Ray Robinson, who fought longer than he wanted to because of tax problems. He was a shell of his former self.
In his prime, Robinson was the best ever.
When his physical skills left him, he was just an average fighter, but the man kept fighting to pay off his debts. Charles Rangel, a longtime congressman from New York, said simply of Robinson's prolonged fighting career, "He was a professional."
That's Owens. He keeps fighting. Keeps playing while there are nearly no chances for a return to the NFL. So he will play with the Allen Wranglers and hopes to get a few more cheers again.
He's like that prizefighter who won't go away.
It seems this move is beneath Owens, based on a career that should put him into the Pro Football Hall of Fame one day.
"From a football aspect, no," Owens said of whether playing in this league was beneath him. "There has been some things I have been going through personally from that standpoint and obviously the passing of my grandmother. It has definitely put a lot things in perspective for me and my family. Other than that, I'm not really worried about what anybody thinks or what they say about me from here going forward. I know I have to take control of my life and what I have to do for my family. That is all that really matters."
For maybe the first time since I first started covering him in 2006, Owens seems at peace with himself.
Maybe that's all he has left. Peace of mind.
February, 8, 2012
2/08/12
8:40
AM ET
The professional football career of wide receiver
Terrell Owens
resumes Wednesday night when he'll be introduced as a co-owner/player for the Allen Wranglers of the Indoor Football League.
The team has scheduled a free welcoming party for Owens starting at 6:30 p.m. at the Allen Events Center and it will last about an hour. Fans will be given popcorn as they walk in. The doors open at 6 p.m.
Why is Owens joining a minor league indoor football team?
Owens didn't play in the NFL last season, and he's using this to show NFL teams he can still play. He's also having financial issues, having lost most of his $80 million fortune as he's in litigation to get some of his money back.
As for the Wranglers, Owens told talk show host Wendy Williams of opposing players trying to hit him: "They can't hit what they can't touch."
January, 19, 2012
1/19/12
10:57
AM ET
Former NFL wide receiver Terrell Owens announced on Twitter on Wednesday night that he's going to play and become co-owner for the Allen Wranglers of the Indoor Football League.
PODCAST
Terrell Owens is back in football as a co-owner and wide receiver for the Allen Wranglers, with aspirations of still getting back in the NFL.

Listen

"It's official, it just went down, I'm headed back to Dallas," Owens said in a 22-second video posted on his Twitter account. "That's right, IFL, here I come. Allen, Texas, here I come. I'm going to be me."
"He's a great player, a winner, and I'm a big fan," Wranglers co-owner Jon Frankel said. "I want to make the Allen Wranglers the No. 1 attraction in Collin County."
For more,
click here.
December, 29, 2011
12/29/11
5:30
PM ET
Former Cowboys WR Drew Pearson just announced on ESPN Dallas 103.3 FM that the Allen Wrangers of the Indoor Football League is close to signing Terrell Owens.
PODCAST
Allen Wranglers GM and former Cowboy Drew Pearson announces that the team is closing in on a deal with mercurial wide reiever Terrell Owens.

Listen

Pearson is the team's GM. He said the deal is for salary and part-ownership of the team.
"It won't be T.O. anymore. It will be
Terrell
Owens," Pearson said on Galloway and Company. "We're very close. Jon Frankel, our owner, has been working on this for quite some time now. When he started, he felt there was maybe about a zero percent chance he could get it done, but through his persistent efforts and really wanting to make this happen, he has been able to make contact with their people. Now it's in a stage where he thinks it's at the point where it's about 70 percent done and close to being finalized, so we'll see how it shakes out from this point.
"But T.O. is interested. It's a deal that includes salary and ownership, and I think that's why he's attracted to it – the ownership aspect more than anything. We all could use the money. But the ownership aspect – what is T.O. going to do with his life after football, which is almost here and a reality to him. So he's probably thinking about that. He sees that as an opportunity."
More to come on ESPNDallas.com
October, 27, 2011
10/27/11
6:16
PM ET
Former Cowboys wide receiver Terrell Owens was offered a six-figure contract to play for the Allen Wranglers of the Indoor Football League.

Former Cowboys wide receiver Drew Pearson, the general manager of the Wranglers, said owner Jon Frankel made the offer to Owens.

Owens' agent Drew Rosenhaus did not return a call seeking comment. However after another arena football team, the Chicago Rush, extended a contract to Owens on Wednesday, Rosenhaus said his client would only play in the NFL.

Tony Romo, who played with Owens from 2006-09, was asked about his former teammate.

"I'm really not sure what's going on out there," Romo said with a smile before ending his news briefing with reporters on Thursday.

The Wranglers play their home games at the Allen Event Center, about an hour away from downtown Dallas.
April, 8, 2011
4/08/11
3:35
PM ET
If you're missing football you might want to check out Roger Staubach tonight.

The former Cowboys quarterback and Hall of Famer will attend tonight's arena football game between the Allen Wranglers vs. West Texas Roughnecks at the Allen Events Center.

Staubach will sign autographs before the 7:35 p.m. kickoff.

The Wranglers' general manager is Drew Pearson, the former Cowboys great.

The Wranglers will honor student athletes from the Lovejoy Independent School District.