Dallas Cowboys:

Anthony Castonzo
April, 21, 2011
4/21/11
3:06
PM ET
»
NFC Draft Watch
:
East
|
West
|
North
|
South
»
AFC
:
East
|
West
|
North
|
South
Each Thursday leading up to the NFL draft (April 28-30), the ESPN.com blog network will take a division-by-division look at key aspects of the draft. Today's topic: Dream scenario/Plan B.
Dallas Cowboys

Dream scenario:
If the Cowboys play things the conventional way and sit tight at No. 9, they'll probably be looking at either defensive end
J.J. Watt
or offensive tackle
Tyron Smith
. Either one would provide good value or fill a big need, and the Cowboys would improve. But Dallas owner Jerry Jones doesn't always do things the conventional way. Although trading up to the top five might be difficult, Jones' imagination could heat up if LSU cornerback
Patrick Peterson
makes it past the first five picks. The entire Dallas secondary had a horrible year last season, and Peterson would provide an instant upgrade. Jones might not be able to sit still if he's within striking distance of Peterson.
Plan B:
If there's no chance at Peterson and the Cowboys aren't excited enough about Watt or Smith, they could reach slightly and take Nebraska cornerback
Prince Amukamara
. He's the second-best cornerback in this draft, and most mocks have him going somewhere in the teens. If the Cowboys like the player enough, it wouldn't be much of a reach to just take him. If another team is looking to move up for another player, the Cowboys could drop down a few spots and still have a shot at Amukamara.
Washington Redskins

Dream scenario:
The Redskins, who need a quarterback perhaps more than any other team on the planet, would love nothing more than for something bizarre to suddenly cause
Cam Newton
or
Blaine Gabbert
to start falling. It's not out of the realm of possibility. Carolina's leaning toward Newton but hasn't made a final decision. Even if the Panthers go with Newton, Buffalo could go with linebacker
Von Miller
at No. 3, and the word out of Arizona is the Cardinals probably are looking more for a pass-rusher than a quarterback. That would put the Redskins within striking distance on Gabbert, and general manager Bruce Allen and owner Daniel Snyder could try to move up to grab him. Or they could just take a chance that he'll be available at No. 10.
Plan B:
If Newton and Gabbert are gone, there's no quarterback worthy of the No. 10 pick. Defensive tackle also is a major need, but the Redskins could fill that in free agency. Snyder enjoys making a splash, and if he can't do it with a quarterback, he might do the next-best thing and take a guy who would catch passes from whoever ends up throwing them. With
Santana Moss
as a free agent and not much else in the receiving corps, Alabama's
Julio Jones
could be a very nice consolation prize.
New York Giants

Dream scenario:
The desperate need is at outside linebacker, but the only player who is really a sure thing is Miller, and he almost certainly will be a top-five pick. So the dream ends there and reality sets in, and the other reality is the Giants have big needs on the offensive line, where everyone but guard
Chris Snee
is starting to get old. Florida center/guard
Mike Pouncey
could really solidify the interior of the line, where the need is greatest. Tackles
Gabe Carimi
and
Anthony Castonzo
also could be possibilities as the Giants could consider moving tackle
David Diehl
to guard.
Plan B:
This may sound a bit off the wall because the Giants have decent running backs in
Ahmad Bradshaw
and
Brandon Jacobs
. But what if Alabama's
Mark Ingram
happens to be available? The Giants might have to consider him. He might be better than Bradshaw and Jacobs. Also, along the same lines, don't rule out the possibility of a defensive tackle like Temple's
Muhammad Wilkerson
if he's available. The Giants appear to be in good shape in the middle of the defensive line, but general manager
Jerry Reese
places a high value on having lots of depth, especially in the middle of the defensive line.
Philadelphia Eagles

Dream scenario:
In a perfect world, the Eagles would package their first pick (No. 23 overall) with quarterback
Kevin Kolb
and trade their way into the top five, where they would aim for cornerback Peterson. The Eagles have a desperate need for a cornerback to play opposite
Asante Samuel
, and Peterson is the only sure thing in this draft. But this is not a perfect world. Unless the lockout somehow ends between now and the start of the draft, they're not allowed to trade Kolb. If they stay put, the Eagles have to hope Amukamara somehow falls to them, or they might have to take a chance on Colorado's
Jimmy Smith
, who comes with some background questions.
Plan B:
The right side of the offensive line needs to be upgraded. Most teams stay clear of guards in the first round. But tackles Castonzo,
Nate Solder
and Carimi all could be available when the Eagles pick. Any one of them could step right into the lineup and start.
April, 5, 2011
4/05/11
12:35
AM ET
ESPNDallas.com looks at potential Cowboys picks for the April 28-30 NFL draft.
ANTHONY CASTONZO
Position:
OT
School:
Boston College
Scouts Inc. ranking:
No. 20 overall
Bio:
Holds the Boston College record for starts with 54, playing every game for four straight seasons. He was the first true freshman to start on the offensive line for Boston College in a decade, playing right tackle. He moved to left tackle as a sophomore. … First-team All-ACC as a junior and senior. Second-team All-ACC as a sophomore. … Was a biochemistry major who was named a National Football Foundation National Scholar-Athlete.
[+] Enlarge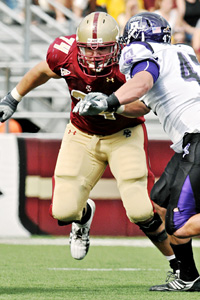 Michael Tureski/Icon SMIAnthony Castonzo has shown the ability to play both guard and tackle.
Size:
6-foot-7, 311
40-yard dash:
5.23
Arm length:
34 ½ inches
Hand size:
10 5/8 inches
225-pound bench reps:
28
Broad jump:
8-foot-9
Vertical jump:
29 ½ inches
20-yard shuttle:
4.40
Three-cone drill:
7.25
Broaddus Breakdown (viewed Notre Dame, Florida State, Clemson and Senior Bowl games):
Was the starter at left tackle for the Eagles but showed the ability to play guard and both tackle spots in the Senior Bowl. … Shows some initial quickness off the snap in the running game and in pass protection. Is able to adjust as he works away from the line. Doesn't have the smoothness of Tyron Smith or Nate Solder but is able to get himself into position to make the block. … Has better punch in the running game than he does in pass protection. Smith has the best punch of the tackles I have seen. Castonzo tends to place his hands on the defender and tries to control him with upper body strength or muscle him. … If he has a fault in pass protection, it is that he will get overextended and have too much weight going forward, allowing separation with his man. When he does keep his weight back, he can move his feet to slide and adjust. … Did a nice job of passing a twist stunt against Florida State. The struggle that he did have in the FSU game was when Brandon Jenkins used an inside spin move to gain some pressure. This happened two different times in the contest and Castonzo was not able to adjust quickly enough to keep him from the pressure. … Shield and position run blocker. Is not going to drive his man out of the hole but will come off the ball, fit and work his feet to sustain. … Did a nice job of carrying Da'Quan Bowers down the line and keeping his body between the defender and the ball. Was asked two different times to get to the outside on a sweep but was unable to stay on his feet to secure the block. Not a clumsy athlete but looked awkward on those plays in space. … Liked how he was able to play two different positions in the Senior Bowl. Did not look as a throwaway as a guard. If he had to fill in, I don't think there would be an issue there. … There is an outstanding history of offensive linemen from Boston College, so he will be a top consideraton. Of all the tackles I have viewed, I like him behind Tyron Smith and ahead of Solder and Gabe Carimi.
April, 4, 2011
4/04/11
7:53
PM ET
The Cowboys will get visits from three players Friday as part of Dallas Day, where prospective area draft picks can visit Valley Ranch and speak with team officials.
TCU CB
Jason Teague
, a second-team All-Mountain West selection, TCU WR
Jimmy Young
, who ran a 4.58 at his Pro Day, and Oklahoma FS
Jonathan Nelson
, All-Big 12 honorable mention, are among the players coming in for a visit.
However, over the next two days, the Cowboys willl meet with at least 30 players at Valley Ranch as part of their national visits.
Among the players scheduled to visit are Louisville RB
Bilal Powell
, USC T
Tyron Smith
, Boston College T
Anthony Castonzo
, Colorado T
Nate Solder
, Wisconsin DE
J.J. Watt
and Florida C
Mike Pouncey
.
Of note, the only Pro Day that coach Jason Garrett has attended so far was at USC. Several mock drafts have the Cowboys selecting Smith at No. 9 overall.
January, 19, 2011
1/19/11
10:34
AM ET
It's the great Randy Galloway's birthday today. Not sure exactly how old he is, but I believe it's still in the double digits.
As a gift, I've decided to give Galloway the one thing he could never get on his own: a clue about what the
Dallas Cowboys
should do with the ninth overall pick in the NFL draft.
Galloway has been wasting ESPN 103.3 airtime – and space in an old-school medium – lobbying for the Cowboys to draft Auburn quarterback
Cam Newton
. This is proof that experience and wisdom aren't always a package deal.
The Cowboys have way too many holes to reach for a developmental quarterback. They have a franchise quarterback still in his prime in
Tony Romo
. You might make the argument that Romo needs the pressure that comes from competition, but that still wouldn't merit spending a first-round pick on a quarterback, especially one who is at least one or two years away from being ready to play in the NFL.
This is a team with glaring holes in the secondary and on the offensive line. They need to address one of those issues in the first round.
The Cowboys' approach with the ninth overall pick should be simple. If one of the elite cornerbacks slips, stay put and pick the guy, whether it's LSU's
Patrick Peterson
or Nebraska's
Prince Amukamara
. Slide them into the starting lineup and send
Terence Newman
packing, picking up significant salary cap space in the process.
If the corners, who are both in the top five on Scouts Inc.'s board, go as early as anticipated, it's time to trade down. Target the mid- to late teens. That's where the value is for offensive linemen.
Colorado tackle
Nate Solder
is the top lineman on Scouts Inc.'s board at No. 14 overall. There is a cluster after him: USC tackle
Tyron Smith
at No. 16, Florida center/guard
Mike Pouncey
at No. 17, Wisconsin tackle
Gabe Carimi
at No. 19 and Boston College tackle
Anthony Castonzo
at No. 22.
It'd be shrewd of Jerry Jones to pick up an extra pick or two, trade down and make one of those guys the first offensive linemen he's ever drafted with a first-round pick.
Drafting Newton? That's a ridiculous idea, even by the gray-hair, harebrained standards of Randy (and Jerry).