August, 8, 2012
8/08/12
12:15
PM ET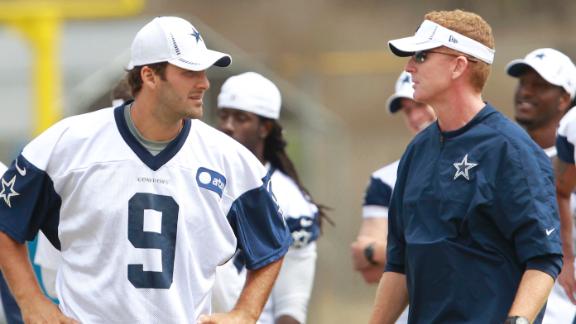 OXNARD, Calif. -- Much was made last year of the performance of
Dallas Cowboys
fullback
Tony Fiammetta
in connection with the breakout performance of running back
DeMarco Murray
. But the Cowboys let Fiammetta go this offseason and replaced him with veteran fullback
Lawrence Vickers
, who blocked for
Arian Foster
and
Ben Tate
last year in Houston and for
Peyton Hillis
the year before that in Cleveland. Vickers is a remarkably fun guy to talk to -- enthusiastic and engaging -- and here's what he told me about Murray when I spoke with him after Cowboys practice Monday:
[+] Enlarge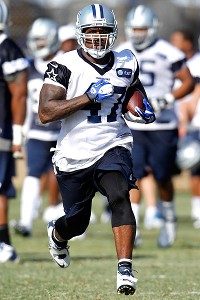 AP Photo/Paul SpinelliFullback Lawrence Vickers will be paving the way for DeMarco Murray this season.
"First of all, he's ambitious. And he's coming in to work. He's got that hard-nosed mentality, but he loves the game. And when you want to be great and you have ambition and goals and dreams and all those things, there's only one way to get there -- work, work, work. And that's what he wants to do. When it's his time to go, he wants to get in there. Everything he's doing, he's trying to do it to the best of his ability."
Vickers said his most important jobs as the fullback in the Cowboys' offense are "to lead by example and to be the eyes of the running back." Then he tried to demonstrate by standing in front of me with his back turned and asking if I could see anything. I could not. I am 5-foot-9, 190 pounds. Vickers is 6-0, 250. More relevantly. Murray is 6-0, 215 and likely cannot see around Vickers, either.
"He has to trust in me in order to go where I'm going," Vickers said. "You have to trust in me that I'm going to go to the right place, because you're following me. We have to be able to trust each other, and that just comes from repetition."
Murray obviously trusted Fiammetta with a great deal of success, so it's not as though running behind a fullback is some kind of new concept for him. But to those who have asked me whether there's anything to fear about Murray switching from Fiammetta to Vickers my answer is: If you met Lawrence Vickers, you wouldn't have to ask.
"I've got no complaints there," Murray told me. "He's a great guy, a great blocker, a smart guy and he gets after it."
Talking to Vickers fired me up. I wanted to go try to run through a defensive line. Fortunately for me, the opportunity did not readily present itself. If it had, I'd have asked Vickers to block for me. He'd probably have done it. He's a different sort of guy. I mentioned to him that the fullback position wasn't really a glory position in the NFL, and he agreed. He just doesn't care.
"I love it," Vickers said. "Because it's a job everybody can't do. So when you're doing something everybody can't do, and you're making it look good, that says a lot about you as a person. I don't need the glory, because at the end of the day, when those guys get in that end zone, when those guys go over to Hawaii, when those guys get in that Hall of Fame ... Emmitt Smith said it best: 'Couldn't do nothing without my fullback.' Not that my guys have to say that about me, but knowing that I was a part of that is enough for me."
January, 27, 2010
1/27/10
6:41
PM ET
MOBILE, Ala. -- The Cowboys' scouts and front-office personnel talked to numerous players particpating in the Senior Bowl.
Here are a few of the names the Cowboys are interested in, gathered from talking to scouts, agents and players: RB
Ben Tate
, Auburn; LB Cameron Sheffield, Troy; DE
Brandon Lang
, Troy; CB
Kyle Wilson
, Boise State; G
Mike Iupati
, Idaho; DL Mike Neal, Purdue; and DB Chris Cook, Virginia.
Now this doesn't mean the Cowboys will draft any of these players. Wilson and Iupati might be gone by the time the Cowboys pick late in the first round. Neal said the Cowboys told him at the East-West Shrine game he didn't fit their defensive scheme.
Cook said the Cowboys talked to him about playing safety.
"I can play both," Cook said after Wednesday's practice. "I'm a football player. I can play man-to-man and zone defense, but my strength is press man."
Cook can also return kicks, though he won't do it at the Senior Bowl. Cook also talked to the Steelers, Bears, Panthers and Dolphins.
Some other players the Cowboys are looking at are Georgia Tech wide receiver DeMaryius Thomas and South Florida wideout Carlton Mitchell.