Dallas Cowboys:

BenJarvus Green-Ellis
December, 9, 2012
12/09/12
8:05
PM ET

C
Rushing Offense
The Cowboys' running game never got in a good rhythm, gaining only 49 yards on 24 carries. The Cowboys could not block Bengals DT Geno Atkins, who had three tackles for losses in addition to his sack and three quarterback hurries. But there were two big bright spots for DeMarco Murray, who rushed for 53 yards on 21 carries. He went over the top of the pile for a 1-yard touchdown in the second quarter and made a tough, 6-yard run on third-and-5 with 1:17 remaining in the game to ensure that the Cowboys would have a chance to win as time expired.

B
Passing Offense
It wasn't necessarily a pretty day for Tony Romo and the Cowboys' passing game. The Bengals' front four got consistent pressure, sacking Romo three times and forcing several hurried throws, a handful of which Romo is fortunate weren't picked off. The Cowboys' starting receivers were nonfactors for most of the game. But Romo finished with 268 yards on 25-of-43 passing and threw a 27-yard touchdown to Dez Bryant. Romo was at his best while leading the Cowboys' comeback, completing 11 of 15 passes for 128 yards and the score during the fourth quarter.

C-
Rushing Defense
Why didn't the Bengals run the ball more often? That's a question that will be asked a lot in Cincinnati. BenJarvus Green-Ellis, who had three consecutive 100-yard games entering the day, carried only 12 times. He gained 89 yards, an average of 7.4 per carry. Receiver Marvin Jones gained 37 yards on an end-around when a play-fake to Green-Ellis fooled the Dallas defense. It's a mystery why Bengals offensive coordinator Jay Gruden didn't opt to test the middle of a Dallas defense missing its top two nose tackles and top two inside linebackers much more often.

A-
Passing Defense
The Bengals helped the Cowboys' cause with some drops, including a couple of uncharacteristic ones by star receiver A.J. Green, including one play that should have been a touchdown. Nevertheless, the Cowboys contained Green (three catches for 44 yards) and quarterback Andy Dalton (20-of-33 for 206 yards and a touchdown with one interception). Cornerback Brandon Carr's 37-yard interception return, which came after he dropped into a zone and perfectly read Dalton's eyes on a throw to Green, set up the Cowboys' first touchdown. The Cowboys had a season-high five sacks, including two by Anthony Spencer.

C
Special Teams
Punter Brian Mooman had a miserable day, averaging 33.0 yards per punt. His two shanked punts -- 23-and 29-yarders -- set up a pair of Cincinnati field goals. Moorman did bust out of the yips to boom his last punt 49 yards, pinning the Bengals inside the 10 on their first possession of the fourth quarter, a critical shift in field position. The Cowboys got cute on their only kickoff return, with Dwayne Harris faking a handoff to Dez Bryant. That resulted in a 14-yard return that might have been a big play if not for a quick whistle that ruled Harris down. Dan Bailey calmly delivered by booting the 40-yard game-winning field goal as time expired.

A+
Coaching
Forget about X's and O's for a moment. This wasn't about Jason Garrett's game plan. It was about his ability to hold a team together after an awful tragedy. Garrett handled a horrible situation about as well as humanly possible, deftly balancing delicate emotions with the cold, hard reality that the Cowboys had to be ready to play a game that was critical to their playoff hopes. The Cowboys showed tremendous poise and character by rallying from a nine-point deficit in the fourth quarter to win. That's a testament to the mental toughness that Garrett has instilled in his team.
December, 7, 2012
12/07/12
1:55
PM ET
By
Jason York, ESPN Stats & Information
The
Dallas Cowboys
have won three of their last four games to get back to .500 after a 3-5 start. Sunday's opponent, the
Cincinnati Bengals
, have been playing much better as well, winning each of their last four games following a four-game losing streak.
The biggest difference for the Cowboys has been an offense that has topped 30 points in three of the last four games after not scoring as many as 29 in any of its first eight contests. The Bengals' winning streak has not come against the NFL's elite. Though the Bengals defeated the NFC East-leading Giants, each of their other wins during their current streak came against AFC West cellar-dwelling team with a combined record of 9-27.
Here are four other statistical areas to watch Sunday:
While the play of Cowboys quarterback Tony Romo has been a catalyst for their better play on offense, the return of DeMarco Murray has made Romo even more effective, especially on play-action passes. Romo was 4-of-5 with two touchdowns on play action in Week 13 against the Eagles. When Murray has been available this season, Romo is 21-for-28 passing with four touchdowns and 10 yard per pass attempt using play action. Without Murray, Romo was 12-for-19 passing on play action but had two interceptions, only one touchdown and averaged just 3.9 yards per pass attempts.


The Bengals' A.J. Green and Dez Bryant of the Cowboys rank first and second, respectively, in touchdowns receptions on passes outside the painted numbers this season. Green, who also has league-leading 49 receptions on outside-the-numbers passes, has the most targets (79) without a drop on such throws, while Bryant's four drops are tied for third most in the NFL.


The Bengals have averaged a sack once every 12.2 dropbacks this season, the best rate in the NFL. The Bengals are tied for first in sacks overall with 39, including 26 using a standard four-man pass rush. Nineteen of the 28 sacks the Cowboys have allowed this season have been with four or fewer pass rushers.


Bengals running back BenJarvus Green-Ellis has rushed for at least 100 yards in each of his last three games. The only Bengals player to produce four consecutive games with at least 100 rushing yards was Paul Robinson, who did so in 1968. Over the past three games, Green-Ellis has picked up 292 of his 348 yards rushing between the tackles. The Cowboys have allowed 5.5 yards per attempt on 37 rushes between the tackles the last two games.
December, 5, 2012
12/05/12
1:42
PM ET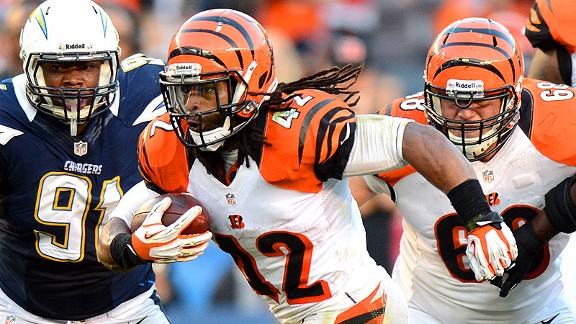 Jake Roth/US PresswireRunning back BenJarvus Green-Ellis has eclipsed 100 yards rushing in three consecutive games.
The baffling Bengals are at it again. Just when you think you know where Cincinnati is headed, this team makes an unexpected U-turn.
PODCAST
Cincinnati Bengals defensive coordinator Mike Zimmer says he's very impressed with Tony Romo and that Dez Bryant is starting to remind him of Michael Irvin.

Listen

In 2010, the Bengals went from being the defending AFC North champions to winners of four games. In 2011, when the Bengals ranked last in the Power Rankings to open the season, they ended the regular season by making the playoffs. And now, weeks removed from being written off, the Bengals have everyone reaching for the delete key.
Cincinnati (7-5) somehow went from becoming one of the most disappointing teams in the league to jumping back in the postseason hunt all in the same season. The Bengals are tied with Pittsburgh for the final playoff spot in the AFC, and they're two games behind the Ravens (9-3) in the AFC North race with four weeks remaining. It's been a remarkable turnaround for the Bengals, who had a 3-5 record on Nov. 4 after losing four straight games. The Bengals have since won four games in a row, and have done so in impressive style. Their margins of victory have been 18, 22, 24 and 7 points.
What has everyone learned from the Bengals' win streak? While the Bengals often make people regret making predictions about them, it's time to start taking the Bengals seriously. They're looking like a playoff team and they're playing like they have something to prove.
"This team is getting better each week," wide receiver
A.J. Green
said. "A lot of people said it was out of our reach to make the playoffs, but I feel like we have momentum on our side coming down the home stretch of the season."
There's not another team with more momentum on both sides of the ball. That includes teams that have already clinched a playoff spot like Houston, New England and Denver.
PODCAST
Cincinnati Bengals defensive coordinator Mike Zimmer says he's very impressed with Tony Romo and that Dez Bryant is starting to remind him of Michael Irvin.

Listen

The Bengals have hit their stride on offense. Running back
BenJarvus Green-Ellis
became the first Bengals player in 13 years to gain more than 100 yards in three straight games. Over the past four weeks, the Bengals have averaged 28.2 points and scored touchdowns on 13 of their past 17 trips to the red zone.
Their defense is stonewalling teams from the end zone. The Bengals are allowing 10.5 points during the win streak and have given up one offensive touchdown in three weeks. Over the past four weeks, Cincinnati's D has four interceptions and 15 sacks.
There's also a different attitude with this team. It surfaced against the Raiders two games ago when offensive tackle
Andrew Whitworth
was ejected in coming to the defense of quarterback
Andy Dalton
. In other words, these Bengals aren't going to be pushed around.
These young Bengals are growing up quickly. Dalton is among the best quarterbacks in getting the ball into the end zone. (His 24 touchdowns rank behind only
Drew Brees
,
Peyton Manning
,
Aaron Rodgers
and
Tom Brady
.) Green is one of the most explosive wide receivers in the game. And defensive tackle
Geno Atkins
is the best player no one outside this division knows about.
"We control our destiny," linebacker
Rey Maualuga
said. "We can only control what we can. That is preparing for the next game. Show up and win. Be disciplined. Play with the same intensity and effort that we have been playing with the past couple weeks. I think that is all the coaches can ask for."
What the Bengals' coaches have asked for has changed throughout the season. Early last month, coach Marvin Lewis was challenging his team leaders, Dalton and Maualuga, to step up. A month later, Lewis sounds concerned about overconfidence.
Maybe that's why the Bengals needed a victory like the one in San Diego on Sunday. Cincinnati turned the ball over three times and trailed by three points with four minutes remaining. But, as the Bengals have done this season, they bounced back from adversity and escaped with a 20-13 win.
Still, Lewis doesn't want his players to feel satisfied by that performance.
"Break up the glee club because we've got to do better," Lewis said. "It wasn't good enough [on Sunday] -- in a lot of areas. Everybody is patting them on their backs about what they're doing. Well, we haven't done anything. We just got back to even, and now we have to move forward. These last four are what counts."
The Bengals' next two games are home against Dallas (6-6) and at Philadelphia (3-9). What likely will determine their playoff fate is their final two games: at Pittsburgh and home against Baltimore.
This generation of Bengals -- Dalton, Green and other second-year or rookie players -- once again face their biggest obstacle. Since the start of the 2011 season, the Bengals are a combined 0-6 against the Ravens and Steelers, while they're 16-6 against the rest of the NFL.
Another sweep by Baltimore and Pittsburgh likely would eliminate Cincinnati from the postseason. The Bengals have to split with the Steelers because of tiebreaker implications.
Before the Bengals can become a playoff team again, they have to show they're a consistent team. The Bengals need two wins to put together back-to-back winning seasons for the first time since 1981 and '82.
"I think we are a far better football team than we were last year when we finished the season. That's key," Lewis said. "We have to go prove that we're better-equipped to finish out this last quarter of the season. That's where we are now. We put ourselves back in position. We were able to overcome October, which was hard. We've done this by playing one snap at a time. We can't lose sight of that."
By how they've turned around their season, the Bengals are suddenly a team to watch in December.
October, 14, 2011
10/14/11
10:55
AM ET
By
Bryan Broaddus
| ESPNDallas.com
If you believe in fate and are a fan of the
Dallas Cowboys
, here is something that maybe you can hang your hat on. The last time defensive coordinator Rob Ryan had a week off to prepare for
Tom Brady
and the
New England Patriots
, his
Cleveland Browns
walked away with an impressive 34-14 victory in 2010.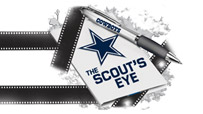 Cowboys defense vs. Patriots offense
Ryan's defense has played outstanding through the first four weeks of the season, but the task ahead is different from any of those that you generally face during an NFL season. When you play an elite quarterback such as Tom Brady, the amount of pressure he puts on you is greater than when you face
Mark Sanchez
,
Alex Smith
or even
Matthew Stafford
.
Mistakes in assignments are magnified when you play against Brady because of his ability to read defensive schemes and take advantage of the situation by adjusting his protection and moving his personnel to attack the void. In the NFL, it's all about the matchups, how you create them and then take advantage of the ones in your favor.
The Patriots take advantage of match-ups better than any other team in the league. When you study the Patriots, it's about "scheme fits." It's not only about a player like
Wes Welker
. You also have to be wary of tight ends
Rob Gronkowski
and
Aaron Hernandez
, and running backs
BenJarvus Green-Ellis
and
Danny Woodhead
as well.
The Patriots create match-up problems for a defense because there is so much flexibility where their skill players can line up in the formation. Rarely do you see the Patriots use the same formation early in the game, because this exposes your game plan defensively. Once Brady has an idea of how you are going to defend the offense, then he goes to work.
Patriots WR Wes Welker vs. Cowboys secondary
It's interesting to watch the Patriots on offense because they no longer have a straight vertical threat like
Randy Moss
. Instead they use Welker, Gronkowski and Hernandez all over the field. Welker is a crafty route-runner, but maybe his greatest strength is his ability to read coverages and react to what the defense is doing to him. When Welker's on the move, you can see his eyes looking at the secondary and plotting where he will take his route.
Brady has a tremendous understanding of where Welker is going to be in his route to deal with the coverage. With the Patriots, you will see several routes down the field that are crossing routes. The Patriots like to take routes through zone coverage, running to open spaces -- which is effective against teams that like to play Cover 2.
Last week, the Jets were able to match
Darrelle Revis
against Welker, who really struggled to generate any type of separation or space. Revis was physical off the line but, more importantly, he was able to carry Welker all over the field. The Cowboys will get an important piece of their secondary back this week when cornerback
Orlando Scandrick
returns from a high ankle sprain.
I have always viewed Scandrick as one of the Cowboys' best cover men. To play slot corner, you have to play with a great deal of quickness but, more importantly, you have to have the understanding of what types of routes that the man you are covering might run. Scandrick will have to be prepared to play a ton of snaps, so his conditioning will be tested. In what we have been allowed to see during practices, he looked explosive and confident that the ankle sprain is behind him.
Patriots tight ends are more like WRs
Earlier I mentioned that you have to be wary of Patriots tight ends Rob Gronkowski and Aaron Hernandez, and there was a reason for this. Neither one of these guys plays like a true tight end. Rather, they're more like 255-pound wide receivers that can get down the field. Both Gronkowski and Hernandez are vertical players that run well, but their most impressive trait is their ability to catch the ball.
The Cowboys have done a nice job against some outstanding tight ends this season, but Gronkowski and Hernandez present a different challenge because you see them down the field in combination routes with the receivers. Brady might look to Welker first, but I've seen him throw to Gronkowski and Hernandez in coverage and still they managed to come up with the ball.
Achilles' heel of Patriots offense: RT Nate Solder
If you are looking for a weakness on the Patriots offense, it is rookie right tackle Nate Solder, who has had to start because Sebastian Vollmar has been dealing with a back injury. Solder looks very similar to what I had seen on college tape before the draft. He's not very strong and, for someone that is a good foot athlete, he struggles with rushers off the edge.
Two weeks ago, the Cowboys didn't take advantage of the
Detroit Lions
' poor pass blockers. The Patriots' O-line is much better on both run and pass, but it will struggle at times when teams run games on them with movement in the passing game. If Rob Ryan is going to get pressure on Brady, this will most likely be the route that he tries to go.
Cowboys offense vs. Patriots defense
When you study the Patriots on defense, the one area that jumps out at you is how much space their secondary gives up in routes. I didn't see the tightness in the coverage that I have seen with other defenses that the Cowboys have faced so far this season.
Earlier in the season, the Patriots played a great deal of man coverage but with little success. Now you see them playing much more zone. Another area where the Patriots have struggled is their inability to rush the passer. New England doesn't have that dynamic pressure player coming off the edge. Defensive ends
Andre Carter
and
Shaun Ellis
are veterans, but they don't rush the passer like a
Brian Orakpo
or
Kyle Vanden Bosch
.
Patriots' defensive force: Vince Wilfork
The strength of this Patriots defense is up the middle with defensive tackle Vince Wilfork, who is one of the more dominate players in this league. For a man his size, Wilfork moves very well. He is not one of those tackles that sits in a spot and just anchors down. He is very active -- not only in his pass rush, but also his ability to play the run right at him or working down the line.
Kyle Kosier
,
Phil Costa
and
Bill Nagy
had to deal with the inside power and the push that the Lions'
Ndamukong Suh
and
Corey Williams
were able to get. To the credit of the Cowboys' inside three, however, they were able to hold up the majority of the time. Wilfork has power, but he has pass rush technique.
Breaking down the Patriots' defense
On the other side,
Albert Haynesworth
will see action. But also be aware of second-year player
Kyle Love
, who is a much lighter and more mobile player. When the Patriots' defensive line tries to get pressure, it's usually by using twist stunts. They will also use blitzes from the secondary -- twice using a slot blitz vs. the Jets and a straight corner blitz against the Raiders.
Linebackers Jarod Mayo and
Brandon Spikes
are very active. Both really try to play downhill and attack the ball. They like to give you a tight look with one of the linebackers at the line, drop him, then fire the one from the other side. Where this group had some trouble was when the Jets went with an empty formation and it caused some confusion.
Also watch passing plays on the outside against this defense. The
Buffalo Bills
were able to work their screen packages but were also able to make plays in the flat with their running backs catching the ball against these linebackers.
Another potential target spot: Patriots safety
Another potential weakness for the Patriots is at safety. Starter
Josh Barrett
has been banged up, as has
Patrick Chung
. The Patriots have been trying to make do with
Sergio Brown
, who tends to misplay the ball in flight and is a poor tackler.
James Ihedigbo
is a better player when he can react to the ball in front of him. It will be interesting to see if the Cowboys can take advantage of this defense.