Dallas Cowboys:

Blake Bortles
May, 21, 2014
5/21/14
5:01
PM ET
IRVING, Texas – Are you upset the
Dallas Cowboys
did not draft
Johnny Manziel
?
If you want to start thinking about quarterbacks who could be available in the 2015 NFL draft,
ESPN.com's Jeffri Chadiha has an early look at the class.
Chadiha mentioned Florida State's
Jameis Winston
, Oregon's
Marcus Mariota
and UCLA's
Brett Hundley
as the top three right now, but all would have to forego eligibility before entering the NFL. Mariota and Hundley contemplated a move this year.
Another name to keep an eye on was Baylor's
Bryce Petty
. He should be on Heisman Trophy lists this season as well. Head coach Art Briles continues to put out quarterbacks with big numbers.
A year ago at this time, however, nobody really new Central Florida's
Blake Bortles
and he was the third pick in the draft. It is all bound to change over the coming months.
The Cowboys have made it pretty clear that they are not into developing quarterbacks for other teams.
Tony Romo
is in the first year of the extension he signed in 2013 and is not going anywhere, but
Kyle Orton
, if he plays this season, will be a free agent in 2015, and
Brandon Weeden
would be entering the final year of his deal.
What if the Cowboys miss the playoffs again? What if Romo gets hurt? Maybe next year is the year they start the process. ESPN Insider Mel Kiper also
offers up his first big board
,

but you have to be an Insider to read it all.
April, 11, 2014
4/11/14
2:30
PM ET
As of now, the
Dallas Cowboys
don't have plans to visit with some of the top quarterbacks coming out for the NFL draft.
You can view this in several ways:
The Cowboys are not tipping their hand on which quarterbacks they actually like.

Maybe the Cowboys don't like any of the quarterbacks in this draft.

The Cowboys are comfortable with the three quarterbacks on their roster -- Tony Romo, Kyle Orton and Brandon Weeden.
Since 2000, the Cowboys have drafted three quarterbacks --
Quincy Carter
(2001),
Isaiah Stanback
(2007) and
Stephen McGee
(2009).
[+] Enlarge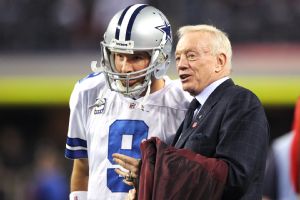 Richard Rowe/USA TODAY SportsJerry Jones seems to be squeezing as much as he can out of Tony Romo, but the quarterback's title window may already be shut.
Carter became the starter, but his off-field problems knocked him out of the league. Stanback was moved to receiver, and McGee never developed.
In free agency this offseason the Cowboys snagged 2012 first-round pick Weeden, a 30-year-old quarterback whose pro baseball career enabled him to play college football at a later age. The Cowboys like Weeden's mental maturity and feel they can improve his skill set with help from head coach Jason Garrett and quarterbacks coach
Wade Wilson
, among others.
It's a good plan because Romo, who is coming off back surgery, can't play forever. But if you listen to owner and general manager Jerry Jones sometimes, you can come away thinking that he will.
Jones said you can't rebuild with Romo as the starter. Based on Jones' thoughts, the time to win a championship with Romo is now. However, he's been chasing a title with Romo since he became the full-time starter in 2006.
Windows open and close in the NFL all the time, so it's interesting to note, Romo's. In 2006, he came on like gangbusters for
Drew Bledsoe
and led the Cowboys to the No. 1 seed in the NFC the next season. After a playoff win in 2009, however, the franchise has been stuck in mediocrity. Three consecutive 8-8 seasons span from 2011-13.

Regardless of whether Romo is still a quality quarterback, the window for him to win a championship might be closed.
He's had all the pieces in place the last few years and still hasn't won a title. Just look at the talent base on offense.
Jason Witten
,
Dez Bryant
,
Terrell Owens
,
Marion Barber
,
Flozell Adams
,
Andre Gurode
,
Miles Austin
,
Tyron Smith
,
DeMarco Murray
all earned Pro Bowl berths with Romo under center.
Some of the names have changed at some positions: Bryant for Owens, Murray for Barber, Smith for Adams. But Romo remains.
The Cowboys don't want to waste a first-round pick on a quarterback, but it would be nice to see
Jimmy Garoppolo
selected at No. 16 next month. At some point, the Cowboys have to think about the future.
Not bringing in
Teddy Bridgewater
,
Blake Bortles
or even
Johnny Manziel
for a visit to Valley Ranch isn't the end of the world. Manziel and Garoppolo met with team officials during the scouting combine and the Senior Bowl. But the lack of personal visits and workouts, which are readily available with the draft pushed to early May, is disappointing.
The secondary is a need this draft. So is tin he defensive line, despite what the Cowboys did in free agency. If you can find an upgrade at quarterback, don't you need to do it?
The answer seems obvious depending on your point of view.
January, 3, 2014
1/03/14
8:00
AM ET
IRVING, Texas --
Dallas Cowboys
owner and general manager Jerry Jones has already said he will not be in the quarterback business when it comes to May's draft. For such a great salesman, Jones is sure missing a way to keep the Cowboys in the offseason headlines.
Orton
Romo
Saying no is easy to say in December and perhaps a way to show even more belief in
Tony Romo
, who is coming off back surgery. But Jones should not be so dismissive. He might be forced into doing it anyway.
To disappoint plenty of you, this will not delve into the merits of possibly going after Johnny Manziel, Blake Bortles or Brett Hundley or any other possible quarterback in the first round. This is solely about the current state of the position with the Cowboys.
Romo will be coming off of his second back surgery in eight months. He turns 34 in April. He is coming off one of his best seasons with 31 touchdown passes and 10 interceptions. He is signed through 2019 and scheduled to count $21.7 million against the cap. That figure will be reduced when the Cowboys restructure his contract, but at some point they will have to come to the conclusion he cannot last forever.
Kyle Orton
showed in the season finale he can still play the game. He threw for 358 yards and had two touchdown passes in his first meaningful game in a long time. The fourth-quarter interception was bad, but Orton was better than many thought. He could start for a number of teams in the NFL. There's also a question of how much longer he wants to play.
"You just don't even think about that right now," Orton said at his locker after the Eagles' game. "Just a tough way to end the season ... All you think about right now is everything you put into it and you've got plenty of time to think about the future."
Orton counts $4.3775 million against the cap. That's $26 million of cap space committed to the quarterback position. The Cowboys will have decisions to make in order to trim enough money to get under the projected cap of $126.3 million.
Orton might prove to be too costly at his current price. He has a base salary of $3.25 million in 2014. The Cowboys could restructure his deal like they did in 2013, but that would push future dollars against the cap. If they cut Orton, the move would save almost $1 million.
It would also leave the Cowboys without a backup to Romo.
And this is where the draft comes into play, or at least a cheaper veteran option. The Cowboys have not gone cheap at the backup QB spot since Jason Garrett arrived.
Brad Johnson
wasn't cheap.
Jon Kitna
wasn't cheap. Orton has not been cheap.
The Cowboys looked at veteran options leading into Week 17, like
David Carr
,
John Skelton
and
Tyler Thigpen
, but went with Kitna because of his familiarity with the offense with such a short turnaround.
Maybe it's silly to move on from Orton with Romo coming off back surgery. It might be sillier not to start the process of finding the quarterback to succeed Romo eventually.