Dallas Cowboys:

Bobby Wagner
May, 8, 2014
5/08/14
9:00
AM ET
IRVING, Texas -- After looking at the history of the selections the
Dallas Cowboys
have in Rounds 4-7 on Wednesday, here is a look at Rounds 1-3.
Click here for the late-round review.
First round (No. 16)
2009 LB
Larry English
, San Diego
2010 DE
Derrick Morgan
, Tennessee
2011 LB
Ryan Kerrigan
2012 LB
Quinton Coples
, NY Jets
2013 QB
EJ Manuel
Notable:
Manuel was something of a surprise pick last year but had some moments as a starter before getting hurt. Morgan's rookie season was cut short by a knee injury, but he's recorded 12.5 sacks the past two seasons. Kerrigan is solid. Coples is something of an enigma after his first two seasons but has some pass-rush ability.
Second round (No. 47)
2009 S
Mike Mitchell
, Oakland
2010 LB
Daryl Washington
, Arizona
2011 TE
Lance Kendricks
, St. Louis
2012 LB
Bobby Wagner
, Seattle
2013 TE
Gavin Escobar
, Cowboys
Notable:
Escobar is the third second-round pick the Cowboys have used at tight end since 2006 and caught just nine passes as a rookie. He needs a huge 2014 season. Wagner was on the Cowboys' radar in 2012 but the trade up for
Morris Claiborne
ended that chance. Mitchell was a controversial pick but found a home last year in Carolina and signed a lucrative deal with Pittsburgh in the offseason.
Third round (No. 78)
2009 OL
Louis Vasquez
, San Diego
2010 WR
Brandon LaFell
, Carolina
2011 WR
Austin Pettis
, St. Louis
2012 TE
Michael Egnew
, Miami
2013 WR
Marquise Goodwin
, Buffalo
Notable:
A track standout at Texas, Goodwin caught 17 passes for 283 yards and three scores last season. Pettis has been a solid backup receiver with 95 catches for 916 yards and eight touchdowns for his career. LaFell signed with New England in the offseason after catching a career-high 49 passes in 2013. Vasquez made his first Pro Bowl last year after signing with Denver.
January, 14, 2014
1/14/14
12:00
PM ET
IRVING, Texas -- With the
Seattle Seahawks
set to take on the
San Francisco 49ers
in Sunday's NFC Championship Game, let's play a little what-if when it comes to the
Dallas Cowboys
.
Earlier today, I talked about the Cowboys still
needing some proof of purchase
when it comes to cornerback
Morris Claiborne
.
In 2012, the Cowboys traded up to take Claiborne with the sixth overall pick, giving up the Nos. 14 and 45 picks to the
St. Louis Rams
to get him.
Had the Cowboys held firm on their picks, then the likely first-round pick would have been defensive end
Michael Brockers
. In his first two years with the Rams, Brockers has 9.5 sacks in 29 games (28 starts); solid numbers for an interior defensive linemen.
In the second round, owner and general manager Jerry Jones said the Cowboys would have taken
Bobby Wagner
with the 45th overall pick. He went No. 47 to the Seahawks and has started 29 of the 30 games he has played with 159 tackles, seven sacks and five interceptions.
Now it was easy for Jones to say Wagner would have been the pick. It would have meant the Cowboys were going with "the best player available" theory because in 2010 the Cowboys drafted
Sean Lee
in the second round to play inside linebacker in the 3-4 and in 2011 they took
Bruce Carter
in the second round to play the other inside linebacker spot.
Carter's rookie year was largely a wash because he was coming off a torn anterior cruciate ligament suffered late in his senior season at North Carolina. He played in only 10 games as a rookie and did not have a solo tackle, seeing most of his time on special teams.
Was Jones being truthful that April night as he sat back feeling good about the Claiborne pick?
While acknowledging that Jones once said, "Just because I say it, doesn't make it so," let's assume he was telling the truth for a moment.
If Jones was, then the team had serious reservations about Carter after his first season, injury or no injury. Carter had a good second season before an elbow injury ended his year after 11 games and 80 tackles. He did not play well in 2013, like most of the defense, as he moved to the weakside linebacker spot.
Wagner, meanwhile, has been a playmaking machine in Seattle and is a game away from playing in the Super Bowl.
August, 13, 2013
8/13/13
9:00
AM ET
OXNARD, Calif. – The Cowboys are closing in on their return to Texas after their California summer vacation (aka training camp), but there are plenty of things to wonder about -- and not just the heat back home.
For the third time in training camp, we bring you Five Wonders:
PODCAST
Sean Lee joins Fitzsimmons and Durrett to discuss the Cowboys' upcoming season and his role on the team.

Listen

** LB
Sean Lee
was credited with a sack and a forced fumble by the stats crew Friday in Oakland, but after looking at the replay, it looked like
Jason Hatcher
poked the ball free from
Matt Flynn
before the big hit from Lee. In his first three years, Lee has filled every defensive category but sacks. In 35 games, Lee has yet to record a sack. But I don't wonder whether Lee will get a sack this year, I wonder how many he will get.
Brian Urlacher
had eight as a rookie in this scheme, but in five of his last seven years in Chicago, he did not have a sack. He had four in 2010. Monte Kiffin was aggressive in preseason game No. 2 against the Raiders, and Lee has a knack for timing. Seattle's
Bobby Wagner
had two sacks last year in this scheme playing the Mike spot. I can see Lee getting about three this year if Kiffin keeps up with his aggressiveness.
** Before camp, when we wondered about position battles, I don't think we had strongside linebacker on the list. We had free-agent pickup
Justin Durant
as the guy. Heck, I wasn't sure
Ernie Sims
would make the team. But I wonder if the coaches have opened this starting spot without any of us noticing until recently. And with Sims suffering a groin injury Sunday, I wonder how long the competition will last. The Cowboys hope Sims can play in the fourth preseason game against Cincinnati, but who knows whether he will be back. Before Sunday, Durant had worked all camp -- save for one vet day -- as the starting Sam linebacker with Sims as his backup. In the Hall of Fame Game against Miami, Durant was the only regular to play. In the second preseason game against Oakland, Durant started but Sims was on the field in the second series with the starters. Durant really has not done anything to lose a job that we all thought was his entering camp, but Sims has had an impactful camp. He has been around the football and has created turnovers in practice. The groin injury, however, might change all of this.
** In two preseason games, the Cowboys have had 58 pass plays. So far, tight ends
Jason Witten
,
James Hanna
,
Gavin Escobar
,
Dante Rosario
,
Colin Cochart
and
Andre Smith
have been targeted nine times. Given how much we have talked about "12 personnel" and how much the Cowboys have used "12 personnel" in practice, I wonder if the team is just keeping most of it under wraps in the preseason. Against Miami in the Hall of Fame Game, the Cowboys used the two-tight end package a bunch and ran the ball more than they threw it. Against Oakland, the starters were in 11 personnel (three wide receivers) more. There is no need to tip teams to what will be your base formation when the regular season begins.
** Last year, the Cowboys kept safety
Matt Johnson
around essentially for the season even though he hardly practiced because of hamstring and back injuries. Johnson earned a scholarship year in part because he was a fourth-round draft pick and teams don't want to give up on draft picks. Offensive tackle
Demetress Bell
is not a draft pick and the team does not have a financial commitment to him, but I wonder if the Cowboys will keep him around even though he hasn't done much of anything in camp. After signing, he needed extensive conditioning work when the team got to Oxnard, Calif., and the Cowboys did not want to put him at risk. He's in better condition now and the Cowboys' backup tackle situation is not good.
Jermey Parnell
is the third guy but a hamstring injury has slowed him through the first three weeks. The other backups,
Darrion Weems
and
Edawn Coughman
, have not impressed, either. Even if the Cowboys sign
Brian Waters
, they could keep nine or 10 linemen on the 53-man roster. Bell might not have to do much to be one of those guys.
** I wonder if people realize how out of date the Cowboys' Valley Ranch complex is. There is no doubt it is serviceable, but most of the BCS college programs have better facilities than the Cowboys. You think of Valley Ranch as this magical place because of the history of the franchise, but it is just not as functional as it needs to be, which is a big reason why we will see the team move its practice facility to Frisco, Texas. It's not just the lack of an indoor facility, though that is a big part of it. They don't have a place to cook their own food, they need more space for rehab programs, and the player lounge is hardly even a room. We make too much of these things when it comes to free agency because money speaks the most, but there's a reason why the Cowboys have taken their high-prized free agents to Cowboys Stadium first on their visits. When the team moves to Frisco in the future, the facility will match the stadium.
April, 23, 2013
4/23/13
12:33
PM ET
IRVING, Texas – Jerry Jones views himself as something of a gambler when it comes to the NFL draft. The Cowboys owner and general manager is willing to take some risks that others may not make.
PODCAST
Nate Newton joins Fitzsimmons & Durrett to discuss the Cowboys and the upcoming NFL draft.

Listen

With their first-round picks the last two seasons, the Cowboys appeared to skip the risky route with
Tyron Smith
and
Morris Claiborne
.
Smith was considered the top offensive tackle available in 2011, and Claiborne was the highest-rated defensive player on the Cowboys' board last spring.
That the Cowboys were able to score both players should be viewed as a positive.
Looking back on those drafts, I wouldn't have selected either player. It's not an argument against the player, but an argument against the philosophy. For Smith, the Cowboys left too much on the table. For Claiborne, the Cowboys gave up a lot.
In 2011, I would have made the trade with Jacksonville, giving up the No. 9 pick for picks Nos. 16 and 49. The Cowboys could have had tackle
Nate Solder
and had an extra second-round pick, in addition to
Bruce Carter
, whom they took with their own No. 2 selection.
In 2012, I would not have traded with St. Louis to get Claiborne. The Cowboys swapped first-round picks and gave up their second rounder to move up eight spots. Staying at No. 14 would have allowed them to take defensive end
Michael Brockers
and, so they said, linebacker
Bobby Wagner
, who excelled as a rookie in Seattle.
If we've learned anything from those nonstop AT&T commercials here lately it's that two is always better than one.
The Cowboys could have had two second-round picks in 2011 instead of one. They could have had first- and second-round picks last year instead of just a first rounder.
It's not that I don't believe Smith and Claiborne can develop into top players at their positions. It's just that they MUST develop into top players at their positions to justify the reasons why the Cowboys went the routes they went the last two years.
Smith has to be better than just solid. He has to be a perennial Pro Bowler, one of those no-doubt top tackles in the NFL. He played well as a rookie at right tackle. He was good last year after moving to left tackle. He needs to be better in 2013.
Because the Cowboys traded up for Claiborne, he has to be better than just solid. He has to be a perennial Pro Bowler, one of those no-doubt top corners in the NFL. He had moments as a rookie, but did he have a signature lock-down play last year? His interception against Carolina was a nice play, but there needs to be more of that. He needs to be better in 2013.
The Cowboys got quality in Smith and Claiborne, but this has been a roster in need of quantity.
May, 21, 2012
5/21/12
11:30
AM ET
The Cowboys' front office hasn't exactly shown a bunch of confidence that
Bruce Carter
is ready to make a
Sean Lee
-like leap in his second season.
PODCAST
Ben and Skin discuss the three most important figures for the Rangers, Mavs, and Cowboys. Who is the most vital to the ultimate success of each organization?

Listen

The Cowboys signed
Dan Connor
, a starter the last two seasons for the
Carolina Panthers
, to a two-year deal worth $6.5 million. The company line is that Connor will compete with Carter, but it's hard to believe the Cowboys would pay that kind of money to an inside linebacker if they didn't envision Connor playing the majority of the snaps next to his former Penn State teammate Lee.
But a 3-4 team needs three inside linebackers. Which made Jerry Jones' revelation that the Cowboys would have picked Utah State linebacker
Bobby Wagner
if they had kept their second-round pick pretty interesting.
That's why Carter has as much to prove as any Cowboy during the offseason team workouts, which begin for the full roster with this week's OTAs.
The Cowboys thought they got a steal when they selected Carter in the second round last year. Like Lee, they gave Carter a first-round grade and considered it a gift that he dropped in the draft due to a knee injury.
Carter spending the first half of the season on the physically unable to perform list wasn't a surprise to the Cowboys. But it wasn't a good sign that Carter only played 41 defensive snaps last season, according to ProFootballFocus.com, failing to convince the coaches that he should have even a niche role in Rob Ryan's scheme.
There is no question about Carter's athletic ability. He displayed his tremendous speed and quickness by running down Philadelphia's
Jeremy Maclin
in a one-on-one situation in the open field on a punt in Carter's NFL debut.
For Carter to be a defensive contributor, he has to prove that he can be counted on to be in the right place. He was dealt a tough hand as a rookie, not being able to practice until midseason. He can make up for lost time beginning with this week's OTAs.
April, 30, 2012
4/30/12
11:52
AM ET
IRVING, Texas – The award-winning 5 Wonders is back for a post-draft look. Today we talk about
Morris Claiborne
,
Bruce Carter
,
Mike Jenkins
and the missing nose tackle?
** The Cowboys traded up for Claiborne because he was the second player on their draft board and they could not believe he slipped out of the top five. In 2003 the Cowboys drafted
Terence Newman
with the fifth overall pick and said part of the decision was based on Newman's return abilities. In nine seasons, Newman had 38 punt returns for a 7.5-yard average and one touchdown. They never really let him do it. I wonder if the Cowboys will let Claiborne return punts and/or kicks. He averaged 25 yards per kick return last year at LSU and had a 99-yard touchdown. He's not
Patrick Peterson
as a returner, but he could be a good one and the Cowboys' return games need to improve in 2012. Here's a bonus wonder: I wonder if
Dez Bryant
actually becomes more of a full-time returner this season. It's Year 3 for him and I wonder if the team will sign him to a second contract down the road.
** Claiborne's arrival has Jenkins' future in question. Jenkins is in the last year of his contract and is scheduled to make a little more than $1 million. He is also coming off shoulder surgery and as I wrote on Friday, the team is a little concerned at how much rehab time he's spending in Florida and not at Valley Ranch. But I wonder what you could get for Jenkins. The money is palatable but he will be an unrestricted free agent in 2013. And he's coming off major surgery and won't be ready until training camp. Jerry Jones likes to say a player's value is lowest at the draft, so they could not get equal value for Jenkins or close to it. I wonder if the Cowboys let Jenkins play out the year, hope he does well, signs a big contract elsewhere and then hope they can get a compensatory back in 2014. The team doesn't wonder about this (they say) but I wonder if they would like a do-over on Orlando Scandrick's contract.
** I have to take Jones' word for it that
Bobby Wagner
would've been the Cowboys' pick in the second round had the team not made the move up for Claiborne. But I wonder what that means about Carter, last year's second rounder. At every opportunity the Cowboys have said they liked how Carter progressed last season off a torn anterior cruciate ligament, that he met every goal they planned knowing that he was injured. Well, now he's healthy and I wonder if he's really a fit. The Cowboys added
Dan Connor
in free agency to a two-year deal and Jones said they would've taken Wagner, an inside linebacker. That would seem to be a little redundant, unless Rob Ryan is drawing up some sort of special scheme or maybe Wagner could play outside. There will be a lot of eyes on Carter during the organized team activities and minicamp.
** Where's the true 3-4 nose tackle? As good as
Jay Ratliff
has been, many of you want the Cowboys to grab a huge nose tackle and slide Ratliff to defensive end. That's why some fans wanted
Dontari Poe
in the first round or even Alameda Ta'Amu in the third round. I wonder if the need for that type of plugger is as important nowadays. Think about it. The NFL is a passing league and if you have a 330-pound nose tackle to stop the run, he will play about 30 percent of the snaps. Is it worth it? I don't know, but it looks like the Cowboys don't believe so. The good nose tackles in 3-4 defenses now also have some pass rush and flexibility, like
Vince Wilfork
or
Haloti Ngata
. Those guys aren't available all the time and run defense was not the Cowboys' downfall last year. I also wonder this: The Cowboys might be higher on
Josh Brent
than many people know.
** I wonder how many undrafted players make this roster. You can almost lock up Ronald Leary, the Memphis guard, after how Jones talked about him Saturday. Heck, you wonder if Leary could be a candidate to start. Last year four undrafted players made the 53-man roster and a fifth,
Raymond Radway
, would have if not for an injury.
April, 28, 2012
4/28/12
9:19
PM ET
IRVING, Texas -- After the
Dallas Cowboys
traded up to get
Morris Claiborne
with the sixth pick in the NFL draft Thursday, everything else was a letdown.
Not to the Cowboys, surely, but to fans and those who somehow become draft experts by watching five plays on YouTube.
[+] Enlarge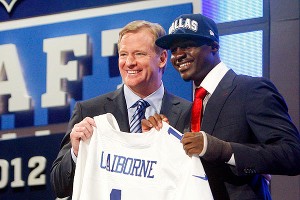 Jerry Lai/US PresswireAfter making a splash moving up to get LSU cornerback Morris Claiborne, the Cowboys stuck to their draft board.
Who's
Tyrone Crawford
? How does
Kyle Wilber
solve the pass-rushing issue?
Matt Johnson
, a safety from Eastern Washington? Can
Danny Coale
play? Will
James Hanna
be able to be a full-fledged tight end? What is a Caleb McSurdy?
The calls for Jerry Jones' resignation started in the draft when the team took players that were not highly rated by scouting services or the well-known gurus.
We'll find out who is right or who is wrong eventually, but the instant evaluations can be somewhat tedious. At the close of last season, teams had 56.6 percent of their draft picks from 2007-11 remaining on their rosters.
The Cowboys had 54 percent. Minnesota had the best at 69 percent. St. Louis was worst at 40 percent. Jacksonville and New England had 47 percent.
For all the scouting and all the money, hitting on a player is slightly better than 50-50. So don't get too worked up just yet over guys at the back end of the draft.
Did anybody know that a seventh-round pick out of Auburn in 2005 that played three different positions would develop into an All-Pro nose tackle? Maybe
Jay Ratliff
did, but nobody else did.
If you just base the draft on the positions the Cowboys selected, they filled holes along the defensive line, secondary, tight end and wide receiver.
The Cowboys waited until after the draft to address the offensive line, in part because the team added two guards in unrestricted free agency (
Mackenzy Bernadeau
and
Nate Livings
), drafted three linemen last year (
Tyron Smith
,
David Arkin
,
Bill Nagy
) and had a college free agent (
Kevin Kowalski
) make the roster.
"We've spent some resources [on the offensive line]," executive vice president Stephen Jones said. "We'll continue to look at it, continue to try to get better, but I think we are getting better."
If Jason Garrett mentions high motor one more time, it will soon become a drinking game at most college fraternities. The selections had common characteristics: hard workers, studious, leaders, smart. Garrett loves those traits. Last year's draft class, Garrett's first, had the same thing.
Will Crawford, the Boise State defensive end, become the pass-rushing threat the Cowboys have lacked at defensive end? Can Wilber replace
Anthony Spencer
down the road? Johnson's productivity makes him attractive, but can he handle the jump up in level of play? Coale has all the tools of a good slot receiver and Hanna can be a pass-catching tight end, but are they multi-dimensional at their positions?
Maybe.
But this draft is all about Claiborne. For now.
The Cowboys' move to get Claiborne was bold. They got the highest-rated defensive player in the draft and the second-highest player they had rated on their board. In a division with receivers like
DeSean Jackson
,
Victor Cruz
,
Jeremy Maclin
and
Hakeem Nicks
, and quarterbacks like
Eli Manning
,
Michael Vick
and now
Robert Griffin
III, addressing cornerback was key.
Would you have felt better about a draft that featured LSU defensive end
Michael Brockers
and linebacker
Bobby Wagner
in the first two rounds, which appears to be the way the Cowboys would have gone without the trade, or Claiborne?
Claiborne was the best player at an elite position. Brockers offers little in terms of pass rush and Wagner would seem to be a redundant pick, considering the shape of the roster.
"He's everything we want," coach Jason Garrett said of Claiborne, "Physically, and it's a premier position. And he's the right kind of guy."
April, 27, 2012
4/27/12
11:11
PM ET
IRVING, Texas --
Dallas Cowboys
owner/general manager Jerry Jones said the Cowboys would have used a second-round pick on Utah State inside linebacker Bobby Wagner.
The Cowboys didn't have a second rounder because they sent it to the
St. Louis Rams
as part of a trade to acquire the sixth overall selection, which they used on LSU cornerback Morris Clairborne.
Wagner, 6-0, 241 pounds, went to Seattle as the 47th overall pick of the draft.
It's interesting the Cowboys would have looked at an inside linebacker given they already have
Sean Lee
,
Bruce Carter
and
Dan Connor
at the position.
Carter saw limited action last season because he was recovering from knee surgery. Lee led the team in tackles with 105 and Connor was a free-agent pickup this spring.
But the Cowboys have preached creating competition at several positions and Tom Ciskowski, the assistant director of player personnel, said he had no problem with the Cowboys adding players at certain spots as long as it made the team better.
In the third round, the Cowboys selected Tyrone Crawford, a defensive end from Boise State, who was at the top of their board for that particular round.
"A guy we really feel like has some upside who can do some different things for us," coach Jason Garrett said of Crawford. "We feel like he can grow into a [defensive end] and we also feel he can be a pass rusher on third-down situations."