Dallas Cowboys:

Brandon Boykin
December, 30, 2013
12/30/13
1:54
AM ET
ARLINGTON, Texas -- The chance to be a hero was there for
Kyle Orton
.
He could put his name next to Clint Longley, Jason Garrett, Steve Beuerlein and Bernie Kosar as backup quarterbacks who saved a game -- or, in Sunday's case, a season -- for the
Dallas Cowboys
.
With 1:49 to play, the Cowboys had the ball at their 32-yard line. All they needed was a field goal and the NFC East was theirs. All they needed was 40 yards on a night in which they put up 417 yards, and a playoff spot was theirs for the first time since 2009.
Playing only because
Tony Romo
had back surgery two days prior, Orton entered the game against the
Philadelphia Eagles
with just five pass attempts on the season and 15 in the past two. He was so close to being that guy for the Cowboys.
[+] Enlarge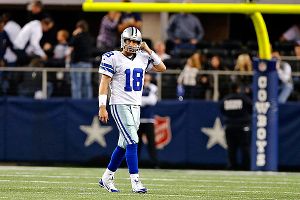 AP Photo/James D. SmithKyle Orton threw for 358 yards and two TDs, but a late interception ended the Cowboys' comeback try.
"I wish I had the throw back," Orton said.
On first down, Orton looked to the slot to
Miles Austin
. The Eagles showed pressure before the snap. Austin won on his route, but Orton's pass was behind, giving
Brandon Boykin
the chance to end the Cowboys' season and Orton's heroics with an interception.
Eagles 24, Cowboys 22
.
Just like that, the Cowboys' season was over. For the third straight year they finished 8-8. For the third straight year they failed to win an NFC East decider in Week 17. For the second straight year they were done in by a fourth-quarter interception. Last year it was a Romo interception with three minutes to play against the
Washington Redskins
with the Cowboys trailing by three points.
"Everybody puts in a lot through a season, and this is my chance to contribute," Orton said. "Had a chance down two with two minutes to go and expected to make the plays. Miles ran a good route, and I just have to make that throw."
But blaming Orton for the loss would be beyond wrong.
Starting for the first time since the 2011 season finale with the
Kansas City Chiefs
, he finished with 358 yards on 30-of-46 passing. It was the second-most passing yards by a quarterback in his first start for the Cowboys since
Jon Kitna
(who was Orton's backup Sunday) in 2010. He threw touchdown passes to
Gavin Escobar
and
Dez Bryant
. He was not sacked.
It wasn't perfect. His first interception came on a late throw to
Jason Witten
. He overthrew Bryant on a deep ball in the fourth quarter. He was late on the throw to Austin.
"Obviously there were a couple of plays in that game that he would love to have back, but I think if you look at the whole body of work, I think he did a heckuva job," coach Jason Garrett said. "He had a great week of practice. He was prepared. He was confident. I thought the guys responded to him. [He] made a ton of big plays in this game over and over and over again."
None was bigger than the 32-yard touchdown to Bryant. On fourth-and-9, he hit Bryant in stride and saw the receiver break free from safety
Patrick Chung
for the touchdown with 3:50 to play that made it 24-22. On the two-point conversion try, he went back to Bryant. Eagles cornerback
Cary Williams
was able to deflect the low pass to maintain the Eagles' advantage.
"It was tight coverage," Orton said. "I probably could've gave him a better ball, but one-on-one to Dez, we've taken our chances there all year."
Orton had one chance. The one he dreamed about before the game but didn't think about when he walked on the field.
"It was such a back-and-forth game the whole game, you're just kind of focusing on that drive and not trying to get too far ahead of yourself," Orton said.
Dan Bailey
would not get a chance to attempt a game-winning field goal. There would be no celebration inside AT&T Stadium. The NFC East championship hats and T-shirts with the Cowboys logo never got out of the box.
"It's frustrating when your season is done, no matter when it is," Orton said. "You put a lot into it and it's just a disheartening way for us to go out."
June, 22, 2013
6/22/13
12:00
PM ET
»
NFC Eight in the Box:
East
|
West
|
North
|
South
»
AFC:
East
|
West
|
North
|
South
How does each NFC East team look in the secondary, and what still needs to be done?

Dallas Cowboys:
Last offseason, the Cowboys used premium resources to acquire
Brandon Carr
in free agency and
Morris Claiborne
in the draft so they could be better equipped to play man coverage on the outside. Then this offseason, they went out and hired Cover 2 guru Monte Kiffin as their defensive coordinator. Kiffin supposedly will incorporate more man coverage into his play calls, but Carr and Claiborne are not ideal players for Cover 2, which will be Dallas' base coverage. Still, these two, along with nickelback
Orlando Scandrick
and fourth-round pick
B.W. Webb
, give the Cowboys an excellent set of cornerbacks overall. Scheme notwithstanding, Claiborne should be much improved in his second season. Safety is another story though. This position was a huge weakness in 2012. Free-agent signee
Will Allen
is penciled in to start opposite
Barry Church
, who is highly unproven. The Cowboys used a third-round pick on
J.J. Wilcox
, but Allen is not starting material and Wilcox is extremely raw. Wilcox has a ton of ability and should be an immediate standout on special teams, but trusting him to read quarterbacks and route combinations as a rookie could be a disaster. To me, safety remains an immediate weakness for Dallas.

New York Giants:
There isn't a lot of change here from 2012 -- and that isn't really a good thing. Gone is
Kenny Phillips
and in are
Aaron Ross
and
Ryan Mundy
, but this is a franchise that relies on its defensive line to make the defense go -- and the line does look impressive. Safety
Stevie Brown
made a lot of plays last season and will be asked to replace Phillips on more of a full-time basis alongside
Antrel Rolle
, whose best trait is probably his overall versatility. At cornerback, the Giants are counting on
Prince Amukamara
and
Jayron Hosley
to take noticeable steps forward in their young careers, especially from an overall consistency standpoint.
Terrell Thomas
returns from yet another major injury and Ross will provide corner depth, but
Corey Webster
is the player New York absolutely needs to play like he did earlier in his career. In 2012, Webster struggled mightily and Hosley was often beaten, which obviously is a huge concern.

Philadelphia Eagles:
The Eagles gave their secondary a total overhaul this offseason. While there was talent in this group a year ago, it collectively made a ton of mistakes and just allowed far too many big plays. Simply said, the Eagles' secondary was dreadful in 2012. One carryover is
Brandon Boykin
, who played well as a rookie and should be the ideal nickel cornerback going forward. The starters at corner,
Bradley Fletcher
and
Cary Williams
, have plenty of questions around them. I don't see either player as close to being a true No. 1 cornerback, but if they can show some consistency it will be an improvement for Philadelphia at the position. At safety, the Eagles signed Kenny Phillips from the Giants, an excellent move and a massive upgrade if he stays healthy. They also inked
Patrick Chung
away from the Patriots. There is much more uncertainty around Chung, who has never stepped up as many expected he would have by now.
Earl Wolff
,
Nate Allen
,
Kurt Coleman
and
Curtis Marsh
provide the Eagles with young talented depth, but while the secondary has been totally reshuffled, the starters here are far from sure things. But like the rest of Philadelphia's secondary in 2012, Allen and Coleman had a rough go of it last season.

Washington Redskins:
Probably the biggest need area for this team heading into this offseason was the secondary. In free agency, the Redskins added
E.J. Biggers
, who should be a very solid all-around third cornerback. In the draft, Washington addressed its secondary in a big way, using a second-round pick on
David Amerson
, a fourth-rounder on
Phillip Thomas
and a sixth-rounder on
Bacarri Rambo
. Right now, the starters are
DeAngelo Hall
and
Josh Wilson
at cornerback and
Brandon Meriweather
and
Reed Doughty
at safety. Surely the Redskins would love for Amerson, Thomas and Rambo all to challenge for starting spots right out of the gate, but rookie cover men often struggle. Still, Doughty is very average. Meriweather is returning from injury and has been highly inconsistent and untrustworthy, while Hall is one of the more overrated players in the NFL, who can look great one week and terrible the next. Wilson might be the best member of Washington's secondary, which is an indictment of the status of this unit overall. The Redskins have, however, added young talent, and the return from injury of
Brian Orakpo
, their only truly top-notch pass-rusher, also should help the cover men a great deal.
December, 12, 2012
12/12/12
1:00
PM ET
For a while, the quarterback position on the All-NFC East team has looked like a boat race, with Redskins rookie
Robert Griffin III
the clear winner of the spot. But Griffin hurt his knee Sunday, and if he has to miss a few games, he could be caught. Both
Tony Romo
and
Eli Manning
are hot and have big numbers (though Griffin's remarkably small number in the interception category is a big part of his lead.)
The disclaimer that no one will read: This is an All-Division Team
based on overall season performance to date
. It is not --
repeat, NOT
-- simply a list of the players who performed the best in this past week. That's why
Nick Foles
isn't on it.
Just a few changes this week -- one on the offensive line, a couple at kicker and punter and the rest in the secondary, where I admit I'm at a loss. More explanation after the list itself.
Quarterback:
Robert Griffin III
,
Washington Redskins
(Last week: Griffin)
Running back:
Alfred Morris
, Redskins (Morris)
Wide receiver:
Dez Bryant
,
Dallas Cowboys
;
Victor Cruz
,
New York Giants
; (Bryant, Cruz)
Tight end:
Jason Witten
, Cowboys (Witten)
Fullback:
Henry Hynoski
, Giants (Hynoski)
Tackle:
Trent Williams
, Redskins;
Will Beatty
, Giants (Williams, Beatty)
Guard:
Evan Mathis
,
Philadelphia Eagles
;
Chris Chester
, Redskins (Mathis,
Chris Snee
)
Center:
Will Montgomery
, Redskins (Montgomery)
Defensive end:
Jason Pierre-Paul
, Giants;
Jason Hatcher
, Cowboys (Pierre-Paul, Hatcher)
Defensive tackle:
Barry Cofield
, Redskins;
Fletcher Cox
, Eagles (Cofield, Cox)
Outside linebacker:
DeMarcus Ware
,
Anthony Spencer
, Cowboys (Ware, Spencer)
Inside linebacker:
DeMeco Ryans
, Eagles;
Perry Riley
, Redskins (Ryans, Riley)
Cornerback:
Prince Amukamara
, Giants;
Brandon Carr
, Cowboys (Amukamara,
Morris Claiborne
)
Safety:
Antrel Rolle
,
Stevie Brown
, Giants (Rolle,
Kenny Phillips
)
Kicker:
Dan Bailey
, Cowboys (
Lawrence Tynes
)
Punter:
Sav Rocca
, Redskins (
Brian Moorman
)
Kick returner:
David Wilson
, Giants (Wilson)
Punt returner:
Dwayne Harris
, Cowboys (Harris)
Did you know this division doesn't have one single cornerback ranked in Pro Football Focus' top 50 for the season? This is what I'm working with, folks. Their highest-ranked NFC East corners are Orlando Scandrick (52), Brandon Boykin (54) and Cedric Griffin (63). So you tell me. I gave Claiborne's spot to Carr this week because I think they're pretty close and Carr's had a couple of game-changing plays the last couple of weeks. But these spots could belong to guys like Josh Wilson and Dominique Rodgers-Cromartie just as easily. This is two years now, and no one in this division plays this position consistently well.
Safety's a problem, too, and with the best one in the division (Phillips) in and out due to injury, his spot goes to his real-life replacement, who has seven interceptions.
That second guard spot is a mishmash, with Chester, Snee, Nate Livings and Kevin Boothe all getting consideration. Snee has the track record, Chester's had the more consistent season. Slightly.
And no, Redskins fans, I'm not "ignoring" Darrel Young at fullback. For the millionth time, both Young and Hynoski are having excellent seasons. It's a tough call, every week. But Hynoski's on the field more, and while he doesn't catch or carry the ball once or twice a week like Young does, he's been the slightly better blocker. And that's the important part of their jobs. I'd love to see both guys go to the Pro Bowl. I can't put them both on this team, though. Maybe if one of them learned to play cornerback. There are spots open there.
Tynes is out at kicker. The only question was his replacement, and Bailey, Alex Henery and Kai Forbath all made good cases. I went with Bailey, who hasn't missed from inside 50 and has made more (2) from 50-plus than any of the others have. Forbath is perfect since joining the Redskins, and he's made some huge kicks, including this week and on Thanksgiving. But he's got 14 field goals to Bailey's 25 (and Tynes' 33 and Henery's 23). Didn't seem right. Henery is the best of the bunch on kickoffs, statistically. Good year for kickers in the NFC East.
Moorman's also out at punter after that debacle Sunday. Our old friend Rocca returns, though you know Steve Weatherford got a long look.
And yes, David Wilson's kick return for a touchdown would have won him the kick-returner spot for the rest of the season, but he already had it.
Your thoughts?
August, 9, 2012
8/09/12
11:00
AM ET
One big reason cornerback
Terrell Thomas
is important to the
New York Giants
is that the Giants
really
like to use defensive backs. The Giants learned earlier this week that Thomas' latest knee injury would not require surgery and that he should be able to play for them this year. This is good news, because with
Aaron Ross
having left via free agency and second-year cornerback
Prince Amukamara
still developing, the Giants need Thomas. Not just as the starter opposite
Corey Webster
, but in the nickel and dime defensive packages they used more than any other team in the league last year.
According to ESPN Stats & Information, the Giants used five or more defensive backs on 734 defensive snaps last year -- more than any other team in the league. That number accounted for 68.5 percent of their 1,072 defensive snaps. Only the
Green Bay Packers
went with five or more defensive backs on a higher percentage of their plays -- 69.0 percent, or 724 of 1,049.
I know this because our NFC North blogger, Kevin Seifert, recently did a post about
how often the NFC North's teams
were in nickel or dime packages last year, and he passed along the chart he got from ESPN Stats & Info showing how often each team in the league went with extra defensive backs. That's how things work on the ESPN.com NFL blog network. We're a team. A brotherhood. Eight pistons firing as one. It's really quite beautiful to watch sometimes.
Anyway, I looked at the chart and noticed that the NFC East's teams basically lived in nickel and dime defenses. Well, three of them at least. The Giants ranked second in the league in percentage of plays with five or more defensive backs. The
Dallas Cowboys
were fifth, at 59.5 percent. The
Philadelphia Eagles
ranked eighth, at 56.8 percent. And the
Washington Redskins
were the exception, ranking 24th at 43.9 percent.
The Redskins had injury issues at safety, didn't like the job
Kevin Barnes
was doing as their inside corner and have very good linebackers that they don't like to take off the field. But the other three teams in our division ... they love them some nickel.
Back to the Giants for a second. Just because they used extra defensive backs this much last year doesn't automatically mean they'll do it again. They're deeper and stronger at linebacker this year, and they didn't re-sign veteran safety
Deon Grant
. That means, if they go to those three-safety looks they've run the past couple of years, the third safety would have to be someone like
Tyler Sash
or
Will Hill
. With Thomas currently on the shelf, there's a chance they could ask safety
Antrel Rolle
to play the nickel corner position, but that's not ideal.
Michael Coe
is likely the next corner off the bench if Amukamara is pressed into a starting role, and while he's looked good in camp, he lacks experience. The Giants liked linebacker
Jacquian Williams
in coverage late last year and in the postseason, and it's possible they could design more packages this year that use just four defensive backs, since their 2012 strengths may lie elsewhere.
The Cowboys' ideal plan is to start
Brandon Carr
and
Morris Claiborne
at cornerback with
Orlando Scandrick
and
Mike Jenkins
backing them up. Scandrick is good in the nickel spot, and overall this plan would give them enough depth to go to the nickel as often as they like. The issue right now, of course, is that Jenkins and Claiborne are hurt, and even if they expect those guys back for the start of the season, they're probably not getting to practice those nickel looks as much as they'd like to. Or at least, not with the personnel they'd prefer to use.
As for the Eagles, they're similar to the Giants in that they're stronger at linebacker this year and subtracted one of last year's starting corners when they traded
Asante Samuel
. With
Nnamdi Asomugha
and
Dominique Rodgers-Cromartie
as the starters, the nickel spot right now is likely to fall either to veteran
Joselio Hanson
or (more likely) rookie
Brandon Boykin
.
Curtis Marsh
has been getting a lot of work in camp and is the first option off the bench should one of the outside guys get hurt. And undrafted rookie
Cliff Harris
has a chance to make the team and add depth. Given the responsibility the Eagles' linebackers have for run support and gap control in the Wide 9, it's likely the Eagles will lean on their defensive backs as much as they did last year, and play as much nickel.
A lot of this depends on opponents, too. The Giants, Eagles and Cowboys all like to throw the ball a lot, so when they play each other they structure their defenses to stop the pass. And having teams like the Packers, Saints, Falcons, Steelers and Lions on the schedule, as NFC East teams do this year, can make teams go to the nickel more. But if we're basing it on last year alone, our teams like to use extra defensive backs as much as anyone in the entire league.
May, 14, 2012
5/14/12
8:00
PM ET
Thanks for the feedback on the last post. I have been reading through the comments there, and I appreciate the suggestions. Most of them, anyway.
Meantime, Football Outsides has been doing a division-by-division look at the remaining needs for each team, and today
they take on the NFC East
. It's Insider content (which always makes me chuckle, that the Outsiders are Insider), so you need to pay to read it, but here's a little taste.

Dallas Cowboys: "Interior offensive line."
Basically, the FO guys aren't excited about the Cowboys' talent level at guard and center, and seem unimpressed by Jason Garrett's plan to let
Nate Livings
,
Mackenzy Bernadeau
,
Bill Nagy
and
Phil Costa
compete for the three starting spots in the interior of the line. No mention of
David Arkin
, oddly, who would seem to be in the mix. And I do have a nitpick with their claim that Nagy was "banished to the bench" for ineffectiveness last season, when it was actually a broken ankle that ended his season. But in general, the idea that the Cowboys need more strength and power at the interior line positions than they probably have on the roster is probably accurate.

New York Giants: "Osi Umenyiora's replacement."
This seems to posit that the Giants would trade Umenyiora or that he'd hold out and they wouldn't have any pass-rushers at defensive end behind their two excellent starters. I don't think they're going to trade him, and I don't think he's going to hold out of any regular-season games once push comes to shove. But this does point up the idea that the Giants need to be thinking about who replaces Umenyiora next season, assuming he leaves via free agency.

Philadelphia Eagles: "Secondary depth."
The metrics all rate
Asante Samuel
very highly as a cornerback, so it's little surprise that FO treats his departure as one that creates a hole. I think they're right on this score, but the metrics don't take into account Samuel's salary, or the fact that his playing style doesn't fit what they want to do with the cornerbacks this year, so it's hard to get on them for that dump-trade they made with him. Assuming full health and a big steps forward for
Nate Allen
and
Jaiquawn Jarrett
, the Eagles should have a good starting secondary. But I would agree that there is little behind the starters if someone gets hurt. Interested to see whether
Brandon Boykin
can make an impression early and challenge for that nickel corner spot, and I can't rule out the possibility that they add a veteran to the safety mix. There are still quite a few out there.

Washington Redskins: "Cornerbacks."
Yeah,
DeAngelo Hall
and
Josh Wilson
project as the starters, but they're not exactly Deion Sanders and Night Train Lane back there, and as FO points out, the Redskins' efforts to upgrade their secondary don't rank among their greatest successes of this offseason. Washington's defense is emerging as a good one, but the weak spot is still in the back, and they would do well to keep on the lookout for ways to make it better. That's part of why they're bringing so many safeties to camp, but they'll need better performance from Hall and Wilson in 2012 if the defense is to take the next step.
March, 15, 2012
3/15/12
11:45
PM ET
The fifth installment in our draft series looks at Georgia cornerback Brandon Boykin.
Scouts Inc. ranks:
No. 8 cornerback, No. 60 overall
Bio:
Second-team All-SEC selection at cornerback last season, when he had 55 tackles (11 for losses), nine passes broken up, three interceptions and two forced fumbles. Finished career with nine interceptions. Also a dynamic kickoff and punt returner. Averaged 24.2 yards on 110 career kickoffs with four touchdowns. Averaged 12.9 yards with a touchdown on 14 punt returns. Played some offense as a senior, when he had seven carries for 103 yards and a touchdown and five catches for 71 yards and two touchdowns.
[+] Enlarge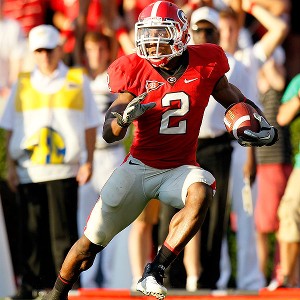 Kevin C. Cox/Getty ImagesCornerback Brandon Boykin isn't the most physical player, but he has good speed and quickness and was a dynamic punt and kick returner at Georgia.
Size:
5-foot-9 ¼, 182 pounds
40-yard dash:
4.44
Did not participate in scouting combined due to broken leg suffered at Senior Bowl.
Broaddus Breakdown (viewed South Carolina, Georgia Tech, LSU and Michigan State games):
Lined up at the right cornerback, slot and even safety at times for the Bulldogs. … Small-looking player on film, and at times will play small. … Like
Stephon Gilmore
from South Carolina, he plays with outstanding foot quickness and does a nice job reading routes and driving on the ball. Plays with range and good initial burst. Really shows some closing speed when he sees the play develop. … Skilled enough to carry routes across the field and maintain position. Will show the ability to cut his man off in route. Is a fluid-moving athlete. Can turn and run with little trouble. Don't see much separation from receivers in his game. … Plays smart. LSU tried to fool him with a double move on the outside, but he did not bite on the route. … Thought he was a much better zone player than man, and that might have something to do with his size. … Starts well in his pedal but will tend to get a little high. … Showed good ball skills. Had an interception against South Carolina, but also dropped one. Played the ball well in the air against LSU. … Will struggle when he has to set the edge in the running game. This just really isn't one of his strengths. Bothered me when the ball came downhill at him; he went into retreat mode. The LSU game was awful for him when it came to being physical on the edge. Missed two tackles in the open field that both resulted in touchdowns. If he can tackle you by running you down from the backside, he has a shot at making the play, but otherwise, there could be some problems. … Did drive on the ball against Michigan State on a hitch screen and tackled his man, which resulted in a safety. … A club will draft and use him in the slot to start his career. There is no doubt of his ability to cover anywhere on the field, but he will need some work when he has to play at the point of attack. … Can easily see him going mid to late second round of the draft. Did not work out during the combine because he got hurt in the Senior Bowl, but that really shouldn't be a problem for him because you can see the speed and quickness on tape.
January, 25, 2012
1/25/12
9:00
AM ET
MOBILE, Ala. -- We're leaving the Senior Bowl after three days of nice, cool weather, and here's some notes:
1. The Cowboys are
doing their due diligence regarding the quarterback position
. I don't believe the Cowboys will draft one, but they did interview Oklahoma State's Brandon Weeden on Sunday. Jerry Jones said if the team picks up a quarterback, it has to be a veteran who can move quickly in the offense. Weeden's age, 28, means he's a little more mature than some rookie quarterbacks and he picked up the
Washington Redskins
offensive terminology pretty quickly during practices here.
2. Finding a cornerback is a must for the Cowboys. When Jones says there will be new faces on the roster at that position, he's telling the truth.
Alan Ball
,
Frank Walker
,
Terence Newman
and quite possibly
Abram Elam
might be gone from the 2011 roster. The
Cowboys interviewed troubled corner Janoris Jenkins
, but one corner to watch is Georgia's Brandon Boykin. He's 5-9 1/4 and 183 pounds. He plays physical and can play the slot and outside. Boykin can also return kicks and punts.
3. It seems
Keith Brooking
wants to continue playing, according to his agent Pat Dye Jr. Brooking is open to playing a reduced role with the Cowboys. You could say he played a reduced role in 2011, but that was only after the team felt confident enough in
Sean Lee
's development in training camp to pair him up with
Bradie James
. The Cowboys want a younger team, especially on defense, but if Brooking is willing to play 10 defensive snaps with some special team duties per game, it might be worth keeping him around.
4. It's pretty interesting the Cowboys are downplaying
Dez Bryant
's confrontation in Miami last week. Jerry Jones has not spoken to Bryant, but someone in the organization did, according to Jason Garrett. Bryant's behavior away from the field should concern the Cowboys and if they don't get a handle on it, it could go bad quickly.
5. Brooking is coming here to be inducted into the Senior Bowl Hall of Fame along with
Donovan McNabb
and Dan Reeves. ... If the Cowboys sign a veteran quarterback, why not get
David Garrard
? The former Jacksonville quarterback's back should be 100 percent by the end of March. ... Garrett went to only one Pro Day last year, USC's to check out
Tyron Smith
. Garrett didn't say if that number will increase. He expects it to be a case-by-case basis. ... DE
Marcus Spears
is expected to return along with fellow DE
Jason Hatcher
. As good as Spears and Hatcher were,
Kenyon Coleman
struggled down the stretch.