Dallas Cowboys:

Brent Grimes
January, 18, 2012
1/18/12
11:34
AM ET
By
Bryan Broaddus
| ESPNDallas.com
This is the third installment of Fixing the Cowboys:
When the final whistle blew on that chilly night at MetLife Stadium, the season ended for the
Dallas Cowboys
. The hope of a division title died with a roster that wasn't good enough to compete with the Giants for the second time in four weeks. If Jerry Jones and Jason Garrett are honest with themselves, they will look at this roster and say that it's just not good enough to compete with the Giants and the Eagles. We can talk about the Super Bowl all we want, but if you are not playing well in your division, there are going to be problems.

When I worked for the Cowboys, the biggest issues I had during our final meeting of the season was that we were not honest with the makeup of our squad. When you go 5-11 for three straight seasons and the coaches talk about the players like we were 11-5, there are going to be problems. Garrett and these coaches can't keep Jerry from believing his roster is better than it really is. I'm not going to say that there isn't talent on this team, but I will say there were players on this roster that Jones and Garrett were counting on that just weren't good enough.
Here is what I would try and do to help it:
1. As much as I want to overhaul this secondary, I am going to try and fix the left cornerback spot first.
Terence Newman
needs to be replaced immediately. His level of play has clearly slipped and he no longer plays with any confidence. When a corner lacks confidence you might as well be playing with a speed bump out there. There are two ways that Jones can attack this area. The first is to trust his pro scouting staff, which brought him
Laurent Robinson
and
Tony Fiammetta
. The big name corners on the market this spring will be
Cortland Finnegan
of the Titans and
Brent Grimes
of the Falcons. Both of these players are similar in age and will command top dollar. If I had to lean one way, I would probably go toward Finnegan because of his aggressive style and the nastiness in his play, which this team lacks. If there might be a hitch, it'd be that Jones and Garrett would like to have a corner with more size -- Finnegan and Grimes are both in the 5-9, 185-pound range.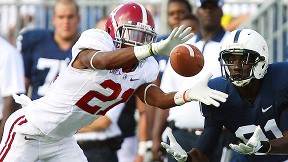 Matthew O'Haren/Icon SMIThere's no doubt that Alabama's Dre Kirkpatrick could instantly help the Cowboys' secondary, but can the team look past his recent arrest for marijuana possession?
The second way this area could be addressed is through the draft, which can either be feast or famine. Sitting in the 14th spot, Jones is still in decent shape because you usually have between 15 to 18 players that have first-round grades on your board. The second-best corner on the board will be
Dre Kirkpatrick
from Alabama. There is no questioning Kirkpatrick's ability or size (6-2, 192 pounds), but now character issues have been raised -- he was charged with possession of marijuana Tuesday and was released after paying a $120 fine.
When I worked for Bill Parcells, he put players with character flaws into "The Box" -- an area where you put players that you did not want to draft, period. I guarantee there will be teams that will take Kirkpatrick off their boards and into "The Box." The question for the Cowboys: Will Kirkpatrick be able to explain what happened, and will other examples of questionable behavior be uncovered? I would still consider Kirkpatrick an option for the Cowboys, but he really has to convince me that it'd be in my best interest to select him. I promise the Cowboys will turn over every rock to get to the bottom of this. He's that good of a player.
2. As much as I want to fix the interior of this offensive line with the addition of a free-agent guard like the Saints'
Carl Nicks
, I have to think about the amount of funds I wound have to allow for this to work. Don't get me wrong, it'd be money well spent, but there's also an opportunity to select the best guard in the draft -- Stanford's
David DeCastro
.
Jones and Garrett have to ask themselves if finding a replacement for OLB
Anthony Spencer
is more important than filling a position where you seem to have better options. Does
Kyle Kosier
,
Montrae Holland
,
Derrick Dockery
,
Kevin Kowalski
,
Bill Nagy
and
David Arkin
make you feel comfortable enough with the guard spot as is, whereas you just have
Victor Butler
and
Alex Albright
at outside linebacker? There is no doubt the Cowboys lacked a pass rusher that could help
DeMarcus Ware
on the other side. The Cowboys like Butler -- and he very well could be the starter going into 2012 -- but why not use the 14th pick to upgrade that spot with Alabama's
Courtney Upshaw
or South Carolina's
Melvin Ingram
? The Cowboys must do a better job of pressuring the quarterback because Ware can't do it alone. I have been critical of Ware, but a player on the other side could take pressure off him
and
help this defense tremendously.
[+] Enlarge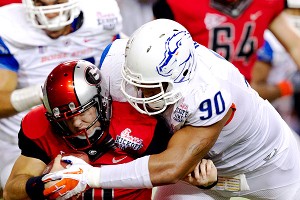 Bob Kupbens/Icon SMIBoise State's Billy Winn could be an interesting draft choice for the Cowboys as his physical presence could help them at the defensive end spot.
3. Sticking with the defense, I'm also taking a hard look at three spots -- defensive end, inside linebacker and safety. At defensive end, I'd move on from
Kenyon Coleman
, who wasn't nearly as good at the end of the season as he was at the beginning. I like
Jason Hatcher
, and I also think there is a role for
Marcus Spears
.
Sean Lissemore
proved to be a nice swing guy, but he looked better at nose tackle, so I'm tempted to keep him there. The scouts have hope for
Clifton Geathers
, but I don't share that. I would look to draft a productive player like Boise State's
Billy Winn
, who played tackle but should be suited more for play on the outside.
4. I'm also looking for help at inside linebacker, because there's really no depth. It's time to move on from
Bradie James
and
Keith Brooking
.
Bruce Carter
will be ready to play in 2012 and will be productive playing next to
Sean Lee
. However, behind those two, there's nothing. I'd try to add player in the fourth round that could be a quality backup but also help in the nickel, like
Kevin Burnett
did several years ago. Texas'
Emmanuel Acho
could be an interesting choice. Acho has a nose for the ball and is super active.
5. At safety, I'm moving on from
Abram Elam
because I need someone with more range. I have too many safeties on this roster that are forward players, such as
Barry Church
and
Danny McCray
. This defense needs someone that gets their hands on the ball and can help off the hash or middle of the field. I don't need safeties that can't adjust to
Victor Cruz
going down the field or
Riley Cooper
catching a jump ball from
Michael Vick
. If the Cowboys have a safety with range, it would be a step in the right direction in helping this secondary.
For all the problems that Garrett has had with game management, I feel he's got a good eye for talent and understands how you go about gathering players. Despite what people want to believe, the head coach does have a great deal of say in what players are signed and drafted. Bill Parcells took advantage of this; Dave Campo didn't. Chan Gailey convinced Jones that he wanted nothing to do with
Randy Moss
. Jason Garrett went to USC last season to see
Tyron Smith
work out and talk with members of the staff to get a feel for him.
You might not want to trust Jerry Jones, but you should trust Jason Garrett. I think he gets it.
January, 16, 2012
1/16/12
12:43
AM ET
The Cowboys have too many holes to fill with significant free agency investments and early draft picks. They need to aggressively address their priorities and bargain shop or count on young players to step up in the other need spots.

The priorities are clear: cornerback and the interior offensive line.
There is only one undoubtedly elite player just entering his prime at those positions available in free agency. That's why Pro Bowl guard
Carl Nicks
, who is expected to leave the Saints and happened to play for new offensive coordinator/offensive line coach Bill Callahan at Nebraska, should be the Cowboys' top target.
The best corners in free agency – Atlanta's
Brent Grimes
, Tennessee's
Cortland Finnegan
and San Francisco's
Carlos Rogers
– are in their late 20s or beyond. The Cowboys are dealing with the downside of paying big money to a cornerback at that stage of his career with
Terence Newman
. That's a hole they need to fill via the draft.
[+] Enlarge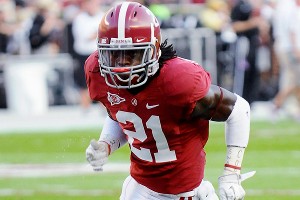 Kelly Lambert/US PresswireAlabama cornerback Dre Kirkpatrick would be a perfect fit for the Cowboys, even if they have to trade up from the No. 14 spot to get him.
Owner/general manager Jerry Jones, who made
Leonard Davis
one of the richest guards in NFL history only to cut him a few seasons later, has said he wants to stop the trend of paying top dollar for offensive linemen in free agency. Nicks is worth being an exception, especially given the Cowboys' glaring need. He's a dominant player who is only 26 years old, so the Cowboys would be purchasing his entire prime.
What would Nicks cost? Just look at what the Saints pay their other Pro Bowl guard to get an idea.
Jahri Evans
has a seven-year, $56.7 million deal.
That would eat up a major chunk of the estimated $17 million the Cowboys are expected to have under the salary cap after they take care of housekeeping issues such as cutting Newman. If the Cowboys re-sign receiver
Laurent Robinson
, it likely would mean Nicks would be the lone surefire starter they sign in free agency.
So the Cowboys better find a cornerback in the draft. But that doesn't necessarily mean they need to reach for one in the first round.
It'd be ideal if Alabama's Dre Kirkpatrick, the kind of big, physical cornerback the Cowboys want, is available with the 14th overall pick. He'd probably be worth trading up a few spots.
But a lot of bad picks are made when teams get locked into one position in the first round. If another player is clearly the best player on the board when the Cowboys are on the clock, get that guy, even if it's Stanford guard David DeCastro and Nicks is already signed. If that happens, the Cowboys' interior line suddenly goes from a glaring weakness to a major strength, no matter who beats out
Phil Costa
for the starting center job.
There should be quality corners, such South Carolina's Stephon Gilmore and Virginia's Chase Minnifield, available in the second round.
Safety, defensive end and outside linebacker are other need positions for the Cowboys. If the Cowboys find long-term solutions at those spots over the next year, it'll probably be young players already on the roster:
Barry Church
,
Sean Lissemore
and
Victor Butler
, although Alabama OLB Courtney Upshaw is also a first-round possibility. The Cowboys would be wise to create as much competition at those spots as possible with low-risk, short-term free agents and/or mid- or late-round draft picks.
But the Cowboys can't afford to fail to address their two biggest needs, a process that should start with a 6-foot-5, 343-pound solution.