Dallas Cowboys:

Brian Billick
November, 5, 2012
11/05/12
10:54
AM ET
It may be easy for you and I to sit here and say
Dallas Cowboys
owner Jerry Jones should give up on the idea of Jason Garrett as head coach, move on and start over with someone else. But it's important to remember that you and I probably wouldn't have hired Garrett to coach the Cowboys in the first place, and Jones did.
A half-season after he fired Wade Phillips as head coach and defensive coordinator, Jones looked at all of the available candidates and selected Garrett. Dan Snyder had beaten him to Mike Shanahan by a year, and the best remaining candidates at the time were either defensive coaches (John Fox, Jeff Fisher) like the one he'd just fired or offensive coaches (Jon Gruden, Brian Billick) whose stock had fallen since their Super Bowl title days. Garrett had just gone 5-3 over the second half of the 2010 season with
Jon Kitna
at quarterback. The team had responded to him, Jones had always thought highly of him, and so he made the decision that Garrett had earned his chance.
[+] Enlarge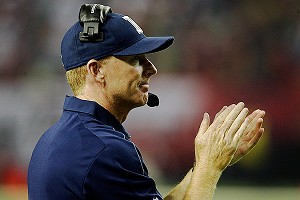 AP Photo/Chuck BurtonIs a strong finish to the season a must in order for Jason Garrett to keep his job as Cowboys coach?
We fast-forward now to the present day. After Sunday night's loss to the undefeated Falcons in Atlanta, Garrett is 3-5 for this season, 4-9 in his last 13 games and 16-16 since taking over as head coach of the Cowboys in the middle of 2010. For the first time since he got the job, he does not have a winning record. Cowboys fans are profoundly disappointed that things have failed to get better over the past two calendar years, and since they believe their team has the talent to play with the league's best teams but isn't beating them, they assume it's a matter of coaching and that Garrett must go.
Now, I don't believe this Cowboys team is as "talented" as everybody wants to rush to believe it is. Sure, there are some excellent players on both sides of the ball. But they don't have the same kind of depth of talent on their roster as the teams to which they've barely lost to the past couple of weeks. And at the positions where they're strongest -- quarterback and wide receiver, for instance -- the Giants and Falcons are even better. The combined record of the five teams to which the Cowboys have lost this season is 32-10, which means they've been beaten by the very best teams in the league. Of their remaining eight games, five are at home and only one is against a team that currently has a winning record. There is reason to believe things so far have been tougher for the Cowboys than things will be the rest of the way.
But those are excuses, this is a results business and the results say Garrett is a .500 coach. So this becomes about evaluating the kind of job he's actually doing. And it's not great. The clock-management issues, the delays in sending in the plays ... these things are easy to spot, as is the fact that the offense (which is Garrett's responsibility) appears to be regressing. The additions of offensive line coach Bill Callahan and the free-agent guards they signed were moves of Garrett's making, and they have not paid off.
Tony Romo
's having a bad year.
Dez Bryant
isn't making the step forward he was supposed to make. There is no run game to speak of with
DeMarco Murray
injured, and it's not as though they were running for 175 yards a game when he was in there.
There are plenty of reasons, if you believe 32 games is a sufficient sample size, to conclude that Garrett isn't doing a good enough job. But only one man's opinion matters, and that man is the guy who hired Garrett in the first place. Just because fans are looking for reasons to fire Garrett doesn't mean they should assume Jerry Jones is, too. Jones has publicly said, many times, that he regrets firing Chan Gailey after only 32 games, and that he's learned lessons about the importance of continuity. Good leaders stand by their plan and their people, and Garrett is Jones' guy and his plan is to give him every chance to succeed.
Jones likes Garrett. Garrett is Jones' hand-picked choice to coach the team. If anything, he's looking for reasons to keep him. Another 5-3 finish that got the team back to .500 would allow Jones to claim that Garrett had done a good job recovering from a tough first half. It would push Garrett's record to 21-19, and Jones could very easily say he's not going to fire a guy with a winning record. A finish better than 5-3 would make the Cowboys a playoff contender, possibly even a playoff team if things broke the way they did last year in the NFC East.
A total flop against the soft second half of the schedule? Say, a 3-5 finish and a 6-10 record for the year? That's the kind of thing that could change Jones' mind. So could the sudden appearance in the coaching free-agent ranks of a highly qualified offensive coach such as Sean Payton or Andy Reid. As much as Jones likes Garrett, he likes Payton as well. And if a coach with Payton's pedigree hits the market, every team with even the faintest of question marks in the head coach's office is going to have to take a long look.
But the key thing to remember, amid the frustration, is that Jones feels differently about Jason Garrett than Cowboys fans do. Jones thinks more highly of Garrett than you ever did, or else Garrett would never have been the coach in the first place. Jones wants Garrett to succeed -- wants to build the Cowboys into a consistent winner around him and with the help of his vision. That might sound crazy and unjustified to you and to me, but it's what Jones has in mind for his franchise. And in order for him to get rid of Garrett, something big is going to have to happen to change his mind. So while you may want Garrett out and you may think it's obvious that he needs to go, you shouldn't assume it's definitely going to happen.
October, 11, 2012
10/11/12
6:16
PM ET

Former
Ravens
coach Brian Billick previews Sunday's game against the
Cowboys
and says he would take
Joe Flacco
over
Tony Romo
.


If he had to choose between Joe Flacco and Tony Romo:
Wow. Because I like Tony Romo, I think Tony's got everything it takes ... his ability to make plays outside the design of the offense. But I think Joe Flacco is emerging ... right on that edge of maybe becoming an elite quarterback. He's got everything going for him and obviously he's younger and stronger ... but right now, depends on what kind of offense I want to run but right now I think Joe Flacco ... I think he's playing a more complete game.
September, 15, 2011
9/15/11
4:23
PM ET

Fox analyst and former NFL coach Brian Billick talks Cowboys with Galloway & Company's Ian Fitzsimmons.


On Dez Bryant's potential
Gotta wait and see. You see the flashes of brilliance, but you've got to see the consistency. He's got to show he can stay healthy. He's got to show that he's not going to leave his quarterback vulnerable. He's got the physical talent, no question about it, but can he truly become a professional? He's not a No. 1 yet. He has that potential. But right now you see a lot of youth and immaturity in him, and he's got to grow up.
Would he use Bryant to return punts?
I'm into winning games. And unless he's an absolute No. 1 on the outside – which he's not yet – I'm going to use him any way I can. But if he is injury prone, and if Jerry [Jones] said he's not particularly thrilled to see him with punts … I'm going to go out on a limb here and bet we don't see him in punt returns.
January, 5, 2011
1/05/11
2:45
PM ET
IRVING, Texas -- As the Cowboys inch (sprint?) toward making Jason Garrett the team's next head coach, some of you wonder why Jerry Jones has not made runs at higher-profile coaches, like Bill Cowher, Jon Gruden or Brian Billick or waited for the Jeff Fisher saga to play itself out.
Jones has reminded everybody that a coach has never won a Super Bowl with a new team the second time around. I've taken that to mean he's not interested in a Super Bowl coach. It has been pointed out Jones might like to be the first owner to have a coach win a second Super Bowl, but I'll point out the last part of a quote Jones said last week on the subject: "But I'm a big believer that that initial proving it out is a big motivator."
If you're looking for other reasons not to hire those bigger names here goes:
Cowher –
Difficult to knock him with his record with the Steelers, but Pittsburgh's system has endured through the years. I'm not sure he is a personnel guru, and I don't know that he would be able to get his assistants in place. Again, hard to knock him at all. I just don't think he would want to be here with the structure in place.
Billick –
He won one playoff game after taking the Ravens to the Super Bowl in 2000. In three of his last four years he missed the playoffs. His successor, John Harbaugh, has led the Ravens to the playoffs three straight seasons, although Harbaugh has benefitted
Joe Flacco
.
Gruden –
After winning the Super Bowl in 2002, Tampa Bay went to the playoffs twice and lost twice. Plus, the Bucs roster crumbled and he could never settle on a quarterback.
Fisher –
Since 2003 he has had two winning records (2007-08) and three losing records. And no playoff wins.
But there's this too: Of the 12 teams in the playoffs this year, nine are led by coaches with no previous head coaching experience.