Dallas Cowboys:

Bruce Allen
December, 20, 2013
12/20/13
11:05
AM ET
IRVING, Texas -- Not long after
Micheal Spurlock
was released by the
Detroit Lions
he had a workout with the
Washington Redskins
, whose general manager Bruce Allen was in Tampa Bay when Spurlock played for the Buccaneers.
Spurlock
The Redskins passed, and on Wednesday he ended up joining the
Dallas Cowboys
, in part because of another tie to his Tampa Bay past: special teams coordinator Rich Bisaccia.
Spurlock admits it is kind of funny that his first game will be against the Redskins.
"It was just one of those situations where it wasn't a fit there," Spurlock said. "It became a fit here. You move on. There's no hard feelings at all. Just go play, and we're trying to get a win."
The Cowboys hope Spurlock can spark the return game that has dried up with
Dwayne Harris
slowed by a hamstring injury.
Terrance Williams
has handled the kickoff duties in Harris' absence, but he might not play Sunday because of a hamstring injury.
Cole Beasley
has handled the punt returns.
In nine games for the Lions, Spurlock averaged 22.5 yards per kick return and 6.6 yards per punt return. For his career he has three kickoff returns for touchdowns, and two punt returns for touchdowns.
The Cowboys have made a late-season play for a returner before. In 2003, they signed
Michael Bates
in time for the regular-season finale. In the playoff loss to the
Carolina Panthers
he had seven kick returns for 172 yards, with a long of 41 yards.
In 2009, the Cowboys signed
Allen Rossum
to return kicks and punts, but he was hurt on his first return against Atlanta. The man he was supposed to replace,
Patrick Crayton
, had a clinching 73-yard punt return for a touchdown in the win against the Falcons.
The Cowboys are the third team Spurlock and Bisaccia have worked with together. They were together in San Diego as well.
"I've been around him a long time," Spurlock said. "Shoot, out of eight years maybe six years I've been around him. Some stuff has changed, but after looking at the pictures and stuff, it's pretty much the same stuff with different names. But I'm familiar with it."
March, 25, 2012
3/25/12
7:43
PM ET
PALM BEACH, Fla. -- Don't get me wrong. I'm grateful to
New York Giants
owner John Mara for stopping Sunday afternoon in the Breakers lobby to talk to a few of us about the salary cap penalties against the
Washington Redskins
and the
Dallas Cowboys
.
He didn't hold back
, and as you can see if you scroll through this blog's timeline, we got plenty of good material out of it.
But in the grand scheme of things, when we sit down to talk about the right and the wrong of this whole situation, there's very little right and a whole big pile of wrong, and the defiant stance Mara took Sunday afternoon made that pile much bigger.
The aggrieved parties in this instance are the Redskins and the Cowboys, and they're keeping quiet on the whole thing. Sure,
they filed a grievance
against the NFL and the NFLPA on Sunday, seeking to get some relief from the combined $46 million in salary cap room they've been docked over the next two offseasons. But they declined several opportunities Sunday to add to the rhetoric.
[+] Enlarge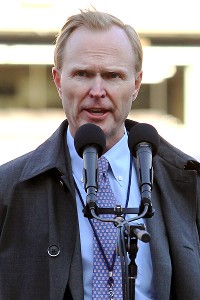 Ed Mulholland/US PresswireGiants owner John Mara has openly criticized the Redskins and the Cowboys for their spending during the 2010 uncapped season.
Stephen Jones, the Cowboys' director of player personnel: "Within the confines of our collective bargaining agreement, we are trying to have a voice and a hearing in terms of our cap situation."
Bruce Allen, the Redskins' general manager: "I have nothing to say on that. We'll let the league speak to it."
Mike Shanahan, the Redskins' head coach: "I'll let the commissioner speak about that."
We tried egging these guys on. I read Jones the quote from Mara in which he said the Redskins and Cowboys were lucky they didn't lose draft picks for this, and all Jones said was, "That's John's opinion. Not my opinion."
But Mara came out guns-a-blazin'. And if there are people out there who believe (as I do) that the NFL has acted with irresponsible, petty arrogance in this case and imposed unjustified penalties against teams that broke no actual rules, Mara's stance isn't likely to change their minds.
There was no salary cap in 2010. This is a fact. Mara repeatedly brushed that aside during questioning Sunday, irritated at the fact's mere existence. "We've had a cap for 29 of the last 30 years," he said more than once, and he explained rather clearly that teams were told, more than once, to watch the way they spent money and structured contracts during the uncapped 2010 season. He basically admitted to what, in any other business, would be collusion and grounds for an antitrust lawsuit. But he bristled at the mention of that word, too, saying, "This has nothing to do with collusion. It has to do with teams attempting to gain a competitive advantage through a loophole in the system. They attempted to take advantage of it knowing full well there would be consequences."
What we know about this case is that the NFL basically engaged in a sanctioned form of collusion in 2010, telling its teams that yeah, there was no cap, but that they needed to act as though there were one because they were sure the cap would come back and it was wrong to use this "loophole" as a means of gaining an advantage against the cap in future years. Mara admitted all of that Sunday, and he did so in a way that strongly indicates he believes himself to be on the correct side of the argument.
But he is not, of course. And in more ways than one, he is very much in the wrong.
Mara is wrong because the only thing of which the Redskins and Cowboys are guilty is failing to honor a shady gentleman's agreement between 32 billionaires who don't want to pay their employees any more than they have to. What the NFL, Mara and the other owners did, effectively imposing a salary cap when none had been agreed to by the other party (i.e., the players) in their collective bargaining agreement, was patently wrong. To punish the teams that didn't go along with the wrong, and to so strenuously defend the punishment as though it were right, is the height of arrogance.
Mara is wrong because, by effectively admitting collusion, he's giving the NFLPA ammunition for a new fight the league does not want. The union had to drop all pending litigation against the league as part of the Brady settlement last year when the lockout ended. That included the collusion charges they filed against the league for the suspicions they had about this kind of 2010 activity. Mara's admission could well qualify as new evidence that could allow the union to file new charges. And because the NFLPA is named in the Redskins' and Cowboys' complaint, it has the option of obtaining discovery on collusion should it wish to pursue action against the league. The union is upset that the league backed it into a corner here, effectively forcing it to agree to the penalties against the Cowboys and Redskins under the threat of a reduction in this year's salary cap, and would love an opening from which to attack on this.
Mara is wrong because he's the chairman of the NFL Management Council, which is the group that imposed these penalties, and he's the owner of a team that plays the Cowboys and Redskins twice each year and competes with them for the same division title. That's not to say Mara did this on purpose to get one over on two division rivals. But one of the first things we're taught in any journalism class is to avoid even the appearance of impropriety -- to steer clear of any activity that could ever allow anyone to accuse us of engaging in a conflict of interest. That is clearly not a concern Mara has in this case, but he should. There's a chance he should have recused himself from this whole thing, and even if he hadn't, he's not doing himself or his excellent reputation any favors by being the aggressive face of the penalties.
What's interesting here is that, when these penalties came down, a lot of people assumed it was the teams at the other end of the spending spectrum who were upset with what the Cowboys and Redskins had done -- traditionally low-spending teams like the Buccaneers and the Jaguars and the Chiefs and the Bills. But what seems clear now is that Mara, the owner of the Giants, was one of the driving forces behind holding the Redskins' and Cowboys' feet to the fire over an issue the league office likely wouldn't have pursued if not for pressure from owners. It makes Mara look petty and small and vindictive, and those aren't words usually associated with him. It makes no sense to me that he's gone to such great lengths to allow people to apply them to him now.
June, 14, 2011
6/14/11
1:00
PM ET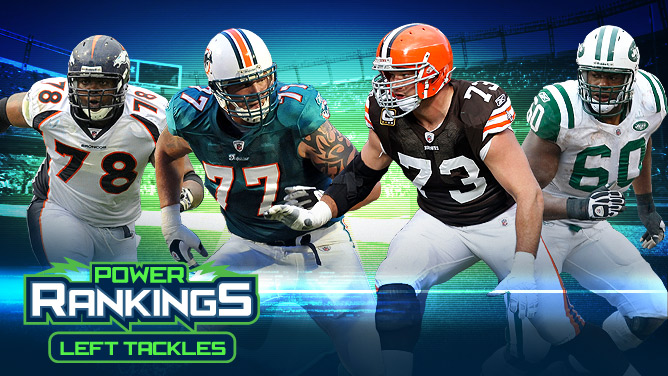 ESPN.com IllustrationOur bloggers say Joe Thomas and Jake Long are the NFL's best left tackles by a wide margin.
ESPN.com ranks the NFL's top 10 at left tackle, one of the most important positions in the league. Next week: Top up-and-coming assistants.
Take a quarter out of your pocket and look at its width. That's basically the difference between the top two left tackles in the ESPN.com Power Rankings.
Cleveland's
Joe Thomas
received 76 points from our eight-person panel of voters. Miami's
Jake Long
received 75. That put them way ahead of the rest of our top 10 list of the NFL's best blindside pass protectors.
Our panel of division bloggers gave Thomas five first-place votes, and Long received three.
"It was pretty much a coin flip for me,'' said NFC East blogger Dan Graziano.
If Graziano's quarter had landed on the other side, we might have had a different outcome. I think the same can be said for some of the other voters. I gave Thomas my top vote only after some strong consideration for Long.
But let's cut to the chase and point out the man who ultimately decided this election. It's AFC South blogger Paul Kuharsky. Every other voter had Thomas and Long in the top two spots. Kuharsky threw things off a bit by putting Long at No. 1 and Tennessee's
Michael Roos
at No. 2. He had Thomas at No. 3.
Let's turn to Kuharsky for his rationale.
"I've seen Long more, which helped him,'' Kuharsky said. "Also, frankly, I knew there could be close to a consensus for Thomas. He's very good. But we're not talking
Orlando Pace
or Jonathan Ogden. The groundswell for Thomas as top left tackle is, in my eyes, more a media creation than the view of players, scouts and coaches. I wanted to note and reflect that.''
Point taken, and I agree that we're not talking the same level as Pace and Ogden -- at least not yet. Thomas and Long are young and it's too early to put them in the category of surefire Hall of Famers. But, aided largely by Kuharsky, Roos did finish No. 6 overall.
Ryan Clady
,
Jordan Gross
and
D'Brickashaw Ferguson
rounded out our top five at Nos. 3, 4 and 5 respectively. After Roos, the rest of the top 10 was filled out by
Jason Peters
(No. 7),
Marcus McNeill
and
Donald Penn
, who tied for No. 8, and
Matt Light
at No. 10.
Let's work our way back toward the top, with one more quick stop at Roos. I had him at No. 8 on my ballot, and James Walker and Kevin Seifert didn't even vote for him. I've had a couple of scouts tell me Roos is a good left tackle, but seemed to take a step backward last season.
Kuharsky heard otherwise.
"I've had a coach and two scouts tell me Roos is as good or better than Thomas and Long,'' Kuharsky said. "I obviously see Roos a lot and think he's quite good, certainly better than he wound up here.''
Roos or ruse? Take your pick, but let's head right back to the top of the voting and back to the argument between Thomas and Long. They were drafted one year apart with Thomas entering the league in 2007 and Long coming in for the 2008 season. Each has made it to the Pro Bowl in every season played.
Kuharsky mentioned the "media creation'' about Thomas. In Cleveland? That's not where you usually turn to find guys to top Power Rankings, so our vote has to say something pretty strong about Thomas. Let's turn to the guy who covers Thomas.
"Thomas has always been focused on doing his job,'' Walker said. "You can't tell whether the Browns are 16-0 or 0-16 with the way he plays, and that's why he's been to four straight Pro Bowls. The NFL has gone the way of speed pass-rushers, and Thomas is the prototype to combat that. He's lean with very good feet and agility, but still strong enough to dominate in the running game. There's really no weakness in his game."
None of our panelists saw a weakness in Long's game.
"I thought Long's run-blocking ability put him a little bit ahead of Thomas,'' Grazianzo said. "I think he's shown improvement every year and is likely to pass Thomas soon if he hasn't already (and for me, these lists are about which guy I'd pick right now, so a guy I think is going to get better is going to get a long look from me). And he earned a bonus point or two from me for playing the last six games of 2010 in a shoulder harness and still being incredible.''
The best news is, these guys are so young we can have this same argument every year for the next decade. Now, let's move on to some other notes about the voting in the Power Rankings for left tackles.
Turn off the Light.
As we mentioned, Light came in at No. 10. That surprised me a bit because he's a big name with three Super Bowl championships and three Pro Bowl selections. I had Light at No. 6 and Walker had him at No. 4. But Light didn't even appear on four ballots, including the one from AFC East representative Tim Graham.
"Matt Light is a quality player, but Stats Inc. blamed him for 10 sacks allowed and four penalties last season, more in each category than his previous two seasons combined,'' Graham said. "I've always thought Light got more recognition simply from being
Tom Brady
's left tackle. Once you name the three or four elite tackles and you rack your brain for the next group, it's easy to understand people sorting through the great quarterbacks and asking, 'Who is so-and-so's left tackle?' Light made the Pro Bowl last year, but as an alternate. Light's reputation also is enhanced by his involvement in the union and being a truly rare species: the gregarious Patriot.''
Also-rans.
Andrew Whitworth
,
Chad Clifton
,
Doug Free
,
Russell Okung
and
Jeff Backus
didn't make the top 10, but each received votes.
"I don't think there are 10 elite or even complete left tackles in the NFL,'' NFC West blogger Mike Sando said. "I list Okung on a very short list of players with the talent and makeup to be elite at that position. Okung hasn't played enough to this point, but I think he'll join that group this season. Listing someone with considerably less ability was the alternative.''
The longest shot.
Somewhere, former Tampa Bay general manager Bruce Allen and coach Jon Gruden are smiling at Penn's name appearing on this list. It's true, they headed the regime that signed Penn as a free agent in 2007 after he was cut by Minnesota in 2006. Then again, they were also the ones who signed Luke Petitgout, and Penn only got a chance to play because Petitgout turned out to be washed up. I used to subscribe to the theory that you needed to use a first-round pick to get a good left tackle. But Penn has shown that's not necessary. In his case, he simply made the most of his shot at playing time and turned it into a $48 million contract as training camp started last year.