Dallas Cowboys:

Charles Brown
April, 19, 2010
4/19/10
10:31
AM ET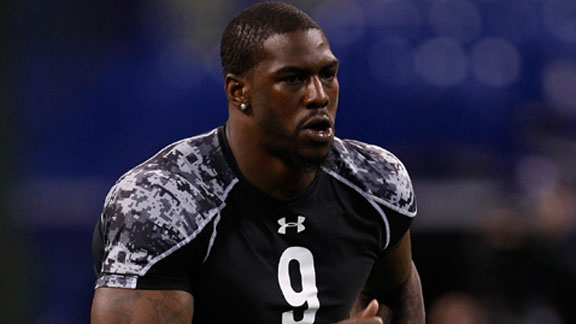 ESPNDallas.com will look at a potential Cowboys pick each weekday leading up to the draft.
BRUCE CAMPBELL
School:
Maryland
Size
: 6-6 3/8, 314
Position:
Left tackle
Scouts Inc. rank:
No. 7 at OT, No. 49 overall
(scouting report)
POSITIVES
[+] Enlarge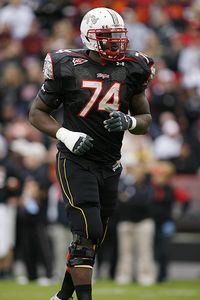 Brad Schloss/Icon SMIBruce Campbell is a project who needs a lot of work on his technique. That being said, he'll immediately be one of the most athletic offensive linemen in the NFL.
After watching
Campbell
weigh in at the scouting combine, one personnel man declared that he had never seen a better body in his two decades in the business. Campbell had an awe-inspiring combine, running a 4.8 40 and putting up 34 bench press reps with arms that were measured at 36¼ inches. He will immediately be one of the most athletic offensive linemen in the league. His long arms, massive hands, strength and quick feet give him the potential to be a dominant pass-blocker.
NEGATIVES
Campbell's film isn't nearly as impressive as his physique. He started only 17 games at Maryland and wasn't named All-ACC. He's a project who needs a lot of work on his technique. His footwork is inconsistent, and he tends to lunge because he gets caught out of position. Despite his strength, he wasn't a dominant force in the running game for the Terps. He's a finesse player, raising questions about his toughness. There are also durability concerns after he missed three games as a junior (two with turf toe, one with a knee injury).
COWBOY FIT
If Campbell is available at No. 27, the Cowboys will have to decide whether to gamble on his immense potential. He's a top-10 athlete who performed like a late-round pick in college. It'd be at least two years before Campbell could be expected to compete for a starting job, which means the Cowboys would be thin behind
Doug Free
and
Marc Colombo
this season. USC's
Charles Brown
isn't in Campbell's class athletically, but he's a safer pick. Given the Cowboys' recent history of offensive line draft busts, can they afford to take perhaps the biggest boom-or-bust player in the draft?
MARYLAND OFFENSIVE LINE COACH TOM BRATTAN
"You've got a 6-6, 310-pound offensive lineman and you can see his abs. He's exceptionally strong, just sculpted. If you want to draw up what a left tackle should look like, he's what you're looking for. … He's very, very, very good in pass pro. He can set quickly. He can lock out. He's strong enough to stop the bull and athletic enough to stop the veer moves. … [As a run blocker], somewhat inconsistent with technique. That's an area he's good but needs improvement. … He plays with pretty good fire. I wouldn't say he's very loud or vocal, but it's very important to him. He's going to do what it takes to play. He played hurt all last season. He had turf toe from the first quarter of the first game. If you're 310 pounds and balancing on that toe, it makes it very difficult. He played with that all year. … He's an unfinished product, but you look at physically something you want to work with, the sky's the limit for him. … He was a delight to coach. No hidden agendas. No issues. … We ran a West Coast offense. He's been exposed to a lot of the stuff they run in the NFL as far as pass pro and blocking schemes. We're not as complex, but he will have heard a lot of the stuff. He won't be in total shock. He will have seen it."
April, 15, 2010
4/15/10
9:17
AM ET
ESPN draft expert Mel Kiper has the breakdown of the Cowboys' first four picks for the 2010 draft.
The interesting thing is that Kiper says the Cowboys will draft a tackle in the first round (27th overall), USC's
Charles Brown
, the fifth-rated tackle in Kiper's 2010 Draft Report.
He says
Nate Allen
, the South Florida safety ranked No. 5 by Kiper, will go to Dallas in the second round (59th).
Here's the other Kiper picks: Vanderbilt CB
Myron Lewis
in the third round (90th) and Wisconsin LB
O'Brien Schofield
in the fourth (125th).
For a summary, go
here
.
March, 15, 2010
3/15/10
1:10
PM ET
Pat Kirwan of NFL.com did his latest mock draft and he's got Oklahoma State wide recevier
Dez Bryant
going to the Cowboys at
No. 27.
It's a surprise here because we thought, or think, Bryant will go much higher in the draft.
Our own draft experts, Mel Kiper and Todd McShay have Bryant going Denver at No. 11, but are
split
on what the Cowboys might do.
Kiper has safety
Earl Thomas
going to the Cowboys while McShay has tackle
Charles Brown
being available at No. 27.
February, 24, 2010
2/24/10
9:53
AM ET
The film doesn't lie, but NFL scouts and general managers want to know more.
That's the purpose of the NFL scouting combine, which is held this week in Indianapolis. Scouts get a chance to see and hear things they couldn't pick up from poring over watching every play of a prospect's college career.
The Cowboys don't have a need so glaring that they'll have to reach in the early rounds, but there are three position groups their scouting contingent will pay particularly close attention to: safety, offensive guard and offensive tackle.
Here's a look at how this week's workouts and interviews could affect the Cowboys' decisions in the April draft:
[+] Enlarge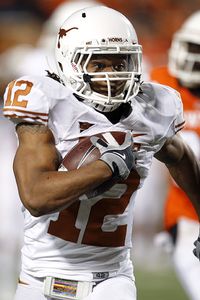 AP Photo/Sue OgrockiTexas' Earl Thomas may not be around if the Cowboys don't move up from the 27th spot in the first round.
Safety:
Texas'
Earl Thomas
, who set a school record with eight interceptions as a redshirt sophomore last season, would be a good fit for a franchise searching for playmaking ability at safety.
However, Thomas can be found in the middle of the first round in most mock drafts. Unless the Cowboys are willing to trade up from No. 27, they'd need Thomas to have a flaw or two exposed at Lucas Oil Stadium.
Thomas' size (5-10, 197) is already considered a concern. It would become more of one if his bench rep total is well below average.
Thomas' coverage ability is his biggest strength, with some believing that he's good enough to cover NFL slot receivers. He would likely have to be a tick slow in the 40 and/or the shuttle and three-cone drills to still be available when the Cowboys come on the clock.
USC's
Taylor Mays
is a physical specimen who was projected as a top-five pick before his senior season, but his stock has steadily gone down. He's now projected to go in the bottom third of the first round.
The concerns with Mays will sound familiar to Cowboys fans who watched Roy Williams: He's a big hitter at his best close to the line of scrimmage and can be a liability in coverage.
At 6-3, 231 pounds with blazing speed, Mays is the type of player whose stock could soar after his combine workouts. If that's the case, it might benefit the Cowboys by pushing Thomas toward the bottom of the first round.
Tennessee's
Eric Berry
is the only other safety projected as a first-round pick, and he'll be gone midway through the round. South Florida's
Nate Allen
tops the list of second-round safety possibilities.
Offensive guard:
It'd be tough for the Cowboys to pass on Idaho's
Mike Iupati
if he's available. He might have pushed himself into the middle of the first round with a phenomenal week at the Senior Bowl.
[+] Enlarge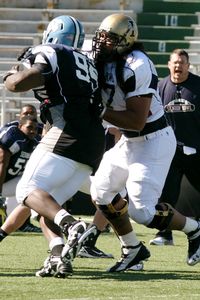 Julianne Varacchi/ESPN.comIdaho guard Mike Iupati (right) improved his stock with his showing during Senior Bowl week.
If his stock takes a dip, it would likely be because of medical evaluations or interview. He's a chiseled 6-5, 325-pounder that should impress during workouts.
Doctors will poke and prod the shoulder that required surgery before the 2008 season. Teams will also test his football knowledge and intelligence during interviews. He's a native of American Samoa who did not begin speaking English or playing football until he moved to California in high school. He went to Idaho because prominent programs passed on him due to academic concerns.
Iupati is the only guard expected to go in the first round.
Massachusetts'
Vladimir Ducasse
, who played tackle in college, is an interesting second-round prospect. Like Iupati, Ducasse didn't play football until moving to America in high school, although the Haitian native was a good student. There are questions about Ducasse's technique. His performances in the quickness tests could help him rise to the top of the second round.
Illinois'
Jon Asamoah
and Alabama's
Mike Johnson
are other guards the Cowboys could consider before the draft's final day.
Offensive tackle:
There will be at least a few offensive tackles off the board by the time the Cowboys get on the clock. Maryland's
Bruce Campbell
is one who is projected to go somewhere in the neighborhood of No. 27.
The 6-7, 310-pound Campbell is a freakish athlete who should do well in workouts. Once again, the concerns with him will be addressed during medical evaluations and interviews.
Campbell missed three games last season with a sprained MCL and turf toe. He made only 17 career starts before declaring for the draft after his junior season. There are questions about his durability and football savvy. He's also a work in progress as a run blocker, but the Cowboys can afford to be patient with Doug Free backing up Flozell Adams and Marc Colombo. They just can't afford another early-round offensive line bust.
USC's
Charles Brown
will surely remind Cowboys scouts of one of their worst busts, ex-Trojan tackle Jacob Rogers, who never played a down in Dallas despite being a second-round pick. Like Rogers, Brown is a relatively lean tackle (6-5, 292) who relies more on athleticism than muscle.
Brown, a converted tight end, would improve his stock with a respectable showing on the bench press. He'd still probably need a year or two of seasoning before being ready to start in the NFL, but the Cowboys are drafting for the future instead of filling an immediate need at tackle.