Dallas Cowboys:

Chris Clemons
February, 4, 2014
Feb 4
12:20
PM ET
IRVING, Texas -- In this copycat league that is the NFL, all of a sudden everybody needs tall and long conerbacks like Seattle's
Richard Sherman
. One problem, there aren't that many of those kinds of guys around.
Plus from a Dallas Cowboys' perspective, they have already allocated their cornerback resources in
Brandon Carr
,
Morris Claiborne
and
Orlando Scandrick
. So scratch that possible remodel.
Where the Cowboys can attempt to emulate the Super Bowl champion
Seattle Seahawks
is with their defensive line.
[+] Enlarge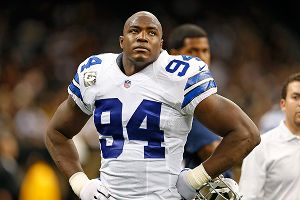 AP Photo/James D. SmithFor years, Dallas has relied on DeMarcus Ware to provide a pass rush. Adding depth to the defensive line could be a priority this offseason.
The Seahawks do what Rod Marinelli wants to do with the Cowboys. He just did not have enough quality players, rolling through 20 defensive linemen in 2013 because of injuries and poor play.
Seattle's defensive line accounted for 33.5 sacks from eight players. The Cowboys defensive line had 28 sacks from six players.
Michael Bennett
led the Seahawks with 8.5 sacks. Fellow free-agent pickup,
Cliff Avril
, was second with eight.
Clinton McDonald
had 5.5, and
Chris Clemons
had 4.5
Jason Hatcher
led the Cowboys with 11, followed by
George Selvie
with seven and
DeMarcus Ware
with six.
Kyle Wilber
had two sacks from his defensive end spot before he was switched to outside linebacker later in the season.
Everette Brown
and and
Jarius Wynn
each had one sack.
The Cowboys want to rotate defensive linemen as much as possible to keep them fresh. That is a great approach when you have players worthy of being in the rotation. In the Super Bowl win against the
Denver Broncos
, the Seahawks had four linemen take at least 41 of 69 snaps, led by Bennett, who played 47. In the NFC Championship Game against the
San Francisco 49ers
, they had four linemen take at least 31 of 55 snaps. In the divisional-round win against the
New Orleans Saints
, they had five linemen take at least 43 snaps.
That rotation kept opposing quarterbacks
Peyton Manning
,
Colin Kaepernick
and
Drew Brees
under pressure. The pressure could come from the inside or the outside. And it would come with mostly just four rushers, which allowed that back seven to be even more aggressive.
For far too long the Cowboys' pass rush has been Ware and nobody else. This past season it was Hatcher, and sometimes Selvie and Ware. The Cowboys hope
Tyrone Crawford
can develop after missing last season with an Achilles injury, but the defensive line needs a ton of help.
For the Cowboys to make a jump in the defensive rankings -- forget being a top-five or 10 unit -- they need a better pass rush. For a better pass rush, they need better players. To get better players in free agency they need to hope the defensive line market is as slow as it was in 2013 when Bennett received a one-year, $5 million deal, and Avril received two years and $15 million from the Seahawks. That could allow Dallas to either keep Hatcher (unlikely), or get lucky with some other prove-it type deals. The easier way to get better players is the draft, but will the right players be available at the right time?
If the Cowboys get a better pass rush, their secondary will look a lot better.
September, 13, 2012
9/13/12
1:00
PM ET
IRVING, Texas -- Danny O'Neil covers the Seahawks for the Seattle Times and he brings you this week's version of The Other Side.
Archer:
How did
Russell Wilson
win the job in camp? People expected some rookie starters at QB this year, but I don't know if too many had him as one of the guys.
O'Neil:
When the Seahawks drafted Russell Wilson in the third round, many assumed he would spend the year developing on the back-burner as the No. 3 quarterback. The Seahawks had signed
Matt Flynn
and still had
Tarvaris Jackson
, and they figured to be the two dueling for playing time. Well, it figured that way to everyone but coach Pete Carroll.
No sooner had the rookie minicamp finished than Carroll announced Wilson would be part of the competition, and from that moment forward, Wilson simply put together the best body of work. He had a bad day in practice during training camp, but that was one day. Singular. He was picked off three times, and showed an ability to correct it. He has a bigger arm than Flynn, more mobility and he was clearly more explosive in the exhibition games.
Wilson wasn't given this job, he won it.
TA:
Is there any buyer's remorse on Matt Flynn if he's not the starter?
DO:
What, doesn't every team want to pay its backup $8 million while starting a rookie? But seriously, there's not necessarily remorse. Seattle wanted to come out of this with a starting quarterback capable of taking the team to the playoffs. If it's Flynn, great. That was money well spent. If it's Wilson, that's fine, too.
Consider the Cardinals: They paid more in a contract for
Kevin Kolb
(five years, $63 million) than Seattle paid to Matt Flynn (three years, $26 million). Not only that, but the Cardinals gave up a second-round pick and
Dominique Rodgers-Cromartie
to get the privilege of playing that money while Seattle chose Wilson with a third-round choice. Seattle certainly appears to have acquired more talent at quarterback for a lesser investment.
TA:
The Seahawks finished the year 5-3 after losing to the Cowboys last year and all of the losses were by less than a touchdown. Obviously, they started with a close loss to Arizona in Week 1. How does Pete Carroll get this team over the hump in close games?
DO:
Let Wilson mature. This team is built to play to the strengths of a big, physically imposing defense and a punishing ground game. Wilson is the guy they're depending on to be able to pull a game out in the fourth quarter. He came closer in Week 1 than Tarvaris Jackson ever did last year so that time may be coming.
TA:
People really like the Seattle secondary, but where does the pass rush come from? How is
Bruce Irvin
's progress going?
DO:
Bruce Irvin has not been the immediate-impact pass rusher the Seahawks predicted when they chose him.
Chris Clemons
remains this team's best pass rusher. Irvin will get a chance to see if Seattle's home crowd can help give him an advantage in rushing off the edge.
TA:
I can't go without asking a
Terrell Owens
question even if he's not on the roster. How did he look and why didn't the Seahawks keep him?
DO:
He was in great shape, still had the speed to get deep, but had two significant drops. He was acquired to provide a veteran alternative in case
Sidney Rice
wasn't ready when the season began. Rice was ready, and Owens wasn't so impressive the team was willing to carry him as a fourth or fifth wide receiver given the fact he doesn't play special teams.
If Rice were to get hurt again, the Seahawks wouldn't hesitate to bring Owens back.
November, 5, 2011
11/05/11
9:19
AM ET
By
Bryan Broaddus
| ESPNDallas.com
Cowboys OTs Doug Free and Tyron Smith vs. Seahawks DEs Chris Clemons and Raheem Brock:
Clemons and Brock are the Seahawks' most dangerous defensive players. Free and Smith were the most exposed in the Eagles game when
Trent Cole
and
Jason Babin
were able to get up the field quickly and work their outside shoulder or use a spin move underneath.
Through the first seven weeks of watching Smith play, the one area of concern is not when he uses his athletic ability to take rushers wide, but when he has to deal with the inside pressure. There have been games where Smith gets beat when the defender spins on him. Last week against the Eagles, Babin was able to get him by going hard up the field, getting his weight on his outside foot, then spinning hard inside. When Smith tried to adjust back, he was a one-legged football player and way out of position.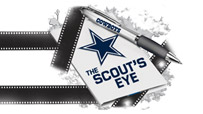 When watching these Seahawks ends, you see them play with explosiveness up the field. The real strength of Clemons and Brock is their ability to get up the field. Free has had his moments where he has been technique poor this season, so how he and Smith are able to adjust to the Seahawks rushers will go a long way to how successful the Cowboys will be able to move the ball.
Cowboys CBs Terence Newman and Orlando Scandrick vs. Seahawks WR Sidney Rice:
The Seahawks do have receivers that can make plays down the field, but their biggest problem has been at quarterback, where they have struggled to be accurate with their passes. When
Tarvaris Jackson
has had success throwing the ball, it has usually been to Sidney Rice, who is the Seahawks' best playmaker.
Rice is a vertical player that has the speed and quickness to create opportunities for this offense. Rice does a nice job of releasing off the line if you try to play press against him. He is an outstanding route runner and knows how to work the sidelines. If given free access, Rice will come hard off the ball to sell the route, getting the defender on his heels, then break hard to the inside or out.
Rice really does a nice job of adjusting to the ball when thrown his direction, and when Jackson throws the ball, there is plenty of chances to have to make circus catches. Rice is a slippery receiver with the ball in his hands.
Both Newman and Scandrick have the ability and speed to run with Rice, who will take them all over the field.
The best throw that Jackson can make is the deep, vertical pass with touch. The Eagles didn't take a vertical shot last week, but these Seahawks will. Rice can get vertical, as the Cowboys discovered in a playoff game in Minnesota a couple of seasons ago.
The Cowboys cannot allow Sidney Rice to be a dominant player in this game.
Cowboys front seven vs. Seahawks OL:
Last week against Philadelphia, the Cowboys front seven was embarrassed by the Eagles' blockers. The Eagles' offensive line physically took it to the Cowboys, both run and pass.
Marcus Spears
,
Jason Hatcher
,
Kenyon Coleman
and
Sean Lissemore
were awful. It was surprising how bad this group of defensive ends struggled in the game. The Eagles dominated these ends at the point of attack. Spears, Hatcher, Coleman and Lissemore couldn't get off blocks. They struggled to get push when
Michael Vick
went back to pass.
The Seahawks are starting three offensive linemen that have two or less years of experience as starters. On the right side, the Seahawks are starting two rookies in guard
John Moffitt
and tackle
James Carpenter
. That is the side of the line where the Seahawks have struggled the most.
Marshawn Lynch
is a talented back and you can see the frustration when he gets stopped for no gain. The Cowboys' line and linebackers need to dominate this game much like they were dominated last week. Anything thing else would be disappointing.
January, 8, 2010
1/08/10
9:27
PM ET
Philadelphia Eagles
defensive end
Chris Clemons
was fined $5,000 for a hit on Cowboys quarterback
Tony Romo
in last Sunday's game at Cowboys Stadium.
Romo was hit in the fourth quarter of the Cowboys, 24-0, victory. Romo slowly got up and walked carefully to the sidelines. Romo was fine and didn't miss any snaps.