Dallas Cowboys:

Chris Cooley
October, 4, 2011
10/04/11
4:10
PM ET
Chris Cooley
is way wrong on this one. The
Washington Redskins
' tight end had no business talking as gleefully in public as he did about
Tony Romo
's most recent collapse. Cooley's a fun guy who's free with his opinions, and that makes him entertaining. But in this particular case, as a contemporary of Romo's and a fellow professional athlete, he should know better and should have kept his mouth shut.

Romo
Overall, the Romo bashing is getting silly, because it's become too easy. There's no art to it, very little thought put into what's being said anymore. He plays a great game, he's great. He plays a lousy game, and it's as though he never played a great one. It's knee-jerk. It's white noise. And it's almost pointless to keep track of who said what because it doesn't matter if it's all the same.
For instance, the stuff
Deion Sanders
said on the NFL Network about how Romo's "
not the guy that can take you where you want to go
." That's right off of Page 1 of the Romo-ripping handbook and it's not new or insightful.
No, what jumps off the page in the latest episode of Today in Tony Bashing is the contribution by Cooley, who said this on a radio show:
"It's amazing, amazing to watch him choke like that," Cooley said on 106.7 The Fan in Washington. "I'm just saying, (if) I'm up 24 points in the third quarter, if I'm the head coach, I feel like I could probably just take a knee for the rest of the game, punt it away and there's no way that Detroit's gonna drive on you that many times. The only way you're gonna give up that many points is turnovers, right? It's hilarious to watch him throw pick sixes, too, back to back. I loved it."
My first thought was, "Did Cooley retire and I missed it?" Because that's just not the kind of thing one current player says about another. It's the kind of thing a fan says about a player on a team he hates. Professional athletes are supposed to have more mutual respect for each other and for how hard the game is to play. It's all well and good if Cooley has something personal against Romo and wants to cackle to himself in the privacy of his own home. But to come out and say on a radio show that you enjoyed watching another guy fail? Not saying you enjoyed the fact that a team in your division lost so you gained ground on them, but saying you took personal enjoyment out of a fellow football player's failure? That doesn't ring right, and it's not very professional.
I don't care about the cage-fighting stuff because that was silly and jokey and harmless. I listened to the audio to be sure before I came here to write this, and I didn't find anything about that part of it worth commenting on. But the part where he calls Romo a choker doesn't seem remotely appropriate. If a Redskins fan calls into the LaVar and Dukes show to call Romo a choker and say how much he enjoyed watching him choke away the game (which he did do, by the way), that's one thing. But for another active NFL player to do it? I'm sorry. Just silly.
What if Cooley and Romo end up on the same team someday? What if one of Romo's defensive teammates, who happens to really like Romo, decides to seek out Cooley personally in the next Cowboys-Redskins game and exact revenge? And what about professional respect and courtesy? Would it be all right with Cooley if he dropped three balls in the end zone and the Cowboys' backup tight end came out and laughed at him about it on the radio and said how awesome it was to watch?
Cooley likes to talk a lot, and say and write outrageous things. And someday that's liable to land him a spot on one of those studio shows like Deion. But for now, while he's still playing in the same league as Romo, it's flat-out wrong for him to have said what he said. When someone like me criticizes an NFL player, other NFL players will often chide me for not knowing how hard it is to do what the player was trying to do. Cooley should know better, and he really should apologize.
September, 23, 2011
9/23/11
9:00
AM ET
By
Bryan Broaddus
| ESPNDallas.com
In the three seasons I worked with Bill Parcells for the Cowboys, I was always impressed with his ability to not allow injuries to become an excuse for how well our team was going to play that week.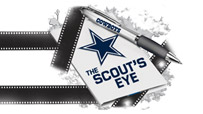 Parcells fought daily to prepare, practice and play with those players that were healthy enough to go, including those players that were able to play despite not being 100 percent. Watching Tony Romo play last week against the 49ers in the condition he was in reminded me of the message that Parcells was trying to drill into our teams.
I get that same feeling listening to and watching Jason Garrett. It's on the players that are on that 46-man game day roster to step up and continue to play regardless of who is taking the snaps, running the routes or carrying the football that day.
The Cowboys have had their share of injuries to key players through the first two weeks of the season, but to the credit of the staff and players in that locker room, no one is making excuses. In the NFL, no one feels sorry for the condition your team is in and the last time I checked the league is not going to cancel the season because you have several starters that will not be able to line up.
With that being said, the Redskins present an interesting challenge to the Cowboys.
Redskins offense
In the second season under Mike Shanahan, this Redskins offense is really a collection of veteran players that Shanahan has been able to piece together and develop into a productive unit.
The Shanahan scheme is about running the football first to set up other opportunities off play-action, using boots and throwing to tight ends Chris Cooley and Fred Davis. When the Redskins run the ball, they like to run the zone stretch with all the blockers stepping hard play side either to the right or left, thus allowing the back to press the ball hard front side, find the soft spot, make a cut, then head up field.
When Shanahan was with the Broncos, there was more violence in the way his offensive line was able to block the backside with cut-off blocks diving into the legs of the defensive linemen. This blocking style was a nightmare for defensive linemen having to fight blockers with their hands to protect their knees and then try to tackle a ball carrier going through the hole. This offensive line will play low on the backside, but it's now more about trying to stay on their feet and run with the defenders.
In the Shanahan scheme, he has always been able to plug in what seemed like any back and have a 1,000-yard rusher. However, when I studied the Giants and Cardinals games, the one area I noticed improvement over last season was at running back.
Last season, the majority of the work went to a broken down Clinton Portis, who just couldn't stay healthy enough to help the Redskins sustain any type of rushing attack. In the offseason, the Redskins went out and made two improvements at running back, adding Tim Hightower from the Cardinals and drafting Roy Helu from Nebraska. I have really been impressed with both of these runners.
Hightower has a real feel for how to run the ball in this scheme. He is a patient runner but also a powerful one. He can get the ball on the edge and around the corner.
Helu doesn't look like he is moving quickly, but once he gets through the hole, he has some shiftiness in the open field. Helu is also an outstanding receiver out of the backfield. There are designed plays where they use wide receiver picks for him to quickly work him into the flat to pick up first downs.
At wide receiver, veterans Santana Moss and Jabar Gaffney are the starters. Moss has always been a difficult player for the Cowboys to deal with no matter who the coach was for the Redskins. It will still once again be that way in that Shanahan will line Moss up all over the formation. The place that he is the most dangerous is when they line him up in the slot and use him to attack the secondary on third down. Moss has always been fearless taking his routes inside and catching the ball on the move.
Gaffney has become a sneaky receiver. Had a nice out-and-up route against the Giants that was a huge play in the game. Like Moss, he is not afraid to take his route anywhere on the field. Will run the slant in the red zone and show no fear for the safety sitting inside.
Earlier in the report, I mentioned the play of tight ends Cooley and Davis. This will be the third week in a row that Rob Ryan's defense will face a tight end that can be a difference maker in the game. Cooley or Davis are not trained killers as run blockers but what they can do is line up flexed or in the slot and get down the field quickly. Both have outstanding hands and can adjust to any type of pass that is thrown from Rex Grossman. Both tight ends are problems for defenses in the red zone because of their ability to use their size to separate.
The Cowboys have to be careful if the Redskins get their running game going on the stretch play, then they try to take advantage of the play-action game using Cooley and Davis.
At quarterback, I have never been a Rex Grossman fan. But to his credit, he has managed to lead his team to a 2-0 start. There is a side of me that truly believes that Shanahan wanted John Beck to start, but Grossman did enough to win the job.
When you study Grossman, you still see the same mistakes that ended his career in Chicago: red zone interceptions, fumbles in the pocket when sacked and tipped passes at the line. Grossman will still struggle with his decision making and his reckless way that he will throw the ball into coverage, thinking that his arm strength can get the job done.
What Grossman does well, is that he can show accuracy hitting the receiver on the move. In the Giants game, he was able to work the ball on the fade to Anthony Armstrong, who made a pretty play.
The Cowboys have to try to affect Grossman in the middle of the pocket. He will move if flushed but the majority of the snaps he likes to stand in the middle of the pocket and throw the ball. The problem with that is that he is not that tall and he will struggle to get power on the pass when he feels the rush in his face.
Last week against the 49ers, Jay Ratliff and the blitzing linebackers were able to cause problems for Alex Smith. I look for Rob Ryan to try and do the same thing to Grossman.
Redskins defense
When I broke down the Redskins offense, I spoke of the new additions at running back and what a difference they have made. But in my view where the Redskins have improved the most is on defense.
I like what the Redskins did with the additions of defensive end Stephen Bowen, nose tackle Barry Cofield from the Giants and the drafting of outside linebacker Ryan Kerrigan. If you are a fan of the Cowboys, you grew to appreciate the fine work of Bowen but Cofield and Kerrigan are really nice players.
Cofield is a strong point-of-attack player that knows how to fight blocks and keep himself square to stop the run. Cofield is also strong in his ability to get push in the middle over the guards on pass rush.
Kerrigan was the Redskins first-round selection out of Purdue this year and opposite Brian Orakpo has been a force not only against the run but as a pass rusher. Kerrigan at Purdue was a hand-in-the-dirt player, but he has made the transition to the outside linebacker spot. Kerrigan is strong against the run and can cover down the field, but he is most effective as a relentless, effort pass rusher.
Kerrigan will see the majority of his plays against Tyron Smith, who I thought was the best offensive linemen for the Cowboys last week against the 49ers. Smith will once again need to match the effort and intensity of Kerrigan and not allow him to get off the rock with any consistency or pace.
In the secondary, Josh Wilson and DeAngelo Hall are the corners with Kevin Barnes the nickel. Hall has always been a gambler in coverage. Wilson is good in tight coverage and can really close on the ball. Wilson can also run well enough to hang with any of the Cowboys receivers. Have seen Wilson be a bit of a hit or miss tackler.
At safety, O.J. Atogwe from the Rams plays as the free safety with Reed Doughty in the lineup for the injured LaRon Landry, who is trying to work his way back from a hamstring injury. Atogwe plays well in the box and is a willing tackler. Doughty will also fill in the running game but doesn't have catch-up speed in coverage. If the Cowboys are to try and take advantage of one of these safeties, it will be Doughty.
There is a ton of movement in this front. The Redskins will slant the line one way then bring the linebackers back the other way. On the blitz, they like to bring the inside linebackers on games.
The Cowboys can't make the mistake that the Cardinals did and that's block Orakpo or Kerrigan with backs. Both play with way too much power and quickness. The way to successfully handle these rushers is try to keep them wide in their rush. Orakpo and Kerrigan like to take a direct path to the quarterback, but they have struggled the most when tackles forced them up the field.
If the Cowboys are going to win this game, Doug Free and Tyron Smith are going to have to handle Brian Orakpo and Ryan Kerrigan.
March, 29, 2011
3/29/11
1:05
PM ET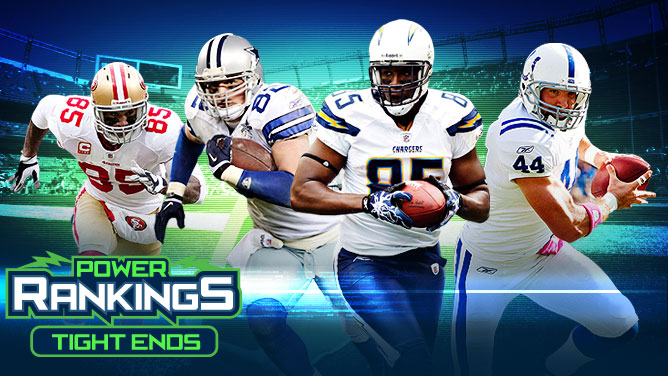 ESPN.com IllustrationDallas' Jason Witten earned the top spot in our voting over San Diego's Antonio Gates.
ESPN.com's NFL writers rank the top 10 tight ends in the league today. Next week: Top 10 coaches.
Antonio Gates
has received the
Adrian Peterson
treatment.
This guy didn't do it this time.
Up from the NFC South rises Pat Yasinskas into the ESPN.com Power Rankings' hot seat. Embrace the heat, my friend. In another airtight positional Power Rankings battle, Dallas'
Jason Witten
edged out Gates by one vote to be crowned the almighty ruler of all NFL tight ends.
How in the name of Kellen Winslow did it happen, San Diego? Talk to Yasinskas.
Yasinskas ranked Atlanta's
Tony Gonzalez
No. 2. He had Witten No. 1 and Gates No. 3. Witten finished with 76 voting points. Gates had 75. No other voter placed Gonzalez higher than fifth. He finished sixth.
Send your cards and letters to Yasinskas, Dallas
. If you must let him know your thoughts, stay classy, San Diego.
Yasinskas reasoned that he sandwiched Gonzalez between Witten and Gates because of Gonzalez's incredible career. Gonzalez, 35, owns every major receiving record by a tight end.
"Yes, he's nearing the end of his career, but this is the best tight end in history," Yasinskas said. "I think that counts for something. Gonzalez still is playing at a high level. He has great chemistry with quarterback
Matt Ryan
and the desire for a Super Bowl ring is keeping Gonzalez going strong."
Here is the rest of the top 10 after Witten and Gates: Indianapolis'
Dallas Clark
(53 points), San Francisco's
Vernon Davis
(50), Washington's
Chris Cooley
(36), Gonzalez (33), Tampa Bay's
Kellen Winslow Jr.
(26), Jacksonville's
Marcedes Lewis
(21), Detroit's
Brandon Pettigrew
(18) and Green Bay's
Jermichael Finley
(15).
Witten and Gates clearly stand out as the game's elite tight ends. Witten was ranked first on four ballots and second on the other four. Gates received the other four first-place votes. He received three second-place votes and Yasinskas' third-place vote.
The only thing that separated Witten and Gates in 2010 was health. Witten, 28, had 94 catches for 1,002 yards and nine touchdowns last season. Gates, 30, was on his way to a brilliant season when it was derailed by nagging ankle and foot injuries. Gates ended up on injured reserve and missed six games. He finished with 50 catches, 782 yards and 10 touchdowns.
Matt Williamson of Scouts Inc. said both Witten and Gates are game-changers.
"Witten to me is the class of the two-way tight ends," Williamson said. "Receiving needs to trump blocking because that is what the league is right now. If someone put Witten first on the list, I can buy that. In terms of doing it all, I think he is the best. … I think he is the best of the two-way guys if you put an equal amount of faith in both receiving and blocking. He is the all-around tight end prototype. If you put more weight on receiving, which I would, you have to give the nod to Gates. He was awesome last year. He was hurt and that was the only negative other than blocking. He played hurt a lot and was great."
Let's dig deeper into the rankings:
Not easy pickings:
Several of our voters were surprised by the difficulty of this process. This is our fourth position in the series. We previously looked at receivers, running backs and pass-rushers. The pass-rushers process was very difficult. This vote was not a cool breeze, either.
This is a very strong league for tight ends these days.
"After a hellish pass-rusher ballot, I thought tight ends would be far easier," AFC South blogger Paul Kuharsky said. "They were just as difficult. There is a great deal of young talent too. I steered clear of first-year guys, but in another season or two, this could be even more brutal to sort through."
Blame injuries:
In addition to the glut of talent, a primary reason this vote was so difficult was the fact that there were major injuries at this position in 2010. In addition to Gates, Clark, Finley and Houston's
Owen Daniels
were injured. That changed the voting landscape.
"I thought it was tough because there are a lot of guys with mitigating circumstances," NFC North blogger Kevin Seifert said.
Clark's injury prompted Yasinskas to rank him 10th. No other voter placed him lower than fourth.
"There's no doubt this guy has had a great career," Yasinskas said. "But I ranked him a little lower than most and that's almost entirely because he missed 10 games last season. Clark is 31 and I'm not sure he'll be the same player going forward."
[+] Enlarge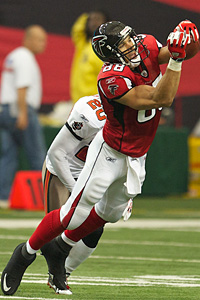 Dale Zanine/US PresswireWill star Falcons tight end Tony Gonzalez finally notch his first playoff win on Sunday?
Not everyone loves Tony G.:
Clearly, Yasinskas believes in Gonzalez. He gets to see him play regularly and thinks he's still an impact player. That's why he ranked him second. But not everyone agrees that the future Hall of Famer is still an elite player. Kuharksy left Gonzalez off his ballot altogether.
"Gonzalez is still an excellent player," Kuharsky said. "But as I struggled to find room for the 10 I felt needed to make the cut, he fell off. In 2010 his numbers suggest he was more quantity than quality. I'm not looking for giant plays from my tight end, but Dallas Clark replacement
Jacob Tamme
matched Gonzo's 9.4 yards a catch, and while Gonzalez's first-down percentage was good (55.7), it was way lower than that of the three top rookies and smaller than that of guys like
Heath Miller
,
Ben Watson
and
Todd Heap
, whom I hardly considered. One final note: As I've got access to Frank Wycheck during three shared radio appearances a week, I asked him for a ballot. I'm sure he admires Gonzalez's body of work. But right now Gonzalez wasn't in Wycheck's top 10 either."
The Davis flip-flop:
The 49ers' immensely talented tight end received a wide range of support. Four voters had him third. Yet, I had him ranked ninth and Yasinskas had him eighth. I like Davis, but I'm not convinced we always see his best effort.
NFC West blogger Mike Sando was among those who voted Davis third. Sando argued that Davis has made an impact despite playing with subpar quarterbacks.
"It's easy to forget about Vernon Davis because he plays for a low-profile team that has struggled," Sando said. "If you've seen the 49ers much, you know Davis makes the huge play better than any tight end in the league. He'll catch touchdown passes for 60 or 70 yards, outrunning even cornerbacks. He remains unrefined and can still improve his all-around game quite a bit, but his 20 touchdown receptions over the past two seasons rank first among tight ends."
This position is in it for the long haul:
I remember a conversation I had with Gates prior to the 2009 season. He was glowing over all the young talent at the position in the NFL. Gates rattled off several young tight ends he expected to have bright careers.
There's no doubt, this is a special time for tight end play. As Gonzalez puts the cap on the most brilliant career by anyone at the position in the history of the game, the position is well stocked for the future.
Five players on the list -- Davis, Winslow, Lewis, Pettigrew and Finley -- are 27 or younger. The only players who are 30 or older on the list are Gonzalez, Clark and Gates.
Oakland's
Zach Miller
and the Jets'
Dustin Keller
, who finished 11th and 12th, respectively, are also young players. Miller is 25 and Keller is 26.
December, 21, 2010
12/21/10
12:15
PM ET
By
Bryan Broaddus
| ESPNDallas.com
In a contest of two teams going in the opposite direction, the Cowboys were able to hold onto a victory against a Redskins squad that many thought would roll over and quit after Mike Shanahan made the Friday quarterback switch to go with
Rex Grossman
over the popular
Donovan McNabb
.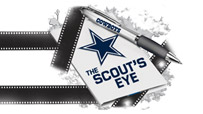 Some of the Redskins' problems on offense could be blamed on McNabb, but not all of them. In studying their last two games against the Giants and Bucs, the offensive line has had more of their share of problems protecting McNabb.
The matchup of rookie left tackle
Trent Williams
and
DeMarcus Ware
was one that drew my interest. Williams made his first career start against Ware on opening day and to this point has progressed nicely. In this matchup, Williams was athletic enough to handle Ware's ability to rush the passer and play the run, but throughout the contest, Ware was able to put the talented tackle in some bad positions with his rushes.
Ware was able to use his power on the bull rush and drive Williams back into Grossman. He was able to explode off the snap, get the edge of Williams and get around him for a sack. On his second sack when he also caused a fumble, he worked Williams wide, got his balance off and weight going up field, then worked inside for the sack on Grossman.
On Victor Butler's sack, he is going to work a game where Butler picks Williams and Ware comes inside. At the snap, Butler and Ware start to work together on the game, Williams fans outside and guard Kory Lichtensteiger works down inside, leaving a gap for Butler to rush through. To Butler's credit, he sees this and takes the opportunity to rush inside and get the sack.
* Along the defensive front,
Jay Ratliff
started off the game slowly, not getting off Casey Rabach's blocks in the running game, but as the game wore on Ratliff did a better job of creating pressure in the middle of the pocket.
Stephen Bowen
started the game missing a tackle on the screen to Moss but rebounded to play well.
Bowen has a feel for how to get pressure inside by getting push. The more you study Bowen, the more you realize truly what a valuable player he really is. Physically he is not the most impressive player, but he is relentless and his technique causes blockers problems.
Of the three Cowboys defensive ends that are playing under one-year contracts (
Marcus Spears
,
Jason Hatcher
and Bowen), Bowen is the one player that I would try to re-sign because of what he brings as a nickel rusher and spot starter.
To me, Bowen has more value than Spears, who is a two-down player, and Hatcher, who has been way too inconsistent in the opportunities given to him.
* In the secondary, nickel back
Orlando Scandrick
played well. Scandrick did a nice job of playing the routes of
Santana Moss
and
Roydell Williams
. Scandrick understands how to keep leverage in the route and has the quickness and awareness to play the ball in the air.
As a blitzer, Scandrick is developing his timing and technique to gain results when his number is called. This has become a go-to blitz for Paul Pasqualoni in the weekly game plan. Scandrick also is the most consistent and effective tacklers in the open field of all the defensive backs.
With the injury to
Gerald Sensabaugh
in the game,
Barry Church
took over at safety and really had a mixed bag of a game.
There were times where he missed tackles, whether he lunged and missed or he didn't wrap up and bring his feet. He ran around going to the ball instead of taking a direct path to the ball. On the two-point play to tight end
Chris Cooley
, he had too much depth in the route and didn't react quickly enough to the pass. He also struggled with Cooley on another two-point play where Cooley drives outside, then back inside causing Church to have to grab him and getting the holding call.
After the game, Church commented that the speed of the game was much different than what he had experienced in the preseason, which is okay. Despite his struggles, Church playing in these games are not a bad thing because it gives the front office and coaches the opportunity to really see what they have there at safety, which will be an area of concern during free agency and the draft.
*The Cowboys were short-handed at receiver with
Dez Bryant
and
Kevin Ogletree
on injured reserve and Roy Williams missing the game with a groin injury. With
Sam Hurd
starting on the outside and Manny Johnson seeing action as the third, the Cowboys still managed to have another 30-point game.
One of the main reasons that Jason Garrett can get away with playing without key players is the play of tight end
Jason Witten
. In this offense, Witten's ability to break down defenses is impressive. His route running has never been better and his understanding of the game and what he needs to do on "hot" routes allows this offense to maintain drives.
We often talk about Witten as this mismatch player. He is too big for safeties to deal with and too athletic for linebackers to carry around the field. Witten's ability to swim defenders, work up field, nod to the outside, then work back inside to create space is a nightmare for safeties like
Reed Doughty
. He also can line up on the far right of the formation as a receiver against
DeAngelo Hall
, run up the field then work outside, use his body to shield Hall from the ball, make the catch, shake a tackle, then get into the end zone.
Running back
Tashard Choice
continues to make the most of his opportunities -- not just in the running game, but as a pass blocker. Choice did have a nice touchdown run following the block of
Kyle Kosier
off the edge, but where Choice helped this team the most was his ability to know his assignment, read the defensive scheme and execute his assignment.
The Redskins really struggle to create pressure with their base rush, so defensive coordinator Jim Haslett had to try to create pressure with different looks and bringing pressure from the secondary. There were several plays where Choice had to sort out the rush and step up to make a clean pick up. To his credit, he was successful in his job, which allowed
Jon Kitna
to make successful throws down the field.
As a group, this was one of the better games for the offensive line. There have been too many games this season where four guys manage to do their jobs and one fails on each play.
Doug Free
had the toughest task of dealing with
Brian Orakpo
. Until Orakpo went out in the third quarter, Free played technique wise as good as you could play. His feet, sets, punch, angles were all in line. He played without much panic or stress. In the running game, his down blocks and sustain were outstanding.
Kosier had a solid game adjusting on the edge when he pulled, working to the linebackers on the second level on backside blocks.
The line was successful sorting out what the Redskins where trying to deal to them when it came to the passing game.
The one flaw in the game was the fourth-and-1 play on the goal line. Garrett puts
Montrae Holland
in the backfield as the blocking fullback but at the snap, the front side or the left side of the line gets no push. On the back side,
Leonard Davis
and
Marc Colombo
get beat inside and linebackers Rocky Mcintosh and
London Fletcher
go over the top. Choice has no opportunity to even start into the line because the Redskins front is now on the Cowboys side of the line of scrimmage, which led to the play being stuffed.
December, 18, 2010
12/18/10
12:45
AM ET
By
Bryan Broaddus
| ESPNDallas.com
A few key matchups for Sunday's Redskins-Cowboys game:
*Redskins WR Santana Moss vs. Cowboys CBs Terence Newman and Mike Jenkins:
Moss, a Cowboys killer throughout his NFL career, is the Redskins' best weapon on offense. He is the one player that can be a difference-maker against a secondary that has struggled to limit big plays in the passing game.
Moss will line up in various positions in the formation, and offensive coordinator Kyle Shanahan will use him on screens on third downs to try to get the ball in his hands in space. New starting quarterback
Rex Grossman
will look to two players to make plays -- Moss and tight end
Chris Cooley
. As mentioned, Moss will line up all over the formation and will also take his routes all over the field. Grossman will attempt to get him the ball on the move because of his speed and quickness.
Moss also likes to work in the middle of the field. He is not shy about catching balls inside and has shown good toughness doing so. Grossman doesn't have the arm strength of
Donovan McNabb
, so look for Moss to be more of a short to intermediate type of player even though the Cowboys have struggled to play the ball down the field.
*Redskins LT Trent Williams vs. Cowboys OLB DeMarcus Ware:
The Redskins drafted Williams out of Oklahoma for his ability to handle rushers on the edge and his athletic ability in Mike Shanahan's zone or stretch blocking scheme. Williams made his first NFL start against the talented Ware on opening night in September and fared relatively well.
Even as a rookie, Williams is the Redskins' best pass protector. When he wasn't in the lineup two weeks ago against the Giants, his backup
Stephon Heyer
had no chance, and Donovan McNabb suffered the punishment in the form of hits and sacks.
Williams is not the strongest tackle that Ware has faced this season, but he is the most athletic. Williams' feet and hands work well together. He is able to work outside to keep a rusher wide, but if taken down inside, he can adjust and keep his man from taking a direct path to the quarterback. In the running game, he keeps his feet and can reach to the outside or work for the cut-off inside.
Ware will try to use a variety of moves to play Williams. He might have his best success if he tries to play with power and go through Williams. If he can get Williams back on his heels, look for him to counter off that. Williams has the feet to play with Ware, but the power and strength will be a problem.
*Redskins RB Ryan Torain vs. the Cowboys' run defense:
With the shape of the Redskins' offensive line in pass protection and Grossman starting at quarterback for McNabb, the game plan for Kyle Shanahan will be to try to protect the football, run clock and use the play-action passing game to help his quarterback.
Last week against the Bucs, Torain reminded me of a young
Stephen Davis
carrying the ball. Torain is a powerfully built back that doesn't have outstanding speed or quickness but plays with good vision and a physical running style.
The Redskins will try to stretch the Cowboys then cut the ball back inside where there is a hole or a crease. Fullback Michael Sellers does a nice job as a point-of-attack blocker and will clear some space for the Redskins' ball carriers.
The Redskins will try to stay ahead of the chains and keep the down-and-distances manageable for Grossman, who wants to make the easy throws to Cooley and Moss. If the Cowboys can control the Redskins running game and make Grossman force tough throws, they can continue to make the Redskins struggle on third downs, where the Washington offense is ranked 31st in the NFL.
September, 11, 2010
9/11/10
9:00
AM ET
By
Bryan Broaddus
| ESPNDallas.com
*Redskins LT
Trent Williams
vs. Cowboys OLB
DeMarcus Ware
: I have to admit that I have been impressed with Trent Williams and what he has done in the preseason for the Redskins, considering that he is just a rookie.
Williams is a nice fit in the type of offensive scheme that Mike Shanahan likes to run. He is athletic and mobile, which helps him on the front-side reach or the back-side cutoff blocks. Williams does a nice job of fitting on his man, working his hands and feet together to keep his man from the ball.
But Williams struggled some in two areas against
Terrell Suggs
of the Ravens. Suggs is an explosive pass rusher with outstanding first-step quickness and strength in the upper body. As mentioned, Williams can run his man up the field, but where Suggs was able to get him was with power. Williams is strong, but he doesn't have that type of strength where he can just sit down on his man and stop him in tracks.
Ware will give you all kinds of pass rush moves, plus he is very good at playing with his hands in the running game. The Redskins in the preseason did keep Cooley and Davis in to help in protection, but it wasn't to Williams' side. If Williams struggles early in this game, I can see some adjustments being made there.
*Cowboys run defense vs. Redskins stretch play: Mike Shanahan has always been able to run the football during tenure with the
Denver Broncos
because of the use of the stretch play and the scheme problems it presents for the opposing defense.
The stretch allows the running back to press front side then make a cut when he finds the hole. On the backside of the play, the defensive linemen and linebackers have to deal with offensive linemen diving into their legs. Defenders having to use their hands to fight off blocks are not looking for the back coming through the hole, thus getting the back into the second level.
The Cowboys played a team in preseason that is very similar to what the Redskins are trying to do scheme wise in the
Houston Texans
. who had some success running the football ones vs. ones.
What the Redskins want to do is get the running game going with
Clinton Portis
then use
Donovan McNabb
on boots and waggles off play-action to set up plays down the field to
Santana Moss
or
Chris Cooley
. The Cowboys can match up better is with the return of
Marcus Spears
and
Keith Brooking
to the lineup. Both are nice run defenders and could give the defense a real boost.
*Tight Ends vs. Safeties: Both the Cowboys and Redskins have outstanding tight ends on their squads.
Jason Witten
,
Martellus Bennett
for the Cowboys and Chris Cooley,
Fred Davis
for the Redskins.
Witten and Cooley are playmakers. They are match up nightmares for defensive coordinators because of their ability to consistently catch the football. Witten is faster than Cooley, but Cooley does a nice job of finding space in the secondary.
Throughout the preseason, Redskins' quarterback Donovan McNabb had already developed a connection with Cooley, along with receiver Santana Moss as his go-to guys.
Davis is the backup to Cooley and he will line up all over the place. Davis is a nice receiver that has dependable hands. He is a big guy that moves well down the field. Where Davis is effective is when the team uses it's boot or waggle scheme. Davis will hold like he is going to block, then work out into the route. Cowboys' safeties
Alan Ball
and
Gerald Sensabaugh
will need to be aware of where these Redskins tight ends are at all times because of their ability to make plays.
The Redskins don't have many weapons, but Cooley and Davis can more than hold their own on making plays.
On the other side of the coin, the Redskins run into a matchup problem with Witten and Bennett. The Redskins safeties do not do a good job in coverage and in this game it might do them in.
LaRon Landry
is a big hitter and can be a force, but when it comes to coverage he is technique poor. Landry really struggles with movement and keeping route contact. You can fool and move him.
Reed Doughty
is a decent tackler but doesn't have the foot quickness or the cover skills to be able to control a guy like Witten or Bennett. If this game becomes tight, watch how Romo and McNabb will go to their tight ends to make plays.
The Cowboys have more weapons on the outside at receiver and along with the Redskins will have their hands full with these tight ends.
September, 9, 2010
9/09/10
11:45
PM ET
By
Bryan Broaddus
| ESPNDallas.com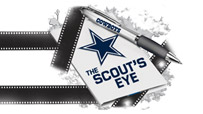 Sunday's has the makings of a difficult game for the Cowboys on several levels. It's a division opponent, it's on the road, and the Redskins have a new coach, which means new systems on offense and defense.
Coach Mike Shanahan has had a great deal of success in his NFL coaching career running a zone-blocking scheme with a mobile quarterback. Wade Phillips and the Cowboys staff have had to resort to other means to try and figure out what Shanahan might use in his game plan.
Dallas worked against Shanahan and the Broncos two seasons ago in practice and played a preseason game as well. The Cowboys can draw from that experience but also from the four games the Redskins played this preseason against the Bills, Ravens, Jets and Cardinals.
In studying those games, Shanahan has the offense working in that zone-blocking scheme. Rookie left tackle
Trent Williams
is a nice fit in this offense. He is mobile, plus he is able to play with a form of power. He shows the ability to play on his feet. You rarely see him on the ground.
A nice matchup to watch was when Williams went against
Terrell Suggs
of the Ravens. Suggs is a pass rusher similar to what he will face with
DeMarcus Ware
and
Anthony Spencer
. Suggs is an explosive player off the edge. Where he was able to take advantage of Williams was down inside on the rush.
The Redskins will put tight ends in the backfield to help with protection. Cooley and Davis did help in the preseason, but it wasn't always to Williams' side. Look for Ware to throw a wide variety of moves at Williams early in the game to gauge where he is.
Donovan McNabb
told the media Wednesday that his ankle was fine and he was ready for the start against the Cowboys. McNabb hurt the ankle in the preseason, and there was talk that he might miss the game, which you knew wasn't going to happen. Where McNabb is good in this offense is his ability to be a deceptive ballhandler, use his feet and deliver the ball on the move.
A large part of this offense is the use of the quarterback on boots and waggles. The Redskins want to pound the ball on the stretch play, then spin the quarterback away from the flow to work the ball to Cooley or Davis on the delay or Santana Moss down the field.
What the Redskins showed in their preseason games were routes down the field. Galloway and Moss both have speed and will stretch the field on vertical routes. Moss is dangerous is when he lines up in the slot and has the opportunity to run deep or crossing routes. He puts a great deal of pressure on the defense when he is allowed to do this because he is not afraid to take his route anywhere, plus he has the speed to create separation.
Cooley causes problems because of his ability to line up anywhere in the formation and complete routes. He has consistent hands and is a dependable player on third downs, much like a
Jason Witten
is for the Cowboys.
If the Cowboys are going to have success on defense Sunday night, it will have to be controlling the Redskins running game and not allowing McNabb to be effective in the play-action game.
*Throughout his NFL career as a head coach, Shanahan's teams have been of the 4-3 defensive type of scheme. In Shanahan's return to football -- after sitting out the 2009 season -- he is now working with a 3-4 look.
When asked about the switch, Shanahan said that in the 3-4, you can cause the offense more problems.
The scheme change presents challenges for the personnel staff. Do you have enough linebackers? Who is your nose man? The Redskins had a solid 4-3 group last season but now must move players around to handle the change.
Throughout his career,
Andre Carter
played as a wide 9 technique, with his hand on the ground rushing the passer. Now he is moved to outside linebacker, playing over the tight end and dropping in coverage.
Linebacker
London Fletcher
played with two big inside players at tackle to protect him. He now only has a nose man to do that.
Where this game can be won or lost is if the Cowboys do a poor job of handling the linebackers for the Redskins.
Brian Orakpo
, Carter and Fletcher can all make plays.
Across the defensive front,
Adam Carriker
, Ma'ake Kemoeatu,
Kedric Golston
are not dynamic players.
Albert Haynesworth
is the best player in this group but has struggled with his conditioning this preseason and at this time is not a starter. Haynesworth has played both nose and end in the preseason and did a much better job in the Jets game then he did in the others.
Where the Cowboys need to worry is if Haynesworth becomes motivated and decides he wants to be a dominant player.
The Redskins like to move Orakpo around in passing situations. There were times this preseason where he and Carter were rushing from the same side or Orakpo was coming from the inside linebacker spot.
In the preseason, I thought that cornerback
Carlos Rogers
has played better than
DeAngelo Hall
. Hall is a veteran player that understands how to play routes, but the physical side of the game will be a struggle.
Look for the Cowboys to try and find a way to attack safeties
LaRon Landry
and
Kareem Moore
. Landry has been a liability in coverage because of his aggressive play. Landry is a hitter but will struggle in space.