Dallas Cowboys:

Chris Greisen
December, 23, 2013
12/23/13
7:21
PM ET
IRVING, Texas -- Without
Tony Romo
, the
Dallas Cowboys
need another quarterback.
While the Cowboys are not ready to rule Romo out for Sunday's game against the
Philadelphia Eagles
, coach Jason Garrett acknowledged the team has to find a third quarterback not only in case Romo is unable to play but to get through practice.
Finding one ready to play could be problematic.
"Well, you just look at who's available and you go out and sign them," Garrett said. "It's a position that I'm sure a lot of people would like to have. You can't sign people off of other team's rosters, but there are quarterbacks out there. Hopefully we can find one that can help us. I think that's one of the best things we've done as a team is we've handled injuries and we've gotten guys who can come in and play at a moment's notice."
David Carr
and
John Skelton
are scheduled to visit with the Cowboys on Tuesday. Carr was cut by the
New York Giants
on Aug. 31 and has thrown three passes since 2010. Skelton went 8-9 with the
Arizona Cardinals
from 2010-12. He was cut by the
Cincinnati Bengals
in training camp and spent time with the
San Francisco 49ers
and
Tennessee Titans
. He was released by the Titans on Dec. 17.
Finding a quarterback is different than finding a defensive lineman. The Cowboys have dressed 19 different defensive linemen this season. They have had only two quarterbacks on the 53-man roster all season and lost
Alex Tanney
off the practice squad to the
Cleveland Browns
on Nov. 26.
Preferably the Cowboys would like a quarterback either familiar with Garrett's offense or one who has run a variation of it elsewhere.
In 2010 the Cowboys signed
Chris Greisen
the final week of the season when
Jon Kitna
suffered an oblique strain. Unable to start, Kitna served as the backup to
Stephen McGee
in the 14-13 win against the Eagles and Greisen was inactive.
The Cowboys could sign a player from another team's practice squad. Nick Stephens went to training camp with the Cowboys and was cut on Aug. 27. He has been on the
Baltimore Ravens
practice squad. Stephens completed 11 of 19 passes for 102 yards and an interception in the preseason before he was cut.
Update:
The Cowboys are also working out quarterbacks
Tyler Thigpen
and
Richard Bartel
on Tuesday.
March, 13, 2012
3/13/12
3:15
PM ET
IRVING, Texas – The Cowboys did not tender a contract offer to any of their restricted free agents and only put the one-year offers out to exclusive rights free agents
Jermey Parnell
and
Clifton Geathers
.
PODCAST
The Cowboys have released David Buehler and Terence Newman. Good moves? What's next? Coop and Nate debate.

Listen

The Cowboys had some talks with
Tony Fiammetta
's agent about a multi-year deal on Tuesday but could not reach a deal. It is possible he could re-sign but now he is free to sign with another team. Had they put the restricted free-agent tag on Fiammetta he would have been paid $1.26 million in 2012 and received a fourth-round pick in return if signed with another team.
The Fiammetta move could be fallout from the $5 million the NFL took away from the Cowboys' 2012 salary cap for sanctions involving the 2010 uncapped season. Another $5 million will be taken away from the cap in 2013.
In addition to Fiammetta, wide receiver
Kevin Ogletree
and quarterback
Chris Greisen
were not tendered as restricted free agents. The Cowboys also made wide receiver
Jesse Holley
a free agent but not tendering him a deal as an exclusive rights free agent.
Parnell and Geathers will make $540,000 in 2012.
Parnell served as the backup offensive tackle last year and played sparingly. Geathers played in five games and was credited with two tackles and three quarterback pressures.
February, 27, 2012
2/27/12
9:42
AM ET
IRVING, Texas -- Cowboys executive vice president Stephen Jones hinted last week at the NFL scouting combine that the team would not tender every restricted free agent this offseason.
PODCAST
Jerry Jones thinks this Cowboys team is still talent-laden and ready to contend for a Super Bowl. Ben and Skin discuss.

Listen

According to a source, the only restricted free agent the Cowboys plan to tender an offer to will be fullback Tony Fiammetta.
By not extending the tender to the other two restricted free agents, wide receiver Kevin Ogletree or quarterback Chris Greisen will be free to sign anywhere else. It is possible the Cowboys could re-sign Ogletree at a lower salary.
Fiammetta is expected to receive the $1.26 million tender, which would give the Cowboys the right of first refusal. If a team signed Fiammetta and the Cowboys chose not to match, they would receive a fourth-round in return because that's the round Carolina selected him in 2009.
Ogletree was given every chance to win the No. 3 receiver spot last preseason but never took advantage and was surpassed by Laurent Robinson, who ended up leading the Cowboys with 11 touchdowns. Ogletree made the roster as an undrafted free agent from Virginia in 2009 and showed flashes of ability to think the Cowboys had another find.
He caught 25 passes for 294 yards in 31 games. He also handled some punt and kick return duties.
Fiammetta played in 10 games and helped change the fortunes of the Cowboys' running game along with DeMarco Murray as a solid lead blocker. He missed four games with an illness later in the season but returned for the final four games.
February, 23, 2012
2/23/12
9:00
AM ET
INDIANAPOLIS -- Officially, the league has not released the tender amounts for restricted free agents, but the right of first refusal offer is expected to be worth roughly $1.3 million, a slight raise from 2011.
The Cowboys have three restricted free agents: fullback
Tony Fiammetta
, wide receiver
Kevin Ogletree
and quarterback
Chris Greisen
.
With such a high price tag, the Cowboys could choose to tender an offer only to Fiammetta, who excelled as a lead blocker for
DeMarco Murray
but battled through a mysterious illness for a few weeks that caused him to miss three games.
"We'll have guys that we'll tender and guys that we won't tender," executive vice president Stephen Jones said. "It's getting higher where you don't just assume you [tender] anymore, especially if they're a down-the-line, special teams-type player."
Jones said the Cowboys could offer a player a lower contract than the tender offer if the player wanted to remain with the Cowboys. If the player would not accept the offer, then he would be free to sign elsewhere.
The $1.3 million tender also affects the contract of kicker
David Buehler
. Because he hit an escalator in his contract in 2010, the kicker's base salary jumped from $565,000 to $1.26 million. Buehler is coming back from a groin injury that required surgery and limited him to four games in 2011. He lost the field goal job to
Dan Bailey
, who also did a decent job on kickoffs in Buehler's absence.
None of the other remaining players from the Cowboys' 2009 draft class --
Stephen McGee
,
Victor Butler
and
John Phillips
-- made their escalator and will earn $565,000 in 2012.
February, 5, 2012
2/05/12
11:30
PM ET
The first in ESPNDallas.com's 12-part series:
[+] Enlarge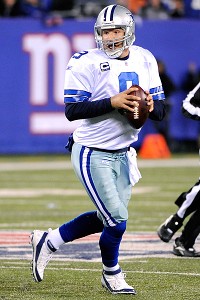 AP Photo/Bill KostrounTony Romo set a franchise record this season with a 102.5 passer rating, throwing for 4,184 yards and 31 touchdowns with only 10 interceptions.
Players:
Tony Romo
(signed through 2013),
Jon Kitna
(retiring),
Stephen McGee
(signed through 2012),
Chris Greisen
(exclusive rights free agent)
Top free agents:
Drew Brees
,
New Orleans Saints
;
Matt Flynn
,
Green Bay Packers
;
Kyle Orton
,
Kansas City Chiefs
;
Chad Henne
,
Miami Dolphins
;
Alex Smith
,
San Francisco 49ers
Top draft prospects:
Andrew Luck, Stanford; Robert Griffin III, Baylor; Ryan Tannehill, Texas A&M; Brock Osweiler, Arizona State; Brandon Weeden, Oklahoma State
2011 review:
Romo had arguably the best season of his career despite committing critical turnovers that were key to the Cowboys blowing double-digit leads in two early-season losses. He set a franchise record with a 102.5 passer rating, throwing for 4,184 yards and 31 touchdowns with only 10 interceptions. His success while playing with a broken rib should permanently end any questions about Romo's toughness. McGee served as the backup after Kitna suffered a midseason back injury that ended up putting the veteran on the injured reserve. McGee played too conservatively in his only appearance, completing 24 of 38 passes for 182 yards and a late touchdown in a 20-7 loss to the
Philadelphia Eagles
in Week 16.
Offseason preview:
Romo ranks among the least of the Cowboys' problems, so the Cowboys certainly won't be searching for his immediate replacement. Cowboys vice president Stephen Jones is on record saying the team would be comfortable with McGee as the backup, but Jason Garrett's track record indicates he'd be much more comfortable with an experienced veteran in that role.
Jason Campbell
,
David Garrard
,
Shaun Hill
and
Sage Rosenfels
could be affordable options. The Cowboys might also be in the market for a quarterback in the mid-rounds of the draft if there's a guy on the board they believe could develop into Romo's replacement a few years down the road.
Bryan Broaddus' Scout's Eye:
After sitting out the majority of the 2010 season, Romo's season didn't start out like he had planned. Losses to the Jets and Lions were directly placed at his feet because of critical interceptions and decision making. However, his play was outstanding as the season progressed, despite playing behind an offensive line that struggled with lineup changes at guard and a left tackle and wasn't playing at a high level.
It was Romo's ability to make plays with his feet that allowed this offense to have the success that they did. Romo was not the problem for the Cowboys in 2011, so the team's focus needs to be on who his backups will be in 2012. There is a need for a quarterback to compete with McGee. I respect how hard McGee works and prepares, but I haven't seen the growth that I thought I would. I have a feeling the Cowboys might be thinking the same thing, and I wouldn't be surprised to see them sign a veteran backup and draft another QB to compete with McGee for the third spot.
Need meter (0-5):
2
January, 5, 2012
1/05/12
12:03
PM ET
IRVING, Texas -- Earlier in the week we brought you the Cowboys' 13 unrestricted free agents. Today we bring you the team's three restricted free agents and four exclusive rights free agents.
PODCAST
ESPN NFL analyst Chris Mortensen breaks down the playoff matchups and talks about why the Cowboys will be watching from home.

Listen

Unlike the previous two years when the Cowboys placed the highest tenders on wide receiver
Miles Austin
and
Doug Free
to secure their services, the Cowboys will not have to make such a decision on wide receiver
Kevin Ogletree
, fullback
Tony Fiammetta
and quarterback
Chris Greisen
.
Because of the collective bargaining change, Free eventually became an unrestricted free agent and was signed to a long-term deal.
Before that Free's tender cost $3.442 million. The 2012 tender numbers are not yet known, but last year they were $2.7 million for first-round, $1.9 million for second-round and $1.2 million for original tender/right of first refusal.
Greisen was not tendered last year and is likely to have the same fate this year.
Clifton Geathers
,
Jermey Parnell
,
Jesse Holley
and
Chauncey Washington
are the exclusive rights free agents. They cannot negotiate with another team unless the team chooses to not tender them an offer.
The breakdown:
RESTRICTED FREE AGENTS
WR Kevin Ogletree:
He came out of camp as the No. 3 receiver almost by default and finished with 15 catches for 164 yards once
Laurent Robinson
surpassed him on the depth chart. He also handled some punt and kick return duties. If he is tendered at all, it would be for the right of first refusal, however, Robinson will be an unrestricted free agent and could be gone in 2012. Because he was an undrafted free agent the Cowboys would not receive any compensation in return.
FB Tony Fiammetta:
He did a nice job in helping resurrect the running game, especially when
DeMarco Murray
took over, but he was not as good when he came back from an illness that knocked him out of three games. He could be tendered at the right of first refusal, which would garner the Cowboys a fourth-round pick in return. He was Carolina's fourth rounder in 2009.
QB Chris Greisen:
He's a smart quarterback but he's also 35.
EXCLUSIVE RIGHTS FREE AGENTS
DE Clifton Geathers:
He was kept around for the entire season and active for five games. He finished with two tackles and three pressures. He'll be back for camp but he's not a guaranteed a roster spot.
OT Jermey Parnell:
He saw limited snaps during the year but was active for every game. The Cowboys have put two years in him, so they will give him another try. They like his athleticism but with the players in front of him he's destined to be a swing tackle on gameday.
WR Jesse Holley:
He keeps sticking around and this year he made some plays on offense. He will always have the San Francisco game to fall back on. He was decent on special teams and is a good locker room guy.
RB Chauncey Washington:
He was a late-season addition and could be brought back to camp, but it's possible that he will not be tendered.
January, 1, 2012
1/01/12
6:13
PM ET
EAST RUTHERFORD, N.J. – Punter
Chris Jones
, who will be playing in his second career NFL game, wil serve as holder with the Cowboys' season on the line.
Jones was promoted from the practice squad Saturday when the Cowboys placed
Mat McBriar
on injured reserve due to a nerve condition in his foot.
McBriar had been kicker
Dan Bailey
's holder for most of the season.
Tony Romo
filled that role when McBriar has been unable.
The Cowboys apparently did not want Romo in that role while he is dealing with a bruised right hand.
Jones worked as Bailey's holder throughout training camp. The other option was quarterback
Chris Greisen
, but he is inactive against the Giants.
December, 31, 2011
12/31/11
4:35
PM ET
NEWARK, N.J. -- Mat McBriar's season is over with one game to go.
The Cowboys put McBriar on injured reserve on Saturday and called up
Chris Jones
from the practice squad.
On Friday McBriar said he was feeling good enough to punt in Sunday's season finale at the
New York Giants
. McBriar was not sure if he would need surgery on his left foot or when the nerves would fire again so he could lift his foot.
McBriar has been bothered by a case of "drop foot" for the last two months and has not seen improvement. His kicking has been affected with only one game with a net average of better than 39.2 yards in the last seven games.
Jones replaced McBriar for the Oct. 30 game at Philadelphia and had a 39.5-yard average with a 37-yard net.
McBriar, who will be a free agent when the season ends, averaged 43.8 yards per punt to go with a 36.1-yard net average this year. It his lowest net since his first year in 2004.
McBriar's absence also creates an issue at holder. He had worked with
Dan Bailey
for most of the year and returned to the spot for the last four games once his leg could handle the movement.
Tony Romo
had been Bailey's holder with McBriar hurt, but he will play Sunday with a bruised right hand. Jones worked with Bailey for most of training camp before he was cut.
The Cowboys also called up quarterback
Chris Greisen
from the practice squad and cut guard
Daniel Loper
. Greisen was signed to the practice squad on Dec. 14 after the team decided to put
Jon Kitna
on injured reserve. This is the second straight year Greisen has been called up by the Cowboys for the final regular-season game. He served as Stephen McGee's backup last year at Philadelphia.
December, 30, 2011
12/30/11
2:43
PM ET
IRVING, Texas - The Cowboys will have a fuller flight than normal with the eight-man practice squad making the trip to New Jersey on Saturday for Sunday's winner-take-all game against the
New York Giants
.
Punter
Chris Jones
, wide receiver Teddy Williams, quarterback
Chris Greisen
, cornerback
C.J. Wilson
, cornerback Mario Butler, linebacker Orie Lemon, guard
Brandon Carter
and defensive tackle Robert Calloway will be on the team plane.
"I think it's for the support," Butler said. "I think everyone knows what's on the line. Like Coach Garrett has been saying all this year it takes everyone, not just 53 guys, but 61 guys, the coaching staff, the equipment guys. It takes everyone. It could be a reward, but as long as we're there to cheer everybody on."
The practice squad players attend the home games, but once the team normally departs for the road they are on their own and watch the game on television.
Just like the players on the active roster, they will have to wear a jacket and tie.
"Of course," Butler said. "We haven't done that since the preseason. I haven't had it on since church."
December, 27, 2011
12/27/11
12:18
PM ET
IRVING, Texas -- It's Week 17 and it's the NFC East Championship Game Sunday at MetLife Stadium against the
New York Giants
, but I'm still wondering about some things.
Here we go:
** Maybe it would be too much of a sign of desperation, but I wonder if the Cowboys need to make a change at left cornerback for Sunday's game against the New York Giants. I asked Jason Garrett if
Terence Newman
would be the starter and he said he did not anticipate any changes. Maybe if
Orlando Scandrick
was playing better the Cowboys would consider making a move there. For as well as Newman was playing earlier in the season, he is simply struggling badly at the wrong time of the year. He is not on the injury report, so we can't say he has anything other than minor bumps and bruised that every player has. He is not playing as aggressively as he did earlier in the year and receivers are having their way with him. Earlier in the season I wondered if Newman could return in 2012 with the same cap number or altered contract. Now, I don't think the Cowboys will bring him back. That would make Scandrick the starter in 2012, but I wouldn't rule out an early-round pick or free agent signing to challenge him.
** If you were wondering the last time the Cowboys did not have a 1,000-yard rusher or a 1,000-yard receiver, turn your mind back to 2004.
Jason Witten
would need 127 yards receiving against the Giants on Sunday to reach 1,000 for the year.
Dez Bryant
would need 142 yards. Against the Giants' secondary anything is possible. In 2004,
Julius Jones
led the Cowboys with 819 rushing yards.
Keyshawn Johnson
had 981 receiving yards and Witten had 980. The Cowboys have had one 1,000-yard rusher since Emmitt Smith's departure following the 2002 season when Jones had 1,084 in 2006.
DeMarco Murray
would have had a chance at cracking 1,000 yards had he not broken his ankle. He finished with 897 yards and had three games left to play.
** The Cowboys were never going to add a veteran quarterback of any consequence for Sunday's game even if
Tony Romo
would be unable to play. They would've started
Stephen McGee
and gone with
Chris Greisen
as the backup. You would not have been able to find a veteran worthy of a call at this time of the year that would have been able to get up to speed quick enough. But now that I'm thinking about it, would the Cowboys have made a call to Bret Favre? I kid, I kid. But I do wonder if Greisen will get called up from the practice squad even with Romo healthy enough to play. They did it last year when
Jon Kitna
had a hip problem and McGee started. The emergency quarterback last Saturday was tight end
John Phillips
. I understand you'd be in a world of hurt if you'd need Greisen to play Sunday against New York, but I'd rather have him take snaps than Phillips.
** I wonder how much change there will be on the Cowboys' defense in 2012.
Anthony Spencer
,
Bradie James
,
Keith Brooking
,
Abram Elam
,
Alan Ball
and
Frank Walker
are regulars on the defense and are scheduled to be unrestricted free agents in 2012. Terence Newman is signed through 2014 but is scheduled to count $8 million against the salary cap next year.
Kenyon Coleman
has started every game but is only signed through 2012. That's seven regulars that could be gone next year. That's a lot of turnover on one side of the ball. The Cowboys are likely to look to
Bruce Carter
,
Victor Butler
,
Barry Church
and
Sean Lissemore
from inside the building to play larger roles next year, but there will be plenty of work to do to improve. I can't see Jerry Jones believing the talent level on that side of the ball is fine.
** I wonder how happy Fox is in losing Sunday's game between the Cowboys and Giants. The Cowboys are the closest thing to must-see TV in the NFL and Fox will not have either matchup with the Giants this year. That can't make them happy and I wonder if they try to flex their NFC muscles next year in keeping more Cowboys games, especially against NFC East foes. They had only two of the Cowboys' six NFC East games (Washington, Philadelphia). But I do give credit to Commissioner Roger Goodell for altering the schedule makeup by making sure the final games of the year are intra-divisional. Imagine how uneventful it would've been this year if the Giants and Cowboys were playing NFC West opponents in Week 17. This game should be a huge ratings draw, and that will make Fox even more upset.
December, 14, 2011
12/14/11
10:47
AM ET
IRVING, Texas -- Jon Kitna's season and possibly his career are over.
The Cowboys put the veteran quarterback on injured reserve Wednesday with a back injury. Kitna is in the last year of his contract and has been contemplating retirement with his family remaining in Washington for most of the season.
Wide receiver
Dwayne Harris
was called up from the practice squad to take Kitna's spot. He opened the year on the active roster as the Cowboys' punt returner, averaging 6.6 yards. He also returned three kickoffs for a 24-7-yard average.
He was cut on Oct. 18 and signed to the practice squad a day later. He was going to be called up to the active roster last month but he was sidelined by a hamstring injury.
With
Felix Jones
about to handle the full-time running back job, the Cowboys are in need of a kickoff returner.
Kevin Ogletree
had been an option. Harris could also be an option at punt returner in his return to the 53-man roster.
It's the second time in as many weeks the Cowboys have promoted a wide receiver from the practice squad with Andre Holmes getting the call last week.
The Cowboys signed
Chris Greisen
to the practice squad. They made the same move last year after placing
Tony Romo
on injured reserve. Greisen, a former member of the Dallas Desperados, was on the active roster for the final game of the year with Kitna hurt and
Stephen McGee
starting but he did not play.
February, 14, 2011
2/14/11
9:00
AM ET
Let's kick off our Cowboys Position Series with a look at the most important position on the field: Quarterback. Enjoy.
Players:
Tony Romo
(signed through 2013),
Jon Kitna
(signed through 2011),
Stephen McGee
(signed through 2012),
Chris Greisen
(unrestricted free agent).
[+] Enlarge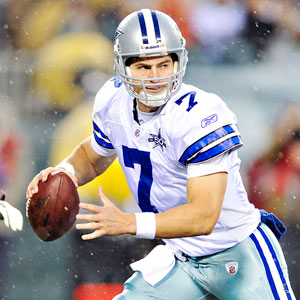 Howard Smith/US PresswireNo. 3 quarterback Stephen McGee found himself under center after Tony Romo and Jon Kitna both got injured. His performance has given the Cowboys hope that they've found their future backup.
Top free agents:
Marc Bulger
,
Baltimore Ravens
,
Peyton Manning
,
Indianapolis Colts
,
Michael Vick
,
Philadelphia Eagles
,
Kerry Collins
,
Tennessee Titans
and
Matt Hasselbeck
,
Seattle Seahawks
.
Top draft prospects:
Blaine Gabbert
, Missouri,
Jake Locker
, Washington,
Cam Newton
, Auburn,
Ryan Mallett
, Arkansas and
Andy Dalton
, TCU.
2010 review:
Tony Romo missed the last 10 games with a broken left collarbone but completed 69.5 percent of his passes. His best game was Week 3 at Houston, where he compiled a 127.6 quarterback rating while throwing for two touchdown passes for 284 yards. He finished the last three weeks of his season with seven touchdowns and five interceptions. Jon Kitna replaced Romo and was a quality replacement. Kitna displayed a strong arm and movement in the pocket, but a late-season injury forced the team to use Stephen McGee, who displayed good poise, in the final two minutes of games at Arizona and Philadelphia. McGee's work has given the Cowboys hope he could be a No. 2 in the future.
Offseason preview:
The way McGee played down the stretch was a positive for his development, but the organization should have moved faster to get him on the field -- especially when the season was out of reach. We understood that Jason Garrett was trying to compile wins, but the development of his team was more important. The Cowboys should draft a quarterback with the hopes of challenging McGee in training camp.
Need meter:
1
Editors note:
The free agent list comes from the NFLPA and certain players could change from unrestricted to restricted based on the new collective bargaining agreement. The college rankings come from our friends at Scouts Inc.
December, 28, 2010
12/28/10
9:00
AM ET
IRVING -- The Cowboys signed quarterback
Chris Greisen
to the practice squad Monday with the goal of perhaps joining the active roster if an injured
Jon Kitna
can't heal in time to play Sunday afternoon.
If Kitna is unable to play,
Stephen McGee
would get his first NFL start and Greisen would be the backup.
Greisen was a seventh-round pick by the
Arizona Cardinals
in 1999. He was inactive for three seasons before he was released in 2002 and picked up by the
Washington Redskins
, who had him for only one season.
He then bounced around from the Rhein Fire of NFL Europe, Green Bay Blizzard of af2 (that's a minor arena league franchise) and with the Dallas Desperados and Georgia Force of the Arena Football League. But when the league folded in 2009, Greisen needed a job and signed with the Florida Tuskers of the new United Football League last summer. He left briefly to play for the Milwaukee Iron, before finishing the season with the Tuskers.
"Awesome, a great experience," Greisen said of the UFL. "A great league for guys like myself who dream about getting back here and put some good film out there. [It] just gives guys an opportunity. That's what NFL Europe was there for before. Unfortunately that folded. But it's a nice opportunity to allow guys to play."
There is a chance if Kitna is out and McGee gets hurt that the 34-year old Greisen might have to make his NFL debut. In terms of the playbook, Greisen was picking the mind of the all the quarterbacks, quarterbacks coach
Wade Wilson
and, of course, interim head coach Jason Garrett.
Greisen most likely won't learn the entire playbook, but there will be a certain amount of plays he needs to learn if he's going to play at all.
"It's going to be an extensive, intensive study this week," Greisen said. "I have the playbook. It's not going to be one of those things where I have to know the game plan. I'm sure I have to know some packages. For me, it's football, and the one thing I have to remember it's 11-on-11 out there. I have some God-given instincts, and hopefully I'll play well."
When the Cowboys went searching for a quarterback on Sunday afternoon, former Desperados coach Will McClay, who is currently the Cowboys Pro Scouting Coordinator, called Greisen and asked about his availability to play for the Cowboys with the UFL season over.
"When [McClay's number] showed up on my cell phone, I was, 'No. No way'," Greisen said. "He said, 'Hey, I got a proposition for you. You wanna come down?' And I was like, 'Really? Heck, yeah.'"
His brother,
Nick Greisen
played for the
New York Giants
from 2002-05. Nick Greisen played in the East-West Shrine game with current Cowboys quarterback
Tony Romo
.