Dallas Cowboys:

Chris Harris
April, 10, 2014
4/10/14
10:45
AM ET
IRVING, Texas -- We had another lively
Dallas Cowboys
chat on Wednesday with a wide range of topics.
We touched on the Cowboys possibly trading down in the first round if a player like
Aaron Donald
was not available, the non-issue (to me anyway) of
Tony Romo
,
Jason Witten
and
DeMarco Murray
in Jerry Jones' suite at the NCAA title game, if the scheme change was just an excuse for some of the poor defensive play in 2013 and, as always, drafting a quartrerback.
If you want to read the whole chat,
click here.
If you have more questions, send me one on Twitter (@toddarcher) and use the #cowboysmail hashtag. The mailbag posts will go up Friday and Saturday.
But Geno in Plano asked a question I'd like to expand upon.
Church
Thomas
Geno:
the Cowboys seem to undervalue the safety positions- always seem to back fill or try a stop-gap; any chance of signing a more proven commodity this year pre- or post- draft?
Todd Archer:
I don't think so, Geno. There's not a real proven guy worth it right now. Look at Marinelli's safeties in Chicago. They were solid players but hardly stars. Maybe they look in the draft, but I really think they try to see what they have in
J.J. Wilcox
,
Jeff Heath
and
Matt Johnson
.
To expand, I have received a ton of questions about the safety spot this offseason because there is no doubt the play was poor in 2013 next to
Barry Church
. The Cowboys have not expressed interest in any veteran safeties that I have been able to determine, so it looks clear they will go with Wilcox, Heath and Johnson, as I stated in the answer. Personally, I'd take a look at
Steve Gregory
, but they are not about to take me up on that suggestion.
Jimmie Ward
is among the pre-draft visitors, so they could look at him as well.
But the notion is that the Cowboys have to have an
Earl Thomas
to succeed in today's NFL. Sure, but how many teams have an Earl Thomas? Five years ago everybody was saying the Cowboys needed to get a safety like
Troy Polamalu
or
Ed Reed
. Sure, but how many of those guys are rolling around?
They are rare players. I think the Cowboys would have selected
Kenny Vaccaro
last year if he wasn't scooped up by the
New Orleans Saints
before Dallas picked in the first round. He was gone, so they traded down.
In his three years with the
Chicago Bears
, [Rod] Marinelli's safeties were
Danieal Manning
and Chris Harris in 2010, with
Chris Conte
and
Major Wright
handling the duties in 2011-12. The Bears let Manning walk as a free agent when the
Houston Texans
offered him a big deal. Conte and Wright were third-round picks in the 2011 and 2010 drafts, respectively.
Wilcox was a third-round pick last year by the Cowboys.
Since 2000, the winning Super Bowl teams have had five All-Pro safeties: Rodney Harrison (New England), Polamalu (twice), Darren Sharper (New Orleans) and Thomas.
You can get by with functional safeties. Marinelli did it in Chicago. He will try to do it here as well.
The question should be do the Cowboys have a functional safety next to Church, not whether they can get a Thomas.
February, 22, 2014
2/22/14
11:45
AM ET
INDIANAPOLIS -- Rod Marinelli has been through a defensive rebuilding job before. Maybe not as severe as he has to do with the
Dallas Cowboys
, but a rebuild nonetheless.
In 2009, Marinelli joined the
Chicago Bears
as defensive line coach. The Bears finished 17th in total defense, 13th against the pass, 23rd against the rush and 21st in points allowed.
In 2010 Marinelli became the defensive coordinator and the Bears finished ninth in total defense, 20th against the pass, second against the rush and fourth in points allowed.
[+] Enlarge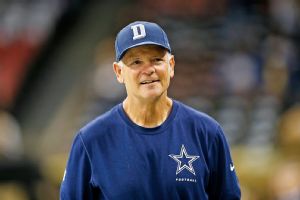 AP Photo/James D. SmithDefensive coordinator Rod Marinelli hopes Dallas adds pieces to its front seven this offseason.
The Cowboys were 32nd in yards, 30th against the pass, 27th against the rush and 26th in points allowed.
Monte Kiffin was moved to assistant head coach/defense and Marinelli was promoted to defensive coordinator last month.
"We've kind of got things in place for the most part," Marinelli said from the NFL scouting combine "Now you've just got to make some corrections, add some people and go from there."
The Bears started four different defensive linemen from 2009 to 2010, and added
Julius Peppers
as a free agent. Middle linebacker Brian Urlacher returned to the lineup from a wrist injury after playing in just one game in 2009. Free-agent pickups
Tim Jennings
and Chris Harris solidified the secondary.
Chicago went from a 7-9 record to an 11-5 finish.
Despite their defensive woes in 2013, the Cowboys finished 8-8, losing their third straight winner-take-all NFC East championship game in Week 17 to miss the playoffs.
To Marinelli, there is no mystery to his success.
"With me, I think it's just going back to being really fundamentally sound," he said. "That's kind of always been my base. Just getting guys to do things right and coach these guys extremely hard ... Being really detailed in what you're doing, being exact. Again just being with these guys is going to help, and I think adding some pieces is going to help."
The Cowboys will be hard-pressed to add significant pieces in free agency with their salary-cap situation. The futures of
Jason Hatcher
,
Anthony Spencer
and
DeMarcus Ware
are in question. A healthy
Sean Lee
will help. So would a healthy
Morris Claiborne
. Improvement from
Bruce Carter
and
Brandon Carr
is a must. They also must find players in the early rounds of the draft that can contribute.
Where does Marinelli want to see the most help?
"Your front seven," he said. "You always look at it. You've always got to look at the front seven. That kind of drives the whole thing for us. So hopefully we'll be adding pieces, and I like some of the guys that were injured last year, (Tyrone) Crawford,
Ben Bass
. Some of these other guys I'm looking forward to seeing."
Marinelli will continue to coach the defensive line, but he said Leon Lett and Ben Bloom will alleviate some of the workload. It's how he operated in Chicago as well.
"The key is the foundation," Marinelli said. "If you can get that going, you get yourself a foundation and you build off that. Get the right pieces, the right couple of guys and things will jump quick."
That's the Cowboys' hope.
January, 9, 2012
1/09/12
9:32
AM ET
After the first week of the postseason we have some random thoughts on it means for the Cowboys.
1. There are reports that former
Miami Dolphins
coach Tony Sparano has some interest in returning to the Cowboys as an offensive line coach. Hudson Houck still has that job, and while his contract will end soon, he hasn't been told he will not be back. Sparano was a solid and popular coach when he was in Dallas. The issue is whether or not Sparano doesn't mind not calling plays. I don't see Jason Garrett giving up those duties to Sparano. I'm also not sure if Sparano wants to return as the offensive line/running game coordinator after spending a couple of seasons as head coach. Money is also a factor. If Jerry Jones can pay Houck a $1 million a season to coach the line, there's no telling what might pay Sparano to return.
2. Tom Ciskowski, the Cowboys assistant director of player personnel, interviewed with the
Indianapolis Colts
over the weekend for the vacant general manager's job. If Ciskowski gets the gig, his replacement most likely will come from within. Jerry Jones could promote any number of people from
Chris Hall
, college scouting coordinator, Drew Fabianich, national scout, Judd Garrett, director of pro scouting, and Will McClay, director of football research to replace Ciskowski.
3. It's funny how
Tony Romo
gets so much criticism for not winning any big games, and come to find out
Matt Ryan
is 0-3 in the postseason, and while
Eli Manning
has won a Super Bowl, just picked up his first home playoff win on Sunday afternoon at MetLife Stadium. Romo has at least one playoff win, coming in 2009 vs. Philadelphia. Romo has won some big games, but when you look back on the Cowboys season, especially the last month, you can't blame Romo for the issues.
4.
Denver Broncos
rookie cornerback
Chris Harris
finished with five tackles on Sunday in the AFC wild card victory over the
Pittsburgh Steelers
. Harris was the fifth cornerback in the dime package the Broncos employed against the Steelers. We talk about Harris today because several teams, including the Cowboys, passed up on drafting or signing him. Harris didn't have a draftable grade coming out of Kansas and some thought he was more of a free safety. But he started four regular season games for the Broncos with six pass breakups and one interception. But there was Harris playing very physical on Sunday which included a hard hit on Steelers wideout
Mike Wallace
. Think the Cowboys could have used a physical corner in the secondary?
5. You can't replace everybody on the team, and while the Cowboys made numerous changes before the 2011 season, expect some new faces in 2012 again. The offensive line, linebacker corps and secondary could get two new starters each. The only sure thing is quarterback, running back, tight end and wide receiver.
September, 20, 2010
9/20/10
11:00
AM ET
IRVING, Texas – The Bears defensive backs are barking about intimidating Tony Romo's targets.
Cornerback
D.J. Moore
, who came up with a couple of interceptions on passes that went off Cowboys' hands, went so far as to single out Pro Bowl tight end
Jason Witten
.
"The second one, he was pretty much just scared to get hit,'' Moore told the Chicago Sun-Times (
via the ESPN.com NFC East blog
). ''He short-handed it like he was just about to get hit."
Those are harsh words for Witten, especially considering that he suffered a concussion on a catch that ended with him getting pinballed between a couple of Bears. It might have been more appropriate to call out
Miles Austin
, who coughed up the ball when crunched by
Charles Tillman
on Moore's first pick.
One receiver the Bears certainly couldn't accuse of being scared was Roy Williams. He twice held on to passes despite taking vicious hits across the middle of the field.
Bears linebacker
Lance Briggs
told reporters that he thought safety Chris Harris' hit on Williams after a 19-yard gain in the first quarter set the tone. That might be true, but Williams held on when Briggs unloaded on him after a 12-yard catch over the middle later in the game.
"Nobody intimidates me coming across the middle," Williams said. "I catch the ball, pop up and give you first down in your face."