Dallas Cowboys:

Chris Williams
April, 4, 2012
4/04/12
9:20
AM ET
Continuing our team-by-team series on the history of the specific draft picks each NFC East team has this year, we take a look today at the
Dallas Cowboys
, who have eight picks in this year's draft.

Turning up some interesting trivia in these. For instance, the Cowboys have the 186th pick, which produced Deacon Jones, and the 152nd pick, with which the
Houston Texans
last year took a quarterback who a few months later started their first two playoff games in franchise history.
PICK 14
(14th pick, first round)
Last five players taken
2011 --
Robert Quinn
, DE, Rams
2010 --
Earl Thomas
, S, Seahawks
2009 --
Malcolm Jenkins
, DB, Saints
2008 --
Chris Williams
, T, Bears
2007 --
Darrelle Revis
, CB, Jets
Cowboys' history of No. 14 picks
The Cowboys have never had the No. 14 pick.
Hall of Famers picked No. 14
Jim Kelly (1983), Gino Marchetti (1952), Len Ford (1948, AAFC)
Other notables
Jeremy Shockey
(2002), Eddie George (1996), Dick Stanfel (1951)
PICK 45
(13th pick, round 2)
Last five players taken
2011 --
Rahim Moore
, DB, Broncos
2010 --
Zane Beadles
, G, Broncos
2009 --
Clint Sintim
, LB, Giants
2008 --
Jordon Dizon
, LB, Lions
2007 --
Dwayne Jarrett
, WR, Panthers
Cowboys' history of No. 45 picks
1968 -- Dave McDaniels
Hall of Famers picked No. 45
Dave Casper (1974)
PICK 81
(19th pick, third round)
Last five players taken
2011 --
DeMarcus Van Dyke
, DB, Raiders
2010 --
Earl Mitchell
, DT, Texans
2009 --
Roy Miller
, DT, Buccaneers
2008 --
Early Doucet
, WR, Cardinals
2007 --
Jay Alford
, DT, Giants
Cowboys' history of No. 81 picks
1984 -- Fred Cornwell
1982 -- Jim Eliopulos
1981 -- Glenn Titensor
1977 -- Val Belcher
Hall of Famers picked No. 81
None, though Art Shell was the 80th pick in 1968 and Joe Montana was the 82nd in 1979.
PICK 113
(18th pick, round four)
Last five players picked
2011 --
Chimdi Chekwa
, DB, Raiders
2010 --
Aaron Hernandez
, TE, Patriots
2009 --
Vaughn Martin
, DT, Chargers
2008 --
Dwight Lowery
, CB, Jets
2007 --
Brian Smith
, DE, Jaguars
Cowboys' history of No. 113 picks
1989 -- Keith Jennings
1984 -- Steve Pelluer
1975 -- Kyle Davis
Hall of Famers picked No. 113
None. But Steve Largent was picked 117th in 1976 and George Blanda was picked 119th in 1949.
PICK 135
(40th pick, fourth round)
Last five players picked
2011 --
Ricky Stanzi
, QB, Chiefs
2010 --
Dominique Franks
, DB, Falcons
2009 --
Troy Kropog
, T, Titans
2008 --
Josh Sitton
, G, Packers
2007 --
Joe Cohen
, DT, 49ers
Cowboys' history of No. 135 picks
1983 -- Chuck McSwain
Hall of Famers picked No. 135
None. Closest were Jackie Smith and Roger Staubach, who were picked No. 129 in 1963 and 1964, respectively.
PICK 152
(17th pick, round 5)
Last five players picked
2011 --
T.J. Yates
, QB, Texans
2010 --
Otis Hudson
, G, Bengals
2009 --
James Casey
, TE, Texans
2008 --
Letroy Guion
, DT, Vikings
2007 --
Antonio Johnson
, DT, Titans
Cowboys' history of No. 152 picks
1984 -- Eugene Lockhart
1969 -- Rick Shaw
Hall of Famers taken No. 152
None. Closest I found was Arnie Weinmeister, No. 166 in 1945.
PICK 186
(16th pick, round 6)
Last five players taken
2011 --
D.J. Smith
, LB, Packers
2010 --
Clifton Geathers
, DE, Browns
2009 --
Robert Henson
, LB, Redskins
2008 -- Colt Brennan, QB, Redskins
2007 --
Thomas Clayton
, RB, 49ers
Cowboys' history of No. 186 pick
2003 -- Zuriel Smith
1976 -- Greg Schaum
Hall of Famers picked No. 186
Deacon Jones (1961)
PICK 222
(15th pick, round 7)
Last five players taken
2011 --
Anthony Gaitor
, DB, Buccaneers
2010 --
Marc Mariani
, WR, Titans
2009 --
Pat McAfee
, P, Colts
2008 -- Chester Adams, G, Bears
2007 -- Derek Schouman, FB, Bills
Cowboys' history of No. 222 picks
1984 -- Mike Revell
1978 -- Homer Butler
Hall of Famers picked No. 222
None. Closest was Andy Robustelli, picked 228th in 1951
September, 21, 2010
9/21/10
3:26
PM ET
For the second consecutive week, the Cowboys' pass-rushers will try to take advantage of a backup tackle.
Texans left tackle
Duane Brown
has been suspended four games for violating the league policy on performance-enhancing drugs, the NFL announced. He has started every game since being selected in the first round of the 2008 draft.
The Bears lost left tackle
Chris Williams
to a leg injury early in Sunday's win over the Cowboys. But
DeMarcus Ware
wasn't able to take advantage, failing to sack
Jay Cutler
, who got rid of the ball quickly after getting hit repeatedly on the first three possessions. (Ware had a half-sack negated by a penalty, but that was before Williams' injury.)
Rashad Butler
, a five-year veteran who has never started a game, is the Texans' swing tackle. It's probably safe to assume he'll get plenty of help against Ware and Spencer on Sunday.
September, 17, 2010
9/17/10
8:00
AM ET
By
Bryan Broaddus
| ESPNDallas.com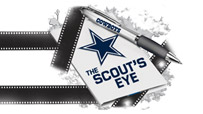 The Cowboys will face a defense that will present them a different set of challenges as opposed to what they faced last week in Washington.
Lovie Smith and former Lions head coach Rod Marinelli have once again hooked up and continue to put the Bears in the Tampa 2 scheme that they ran with great success for the Buccaneers under Tony Dungy.
In 2009, the Bears were a banged up defense and struggled without several key members in the lineup. This year, with the addition of
Julius Peppers
from Carolina, it gives them a much more dynamic pass rusher than you have to deal with off the edge.
Peppers tends to play the open side of the formation which is away from the tight end, so a matchup against just one of the offensive tackles is possible if the Cowboys want to set the formation to one side or the other. Peppers is one of those defenders that doesn't give you much of a hitting surface when blockers set on him. He has shown the ability to dip his shoulder and work underneath the tackle. He can be explosive from the backside as Lions quarterback Matthew Stafford learned.
Peppers does a nice job in the running game because he is difficult to hook or reach. He has very long arms and he uses them to keep blockers off him as he works down the line and into the backfield.
At the other end is
Mark Anderson
. Anderson is not a bulky player, but he is very quick. When Smith and Marinelli slant this line, Anderson is a problem to block on the move because he is a feel for how to beat blocks.
Anderson is the type of player that just keeps coming at you. He doesn't want to fight these tackles toe to toe, so he needs to be on the move.
The type of player that tends to give
Andre Gurode
and
Leonard Davis
fits are the ones with quick movement off the snap. Davis and Gurode will struggle because they have to move their feet and extend the blocks. It's the big inside guys that try to bull rush them that tends to be easier for them to block. The Bears have two of these types of players inside.
Tommie Harris
and
Anthony Adams
are both quick, up-the-field guys. Their game is based on movement more than strength.
The linebackers for the Bears are a veteran group.
Brian Urlacher
was throwing his body around.
Lance Briggs
was effective on the blitz, causing a turnover on the Lions' 1, and
Pisa Tinoisamoa
can really run. This group was very active attacking the Lions.
That's understandable because of a second-year quarterback at the controls for Detroit. It will be interesting if they try to blitz Tony Romo and allow this secondary the responsibility of playing coverage.
It's a Cover 2 look (safeties on the hash) with the corners playing short and the safeties behind. The Bears secondary will also use a technique of the corners turning their rears to the sideline and trying to funnel the receivers inside. In the Cover 2 look as well, you will a see deep drop by Urlacher in the middle of the field.
Romo always talks about patience when playing a Cover 2 team and taking what they give you.
Charles Tillman
is the better of the two corners. Zackary Bowman was picked on by the Lions. I would think that the Cowboys might do the same.
*The Bears on offense were able to move the ball on the Lions, but turnovers and red zone problems allowed to Lions to hang in the game and even have a chance to win it in the end.
The Bears will struggle to block the Cowboys' front. Tackles
Chris Williams
and Frank Omiyale will have a difficult job of blocking
DeMarcus Ware
and
Anthony Spencer
in the passing game.
Williams is the better player here because he plays with some strength. Omuyale just doesn't play with much upper- or lower-body strength at all. You see him come out of his stance then get worked back. He is always fighting just to sustain his block. The Bears will chip with their backs out of the backfield.
At center for the Bears is veteran
Olin Kreutz
, who is an old-school type of player. Kreutz is one of those guys who skills have left him, but he gets by because he has the ability to hold, trip and clip. Kreutz will have his hands full with
Jay Ratliff
. Ratliff just plays with too much quickness for Kreutz, who will have a hard time adjusting.
The Bears might not have big names at wide receiver, but what they do have is a group that can really run.
Johnny Knox
is a 4.29,
Devin Hester
a 4.41 and
Devin Aromashodu
a 4.35.
Knox is a smooth route runner that will go all over the field to catch the ball, Hester is outstanding in the open field with the ball in his hands, but the interesting player to me is Aromashodu. This player can cover some ground on the outside and does a nice job in the slot. In the Lions game, Cutler was going to him more than the other receivers.
It will be interesting if the Cowboys try to press these receivers and not allow free access in the routes. If the secondary can hold up on the outside, it will make Cutler have to face this pass rush and the possibility to creating turnovers. In the Lions game there were several times where Cutler was under pressure and just unloaded the ball.
Running back
Matt Forte
had two huge plays in the passing game for the Bears that resulted in touchdowns. Forte's running style is that of a slasher. If he had a problem in the Lions game, it was his inability to punch it in from the 1, but the Bears really didn't do a very good job of securing the hole. The Bears like to pull guards in short yardage, which was a big problem against the Lions. The Cowboys need to be careful in this game not to allow Forte to have a similar game to what he did against the Lions.