Dallas Cowboys:

Christian Ponder
November, 10, 2013
11/10/13
4:25
PM ET
NEW ORLEANS -- The
Dallas Cowboys
are about to end a run against Texas high school quarterbacks when they see the
New Orleans Saints
'
Drew Brees
Sunday night.
Brees
On Oct. 13 they saw Copperas Cove's
Robert Griffin
III with the
Washington Redskins
. Then saw Austin Westlake's
Nick Foles
in Philadelphia. Highland Park's
Matthew Stafford
lit them up with the
Detroit Lions
. Last week they beat Colleyville Heritage's
Christian Ponder
and the
Minnesota Vikings
.
Brees played at Austin Westlake.
"Obviously Texas has a very strong football tradition with a number of players going on to play college football and certainly the NFL," Brees said. "Obviously there's a ton of quarterbacks, which is pretty unbelievable when you look at it. A lot of them went on and played all over the place, it's just not guys that stayed in the state of Texas.
"In most cases, guys went and played in other places across the country and different conferences, different division levels and that kind of thing. I think it's something we take a lot of pride in. I think it makes you proud considering we have that Texas state pride, having played in the state, and knowing the level of competition within the state when it comes to football, so it's pretty cool that we're able to have that many guys playing quarterback in the league."
The Cowboys are 3-1 against Texas quarterbacks so far.
Depending on the health of
Jay Cutler
, they could see
Josh McCown
(Jacksonville, Texas) on Dec. 9 against the
Chicago Bears
. If
Matt Flynn
(Tyler) ends up signing with the Packers, they could see him Dec. 15 against the
Green Bay Packers
.
They'll also have rematches against Foles and Griffin.
November, 3, 2013
11/03/13
7:31
PM ET
ARLINGTON, Texas -- Last week, the
Dallas Cowboys
lost to the
Detroit Lions
on a touchdown with 12 seconds to play. On Sunday, they beat the
Minnesota Vikings
on a touchdown with 35 seconds to play.
"The nature of this league is that you're going to play close games, so get used to it if you follow football," coach Jason Garrett said. "Get used to it if you're a player. As a coach you have to get used to it. That's the nature of this league. You have to do things that the winning teams do at the end of the ballgame. We were able to do that this week."
They were unable to close out against the Lions. They were unable to close out against the
Denver Broncos
on Oct. 6, losing on a last-second field goal. They were unable to make plays in the fourth-quarter of losses to the
Kansas City Chiefs
and
San Diego Chargers
.
On Sunday,
Tony Romo
directed a nine-play, 90-yard drive for the winning points and the defense was able to come up with a final-second stop when
Christian Ponder
's Hail Mary fell woefully short of the end zone.
After a Romo pass was intercepted with 4:29 to play, the defense came up with a big three and out, aided by some curious play calling.
"We were able to show everyone we could close out games now," defensive tackle
Nick Hayden
said. "I know that was everyone's question, focusing on, 'Can the Cowboys close out games?' But it just shows everyone we can do it."
This week it did. But
Sean Lee
knows it's a week-to-week league.
"You find a way to win," Lee said.
November, 3, 2013
11/03/13
7:19
PM ET
ARLINGTON, Texas –
Nick Hayden
, rock star?
Maybe in the dreams of the
Dallas Cowboys
' defensive tackle.
Hayden brought out his Pete Townsend imitation after scoring the first touchdown of his NFL career and his first since he was a tight end at Arrowhead High School in Hartland, Wis.
"I had to get the guitar tuned up a first, put the strap on, then rock out and throw it down afterwards," Hayden said.
Hayden's touchdown
came after a strip sack of quarterback
Christian Ponder
by
George Selvie
on the
Minnesota Vikings
first play of the second half and gave the Cowboys a 20-10 lead.
Hayden swears he never practiced the celebration before, but he was considering it if he got a sack.
"I wish I could play guitar in real life, so I guess they say the tuner is important for most artists to get it right on tune," Hayden said. "But it was just something fun. It was a good time."
November, 3, 2013
11/03/13
10:50
AM ET
ARLINGTON, Texas -- Welcome to AT&T Stadium where the
Dallas Cowboys
kick off the second half of their season against the
Minnesota Vikings
.
Different at home:
AT&T Stadium has been friendlier to the Cowboys this year than recent years.
A win would give the Cowboys their fourth at home this season, matching their total from 2012, but more importantly it would keep them on top of the NFC East.


The Cowboys are averaging 36.5 points per game at home, compared to just 21 on the road. The biggest difference is in the ground game. In the four games, the Cowboys have rushed for 380 yards and averaged 4.2 yards per carry. On the road the Cowboys average just 3.2 yards per carry.
A friendly month:
Everybody is well aware of the Cowboys' and
Tony Romo
's issues in December. November is a much different story.
Romo has the best record of any quarterback in November at 21-4. He has thrown for 6,994 yards on 553 of 826 passing with 58 touchdowns and 16 interceptions.
If the Cowboys want to stay atop the NFC East race, then they will need another strong November. Of their four games in the month, the Cowboys play only one team with a winning record (New Orleans, Nov. 10).
Welcome back:
Maybe it is just a coincidence that the Cowboys' offense has fizzled since
DeMarco Murray
sprained the medial collateral ligament in his left knee on Oct. 13 against the
Washington Redskins
.
Murray will return to the lineup Sunday after a two-game absence. In his first game back last year from a six-week layoff with a foot injury, Murray carried 23 times for 83 yards and a touchdown in a win against the
Philadelphia Eagles
.
Slowing down the running game:
With a passing game that has gone nowhere the Vikings rely heavily on running back
Adrian Peterson
.
While not as magical as he was in 2012, Peterson still has 571 yards rushing on 128 carries and six touchdowns. The Cowboys struggled in slowing down
Reggie Bush
of the
Detroit Lions
last week. Bush had 21 carries for 92 yards and a touchdown.
In their last home game, the Cowboys allowed 216 rushing yards to the Redskins.
The Vikings do not have the passing game to match their running game, but the Cowboys' pass defense is not exactly filled with confidence this week either. If there's good news it's that
Christian Ponder
is not in
Matthew Stafford
's neighborhood.
November, 2, 2013
11/02/13
1:35
PM ET
IRVING, Texas -- Sometimes figuring out the game-day roster can be a breeze.
Three players have already been ruled out because of injury:
Morris Claiborne
(hamstring),
J.J. Wilcox
(knee) and
DeVonte Holloman
(neck).
Miles Austin
did not practice this week and while he is officially doubtful, he should miss his second straight game with a hamstring injury.
Brian Waters
would have been the fourth injured player to be inactive, but the Cowboys put him on injured reserve Saturday.
Darrion Weems
will be the only inactive offensive lineman.
That leaves two more inactives.
DeMarcus Ware
expressed some optimism late in the week about playing. He has missed the past two games with a quadriceps strain, but he said he was able to do some drills on Friday. Maybe he is ready to go, but it might make more sense to let Ware heal with the
New Orleans Saints
up next week. Having Ware closer to 100 percent to face
Drew Brees
& Co., seems a lot smarter than playing him against
Christian Ponder
& Co.
So that would put
Everette Brown
, who was signed Monday, on the field as a pass-rusher.
Special teams are a big factor on the final few spots, which would leave tight end
Andre Smith
on the outs. He was active the past two games but played sparingly as the Cowboys looked to help with their blocking.
With
DeMarco Murray
back in the fold, then perhaps
Phillip Tanner
's spot could be in jeopardy. Add in the injuries of safety
Danny McCray
, the Cowboys should want to keep as many core special-teamers intact this week.
The inactives: Morris Claiborne, J.J. Wilcox, DeVonte Holloman, Miles Austin, Darrion Weems, DeMarcus Ware, Andre Smith.
October, 31, 2013
10/31/13
12:00
PM ET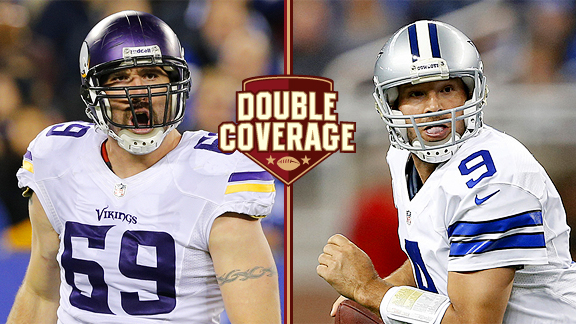 AP PhotoJared Allen's Vikings and Tony Romo's Cowboys match up on Sunday in a game where neither team looks like much of a playoff threat.
IRVING, Texas -- The
Dallas Cowboys
kick off the second half of their season at AT&T Stadium on Sunday against the
Minnesota Vikings
, who are still looking for their first win in the United States this season.
A playoff team a year ago, the Vikings have been one of the biggest disappointments in the NFL. At 4-4, the Cowboys are looking at their third straight 8-8 season under Jason Garrett.
ESPN.com Vikings reporter Ben Goessling and ESPN.com Cowboys reporter Todd Archer debate the game in this week's Double Coverage.
Archer:
I think a lot of people assumed the Vikings would be a serious playoff threat, but obviously that's not the case. How is it sitting with the veterans on the team like
Adrian Peterson
,
Jared Allen
,
Chad Greenway
and guys who have experienced success?
Goessling:
A lot of those players have been disappointed, but they all seem to be sticking behind coach Leslie Frazier, at least for now. There have been a few hints of discontent from players with the defensive scheme, but nobody seems to be quitting on the season. A lot of the problems are out of the Vikings' control, at least in the sense that they can do only so much with the roster they have. It's hard to win and have an open competition at quarterback at the same time. And the Vikings' moves in the secondary have backfired terribly. This hasn't been the same team without
Antoine Winfield
, and now that
Harrison Smith
is hurt, the Vikings have few playmakers on the back end of their defense.
Speaking of quarterbacks, it looks like
Tony Romo
is playing some of his best football this year. I suppose with him, we never really know what to think until the playoffs, but does it seem to you like he's turned any type of a corner?
Archer:
I think he's played at a higher level than most people want to say for the past few years, but he's been stuck with this tag that he can't shake until (if) the Cowboys make the playoffs and win a couple of games. This year, he has more say in the offense in terms of the game plan, so I think that has him feeling more weight to make the correct play and not be so much of a gunslinger. He's struggled the past three games with his accuracy, but he's made big plays and mostly stayed away from the bad ones. He remains creative when things break down, but he's also willing to take a sack or throw the ball away.
Peterson is coming home, so to speak. How have things been different for him this season after 2,000 yards last season?
Goessling:
He has been dealing with a minor hamstring injury for the past few weeks, but I think the biggest problem for Peterson has been the play of his offensive line. The group hasn't been anywhere near as good as it was last season at opening holes for Peterson, and fullback
Jerome Felton
has struggled to get into a rhythm after missing the first three games because of a suspension. At times, Peterson has looked impatient, wanting to make that one extra cut for a 60-yard run and winding up with a 2- or 3-yarder when the hole closes. He's also seeing more eight-man fronts than any other back in the league, and without a line that's able to handle the extra attention, Peterson isn't going to beat those defenses all the time. Even he isn't that good.
But maybe this is the week the Vikings can resurrect their passing game, playing against the worst pass defense in the league. Are the Cowboys so bad that they'll have trouble even with the Vikings' ensemble cast at quarterback?
Archer:
Unless
Christian Ponder
,
Josh Freeman
or
Matt Cassel
morph into Peyton or
Eli Manning
,
Philip Rivers
or
Matthew Stafford
, I can't see it happening, even as bad as the pass defense has been. When it has played against middling quarterbacks --
Alex Smith
(yes, I know he's 8-0, but he's not a great passer),
Sam Bradford
, a returning-to-health
Robert Griffin III
and
Nick Foles
-- the defense has looked good. When it has faced top passers, it has allowed the most 400-yard games in NFL history for a season -- in just eight games. Monte Kiffin's scheme is very basic and designed to not give up big plays, yet the Cowboys have given up a ton of big plays. They have missed
DeMarcus Ware
the past two games and will have a banged-up secondary Sunday. If Ware returns, that should help, but I think the biggest aid for the defense will be whomever Frazier picks to play quarterback.
For years, the strength of the Vikings D, to me anyway, has been the pass rush. Statistically, it's not very good, but is that a product of the secondary issues you talked about?
Goessling:
I'd say it's the other way around. The Vikings were certainly better in the secondary last year than they are this year, but they were helped out by the fact the front four was getting to the quarterback enough to keep teams from exploiting them in the passing game. This year, the Vikings have been done in by teams that can get the ball out quickly (the Lions and Packers, especially), and they just haven't gotten much push up the middle. Allen and
Brian Robison
are hustling, but they can do only so much when they're getting the bulk of opposing teams' attention. The Vikings still aren't a blitz-heavy team, but they have had to bring extra guys a little more often than usual this year and
Aaron Rodgers
burned them on a blitz Sunday. If Romo gets the ball out quickly, he should have plenty of openings. The good news for the Cowboys is A) the Vikings could have three defensive backs out with injury, and B)
Josh Robinson
will be on the field.
The week after the Vikings lost in the final seconds against the Bears, they got beat by the Browns at home. Do you expect any kind of shell shock from the Cowboys after that Matthew Stafford touchdown last week?
Archer:
I really don't. The Cowboys have had so many of these types of losses that they know how to bounce back. The bad thing is they have had to do this too often. We came up with
21 losses since 2005
that can be described as "crazy" with late-game shenanigans. The Lions loss was just another one to add to the list. The Cowboys lost a game in 2010 because they missed an extra point. They lost a game in 2008 in overtime on a blocked punt returned for a touchdown. And those both came at Arizona.
So the Cowboys somehow do a good job of compartmentalizing things and putting a bad week behind them. Garrett deserves some credit for that, I guess.
October, 28, 2013
10/28/13
10:00
AM ET
DETROIT -- Another top-flight quarterback, another shredding of the
Dallas Cowboys
' defense.
Detroit Lions
quarterback
Matthew Stafford
did to the Cowboys what
Eli Manning
,
Philip Rivers
and
Peyton Manning
did to the Cowboys, completing 33 of 48 passes for 488 yards. He only had one touchdown and was intercepted twice, but 329 of those yards went to
Calvin Johnson
.
The Cowboys are the first team to allow four 400-yard passers in a season and eight games remain. And they still have to say hello New Orleans'
Drew Brees
, Green Bay's
Aaron Rodgers
and Chicago's
Jay Cutler
, who should be healthy by the Dec. 9 meeting. There's also the rematch with the
New York Giants
and Eli Manning. And
Robert Griffin
III should be in better form for the
Washington Redskins
than he was in the first meeting of the season.
Stafford, the Manning brothers and Rivers have thrown for 1,753 yards against the Cowboys, completed 73.5 percent of their passes and averaged 438.3 yards per game.
The good news for the Cowboys is that they will see
Christian Ponder
,
Josh Freeman
or maybe even
Matt Cassel
Sunday at AT&T Stadium when the
Minnesota Vikings
visit.
April, 22, 2013
4/22/13
11:00
AM ET
Our man Todd McShay has
re-worked his latest mock draft

to reflect Sunday's
Darrelle Revis
trade, and there are changes throughout. This is a first-round-only update, so sorry, Redskins fans. We'll catch up with you a little bit later in the day. As for the fans of the other three NFC East teams, here are Todd's latest picks and my thoughts. Which I know is why you're here, after all. Right? Right????

4. Philadelphia Eagles
:
Lane Johnson
, OT, Oklahoma.
In this mock, the top two tackles (
Luke Joeckel
and
Eric Fisher
) go to Kansas City and Jacksonville with the first two picks and the Raiders take defensive tackle
Sharrif Floyd
at No. 4. So Todd gives the Eagles Johnson, who seems to be a fast riser and has been identified by draft analysts as a good fit with Chip Kelly's offense due to his athleticism. (Never gets old, right?) And while I have no issue with the Eagles going offensive tackle at No. 4, this feels high for Johnson with defensive guys like
Dion Jordan
and
Star Lotulelei
still on the board. If Fisher or Joeckel is there, I think they'll bite. But if those guys are gone, I'm thinking defense for the Eagles at No. 4.

18. Dallas Cowboys:
Sheldon Richardson
, DT, Missouri.
Look. Basically, I've decided I'm not going to believe in this historic first-round run on offensive linemen until I see it. Todd has six offensive linemen being taken in the top 15, which has not happened since 1966. And while I acknowledge that this is a somewhat unique draft devoid of
Andrew Luck
/Robert Griffin III/
Trent Richardson
-type skill position talent at the top, I still feel like somebody's going to draft a quarterback or two earlier than we think they should. Three days before the 2011 NFL draft, you couldn't find a mock that had
Jake Locker
,
Blaine Gabbert
and
Christian Ponder
all going in the top 12, and yet there they all went.
Some of the teams drafting in the first half of the first round are doing so every year, and you don't become one of those teams by making good decisions on draft day. The Cowboys need an offensive lineman badly in the first round, and while I respect the heck out of Todd's work and Mel Kiper's work, I'm leaning on history for my belief that one of the top six offensive linemen will be there for Dallas to take at 18. If not, absolutely a three-technique defensive lineman is a great pick here as long as they're going to grab a guard in Round 2. I just don't think it comes to that.

19. New York Giants:
D.J. Hayden
, CB, Houston.
Well, here's a new name for the Giants. I like what Todd's doing here, applying a big pile of history that tells us the Giants don't like to take linebackers and offensive linemen in the first round and identifying a position they
do
, historically, consider worthy of a first-round pick. In this mock, Hayden is the third defensive back off the board, following Alabama corner
Dee Milliner
(to Tennessee at 10) and Texas safety
Kenny Vaccaro
(to St. Louis at 16). I don't know how the Giants have him rated vis-a-vis guys like
Desmond Trufant
and
Xavier Rhodes
, but in no way should anyone be surprised if they take a cornerback here.
November, 18, 2011
11/18/11
8:39
AM ET
By
Bryan Broaddus
| ESPNDallas.com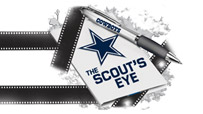 The last time the
Washington Redskins
and
Dallas Cowboys
met, some eight weeks ago, the Redskins were off to a 2-0 start with an impressive opening day win against the
New York Giants
while the Cowboys had just evened their record to 1-1 after
Tony Romo
managed to steal a game in San Francisco despite a broken rib.
Blame quarterbacks for Redskins' slide
Since that meeting, the Redskins have lost five of their last six. A large part of those losses are due to the poor play of the quarterbacks
Rex Grossman
and
John Beck
. When you study the Redskins, the first thing that comes to mind is what we had to deal with during the Dave Campo years here in Dallas when it came to the quarterbacks. During that span we wasted a lot of time trying to get quarterbacks ready to play that gave us no opportunity to win games. I am seeing a lot of the same things in Washington.
Mike Shanahan's inability to successfully identify a quarterback has done a lot of damage to the Redskins. Time, money and draft selections have been wasted on players like
Donovan McNabb
, Grossman and Beck.
Any pro personnel director could tell you without hesitation that McNabb was slipping badly and Andy Reid was more than ready to move on from McNabb with
Michael Vick
. As much as Shanahan wanted to believe that there was still gas left in McNabb's tank, it wasn't the case at all. Everyone knew that except Shanahan.
As the Redskins were going through training camp, Shanahan was still in search of a quarterback and placed a call to the Dolphins about Beck, who have had their quarterback issues as well. The Dolphins were more than happy to ship Beck to the Redskins. Shanahan made his biggest mistake of the off season by not addressing the quarterback situation through the draft when he had the opportunity to do so with a top-10 selection.
Shanahan could have selected
Andy Dalton
,
Jake Locker
or
Christian Ponder
but instead chose to trade down and select linebacker
Ryan Kerrigan
out of Purdue. Kerrigan has been a nice player this season but doesn't help his quarterback situation now or in the future.
Beck has made three starts this season and has yet to win a game. As a matter of fact, Beck has an 0-7 record as an NFL starter. He plays like a quarterback that is afraid to make a mistake. You never see him really push the ball down the field. Everything Beck does is short and underneath.
Beck really struggles because he isn't that accurate when it comes to throwing the ball at any level. He will struggle to hit receivers on the move and he will also struggle to hit them when stationary. The ball doesn't come off his hand with any zip at all; there is no power to his game.
This is also the case of Grossman, who is back after throwing four interceptions in a loss to the Eagles. I have never been a fan of Grossman's game because he really lacks arm strength, but I can't question his toughness. He will stand in there and take shots.
Grossman is not the tallest or most mobile quarterback in the league, but you will see him slide in the pocket to try to help him with throwing lanes. The lack of arm strength appears when the Redskins try to throw the ball down the field.
Cowboys catch a break: No Moss
There have been too many times where
Anthony Armstrong
or
Santana Moss
get a step on a corner but have to wait on the ball because neither Grossman or Beck can get it down the field.
The Cowboys catch a huge break in this game because Moss will miss it due to a hand injury. Moss has punished the Cowboys over the years with his playmaking ability, so the fact that he is out of the lineup is a huge plus for Rob Ryan and this defense.
The Redskins generate offense in two areas.
Tight end
Fred Davis
is the real deal and is someone that nickel back
Frank Walker
and safeties
Gerald Sensabaugh
and
Abram Elam
are going to have to deal with. Davis doesn't play like a traditional in line tight end. Not to say that you won't see him inline, but the majority of his work is in the slot or flexed. Davis likes to work the middle of the field and he will be the go-to guy on third downs. Offensive coordinator Kyle Shanahan likes to move him around the formation and create opportunities.
Redskins also will struggle to run the ball
Shanahan will also try to run the ball against the Cowboys' front seven. Last week against the Bills, Dallas' run defense was outstanding when the game was in the balance. That wasn't the case the previous games against the Eagles and Seahawks.
The Cowboys will need to be ready for running backs
Ryan Torain
and
Roy Helu
in this zone blocking attack. Torain runs the ball hard but he is really straight line and doesn't have many moves. He will attack the hole, then lower his head to finish the run.
The back that I think is the best fit for this offense is Helu. He just plays like he has a better feel for the offense when it comes to reading the blocks, then making the cut. Torain is more about attacking the hole; Helu is more about allowing the blocks to develop then making his cut.
Helu also does a nice job of catching the ball out of the backfield. Solid, dependable hands and does a nice job of getting up the field and gaining positive yards.
I mentioned the issues that the Redskins have at quarterback, which I feel are the most important, but their offensive line -- other than left tackle
Trent Williams
-- really struggle, run or pass.
Left guard
Maurice Hurt
is the weak link of this line. He plays overextended, doesn't adjust to twist stunts and has poor sustain. He has been nursing a knee injury and might not be active for this game. Center
Will Montgomery
would slide over to his spot and
Erik Cook
would take over at center.
Right tackle
Jammal Brown
has had his shares of problems when it has come to pass protection. Have seen defenders get the edge on him without many problems.
Williams can make the cut-off block on the backside and reach the front. Williams had a little trouble in the 49ers game when he and Hurt had to sort out the twist game. Both of them did not adjust all that well. Look for Rob Ryan to throw some movement stunts against this line to see if they have corrected those problems or teams will continue to take advantage of them.
Redskins' defense will create pressure
If the Redskins can ever find a way to build any type of offense, they would have a shot in this division. No matter how bad the offense plays, the Redskins defense is always there to clean up the mess.
Defensive coordinator Jim Haslett and his staff have done a nice job in the games I studied. The pressure that they have able to generate with their front seven, particularly outside linebackers
Brian Orakpo
and Kerrigan, has been impressive.
Orakpo was the first rusher that
Doug Free
faced after the 49ers game, when he struggled so bad with his technique. I was told that Free was really worried about the inside rush from Orakpo and it affected him in the game. Free has been rock solid the last two weeks and appears to once again be playing with confidence.
Both Orakpo and Kerrigan are relentless rushers when coming after the quarterback, but you will also have to deal with them on the backside when running down plays. If the Cowboys' tackles and tight ends don't finish blocks on the backside, then Orakpo and Kerrigan will be right there to make a play.
One of the major reasons for success in this Cowboys running game has been their ability to secure blocks and allow
DeMarco Murray
to use his vision to make cuts when he reads it. Without those backside blocks, this running game wouldn't be as potent.
Watch for safety Landry to key on Cowboys' rushers
In the Buffalo game, safety
LaRon Landry
played more in the box, almost like a linebacker. I have a feeling that Haslett will probably try to do the same to see if he can have some success stopping Murray. Garrett can counter much like he did last week against the Bills -- throw the ball early in the game to get them out of that.
The Redskins have some run players in nose tackle
Barry Cofield
and defensive end
Adam Carriker
. Cofield shows the ability to get up field quickly off the snap and be disruptive in the backfield. Will be interested to see if Cofield lines up over
Montrae Holland
, who has struggled with quickness in the past.
Carriker plays with more brute force and power than great technique. When
Tyron Smith
has had his troubles, it's been against ends that play with power. But to Smith's advantage, this will be the second time that he has faced Carriker, so he can go back and study how he needs to attack him.
Former Cowboys defensive end
Stephen Bowen
is not playing as well against the run as he did when he was here. There is something about Bowen that leads me to believe that he really was an outstanding nickel or backup player, and the more snaps that he has to play, the more he will struggle. Bowen can still generate some pass rush, but he isn't nearly as affective as he was when here.
At inside linebacker, the ageless
London Fletcher
is still around the ball a great deal. When in position to make a tackle, he can get the job done.
I was not impressed with
Rocky McIntosh
at all. I saw too many times where he was beaten in coverage or he missed a tackle. In the 49ers and Bills games, he was really bad in both those areas. McIntosh struggled much more than Fletcher at getting off blocks.
Cowboys should target Barnes in Redskins' secondary
In the secondary, the Redskins will use three safeties when they are all healthy, which at this time they are not. Landry has missed the first two days of practice with an Achilles injury, but he should play. O.J. Atogwe has been dealing with knee and toe problems and
Reed Doughty
has a chest issue.
The best combination for the Redskins is when Atogwe and Landry are the starters. Doughty will try to be physical in the run but doesn't cover all that well.
Of the two corners,
Josh Wilson
knows how to play the fade and doesn't give you much room. He also runs very well.
DeAngelo Hall
likes to bait quarterbacks into throws and will drive on routes. Have been told that he hasn't been playing well this year, but in the games I studied, I didn't see that. The weak link in the group is nickel
Kevin Barnes
, who needs to be attacked.