Dallas Cowboys:

Cordarrelle Patterson
September, 2, 2014
Sep 2
8:00
AM ET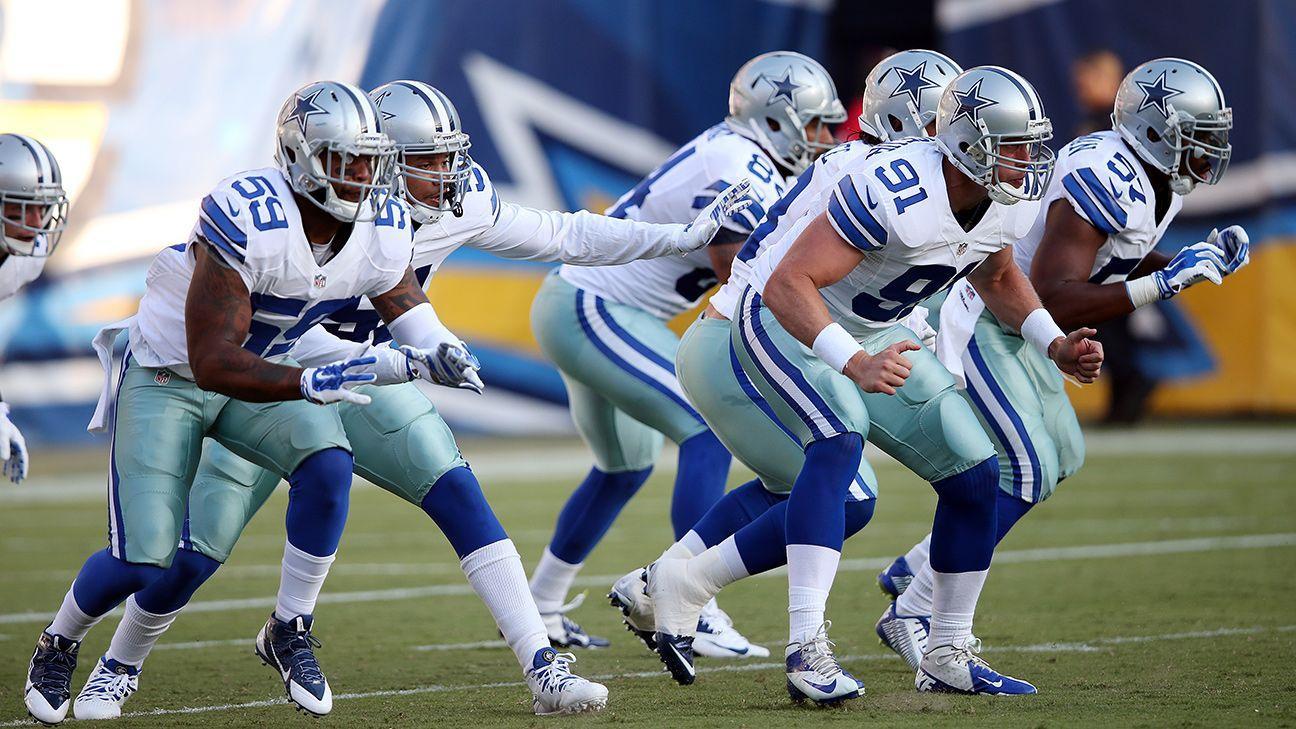 ESPN.com
Dallas Cowboys
reporter Todd Archer makes his game-by-game picks for the 2014 season.
Week 1: San Francisco 49ers
Surprise. The Niners have been among the best teams in the NFC the past few years, but they won't have NaVorro Bowman and Glenn Dorsey and likely Aldon Smith on their tough defense. That's good news for Tony Romo and the offense. Prediction: Win
---
Week 2: at Tennessee Titans
The last time the Cowboys played in Nashville, Jerry Jones was signing autographs in his suite during the game. He should be fortunate to do the same again with the Cowboys off to their first 2-0 start since 2008. The Titans don't have the passing game to keep up with the Cowboys, even with a subpar defense. Prediction: Win
---
Week 3: at St. Louis Rams
If this game was at home, it would be a win and DeMarco Murray would have a huge game on the ground. But it's at the Edward Jones Dome and the Rams' defensive front will provide a huge test for the Cowboys' offensive line. Prediction: Loss
---
Week 4: New Orleans Saints
The Saints annihilated the Cowboys last year, picking up 40 first downs and 625 yards in a 49-17 win that wasn't even that close. This game will be closer but Drew Brees will be able to pick apart a secondary that will be facing the best quarterback to date. Prediction: Loss
---
Week 5: Houston Texans
J.J. Watt and Jadeveon Clowney are a nightmare duo for offensive lines, but the Cowboys won't be afraid. New Texans coach Bill O'Brien will succeed but Ryan Fitzpatrick isn't the answer at quarterback. This is one of those early-season must wins for the Cowboys. Prediction: Win
---
Week 6: at Seattle Seahawks
There are all sorts of bad memories at Seattle, starting with Romo's bobbled snap in the 2006 playoffs. But the Cowboys' most recent visit to CenturyLink Field was a 27-7 drubbing in 2012. The Legion of Boom will be looking forward to Dez Bryant. This will be another day of bad memories. Prediction: Loss
---
Week 7: New York Giants
The Cowboys finally beat the Giants at AT&T Stadium last year and will make it two in a row in Arlington. Eli Manning doesn't look comfortable in the new offense and the Giants' defense does not match up well against the Cowboys' strengths. Prediction: Win
---
Week 8: Washington Redskins
Jon Gruden will be in the house calling the game for ESPN on "Monday Night Football," to see his brother Jay lose in a low-scoring, hard-hitting game like most of the contests between the Redskins and Cowboys. Dwayne Harris makes the difference again on special teams. Prediction: Win
---
Week 9: Arizona Cardinals
The Cowboys put together their first three-game winning streak since late in the 2012 season to get to 6-3. If they want to stay in the playoff conversation, this is the kind of start they would need, but it does not guarantee them a postseason appearance. Prediction: Win
---
Week 10: at Jacksonville Jaguars
The Jaguars have the kind of defense the Cowboys would like to have: young, fast, aggressive, angry. This game will surprise many people, but Gus Bradley is building something in Jacksonville worth noting. The Cowboys might be America's Team, but they're not London's Team. Prediction: Loss
---
Week 12: at New York Giants
The Cowboys have fared well at MetLife Stadium with some surprising wins, but the doubts start to creep in after the Jacksonville loss and the bye week does not help them get things corrected. Playing the second time in five weeks, New York will have better answers at home. Prediction: Loss
---
Week 13: Philadelphia Eagles
The NFL did the Cowboys no favors by giving them a night game on Sunday in New York to make a short week even shorter. Despite their defensive woes a year ago, the Cowboys were OK against Chip Kelly's offense. They'll be better than OK here to temporarily right the ship. Prediction: Win
---
Week 14: at Chicago Bears
Last year's visit to Soldier Field was a mess. Josh McCown lit up the Cowboys for four touchdowns and 348 yards. He's now in Tampa Bay and Jay Cutler is a better quarterback to feature wide receivers Brandon Marshall and Alshon Jeffery. Prediction: Loss
---
Week 15: at Philadelphia Eagles
Like the Giants in Week 12, the Eagles come up with the answers in the rematch. The Cowboys will have a 10-day break leading into the game to help prepare for Kelly's pace of play, but it won't help. Tight ends Zach Ertz and Brent Celek have big days against the Dallas linebackers. Prediction: Loss
---
Week 16: Indianapolis Colts
The Cowboys are in must-win territory with four losses in their past five games. The offense will be able to do its part, but the defense will not have any answers for Colts quarterback Andrew Luck, who will be making his first visit to AT&T Stadium. Prediction: Loss
---
Week 17: at Washington Redskins
The Cowboys can make history with a win. It's just not the history they want. With a win, the Cowboys will become the first team with four straight 8-8 finishes. Is this the last game of the Jason Garrett era, or does Jerry Jones give him an extension? Prediction: Win
---
Predicted Record: 8-8
November, 4, 2013
11/04/13
8:00
AM ET
ARLINGTON, Texas -- A review of four hot issues from the
Dallas Cowboys
' 27-23
win
against the
Minnesota Vikings
.
[+] Enlarge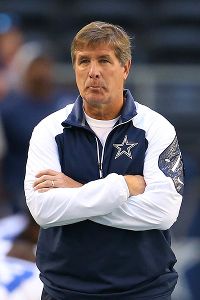 Matthew Emmons/USA TODAY SportsBill Callahan's offense hasn't been able to replicate the success it had after exploding for 522 yards against the Broncos in Week 5.
Sputtering on offense:
Remember when the Cowboys put up 522 yards on offense against the
Denver Broncos
on Oct. 6? Seems like forever ago. The talk out of that game was that the Cowboys had found an offensive identity. That has not turned out to be true. Against some of the bottom-of-the-barrel defenses fielded by the
Washington Redskins
,
Philadelphia Eagles
,
Detroit Lions
and Vikings, the Cowboys have topped 350 yards just once -- with 350 against the Vikings. The Cowboys have struggled on third downs (5-of-14 against Minnesota). The running game was nonexistent (nine attempts).
"There's a word we use and our players understand and it's execution," coach Jason Garrett said. "We as coaches have to constantly give our players a chance to execute and put them in plays where they can be successful."
Bill Callahan's first year as a playcaller has hit a bump. He and
Tony Romo
have to find a way to get the rhythm they had against the Broncos. Having it happen against a New Orleans team whose offense will score points this week would be preferable.
Hurry back, Morris Claiborne:
The Vikings knew where rookie cornerback
B.W. Webb
was on Sunday. The
New Orleans Saints
will know it, too. Webb, who was playing the slot with
Orlando Scandrick
playing outside due to Claiborne's hamstring strain, had a difficult matchup in
Greg Jennings
, who caught six passes for 56 yards, including a 27-yarder. It was the most extensive action of Webb's career and he will have to grow up fast. In the fourth quarter he was able to knock down a pass on the Vikings' final drive. With only
Micah Pellerin
, fresh up from the practice squad, in reserve, the Cowboys need Webb to perform better if they want to contain a passing offense like the Saints'.
Opportunistic defense:
The Cowboys' defense will never win a beauty contest but it has shown to be opportunistic.
Nick Hayden
's fumble recovery in the end zone was the fourth defensive score of the season for the Cowboys. The last time the Cowboys had five defensive scores in a season came in 1999 when they finished 8-8 and made the playoffs under Chan Gailey. So far this season the Cowboys have had touchdowns from
Brandon Carr
(49-yard interception return),
Barry Church
(27-yard fumble return),
Sean Lee
(52-yard interception return) and Hayden.
Changing their ways:
After seeing
Cordarrelle Patterson
return kickoffs 8 and 9 yards deep in the end zone, the Cowboys altered their game plan on the Vikings' return specialist.
Dan Bailey
's opening kick of the second half was high and barely to the end zone, which Patterson booted out of bounds. They squibbed their next two kicks, including the final kickoff after taking the lead to make sure Patterson did not beat them. Bailey had been a touchback machine in the first eight games, but the Cowboys were wise to make the switch on Patterson if he was going to continue to flip field position.
October, 31, 2013
10/31/13
8:00
AM ET
IRVING, Texas –
Dan Bailey
is tied for second in the NFL in touchbacks this season with 34. And to think the
Dallas Cowboys
kept a kickoff specialist in 2011 because they didn't think Bailey had a strong-enough leg.
Bailey admits he has added leg strength in his three seasons to help on kickoffs.
Patterson
Bailey
"It was just a big focus for me in the offseason," Bailey said. "I wanted to get a little bit stronger and I thought as far as my game goes that was the area I could improve the most. I feel like I can always improve all areas. I just felt like that needed a little more attention. So far this year I feel good on kickoffs. I feel like I've been hitting the ball well."
Bailey faces his biggest challenge this season in the
Minnesota Vikings
'
Cordarrelle Patterson
, who leads the NFL with a 39.1-yard kick-return average and has touchdown returns of 109 and 105 yards.
"Patterson is a fantastic kickoff returner," Cowboys coach Jason Garrett said. "He's taken two of them back. He took one back 109 yards last week, so that's certainly been a real weapon for their football team. Dan has been fantastic this year. … He kicks them consistently long and deep and high and hard for those guys to bring them back."
The Cowboys have not necessarily kicked away from returners this year.
"In this league every return man is good," Bailey said. "Some are slightly better than others, but everybody is pretty much capable of having that home-run play. We prepare for him just like we prepare for anybody else. I wouldn't say we give him any special attention. We're going to do our best to execute our game plan as best we can, and I'm sure they're going to do the same thing. I think it'll be a good challenge."
April, 26, 2013
4/26/13
11:57
PM ET
IRVING, Texas – Thursday's trade down with San Francisco was the 60th draft-day trade of the Jerry Jones era.
The Cowboys' decision to move down from No. 18 to 31 and pick up an extra third-round pick was met with curiosity as was the player the Cowboys took at No. 31, center
Travis Frederick
.
Cowboys executive vice president Stephen Jones understands some of the angst.
"It's never going to be popular when you move down," Jones said. "Everybody thinks we're, 'Oh, my God, we get to make a trade. Let's move down.' That's not what we were hoping for, but to me you don't pay for the hoopla. You can't get into that. And you've got to manage your draft. We felt like the best decision for us was to go do the right thing, pick up a pick and take a player that fits what we needed in the first round. That brings some value for that pick. Now we lost a few guys that maybe would've been a little but higher than Frederick, but they didn't make it to 31."
Among those players were safety
Eric Reid
, who went at No. 18 to San Francisco, guard
Justin Pugh
, who went to the
New York Giants
at No. 19 and wide receiver
Cordarrelle Patterson
, who went to Minnesota at No. 29.
Jones said the Cowboys only options to trade up were for guards
Jonathan Cooper
or
Chance Warmack
.
"We needed players," Jones said. "We didn't need to be going up and giving up ur picks with where we are under the salary cap right now," Jones said. "We needed to be more focused on staying where we are or going the other way because we do need to infuse some young players on this team."
April, 25, 2013
4/25/13
3:08
PM ET
IRVING, Texas – With the 18th pick in the first round, the Cowboys could make their pick sometime around 10 p.m. That's a lot of time to sit around and wait.
PODCAST
Todd Archer joins Fitzsimmons & Durrett to discuss what we can expect in the first round of the NFL draft and how it relates to the Dallas Cowboys.

Listen

Throughout the week, the Cowboys have run through every possible scenario so when they are on the clock (or even a little earlier than that) they will have a pick ready. It's like going in with multiple game plans on a Sunday.
Best-case scenario:
Somehow, some way
Jonathan Cooper
or
Chance Warmack
are available. History says they will there because five offensive linemen have not gone so early in thirty-plus years, but it seems like there is a lot of evidence to the contrary.
Cooper would be the preference but Warmack would be a nice pickup, too. They would walk in as Day 1 starters, which has become something of a catch-phrase around the Cowboys here this week. They would upgrade the weakest part of the team.
The only way this happens is if a quarterback or two or a wide receiver or two go early. Perhaps a running back. They need some unexpected moves that would push Warmack (most likely) down to them.
Likely scenario:
The Cowboys take a defensive lineman, like
Sheldon Richardson
or
Sylvester Williams
, or safety
Kenny Vaccaro
.
As of this moment, I believe they would take Richardson if they cannot move back and the offensive linemen are gone. He can play both interior spots with the idea of him becoming the
Warren Sapp
for this Monte Kiffin defense. Williams is more of the traditional run stopper. Both would bring value to the defense.
Vaccaro is the top safety and he would fill an immediate need. Does he slip to No. 18? The Cowboys worked him out privately and had him at Valley Ranch for a visit.
Of the three, Williams figures to be the guy most likely to be available.
Second-best case scenario:
Trade down in the first round and pick up extra picks.
Some might believe this would be the best-case scenario, but the offensive line needs big help.
If the Cowboys can move down, then that would open up more players to them and fit with their draft board more. They are in a no-man's land right now where there is a gap in talent.
Depending on how far back they go, this would give the Cowboys looks at offensive lineman
D.J. Fluker
and
Justin Pugh
, defensive end
Bjoern Werner
and safeties
Eric Reid
and Jonathan Cyprien.
A pick of Fluker would seem to mean
Doug Free
would not be back. Pugh could be a walk-in starter at guard. Werner would fill a need as a backup defensive end with the eye on him starting in the future with
Anthony Spencer
on a one-year deal. Reid and Cyprien would be walk-in starters, too.
Worst-cast scenario:
Everybody listed above is gone and they can't trade down.
They must be willing to make a pick and this is where Notre Dame tight end
Tyler Eifert
comes into the mix. He could be their best player available but drafting a first-round tight end doesn't help them that much in 2013 or give Jason Garrett the best chance to win now.
Eifert will be a terrific player, but Garrett has not shown the ability to work multiple tight end packages effectively like New England has. The Cowboys couldn't make it work with second-rounders
Anthony Fasano
or
Martellus Bennett
behind
Jason Witten
.
Wide receiver
Cordarrelle Patterson
, Werner, Cyprien and Fluker would also be in this mix. Picking any of them at No. 18 would likely be higher than the Cowboys would want.