Dallas Cowboys:

Dallas Clark
September, 20, 2012
9/20/12
2:57
PM ET
IRVING, Texas – For this week's episode from The Other Side we bring in long-time Buccaneers' beat man Rick Stroud of the Tampa Bay Times.
PODCAST
Mike Golic from Mike and Mike joins Coop and Nate to discuss the Cowboys' loss to Seattle, the upcoming matchup with Tampa Bay and more.

Listen

Todd Archer:
What's the biggest difference Greg Schiano has made? When we saw the Bucs last December they seemed, to be polite, disinterested under Raheem Morris?
Rick Stroud:
Schiano has done a great job of changing the culture of the Buccaneers. He developed a reputation for being highly organized and a disciplinarian in 11 seasons at Rutgers. But the Bucs had one of the youngest teams in the NFL last season, coming off a lockout, and they didn't handle their success very well from 2010, when they went 10-6 under Morris.
Schiano has a saying: TBA – Trust, Belief, Accountability. He has weeded out the players who didn't buy in, as evidenced by the release of S
Tanard Jackson
and the trade of TE
Kellen Winslow
and DT
Brian Price
.
That got the players' attention. On the field, he is a stickler for details and a bit of a control freak, quite frankly. Nothing escapes his attention, from the way players must have their 'toes on the line,' during warm-ups to the temperature in meeting rooms.
TA:
What's been the reaction to the kneel-down controversy?
RS:
Surprisingly, it's been split. The Giants and Tom Coughlin obviously didn't like it. Heck, most of the Bucs own players would only respond by saying they do whatever coach asks them to do. But Schiano is a hard-nosed coach who is trying to get his team to play every play hard. Also, he says that tactic has produced four fumbles at Rutgers in the past five years.
A lot of former players have supported Schiano, who says he has no regret about the move. Among them is Herm Edwards. The former Jets and Chiefs head coach may be just as well known for the hero in the Miracle of the Meadowlands. Edwards returned a fumble from Giants QB Joe Pisarcik 26 yards for a touchdown. What you may not have known was that two plays earlier, the Giants attempted a kneel down and the Eagles fired off the ball. That prompted the Giants to decide to call a running play. Edwards agrees with Schiano, so long as the team is only trailing by one score. But since the Miracle in the Meadowlands, teams have developed the 'victory formation,' whereby a receiver or defensive back lines up 10 yards behind the QB in case there is a fumble.
TA:
I think Tampa has been a Tampa-2 team since the leather-helmet era, but has there been a change in scheme with Bill Sheridan as coordinator from the Monte Kiffin/Morris led defenses?
RS:
Yes. The Bucs, like other teams, still play two deep safeties, but nowhere near as much as they used to. Sheridan likes to apply pressure to the quarterback and mixes up coverage and blitzes. He will bring it in a variety of ways -- linebackers through the A-gap, a linebacker and defensive back stacked, corners off the edge and nickel backs in the slot. Almost always, however, there is a single high safety. From a pass defense standpoint, the Bucs have been riddled for 813 yards passing in the first two games. Sheridan blamed the high number of stunts and games he ordered on the defensive front last week against the Giants and said they will have to curtail those. The other change is that the Bucs linebackers come downhill. They're not running laterally. Rookie
Lavonte David
has been an impact player.
TA:
The Bucs added
Vincent Jackson
and
Carl Nicks
in free agency to help
Josh Freeman
(
Dallas Clark
, too, I guess). How much have they helped Freeman and how has he done the first two weeks?
RS:
Jackson, Nicks and Clark have had an instant impact on Freeman's production. Jackson has been targeted 24 times in two games and has nine catches for 175 yards (19.4 avg) and one touchdown. He's also created better looks for WR
Mike Williams
, who has a TD reception in each of the Bucs two games. Nicks has helped in the run game and as a pass protector. Clark caught only one ball in the Bucs win over Carolina, but it was a 33-yarder. Last week, he had four receptions.
TA:
The Cowboys really liked
Mark Barron
but moved up for
Morris Claiborne
instead. How's the rookie safety look?
RS:
Barron has been a quick study and is the big hitter in the secondary the Bucs hoped he would be. His coverage skills are better than advertised and he likely won the game against Carolinawith a late breakup of a pass to
Louis Murphy
that would've gone for a touchdown. Barron is a serious football player who was raised in a pro-style defense under Nick Saban at Alabama. The bright lights of the NFL don't faze him.
September, 5, 2012
9/05/12
2:30
PM ET
We do "Final Word" on Fridays, when we offer our famous "five nuggets of knowledge" about the division's games that week. I'm going to do that Friday, have no fear, but by then only two of the NFC East's four teams will have yet to play their Week 1 games. So, with the
Dallas Cowboys
and the
New York Giants
set to kick off the NFL season Wednesday night in New Jersey, I thought I'd offer five nuggets of knowledge about tonight's game, with the help of ESPN Stats & Information:
The worth of Witten.
Over the past three years, according to Stats & Info's "next level" numbers, Cowboys quarterback
Tony Romo
has completed 73.5 percent of his passes to tight end
Jason Witten
. During that same time period, the only higher percentage among quarterback-tight end combos was the 75.3 percent that
Peyton Manning
completed to
Dallas Clark
in Indianapolis. Witten is doubtful for tonight's game with a spleen injury.
[+] Enlarge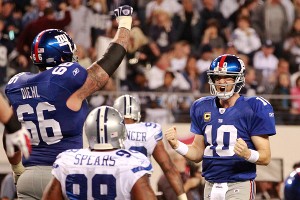 Tim Heitman/US PresswireEli Manning has feasted on Cowboys defenses, throwing 31 touchdown passes in 15 career games against Dallas.
Breaking the Boys.
Giants quarterback
Eli Manning
has 31 career touchdown passes in 15 career regular-season games against the Cowboys. That's his highest total against any opponent, and only three quarterbacks in NFL history have thrown more touchdown passes against the Cowboys: Jim Hart (35 in 24 games), Phil Simms (34 in 23) and Sonny Jurgensen (33 in 22).
Wednesday wonder.
According to the Elias Sports Bureau, there has not been an NFL game played on a Wednesday since Sept. 22, 1948, when the Rams beat the Lions 44-7. The NFL's kickoff game has been held on Thursday nights in recent years, but this year's was moved to Wednesday so as not to conflict with President Barack Obama's acceptance speech Thursday night at the Democratic National Convention. On a personal note, after tonight, I will have covered an NFL game on every day of the week other than Friday. Yes, I was at the Tuesday night game between the Vikings and the Eagles in Philadelphia two years ago.
Beginner's luck?
The Cowboys and the Giants have played five times in season openers, and the Cowboys are 5-0 in those games (by a combined score of 194-72, by the way!). The last time they met in a season opener was 2007. The Cowboys won that game 45-35 and went on to finish 13-3 and win the NFC East. But they would lose a home playoff game that season to the 10-6 Giants, who went on to win the Super Bowl.
Keep 'em in coverage.
Don't expect the Cowboys to blitz much tonight. Dallas sent five or more pass-rushers on just 34.5 percent of its opponents' pass plays in 2011, and their numbers when they did so ranked near the bottom of the league. While they've upgraded at cornerback with
Brandon Carr
and
Morris Claiborne
, that doesn't necessarily mean they should be more aggressive in this game against Manning. The Giants quarterback threw 18 touchdown passes last year when teams sent five or more pass-rushers at him -- the most of any quarterback in the league against the blitz.
April, 26, 2011
4/26/11
4:10
PM ET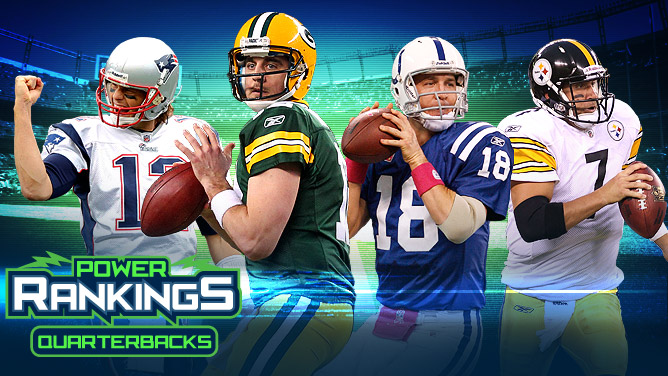 ESPN.com IllustrationNew England's Tom Brady received six of the eight first-place votes to edge out Peyton Manning.
ESPN.com's NFL writers rank the top 10 quarterbacks in the league today.
Next week: Top 10 safeties.
Take eight football writers scattered from Seattle to Tampa and ask them to come up with a list of the top 10 quarterbacks in the National Football League.
Sounds easy enough, in theory. You take the golden gunslingers,
Tom Brady
and
Peyton Manning
, and let everyone else fall naturally into order after that. Well, it didn't quite work out that simply in ESPN.com's Power Rankings for quarterbacks.
Heck, we couldn't even come up with a top 10. We're going with a top 11 because Baltimore's
Joe Flacco
and Dallas'
Tony Romo
tied for No. 10 with five points each in our voting system.
Even at the top, there was more disagreement than you might expect. Brady emerged as No. 1, but it wasn't unanimous and, although Manning finished a strong second, two ballots had a man some consider the best quarterback ever at No. 3.
But let's start analyzing the rankings by focusing on just Brady and Manning. Six voters put Brady at No. 1, but Paul Kuharsky and Mike Sando put Manning in the top spot. Let's hear them out.
"Brady's fantastic, let's start with that,'' said Kuharsky, who covers the AFC South, also known as "The Division Manning Built and Owns." "But no one is asked to do more or does more as a quarterback than Peyton Manning. He almost plays a different position. And while Brady's got three rings to Manning's one and is the reigning MVP, look at their touchdown and interception numbers in their last four playoff games. Manning's are better.''
Sando has no horse in this race, because voters unanimously agreed the NFC West is the division that forgot quarterbacks, at least until
Sam Bradford
gets another season under his belt.
"Brady has the better stats over the last couple seasons, but the Colts would undoubtedly be far worse off than the Patriots if both teams had backups under center,'' Sando said. "Once that was established, Brady's recent postseason struggles became a deciding factor. These quarterbacks have, to an extent, switched roles recently. Manning has won a championship more recently than Brady has won one. Brady has seven touchdowns, seven picks and one victory in his last four playoff games. Manning has seven touchdowns, two picks and two victories in his last four.''
For rebuttal, let's head up to the AFC East, to the man who covers Brady and the
New England Patriots
.
"I'm not sure why everybody needs to consider career achievements when filling out a Power Rankings ballot,'' Tim Graham said. "Power Rankings are a snapshot of the moment and are expected to change regularly, not encompass years of work. But if the reason for selecting Manning ahead of Brady is recent playoff performances that go back a few years, then
Ben Roethlisberger
should be ahead of Manning with that logic. Roethlisberger has been to a pair of Super Bowls and won his second title more recently than Manning's only championship.''
We'll come to Roethlisberger in just a moment, but nobody put him ahead of Manning on his ballot. Kevin Seifert and I each put a quarterback ahead of Manning.
Seifert put Green Bay's
Aaron Rodgers
at No. 2.
"Mostly, I didn't think I could face NFC North blog readers if I voted any other way,'' Seifert said. "Seriously, I think the big advantage Manning and
Drew Brees
have over Rodgers is time. They've been playing longer and therefore have mostly better career numbers and a bigger frame of reference for knowing how they will perform in the long term. But when you take out longevity, Rodgers is right there with them. All three have one Super Bowl victory. Rodgers has a higher career passer rating than any quarterback in the history of the NFL with qualified attempts, better than Manning and Brees and Brady for that matter. So to break the tie, I think you can look at what they did most recently. I think Rodgers had a better 2010 season than Manning or Brees, and that's how I would justify this order.''
I put Brees at No. 2 and don't really want to write a story in which I quote myself, so I'll just say Brees and Manning each have one Super Bowl ring and Brees' numbers over the last four years are just as good or better in most categories. Plus, Brees hasn't spent most of his career surrounded by the likes of
Marvin Harrison
,
Reggie Wayne
,
Dallas Clark
and
Edgerrin James
.
In the final analysis, Brees finished third and Rodgers fourth. Roethlisberger, who has two Super Bowl rings, came in at No. 5. San Diego's
Philip Rivers
, who has zero Super Bowl rings and some gaudy statistics, is No. 6. Relatively speaking, the order from Brees to Rivers, the guy who took his place with the Chargers, was pretty clear-cut.
After that, we had some close calls, strong differences of opinion and one very big coincidence. At No. 7, we've got a tie between Philadelphia's
Michael Vick
and Atlanta's
Matt Ryan
, who each finished with 26 points. For those who don't see the irony in that, Vick was the face of Atlanta's franchise for a long time and Ryan now holds that role.
Eli Manning
of the
New York Giants
came in at No. 9, and Flacco and Romo tied for the final spot. Only three other quarterbacks received votes. They were Tampa Bay's
Josh Freeman
, who I think could be near the top of this list in another year or two, Houston's
Matt Schaub
and Kansas City's
Matt Cassel
.
On to some other notes about the Power Rankings.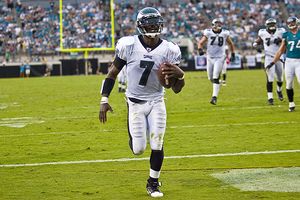 Michael DeHoog/Sports Imagery/Getty ImagesOne recent year of success wasn't enough to put Eagles quarterback Michael Vick on John Clayton's ballot.
The Vick factor
. Despite a hugely productive season last year, Vick was left off one very important ballot. John Clayton, the dean of all of us, didn't have the Philadelphia quarterback on his ballot and was the only one of us who didn't.
"The only reason Michael Vick didn't make my top 10 is because I, after an offseason of thinking, have Michael Vick as my No. 11 quarterback,'' Clayton said. "That still makes him elite. I have 12 elite quarterbacks. Vick moved into the elite category with his performance last year, but it's just one year. He can clearly move up the list this season, but he's in the mix and knocking on the door of the top 10. A year ago, he wasn't a consideration.''
Fighting the Eli fight.
Speaking of Clayton, let's continue to ride that train as we discuss Eli Manning. Seifert, Sando, Graham and I didn't even include Manning in our top 10, but he still made the list.
"I will continue to fight the argument Eli Manning is an elite quarterback,'' Clayton said. "I moved him to No. 8 above Tony Romo, but if Romo had a full season last year, he might have been ahead of Eli. Remember that
Carson Palmer
,
Brett Favre
and
Donovan McNabb
dropped from my elite quarterback categories, which moved guys like Eli up in the mix. Eli has a Super Bowl ring. He's a 4,000-yard quarterback. He wins.''
No tiebreaking here.
Speaking of Romo: Clayton and Sando each had him at No. 9. AFC North blogger James Walker had Romo at No. 10. That was good enough to get Romo five points and a tie with Flacco. One interesting note here: Flacco wasn't on Walker's ballot. I respect James for not doing the easy thing and being a "homer," although I'm sure some Baltimore fans might have different opinions.
"Joe Flacco is a good quarterback, but I don't consider him an elite, top-10 quarterback just yet,'' Walker said. "I need to see more consistency, especially in the playoffs and other big games against the Steelers. Flacco has a lot of natural ability, and I believe he's ready to break through. But, in my book, Flacco needs to first prove it on the field in the biggest games to be elite."
The final analysis.
If you look at this list from a distance, you could say the
Atlanta Falcons
,
San Diego Chargers
and New England Patriots are the big winners. The Patriots, of course, have Brady, but they also drafted Cassel, whom they later traded to Kansas City. If you want to get really technical, the Chargers drafted Brees and Eli Manning and worked a draft-day trade with the Giants to end up with Rivers. If you count the few minutes Manning and Rivers were crossing paths, you could say the Chargers, at one time or another, had three guys on this list. You also could say the Falcons drafted Vick, Ryan and Schaub, who finished in a tie with Freeman for No. 12.
March, 29, 2011
3/29/11
1:05
PM ET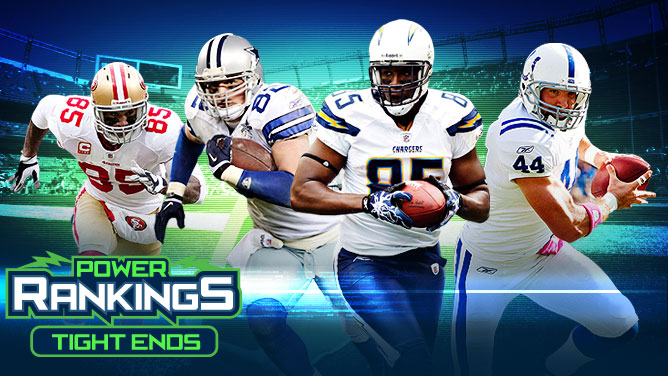 ESPN.com IllustrationDallas' Jason Witten earned the top spot in our voting over San Diego's Antonio Gates.
ESPN.com's NFL writers rank the top 10 tight ends in the league today. Next week: Top 10 coaches.
Antonio Gates
has received the
Adrian Peterson
treatment.
This guy didn't do it this time.
Up from the NFC South rises Pat Yasinskas into the ESPN.com Power Rankings' hot seat. Embrace the heat, my friend. In another airtight positional Power Rankings battle, Dallas'
Jason Witten
edged out Gates by one vote to be crowned the almighty ruler of all NFL tight ends.
How in the name of Kellen Winslow did it happen, San Diego? Talk to Yasinskas.
Yasinskas ranked Atlanta's
Tony Gonzalez
No. 2. He had Witten No. 1 and Gates No. 3. Witten finished with 76 voting points. Gates had 75. No other voter placed Gonzalez higher than fifth. He finished sixth.
Send your cards and letters to Yasinskas, Dallas
. If you must let him know your thoughts, stay classy, San Diego.
Yasinskas reasoned that he sandwiched Gonzalez between Witten and Gates because of Gonzalez's incredible career. Gonzalez, 35, owns every major receiving record by a tight end.
"Yes, he's nearing the end of his career, but this is the best tight end in history," Yasinskas said. "I think that counts for something. Gonzalez still is playing at a high level. He has great chemistry with quarterback
Matt Ryan
and the desire for a Super Bowl ring is keeping Gonzalez going strong."
Here is the rest of the top 10 after Witten and Gates: Indianapolis'
Dallas Clark
(53 points), San Francisco's
Vernon Davis
(50), Washington's
Chris Cooley
(36), Gonzalez (33), Tampa Bay's
Kellen Winslow Jr.
(26), Jacksonville's
Marcedes Lewis
(21), Detroit's
Brandon Pettigrew
(18) and Green Bay's
Jermichael Finley
(15).
Witten and Gates clearly stand out as the game's elite tight ends. Witten was ranked first on four ballots and second on the other four. Gates received the other four first-place votes. He received three second-place votes and Yasinskas' third-place vote.
The only thing that separated Witten and Gates in 2010 was health. Witten, 28, had 94 catches for 1,002 yards and nine touchdowns last season. Gates, 30, was on his way to a brilliant season when it was derailed by nagging ankle and foot injuries. Gates ended up on injured reserve and missed six games. He finished with 50 catches, 782 yards and 10 touchdowns.
Matt Williamson of Scouts Inc. said both Witten and Gates are game-changers.
"Witten to me is the class of the two-way tight ends," Williamson said. "Receiving needs to trump blocking because that is what the league is right now. If someone put Witten first on the list, I can buy that. In terms of doing it all, I think he is the best. … I think he is the best of the two-way guys if you put an equal amount of faith in both receiving and blocking. He is the all-around tight end prototype. If you put more weight on receiving, which I would, you have to give the nod to Gates. He was awesome last year. He was hurt and that was the only negative other than blocking. He played hurt a lot and was great."
Let's dig deeper into the rankings:
Not easy pickings:
Several of our voters were surprised by the difficulty of this process. This is our fourth position in the series. We previously looked at receivers, running backs and pass-rushers. The pass-rushers process was very difficult. This vote was not a cool breeze, either.
This is a very strong league for tight ends these days.
"After a hellish pass-rusher ballot, I thought tight ends would be far easier," AFC South blogger Paul Kuharsky said. "They were just as difficult. There is a great deal of young talent too. I steered clear of first-year guys, but in another season or two, this could be even more brutal to sort through."
Blame injuries:
In addition to the glut of talent, a primary reason this vote was so difficult was the fact that there were major injuries at this position in 2010. In addition to Gates, Clark, Finley and Houston's
Owen Daniels
were injured. That changed the voting landscape.
"I thought it was tough because there are a lot of guys with mitigating circumstances," NFC North blogger Kevin Seifert said.
Clark's injury prompted Yasinskas to rank him 10th. No other voter placed him lower than fourth.
"There's no doubt this guy has had a great career," Yasinskas said. "But I ranked him a little lower than most and that's almost entirely because he missed 10 games last season. Clark is 31 and I'm not sure he'll be the same player going forward."
[+] Enlarge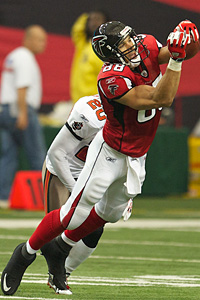 Dale Zanine/US PresswireWill star Falcons tight end Tony Gonzalez finally notch his first playoff win on Sunday?
Not everyone loves Tony G.:
Clearly, Yasinskas believes in Gonzalez. He gets to see him play regularly and thinks he's still an impact player. That's why he ranked him second. But not everyone agrees that the future Hall of Famer is still an elite player. Kuharksy left Gonzalez off his ballot altogether.
"Gonzalez is still an excellent player," Kuharsky said. "But as I struggled to find room for the 10 I felt needed to make the cut, he fell off. In 2010 his numbers suggest he was more quantity than quality. I'm not looking for giant plays from my tight end, but Dallas Clark replacement
Jacob Tamme
matched Gonzo's 9.4 yards a catch, and while Gonzalez's first-down percentage was good (55.7), it was way lower than that of the three top rookies and smaller than that of guys like
Heath Miller
,
Ben Watson
and
Todd Heap
, whom I hardly considered. One final note: As I've got access to Frank Wycheck during three shared radio appearances a week, I asked him for a ballot. I'm sure he admires Gonzalez's body of work. But right now Gonzalez wasn't in Wycheck's top 10 either."
The Davis flip-flop:
The 49ers' immensely talented tight end received a wide range of support. Four voters had him third. Yet, I had him ranked ninth and Yasinskas had him eighth. I like Davis, but I'm not convinced we always see his best effort.
NFC West blogger Mike Sando was among those who voted Davis third. Sando argued that Davis has made an impact despite playing with subpar quarterbacks.
"It's easy to forget about Vernon Davis because he plays for a low-profile team that has struggled," Sando said. "If you've seen the 49ers much, you know Davis makes the huge play better than any tight end in the league. He'll catch touchdown passes for 60 or 70 yards, outrunning even cornerbacks. He remains unrefined and can still improve his all-around game quite a bit, but his 20 touchdown receptions over the past two seasons rank first among tight ends."
This position is in it for the long haul:
I remember a conversation I had with Gates prior to the 2009 season. He was glowing over all the young talent at the position in the NFL. Gates rattled off several young tight ends he expected to have bright careers.
There's no doubt, this is a special time for tight end play. As Gonzalez puts the cap on the most brilliant career by anyone at the position in the history of the game, the position is well stocked for the future.
Five players on the list -- Davis, Winslow, Lewis, Pettigrew and Finley -- are 27 or younger. The only players who are 30 or older on the list are Gonzalez, Clark and Gates.
Oakland's
Zach Miller
and the Jets'
Dustin Keller
, who finished 11th and 12th, respectively, are also young players. Miller is 25 and Keller is 26.