Dallas Cowboys:

Dan Snyder
December, 20, 2013
12/20/13
9:30
AM ET
The
Washington Redskins
' season can't end soon enough, with the future of the organization to be decided shortly thereafter. The
Dallas Cowboys
might have their own decisions to make around that time, depending on how the next two games unfold.
It's not exactly a throwback to the old Redskins-Cowboys rivalry storylines. Or even what it was like a year ago in the regular-season finale when the NFC East title was on the line. Dallas still has a shot at the playoffs, but, as usual, the Cowboys are a .500 team that can never seem to get it together late in the season.
But they look like a model of consistency next to the dysfunctional Redskins, who have lost six straight, have numerous stories citing anonymous sources and benched their franchise quarterback a week ago (ostensibly for health reasons).
ESPN.com Cowboys reporter Todd Archer and Redskins reporter John Keim break down the game.
John Keim:
Is Jason Garrett finally on the hot seat? If not, why aren't the Cowboys ever more than mediocre under him?
Todd Archer:
Jerry Jones has said Garrett is safe, but I just have a hard time believing that would be the case if they miss the playoffs for the third straight season with him as the coach. But I don't know that Garrett would be paying for only his sins. He'd be paying for Jones' sins, too. Garrett has had some missteps as the coach, but Jones is the one responsible for the players, and, frankly, there have not been enough players for years here. The drafting has been poor. The free-agent decisions have been mixed. That's on Jones. And Jones was the one who hired Monte Kiffin as defensive coordinator and made sure Garrett gave up the play calling this year. But as we know, Jones will not fire the general manager, so Garrett would be the one to pay with his job.
Meanwhile, Mike Shanahan sure seems to be acting like a coach looking to get out. I know he's saying he wants to stay. Is there any possibility he could be back in 2014?
Keim:
There's a possibility, but it still feels far-fetched. There's so much nonsense going on here these days that, regardless of who's at fault, it's hard to justify continuing this regime. But owner Dan Snyder might not want to pay him $7 million -- in addition to the money he'd have to pay the coaching staff. That's a lot of cash. Still, it appears the only way that Shanahan could return is if he brings in new coordinators. Of course that means his son, offensive coordinator Kyle Shanahan, would have found a job elsewhere. But if you're Snyder, why would you think it would be any different if Shanahan gets a chance to hire another staff? This is the one he thought would work. And I'm not blaming the staff, but, rather, do you trust the guy in charge to somehow hire one that is much better? How many proven guys would want to work here knowing it could be a one-year deal? Also, there would have to be a major repair job between the coach and quarterback
Robert Griffin III
. But the players support Shanahan and I've heard that Snyder still likes him. So, crazy as it sounds, there's a chance.
How did the players respond to the Green Bay loss -- after the game and later this week?
Archer:
They are saying the right things. They say they believe, but there does feel as if there is some desperation this week. Same with frustration. I don't know how they could not be frustrated with the way they lost to the Packers. It was there for them to win, and they let it get away. But to be clear, the coaches let it go just as much as the players. I'll say this for Garrett, he has been able to keep this team on track. He does not stray from message, and, as a result, the players stay in the moment. This is a huge game for a lot of the core players who have been here. If the Cowboys can't win this one or can't make the playoffs, there could (some would say should) be big changes. They know what's on the line.
Because Griffin is a Texas native, a lot of folks here want to know what's going on with him. How has he handled the "benching," and is there a worry he might not get teammates back on his side?
Keim:
No, I don't think that he can't get teammates back. I know many are tired of the drama surrounding Griffin, but I don't think they're tired of him. All he needs to do to maintain his teammates' confidence in him is work hard, lie low and win. Griffin has handled the benching well. He was into the game against Atlanta; he has worked hard in practice; he said all the right things the day he was benched. He's definitely upset about what happened, but it hasn't caused him to feel sorry for himself.
Staying on quarterbacks, how would you rate
Tony Romo
this season, and is he fairly or unfairly criticized?
Archer:
Romo's been solid. I know that will drive some people crazy who only look at his fourth-quarter interceptions against the Packers or his decision late against Denver. I'd make the argument the Cowboys would not be sniffing a playoff spot the past three years if not for Romo. But the season has not been all candy and ice cream for him. His completion percentage is still pretty good (64 percent), but he has missed some easy throws or made his receivers have to work too hard. He's not moving as well as he did in earlier years. Maybe that has something to do with the offseason back surgery. Maybe it's because he's 33. But Romo has largely been able to stay away from the bad plays. With 29 touchdown passes and nine picks, he has done that, but everybody will remember the Green Bay game.
The Redskins gave away a lot to get Griffin. Now they're playing
Kirk Cousins
. Is it a deal where they're trying to drive trade value for a guy late in a season to help them in April?
Keim:
They say that's a potential benefit if Cousins does well, but they'd never say publicly that was the real reason. Also, the coaches really like Cousins, so I'm not convinced they're in a rush to trade him. If, for some reason, the staff returns, the Redskins could hang on to both quarterbacks to give them another year to see how Griffin responds to a full offseason. What if, at the end of next season, Griffin is no different than he is now? Or, if he improves the way you hope, then you can peddle Cousins. I also can't imagine anyone offering the Redskins a first-round pick (which is what they think he might fetch). A second-rounder? Perhaps, depending on how the final two games unfold.
The Redskins faced a bad defense at Atlanta. Now they get another one. Is the Dallas defense bad because of injuries or other factors? Where are the Cowboys most vulnerable?
Archer:
Well, they haven't been good even when they were relatively healthy. The injuries haven't helped, but they had injuries last year with defensive coordinator Rob Ryan and weren't this bad. The four best players remaining --
Brandon Carr
,
Orlando Scandrick
,
DeMarcus Ware
and
Jason Hatcher
-- have struggled the past couple of games, if not longer. That can't happen. Their best defensive players against Green Bay were
George Selvie
,
Barry Church
and
Sterling Moore
. That just can't happen. The scheme is fine. Other teams have succeeded with it. But Monte Kiffin has not changed enough to combat the injuries. He has not played to the strengths of the guys who are left. At least, he hasn't done it enough. The Cowboys just don't have any answers. They are as bad against the run as the pass, and now they can't get any takeaways.
Any differences with how the offense runs with Cousins and Griffin?
Keim:
Cousins runs plays mostly from under center compared with Griffin, who lined up in the pistol formation. They're obviously different in terms of style. The Redskins have not run the zone-read with Cousins (although I do believe he can run it; he's as fast as Philadelphia's
Nick Foles
, who runs the zone-read on occasion). The real difference is that Cousins is more comfortable in the pocket and has better footwork right now than Griffin, caused in large part by the lack of work the latter received in the offseason while rehabbing his knee. Cousins will run a lot of bootlegs, although Washington also ran those with Griffin. Cousins has been more decisive, but part of that is because he knows he can't run from pressure like Griffin.
Do you think Dallas will ever be a strong contender again under Jerry Jones?
Archer:
That's the big question. I'll say yes only because things are cyclical in the NFL. Jones has plenty of great qualities as an owner. He wants to win. He will do everything he can to win. He is willing to do what it takes. But Jones the general manager often gets in the way. The Cowboys seem to change philosophies from year to year. One year they like this kind of player only to move on to a new player the next year. Jones said something this week on his radio show about how he does not worry about fan apathy because of the "show" the fans got in Sunday's game against Green Bay. He seemed oblivious that his team lost. He was happy it was a good show. How can he think that way? But Jones won't change. He will be the ultimate decision-maker. I think they will be a strong contender again, but it could take some time.
Obviously, the season has been a washout for the Redskins. How much joy would they take in killing the Cowboys' season?
Keim:
After six straight losses, I think they'd feel good beating anyone right now, but, yeah, beating a team in the playoff hunt would make them feel better. And if it's Dallas? All the better, although I don't sense any real hatred toward them. But for the fans, if they can watch Dallas' playoff hopes take a dive because of the Redskins, that would cause them to temporarily forget the craziness of the past couple of weeks. But the word "joy" is not the one I'd use to describe much of anything around here. There are a number of Redskins who will be playing their final home game, including likely retiring linebacker
London Fletcher
, so that will provide a little motivation, as well.
November, 5, 2012
11/05/12
10:54
AM ET
It may be easy for you and I to sit here and say
Dallas Cowboys
owner Jerry Jones should give up on the idea of Jason Garrett as head coach, move on and start over with someone else. But it's important to remember that you and I probably wouldn't have hired Garrett to coach the Cowboys in the first place, and Jones did.
A half-season after he fired Wade Phillips as head coach and defensive coordinator, Jones looked at all of the available candidates and selected Garrett. Dan Snyder had beaten him to Mike Shanahan by a year, and the best remaining candidates at the time were either defensive coaches (John Fox, Jeff Fisher) like the one he'd just fired or offensive coaches (Jon Gruden, Brian Billick) whose stock had fallen since their Super Bowl title days. Garrett had just gone 5-3 over the second half of the 2010 season with
Jon Kitna
at quarterback. The team had responded to him, Jones had always thought highly of him, and so he made the decision that Garrett had earned his chance.
[+] Enlarge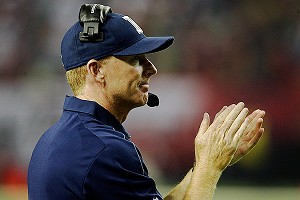 AP Photo/Chuck BurtonIs a strong finish to the season a must in order for Jason Garrett to keep his job as Cowboys coach?
We fast-forward now to the present day. After Sunday night's loss to the undefeated Falcons in Atlanta, Garrett is 3-5 for this season, 4-9 in his last 13 games and 16-16 since taking over as head coach of the Cowboys in the middle of 2010. For the first time since he got the job, he does not have a winning record. Cowboys fans are profoundly disappointed that things have failed to get better over the past two calendar years, and since they believe their team has the talent to play with the league's best teams but isn't beating them, they assume it's a matter of coaching and that Garrett must go.
Now, I don't believe this Cowboys team is as "talented" as everybody wants to rush to believe it is. Sure, there are some excellent players on both sides of the ball. But they don't have the same kind of depth of talent on their roster as the teams to which they've barely lost to the past couple of weeks. And at the positions where they're strongest -- quarterback and wide receiver, for instance -- the Giants and Falcons are even better. The combined record of the five teams to which the Cowboys have lost this season is 32-10, which means they've been beaten by the very best teams in the league. Of their remaining eight games, five are at home and only one is against a team that currently has a winning record. There is reason to believe things so far have been tougher for the Cowboys than things will be the rest of the way.
But those are excuses, this is a results business and the results say Garrett is a .500 coach. So this becomes about evaluating the kind of job he's actually doing. And it's not great. The clock-management issues, the delays in sending in the plays ... these things are easy to spot, as is the fact that the offense (which is Garrett's responsibility) appears to be regressing. The additions of offensive line coach Bill Callahan and the free-agent guards they signed were moves of Garrett's making, and they have not paid off.
Tony Romo
's having a bad year.
Dez Bryant
isn't making the step forward he was supposed to make. There is no run game to speak of with
DeMarco Murray
injured, and it's not as though they were running for 175 yards a game when he was in there.
There are plenty of reasons, if you believe 32 games is a sufficient sample size, to conclude that Garrett isn't doing a good enough job. But only one man's opinion matters, and that man is the guy who hired Garrett in the first place. Just because fans are looking for reasons to fire Garrett doesn't mean they should assume Jerry Jones is, too. Jones has publicly said, many times, that he regrets firing Chan Gailey after only 32 games, and that he's learned lessons about the importance of continuity. Good leaders stand by their plan and their people, and Garrett is Jones' guy and his plan is to give him every chance to succeed.
Jones likes Garrett. Garrett is Jones' hand-picked choice to coach the team. If anything, he's looking for reasons to keep him. Another 5-3 finish that got the team back to .500 would allow Jones to claim that Garrett had done a good job recovering from a tough first half. It would push Garrett's record to 21-19, and Jones could very easily say he's not going to fire a guy with a winning record. A finish better than 5-3 would make the Cowboys a playoff contender, possibly even a playoff team if things broke the way they did last year in the NFC East.
A total flop against the soft second half of the schedule? Say, a 3-5 finish and a 6-10 record for the year? That's the kind of thing that could change Jones' mind. So could the sudden appearance in the coaching free-agent ranks of a highly qualified offensive coach such as Sean Payton or Andy Reid. As much as Jones likes Garrett, he likes Payton as well. And if a coach with Payton's pedigree hits the market, every team with even the faintest of question marks in the head coach's office is going to have to take a long look.
But the key thing to remember, amid the frustration, is that Jones feels differently about Jason Garrett than Cowboys fans do. Jones thinks more highly of Garrett than you ever did, or else Garrett would never have been the coach in the first place. Jones wants Garrett to succeed -- wants to build the Cowboys into a consistent winner around him and with the help of his vision. That might sound crazy and unjustified to you and to me, but it's what Jones has in mind for his franchise. And in order for him to get rid of Garrett, something big is going to have to happen to change his mind. So while you may want Garrett out and you may think it's obvious that he needs to go, you shouldn't assume it's definitely going to happen.
March, 16, 2012
3/16/12
8:42
AM ET
Look, I'd love to keep hammering the NFL for its
ridiculous decision
earlier this week to strip the Washington Redskins and Dallas Cowboys of $36 million and $10 million, respectively, in cap room over the next two years. The league deserves to be hammered, and almost everyone else (just as the league hoped they would) is ignoring the story in favor of free agency. But the fact is that there is almost nothing the Redskins or Cowboys can do about this, and the few avenues available to them are avenues they're extremely unlikely to pursue.
When the story broke Monday, my first thought, as
I wrote at the time
, was that the owners appeared to have engaged in collusion by conspiring to limit spending in the uncapped 2010 season and that the Cowboys and Redskins were being punished for not going along with that plan. So I reached out to ESPN legal analyst Lester Munson and asked him if I was on the right track. Here's his response:
The NFL collusion clause (Article 17, P. 119) in the new CBA is very narrow in its definition of collusion. It applies only to certain contract procedures and any agreement among owners that would restrict the offers made to players. It is limited to multi-team decisions on whether to negotiate with a particular player, whether to submit an offer sheet, whether to offer a contract, and whether to include a right of first refusal. It is nothing like the broad anti-collusion clause that became famous in MLB. There is nothing in the NFL definition of collusion that applies to the Dallas and Washington frontloading of contracts. What the league did certainly sounds like what we normally think of as collusion, but it does not appear to violate anything in the CBA. If Dallas or Washington want to do something about the penalties, they would be forced to rely on an antitrust action, an enormous undertaking. It would be similar to the numerous cases that Al Davis filed over the years. I doubt that either Jones or Snyder would be willing to undertake so massive an effort.
I share his doubt. The idea of Jerry Jones or Daniel Snyder bringing an antitrust suit against the other members of a cartel of which they themselves are members is farfetched to say the least. I know that the Redskins, at least, have made inquiries about how they can fight these penalties, but the odds are that nothing ends up happening on that front.
The NFLPA isn't going to be any help either. They agreed as part of the Brady settlement at the end of the lockout to drop all pending litigation against the league, including the collusion charges they were intending to pursue. And while they could technically revisit those charges in light of the stunning new evidence the league has presented that it did, in fact, engage in collusive behavior during the uncapped year, don't hold your breath. The NFLPA (as we also reported Monday) agreed to these penalties last weekend in a settlement after the league threatened to cut this year's salary cap by $4 million or $5 million per team. It's highly doubtful the union, which was blindsided by this whole thing, is eager to open those negotiations back up.
The NFL is remorseless in its arrogance and its hypocrisy. It doesn't believe it has to answer to anyone. The lockout (which was clearly a sham, since we now know the league was instructing teams on how to behave while awaiting what it considered an inevitable solution) was more proof of that than anyone should ever need. This latest incident is just a far more narrowly focused example of the same thing. The Cowboys and the Redskins did something the rest of the owners didn't like, so the rest of the owners ganged up on them and took away some of their money. Mob justice, sanctioned by the commissioner. It's not right. It's not fair. But in the end, there's almost nothing the Cowboys and Redskins can do about it.
November, 16, 2011
11/16/11
10:29
AM ET
IRVING, Texas -- The Cowboys meet the Redskins on Sunday at FedExField, so we check in from The Other Side for a second time this year with Rick Maese of the Washington Post to tell us what has happened this year with Mike Shanahan's team.
Archer -
Dan Snyder hasn't been the most patient owner, so is there any chance that Mike Shanahan could be on the hot seat?
Maese -
I think that'd very doubtful at this point. For starters, Shanahan will have three years left on a contract that pays him around $7 million per season. While Snyder has certainly thrown away money on players, he hasn't been as eager to buyout coaches. But I think Snyder has also shown more patience as he's grown as an owner. Shanahan inherited a bad team in just about every way possible. The more likely scenario, I think, is for Snyder to bring in someone to beef up the personnel and scouting departments.
Archer -
From the outside the quarterback position has gone horribly wrong. Is that Mike Shanahan's fault? His son's? The players? Are fans calling for Andrew Luck yet?
Maese -
Ultimately, Mike Shanahan has final say in personnel decisions, so he has to shoulder the responsibility for the terrible quarterback play. Now, he's certainly taking into consideration what he hears from his coaches, including Kyle Shanahan, his son and offensive coordinator, but at the end of the day, it's his call. I think every human being in the Washington area would be shocked if either
Rex Grossman
or
John Beck
is somehow starting Week 1 in 2012. Unfortunately for them, the team's 3-1 start likely eliminated them from the Luck Sweepstakes.
Archer -
The Redskins have
Tashard Choice
on the roster and he said he's playing this week vs. his former team. What type of role is there for him there?
Maese -
As bad as quarterback play has been, the team's running game has been even less consistent. The offense is supposed to be built off the running game, and they're on pace to have the worst season running the ball in more than 40 years. So there's an opportunity for Choice. He'll have to show in practice this week that he's picked up Shanahan's system and deserves playing time this Sunday -- not to mention his hamstring needs to be 100 percent.
Archer -
It appears the defense is still playing pretty well. How has another ex-Cowboy,
Stephen Bowen
, done in his first year?
Maese -
Despite the Redskins' myriad problems, they feel like they beefed up their front-seven and that certainly seems to be the case through nine games. Bowen has held up well, despite an increase in snaps over last season. Depth is a problem along the defensive line and the Redskins can't afford to be without Bowen at this point.
Archer -
So much talk about how bad the season has been, what's been the best thing this year?
Maese -
There's been flashes of promise from young players. First-round draft pick
Ryan Kerrigan
should be in the running for rookie defensive player of the year. Rookie tailback
Roy Helu
set a franchise record with 14 catches in one game, breaking a mark set by
Art Monk
. Rookie
Leonard Hankerson
, who went on IR this week, topped 100 receiving yards last Sunday. Rookie
Niles Paul
is currently sidelined with a toe injury but has shown promise. Second-year linebacker
Perry Riley
had his first start last week and recorded four tackles for loss. So there are a few bright spots; they're just overshadowed by injuries.