Dallas Cowboys:

Danny White
April, 18, 2014
Apr 18
2:00
PM ET
It was interesting to listen to Danny White talk the other day on Sirius/XM radio about
Tony Romo
.
White and Romo are similar in some respects.
White failed to get his team to a Super Bowl, despite three consecutive trips to the NFC title game in the 1980s.
Romo has yet to get his team past the second-round of the postseason.
[+] Enlarge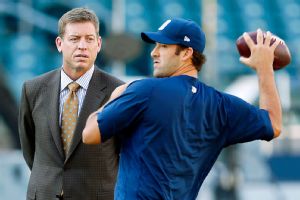 AP Photo/Julio CortezUntil Tony Romo starts winning in the postseason, his body of work will lag behind Troy Aikman, left, and the Cowboys' other great quarterbacks.
Romo has better numbers than White, because he plays in a pass-happy era.
But here was White on Wednesday talking about how Romo is the perfect fit for this
Dallas Cowboys
team and that blame shouldn't be placed solely on No. 9 for the failures to reach the postseason the past four seasons.
"I don't know if there's ever been a more athletic quarterback," White said. "People keep saying they need to get somebody else, I don't think there's another quarterback in the league that would be a better fit for the Cowboys and what they need, because he has to be able to move. He has to be able to improvise, with the offense he's got."
White had a six-year stretch where he led the Cowboys to three NFC title games, two division titles and two years of missing the postseason, 1983 and 1984.
Romo, since becoming a starter in 2006, has missed the postseason five times, won two division titles and is 1-3 in the playoffs.
Would you prefer Romo's resume over White's?
Overall, White went 62-30 in replacing Roger Staubach and finished his career with 12 fourth-quarter comebacks and 16 game-winning drives.
Romo is 63-45 as a starter, is the franchise-leader in touchdowns thrown, and is second to Troy Aikman in completions and yards.
White's praise of Romo stems from watching him for several years as a radio analyst for Dallas games.
White, of course, understands the pressures of the quarterback position for the Cowboys.
For White, he replaced a Staubach, a Hall of Famer, a legendary figure in the NFL.
Romo didn't replace a legendary figure, just an aging one. He took over for Drew Bledsoe. Yet, the expectations to succeed at quarterback for the Cowboys are very high. Staubach won two Super Bowls and Aikman three. Any other quarterback after them is judged by that standard.
Romo can't get to the postseason, let alone a Super Bowl.
"It's just a matter of putting a few pieces together, and Romo is certainly as capable as anybody of getting that team to the Super Bowl," White said. "The one thing that they have made a point of is making sure that he's paid what he's worth, and I don't think there's any question that Tony's laughing all the way to the back on that one."
While Romo has the better numbers than White, his resume is lacking something: More playoff wins.
He doesn't have enough.
Until he can do better in that area, White's career should be viewed in a better light than Romo's.
August, 2, 2013
8/02/13
2:53
PM ET
By
ESPN.com wire services
PHOENIX -- Wilford "Whizzer" White, the father of former Dallas Cowboys quarterback Danny White and a member of the Arizona State hall of fame, has died at the age of 84.

White's daughter-in-law, Michelle White, says the former Sun Devils running back died Thursday after falling unconscious while awaiting a doctor's appointment.

She says he died while on an ambulance headed to a Phoenix-area hospital possibly of a heart attack, but family members are still awaiting tests.

White was an ASU running back from 1947 to 1950 and finished his career as the school's all-time leading rusher with 3,173 yards.

Steve Patterson, vice president for university athletics, called White "one of our all-time great athletes."

White's son, Danny, was a Sun Devils quarterback before going on to play 13 seasons for Dallas.
May, 22, 2013
5/22/13
3:00
PM ET
IRVING, Texas – Among the reasons why
Brian Urlacher
decided to retire was the fact that he could say he played for the
Chicago Bears
and for the Chicago Bears only.
In this salary-cap age, that is a difficult thing to do.
Emmitt Smith
's playing career ended in Arizona.
Jerry Rice
's ended in Seattle.
Troy Aikman
and
Michael Irvin
were able to be "one jersey" players, in part because of injuries. Aikman wrestled with the idea of returning not long after he stepped away but decided against it.
Jason Witten
and
Tony Romo
are entering their 11th seasons with the Cowboys. Romo, who just turned 33, is signed through 2019. Witten is signed through 2017. So is
DeMarcus Ware
, who is entering his ninth season.
Of the long-term players on the Cowboys' roster, these guys figure to be the "one jersey" types.
Witten is already the franchise's all-time receptions leader. Only Bob Lilly,
Larry Allen
, Mel Renfro and Randy White have played in more Pro Bowls as Cowboys than Witten, who has eight. He is coming off a 110-catch season, the most in NFL history by a tight end. He turned 31 earlier this month.
Romo is the Cowboys' all-time leader in touchdown passes and could surpass Aikman in passing yards in 2015. He has more 100-plus passer rating games in his career than Aikman. Romo's 55 multi-touchdown pass games are the most in team history. His four four-touchdown games are second-most in history to Danny White.
Ware is the franchise's official all-time sack leader with 111 for his career and needs four this season to break Harvey Martin's unofficial sack record. He has had seven straight seasons with at least 10 sacks, and only
Reggie White
(nine) and
John Randle
(eight) have more since sacks became an official stat in 1982.
If the Cowboys win a Super Bowl in the next few years, then the chances of these guys playing for another team in the future would be slim.
If the Cowboys don't win a Super Bowl and they become salary-cap casualties later, do they chase a championship and not play for the Cowboys and the Cowboys only?
March, 11, 2013
3/11/13
11:34
AM ET
Roger Staubach,
Troy Aikman
, Danny White and
Tony Romo
vie to be king of "The Herd QB Bracket," which
Colin Cowherd unveiled
Monday morning.
Tony Romo comes in as a 13 seed and will face 4-seed
Warren Moon
. Staubach, who is in the
Todd Marinovich Region
with Romo, is the No. 3 QB and will face Brian Sipe. Aikman is also a 3 seed and will face
Kerry Collins
in the first round in the
Tim Couch
Region. White is an 11 seed in the same region and will face Joe Theismann.
And don't forget to vote on the other matchups in the
Leaf & Russell Regions
. Who will survive and advance? The choice is yours. Vote!
October, 15, 2012
10/15/12
10:00
AM ET
BALTIMORE – In terms of touchdown passes,
Tony Romo
is now only looking up at
Troy Aikman
in the Cowboys' record books.
With two touchdown passes in Sunday's loss at Baltimore, Romo has 156 for his career, moving him past Danny White (155). Aikman holds the record with 165 touchdown passes in his 12-year Hall of Fame career.
Romo had his 50th multiple-touchdown pass game of his career, which is a team record and two more than Roger Staubach. Only
Drew Brees
,
Philip Rivers
,
Tom Brady
,
Peyton Manning
and
Eli Manning
have had more than Romo since 2006 in the NFL.
But there is one streak Romo would like to end. He has had a pass intercepted in six straight games dating to last year. His longest streak is eight games, a run that stretched over the final three games of the 2007 season and first five in 2008.
He has never had a pick in six straight games in the same season.
March, 21, 2012
3/21/12
3:51
PM ET
It was nice of
Troy Aikman
to say
Tony Romo
is better than he was.
I think Aikman was being nice.
Romo isn't as good as Aikman, a Hall of Fame quarterback with three Super Bowl rings. To me, it's not about Romo being as good as Aikman or Roger Staubach.
He's not.
The question should be: Is Romo better than Danny White?
After 77 starts, Romo is 47-30. White was 55-22.
Romo is 1-3 in the postseason.
White was 5-5.
Here's where it gets interesting and this is where quarterbacks are judged differently than in most places in the NFL. White led his team to three consecutive NFC title games. He lost to the
Philadelphia Eagles
in 1980, San Francisco in 1981 and the
Washington Redskins
in 1982, a strike-shortened season.
Romo?
White wasn't the best quarterback of his generation. He made one Pro Bowl, finished in the top ten in completed passes four times and was second in the NFL in touchdown passes with 29 in 1983.
Romo is a talented quarterback, one of the top 10 in the game, and he doesn't get enough respect from the fans. But it's unfair to compare Romo to Aikman and Staubach. Those men are Hall of Fame talents who brought championships to their franchises.
Romo, if anything else, should be compared to White.
And like Romo, White had a talented group of players around him for the nearly seven years he was a starter. From 1980-86, White went to the NFC title game three times, won the division twice and missed the playoffs just once. He started the 1986 season opener but Steve Pelluer took over in Week 5.
When it comes to the stats, Romo will catch or surpass many on the Cowboys list. He's going to pass White on the franchise list for touchdowns (seven from moving past), yards (1,126 yards away) and passing attempts (359) this season.
Romo is good, like we said. He's not Aikman or Staubach.
But let's make sure Romo does a little more than White before you get that anointing oil Bill Parcells talked about.
November, 13, 2011
11/13/11
6:41
PM ET
ARLINGTON, Texas --
Tony Romo
set two franchise records in Sunday's win against Buffalo.
He completed 88.5 percent of his passes (23 of 26) and had the 21st three-touchdown pass of his career. Danny White, who was broadcasting the game for Compass Media Network, saw his name move down a peg in the team's record book.
White completed 19 of 23 passes (87.5%) on Nov. 6, 1983, and had 20 three-TD games.
"Probably the best game I've seen him play where he's just picking them apart with the way he approaches it," tight end
Jason Witten
said. "They were trying to give a lot of different looks. He knew where he wanted to go with the ball. … I think he's getting healthy and it's a sign of what's ahead with the way he's really being a dictator out there with how his approach is."
Romo wasn't about to say it was his best game, but he acknowledged he is as healthy as he has been since the season opener. He did not wear the protective vest for the first time since fracturing a rib Week 2 at San Francisco and did not take a pain-killing injection for the second straight game.
"It is nice being healthy these past couple weeks," Romo said. "The ball usually goes where you are coming when you are healthy. That helps. It is about the guys giving me enough time to go through the progressions and reads."
November, 6, 2011
11/06/11
9:00
AM ET
Today the Cowboys will induct
Larry Allen
,
Charles Haley
and Drew Pearson into the Ring of Honor. It's the first time the Cowboys have conducted such an event since the Triplets in 2005.
With that we look at ten players who might be next for the Jerry Jones committee of one to consider.
Harvey Martin.
No name resonates more with former Cowboys players than this man. He led the Cowboys in sacks seven times, is the unofficial franchise leader with 114 and holds the single-season mark of 23 sacks in the 1977 season. Before there was Charles Haley and
DeMarcus Ware
, Martin along with Randy White and Bob Lilly set the standard for pass rushers in franchise history.
Bill Bates.
A special teams ace and despite making just one Pro Bowl, 1984, he was a beloved figure in Cowboys lore. When you think of outstanding special teams players in Cowboys history, Bates' name comes up first. Nobody was better on a unit the causal fan knew nothing about.
Darren Woodson.
A three-time All Pro, a five-time Pro Bowler won three Super Bowl titles. He was a talented safety who not only covered tight ends but wide receivers. His presence is still felt at Valley Ranch, because the Cowboys have not replaced him and his signature is inside a locker of former safety
Roy Williams
, that's now the home of cornerback
Terence Newman
.
Everson Walls
. He led the Cowboys in interceptions five times, is second all-time in franchise history with 44 and still holds the single-season record with 11 picks in 1981. The 11 picks is also the franchise record for a rookie. It would be nice if Walls gets in with Martin, another Dallas native.
Jimmy Johnson.
The second coach in Cowboys history rebuilt the franchise and won two Super Bowl titles and the third one, XXX in 1995 was with Barry Switzer, but it was Johnson's team. The ending was bad, but there's no denying what Johnson meant to the franchise.
Charlie Waters.
A three-time Pro Bowler at strong safety, Waters started 22 of 25 playoff games. He was a fierce hitter who gets lost because we talk so much about Cliff Harris. Waters is considered one of the top safeties in Cowboys history.
Deion Sanders.
He made his mark with Atlanta, yet, Sanders was a four-time Pro Bowler, three-time All Pro and of course won one title with the Cowboys. Sanders holds the career mark for punt return average at 13.3. He was the first big money free agency signed by the Cowboys and he was a playmaker on defense and special teams.
Daryl Johnston.
When
Emmitt Smith
broke the all-time rushing mark, he hugged this man. Johnston didn't miss a game from 1992-to-1995. Johnston is one of the best fullbacks in franchise history, and his blocks paved the way for Smith to get a bulk of his yardage.
Danny White.
The third-round pick from Arizona State, made only one Pro Bowl, and he had just one losing season in the years he started, 1987 where he compiled a 3-6 mark at age 35. He took the Cowboys to three NFC title games, never advancing to the Super Bowl. White is second in completions in franchise history at 1,761.
Mark Stepnoski.
A five-time Pro Bowler who won three titles. But here's a little known fact: He was named to the second-team of the 1990s All-Decade team. Stepnoski was a solid player during his era, not only with the Cowboys but in the NFL as well.
September, 16, 2011
9/16/11
12:30
PM ET
»
NFC Final Word
:
East
|
West
|
North
|
South
»
AFC
:
East
|
West
|
North
|
South
Five nuggets of knowledge about Week 2:
[+] Enlarge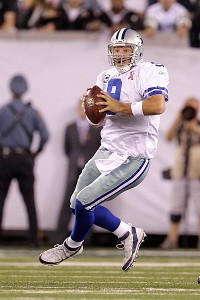 AP Photo/Julio CortezDallas QB Tony Romo is on the cusp of an impressive milestone.
Romo seeking Cowboys history.
He's taken a lot of abuse this week, so here are a couple of nice things to say about
Dallas Cowboys
quarterback
Tony Romo
. He's thrown at least one touchdown pass in 19 straight games, and no quarterback in Cowboys history has had a streak of 20 such games. Also, he has 19 career games with at least three touchdown passes, one short of the team record held by Danny White. With the 49ers likely to focus on stopping the run, Romo should get a chance to reach both of those 20s, although a healthy
Dez Bryant
would surely help.
Eagles in a rush.
The
Philadelphia Eagles
' 237 rushing yards in their season opener against the Rams was the fifth-highest single-game rushing total by the Eagles since Andy Reid became their coach. They averaged 7.6 yards per carry in the game, making it the first time since a Week 9, 2001, game against the Vikings that they ran for at least 237 yards at an average of 7.5 yards or better per carry. What will be interesting Sunday night in Atlanta, though, is whether quarterback
Michael Vick
can get the passing game going. His 43.8 completion percentage in the opener was the lowest by an Eagles quarterback with at least 30 attempts since
Mike McMahon
was taking snaps in 2005.
We're No. 2.
The winner of Sunday's
Washington Redskins
-
Arizona Cardinals
game will have done something its franchise hasn't done much lately -- start a season 2-0. For the Redskins, it would be their first 2-0 start since 2007, which also was the last season in which they reached the postseason. For the Cardinals, a 2-0 start would be only their second in the past 20 years. The other came in 2008, the season they eventually advanced to and lost the Super Bowl. The Cardinals have lost seven straight games to the Redskins since 2000, when the Cardinals were still in the NFC East.
Giants' injuries showing.
Last season,
New York Giants
opponents completed 56.7 percent of their passes for 6.4 yards per attempt when the Giants had at least five defensive backs on the field. The Giants' opponents Total QBR was 28.7 when they were in nickel or dime packages, the lowest such figure in the league. In the season opener against the Redskins,
Rex Grossman
completed 63.2 percent of his passes for an average of 9.4 yards per attempt and a Total QBR of 86.9 when the Giants had extra defensive backs on the field. The Giants have suffered quite a few injuries on defense, particularly in the secondary, since the start of training camp, and it seems to show up when they have to dip into their bench for defensive backs.
Something's got to give.
Since the start of the 2010 season, Giants quarterback
Eli Manning
has thrown 15 interceptions on passes of 10 or fewer yards -- the most of any quarterback in the league. But over that same time period, the Rams have intercepted only one pass of 10 or fewer yards. So either Eli is safer at short range in Monday night's game than he usually is or the Rams are going to get a good chance to get the kinds of turnovers they don't usually get.