Dallas Cowboys:

Darnell Dockett
December, 3, 2011
12/03/11
8:00
AM ET
By
Bryan Broaddus
| ESPNDallas.com
Cowboys CBs Mike Jenkins and Terence Newman vs. Cardinals WR Larry Fitzgerald:
This week Rob Ryan and his secondary are going to have to deal with one of the top five playmakers in the National Football League.
Fitzgerald is so dangerous because of his ability to not only run routes and gain separation but also catch the ball no matter how poorly it is thrown. Other than
Kurt Warner
, Fitzgerald has never been blessed with an outstanding quarterback that can consistently get him the ball on the move, where he is the most productive.
PODCAST
Official scout of ESPND Dallas Bryan Broaddus previews the Cowboys' matchup against the Arizona Cardinals.

Listen

When you study Fitzgerald, you see a receiver that never changes speed when he runs routes.
Miles Austin
has this same trait as well. When you have this ability, you can put a great deal of pressure on the cornerbacks because most receivers have to settle down to cut or break in the route. From that standpoint, it's much easier to break on the route once you see the receiver adjust. Fitzgerald doesn't give cornerbacks that opportunity to read him and drive on the ball.
Another problem that Fitzgerald presents is his ability to take his routes all over the field and at all different depths. He is a fearless route runner as well and is not afraid to catch the ball between safeties in the middle of the field and turn it into a nice gain like he did against Baltimore.
The Cowboys can't afford to allow Fitzgerald to make plays in this game like
Jabar Gaffney
and
Brandon Marshall
did the last two weeks. This will be a huge test for Newman, who hasn't been his best the last two games, mainly in off coverage. Jenkins can be up to the challenge, but how solid is that hamstring? I am sure that Larry Fitzgerald will find out.
Cowboys LG Montrae Holland vs. Cardinals DT Darnell Dockett:
This has the potential to be a bad matchup for the Cowboys because of the way that Holland has struggled against players that have explosive quickness up the field.
Dockett is the type of guy that will be a handful for Holland because he attacks you
right now
. Dockett doesn't give the blocker much time to react.
Holland will struggle the most trying to get out of his stance quickly and adjust on the move. Dockett can be disruptive. If Dockett is allowed to penetrate, it will throw off the blocking assignments by someone like
Kyle Kosier
from the backside or
John Phillips
from fullback when the Cowboys try to get the run to the edge.
Dockett will also create push in the middle as a pass rusher. The Cardinals will also use him to angle to one side then bring a linebacker in the opposite direction. This inside twist with the linebackers was the best way that the Cardinals were able to get pressure.
When teams have been able to get pressure inside on the Cowboys, it has been attacking the middle of the pocket.
Phil Costa
played one of his better games overall last week when it came to adjusting to stunts and games. With that being said, I fully expect the Cardinals to try to attack from the inside, mainly with Dockett over Holland
That is the one matchup along the offensive line that the Cardinals have the best opportunity to win and cause the Cowboys the most problems offensively.
Cowboys punt coverage unit vs. Cardinals PR Patrick Peterson:
If Fitzgerald is the most dynamic player on this Cardinals' offense, then cornerback Patrick Peterson is the most dynamic player on defense but especially as a punt return man.
Peterson has a rare talent and presents a great challenge for this Cowboys punt coverage team. Peterson is so dangerous because he, like Fitzgerald, is fearless with the ball in his hands. He is not afraid to catch the ball anywhere on the field and start a return. His vision is outstanding, but he is also a physical runner. Peterson is not a small man like a
DeSean Jackson
, but he has the same type of quickness, burst and speed.
When you watch Peterson, you see a big man who does a nice job of breaking tackles. Jason Garrett spoke of having to get bodies to Peterson to get him on the ground.
The Cowboys are ranked 21st in the league in punt coverage; the Cardinals are second in returns. With a healthy
Mat McBriar
you could directional punt Peterson in a corner and try to cover. I still think the Cowboys will try this, but how successful they can be will be up in the air.
The bottom line is the Cowboys cannot allow Peterson to change the game with punt returns.
December, 2, 2011
12/02/11
9:34
AM ET
By
Bryan Broaddus
| ESPNDallas.com
It's never easy when the Cowboys travel to the desert to face the Cardinals, and this season will be no different.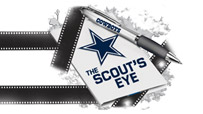 The Cardinals have skill at several positions, but they have weaknesses that Jason Garrett's club can take advantage of. It's this mix of good and bad that could either lead to an upset or to the Cowboys winning their fifth straight game on their march to the NFC East title.
Offensively, the Cardinals present two reasons for concern:
Larry Fitzgerald
and
Beanie Wells
.
Cardinals' Fitzgerald could exploit Cowboys' weakness
You do not have to be a professional scout to know that Fitzgerald is one of the best wide receivers in the game. The Cowboys have struggled with receivers making plays down the field the past two games. I was concerned about what
Brandon Marshall
was going to do against this secondary, but I am even more concerned of the challenge that lies ahead with Fitzgerald.
When you study his game, you see a tremendous route runner -- not in the sense of an explosive player, but much like
Miles Austin
in that he runs his routes at the same speed throughout the route. Fitzgerald doesn't give the corner any type of hint when he is going to break in his route. Most receivers in the NFL have to chop their steps or slow down to make cuts, but not Fitzgerald.
In my view, the most impressive trait he possesses is his hands. Other than
Kurt Warner
, Fitzgerald has played with some bad quarterbacks throughout his career in Arizona. Never have I seen a receiver that adjusts to more bad balls than this guy, but he is always coming up with the play.
The Cowboys have to be careful with Fitzgerald when he runs the inside routes, getting the ball on the move and exploding through the middle of the secondary. Remember what he did to the Steelers in the Super Bowl several years ago? He has done that this year as well.
The one personnel switch for the Cowboys will be that
Mike Jenkins
will be in the lineup. That takes
Alan Ball
off the field in the nickel, and it also allows
Orlando Scandrick
to go back to his role as the nickel corner.
RB Wells has very similar style to Cowboys' Murray
The Cowboys' run defense has had stretches where it has been outstanding, then two games where the Eagles and Seahawks were able to gash the defense for some nice gains. Beanie Wells is more of a physical runner than a home-run back. His offensive line doesn't give him much room, so he has to create opportunities on his own, but he doesn't have the quickness of
LeSean McCoy
or
Marshawn Lynch
.
Wells can hurt you with the ability to use his vision to see a crease then make a cut, much like what we have seen with
DeMarco Murray
. Wells is not afraid to take the ball to the hole then allow the defenders to commit and bend it backside. The Cowboys' run defense can be aggressive flowing to the ball, so what happens on the backside with these defensive ends and linebackers will be key if they are going to keep Wells in check.
The Cardinals will attempt to run Wells to keep the rush off
Kevin Kolb
, who is making his return to the starting lineup after dealing with a toe issue.
Matchup to exploit: Cardinals' offensive line
The biggest weakness of this Cardinals offense is their line. There is nothing pretty about the way they play or the effectiveness in which they operate.
Usually when I study an opponent each week, there are one or two players that I will like on their offensive line. There is no one on the Cardnals' offensive line I would want if I were building a team.
Tackles
Levi Brown
and
Jeremy Bridges
struggle with speed off the edge, and it would be no surprise to me if Rob Ryan starts there to attack this offense. At the guard spot, things aren't much better with former Packer
Daryn Colledge
and ex-Brown
Rex Hadnot
, who really struggle with movement of the defensive line and don't do a good enough job of handling the twist stunts or games in the middle of the line. Colledge really struggled because he would become engaged with his block, then a linebacker would run through on the blitz and he was unable to adjust off that to secure the blitzer.
The biggest fear for the Cardinals is if they are stuffed on the run with Wells and it turns into a game where the Cowboys can tee off on Kolb. The fear for the Cowboys is that they allow this poor Cardinals line to block them like the Redskins did two weeks ago.
There are questions about Kolb's health and mobility. The Cowboys need to take advantage of the situation when given the opportunity.
DT Dockett will be handful for Cowboys' line
Defensively for the Cardinals, tackle
Darnell Dockett
will be a handful for
Kyle Kosier
and
Montrae Holland
. I worry more about Holland because he tends to struggle with those players that can get on his outside shoulder and quickly get up the field. That is what we see in Docket's game.
Dockett is an explosive player that loves to attack on the outside. Holland hates this type of player because he doesn't always adjust quickly enough out of his stance.
The Cowboys have to be careful when they go to their outside game that Dockett isn't allowed to get up the field and into the backfield to throw off pullers or
John Phillips
trying to get to the edge to secure the corner. Any type of penetration throws off timing and the execution of the blockers.
The Cowboys will have an advantage when the Cardinals have to rush the passer. Other than Dockett, this front really struggles with pressure. It is only when they are able to bring linebacker help that they are able to generate a pass rush.
The Cowboys have struggled some this season when teams have brought pressure from the linebackers in the middle of the defense. Center
Phil Costa
was better last week, but continue to watch how he and Holland handle these games.
Cards' young linebackers making some noise
The Cardinals have two young linebackers that I really like. Former TCU star
Daryl Washington
and Texas-ex
Sam Acho
really show up on tape. Both of these players are always around the football. Impressed with the way that they are able to fight blocks and finish plays.
Washington showed the ability to work through the trash, keep his balance and make the tackle in the hole. I would not call Washington a thumper like a younger
Bradie James
, but at the point of attack, he has done a nice job.
Acho is a nice player off the edge. In the Rams contest, he showed the quickness to come around the corner, beat the tackle and get a sack of
Sam Bradford
to cause a fumble. He and Dockett are the two best pressure players the Cardinals have in the front seven.
Don't overlook Peterson as defender, either
Rookie
Patrick Peterson
has created quite a buzz with his ability to return punts for touchdowns. Peterson is a talented cornerback, but I have heard the whispers that early in the season he wasn't playing as well and was struggling in coverage.
I studied four games -- Eagles, 49ers, Rams and Ravens -- and did not see the struggles that scouts were speaking of. There was one play against the 49ers where he slipped on a stutter-go to
Michael Crabtree
and it ended up as a nice gain, but overall, I only observed a corner that could read the route, drive on the ball and defend the play. Didn't see a corner that played with wasted steps or was not quick enough to keep position in the route.
In the Ravens game, Peterson did a nice job in press coverage, turning and running with his man, then finding the ball. In my view, Peterson did not look like a player that was struggling to do his job. We'll see if Jason Garrett's game plan will be to try to attack Peterson, but there are other areas that he can go to for better results.
Cowboys run game: Watch safety Wilson
When the Cowboys run the ball, they must be aware of safety
Adrian Wilson
, who likes to work around the line of scrimmage. Wilson is a physical player who is not afraid to mix it up against the run or pass.
When the Cardinals need a big play in the secondary, it will usually come from Wilson. Wilson can hurt you as a blitzer. He has a nice feel for how to time his blitz and be that disruptive player.
September, 7, 2011
9/07/11
2:50
PM ET
IRVING, Texas -- Mark Slough, the agent for Pro Bowl nose tackle
Jay Ratliff
, was at the Cowboys' Valley Ranch facility on Wednesday as the sides continued negotiations on an extension.
Ratliff is signed through 2012 and is schedule to make $3.75 and $4.875 million over the next two years as part of a deal he signed in 2007. Slough has said his client is not displeased with the contract situation and that he would like to remain with the Cowboys.
Ratliff, 30, declined to talk about the contract talks last week.
The Cowboys have not extended the contracts of players with two years left on their contracts, which somewhat complicates the talks. Buffalo signed
Kyle Williams
(six years, $39 million) and Arizona signed
Darnell Dockett
(six years, $48 million) to extensions with two years left on their deals
August, 31, 2011
8/31/11
3:40
PM ET
ARLINGTON, Texas – Maybe it was just an off-the-cuff joke by Jerry Jones. Or maybe it was a hint at a contract extension to come.
The Cowboys owner/general manager was discussing the importance and fairness of the NFL's new collective bargaining agreement during his speech at the franchise's annual kickoff luncheon when he briefly shifted the attention to one of the biggest bargains on the roster.
"
Jay Ratliff
will tell you, 'You've got a big issue, Jerry, with my salary. I need a little more money,'" Jones said. "We all want more money."
Ratliff, who has made three consecutive Pro Bowls since signing a five-year, $20.5 million deal during his first season as a starter, reacted with a sheepish grin and by raising his hand and eyebrows.
Jones and Ratliff were not available for comment after the luncheon, as the Cowboys rushed to the airport to fly to South Florida for the preseason finale. Ratliff's agent, Mark Slough, made it clear after the comment was relayed to him that he believed his client had earned the right to renegotiate.
"I would not characterize our position as unhappy, but I would agree with the characterization that he's outperformed the contract," Slough said. "We'll let all the other discussions happen behind closed doors. Jay wants to be a Cowboy for life."
Slough declined to comment when asked if discussions were underway, although a source indicated the sides have talked about an extension. He stressed that Ratliff wasn't bitter about his current contract – which would pay him $3.75 million in 2011 and $4.875 million in 2012 – but has accomplished his goal out outperforming the deal.
The Cowboys would have leverage in contract talks with Ratliff, who turned 30 on Monday, because there are two seasons remaining on the deal. There are, however, recent examples of defensive tackles being rewarded with rich extensions in similar circumstances.
The Bills ripped up the last two seasons of defensive tackle
Kyle Williams
' deal last week when he signed a six-year extension worth a maximum of $39 million with $17 million guaranteed. Williams is a 28-year-old who is coming off his first Pro Bowl season.
Arizona's
Darnell Dockett
had a pair of Pro Bowl appearances on his resume and two years remaining on his contract last year when he signed an extension through 2015. Dockett, 30, got $30 million guaranteed on a $48 million deal, including $35 million in new money.
Slough declined to discuss potential numbers. Jones can joke about the subject in front of an audience of fans, media, coaches and players, but Ratliff and his agent would prefer to address the issue in private.