Dallas Cowboys:

Darren Sharper
April, 10, 2014
Apr 10
10:45
AM ET
IRVING, Texas -- We had another lively
Dallas Cowboys
chat on Wednesday with a wide range of topics.
We touched on the Cowboys possibly trading down in the first round if a player like
Aaron Donald
was not available, the non-issue (to me anyway) of
Tony Romo
,
Jason Witten
and
DeMarco Murray
in Jerry Jones' suite at the NCAA title game, if the scheme change was just an excuse for some of the poor defensive play in 2013 and, as always, drafting a quartrerback.
If you want to read the whole chat,
click here.
If you have more questions, send me one on Twitter (@toddarcher) and use the #cowboysmail hashtag. The mailbag posts will go up Friday and Saturday.
But Geno in Plano asked a question I'd like to expand upon.
Church
Thomas
Geno:
the Cowboys seem to undervalue the safety positions- always seem to back fill or try a stop-gap; any chance of signing a more proven commodity this year pre- or post- draft?
Todd Archer:
I don't think so, Geno. There's not a real proven guy worth it right now. Look at Marinelli's safeties in Chicago. They were solid players but hardly stars. Maybe they look in the draft, but I really think they try to see what they have in
J.J. Wilcox
,
Jeff Heath
and
Matt Johnson
.
To expand, I have received a ton of questions about the safety spot this offseason because there is no doubt the play was poor in 2013 next to
Barry Church
. The Cowboys have not expressed interest in any veteran safeties that I have been able to determine, so it looks clear they will go with Wilcox, Heath and Johnson, as I stated in the answer. Personally, I'd take a look at
Steve Gregory
, but they are not about to take me up on that suggestion.
Jimmie Ward
is among the pre-draft visitors, so they could look at him as well.
But the notion is that the Cowboys have to have an
Earl Thomas
to succeed in today's NFL. Sure, but how many teams have an Earl Thomas? Five years ago everybody was saying the Cowboys needed to get a safety like
Troy Polamalu
or
Ed Reed
. Sure, but how many of those guys are rolling around?
They are rare players. I think the Cowboys would have selected
Kenny Vaccaro
last year if he wasn't scooped up by the
New Orleans Saints
before Dallas picked in the first round. He was gone, so they traded down.
In his three years with the
Chicago Bears
, [Rod] Marinelli's safeties were
Danieal Manning
and Chris Harris in 2010, with
Chris Conte
and
Major Wright
handling the duties in 2011-12. The Bears let Manning walk as a free agent when the
Houston Texans
offered him a big deal. Conte and Wright were third-round picks in the 2011 and 2010 drafts, respectively.
Wilcox was a third-round pick last year by the Cowboys.
Since 2000, the winning Super Bowl teams have had five All-Pro safeties: Rodney Harrison (New England), Polamalu (twice), Darren Sharper (New Orleans) and Thomas.
You can get by with functional safeties. Marinelli did it in Chicago. He will try to do it here as well.
The question should be do the Cowboys have a functional safety next to Church, not whether they can get a Thomas.
November, 22, 2010
11/22/10
7:14
PM ET
IRVING, Texas -- The Saints received some good news today regarding their two best running backs.
Reggie Bush
, who played only two games before suffering a broken leg, was a full participant in practice Monday. Bush was expected to play Sunday but was inactive.
Also,
Pierre Thomas
, who hasn't played since September with an ankle injury, was limited in practice.
Standout safety
Darren Sharper
was also limited in practice with a hamstring injury. He's played in only three games this season.
The Saints had 16 players on their injury report released Monday.
August, 20, 2010
8/20/10
9:00
AM ET
OXNARD, Calif. – The Cowboys cut
Ken Hamlin
in large part because he didn't make enough plays. They want a safety who gets his hands on the ball.
They believe
Alan Ball
fits the bill.
Ball, a converted cornerback, has studied active interceptions leader
Darren Sharper
of the Saints. He wants to emulate the way Sharper uses his eyes and reacts to the ball in the air. Ball thinks he can find the balance between being cautious enough to prevent the big play but aggressive enough to create turnovers.
"You've got to just be a little bit more patient back there at the safety position, because you're the last line of defense," Ball said. "It's one of those things where you can use your eyes, and you still have to be aggressive when it's time to make a play on the ball or a play on the running back or somebody with the ball."
The key of knowing when to try to strike and when to play it safe will be preparing the week of the game.
"I plan to spend a lot of time in the film room and know who I'm playing against. That's one of the things that we have to do, just get a feel going ahead of where the ball's going to be and where it's coming out. … I just want to make sure I'm around the ball."
May, 3, 2010
5/03/10
4:22
PM ET
Cowboys fans can stop begging and pleading for Jerry Jones to pursue free safety
Darren Sharper
.
Sharper is no longer on the open market. Several media outlets report that he agreed to a one-year deal to return to the
New Orleans Saints
.
"To the entire WHO-DAT Nation, guess what? I'M BAACKK," Sharper tweeted, essentially confirming the news.
The Cowboys never showed any interest in Sharper, one of the premier playmaking safeties in NFL history.
Why not? There were concerns about Sharper's age (34) and the fact that he is coming off of knee surgery.
There also might have been an expectation that Sharper simply needed another team to help set the market for him before he agreed to return to the Super Bowl champions. The
Jacksonville Jaguars
played that role.
The Cowboys have confidence in
Alan Ball
, the frontrunner to replace
Ken Hamlin
as the free safety. They're intrigued by the potential of Michael Hamlin, who will have a chance to compete for the job.
Jerry Jones has gone back and forth on whether the Cowboys will look to add a veteran safety to the mix. The winds were blowing against it over the weekend.
We now know for sure that it won't be Sharper, which is what folks at Valley Ranch had been saying all along.
April, 28, 2010
4/28/10
4:13
PM ET
Safety
Darren Sharper
is still on the market.
He's coming off knee surgery and he's 34, which might have something to do with it.
But Sharper is visiting Jacksonville
today
with the hopes of signing on with the Jags.
However, the Cowboys don't appear to be that interested in Sharper.
Multiple sources said the team is not serious about signing him.
When asked about Sharper last week, Jerry Jones said he didn't want to get into names of candidates to fill the safety position.
April, 28, 2010
4/28/10
9:56
AM ET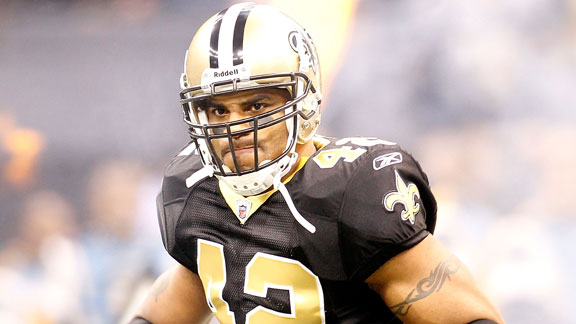 The Valley Ranch vibe about safety
Darren Sharper
was lukewarm over the weekend.
A few days later, ESPN's Adam Schefter reports that the
Dallas is one of the most likely destinations
if he doesn't agree to a deal during his visit with the
Jacksonville Jaguars
.
The Cowboys have to do their due dilligence with Sharper. On paper, it appears to be a perfect fit: a Super Bowl contender with a need for a playmaking safety has a chance to sign one of the best ballhawks in NFL history.
However, the Cowboys have legitimate reasons to hesitate with Sharper, who ranks sixth in NFL history in interceptions (63) and second in pick-sixes (11). He'll turn 35 in November and is coming off offseason knee surgery.
If the Cowboys were sure Sharper could perform like he did last season, when he had nine picks and three touchdowns for the Super Bowl champion
New Orleans Saints
, they'd sign him in a heartbeat. But they wouldn't have released
Flozell Adams
if they were sure he could perform as well as he did last season.
The Cowboys have to weigh the possibility of a drastic dropoff against the potential for a repeat performance. If there was an easy answer with Sharper, the Saints would have re-signed him weeks ago.
Sharper could be the final piece to the Cowboys' Super Bowl puzzle. He could continue to be a leader with elite playmaking skills, which is pretty much everything the Cowboys could possibly want in a stopgap safety.
The question the Cowboys have to answer is, at what cost does the the risk become too great? Don't expect Jerry Jones to get in a bidding war.
March, 11, 2010
3/11/10
9:30
AM ET
The
New Orleans Saints
haven't made safety
Darren Sharper
feel loved since the Super Bowl.
"If the love was right, that would have been taken care of,"
Sharper told the New Orleans Times-Picayune
, referring to his free agency. The love would have been reciprocated."
Sharper was one of the NFL's best bargains last season, when he got paid $1.7 million and picked off nine passes during an All-Pro campaign. Now the 34-year-old safety wants a two- or three-year deal for significantly more money.
Shouldn't the Cowboys at least consider using their one big salary slot with the Final Eight free agency rules on Sharper?
Jerry Jones has made no secret that he wants more playmaking from his safeties. Sharper is one of the premier playmaking safeties in NFL history. He has 63 career picks, which leads all active players. He has 11 touchdown returns, more than anybody but Hall of Famer
Rod Woodson
. His 376 interception return yards last season, when he had three touchdowns, set an NFL record.
The Cowboys value
Ken Hamlin
because of his savvy and communication skills. They wouldn't lose any of that with Sharper, but they would address the defense's turnover deficiency.
February, 1, 2010
2/01/10
7:19
PM ET
FORT LAUDERDALE, Fla. -- Plenty has been made of the five new defensive players the Cowboys added to the roster.
Inside linebacker
Keith Brooking
, who finished with 156 tackles according to the coaches film, might have been the best pickup.
Strong safety
Gerald Sensabaugh
was another fine signing, picking up 81 tackles and 10 pass breakups this season.
But what about what the Saints did in free agency? Their biggest signing was safety
Darren Sharper
, who was let go by the Vikings.
The Cowboys didn't look at signing Sharper last offseason because he plays the same position as
Ken Hamlin
.
"The thing that I most looked at when I was a free agent was where would I fit as far as with a team," Sharper said. "What team was on the brink of getting to the playoffs and having a chance to win the Super Bowl, and somewhere I felt comfortable."
December, 19, 2009
12/19/09
1:01
PM ET
Dallas Cowboys QB Tony Romo vs. New Orleans Saints FS Darren Sharper:
Since a three-pick performance in the second week of the season, Romo has done an outstanding job protecting the ball. He's thrown only four interceptions in the last 11 games, none in December.
But Sharper and the Saints represent the toughest test for Romo's new-and-improved ball security. The Saints have forced an NFL-high 37 turnovers, including eight interceptions by Sharper, one of the league's best bargains with a $1.75 million salary.
Sharper, a 13-year veteran, doesn't have phenomenal athleticism by NFL standards. He excels because of instinct and savvy.
The Cowboys need Romo to make plays to have a chance to pull off the upset, but he also has to be careful with the ball. He must know where Sharper is, which the Saints can make difficult with adjustments made seconds before the snap.
Saints QB Drew Brees vs. Cowboys FS Ken Hamlin:
The Saints attack every defense with their downfield passing game. But they'll probably be especially eager to test Hamlin, who is expected to start after missing the last four games with a high ankle sprain.
A healthy Hamlin would have trouble keeping up with speedy Saints receivers
Devery Henderson
and
Robert Meachem
. It could get ugly if his ankle hinders Hamlin.
New Orleans coach Sean Payton exploited the Cowboys' safeties in the Saints' 42-17 win at Texas Stadium in 2006, when Brees threw for 384 yards and five touchdowns. That exposed a flaw that the Cowboys tried to fix by signing Hamlin that offseason.
After a Pro Bowl campaign in 2007, Hamlin was rewarded with a six-year, $39 million extension. Hamlin hasn't rewarded Jerry Jones' generosity. He's made far too few plays and given up way too many. There are some at Valley Ranch that think the Cowboys are better off with backup
Alan Ball
at free safety.
The target has changed, but Payton's game plan will probably be pretty similar to the one he had against the Cowboys in 2006.
December, 17, 2009
12/17/09
2:41
PM ET
IRVING -- Wade Phillips said during his Thursday morning news briefing his team is not backing down from the
New Orleans Saints
, nor it should.
"Usually when people say you can't do something, people bow up and have a lot of pride," Phillips said before Thursday's practice. "I think it helps. I don't think our confidence is we can't do it and we got to do something else to be able to do it."
Phillips said he feels good about this team at its current stage, despite a two-game losing streak.
Phillips is still hopeful about outside linebacker
DeMarcus Ware
(neck) but figures it will be a game-time decision.
Nick Folk
remains the field goal kicker and Phillips thinks the mini-competition with
David Buehler
helped.
"I think he's responded well in practice," Phillips said of Folk. "I think it's a positive thing." Phillips said Folk has been inconsistent in practices and in warmups before games. Yet, "he feels like he's hitting the ball well."
Saints safety
Darren Sharper
is tied for second in the league with eight interceptions and returned three for touchdowns. Phillips was asked is that more a result of teams just trying to get back in the game by throwing it or Sharper making plays.
"He's done that throughout his career," Phillips said. "He always had a lot of interceptions and he's run a lot of them back."
In his career, Sharper has returned 11 interceptions for touchdowns. Hall of Famer,
Rod Woodson
is the all-time leader witih 12.
The Cowboys didn't practice in pads all week.