Dallas Cowboys:

Daryl Johnston
June, 7, 2014
Jun 7
12:00
PM ET
IRVING, Texas -- Part 2 of the
Dallas Cowboys
' Twitter mailbag is ready.
In it we discuss:
** The ceiling of the defense
** The future of
Brandon Carr
** The backup wide receivers
** The role for
Dwayne Harris
** And if they keep a fullback.
If you want to see Part 1,
click here.
Away we go:
March, 28, 2014
Mar 28
9:00
AM ET
IRVING, Texas -- It's time for some leftovers from Wednesday's hour-long chat with you guys.

We had more than 120 questions posted during that time and it's impossible to handle all of them, so we'll choose five extra questions for the weekly "leftovers" post. Quick question for the house: Best leftover, pizza or Chinese food?
In the best player available strategy, I'm leaning toward pizza.
Anyway, away we go:
David Huffman. Connecticut:
How many failed attempts at assembling a roster capable of playing good football deep into the postseason will it take for Jerry to say, "OK, I don't have the ability to properly evaluate the players I'm drafting and signing to this team?"
Jones
Todd Archer:
I wouldn't hold your breath on this one, David. You might turn purple. But I will point out that the Cowboys had what was considered some of the best personnel in the game for a stretch from say 2007-10 and if Jerry is responsible for the state of the personnel right now, then he was responsible for the personnel then. And, yes, I realize Bill Parcells had a huge influence on the roster in those years, but he didn't get everything he wanted. As I see it, the problem is the Cowboys missed their window. They had pretty good shots in 2006-09 and won one playoff game. The one that hurts the most is the 2007 season. It was set up for them to take the NFC and they failed. Wade Phillips gave them the out late in the '07 season by letting up. The team did not react the right way, and I'm not talking about a trip to Cabo or anything like that. After the Cowboys beat the
Green Bay Packers
that year they lost their momentum and couldn't get it back, losing to the Giants at home. If they win that game -- or the Seattle playoff game the previous year -- and I think a lot of these narratives that have come about are entirely different. Since the Cowboys missed that window, they have been chasing it ever since without success and the personnel has not been as good the last three or four years, despite the proclamations from those far away that the Cowboys have one of the most talented rosters in the NFL. They haven't had that. They have had good 'name' players but spots 15-53 on the roster have been lacking.
Casey (Boise, ID):
So what exactly are Callahan's duties with Linehan now in town? Will he have any influence with the play calling? Is he only in charge of the OL group? All the titles confuse me? Passing game coordinator but will call all the offensive plays???

Callahan
Todd Archer:
Sorry I missed this one, Casey. This is a good question. Bill Callahan goes back to being the offensive line coach and run game coordinator, which is essentially what he was in 2012. He will give Scott Linehan options with running plays but make no mistake about it, Linehan will be calling the shots. The Cowboys will try to gloss over all of this of course and Callahan will publicly say all the right things, but how the Cowboys handled this maneuvering in the offseason is as baffling as how they handled the playcalling duties last offseason. They should have let Callahan go to Cleveland or Baltimore or wherever once the playcalling was taken away from him.
Nate (South Dakota):
Any chance Jerry goes back to the past and brings in some more players from the '70s and '80s into the Ring of Honor? I would really like to see Charlie Waters, Harvey Martin, and maybe even
Daryl Johnston
in the Ring. Any chance?
Todd Archer:
Nothing stirs the masses like the Ring of Honor. I like the two names you mentioned from the 1970s and I think Ed 'Too Tall' Jones has a case too. Charlie Waters and Harvey Martin were difference makers on the Super Bowl teams. Same with Too Tall. And he spanned the Jerry Era too. Daryl Johnston is a good name to consider as well, but the first guy from the '90s teams that I would add is
Darren Woodson
. He was a terrific player who was saddled with bad teams in the early 2000s and just as the Cowboys were about to turn it around his back gave out. Woodson would be right up there in my book. He should get Hall of Fame consideration too. Think about Woodson's impact this way: The Cowboys still haven't replaced him.
David (Southlake):
Todd, given what Bears gave to Allen, shouldn't Cowboys have pursued him instead of Melton? Melton is coming off a major injury whereas Allen has a proven track record.
Allen
Todd Archer:
You don't pay free agents based on track record.
Jared Allen
is 32. He has had a terrific career and might have a couple more great seasons left in him with the
Chicago Bears
, but that doesn't mean he would have been the right fit here. If the Cowboys weren't going to pay
DeMarcus Ware
, whom they knew best, or
Julius Peppers
, whom they knew quite well too, then they were not going to shell out money for Allen, who has no connections to the staff. It would have been the continuation of paying older players for what they have done, not what they will do. The Cowboys' plan this offseason has been simple: spend wisely on younger players, draft well in May and hope players in house make a ton of improvement. Will it work? I can't answer that question today, but that's the best way to go about it rather than hoping a thirtysomething has something left in the tank. Melton, who will probably make about $4 million this season, is just 27 and the Cowboys have a get-out-of-jail free card if he doesn't perform if they choose not to exercise the option. I'd be more willing to bet on a young player coming off an injury than an older player looking for a big pay day.
Shawn (NC Mountains):
Given that Philly, Washington and Giants have made some impressive moves in free agency. Are the Cowboys the worst team in our division?
Todd Archer:
If you want to give out trophies for offseason work that is less than a month old, then sure the Cowboys are the worst team in the division. But how many times have the Redskins won the Super Bowl in an offseason only to implode? What happened to the Eagles' dream team from a few years ago? I'm not picking the Cowboys to win the division or make the playoffs, but I'm not saying it's impossible either. There are a lot of moves left to make. The Cowboys have been the only team to compete for the NFC East title the last three seasons, so there is talent here. It just needs more supplementing before the games start in September. Maybe that's too optimistic of a view.
December, 4, 2013
12/04/13
10:55
AM ET
IRVING, Texas -- The
Dallas Cowboys
seemed to make a lot of fans happy on Tuesday when they signed a fullback. It wasn't
Lawrence Vickers
, which still had some upset, but at least
Tyler Clutts
actually has played fullback in an NFL game.
To me, however, the signing does not make a lot of sense.
The Cowboys' pro personnel department deserves a lot of credit for finding guys.
George Selvie
,
Nick Hayden
and
Jarius Wynn
have all helped this year. You can go back to last year for guys like
Ernie Sims
,
Sterling Moore
and
Eric Frampton
. And who can forget the
Laurent Robinson
signing?
This is not a knock on Clutts, who was described by a personnel chief as a "workmanlike lead blocker." He might be another solid find. I just don't see how he fits in what the Cowboys do well in their running game.
The weather will be cold in Chicago on Monday. It could be cold when the Cowboys play the
Washington Redskins
. And Jason Garrett keeps saying you want to be a physical team in December. I get all of that, but what the Cowboys do best when they run the ball is spread the field with three wide receivers.
Maybe it's the curse of
Tony Fiammetta
, another pro department find who helped
DeMarco Murray
bust out in 2011. The fullback is a revered spot around here, going back to Walt Garrison and leading us to
Daryl Johnston
.
But it is also a dying position with offenses designed to pass the ball more or run out of "11 personnel," like the Cowboys.
The Cowboys offensive line is not the '90s version of the Cowboys' line. They do not overpower people. The scheme is not really a power scheme. They look to create creases, not gaping holes.
Nate Newton
and
Larry Allen
are not walking through that door to do that.
Murray is averaging 5.5 yards per carry for his career when he runs out of three-wide receiver looks. This year the Cowboys have gained 531 yards on 114 carries and scored five touchdowns out of 11 personnel. Against the Raiders they had 92 yards on 11 carries in 11 personnel. Lance Dunbar's 45-yard run came out of 11 personnel. Even without that run the Cowboys averaged 4.7 yards a pop when they ran out of three-wides.
So this brings me to Clutts. Will he play five snaps a game? Is it worth it? Was using a tight end or linebacker
Kyle Bosworth
at fullback that bad? Not really.
The Cowboys could have gone a number of different ways in replacing Dunbar, who was placed on injured reserve Tuesday with a knee injury. They worked out Clutts and a handful of other runners that have barely made their mark in the NFL. Would any of those guys helped? If you're going to look for a runner, find a tested runner -- even one that has not played this year -- who might have six weeks left in him.
The better move would have been to poach from a practice squad. They did it late last year with tackle
Darrion Weems
. Maybe he develops into a backup. Maybe he never develops. But they at least had the chance to develop a player. They could look at any position really. In my Five Wonders post, I wondered why they don't add a No. 3 quarterback for the stretch run. He'd be inactive for the final four games anyway, so at least get a guy in here to learn how they do things as they head into the offseason.
Maybe Clutts will help the running game, but statistics suggest otherwise.
May, 17, 2012
5/17/12
8:00
AM ET
Jason Garrett was the epitome of an overachiever, a dude with marginal talent who played 12 seasons in the NFL.
It's amazing, really, considering he threw just 294 passes in his career.
But Garrett lasted so long because he studied like a starter, which meant he made few mistakes in practice. And he could help on Sundays because he knew the game plan as well as the starter.
He worked hard in the weight room, never complained about his role and took advantage of the limited opportunities he had to play, which is why he had 11 career touchdowns and only five interceptions.
Garrett was the right kind of guy, a player with a high motor who maximized his potential, which is all you can ever ask a player to do. His love for the game showed in his passion to prepare, even though he rarely played.
He was the kind of guy coaches and teammates always view as an asset. Why do you think former teammates such as
Michael Irvin
,
Troy Aikman
and
Daryl Johnston
have such positive things to say about a player who spent most of his career wearing a cap and carrying a clipboard?
Now, Garrett is building a team in his own image.
Who's surprised? Not me.
Normally, we surround ourselves with like-minded people. It should surprise no one that Garrett wants a team of players -- the right kind of guys -- who share his approach to the game.
"Our experience," he said recently, "has been that when you have a lot of these kinds of guys on your team, you practice better and you play better. It's infectious."
Talent isn't enough to thrive in the NFL.
Everyone on an NFL roster -- even the worst player -- is supremely talented. It's intangibles, most of the time, that make the difference.
Read the rest of the story
here
.
April, 5, 2012
4/05/12
3:39
PM ET
Five-time Pro Bowler
Darren Woodson
was stunned to learn about the passing of former Cowboys special teams coach Joe Avezzano.
PODCAST
Former Cowboy Darren Woodson remembers Coach Joe Avezzano. He said Avezzano had an immense amount of respect in the locker room.

Listen

"It's hard to believe," Woodson said Thursday afternoon. "I haven't talked to Joe in a year and half, but whenever we do talk it's always a strong conversation, as if we talk to each other every day."
Woodson said he learned about all three phases of football -- and being on time -- from Avezzano.
"I always learned about punctuality," Woodson said. "If a meeting started at 8 a.m., Coach Joe would say the meeting started when he got there. So if he got there at 7:45 a.m., that's when the meetings started. I carried that around from Day 1 after I met him."
Woodson said several of the Cowboys' players from the 1990s had a special bond with Avezzano because he was able to separate the business side of the NFL.
"He knew your family, he knows all my kids and I know his wife and son," Woodson said. "
Daryl Johnston
, Kenny Gant, all of us loved him. Back then, the starters played on special teams and if I'm playing 75 defensive snaps I also played on three special teams units. I would get tired and he would say, 'I ain't hearing that stuff.' He would jump on my butt and D.J.'s butt in meetings if we messed up. But he was a part of my family away from football too."
February, 21, 2012
2/21/12
1:03
PM ET
You can make the case that the Cowboys haven't had a long-term leader since Darren Woodson last reported to work at Valley Ranch in 2003.
PODCAST
ESPN NFL analyst Darren Woodson responds to Jason Hatcher's comments about the Cowboys needing a vocal leader in the locker room.

Listen

That makes the three-time Super Bowl champion safety, who should be in the Ring of Honor, an awfully good authority on the sensitive subject. Woodson was dismayed to hear that Cowboys defensive end Jason Hatcher couldn't think of one leader on the current team.
"Man, that's shocking to hear that," Woodson said during a Tuesday appearance on ESPN Dallas 103.3's Ben and Skin Show.
However, Woodson doesn't believe that the Cowboys need a Ray Lewis-like leader, as Hatcher suggested on the Ben and Skin Show last week. In fact, Woodson considers the rah-rah style of leadership to be overrated, and he says that with all due respect to fiery former teammate Michael Irvin.
"The rah-rah speech is not going to win games for you," Woodson said. "And I don't care who's giving it to you – you can bring Knute Rockne back. No one is going to motivate you between the lines. It's about preparation the week of, and it's about the top guys in that locker room and your role players understanding their role on that football team."
Woodson didn't consider Irvin a great leader because of No. 88's animated pregame speeches. Woodson considered Irvin a great leader because of his insane work ethic, which Irvin made sure rubbed off on his teammates.
The standard was set in Woodson's mind one hot summer afternoon before his rookie season, when he watched Irvin run routes on the practice field until he puked, wash his mouth out with water and run more routes.
The standard was reinforced on a regular basis by role players such as Daryl "Moose" Johnston and Tony Tolbert, who were quick to call out teammates who stepped out of line.
"If a guy walked in late, you better believe Daryl Johnston was going to jump him for being late," Woodson said. "If a guy fell asleep, you better believe Daryl Johnston was going to jump him. He was a role player who understood his role, but he was a leader and he was very well respected within that locker room."
As a defensive captain for most of career, Woodson didn't put much stock in speeches. But he certainly wasn't shy to speak up when he felt it was warranted.
"I wasn't a rah-rah guy," Woodson said. "I told guys the truth. I also told guys, 'You don't have to love me, but you're going to respect me because of my actions.' I think that's what they need."
December, 8, 2011
12/08/11
4:29
PM ET
IRVING, Texas --
Tony Fiammetta
has become something of a present-day mix of Walt Garrison, Ron Springs, Robert Newhouse and
Daryl Johnston
in his three-game absence due to an illness. Miles Austin's stature has grown in his four-game absence even with the stellar play of
Laurent Robinson
in his place.
What the Cowboys have to guard against is thinking just because Austin and Fiammetta are back all will be well with the offense on Sunday at 7:20 p.m. against the New York Football Giants at Cowboys Stadium.
"You can't make more than what it is," said
Jason Witten
, who should benefit from Austin's return. "At the end of the day you still have to execute and not think, 'Oh, he's going to get his.' You've got to be ready."
When Austin returned from a left hamstring injury at New England after missing two games, he caught seven passes for 74 yards. There is no doubt he and
Tony Romo
have a special connection that was built through years of practice.
Can he just step in and excel right away after a month-long absence?
"We'll see," Romo said. "He's done a good job in practice and he's a great player, so I hope so."
While it looks doubtful that
Martellus Bennett
will play against the Giants because of a muscle strain in his rib cage, this will be the first time since that New England game that Jason Garrett has his mainstay offensive players available.
He will never admit that his playcalling was compromised by the absences of Austin and Fiammetta, but their returns should at least open up more dimensions.
"It's nice to get your team back again," Garrett said. "I think the teams that play the best are the teams that are able to absorb the adversities that happen and injuries are a part of this league. Every team has them. You have to be able to deal with them but it's nice to get your guys back though."
October, 28, 2011
10/28/11
10:50
AM ET
IRVING, Texas -- The key to the Cowboys' running game might be a man with one carry for no yards this season.
There is strong statistical evidence to support that theory, although it's a small sample size.
In the two games fullback
Tony Fiammetta
has played, the Cowboys have 419 rushing yards, averaging 7.0 per carry. They rushed for a total of only 299 yards in the other four games, averaging 3.0 yards per carry.
"I think he's the best blocking fullback we've had since
Daryl Johnston
," Jerry Jones said on KRLD-FM. "That goes a long way.
"The fullback effectively splits a defense. It lets you block up in there, man up with an extra player that you don't have when you're not playing with a true prototype fullback."
Fiammetta, who the Cowboys claimed off of waivers from the Panthers, won't take that much credit.
"It's definitely not one man," Fiammetta said. "I think everybody has been working toward this end and toward getting the running game going. I wasn't here for training camp, but I'm sure they were working hard then and it's just starting to click."
It's clicked when the Cowboys have a fullback and sputtered when they haven't.
January, 24, 2011
1/24/11
12:00
PM ET

CHRIS GRONKOWSKI
Position:
Fullback
Height:
6-2.
Weight:
245
College:
Arizona
How acquired:
Undrafted free agent
[+] Enlarge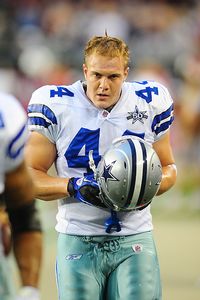 Mark J. Rebilas/US PresswireWhile seeing plenty of action as a rookie, Chris Gronkowski missed two key blocks that led to injuries for Tony Romo and Dez Bryant.
What he did in 2010:
He was active for 14 of the 16 games and started eight times as a rookie. He finished the year with 17 yards on five carries and caught seven passes for 35 yards and a touchdown. The Cowboys elected to go with him as the lone fullback after cutting an injured
Deon Anderson
but he missed a blitz pickup that ended up with
Tony Romo
breaking his collarbone. He also missed a block that led to Dez Bryant's fractured ankle on a kick return.
What to look for in 2011
: Early in his first training camp Jerry Jones told Gronkowski he reminded him of
Daryl Johnston
. It was a heady tribute and one that Gronkowski still has to earn. He will go to camp as the starter in part because there is not another fullback on the roster. The return of tight end
John Phillips
from a knee injury could cut into his playing time or slice his roster spot altogether. What helped his cause in the battle with Anderson was his versatility. He has decent hands and was not bad in short yardage situations.
Quotable:
"He's an average lead blocker at best but he has some athletic ability. He got better the more he played, but he's not a banger." – NFC scout
Bryan Broaddus' Scout's Eye:
I had a lot of hope for him coming out of camp but to me he's not a true fullback. Early on he was more of a one shot blocker – hit and then fall off. He got better at sustaining but there were too many times where he was unable to get his guy out of the hole. The good thing about him is as a pass catcher, but to me this team probably needs to go get a real fullback.
February, 3, 2010
2/03/10
2:36
PM ET
FORT LAUDERDALE, Fla. -- With the Super Bowl fast approaching there are several former and current Cowboys players all over the place.
On Wednesday, outside linebacker
DeMarcus Ware
was in the house plugging a new shoe and talking about the ending of the season. Ware said toward the end of the Vikings loss in the NFC divisional playoff game he couldn't wait for the game to end.
Also,
Emmitt Smith
, the NFL's all-time leading rusher, was in the house doing all sorts of interviews, including one with his former teammate
Michael Irvin
.
Smith's fullback Daryl 'Moose' Johnston is also here doing some interviews on radio row at the media center.
The guard for those 1990s Cowboys teams,
Nate Newton
is also in the building doing his thing. There should be more Cowboys coming in the next few days, maybe even
Charles Haley
.